Are your kids ready for an epic homeschool art journey? Then, take a trip with chalk pastels Narnia with Nana art adventure!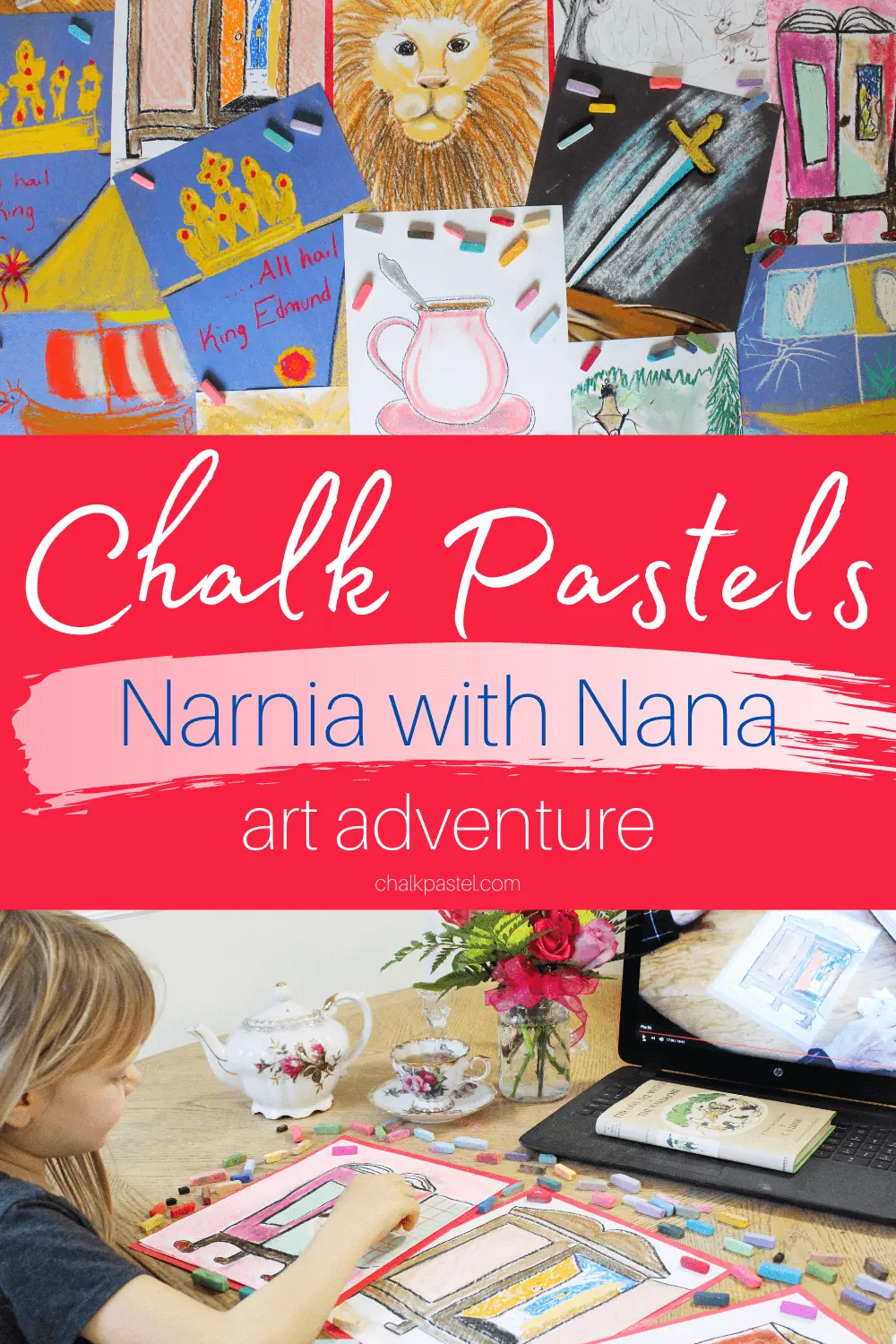 The Chronicles of Narnia series is one of our favorite read alouds and audiobooks. We've read the series each year for several years.
Narnia Themed Tea Time For Kids
Last year to celebrate the end of the series we had a Narnia teatime complete with sardines on toast, butter on toast, and jam on toast. Just like the tea, Lucy had with Mr. Tumnus. This year, we decided to do something a little different. This year we celebrated this wonderful series with candles, tea, iced cake, and chalk pastels!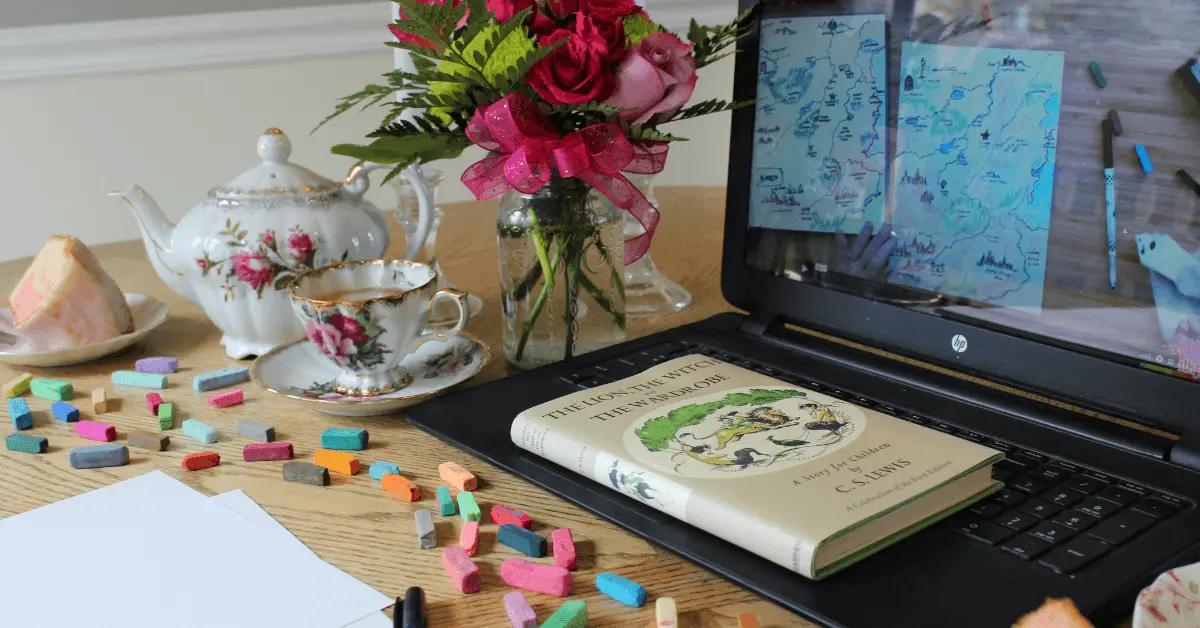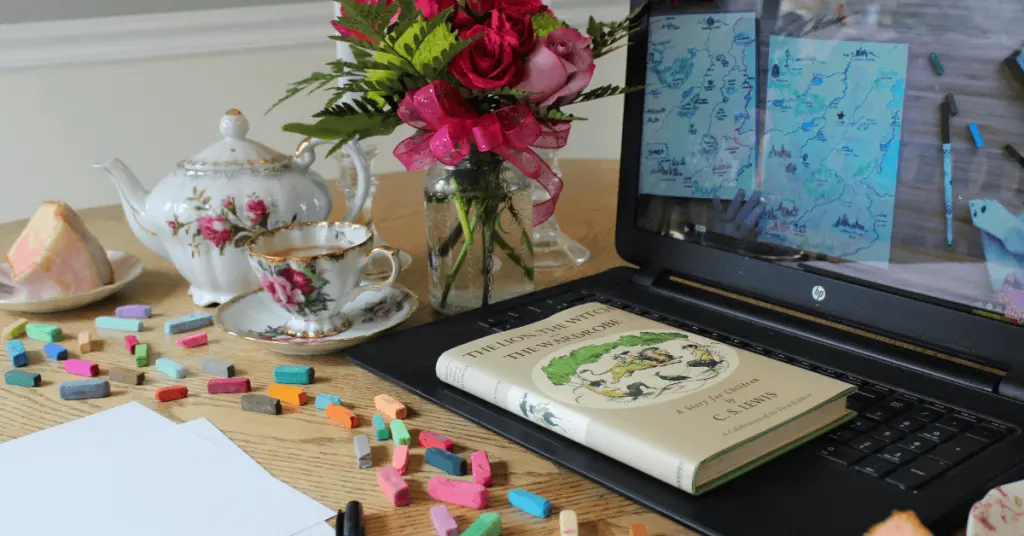 Narnia Study With Chalk Pastels Art
Chalk pastels are so easy to use. All you need is a cheap set of chalk pastels, a pack of construction paper, and Nana's chalk pastel videos! Nana is the best at guiding your kiddos on artistic adventures. Seriously, we've been using her videos for years. Did you know that when we say "Nana" in our house we have to clarify if we mean my mom or chalk pastels Nana? It's a lovely bit of confusion we all enjoy!
Nana always reminds the children, "You ARE An Artist!" and inspires them to make their paintings their own. She encourages the kids to use the colors they like; my daughter is particularly fond of pink, motivating them to use their imaginations and learn new art techniques!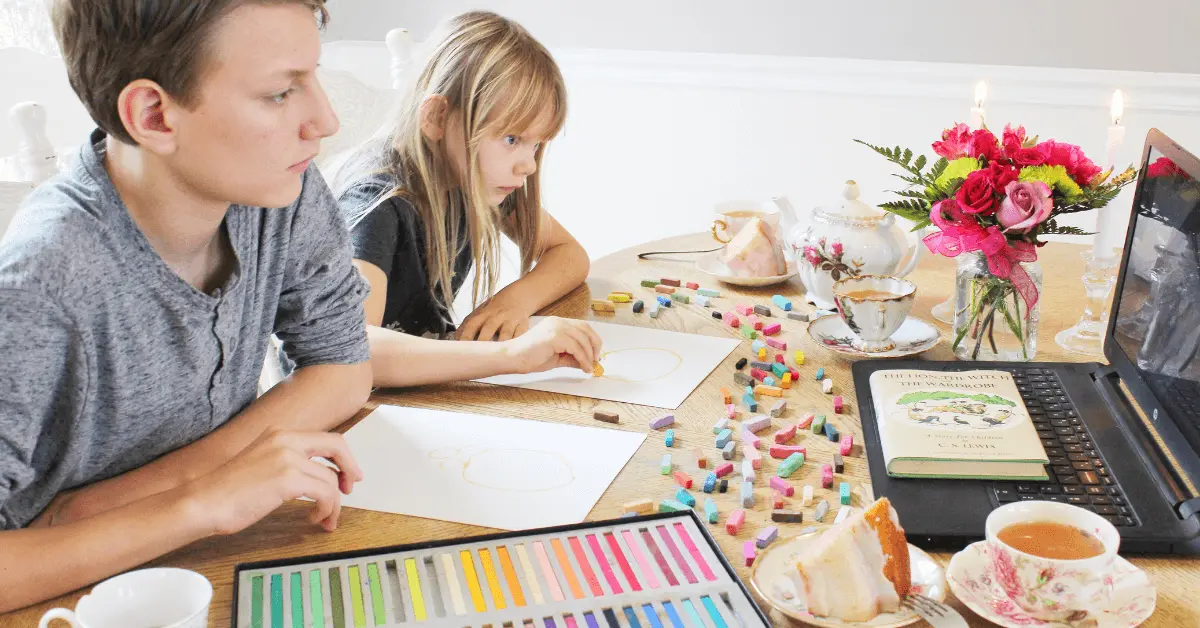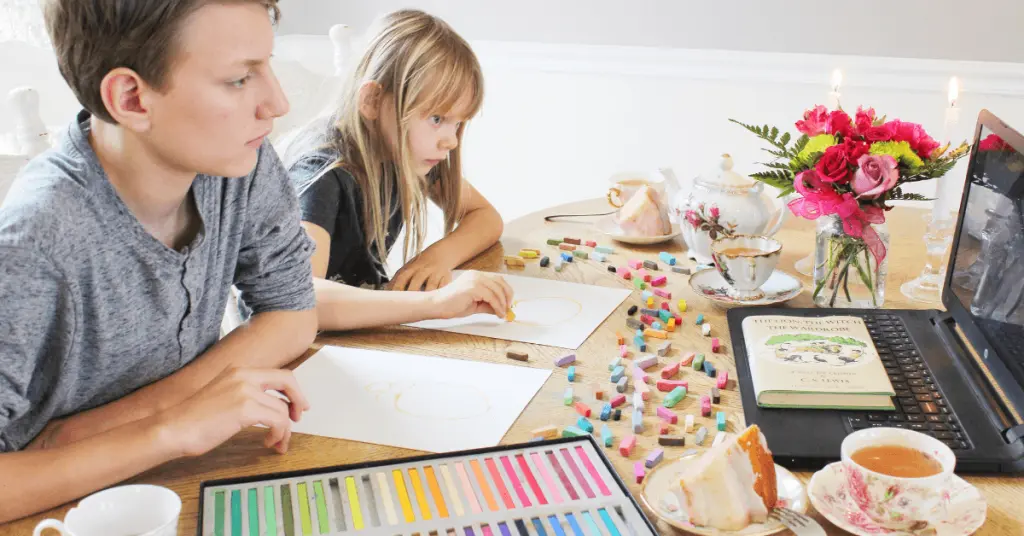 Chalk Pastels Narnia with Nana Adventure for Your Homeschool
Begin your Narnia adventure with the magical wardrobe! If you or your children have read The Magician's Nephew then you'll know how this wardrobe came into being and why it is magical! Can you see a glimpse of Narnia inside?
Did I mention my daughter likes pink? She would LOVE to have a huge pink wardrobe in her room, lol!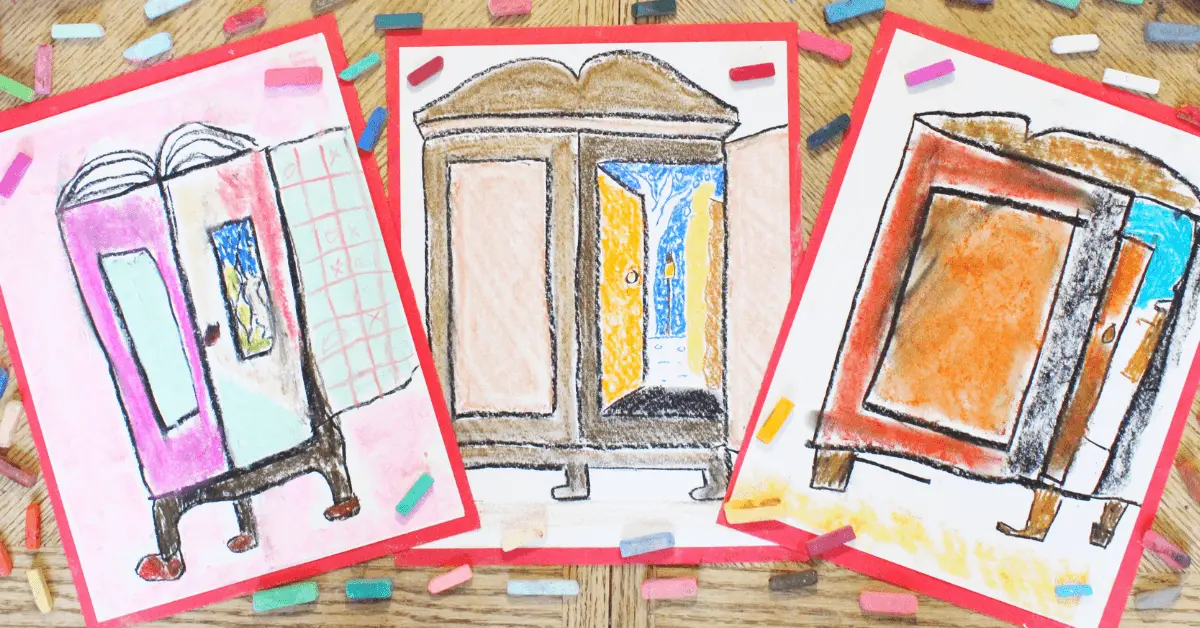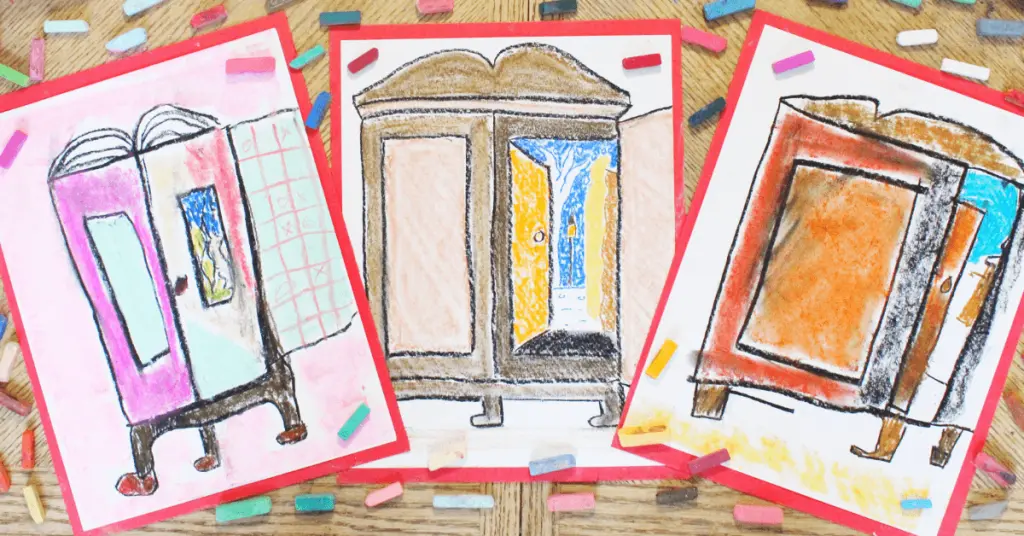 Narnia with Nana Through the Wardrobe
Next the children created the famous lamp post while sipping their hot tea and enjoying their cake.
Keep paper towels handy as spills DO happen, but having these sweet treats have become part of our chalk pastel experience. It makes them just a little bit more magical and memorable.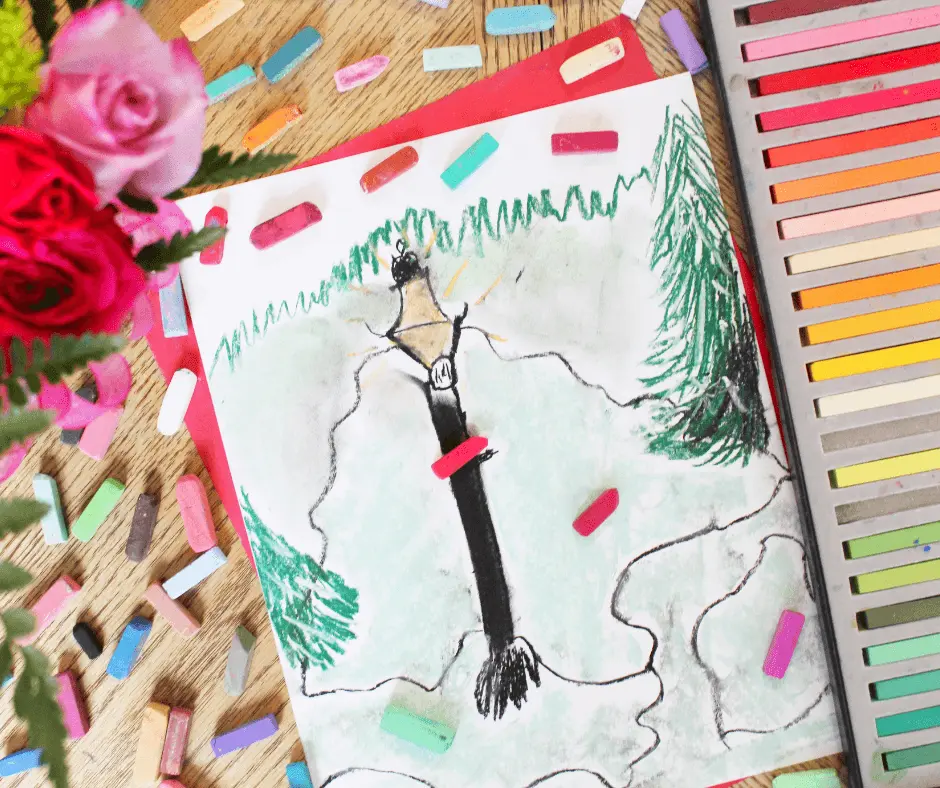 A Cup of Tea with Mr. Tumnus Art Lesson
How about a cup of tea with Mr. Tumnus?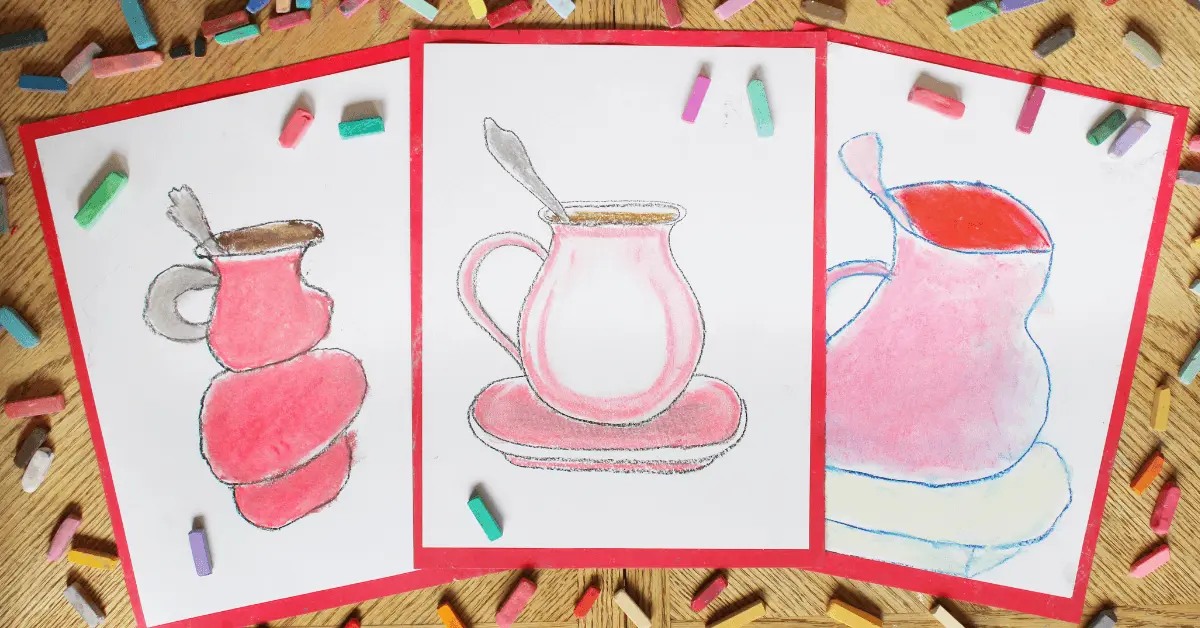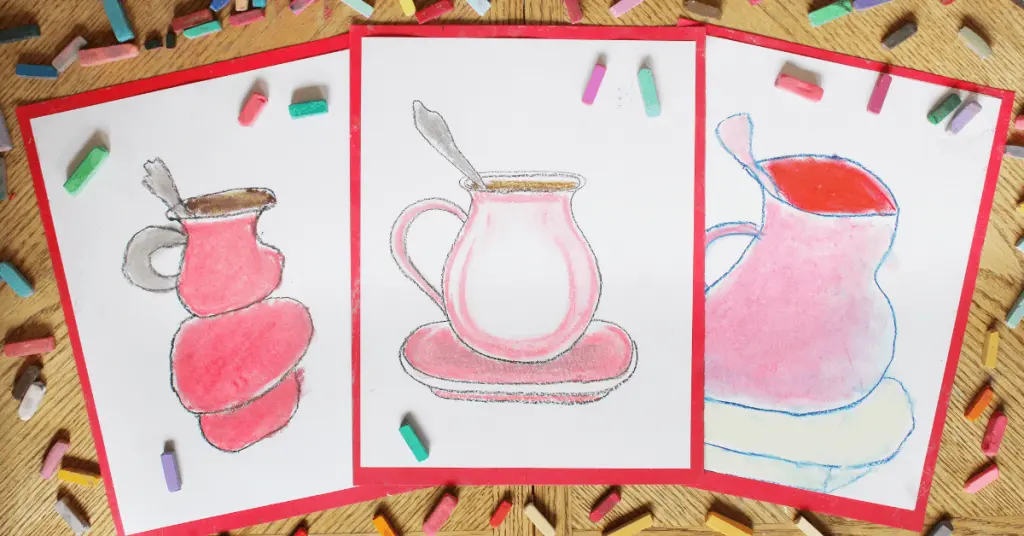 Carriage of the White Witch Art Lesson
Beware the White Witch in this winter wonderland! Or is that Father Christmas coming into view?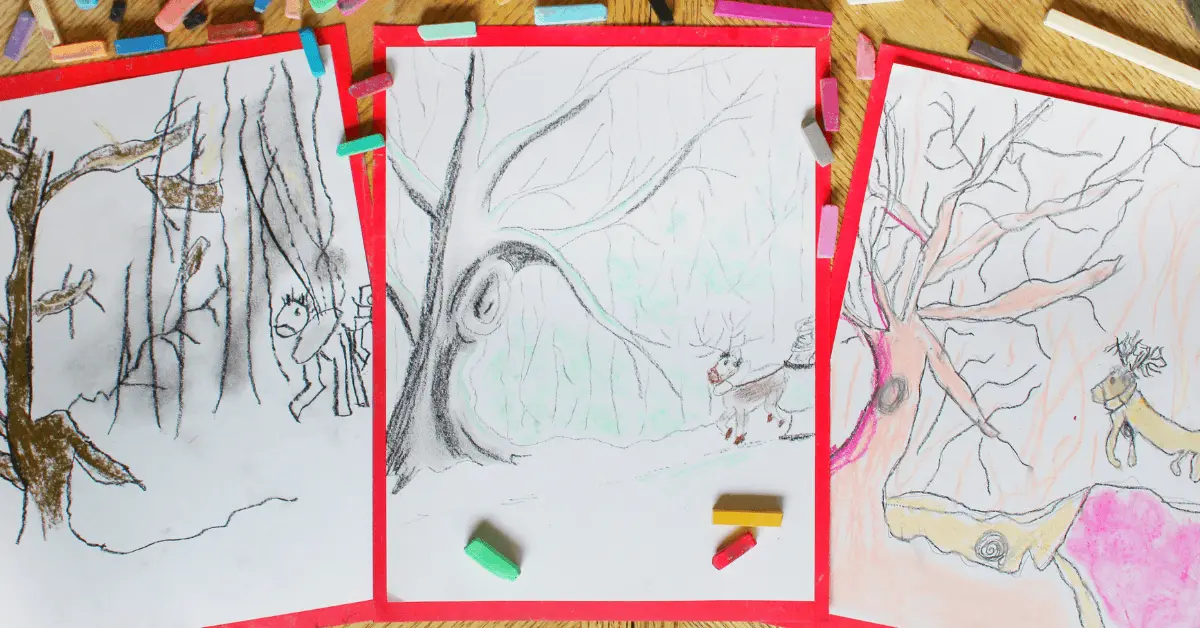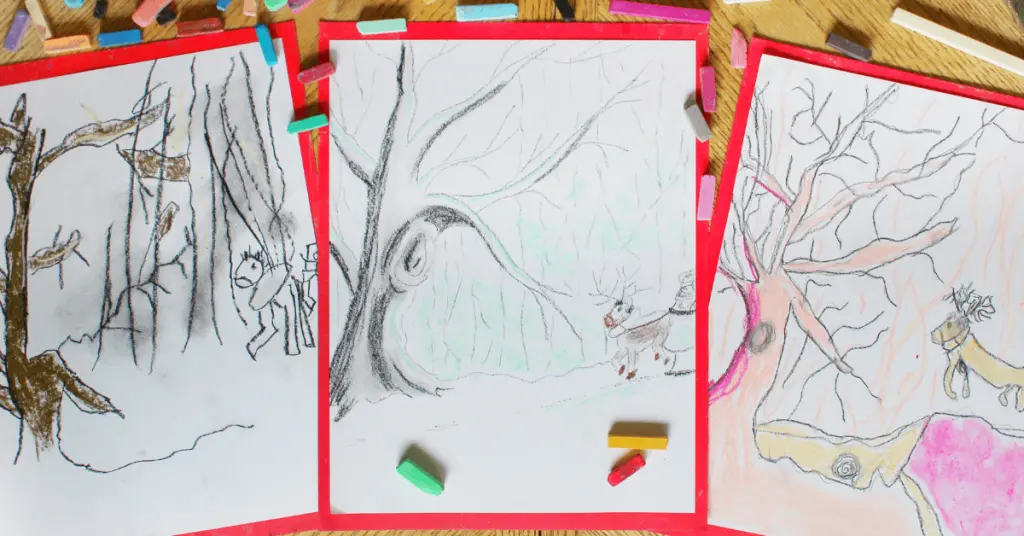 Map Your Way Across Narnia: Adding A Little Geography To Your Study
My son has been enjoying Nana's chalk pastel geography maps this year and was delighted to discover she has a video lesson mapping Narnia!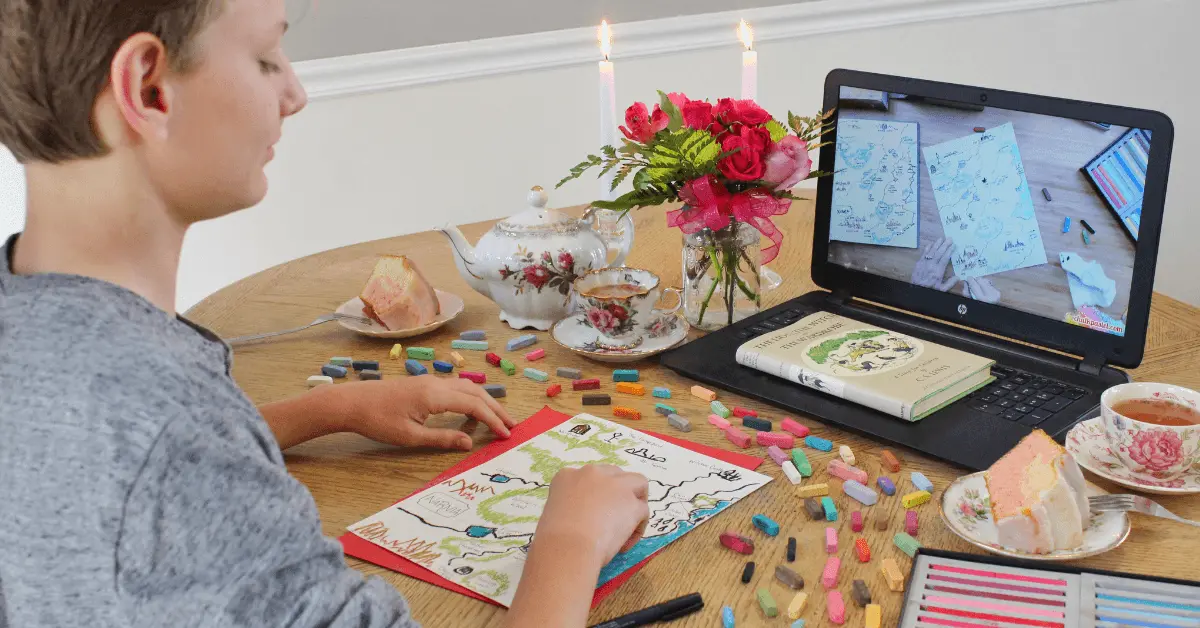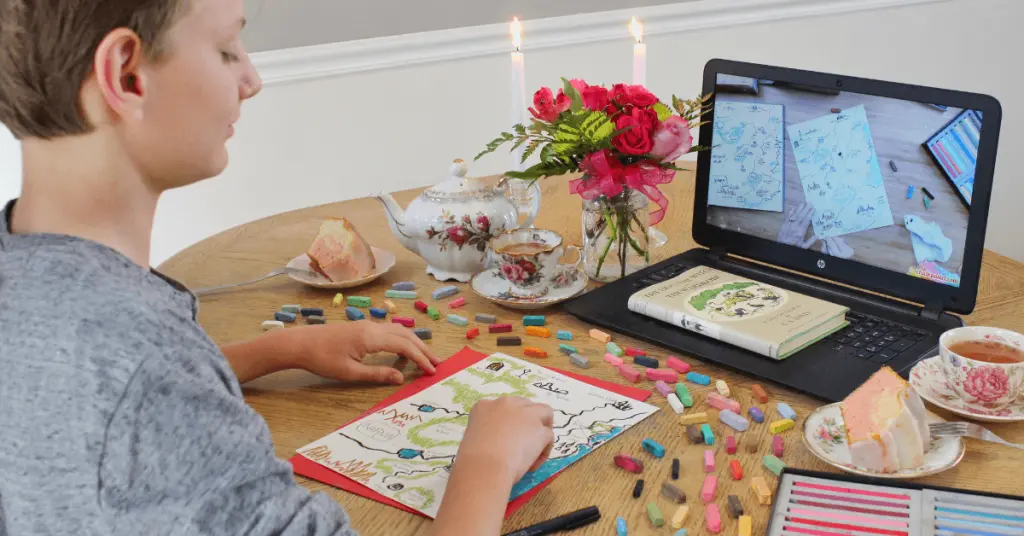 Take Up Swords and Prepare to Battle for Narnia
An adventure wouldn't be complete without a battle! Check out these awesome swords the children and I did!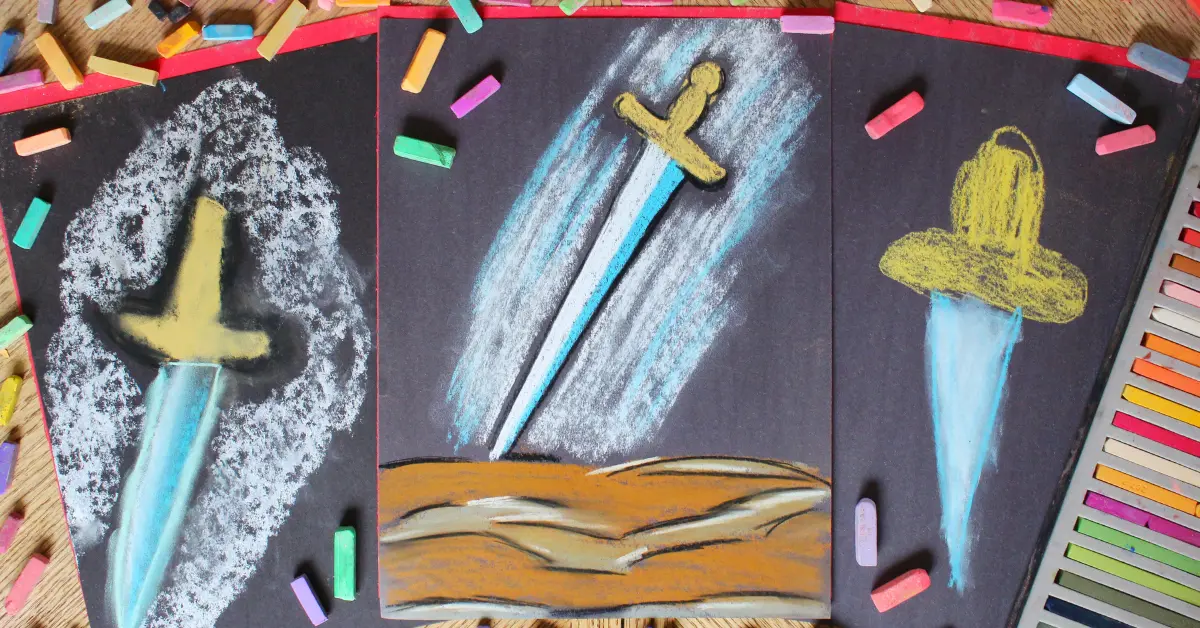 Aslan Will Be There Too
Of course Aslan will be there too! The great lion is always there when you need him. And oh, how great he is!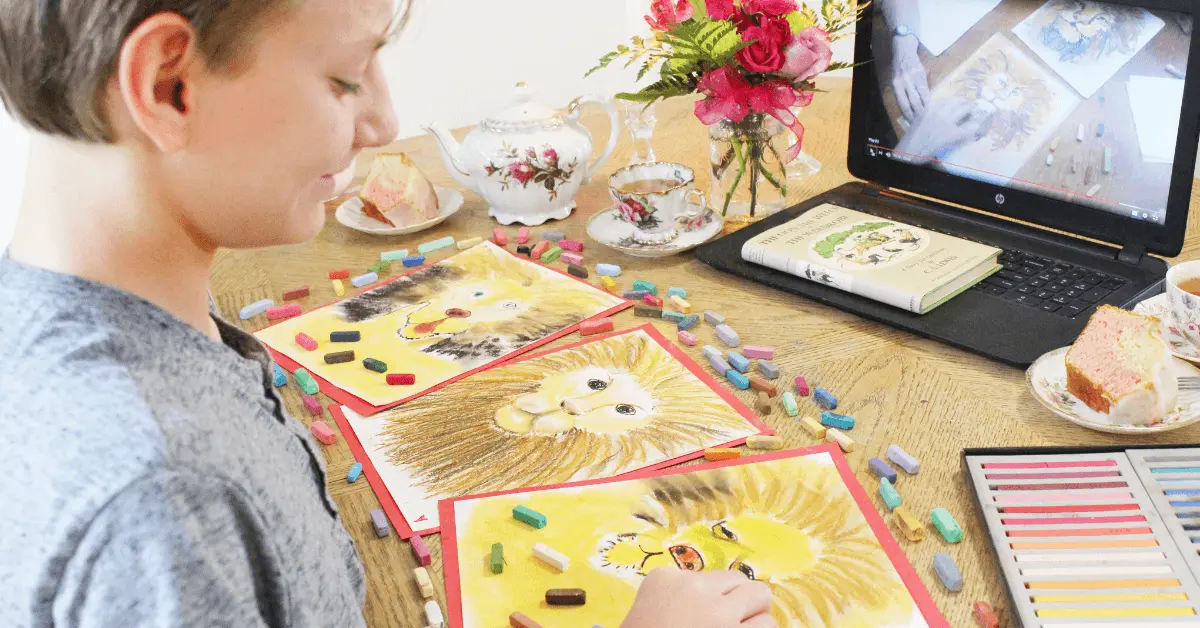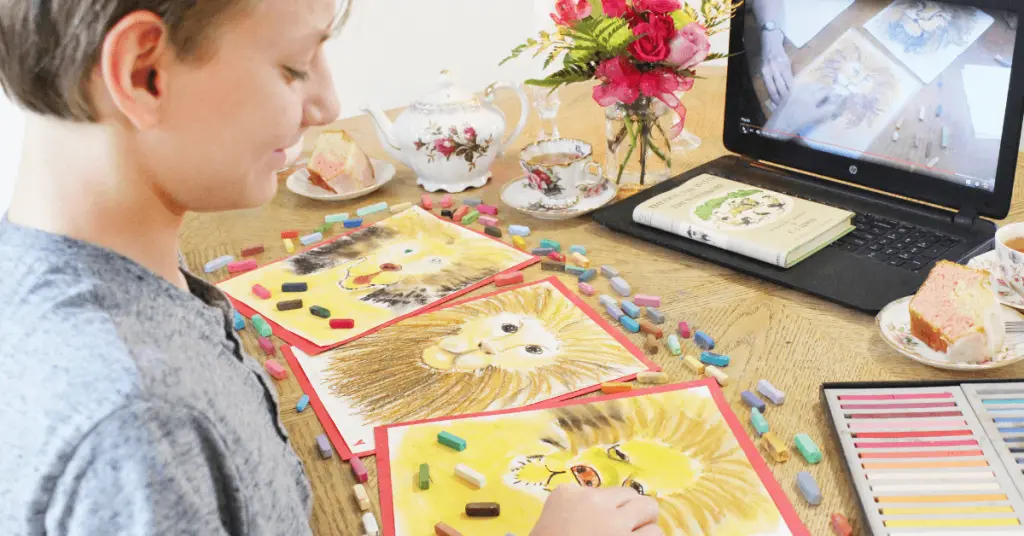 Chalk Pastels Narnia with Nana Homeschool Art Adventure
The adventure can continue with a trip on the Dawn Treader if you so desire!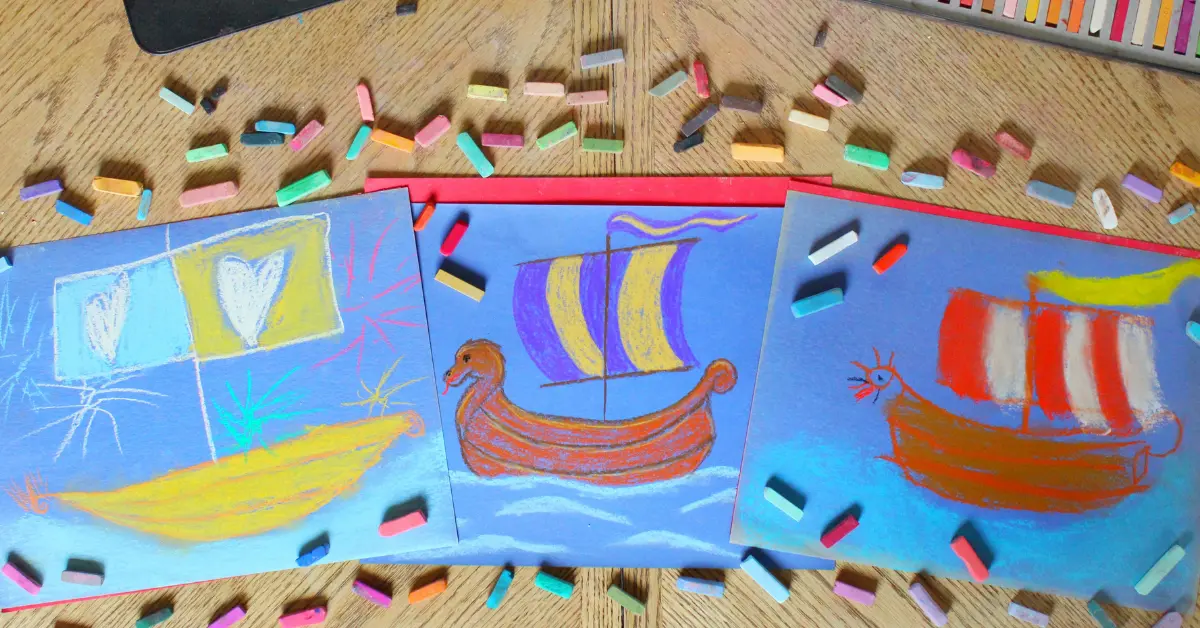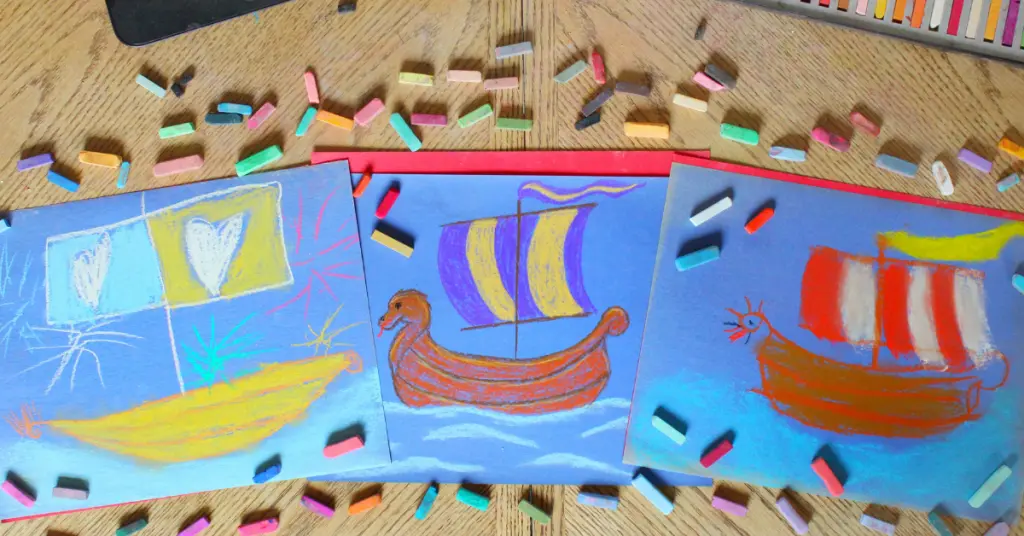 All Hail the Kings and Queens of Narnia
Sorry Susan, we didn't forget you. But there are only three of us and there are four Pevensie children.
Can you tell which crown my daughter created? Pink anyone? I'm sure Queen Lucy would love it.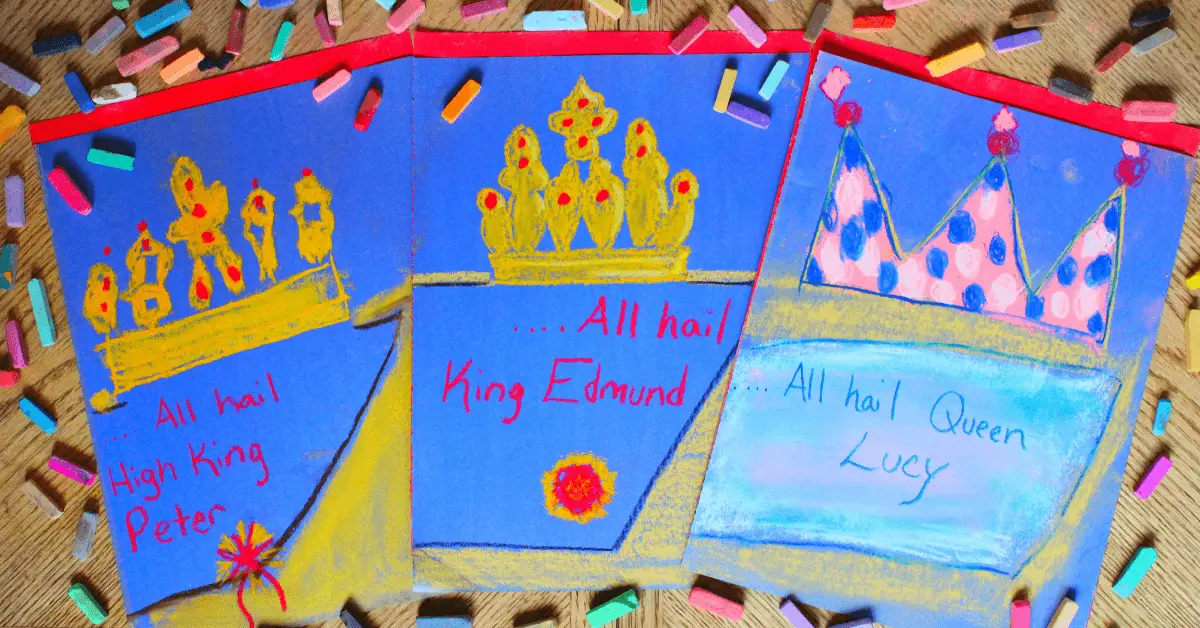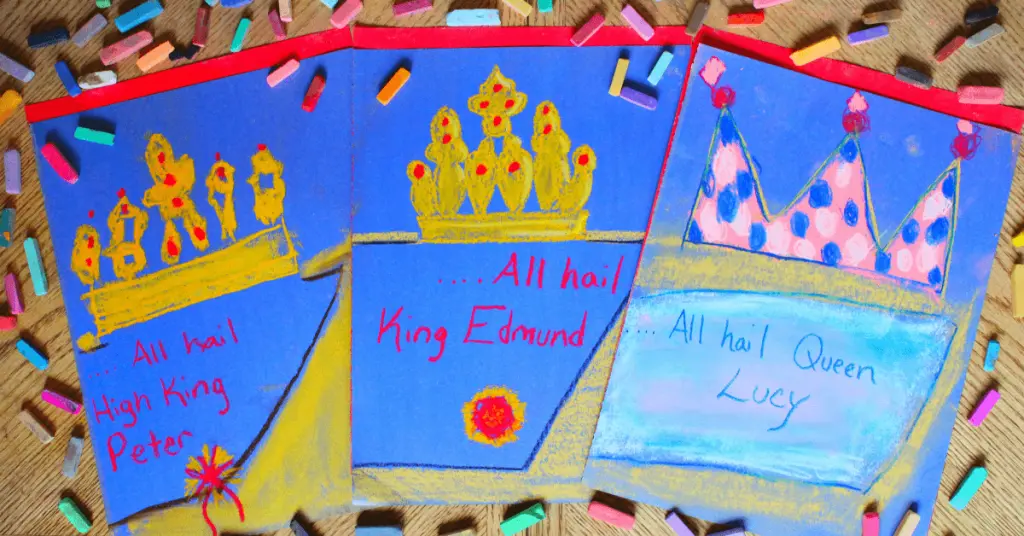 Get The Chronicles Of Narnia Homeschool Unit Study For Your Family
With the You ARE An Artist Clubhouse Membership you'll have access to 600+ chalk pastel lessons including a plethora of Narnia adventure lessons:
Through the Wardrobe
Lamp Post
Aslan
Narnia map
Carriage and horse for either Father Christmas OR the White Witch of Narnia
Cup of Tea with Mr. Tumnus
Beaver
Crown for kings and queens of Narnia
Sword
Winter forest scene with deer
Preschool winter scene
Snow
Icicle
Spring tree and spring tree reflection (when Aslan returns!)
Plus others to round out your Chronicles of Narnia homeschool unit study:
War helmets
British Isles map
Voyage of the Dawn Treader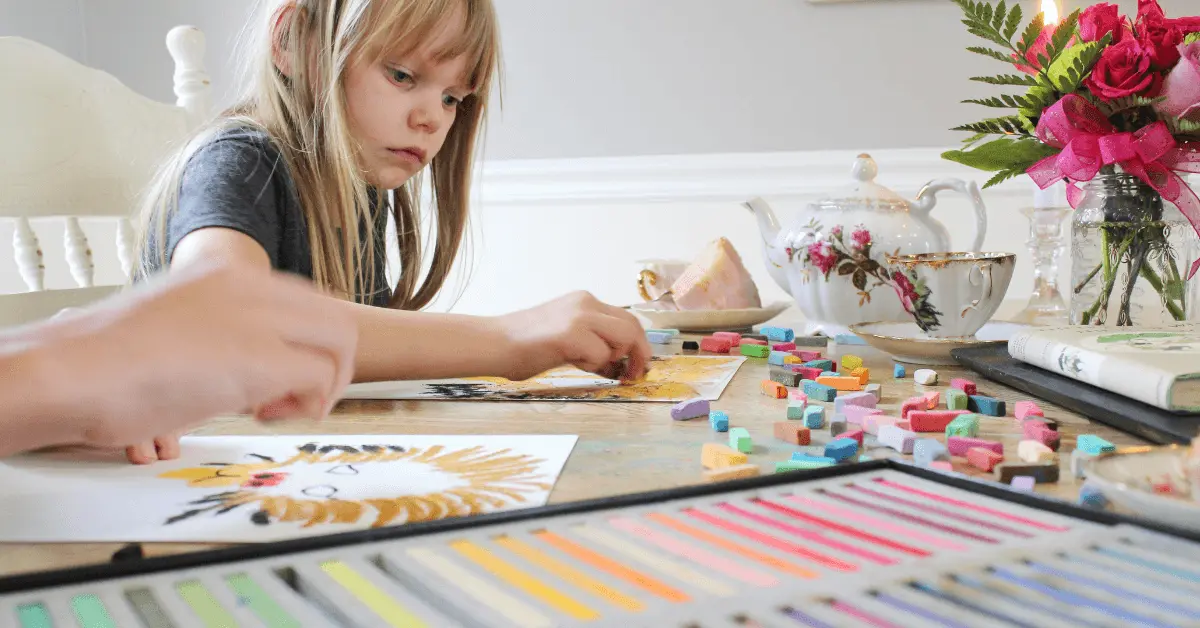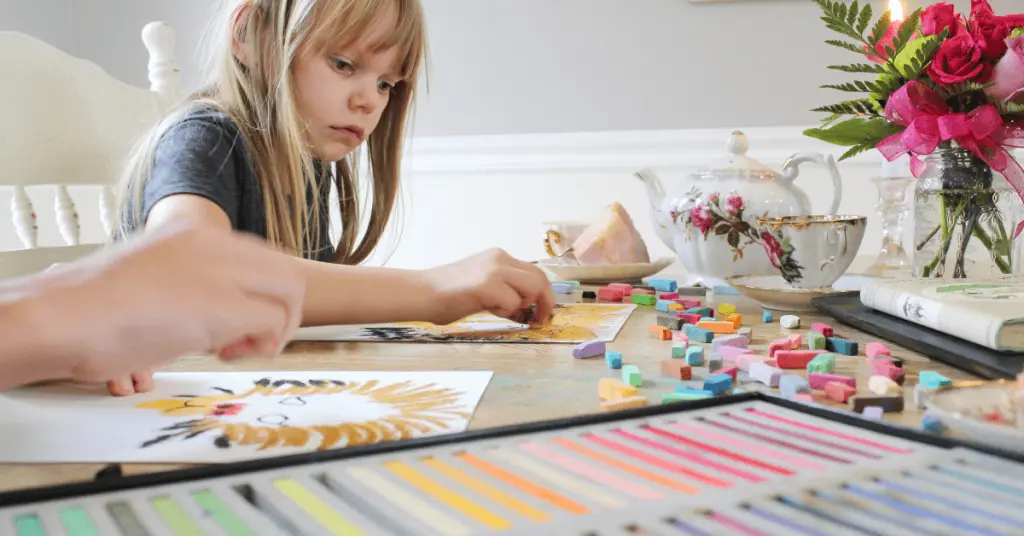 Narnia Art Adventure
The children loved adding art to one of their favorite book series of all time. I loved how we discussed different literary aspects of the books as they related to each pastel picture. But above all, we enjoyed our magical adventure together making memories that we'll all look back on with great fondness.