Life is moving at lightning speed for many American families, and there doesn't seem to be anything that will slow us down. Most children are enrolled in multiple classes, co-ops, groups, activities, sports, and quiet time is no longer a necessity. We spend less and less time in nature, we are drowning in stuff, and quality family time isn't sacred anymore. But, whether you are a homeschool family or not, simplicity is key! There was never a time that our families needed simplicity more than now.
Upon pondering this, Henry David Thoreau's book Walden comes to mind. In short, American author Henry David Thoreau journals through his two-year stay in a cabin on Walden Pond. His journey is based on his desire to illustrate a simpler way of life while living amid nature. He brings attention to self-sufficiency, makes scientific observations about the nature around him, and experiences a spiritual awakening. There is so much we can learn from the book Walden and Henry David Thoreau in general.
If you are craving simplicity in life or homeschool, this is a lesson you may want to use. You can adapt it to your own homeschool however it fits best. We love to decompress with tea and literature, so tea time is fitting for Thoreau's "I Went To The Woods" Art Lesson.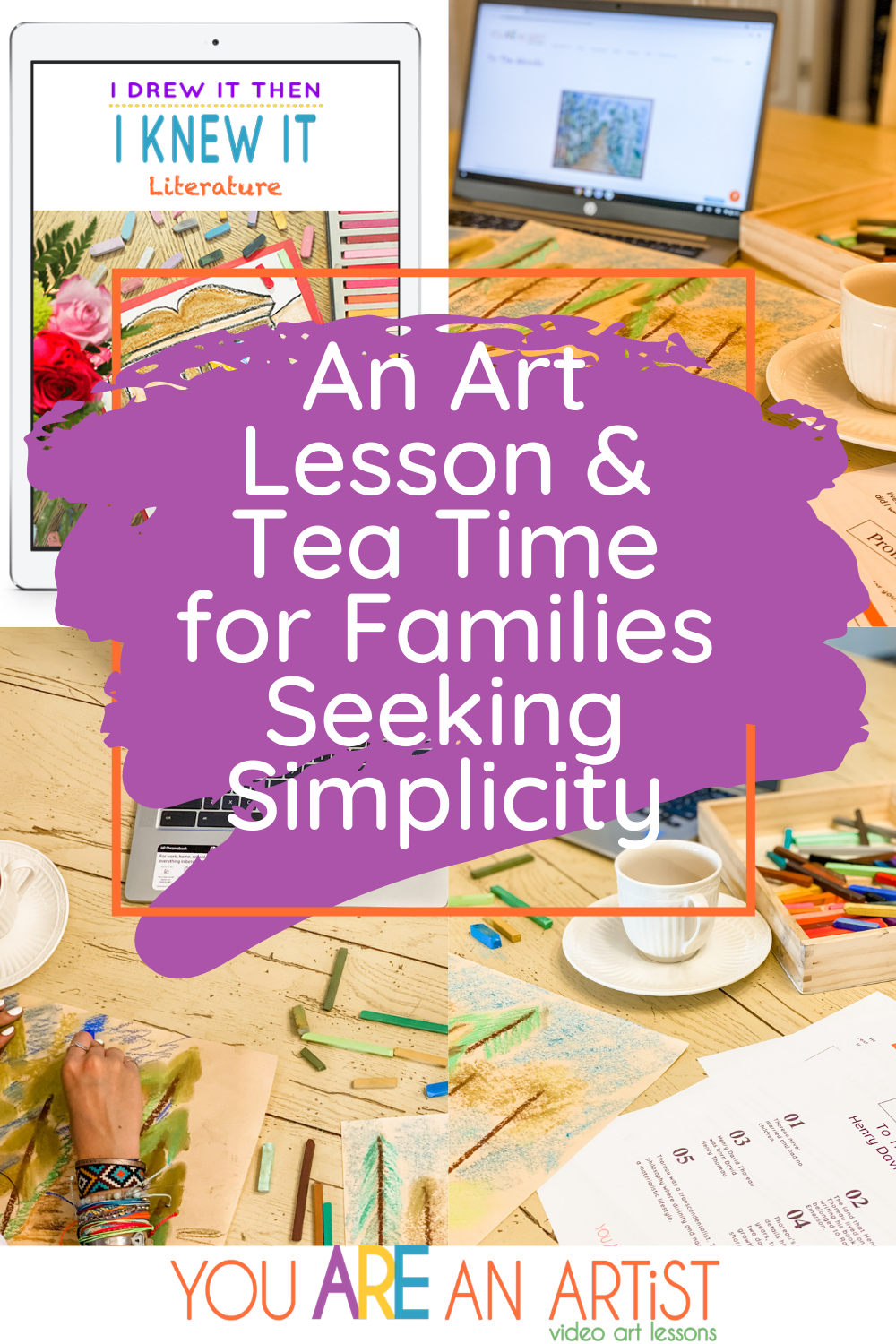 Why Use Thoreau's "I Went To The Woods" Homeschool Art Lesson?
Start Combining Literature and Art: If you haven't joined the You ARE An Artist Clubhouse yet, this is a wonderful lesson that will give you a glimpse into the simplistic and rich learning that can come from combining art and literature in your homeschool. We have an entire Literature Companion Workbook that you can use right alongside art lessons like this one with fact sheets, writing prompts, research ideas, and more!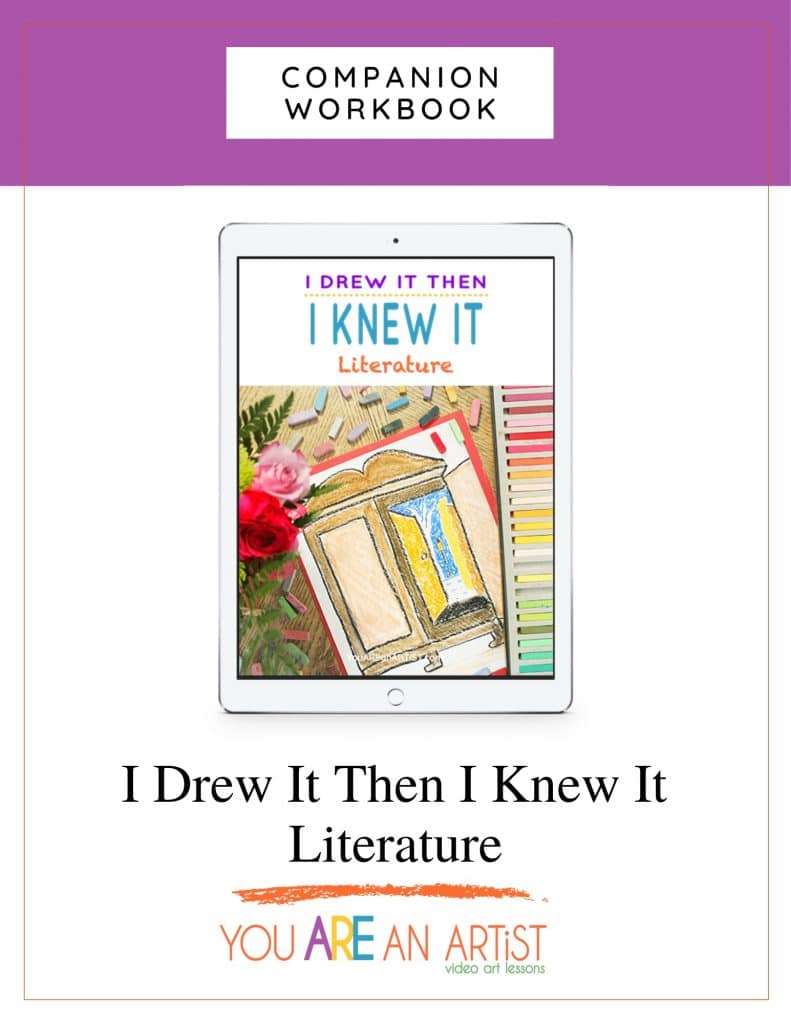 Slow Down And Learn To Enjoy Your Homeschool: If you or your children find yourselves disliking or even dreading your homeschool, you may need to slow down. By using Thoreau's "I Went To The Woods" Art Lesson, you can do precisely that. Try a new experience in your homeschool that your kids will love, art! By incorporating art into any homeschool lesson, I have found that I have happier students, a more peaceful homeschool, and it's simple to do.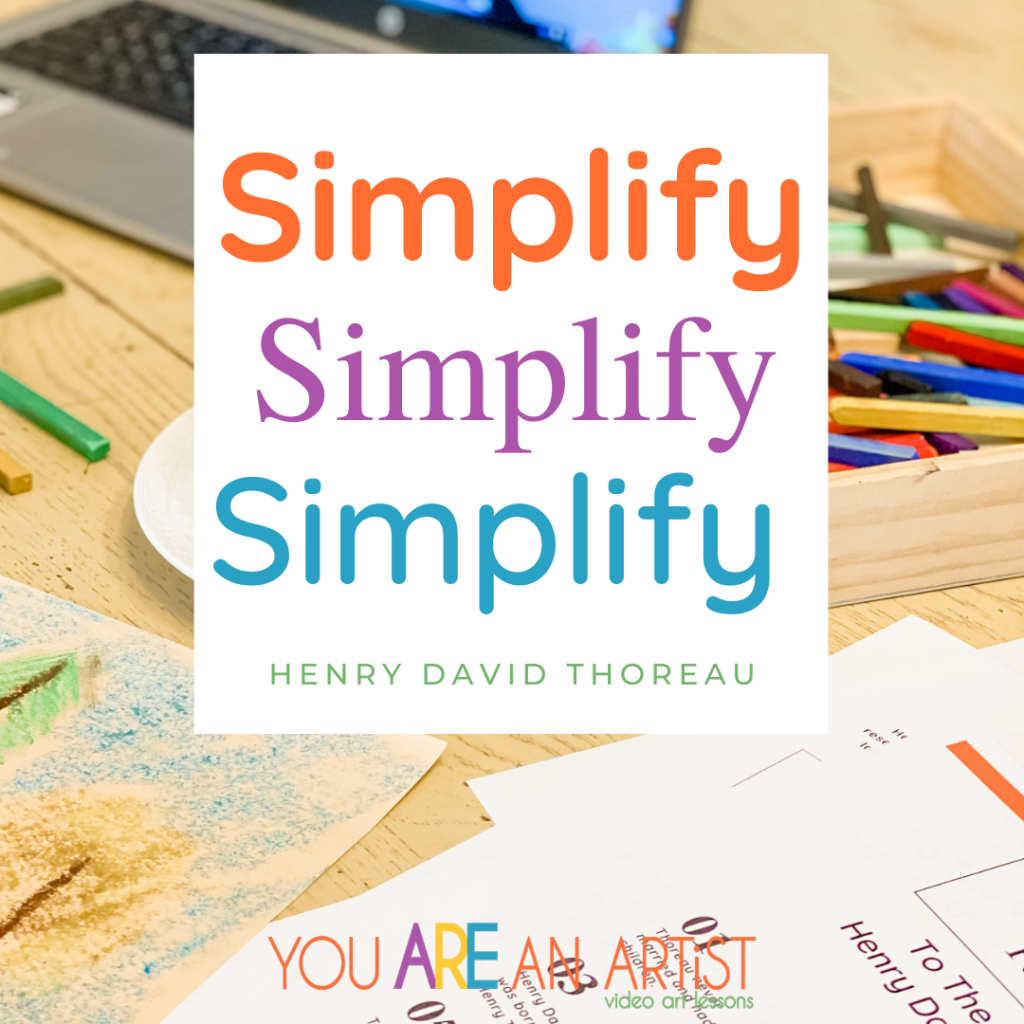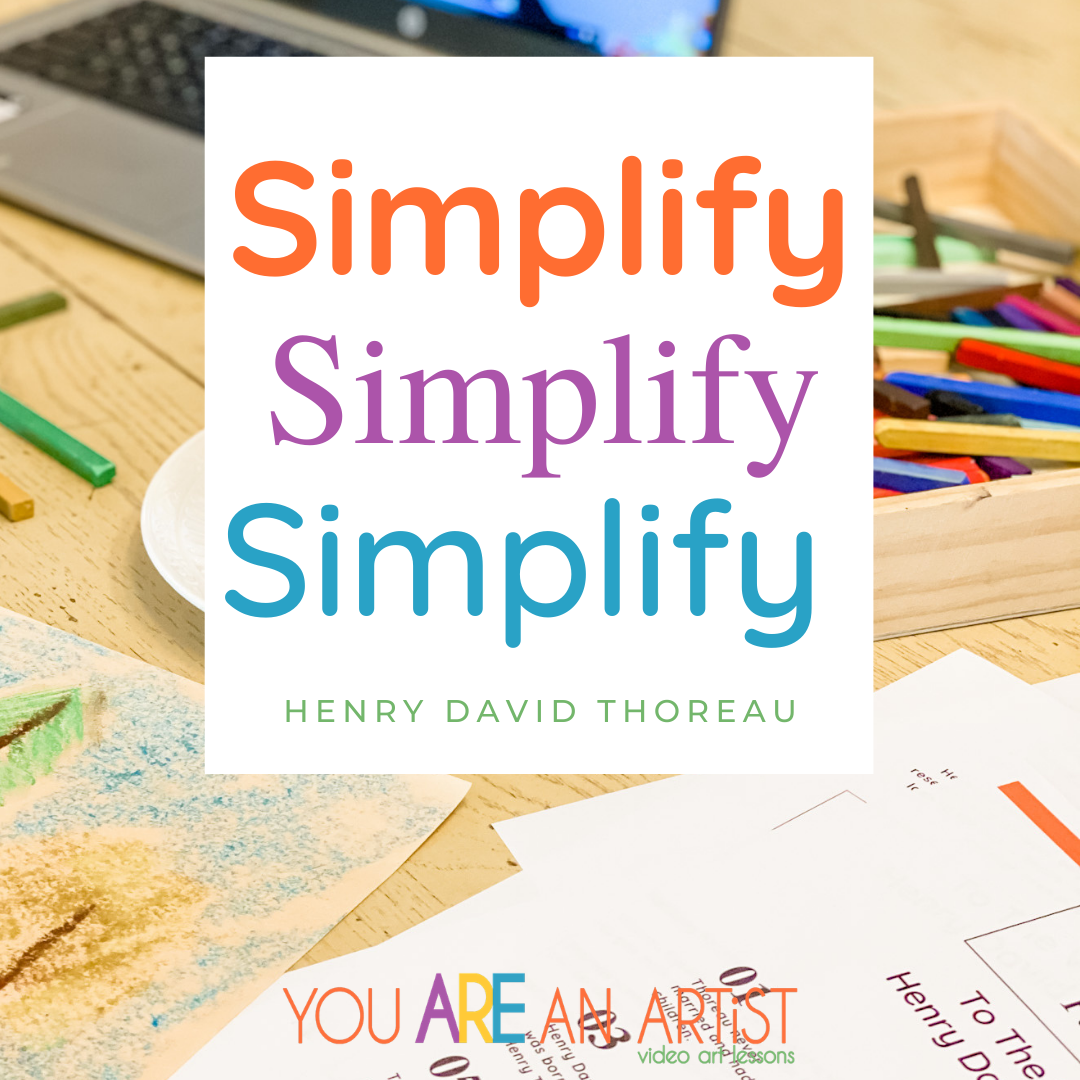 Enjoy A Lesson On Simplifying Life: Whether you are a homeschooler or public schooler, Thoreau's "I Went To The Woods" Art Lesson is perfect for taking time to reconnect to nature and ponder how important it is to live a life of simplicity. This lesson is especially good for teens; you can dive into a deep conversation about Thoreau's views on how to live a simplistic yet meaningful life.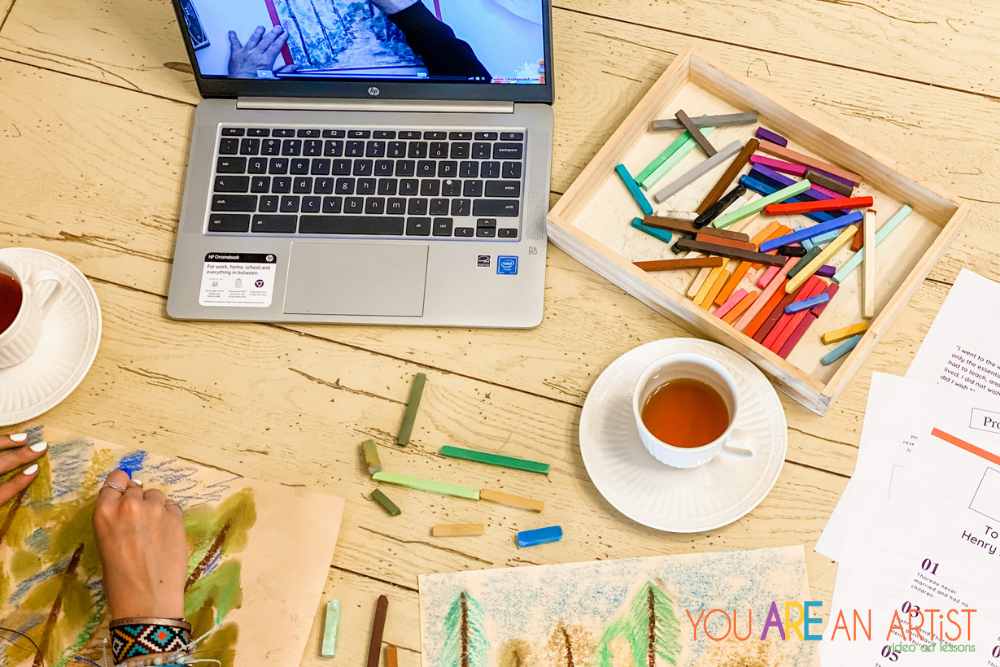 More "I Went To The Woods" Homeschool Learning Ideas
Here are a few ideas to get you thinking and planning your own "I Went To The Woods" homeschool lesson. Remember to adapt the lesson to how it fits your homeschool best! There is no right or wrong way to study literature, but there are many ways to enjoy it.
Read Walden Together: That's right, this one could be an excellent read-aloud for your high school students. You could read the book together and celebrate the completion of the book with a lovely tea time. Also, since you can use chalk pastels to earn a visual art credit, this would be a fantastic lesson to accumulate art hours.
Tea Time & Art: If you aren't ready to read the complete book yet in your homeschool or don't plan to, you can enjoy a tea time and just read the "I Went To The Woods" excerpt together. (The printable is inside the Literature Companion Workbook.) This would be a wonderful option for a multi-age homeschool; even elementary children will enjoy hearing the reading along with Nana's gorgeous art lesson.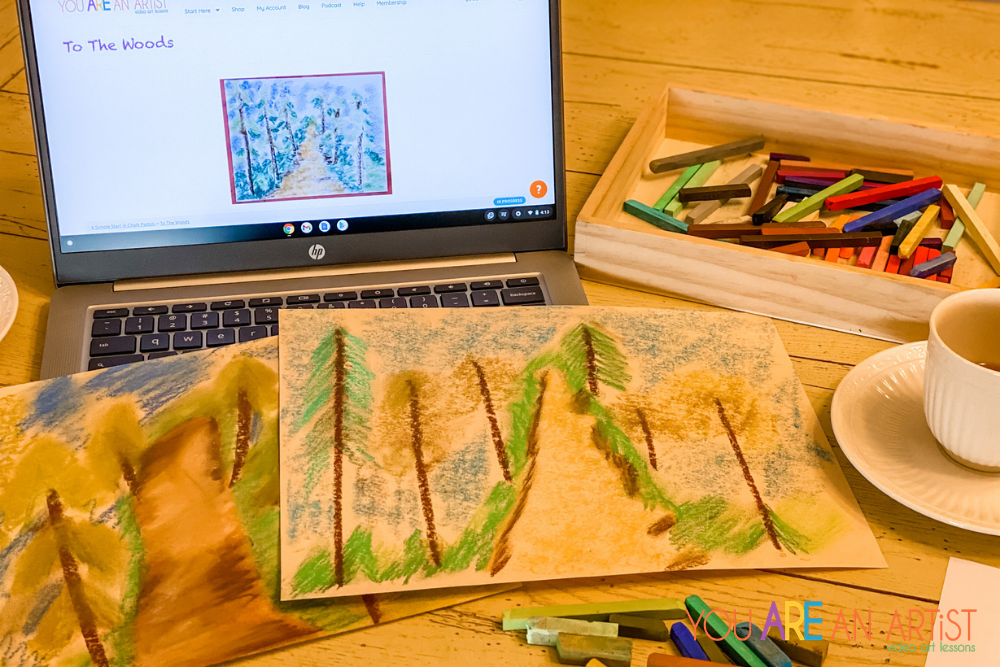 Inspire Your Writers: Before or after diving into a tea time or Thoreau's "I Went To The Woods" Art Lesson, do some writing. With our Literature Companion Workbook, you will get fast facts to learn about together, writing prompts, and more. You can spark your writer's creativity with some fun writing prompts that are already done for you.
Have Deep Discussions: Art lessons like these can spark some memorable conversations at home. Talk about the importance of simplicity, connection to nature, or brainstorm how you might simplify your homeschool. For example, simplifying your homeschool might mean fewer textbooks and more hands-on activities like art. Or it may mean less online work and more time in nature. Find what adjustments you need to make by asking your children and get their input.
Research Projects: If you have middle school or high school students, you might want to assign a little research about the author. Make sure you use the Literature Companion Workbook to grab your "I Went To The Woods" printable, get five fast facts to enjoy, and complete the research project. Another fun idea may be looking up more Henry David Thoreau quotes.
There are so many ways for you and your students to enjoy Henry David Thoreau's works and Nana's coordinating art lesson. We hope this inspires you to slow down, put on some tea, and create together. To get started join the Clubhouse and grab all the resources that I mentioned!
Courtney is a Jesus-pursuing, native Texan, homeschool mom of three, and she believes homeschooling can be a peaceful and productive rhythm. At Grace, Grow & Edify she helps families create peaceful homeschooling atmospheres through faith, organizational strategies, and cultivating strong roots at home. She is also the founder of Homeschool Mastery Academy.