At You ARE an ARTiST, we have designed our art lessons to be fun to use family style for all ages! These fun family activities have options for celebrating throughout the year.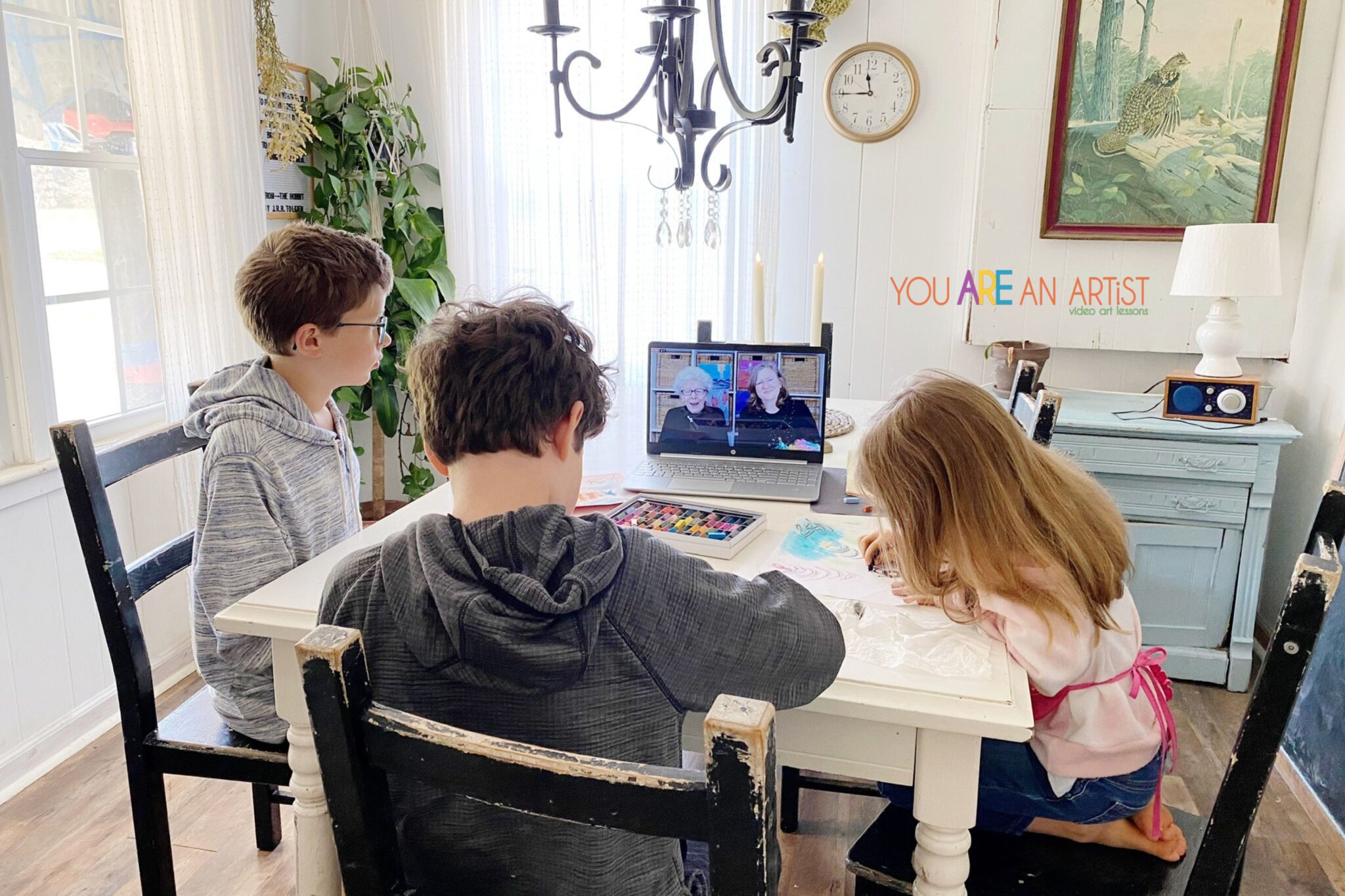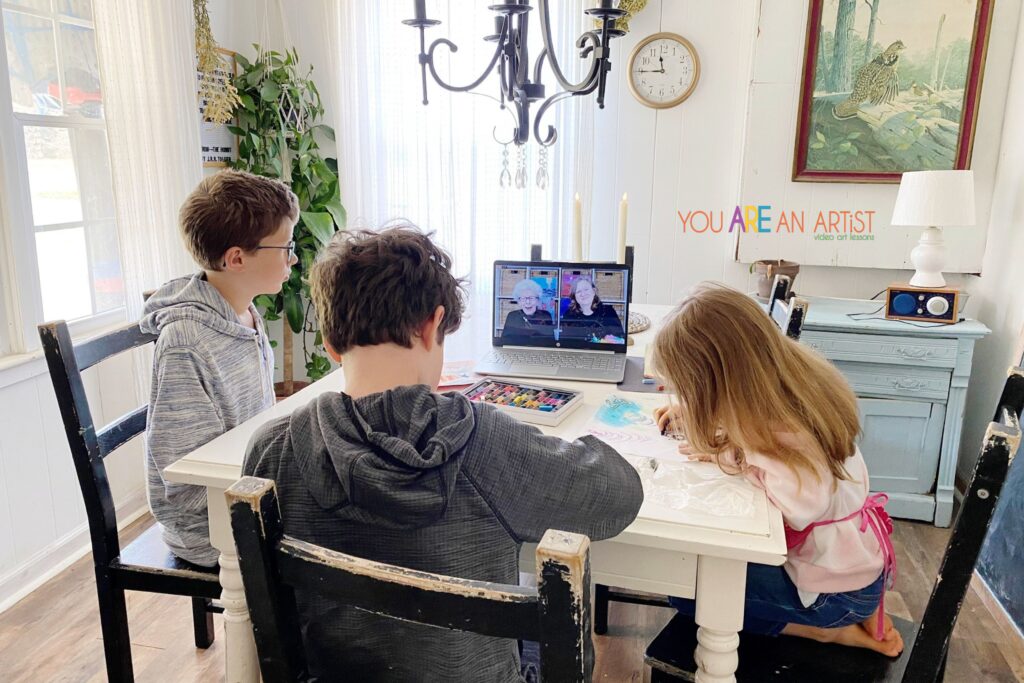 Fun Family Activities: Art Lessons to Celebrate Each Season
We make it easy! Chalk pastels are truly art for all ages. No prior skill level necessary.
Chalk pastels are also a unique art medium. Younger artists find chalk familiar and fun. Budding artists that are upper elementary aged and older, find such freedom in independent time with chalk tutorials and creating what they please. Artists with much more practice still find chalk pastels challenging because of all the layering and 'painting of light' they can do. Adults enjoy chalk pastels too! The possibilities are endless.
We are dedicated to providing parents with the support they need to make homeschooling a joyous adventure, where children can explore their imaginations, develop essential skills, and create lasting memories.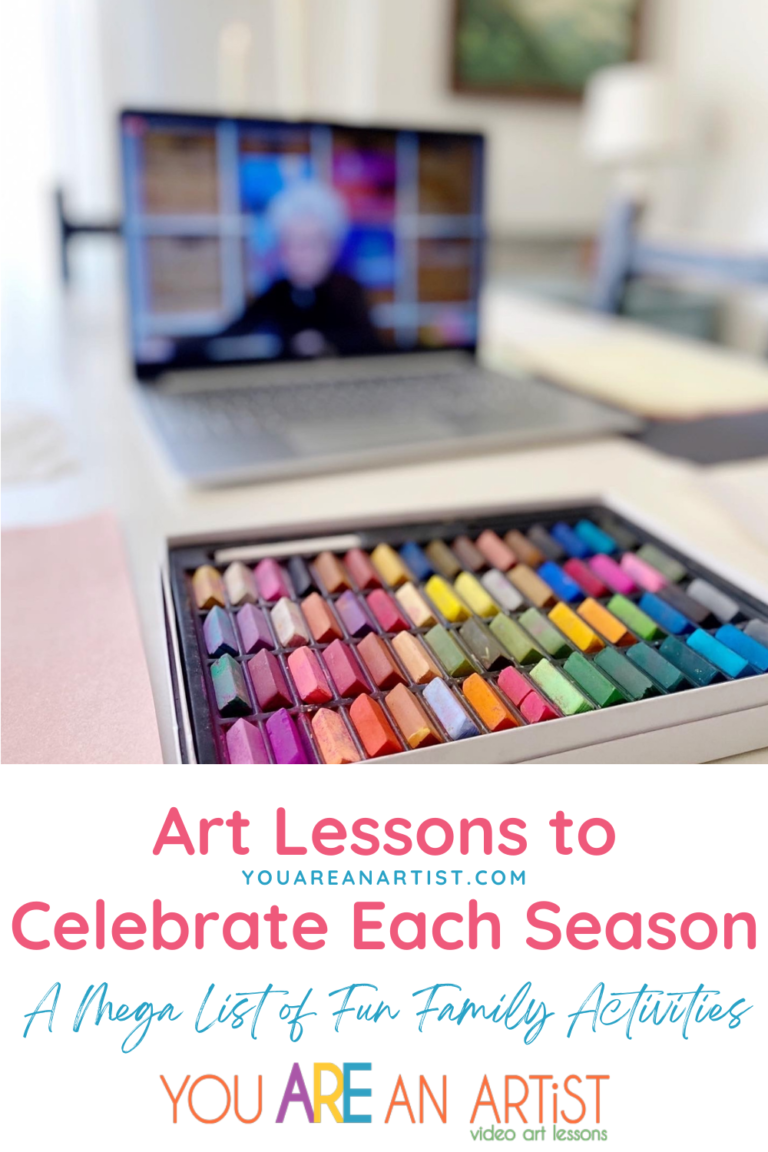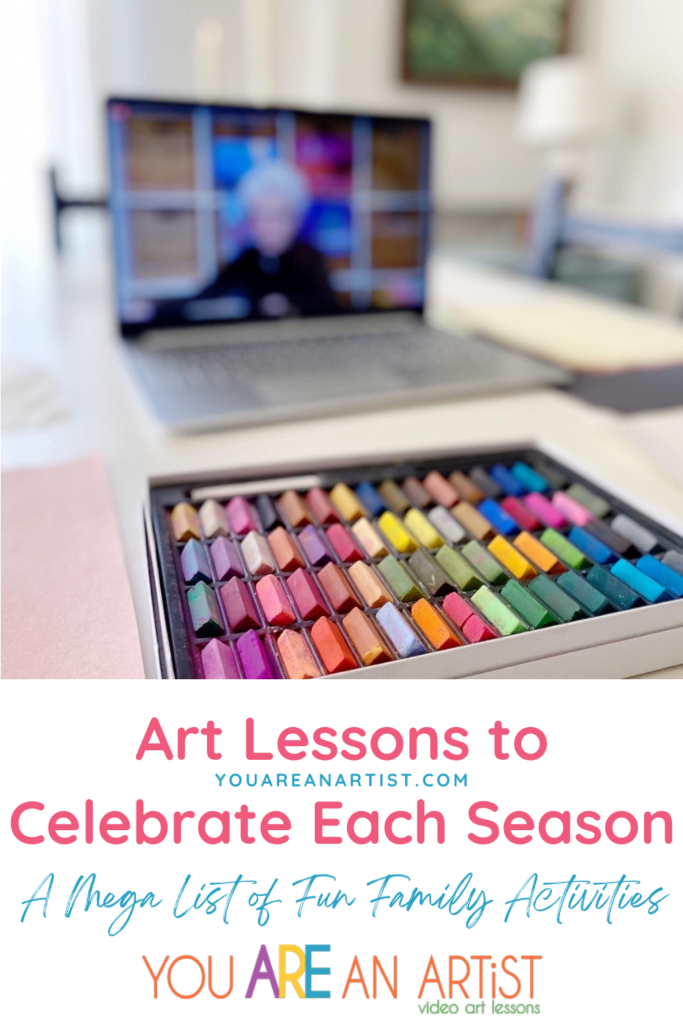 Getting Started with Homeschool Art: Supplies List
To get started in homeschool art, all you need is:
construction paper
a starter set of chalk pastels (our favorites are here)
Nana's video art lessons
baby wipes or a slightly damp paper towel for easy clean up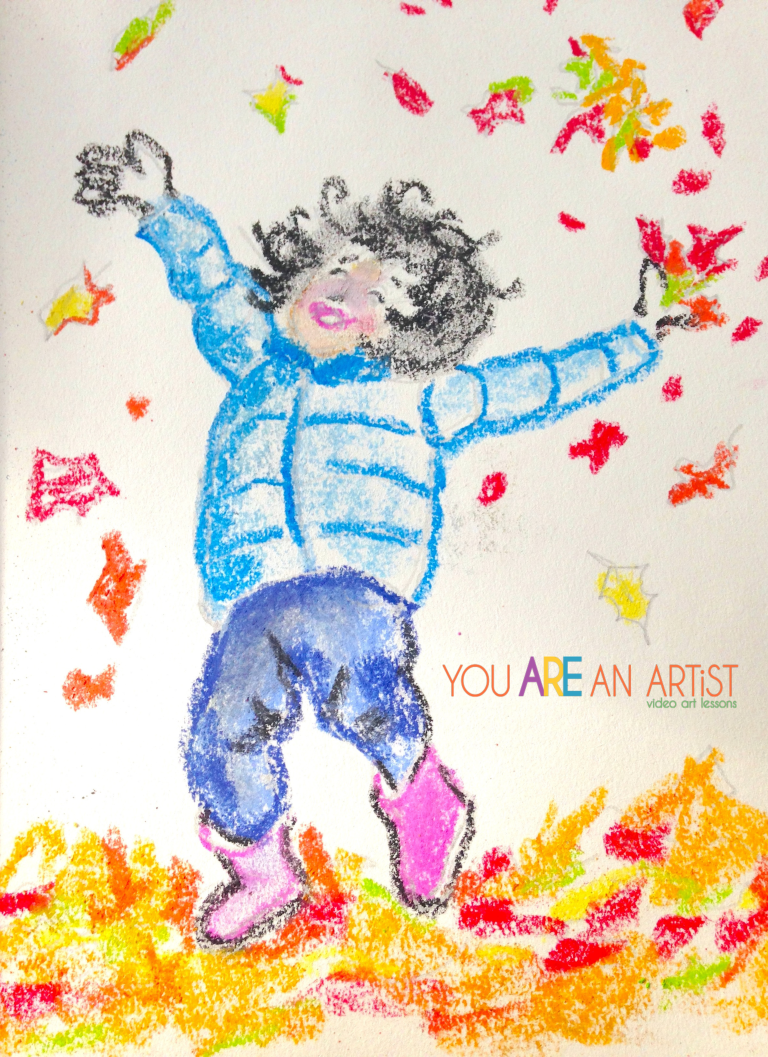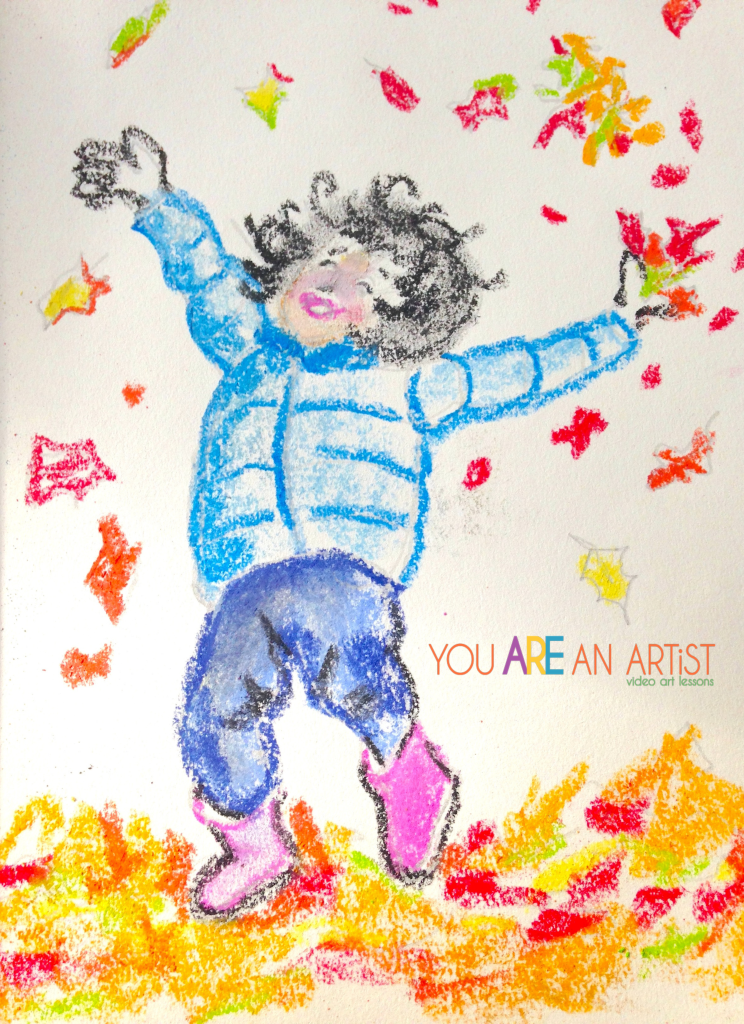 Fall Art Lessons for Families
September, October and November art activities – a fun round up for each month of fall! Members enjoy a printable Fall Bucket List, including a 'create your own' version.
Fantastic Fall Art Lessons – Grab a slice of apple pie, some warm socks, bury your homeschooler in a pile of leaves or enjoy these fantastic fall art lessons together! Have we got a fall bucket list for you!
Fall Hygge Homeschool Art Lessons – Here are some super simple ideas on ways to create a fall hygge homeschool art lesson with items you may already have on hand or within easy reach.
Pumpkin Art Lessons Perfect for Fall Homeschooling – Nana's Fall pumpkin chalk pastel art lessons for all ages are always a favorite – including It's The Great Pumpkin Charlie Brown art lesson.
The Very Best Apple Art Activities – Make the most of fall with the very best apple art activities! Enjoy a bushel of favorites from apple pie to favorite read alouds like How to Make an Apple Pie and See the World and Apples to Oregon.
Talk Like a Pirate Day! Ahoy Matey! Talk Like A Pirate Day is the perfect opportunity to add a bit of fun to your homeschool. Do you know what a pirate's favorite subject is? Arrrrrt! Get it? Arrrr. See what I did there? But seriously, there are plenty of creative ideas to add to your homeschool day, and some of them count as educational. So, let's plan a day or afternoon in your homeschool that the kids will never forget!
Fall Art and One on One Time with Kids – Art is an exceptional activity for strengthening parent-child relationships. With the crispness of the fall air and the rustle of fallen leaves, it is a great time to explore fall art with your kids. Using chalk pastels you can create both beautiful artwork and lasting memories while nurturing your connection.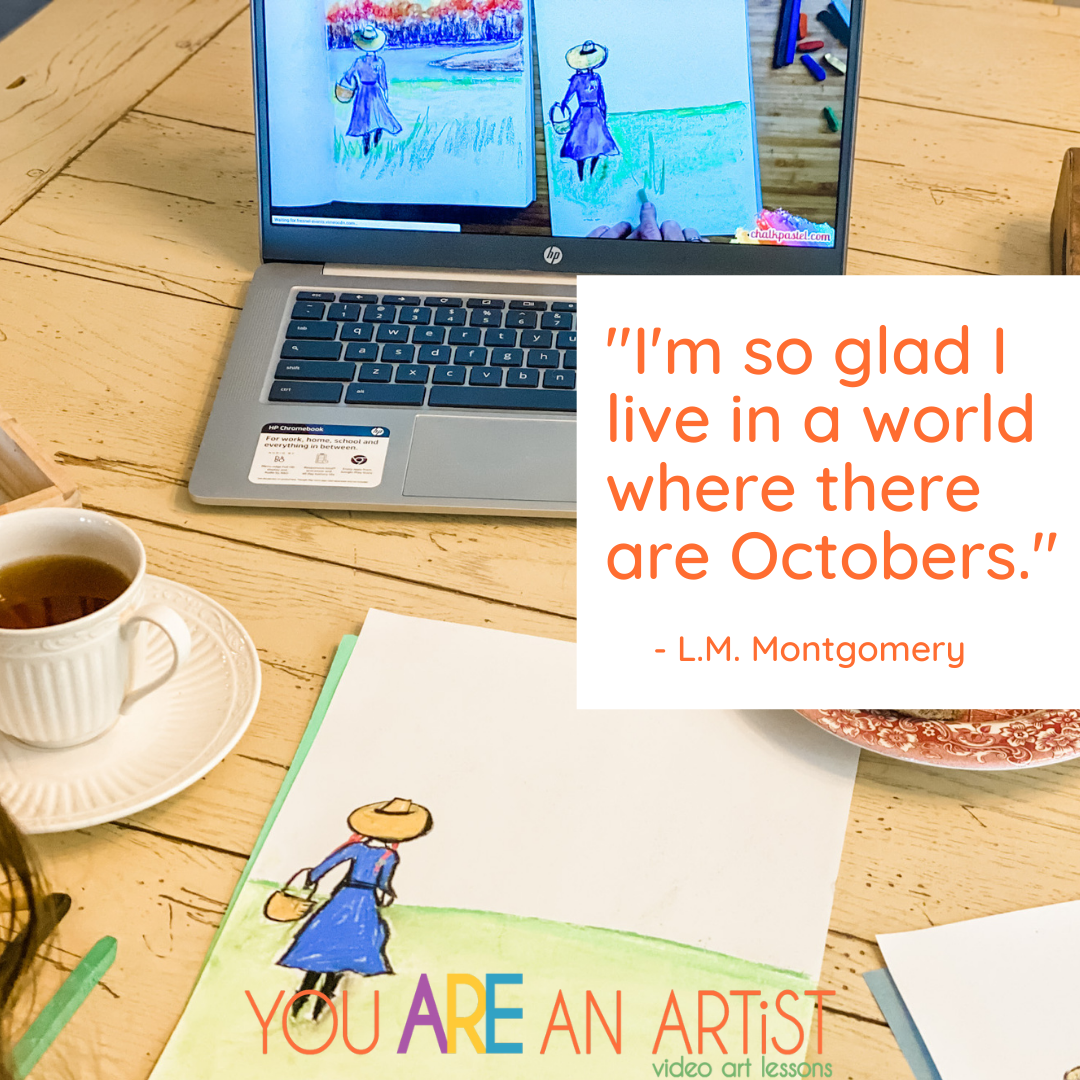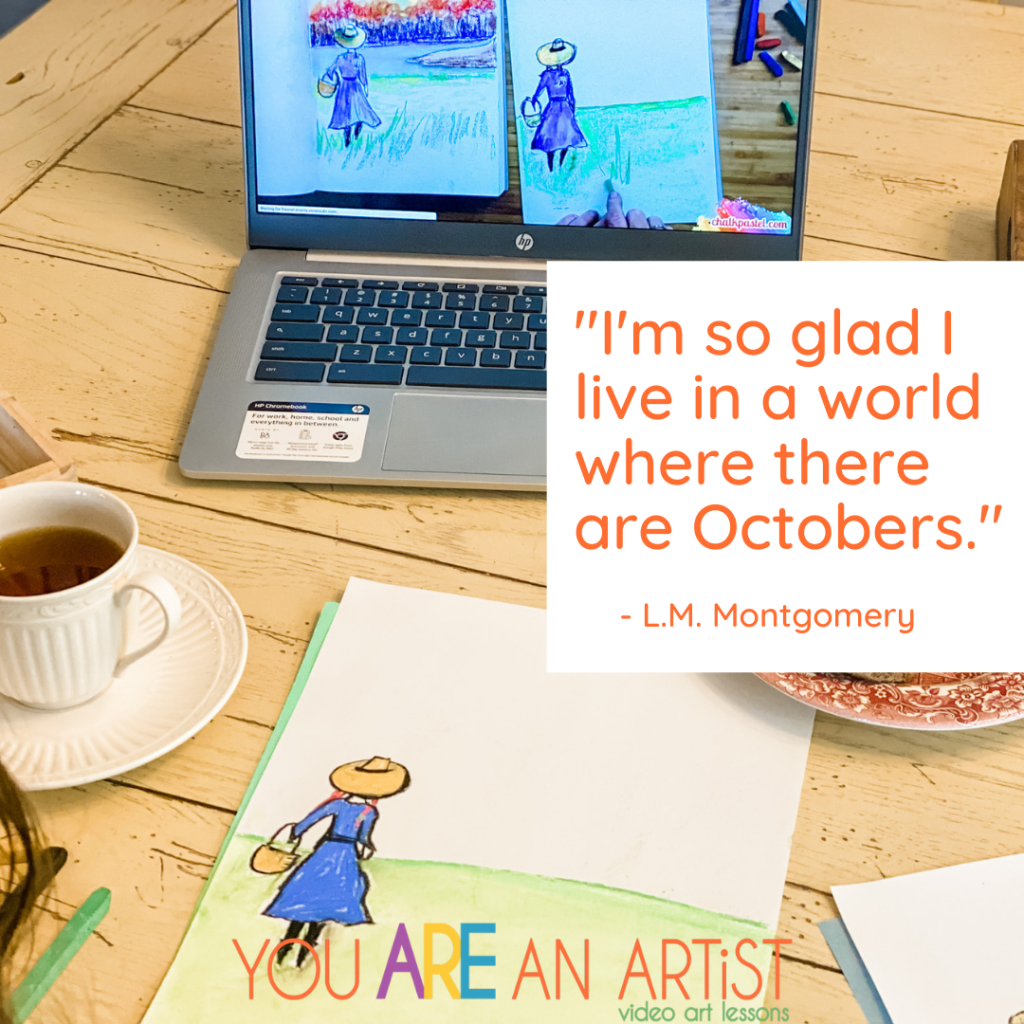 Homeschool Bird Study: I Drew It Then I Knew It Science – (free to try!) Your resident ornithologist will love this homeschool bird study with Nana's bird art lessons! There are so many ways to combine a homeschool bird study with art. Maybe a seasonal study, the Great Backyard Bird Count, nature study and more. You can have an I Drew It Then I Knew It homeschool science lesson.
Halloween Homeschooling: (Not So) Spooky Activities for Learning and Fun! Are your kids excited about Halloween homeschooling? Maybe you don't do spooky but still want to incorporate some delightful festivities for the season. Look no further than Nana's chalk pastel art activities for learning fun!
Veteran's Day Art Activities – includes the history of this special day! Whether you know a military member personally or not, there are several activities and ideas you can use to help children recognize and honor our veterans.
Charlie Brown Thanksgiving Homeschool Art Lessons – Thanks to Nana, you can create an entire experience around A Charlie Brown Thanksgiving! This is one your kids will remember too.
Thanksgiving Art Activities You'll Be Grateful For! Thanksgiving is a perfect time to create learning experiences that blend family and fun. These are thanksgiving homeschool activities you'll be grateful for!
Thanksgiving Homeschool Lessons: Draw Your Way Through The Story – Here are some ideas and resources to help you plan some time to dive all into learning about Thanksgiving and creating your own homeschool traditions.
A Cranberry Thanksgiving Book Study – Here are just a few ways you can enjoy a Cranberry Thanksgiving book study in your fall homeschool plans – with art, activities, baking and more! Don't miss Nana's Mr. Whiskers homeschool art lesson at the end.
Thanksgiving Hymn Favorites – One of our favorite ways to celebrate during this time of Thanksgiving is with hymn studies. Many songs help us to remember our gifts and sing our gratitude to God. Here, I've included Thanksgiving hymn favorites for you to enjoy, along with learning activities for your homeschool.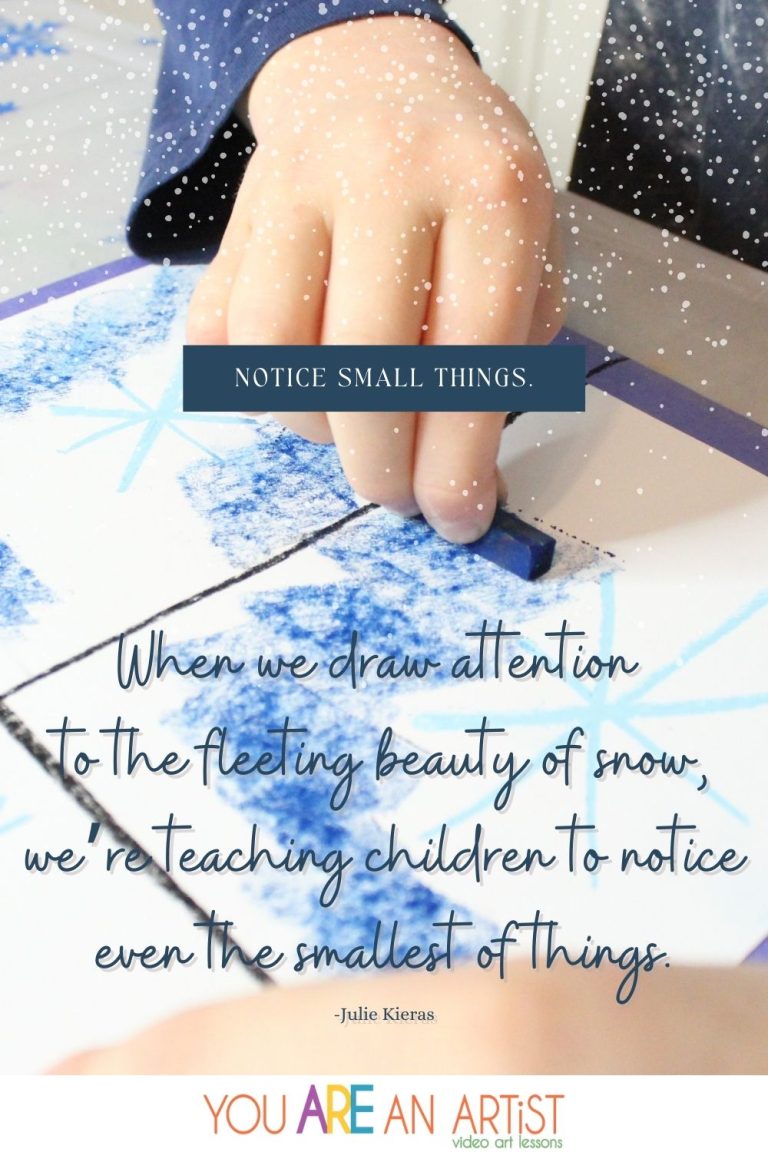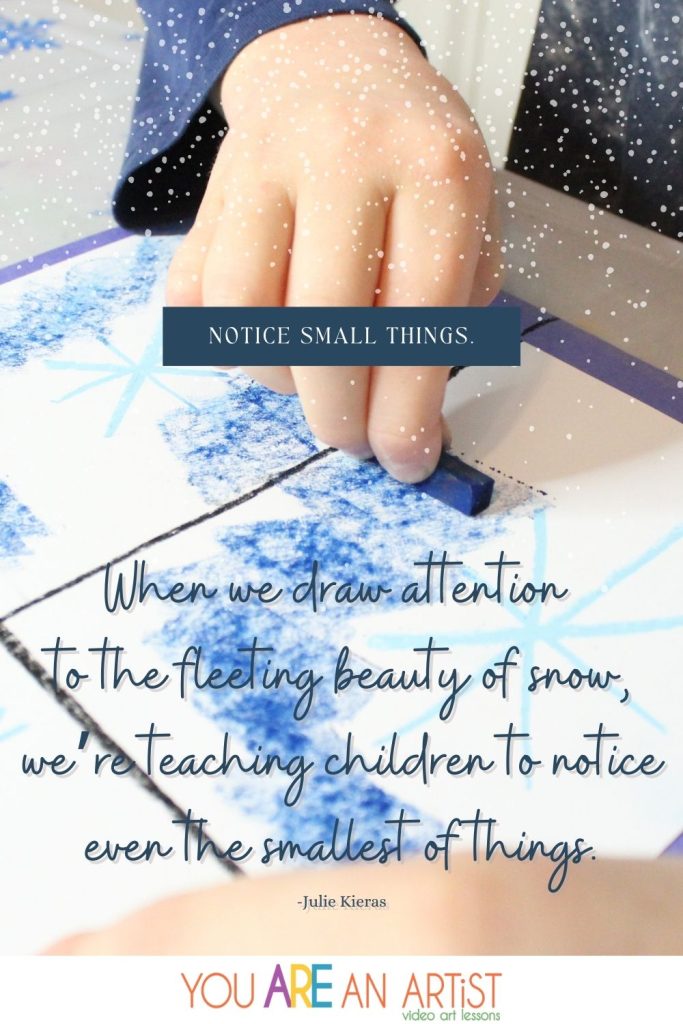 Winter Family Art Activities
December, January and February art activities for the whole family!
A Winter Homeschool Snowflake Study with Snowflake Bentley – This winter homeschool snowflake study combines the beauty of winter with the fascinating life of Snowflake Bentley.
How to Draw a Painting Snowman – Not only can you make the snowman just like you'd like him, you can design your background, plus – decide what your snowman will paint! Nana's How to draw a painting snowman with chalk pastels is perfect for your cozy, winter homeschool art time.
Winter Solstice Art Activities – Celebrate the winter solstice with your kids with chalk pastels winter themed art! They are easy and fun for the whole family. A perfect addition to your winter homeschooling!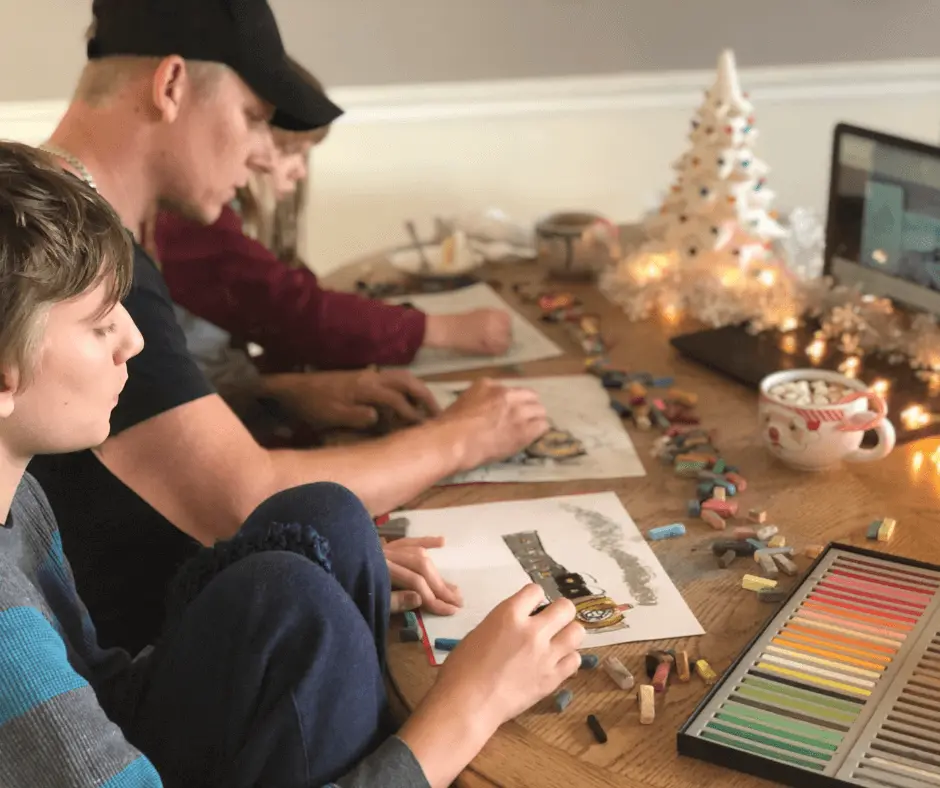 Winter Polar Express Art – The kiddos always look forward to our holiday chalk pastels and togetherness. This year we were super excited to partake in the Artist Express lesson! When Papa learned that our plan was to watch the Polar Express movie and then draw our own version of a train in the snow he asked if he could join in too! The kids were thrilled!
Pearl Habor Remembrance Day – perfect for your modern history buff!
Draw Your Way Through the Christmas Story – Add these Advent art activities to your Christmas Homeschool plans! You can draw your way through the story of Christmas from the angels announcing Messiah's birth to the manger scene.
Merry Christmas Hymns Study – Whether you homeschool as normal through December, add in Christmas activities, or trade all your homeschool curriculum for 'Christmas School,' a Christmas hymns study can be an enjoyable part of your school day. It is a beautiful opportunity for the family to learn and worship together.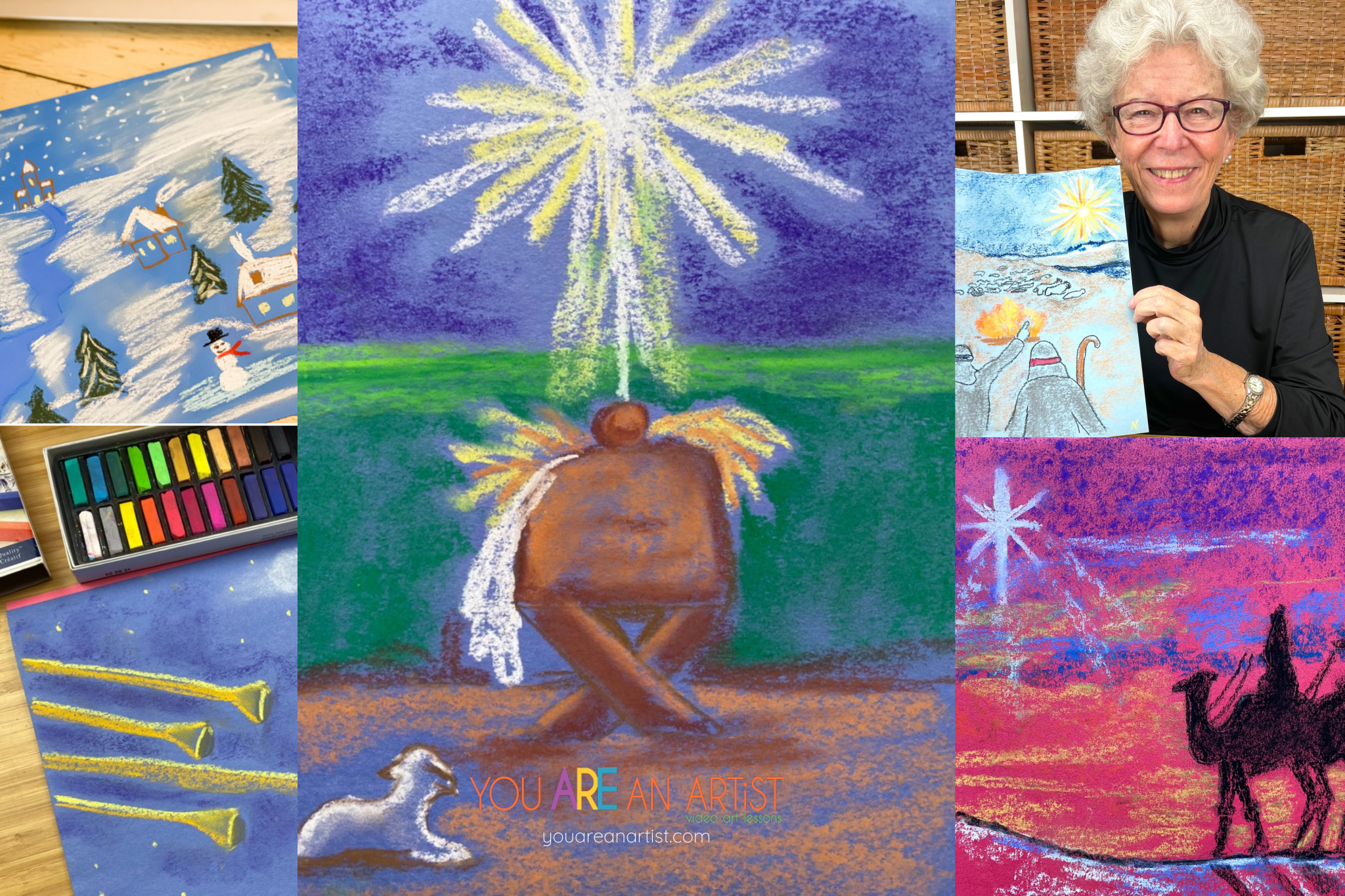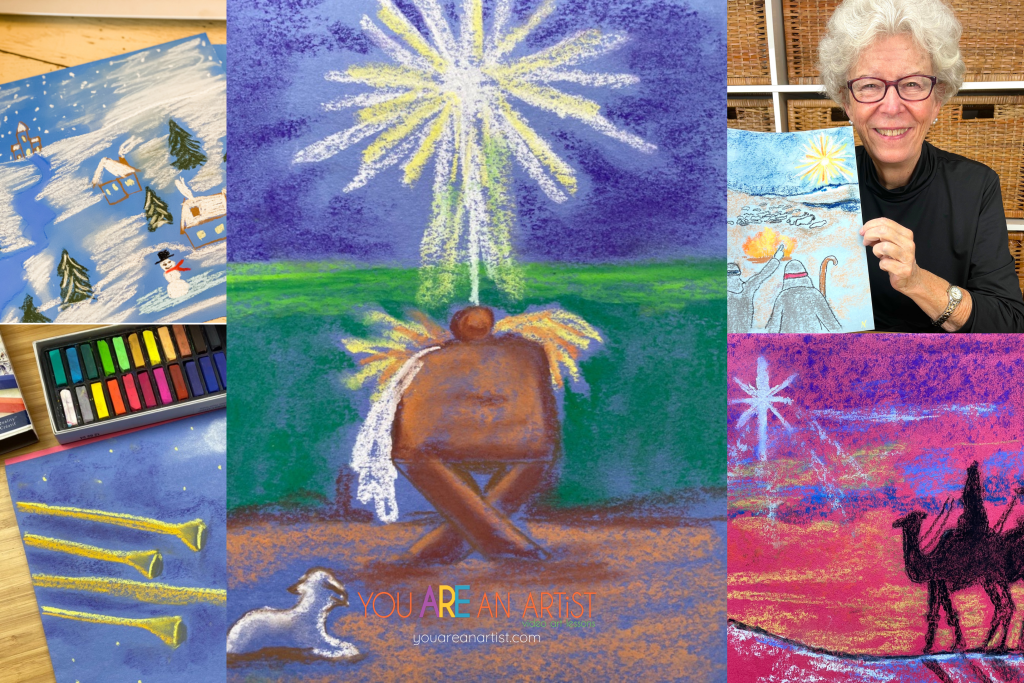 The ULTIMATE List of Christmas Art Lessons – This post includes all the Christmas joy for your homeschool! From classic Christmas homeschool art lessons, Biblical lessons that lead you to the nativity, Christmas hymns and literature to Christmas books and movie favorites like The Grinch and Charlie Brown – Nana has it all! Don't miss the St. Nicholas Day, Best Christmas Pageant Ever and Christmas Book to Movies favorites!
Groundhog Day Art Lesson – What do you think? Will it be an early spring or six more weeks of winter? Paint your prediction with Nana's Groundhog Day homeschool art lesson. You are the artist!
Fun Hands On Study for Valentine's Day – Learn the history of Valentines day while enjoying some fun activities and art with this hands-on homeschool unit study for Valentines day!
The Best Presidents Day Art Projects – Presidents' Day should really be referred to as President's month if you are a homeschooler! Am I right? We can't cram all of that good stuff into one day. It's impossible; there are way too many interesting facts and rabbit trails to explore.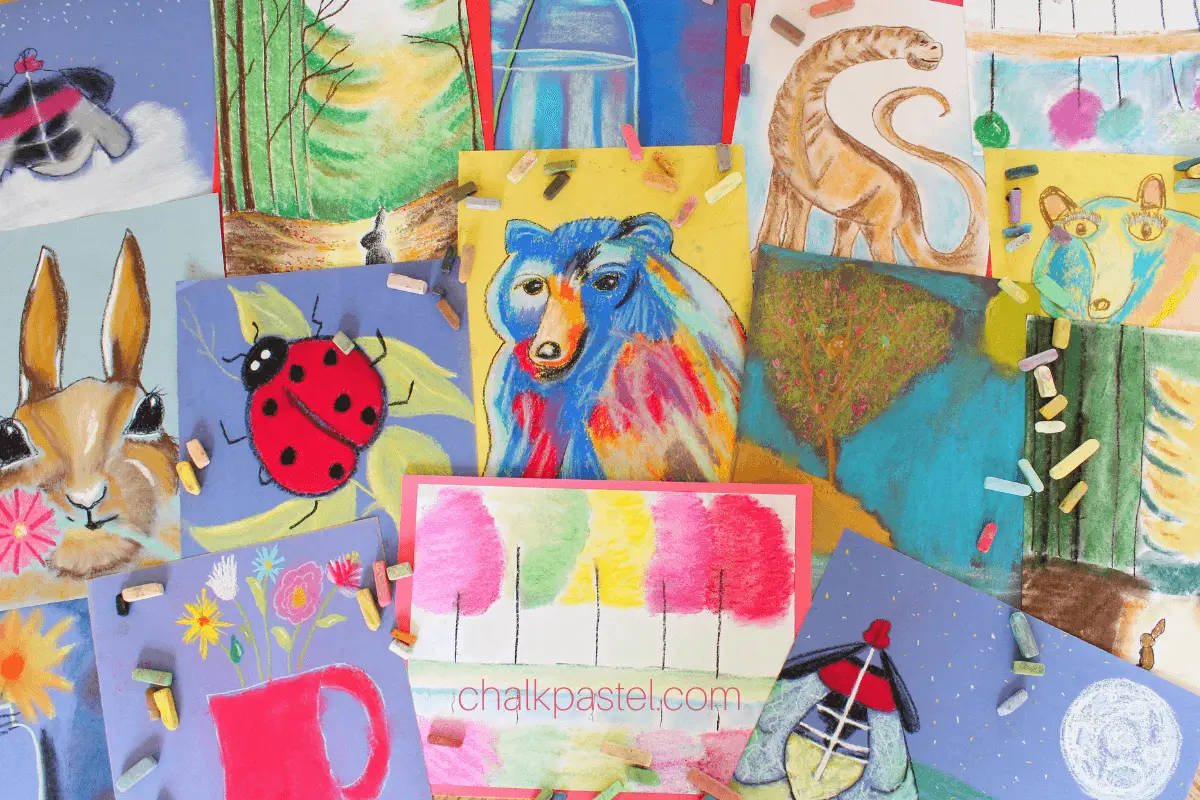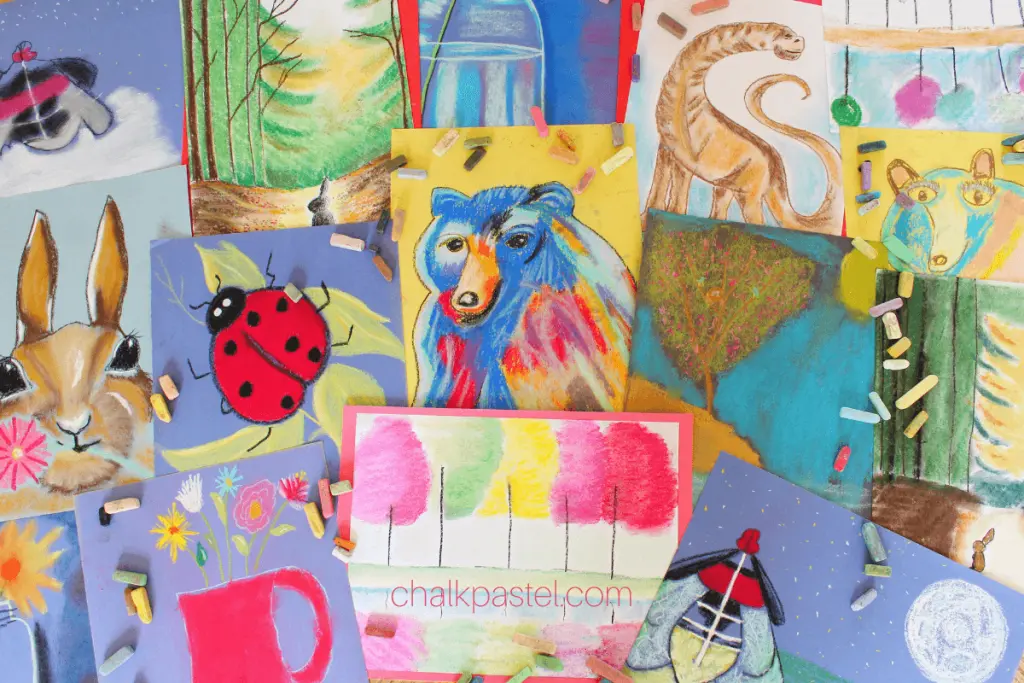 Spring Art Lessons for Families
Ah, spring! March, April and May art activities for all ages!
The Perfect St. Patrick's Day Unit Study with Art – St. Patrick's Day is full of educational goodness, and it's so much fun to celebrate with kids. We can't wait to share all of these ideas with you.
Spring Homeschool Nature Study with Art – Perfect for commemorating spring, Nana's spring homeschool nature study with art explores all creatures great and small and all things bright and beautiful! These nature-inspired art lessons are easy and fun for the whole family!
12 Delightful Farm Activities – These 12 delightful farm art activities for kids include fluffy baby chicks, a tractor, a barn, ducklings, a lamb, a cow, a piglet and even the chicken life cycle. Such fun learning for your homeschool!
Easter Activities Perfect for Teens and Tweens – What if I told you You ARE an ARTiST offers Easter activities perfect for tweens and teens and suitable for all ages? Nana also has a brand new art lesson appropriate just for your tween or teen!
Easter Hymn Study – Join us for a beautiful Easter hymn study for your homeschool and video art lessons to match! Music and art help us all to connect learning with a special holiday plus build sweet memories together as a family.
Easter Art Lessons That Will Make For a Memorable Time – Whether you want to experience Easter with your family through Lent, Holy Week, or Easter Sunday, we have something for you. Because studying Easter is not only Biblically rich but history-rich. There is so much to learn!
Draw Your Way Through the Resurrection Story – I decided I wanted to spend as much time anticipating the Resurrection with my children as we did the Incarnation. Both are beautiful events in our faith. Both bring a sense of wonder and awe. The Resurrection is special because it shows "God with us," and God victorious for us!
Charlotte's Web Homeschool Art Lessons & Tea Time Ideas – Charlotte's Web is a fantastic elementary read-aloud, and I am so excited to share some art & tea time ideas to help you plan something memorable for your homeschool too.
A Pond Nature Study Your Kids Will Love! Spring and summer are the perfect time to explore a pond nature study! Exploring a local pond can be filled with surprises and wonder, from algae and tadpoles to birds and fish. The educational opportunities are endless. Then, you can come back inside to cool off with the fun and colorful chalk pastel pond lessons!
Star Wars Art for May the 4th Be With You! This fun Star Wars chalk pastel teatime with Nana is the perfect way to celebrate your kiddo's love for all things Star Wars! The Star Wars-themed lessons are super easy to follow and are ideal for all ages.
Creative Mother's and Father's Day Art Activities – Here at You Are an Artist, we offer creative ways to make this day special. Master Artist, Nana, has created bundles of praiseworthy lessons that will stir love, a lot of laughter, and bring color to your next Mother's and Father's Day.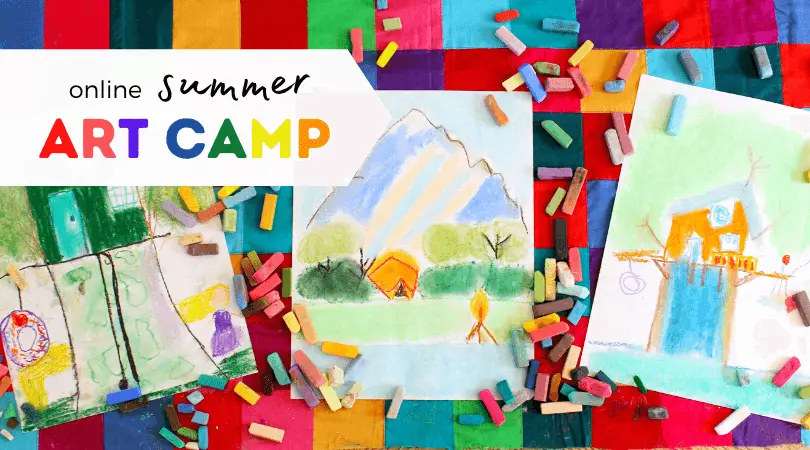 Summer Art Lessons for Families
In June, July and August we will keep the fun going with all kinds of art!
Online Summer Art Camp kicks off in June! Are you looking for a summer art camp for your kiddo this year? How about an online summer art camp chocked full of artful activities? With just a little bit of planning you can create an online summer camp right from the comfort of your own home!
Summer Bucket List Activities – Kick off summer with a summer bucket list of activities your kids will love! All you'll need is a starter pack of chalk pastels, construction paper, and the You ARE An Artist Summer Camp Guide!
Dive Into a Shark Study This Summer! This homeschool study all about sharks is perfect for summer learning. It includes a shark tracking activity, online lessons, book lists, and so much more!
This Homeschool Moon Study is Out of This World! Moon activities, books, and fun art lessons for all ages! Learn about moon phases and more with this homeschool moon unit study!
An American Art Study for Your Homeschool – Who is ready for an American Art Celebration? History, art, holidays, maps and more! There is simply so much to celebrate. Scroll down to enjoy an American Flag art lesson. And take a look at all the lessons you can enjoy in the You ARE an Artist Clubhouse with Nana.
Celebrate the Summer Games with Art – The Games are a great opportunity to celebrate culture, history, sports, and healthy competition with your kids. Every family has their favorite sport to watch during these events, whether summer or winter. Gather the kids and celebrate the Summer Games with Chalk Pastel Art. Enjoy Ancient Greece lessons for the history of the Games. Then illustrate important aspects and moments of the modern Games!
Favorite Movies Homeschool Art Lessons – Don't let family movie night become boring! Bring some excitement back with these chalk pastel art lessons. Grab your favorite movie snacks or make some of your own and join Nana for some of your family's favorite movies.
More Fun Family Activities
The Best Art Lessons for Homeschool Families – Homeschool families come in all shapes, sizes and learning styles! These art lessons for homeschool families are a brilliant way to creatively bring learning to life, build memories together and have FUN learning. Let art add a layer of learning that brings joy to all ages.
Get Started in Homeschool Art
Join us at You Are An ARTiST and unlock the transformative power of art in your homeschooling journey. It is simple to get started with just a very few supplies. There is not an intimidating or expensive list of supplies. Not only that, art lessons with Nana are a fun way to learn together as a family. Won't you join us?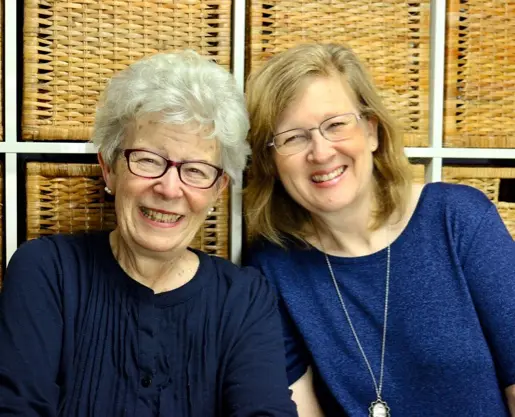 Growing a love of art at You ARE an ARTiST is a multi-generational passion! Tricia is Nana's daughter and a mama of five children. Nana shared the fun of her first chalk pastel art lessons with her grandchildren around Tricia's kitchen table. Homeschooling since 2000, Tricia has seen the fruits of home education with three homeschool grads so far! She shares the art and heart of homeschooling at Your Best Homeschool and is author of the book, Help! I'm Homeschooling! She and her husband, Steve, are also owners of sister sites Homeschool Nature Study and The Curriculum Choice.