I am a planner by nature. I enjoy arranging all the moving parts of our homeschool and family life. But there are times when I want a "done for me" solution. Enter: the Art Lesson Calendar from Chalk Pastel! The art calendar works whether you are a planner or a serendipitous type.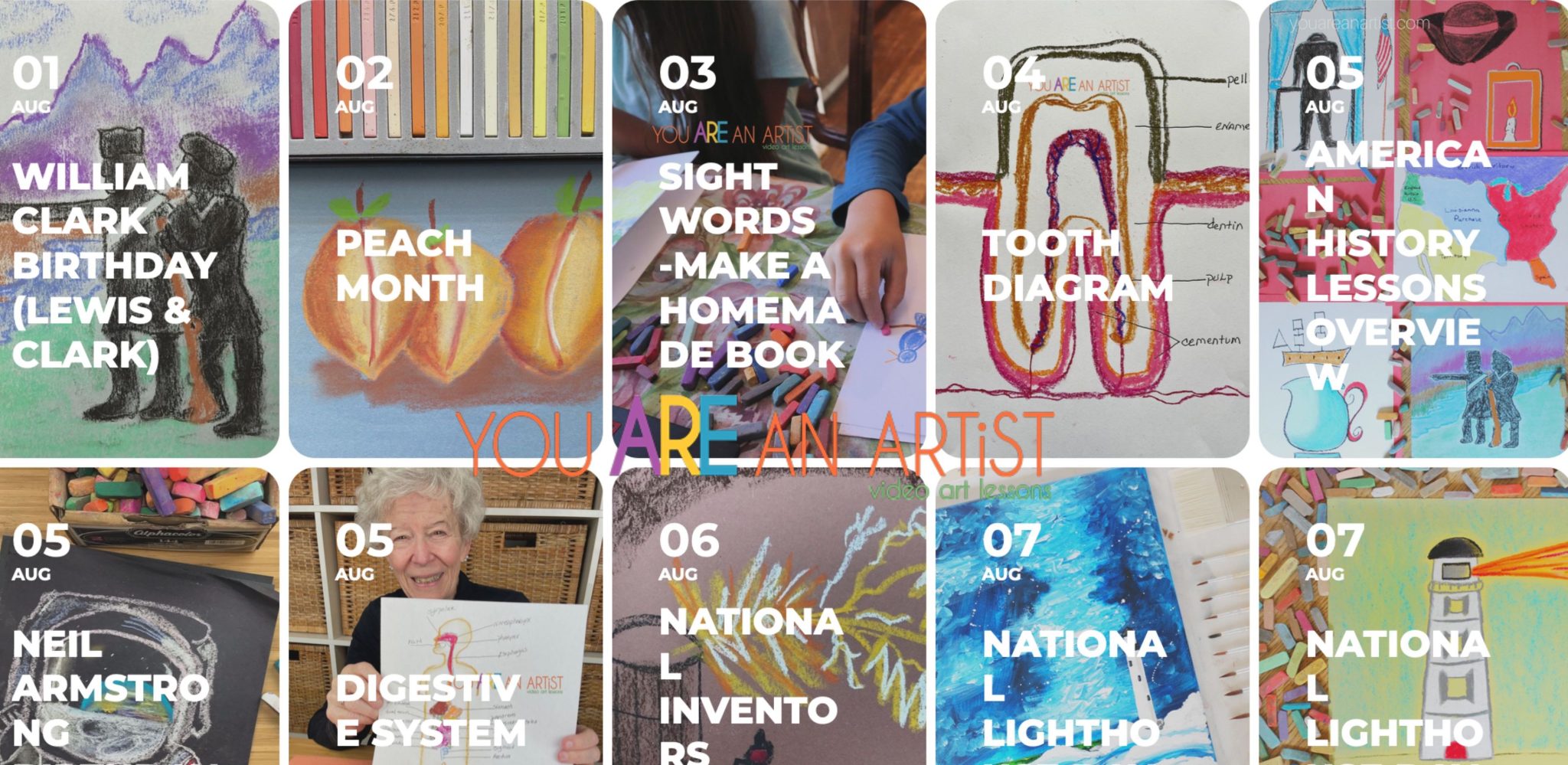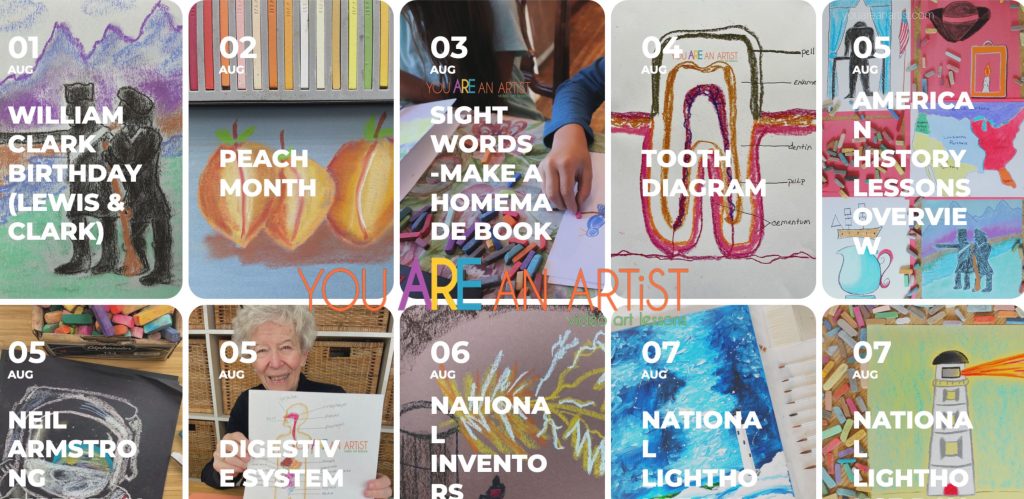 Take a peek at the August Art Lesson calendar! Sometimes there are multiple lessons to choose from for each day!
A friend recently asked me whether I write all my lessons plans for homeschool. She was surprised to learn I don't. I told her I don't need to, because I have so many fabulous resources at my fingertips. I see no need to reinvent the wheel.
Whether for homeschool plans or weekend / summer activities, I don't have time to create everything from scratch! Instead, I consider myself a curator and facilitator of my children's education, from the range of rich curriculum available. Then I arrange them into our life in a way that fits our schedule.
Chalk Pastel Art has been a key part of our homeschool the last few years because the many lessons go along with our topical studies. Plus, it is fun and easy to implement.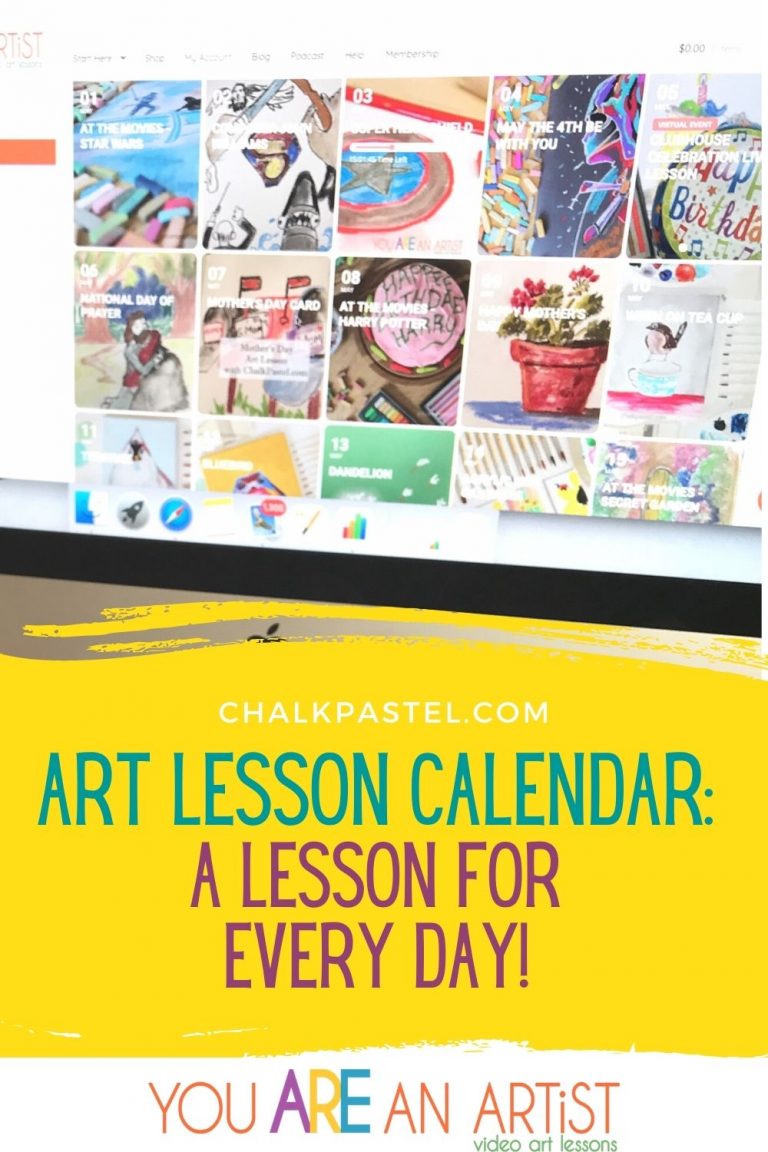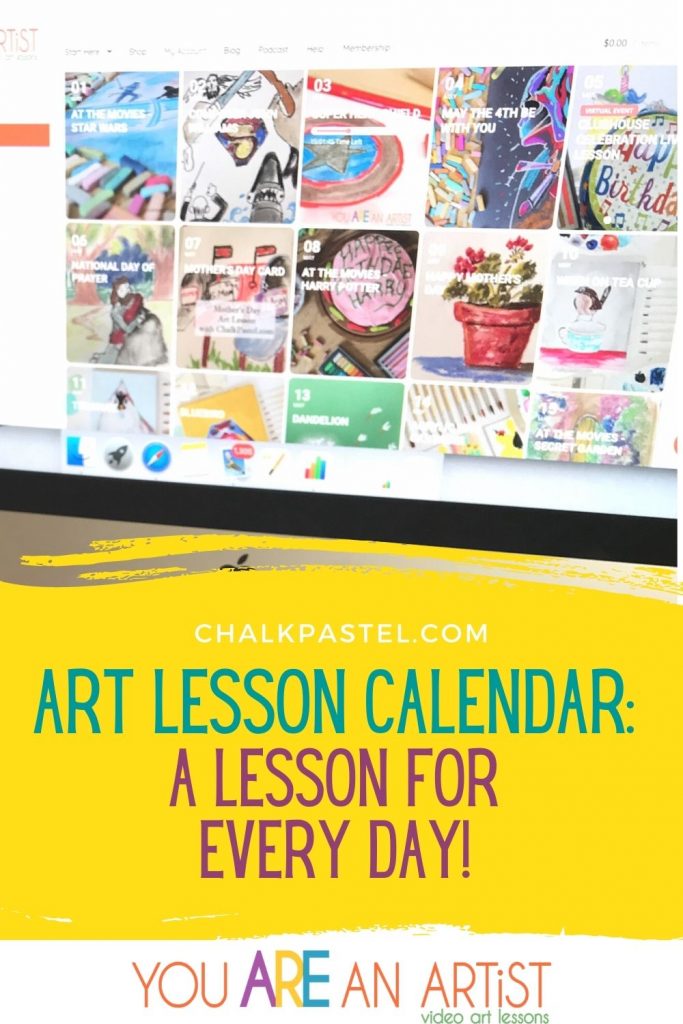 Plan Art for Every Day with the Art Lesson Calendar
Tricia and Nana at Chalk Pastel just made my life SO much easier by creating the Art Lesson Calendar! The calendar is a beautiful visual suggesting a delightful art lesson for every day of the month.
Now, in addition to the search feature (another favorite of mine!), this calendar helps me pick just the right art lessons for our week or month. My boys were delighted to see the Hobbit themed lesson this month, since they just got done reading The Hobbit!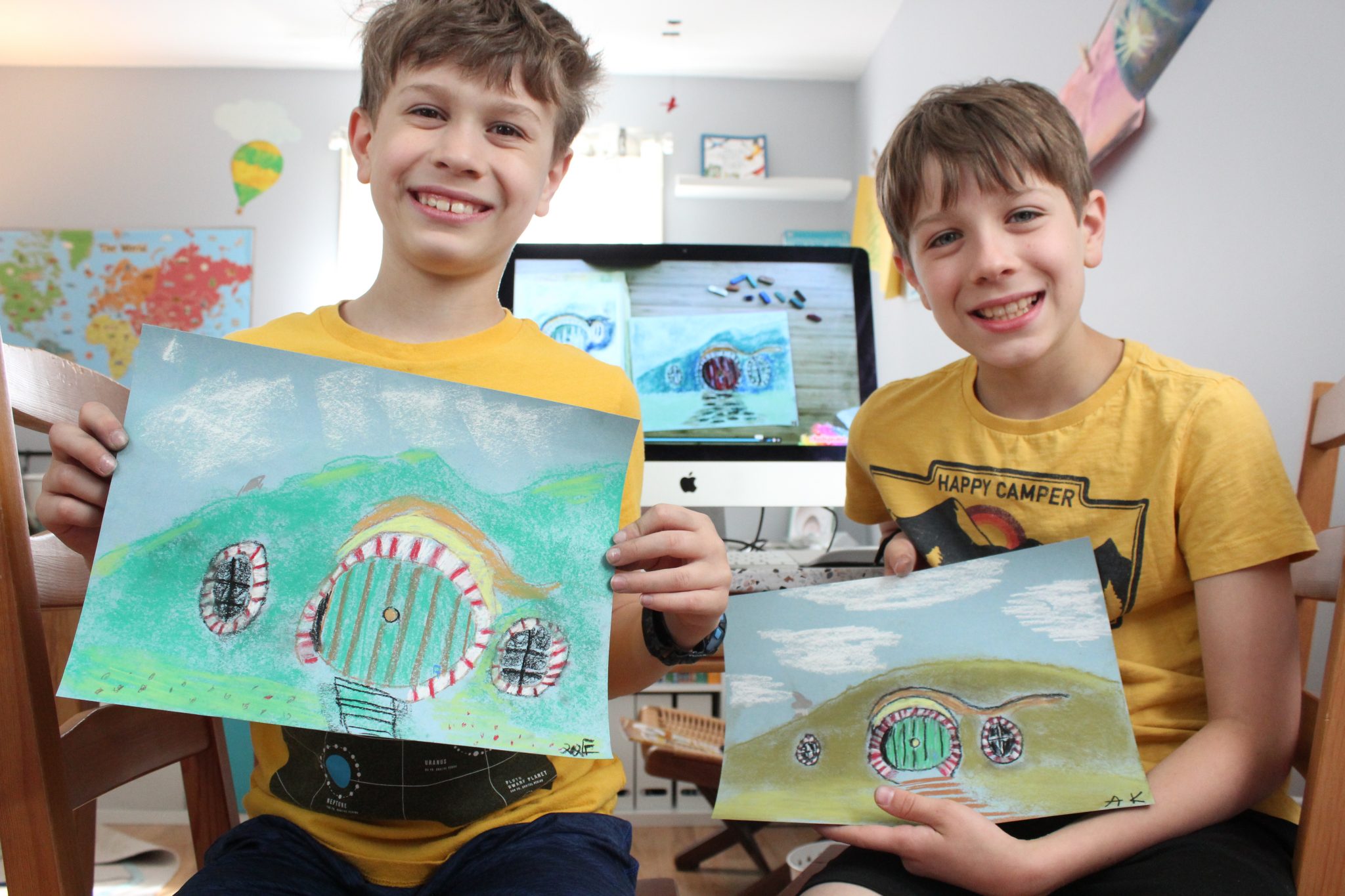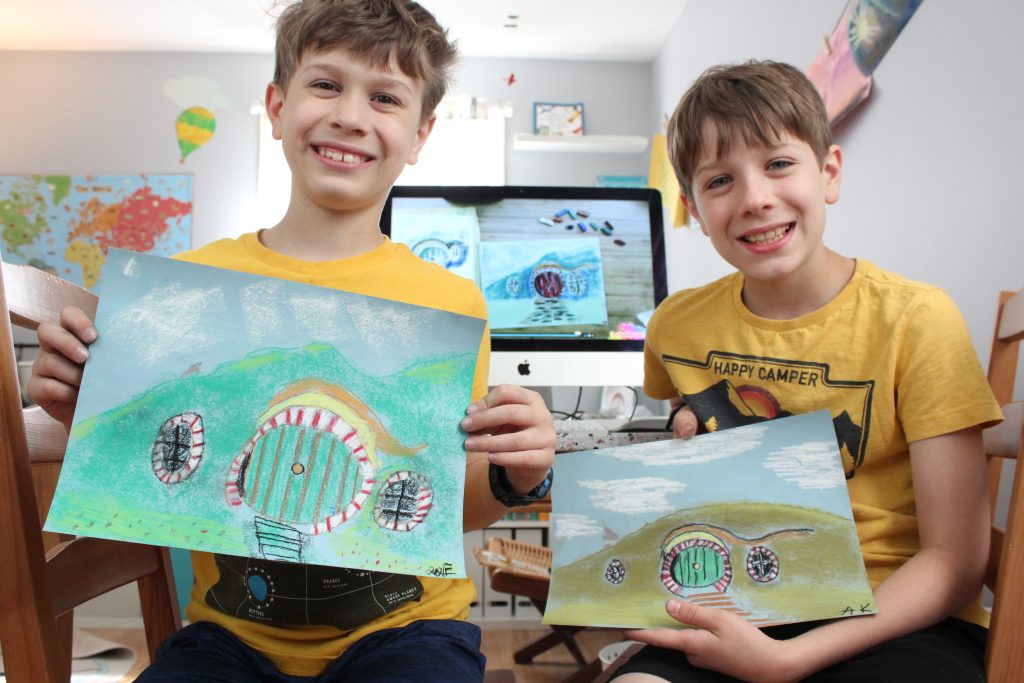 Here's a few ways parents can take advantage of the Art Lesson Calendar:
Celebrate holidays with Chalk Pastel Art!
If there's a holiday, there's an art lesson! Many holidays like Easter, St. Patrick's Day, or the 4th of July have several art lessons, so you can create a themed week, or let kids pick their favorite picture to paint in celebration.
Beef up that lesson plan!
If you find yourself short on content for a particular day or unit study, look at the art calendar and see what might fit your studies. The monthly lineup covers seasonal and holiday themes, and sprinkles in a variety of other lessons too! History (like presidents!), Geography (maps!), and Literature (the Hobbit!) art lessons can be combined with children's daily reading and lesson activities. Here are 10 Ways to Effortlessly Add Art to Your Homeschool Any Time of Year.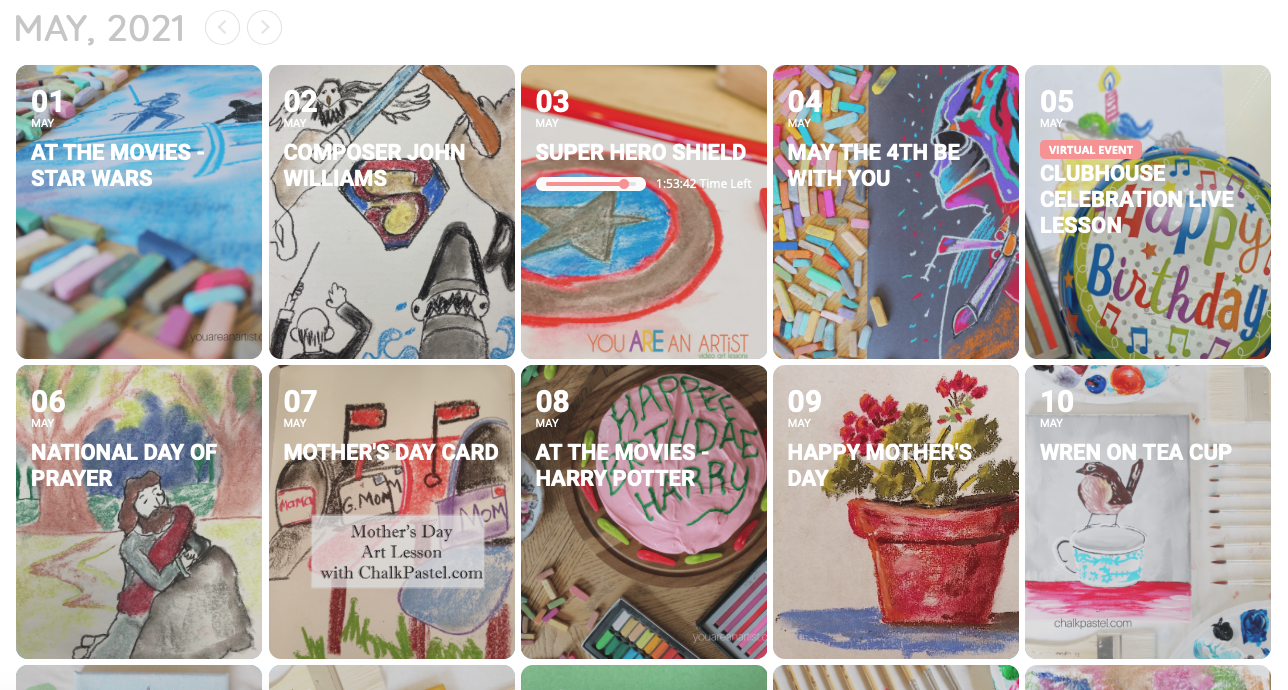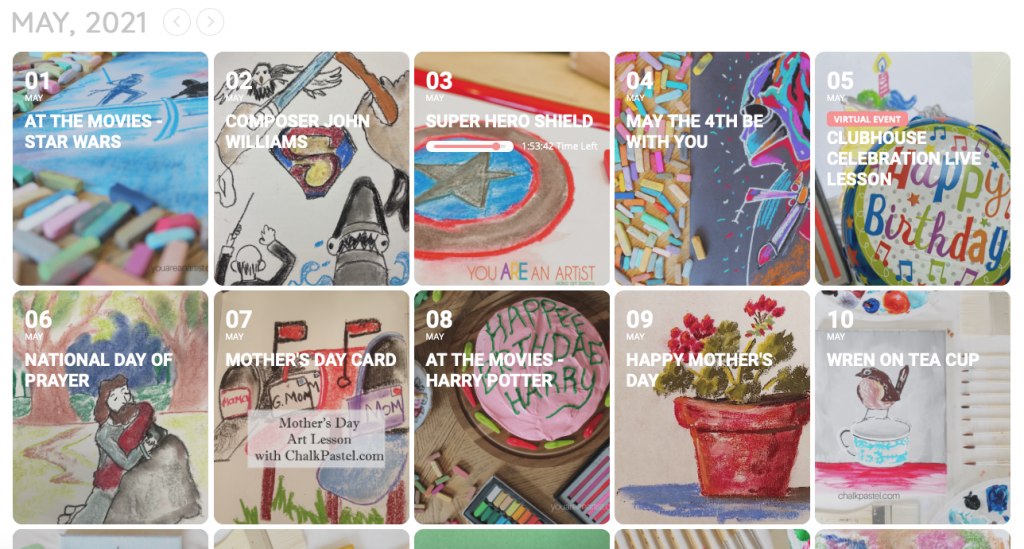 Last-minute wins with the Art Lesson Calendar!
Earth Day, Pi Day, Dr. Seuss's birthday are all special events that can sneak up on me, so I'm thrilled when I can "pull a rabbit out of a hat" and let my kids do a fun art lesson to commemorate the special day.
Did you forget it was Groundhog Day? Jump onto the Chalk Pastel Art art calendar! You'll see there's a video for kids to learn about this popular furry sign of spring and draw a groundhog. The kids don't have to know you didn't plan it in advance!
My boys wrote essays about Presidents for President's Day, and I quickly pulled up the calendar and there were several art lessons on US Presidents. So they both drew Teddy Roosevelt! It was an unexpected addition to our writing lesson, but their Zoom classmates were thrilled to see them share their drawings along with their papers.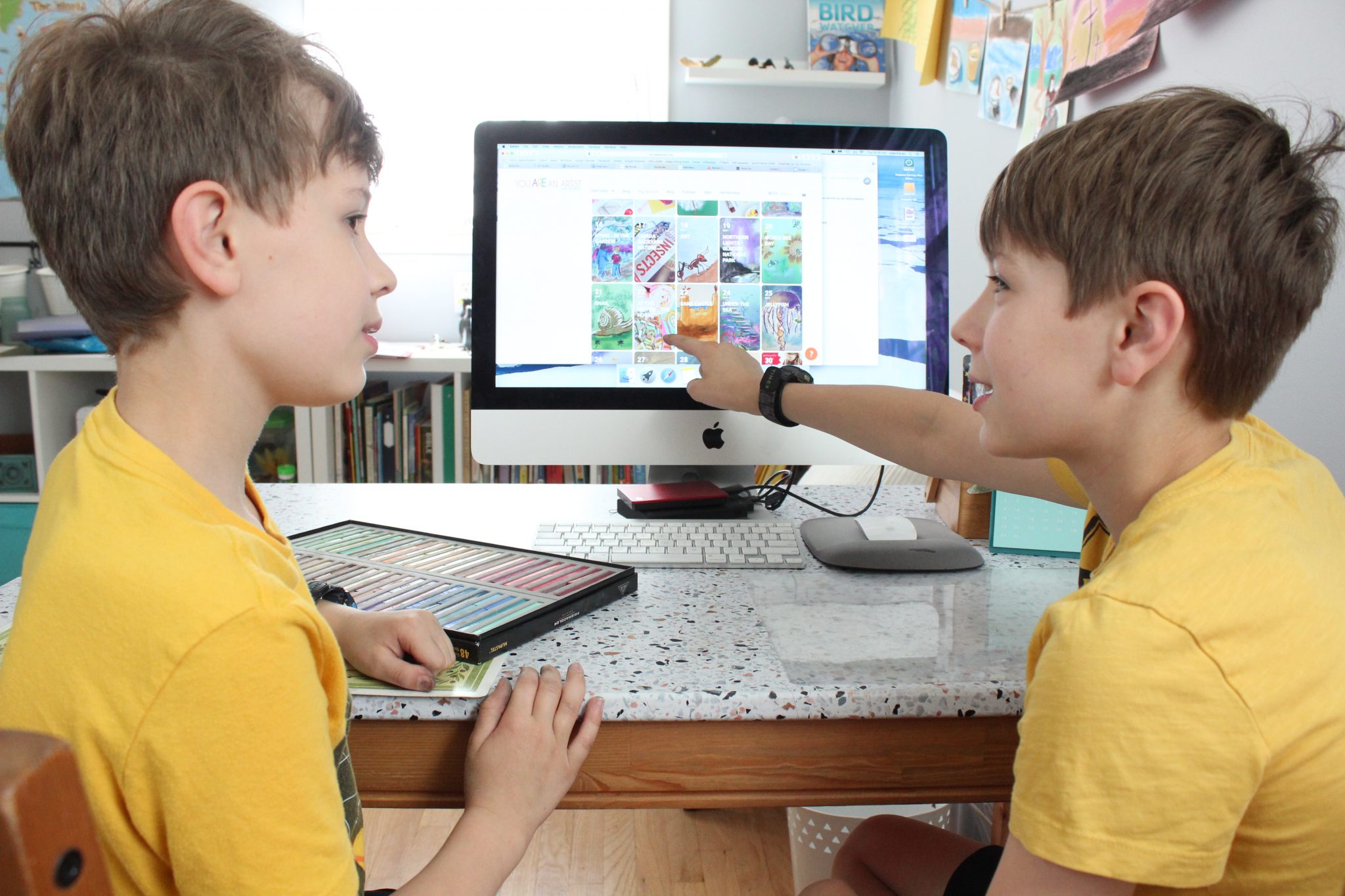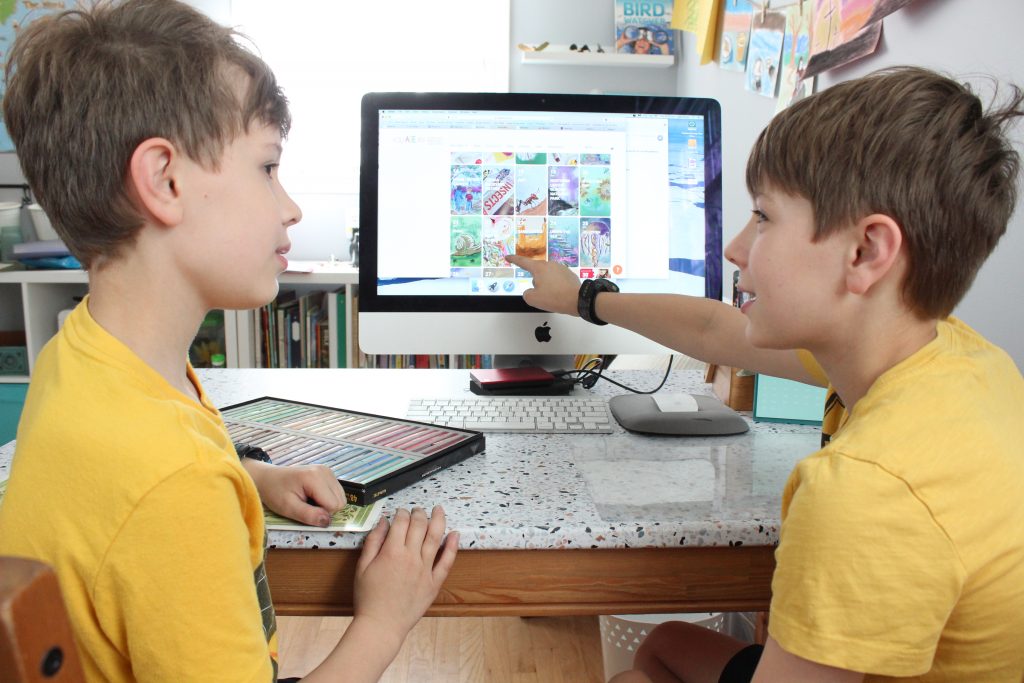 Honor famous people and cultures.
Throughout the year, we honor people who have contributed well to our society and recognize cultures from around the world. Sometimes these aren't topics I have a large collection of resources for due to space and budget. So I am glad to let the kids explore and learn through Nana's art lessons. Nana always gives nuggets of background information while she's walking students through the art lesson, which I love, because I can follow up on these with discussion or extra reading later on.
Stay in season.
When you study nature as much as we do, the topics are always changing. Whether it's the arrival of the robin, the blooming of dandelions, or the changing colors of fall leaves, your kids can follow along each month with nature drawings. Some months, the art calendar has a special focus, like birds in early spring, and sea life closer to June. The art calendar topics help me know I'm always sharing something timely and relevant with my kids.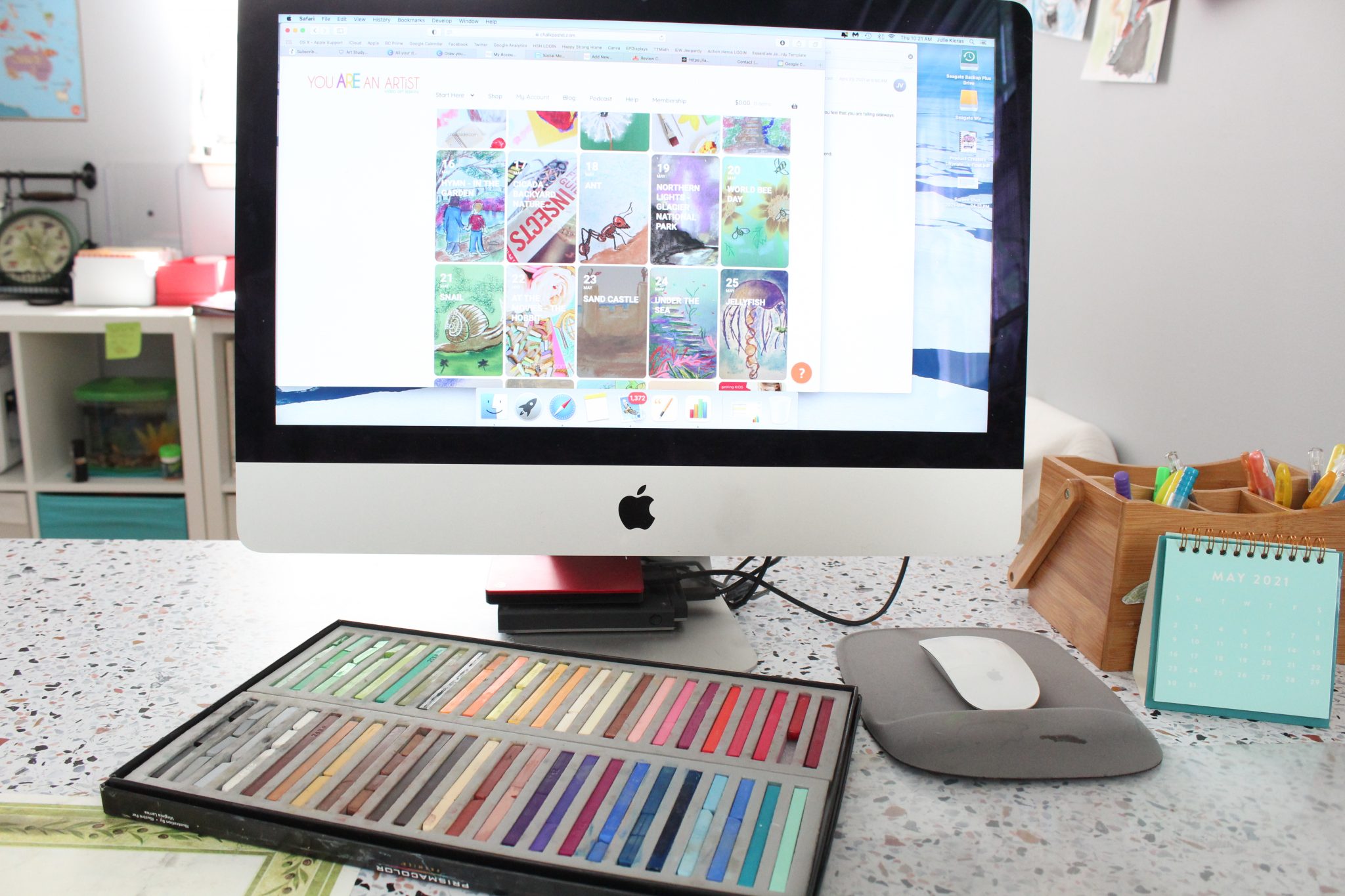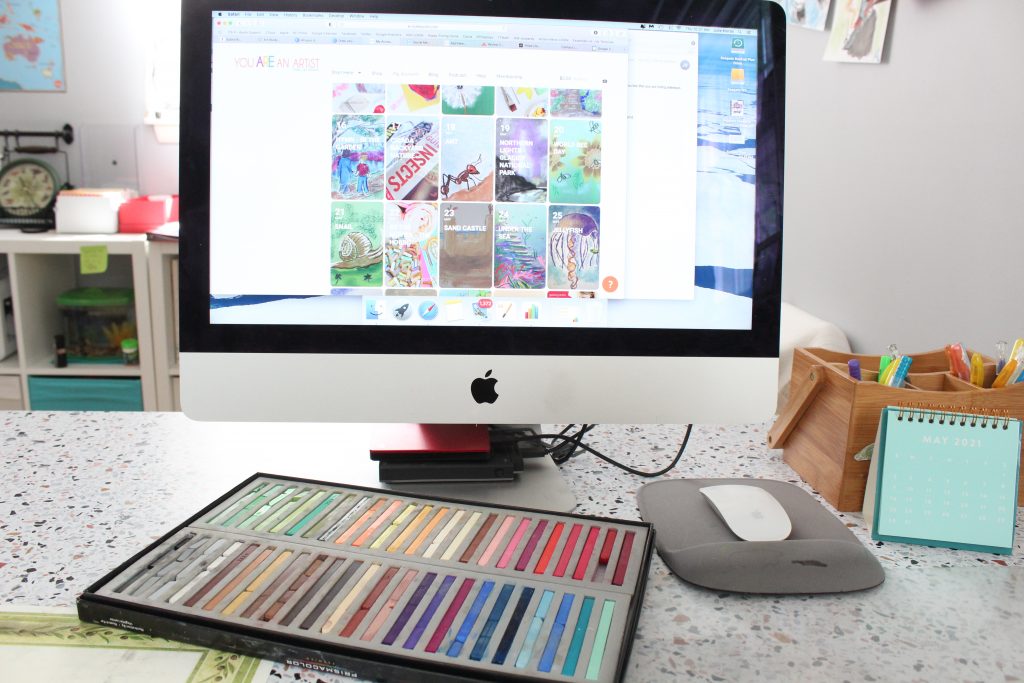 Never miss a LIVE event
The Art Lesson Calendar shares when Nana will be hosting LIVE events for members and with other artists and teachers. It's helpful to see this in calendar format so parents can plan ahead and take advantage of these special learning times.
No more downtime.
Did the doctor's office call back at an inopportune time? Or the baby spilled a cup, so you're busy mopping the floor? Keep the kids' hands busy creating art while you tend to unexpected interruptions. I often have my kids pick an art lesson for these moments; in the past, the boys might spend fifteen minutes browsing (and arguing!) which lesson to select. Now I can just click on the lesson for that day and away they go!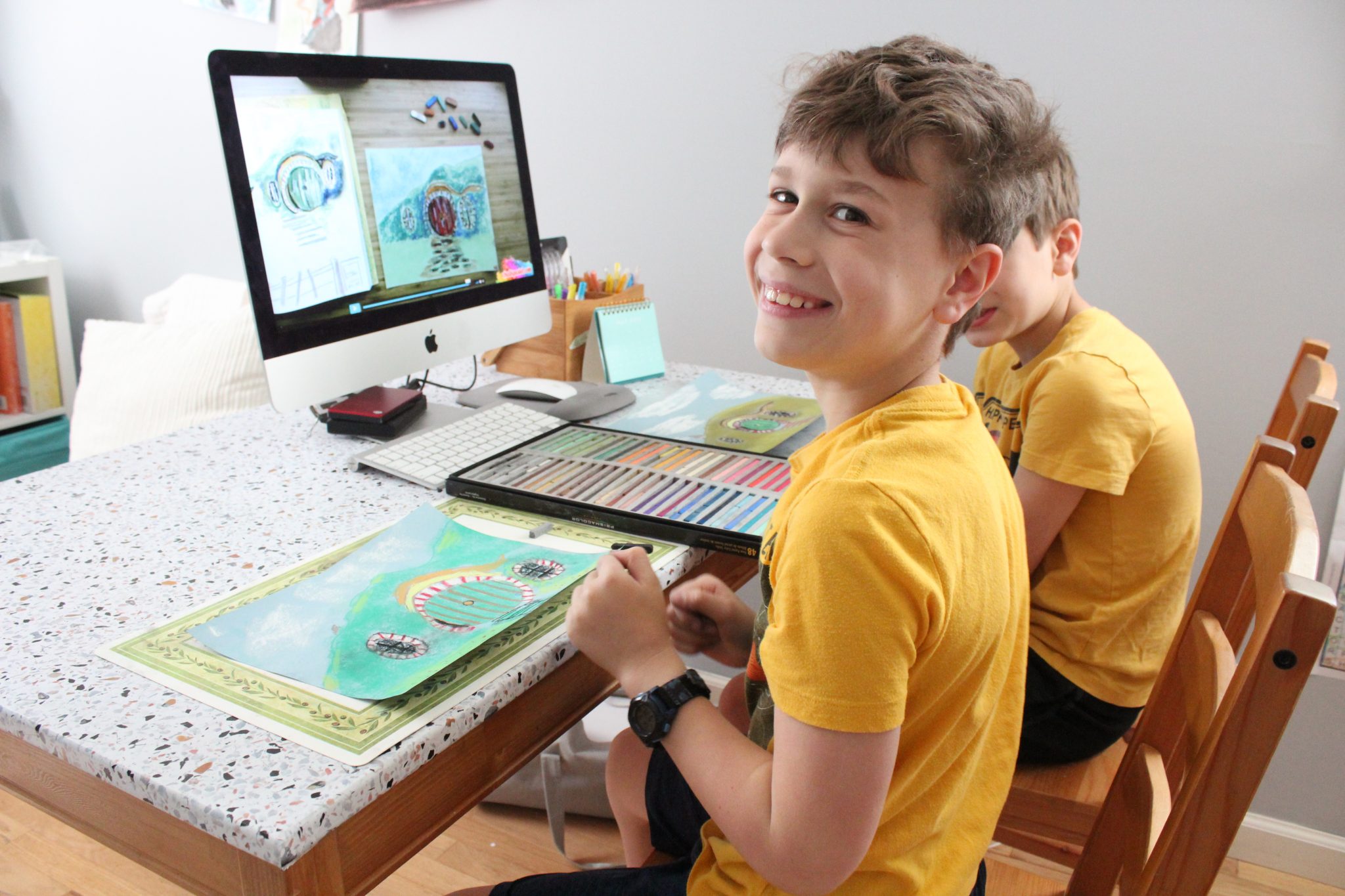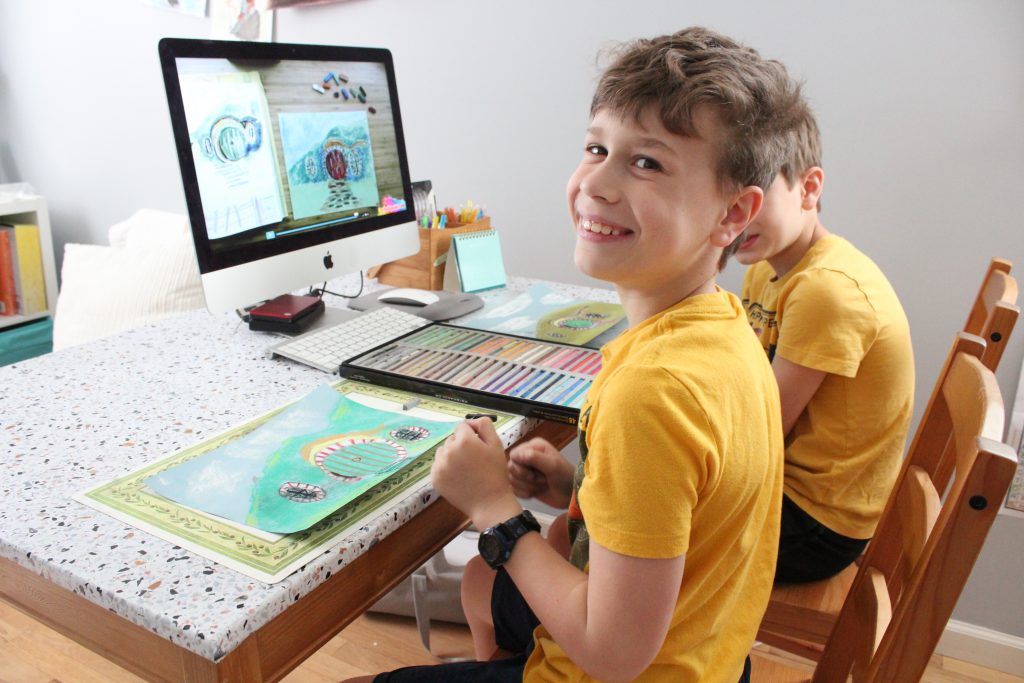 TIP: Create an Art Challenge for your Kids!
Use the calendar to hold a "30 Days of Art" challenge for your kids. See if they can complete every lesson for a whole month! You'll have an amazing collection of artwork to share afterwards.
Planning activities for your kids can be your heart's delight – or your worst nightmare! Yet, even though I am planner, there are days when I just want to take a few decisions and tasks off my plate. The Art Lesson Calendar makes it so much easier to prep and plan school or free time.
The best part is, this calendar helps parents get the most out of their ChalkPastel.com subscription. Sometimes as parents we buy a great resource and just forget to put it into use. With the easy to follow plan each month, parents can be sure these lessons stay a fun part of daily life!
Get access to the Art Lesson Calendar and all the delightful chalk pastel art lessons from Nana and Tricia with your annual Clubhouse subscription.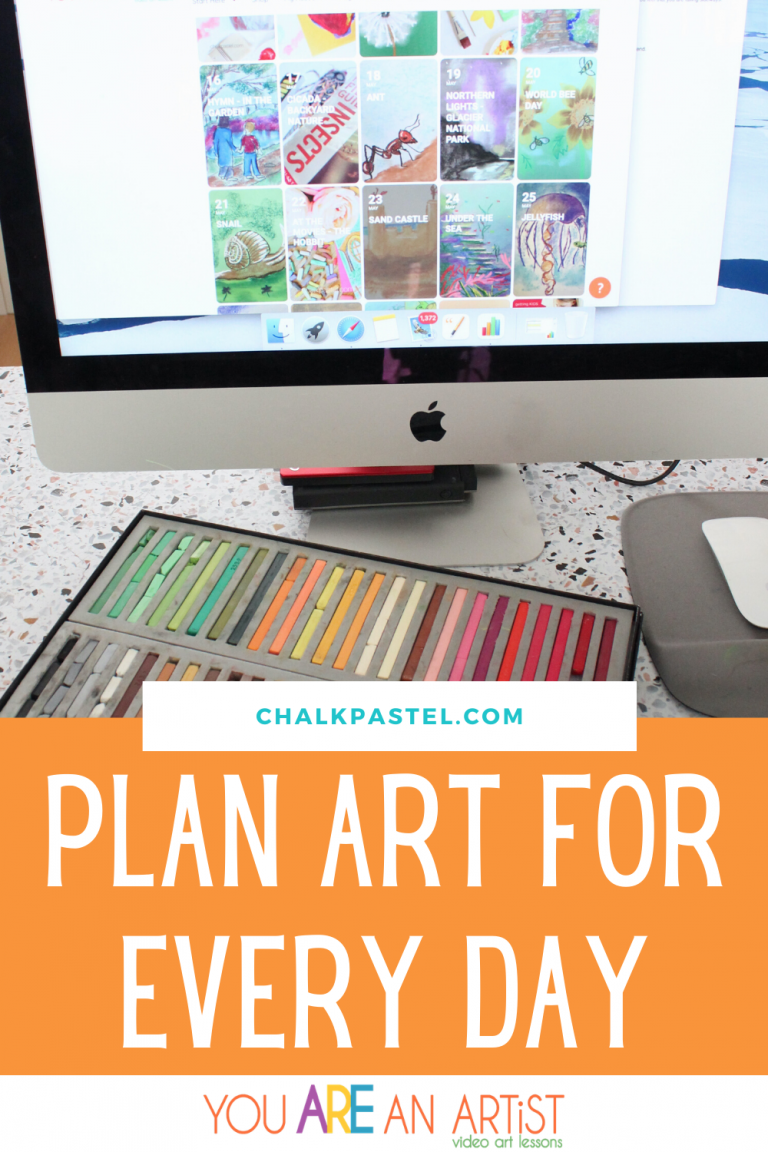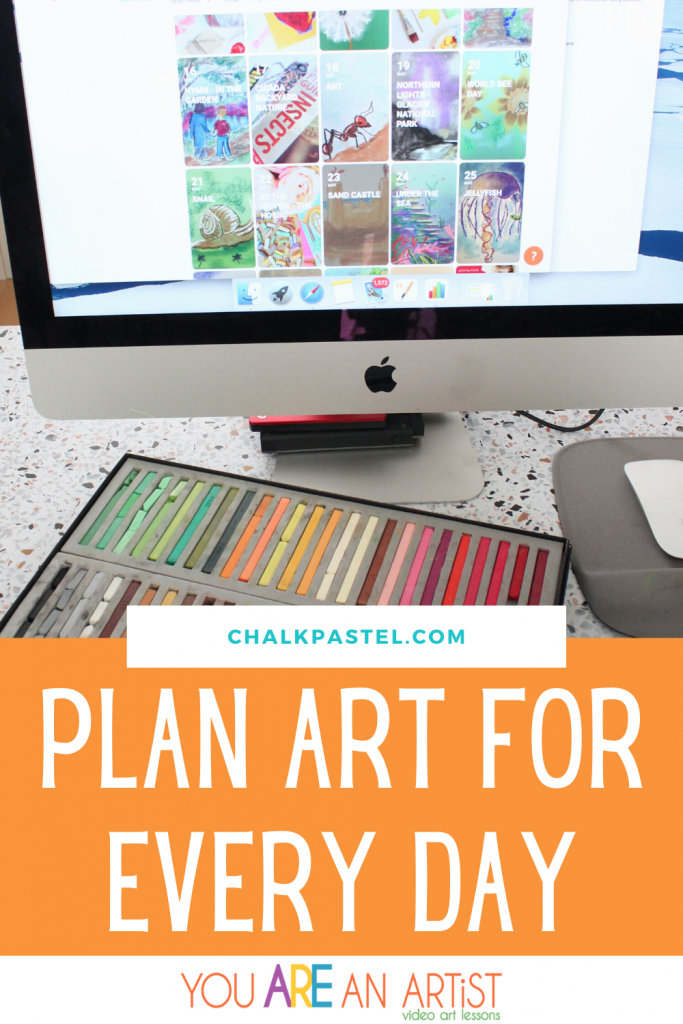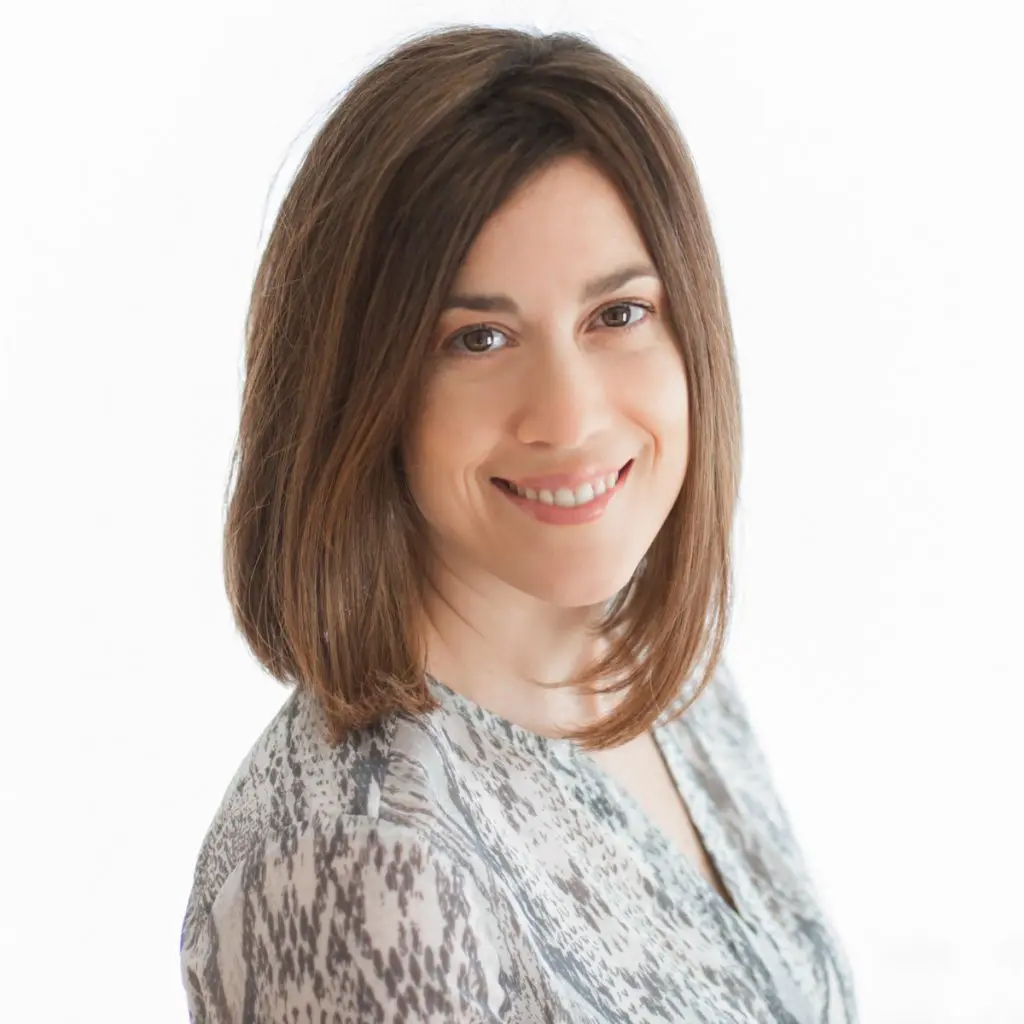 Julie is a teacher, writer and homeschool mom. Her blog Happy Strong Home shares encouragement for cherishing children, enjoying motherhood, and growing strong families. Discover homeschool resources, natural living tips, and family activity ideas. Julie has been featured on Million Praying Moms, The Old Schoolhouse Magazine, and the Melissa and Doug blog. She offers writing workshops and a "homeschool neighborhood" community to support parents in their homeschool adventures. Find Julie on Instagram to be the first to know when new workshops and community events are available.