A season of thankfulness and gratitude would not be complete without sharing thanks to God for all of our blessings. One of our favorite ways to celebrate during this time of Thanksgiving is with hymn studies. Many songs help us to remember our gifts and sing our gratitude to God. Here, I've included Thanksgiving hymn favorites for you to enjoy, along with learning activities for your homeschool.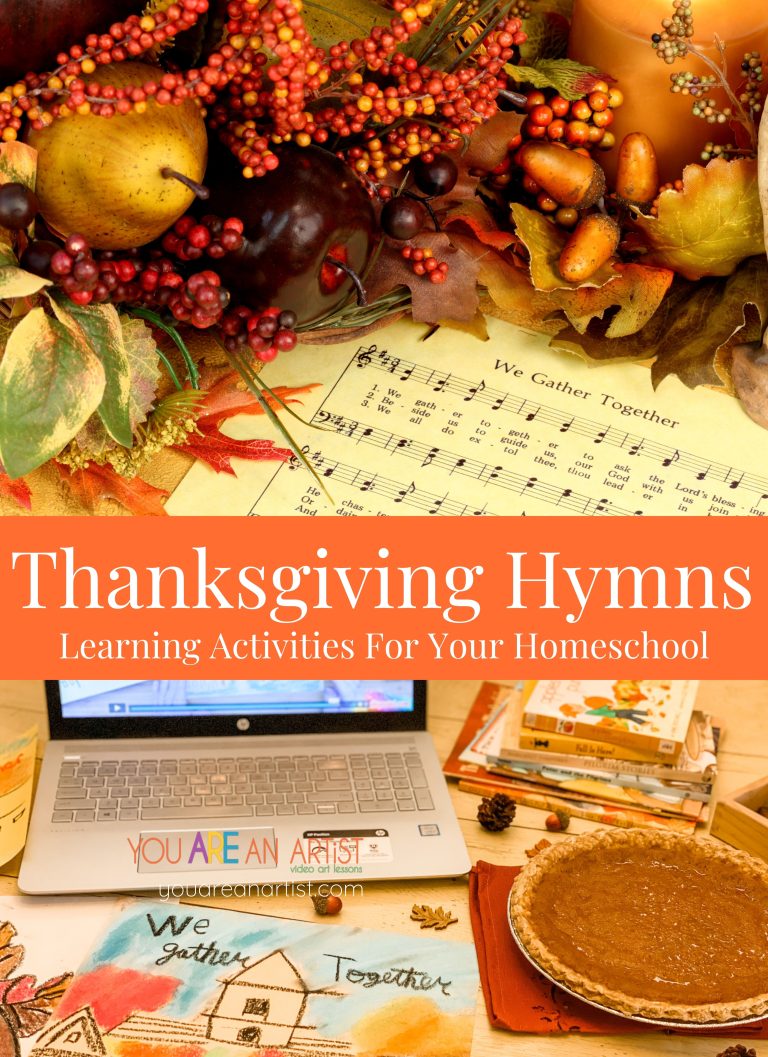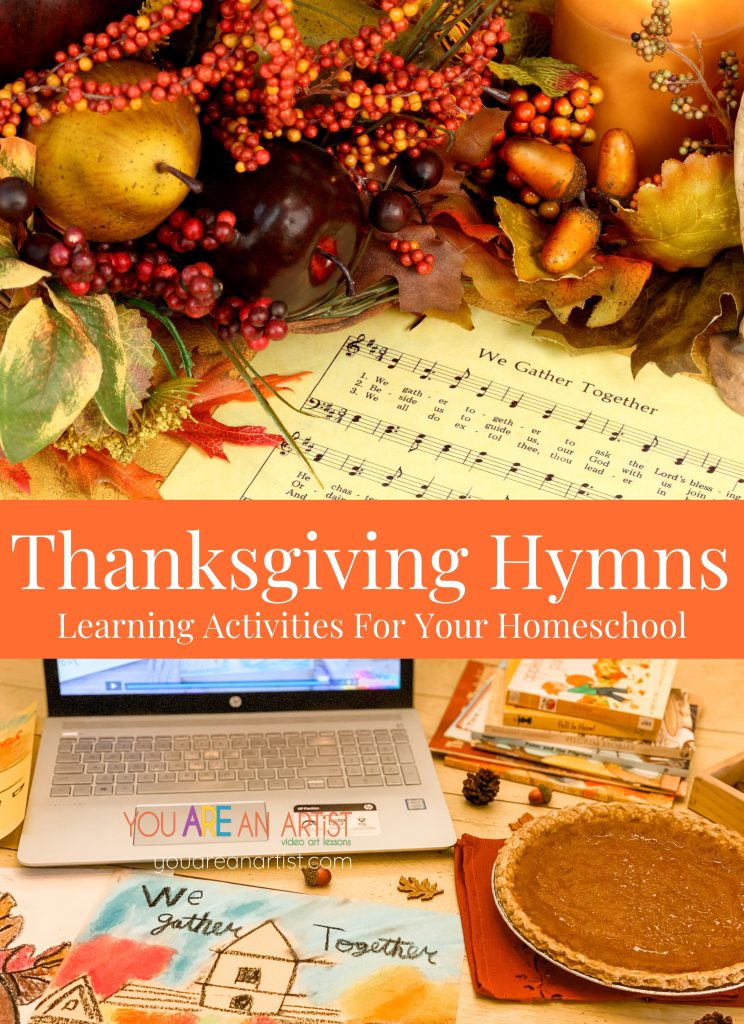 Our Favorite Thanksgiving Hymns
A few of our family favorites include: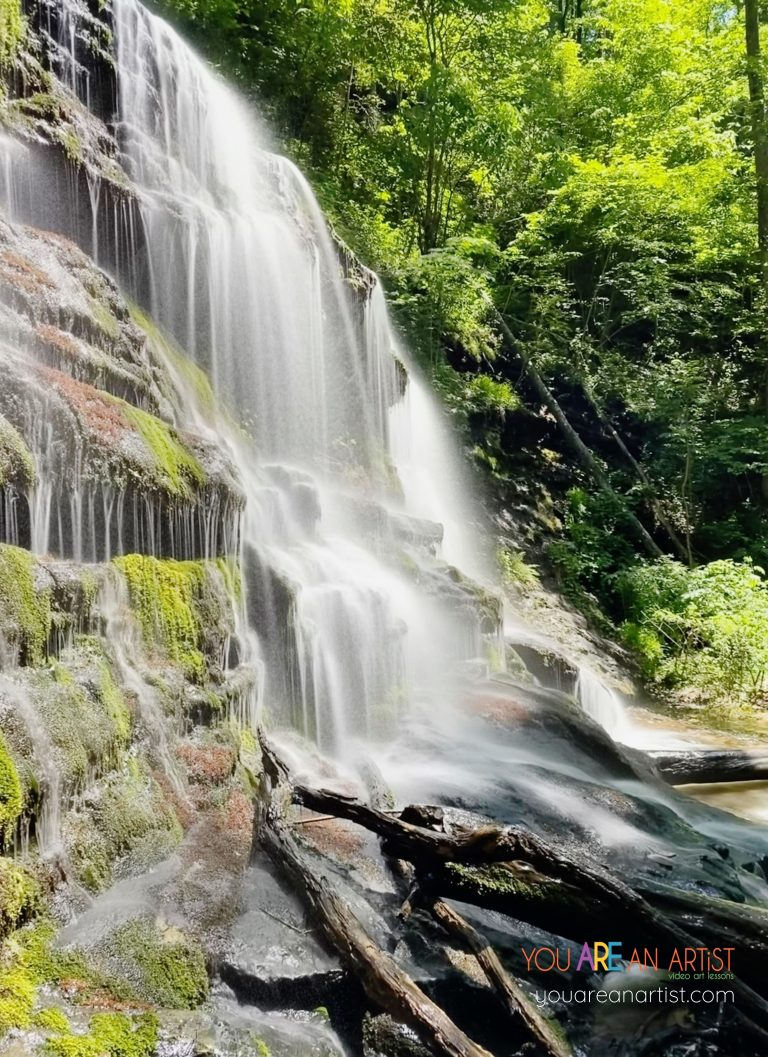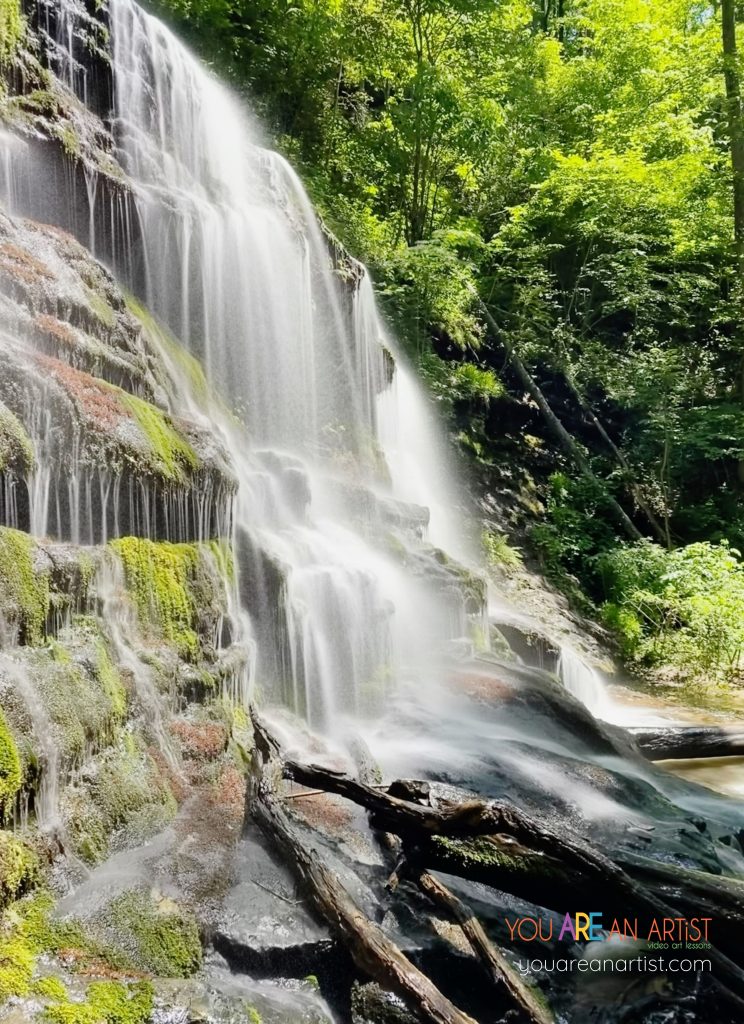 Thanksgiving Art and Music Activities for Your Homeschool
This year we are excited to be studying Come Thou Fount as we prepare for Thanksgiving. It is a beautiful, timeless hymn written by Robert Robinson in 1757 and later altered by Martin Madan.
Robinson was apprenticed to be a barber and did not have a lot of formal education. During his apprenticeship, he was living a rough life and was not on a good path. However, Robinson was touched by preaching that he heard during this time, which changed his life. He eventually became a preacher, even though he had very little formal education. Robert Robinson spent many years preaching and writing books. He also wrote several hymns, but "Come, Thou Fount" is his most famous hymn.
"Come, thou Fount of every blessing,
tune my heart to sing thy grace;
streams of mercy, never ceasing,
call for songs of loudest praise.
Teach me some melodious sonnet,
sung by flaming tongues above.
Praise the mount I'm fixed upon it
mount of God's redeeming love."
Hymn study can take many forms. However, we like to look at its origins and the story behind the lyrics and then listen to the hymn sung in various styles. I love how different a song can sound when done by a choir versus a children's performance. A cappella versions are another great way to listen. We have included a variety of styles in the list below.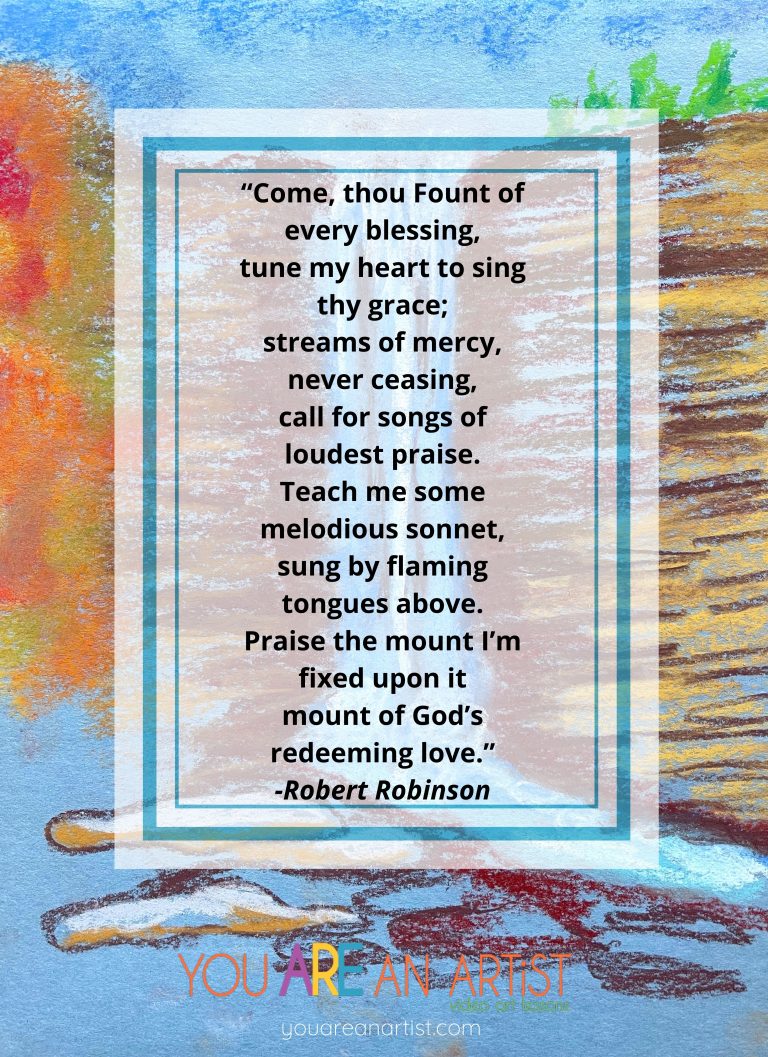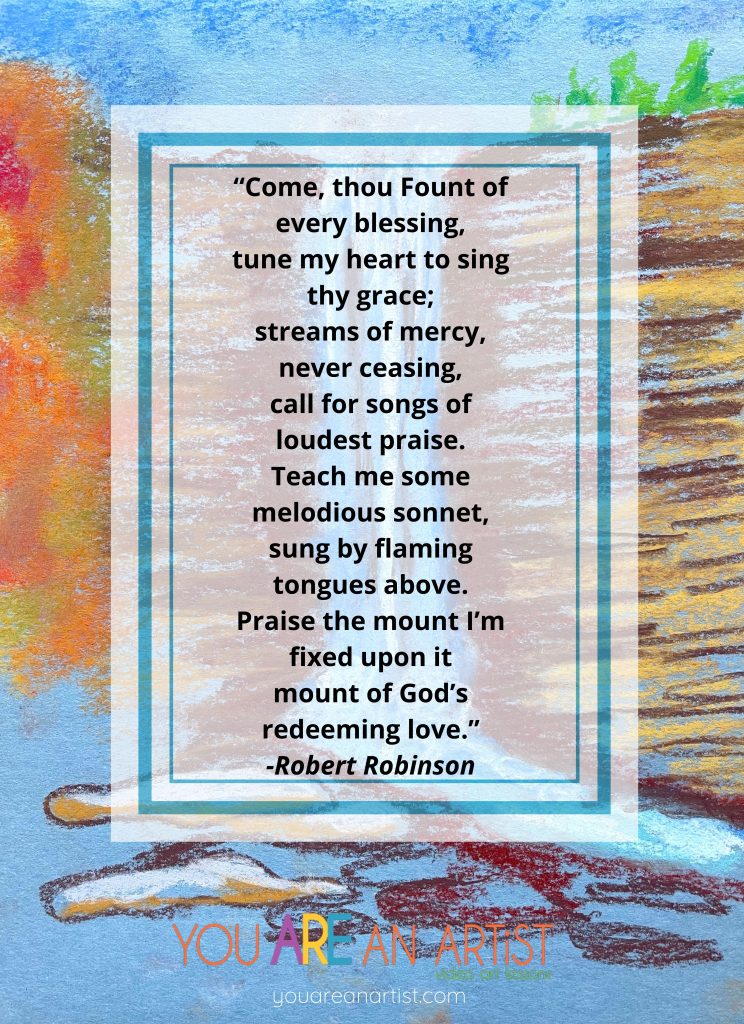 Thanksgiving Hymn Learning Activities: Come Thou Fount
Next, we love to incorporate art into our hymn study for a hands-on component. Nana has created a beautiful waterfall lesson to accompany "Come Thou Fount." It is a great visual to help students have that image of a waterfall or fount of blessings. Adding art is helpful for students who are visual learners. This lesson is a beautiful representation of the abundant blessings of God's love.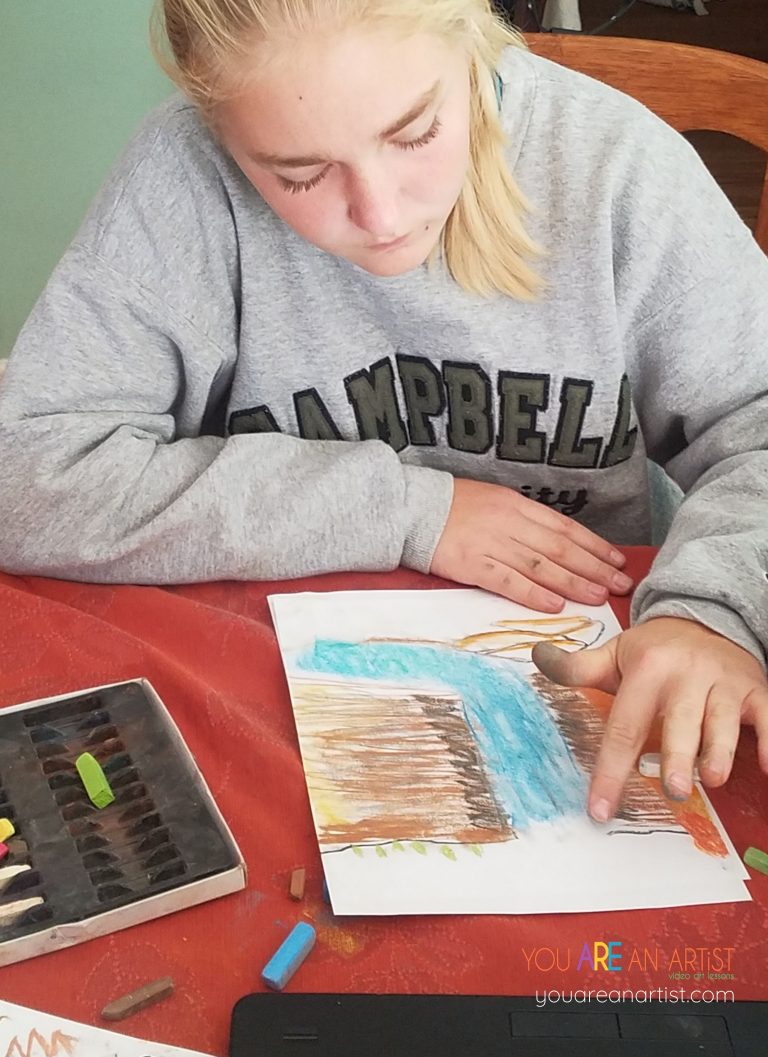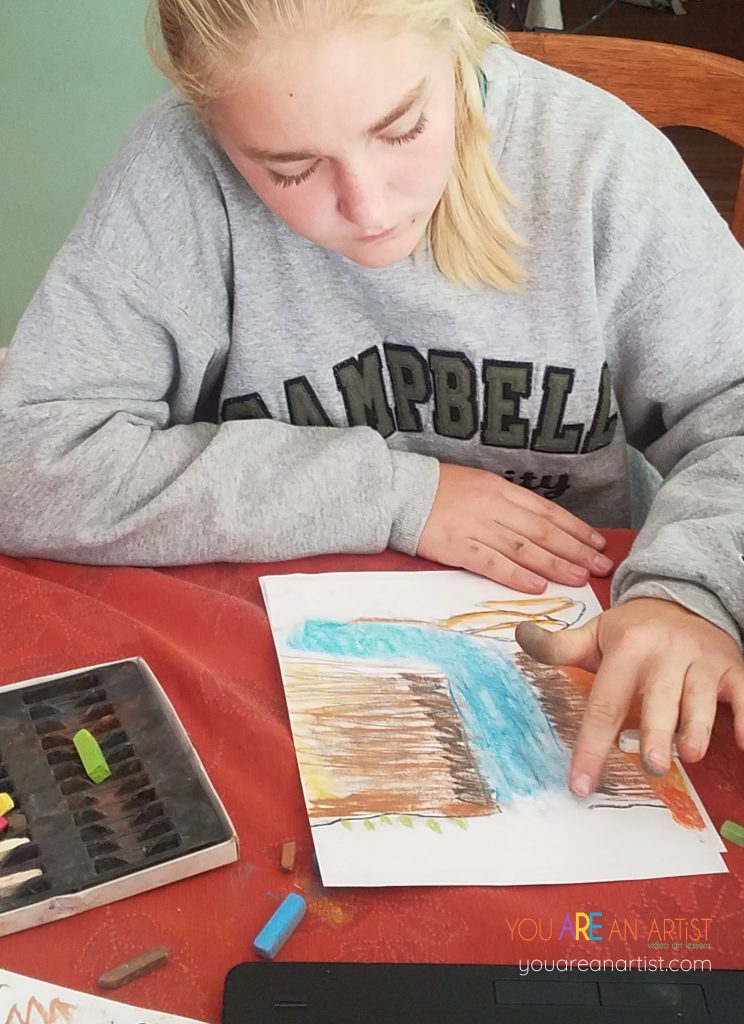 Finally, if you have musical students, they could learn to play it on their instrument of choice or use their voices for singing. My daughter loves to perform the hymns we are studying on her violin. In learning to play it, they often really internalize the song. Keep in mind that it does not need to be complicated or perfect.
More Thanksgiving Homeschool Resources
There are so many options and different hymns that you could use. You could focus on one for the month or try a new one each week! If you aren't familiar with using art in your hymn study or hymn studies with your art, be sure to check out The Art of Hymn Study post for more ideas.
You can check out this beautiful art lesson to accompany We Gather Together and other great homeschool ideas for Thanksgiving.
Study more about Thanksgiving with the history of Thanksgiving and the Thanksgiving Day parade in the Thanksgiving course. There is even a lesson to go along with my all-time favorite Thanksgiving book, Cranberry Thanksgiving.
"How Great Thou Art" is another song that does a great job of helping us to express praise to God for his goodness.
If you want to mix your art projects up a bit, you can try the fun mixed media collage that accompanies the Count Your Many Blessings hymn. Guest artist Rebecca Parsons created this fun sunflower lesson.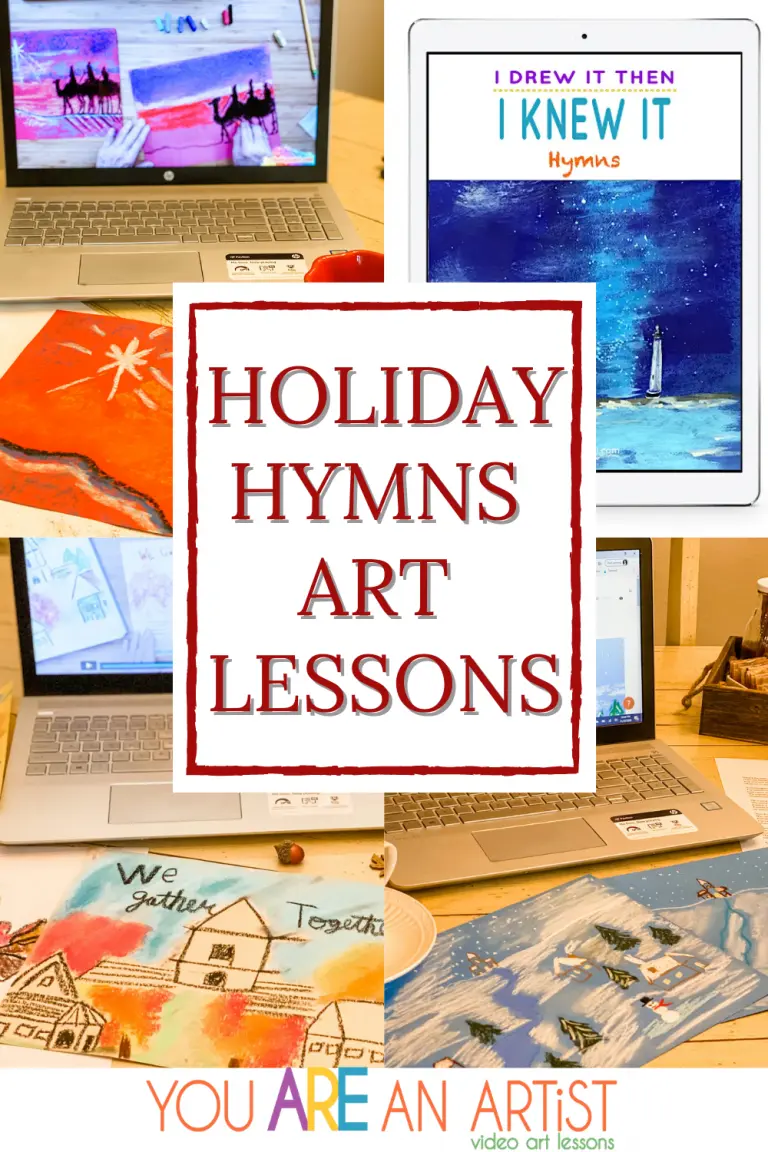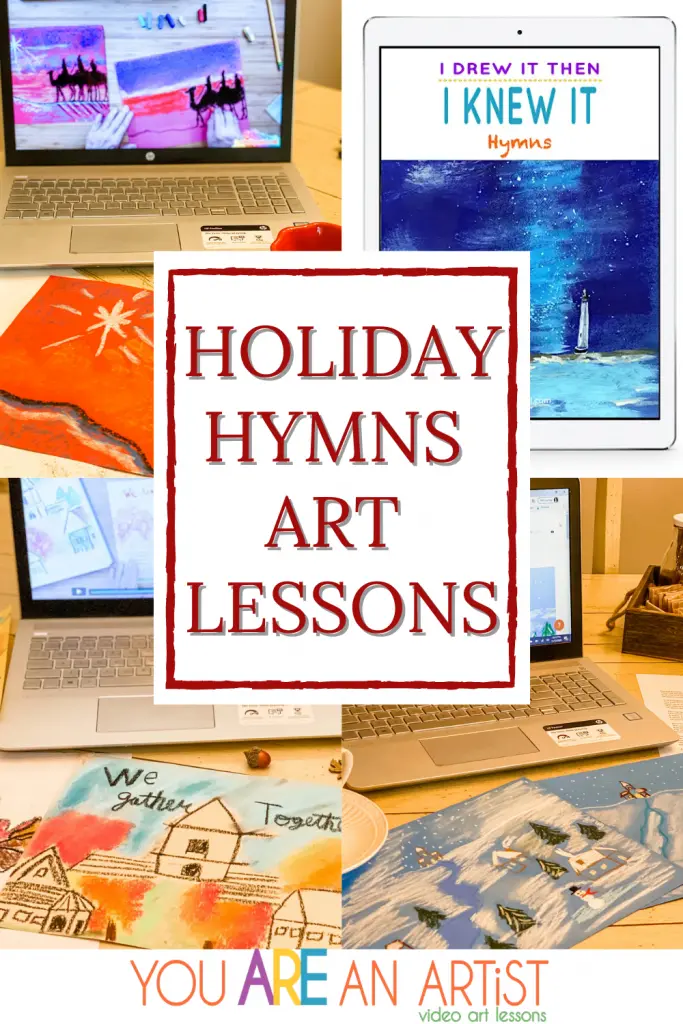 Year-Round Holiday Activities For Your Homeschool
The fun of combining art, music, and holidays does not have to end at Thanksgiving hymn favorites! There are many great lessons for Christmas, Easter, even Independence Day.
Christmas hymns have to be my favorite, and there are so many great lessons! We love the "Away in a Manger" art lesson and like to pair it with a hymn study. The video accompanying "I Heard the Bells on Christmas Day" makes a beautiful painting perfect for gifting.
In addition to hymns, there are many fun Christmas art lessons, including a great one for the Charlie Brown fans in your home!
As we move into springtime and Easter, the Easter course is full of great Easter lessons, and there are a variety of appropriate hymn-themed paintings in the Hymns course. The "Low in the Grave He Lay" lesson is a powerful hymn paired with a beautiful image.
When summertime and Independence Day roll around, you can do a lesson on America the Beautiful or My Country Tis of Thee.
That is just scratching the surface of all the fun lessons to combine art, hymns, and your favorite holidays!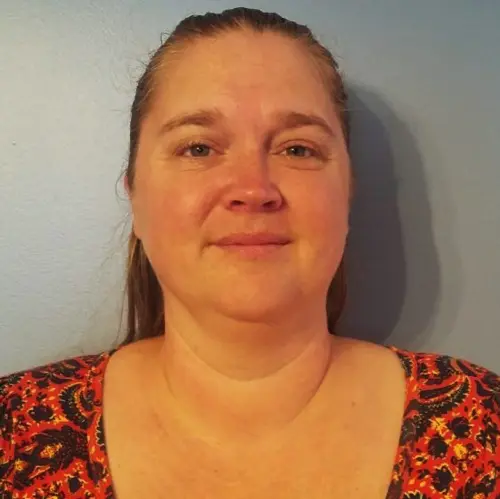 Dawn is a passionate follower of Jesus, wife to Chris, and homeschool mom of four. In her spare time she loves to read, hike, and write on her blog Schoolin' Swag. She enjoys reviewing curriculum and helping moms find the right fit for their family.