Did you know that you can travel the world with chalk pastels? That's right! Let Nana take you on a trip around the world with her World Landmarks series! This is the perfect addition to your homeschool geography lessons, world history lessons, or just because!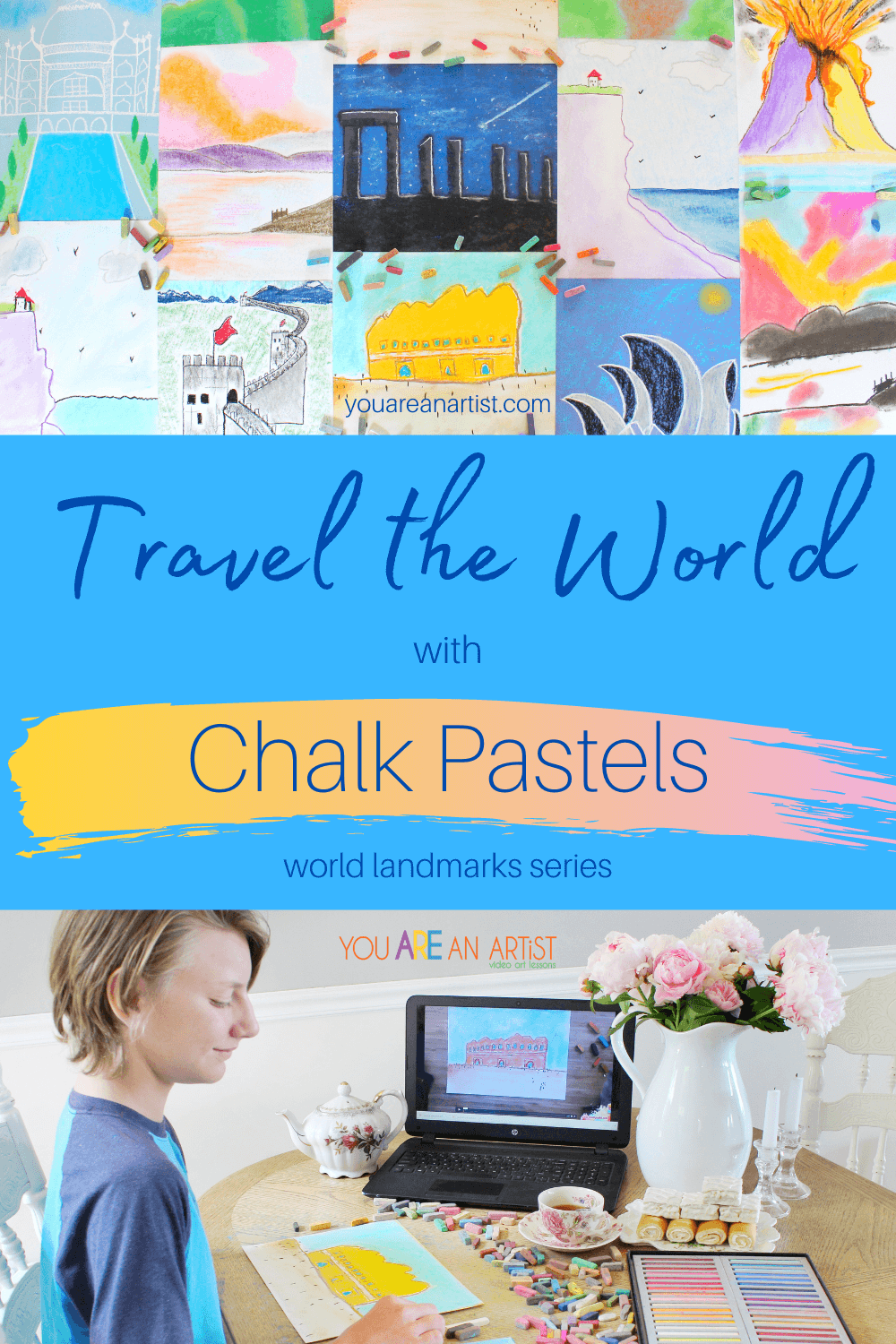 This year there has been a big focus on geography for my older homeschool student. We've explored different countries using books, maps, cooking, documentaries, chalk pastel maps, and now chalk pastel world landmarks! There's something wonderful about adding hands-on creative resources to an otherwise boring subject. Art can help brings those other subjects to life!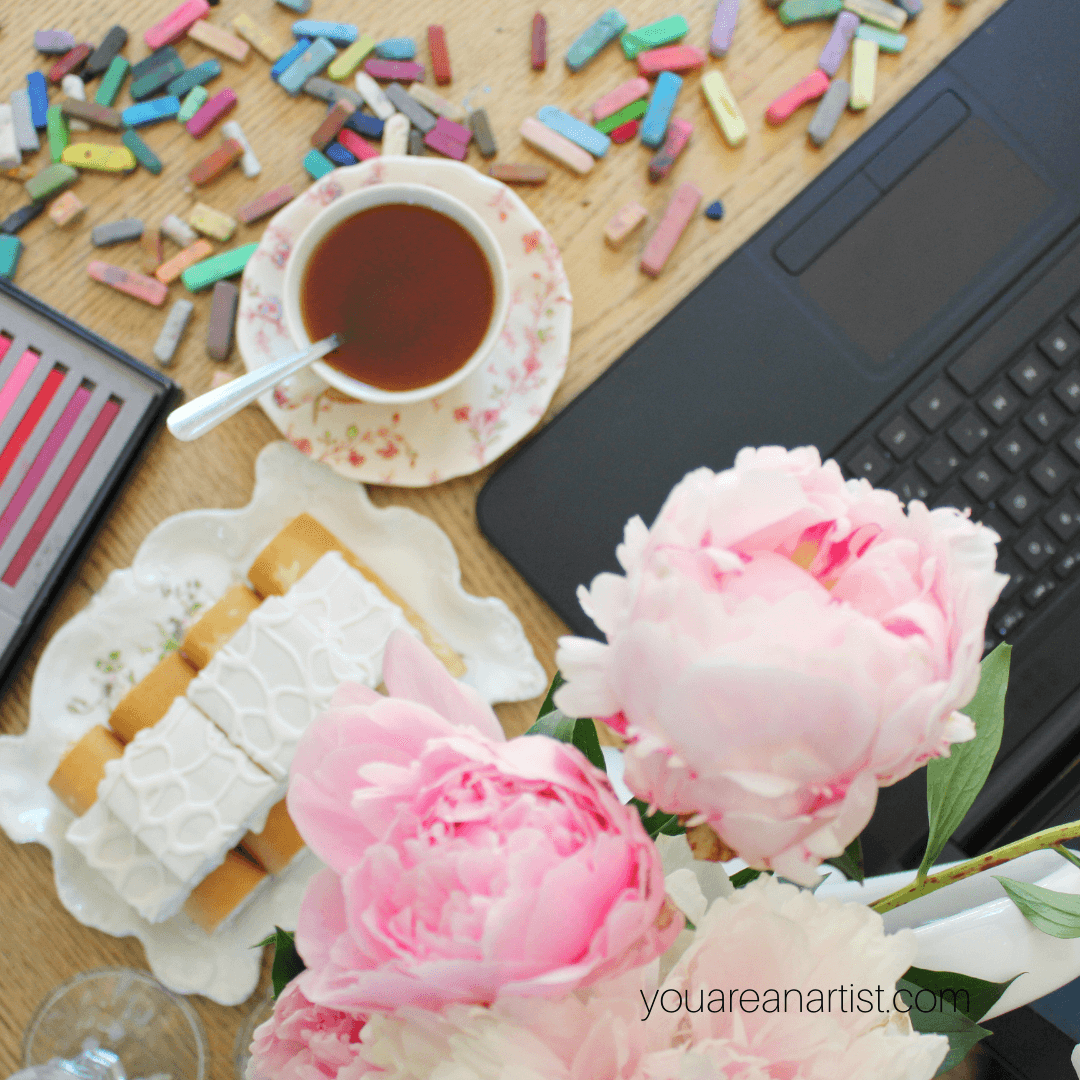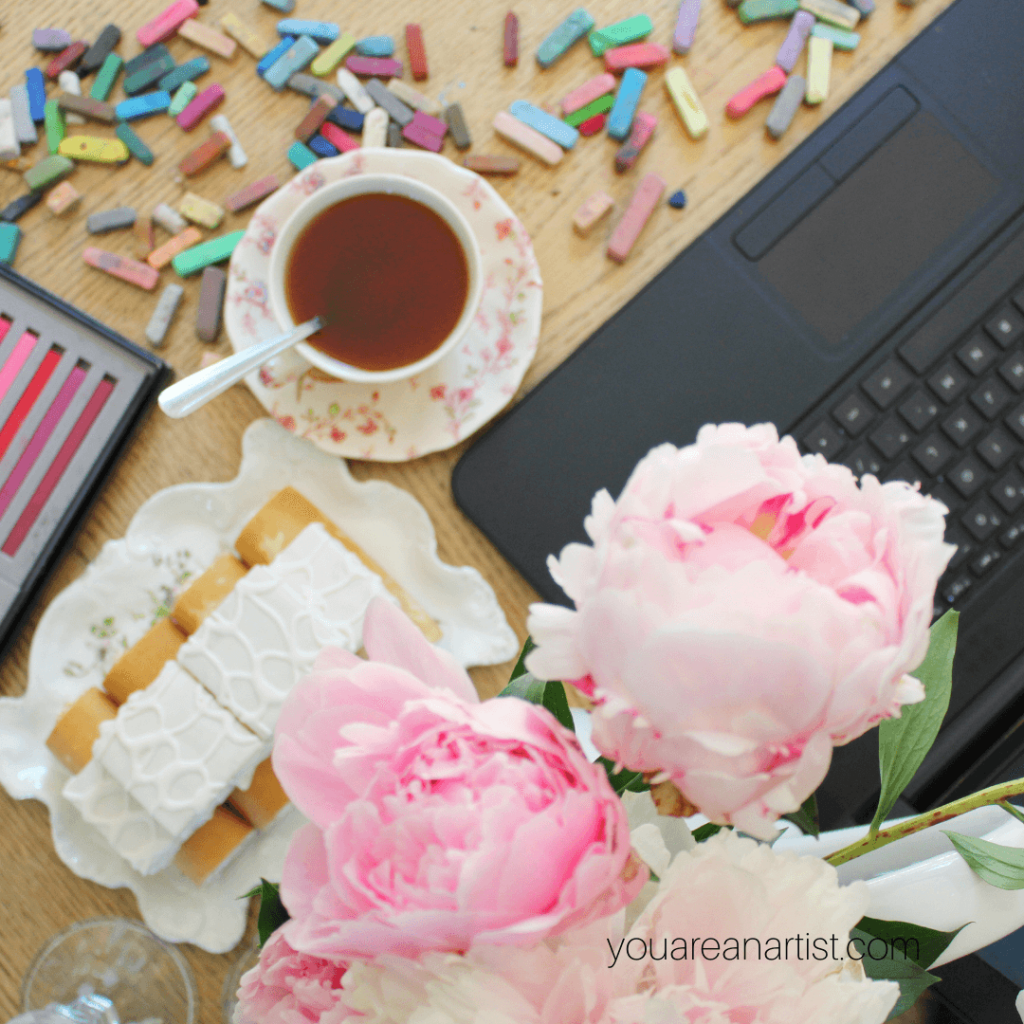 Travel the World with Chalk Pastels
We have created a delicious culture around our chalk pastels.
Teatime.
That means that we incorporate lovely snacks, beverages, flowers, and sometimes candles around our chalk pastels. We've been doing it this way for years and it's been an exquisite addition to our homeschool.
Sometimes we make our own treats, and other times we open a pack of snack cakes. No pressure here.
I picked the peonies fresh from our flower garden and added them to the table. Their beauty almost rivaled that of our art and they smelled heavenly!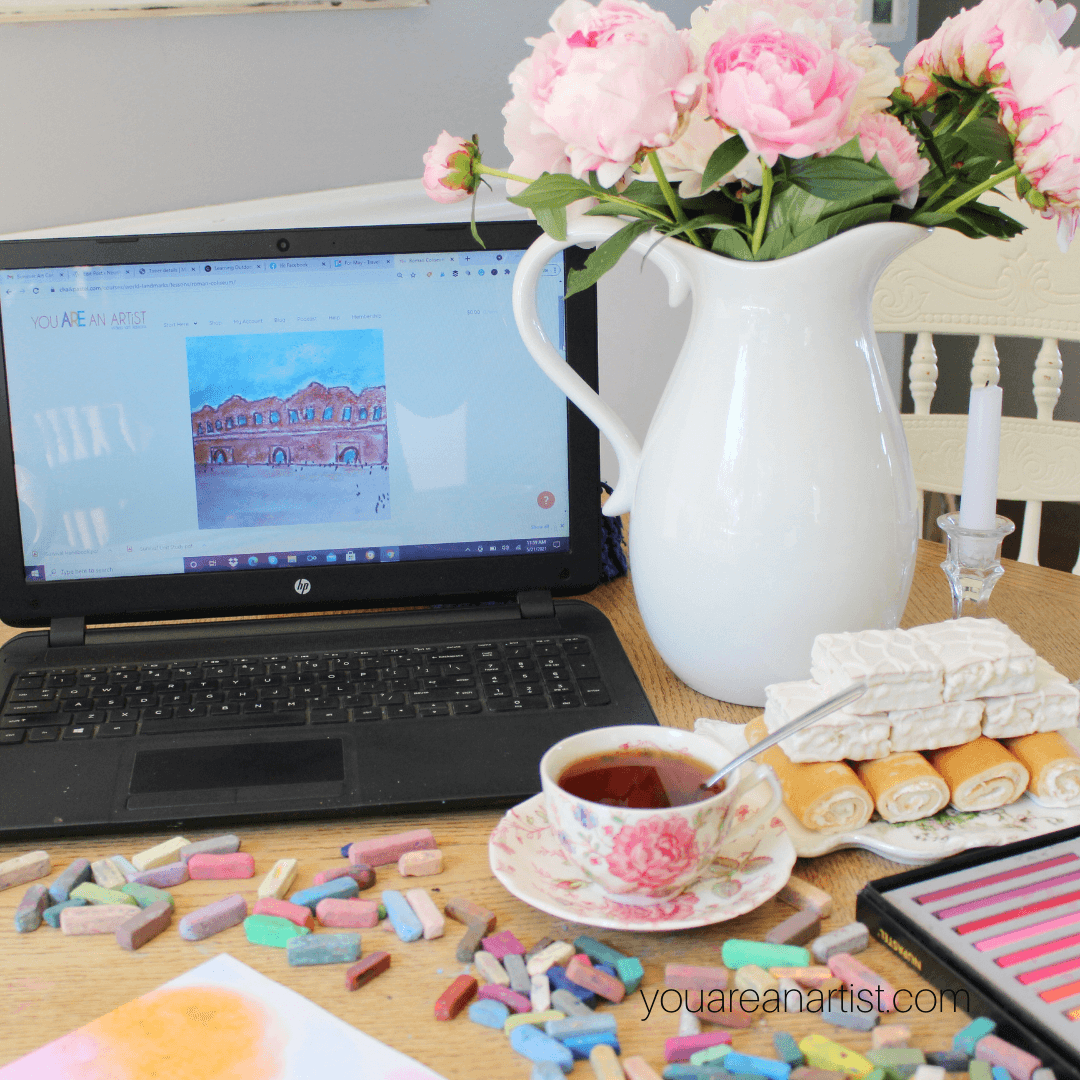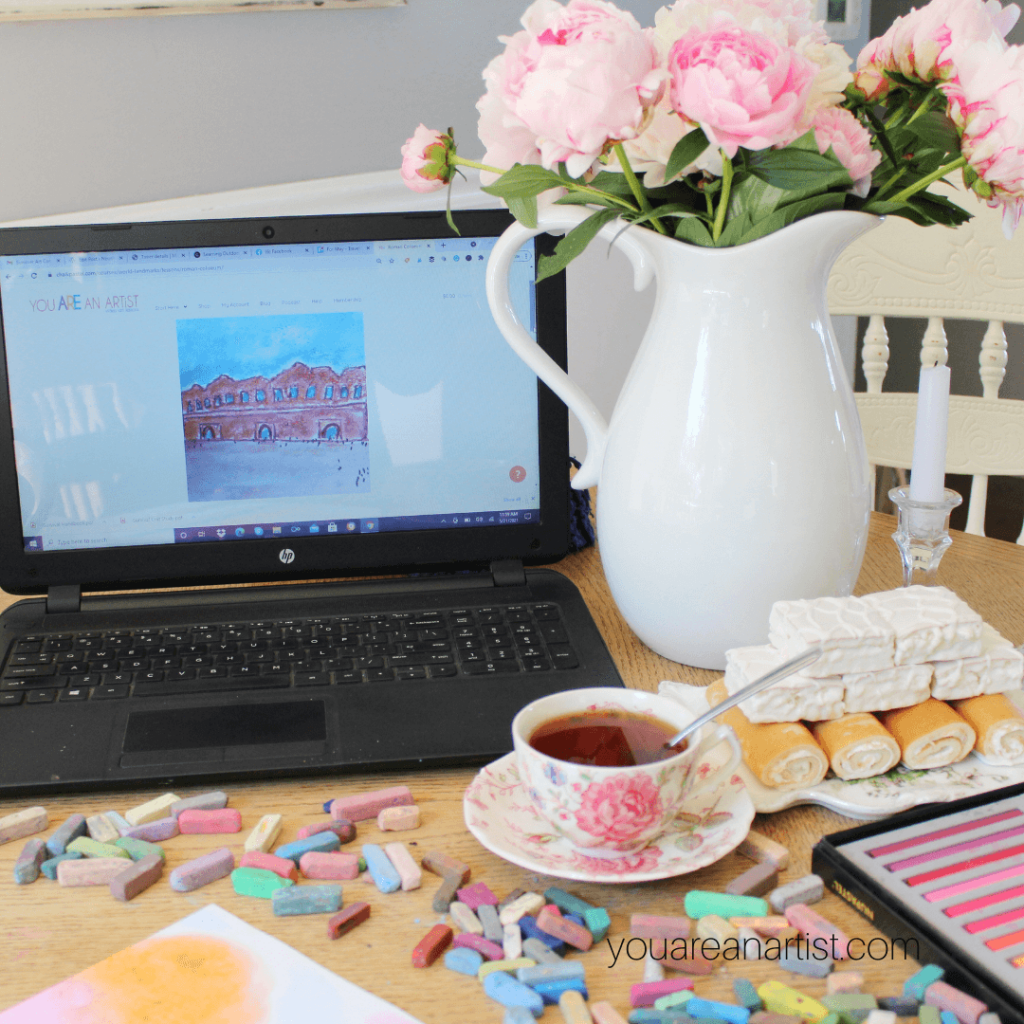 Travel the World and See the Sights
Once the table was set we were ready to dive into our trip around the world!
You may know that Nana already has Maps video art lessons that are available with the You ARE An Artist Clubhouse Complete Membership. The maps paired really well with our geography lessons throughout the year. The World Landmarks also paired well with our map lessons.
How so you may wonder.
Try pairing the Great Wall of China with the Map of China.
You could pair the Big Ben, the Cliffs of Moher, the Scottish Highlands, or Stonehenge with the Great Britain Map! Or you could make them a part of your Great Britain unit study. Aren't those Scottish Highlands dreamy?
What about adding the Sydney Opera House to your next Australian study?
There are so many possibilities and the hands-on activity of chalk pastels helps solidify the geography knowledge we have acquired throughout the year. It was really awesome to hear my son tell me facts related to these different landmarks and the countries where they are found.
Thank you Nana!
Travel the World with Chalk Pastels You ARE An Artist Clubhouse Complete Membership
With the You ARE An Artist Clubhouse Complete Membership you'll have access to 700+ chalk pastel lessons including all of Nana's Maps lessons AND these World Landmarks:
Eiffel Tower
Taj Mahal
Scottish Highlands
Roman Coliseum
Sydney Opera House
Great Wall of China
Cliffs of Moher
Stonehenge
Big Ben
Volcano
Plus, more to come!
You'll also have access to all of the American Landmark lessons including:
Golden Gate Bridge
Statue of Liberty
Mt. Rushmore
Liberty Bell
Washington Monument
Yellowstone Falls
Old Faithful
Civil War Cannon
Niagara Falls
Lincoln Memorial
Grand Tetons
Plus More to come as well – including I Drew It Then I Knew It companion workbooks for Maps, World Landmarks and American Landmarks.

Hands-On Geography with World Landmarks
The World Landmarks Video Art Lessons are designed with upper elementary to high school students in mind, but as you can see from the Stonehenge image above, they can be accomplished by anyone regardless of age. No prior skill level is necessary.
There are oodles of reasons to love chalk pastels. Making geography and landmarks more fun is just the icing on an already delicious cake!
Now tell me, what World Landmarks would your children enjoy creating?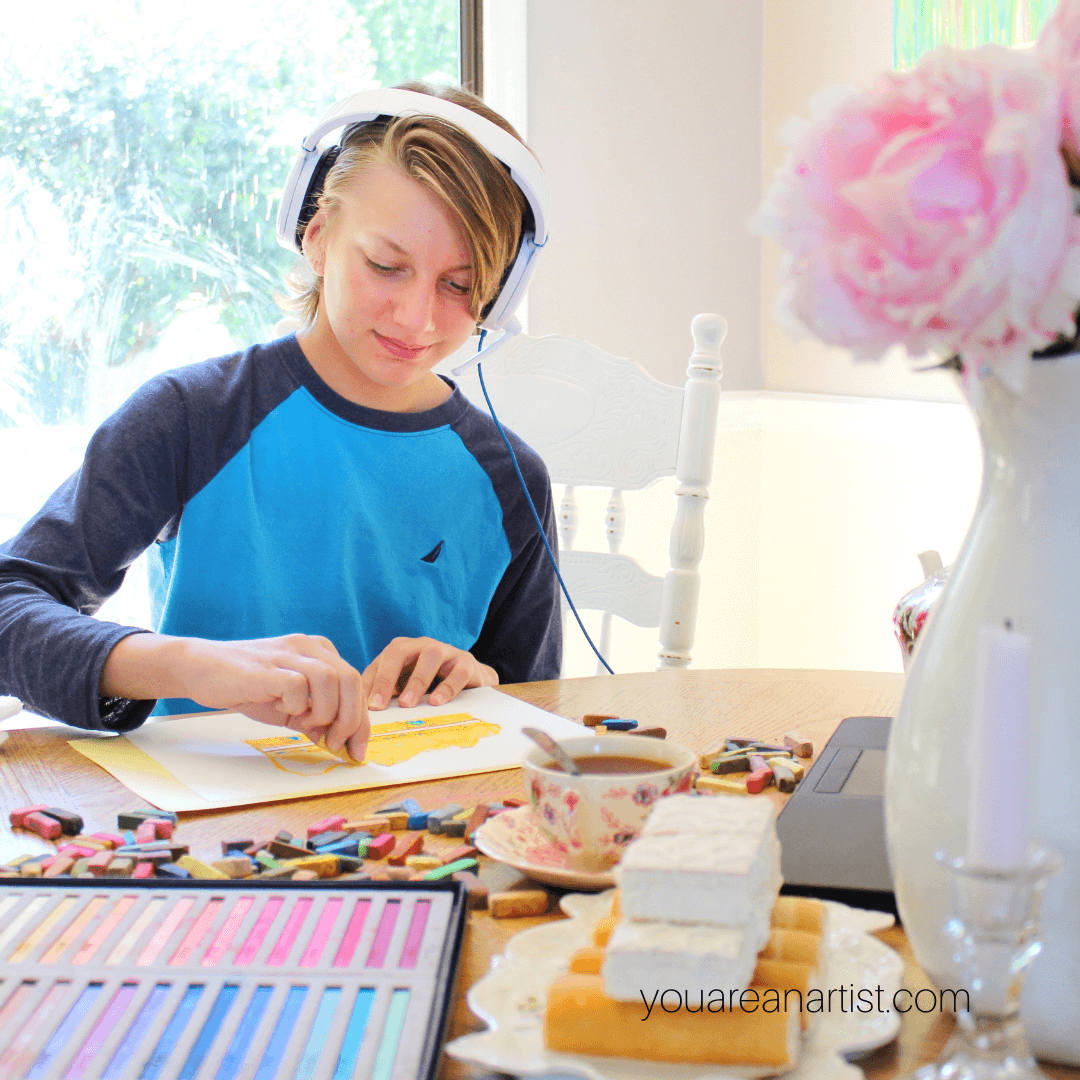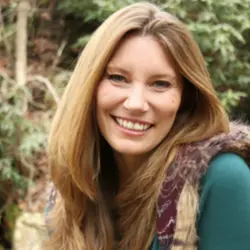 Erin is a writer, blogger, and homeschooler to two intense kids. Her blog is filled with information to help you explore a child led education while making meaningful connections with your children. Discover favorite read alouds, seasonal books, games, art projects, hands-on activities, and learn to just breathe through the ups and downs of life. She loves nature, farm life, good books, knitting, new pens, and hot coffee. Erin is a contributing writer for Weird Unsocialized Homeschoolers. Her work has also been featured on Simple Homeschool and Book Shark.