Grade 11 High School Fine Arts Appreciation
$47.00
Grade 11: Neoclassicism to Post-Impressionism – 1780-1900: Neoclassicism, Romanticism, Realism, Impressionism, Post-Impressionism.
Description
The You ARE an ARTiST Homeschool Fine Arts art appreciation plans for the rhetorical stage of education were created to be used by high school students. It is organized in a four year history cycle.
Homeschool Art Appreciation Lesson Plans
Weeks 1-6  Neoclassicism – Thomas Gainsborough, Benjamin West, Gilbert Stuart, Jacques-Louis David, Auguste Ingres, Delacroix, Singleton-Copley
Weeks 7-12  Romanticism – Caspar David Friedrich, Géricault, Constable, J.M.W. Turner, Thomas Cole, Albert Bierstadt
Weeks 13-16  Realism – Gustave Courbet, Jean-Francois Millet, James Abbott, John Singer Sargent, Winslow Homer, James Abbott McNeill Whistler, Dante Gabriel Rossetti
Weeks 17-24  Impressionism – Edouard Manet, Claude Monet, Pierre- Auguste Renoir, Edgar Degas, Camille Pissarro, Mary Cassatt, Berthe Morisot, Rodin, James Abbott McNeill Whistler
Weeks 25-26  Photography – Matthew Brady, Felix Nadar, Julia Margaret Cameron, Jacob Riis
Weeks 27-34  Post-Impressionism – Vincent Van Gogh, Georges Seurat, Henri Toulouse-Lautrec, Paul Cézanne, Paul Gauguin, Edvard Munch, Gustav Klimt, Pierre Bonnard
Our Fine Arts art appreciation plan was created for high school students. It is organized in a four-year history cycle. This plan provides week-by-week suggestions for readings in The Annotated Mona Lisa and The Story of Painting. Also suggested are episodes in Sister Wendy's DVD series titled Story of Painting.
The plan also uses online sources for viewing artwork for each time period studied. The links are provided to supplement your reading and are entirely optional.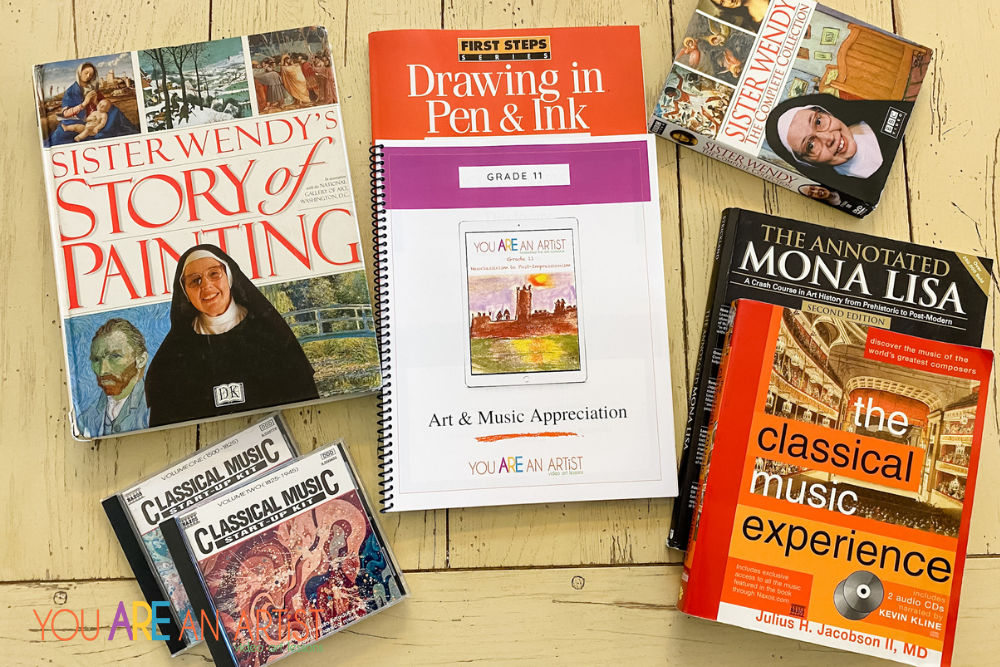 In addition to reading and viewing the artwork, the student is directed to write a one to two-page summary for each time period or topic covered.
Nudity is found in all the resources scheduled for grade eleven. Please preview the materials to determine any adjustments your family may wish to make.
High School Homeschool Music Appreciation and Composer Study
Nine composers with 36 weeks of study
Weeks 1-4 Peter Ilyich Tchaikovsky
Weeks 5-8 Antonín Dvorák
Weeks 9-12 Edvard Grieg
Weeks 13-16 Gustav Mahler
Weeks 17-20 Claude Debussy
Weeks 21-24 Richard Strauss
Weeks 25-28 Ralph Vaughan Williams
Weeks 29-32 Arnold Schoenberg
Weeks 33-36 Maurice Ravel
Our music appreciation plan was created to be used by high school students that wish to have a program organized in a four-year history cycle.
The plan includes reading from Classical Music Experience and listening to the accompanying CD. The plan also includes listening to selections from the Classical Music Start-Up Kit volume 2. These two products are the foundation of the plan and can be used for all four high school years.
In addition to those two primary products, the plan uses online sources to compliment the book Classical Music Experience. There are multiple online resources to stream or purchase the required selections – Classicalmusicarchives.com, Naxos.com, Amazon Music, or the music streaming site of your choice. You can choose to use one of the online sources or none at all.
Your student will also write a one to two-page biography for each composer studied and then a one to two-paragraph opinion of the composer. The student may also keep a list of the musical selections he has listened to during the study period.
FAQs
*Some suggested materials may no longer be in print or no longer found as new items.
This homeschool fine arts curriculum includes suggestions for including Nana's video art lessons but her art lessons are not included in the pdf. Because of the nature of digital products, we do not offer refunds. All sales are final.