This homeschool study all about sharks is perfect for summer learning. It includes a shark tracking activity, online lessons, book lists, and so much more!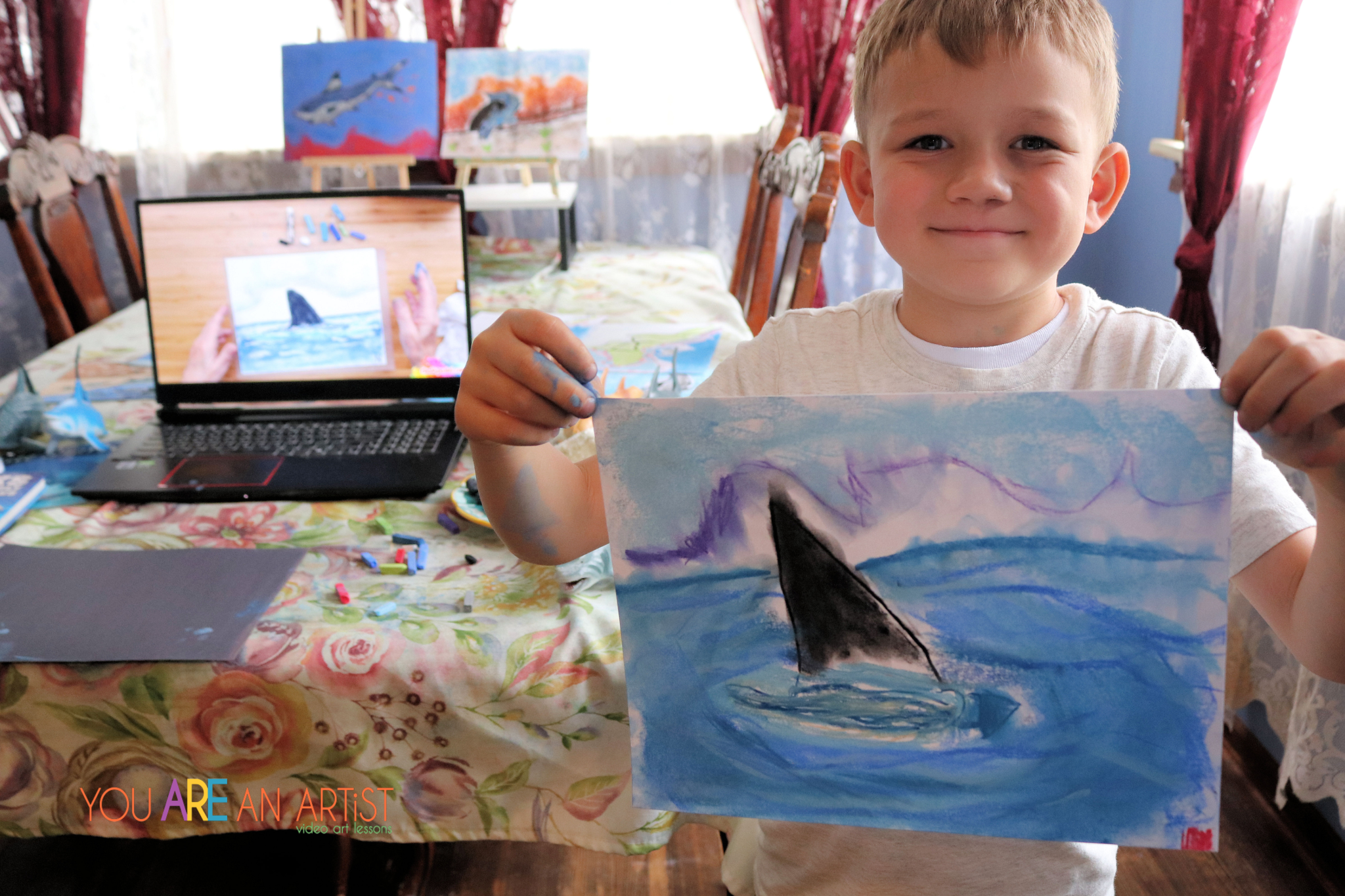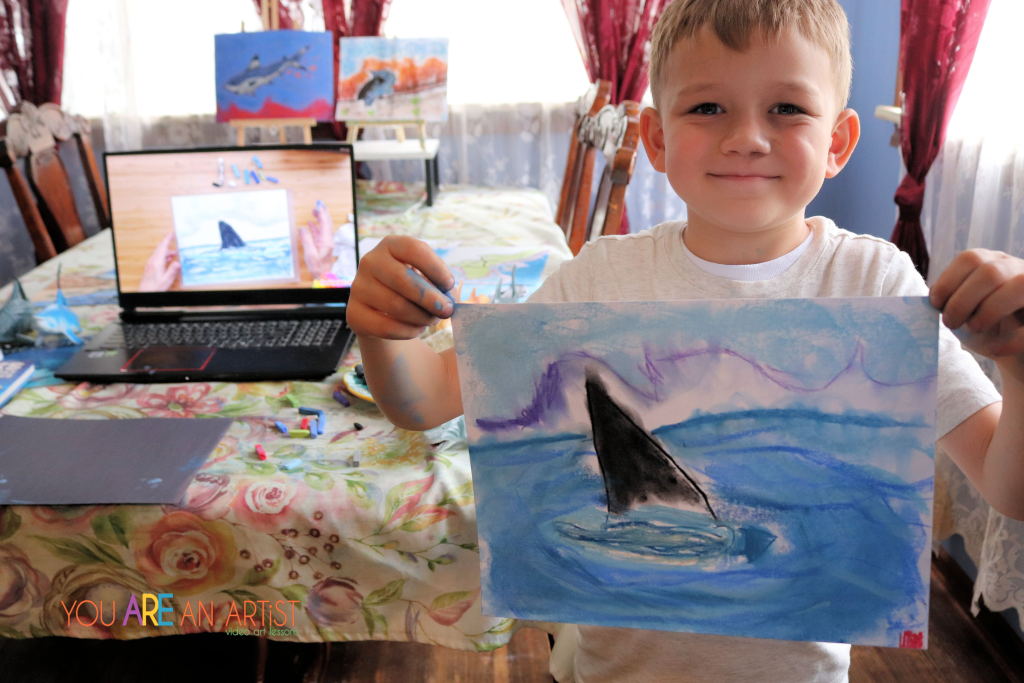 Some links may be affiliate links to resources we love. Please see our disclosure policy.
What creatures are equipped with a stirring ampullae of Lorenzini? What species contains a flexible, cartilaginous skeleton and swims with speed? What mighty beasts of the sea wear hard teeth-like scales all over their bodies?
Did you say SHARKS? Well, you hit the nail on the hammerhead!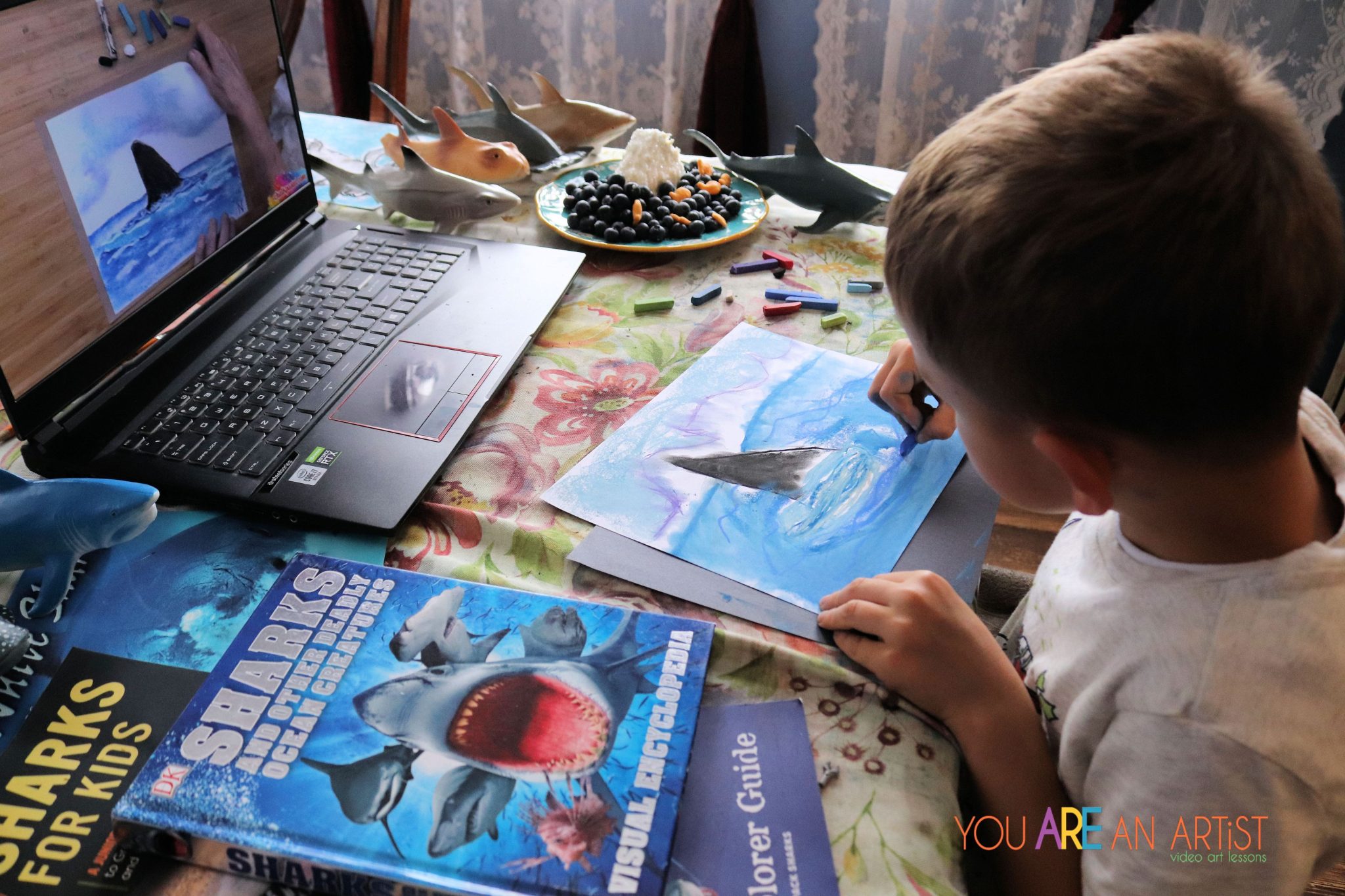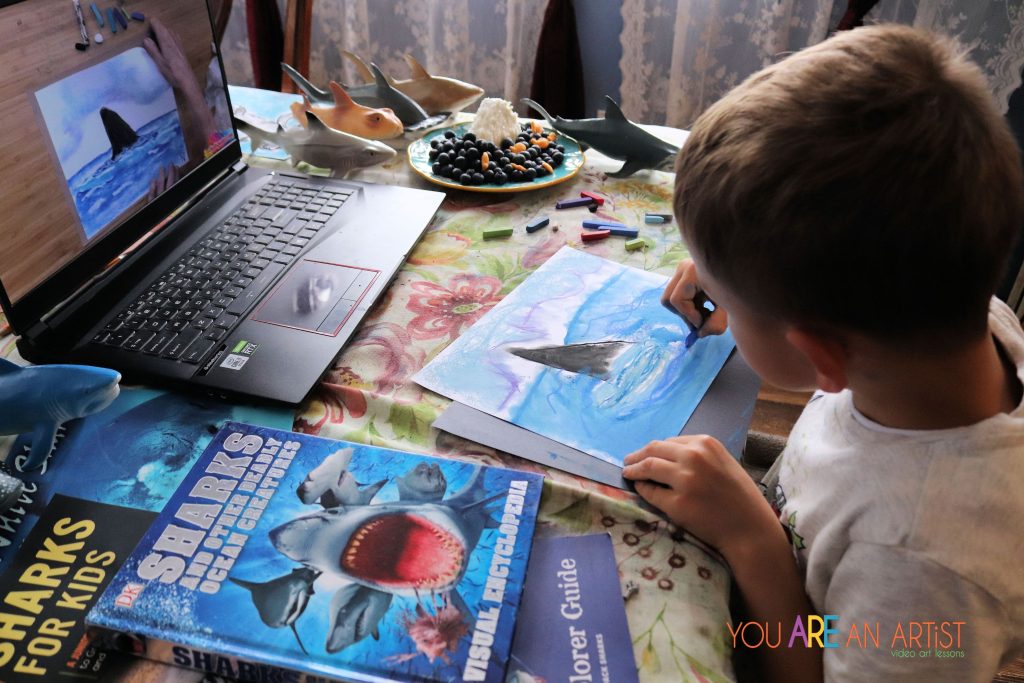 Shark Homeschool Study
With over 500 species and fascinating features, the apex predators are as profound and mysterious as their dwelling place. So, why are sharks so……."shark"-tacular? From a homeschooling mom's point of view, they are an interdisciplinary commodity that inspires art, science, inquiry, reading, writing, and geography.
To a herd of marine biologists, sharks are more than just wonders roaming the vast seas. With eyes-wide and full of shark wonder, a child's natural curiosity stands amazed at the rows of sharp as daggers teeth (as my daughter calls it). The distinct features of a hammerhead or a saw shark encourages independent learning and self-education as endless questions arise from a moment's glance.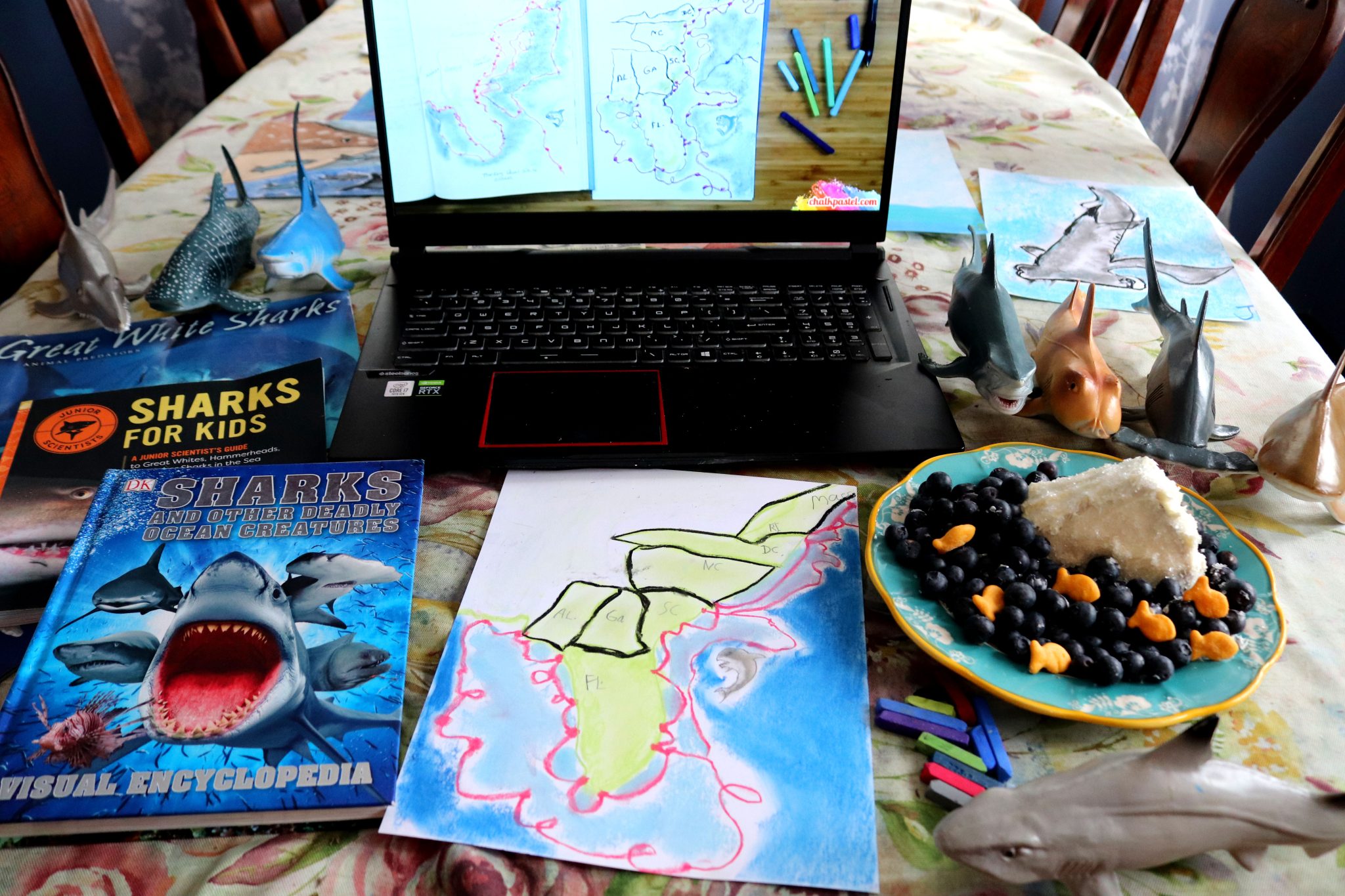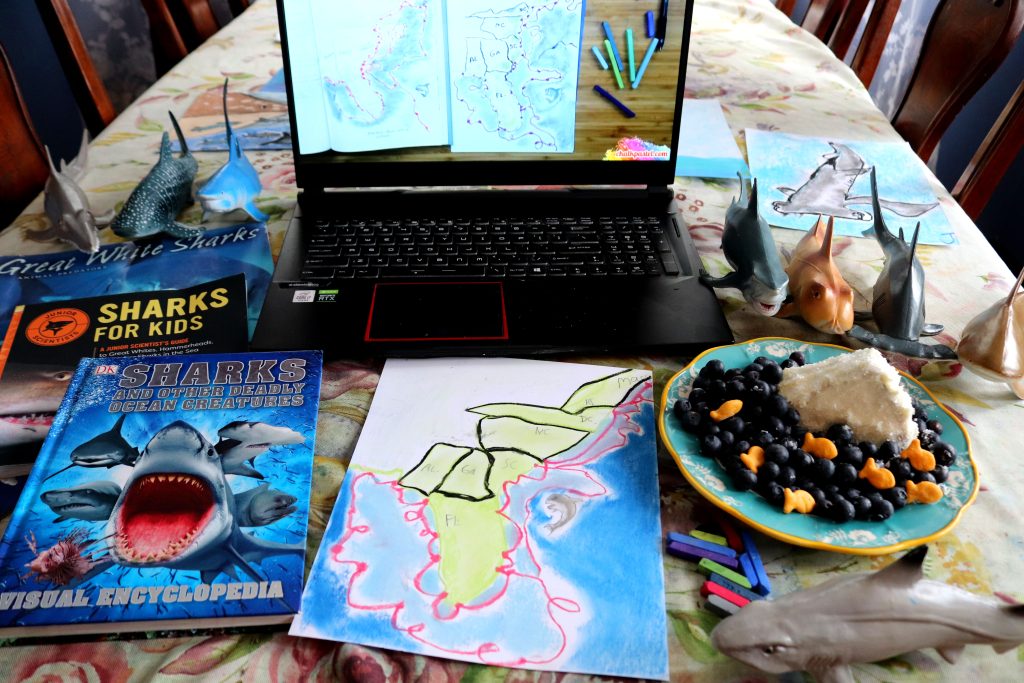 Unlocking one species after another, the varied sizes and feeding differences offer a limitless amount of research. And every summer, a school of sharks circle the shores of our home learning, sparking a frenzy of fun!
A Shark Tracking Activity For Kids
Hurry! Iron Bound just pinged! Grab your scuba gear, notebooks, and chalk pastels! We are about to sail the seas with Nana and plot this Great White's journey!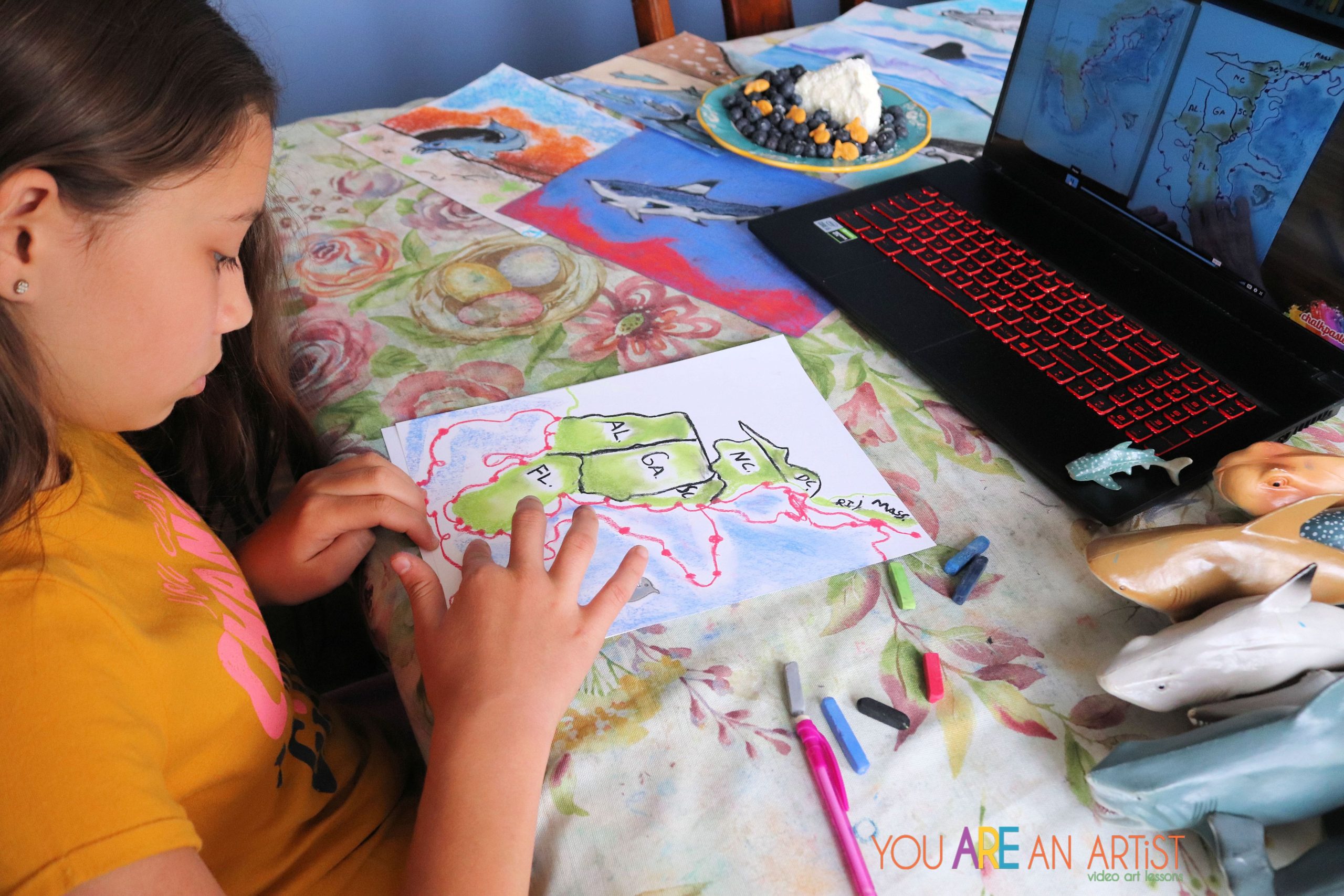 This winsome art lesson combines engaging science with hands-on geography. Nana guides your scientists through new terms such as the Eastern Seaboard, shark pinging, and tracking device. Your shark biologists will also learn and discover how Iron Bound got his sturdy name!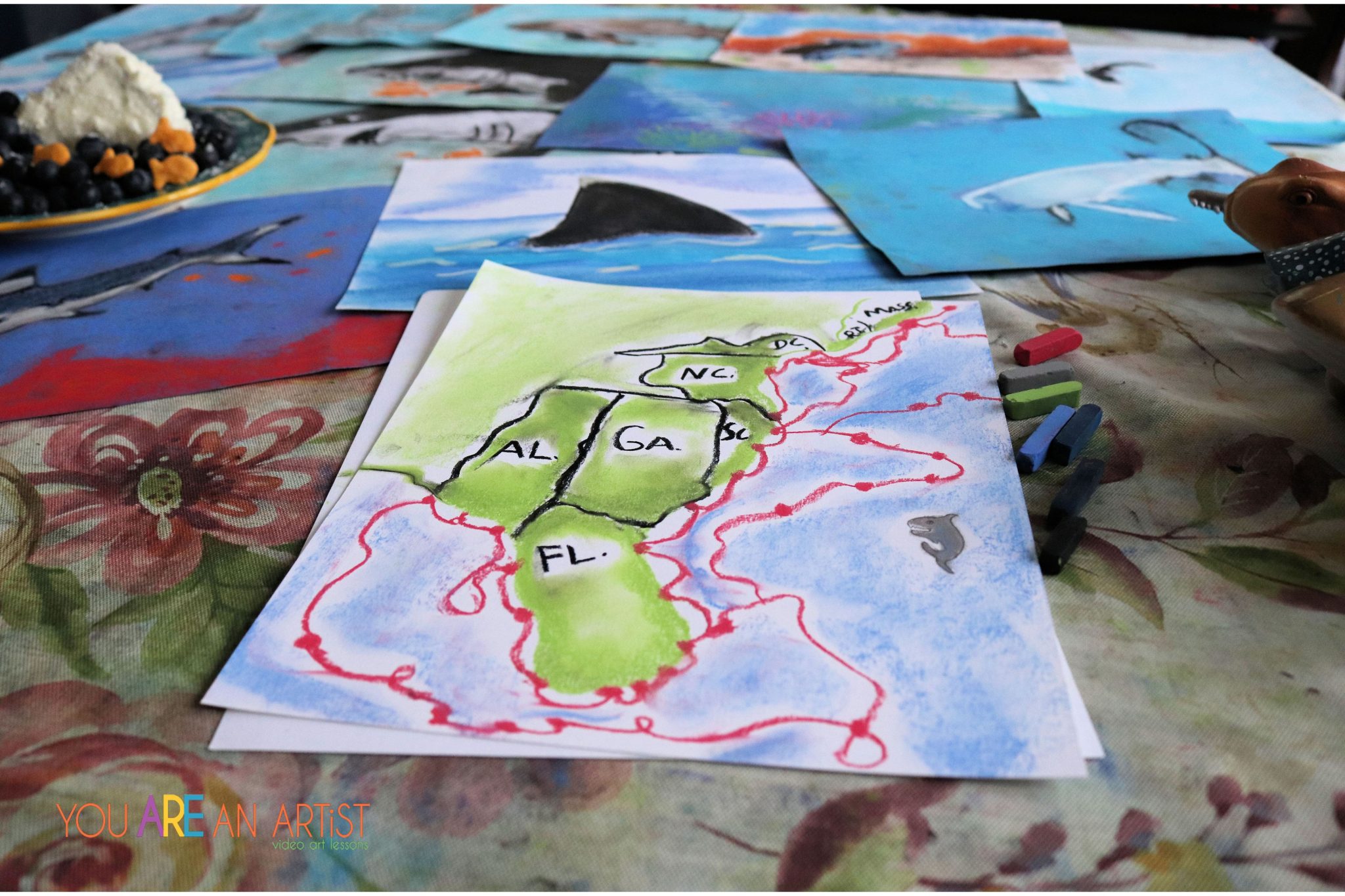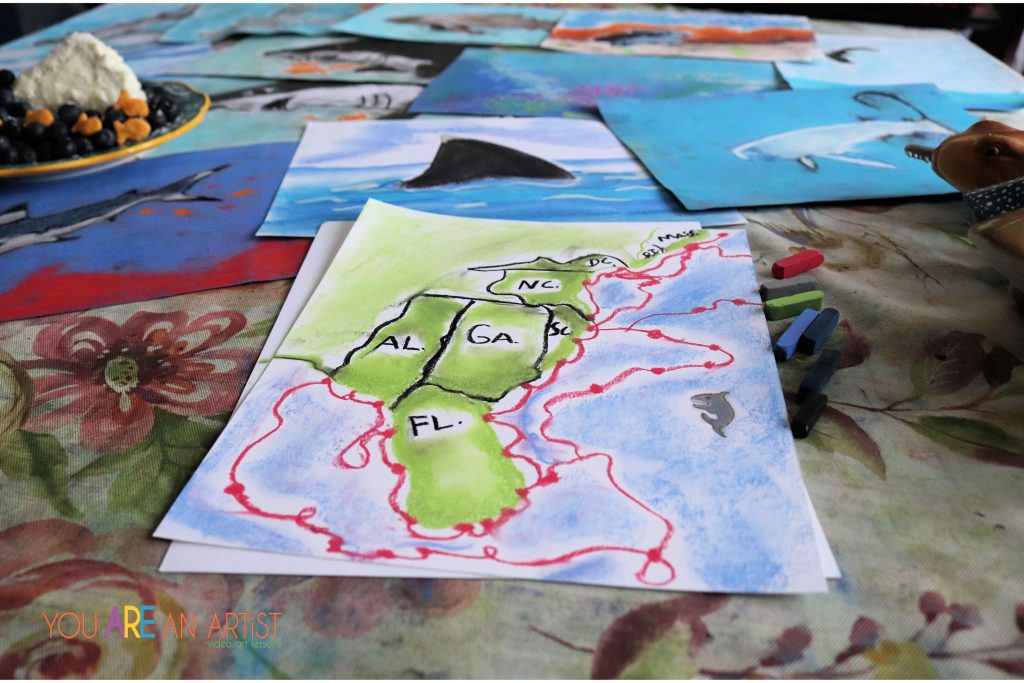 Hold on to your fins, because this multi-disciplinary art lesson is simply "fin"-tastic!
Online Lessons All About Sharks
We find sharks extremely impressive! From the giant whale shark that can reach up to 65.6 feet in length, to the hammering hammerhead that investigates the ocean floor for tasty sting rays.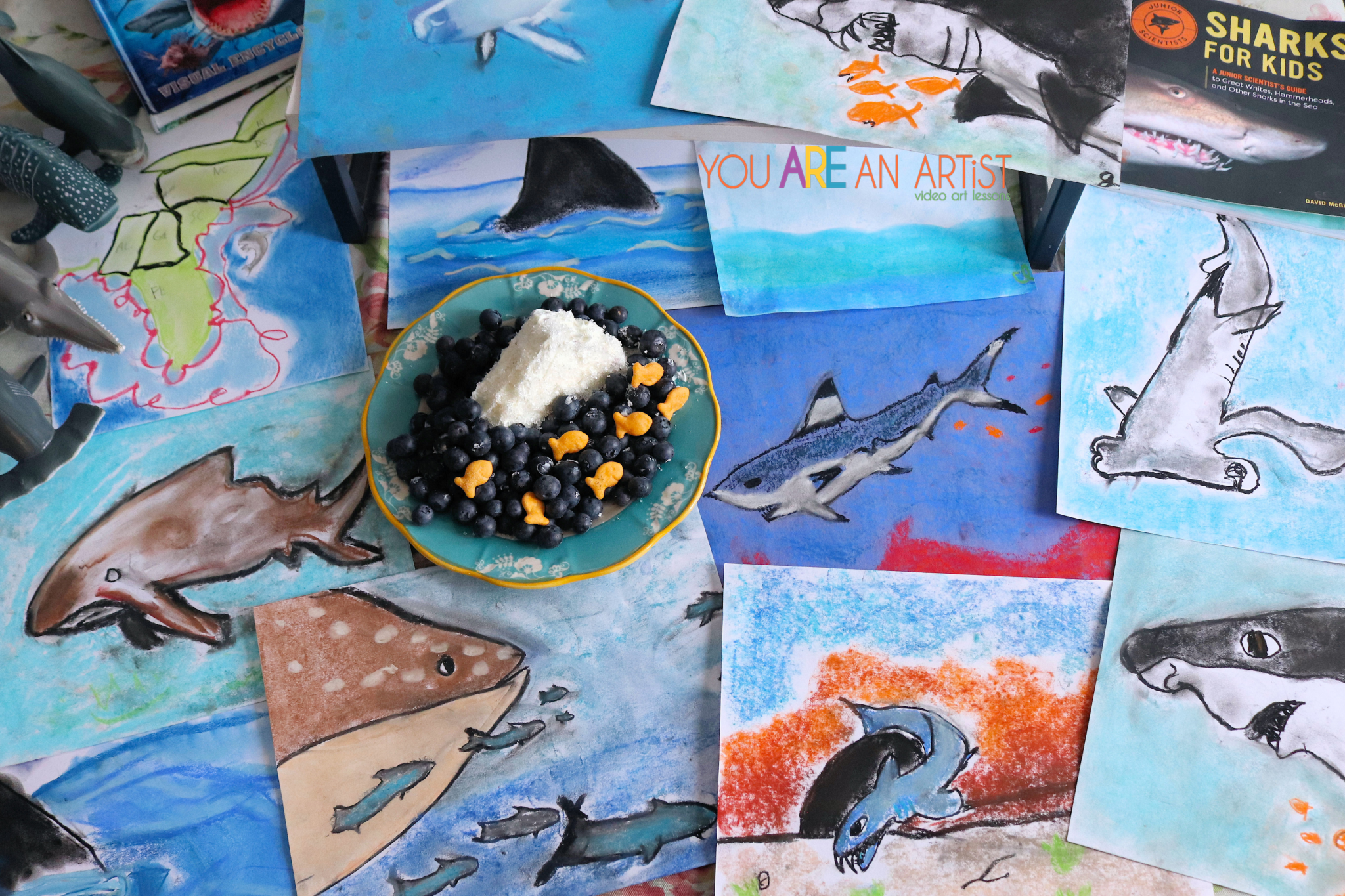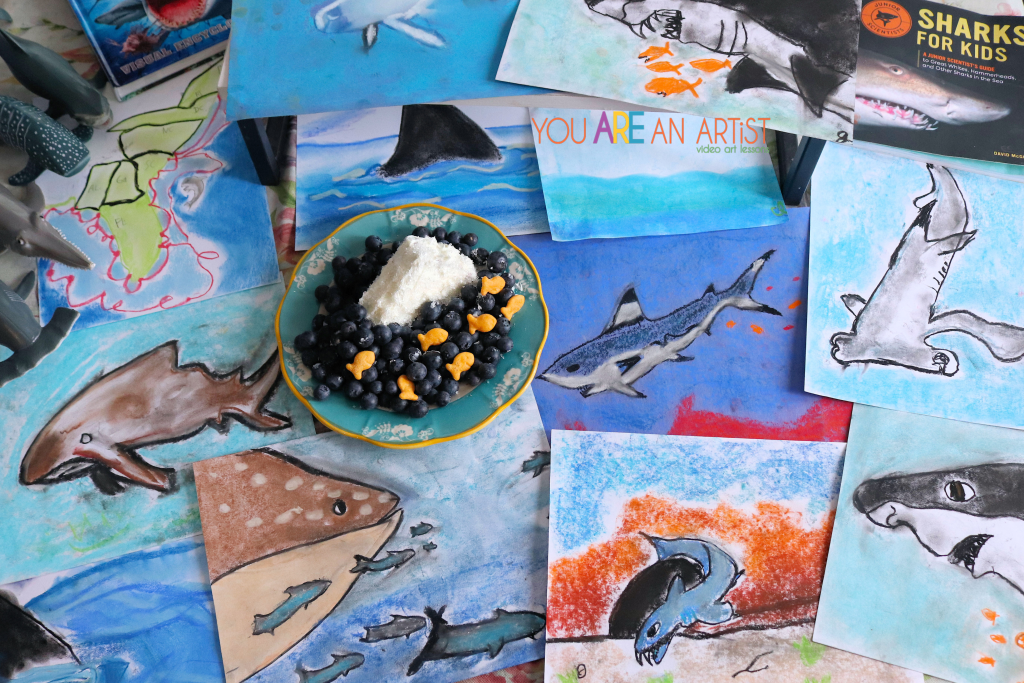 This is a list of only a few of our favorite shark art lessons with Nana, perfect for any shark biologist!
Black Tip Reef, Hammerhead, Nurse Shark and School of Sharks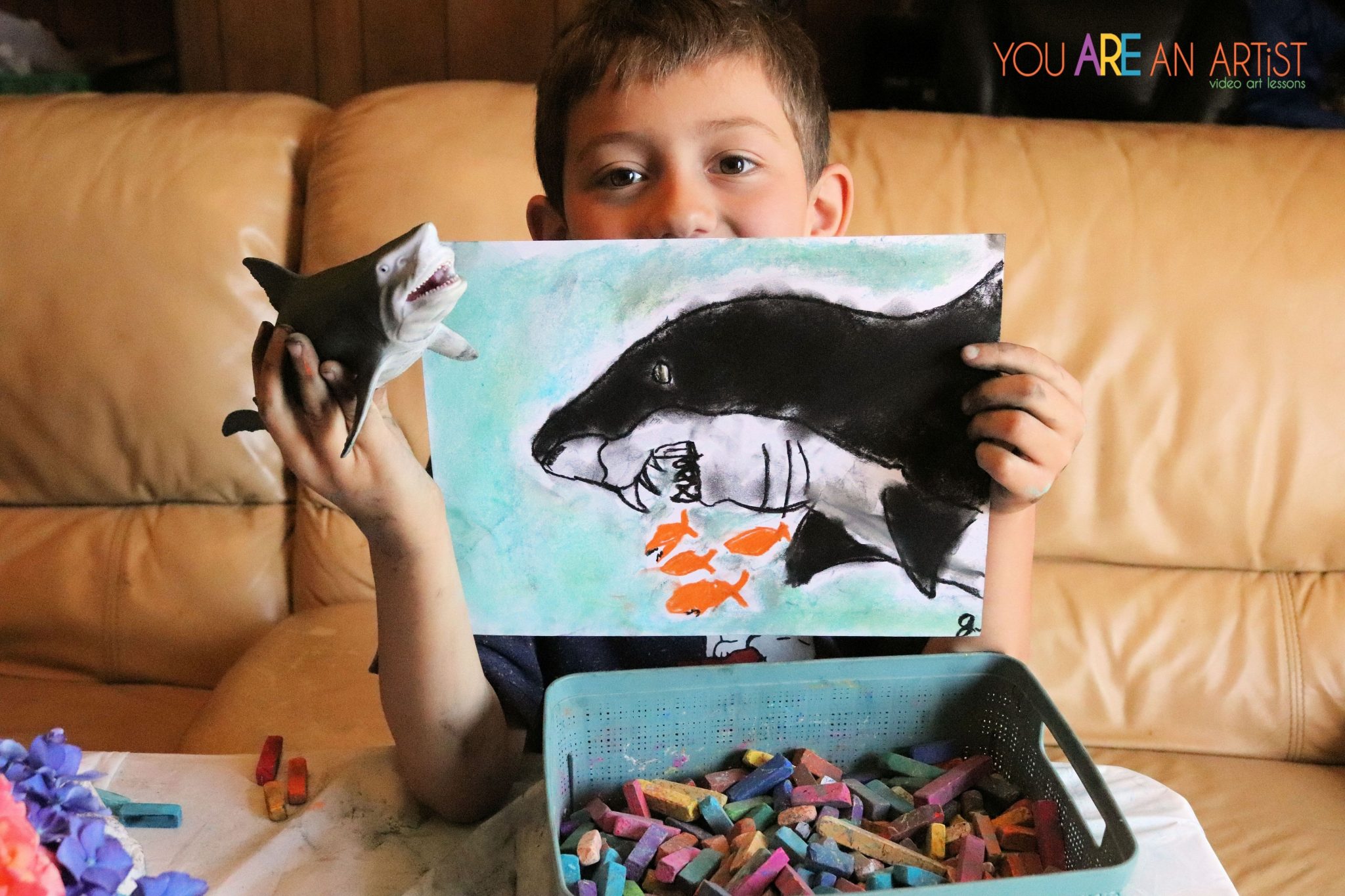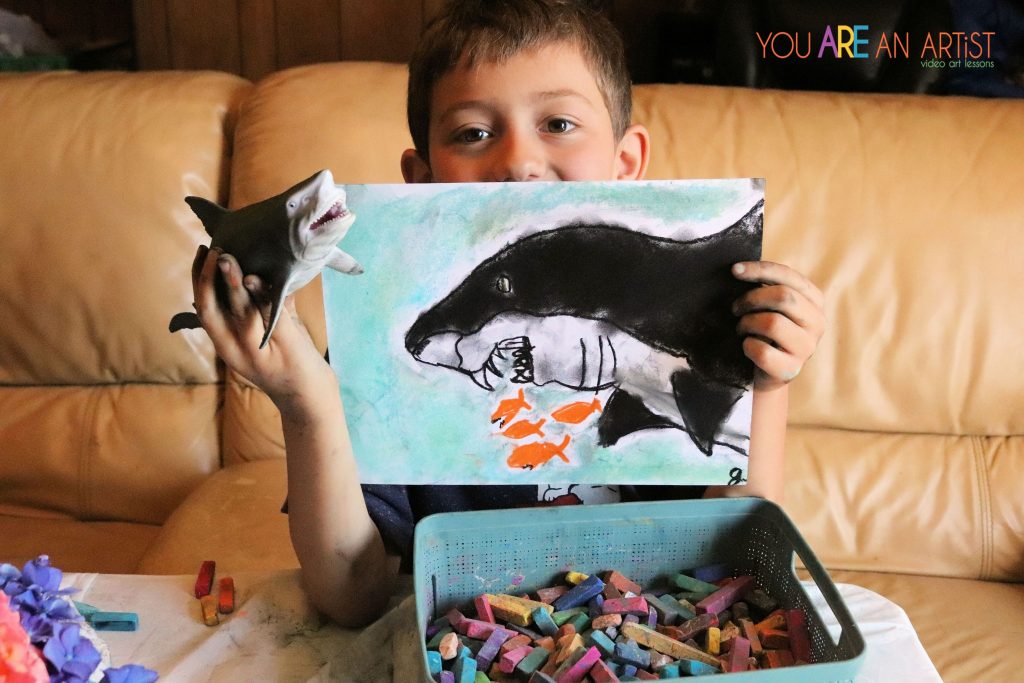 Great White Homeschool Art Lesson
Nana makes this well-known shark a fun one to paint and learn about!
Are you interested in a delightful shark homeschool study? Or maybe you are planning shark activities for Shark Week. Take a dive into Erin's A Shark Week Homeschool Unit Study for Kids. Uncover how "art is a fabulous addition to your shark science lessons" and the wonderful list of winning lessons Nana offers through the Clubhouse Membership. Erin also shares a lovely way of spending time with her scholars while painting with sharks, chalk pastel tea time!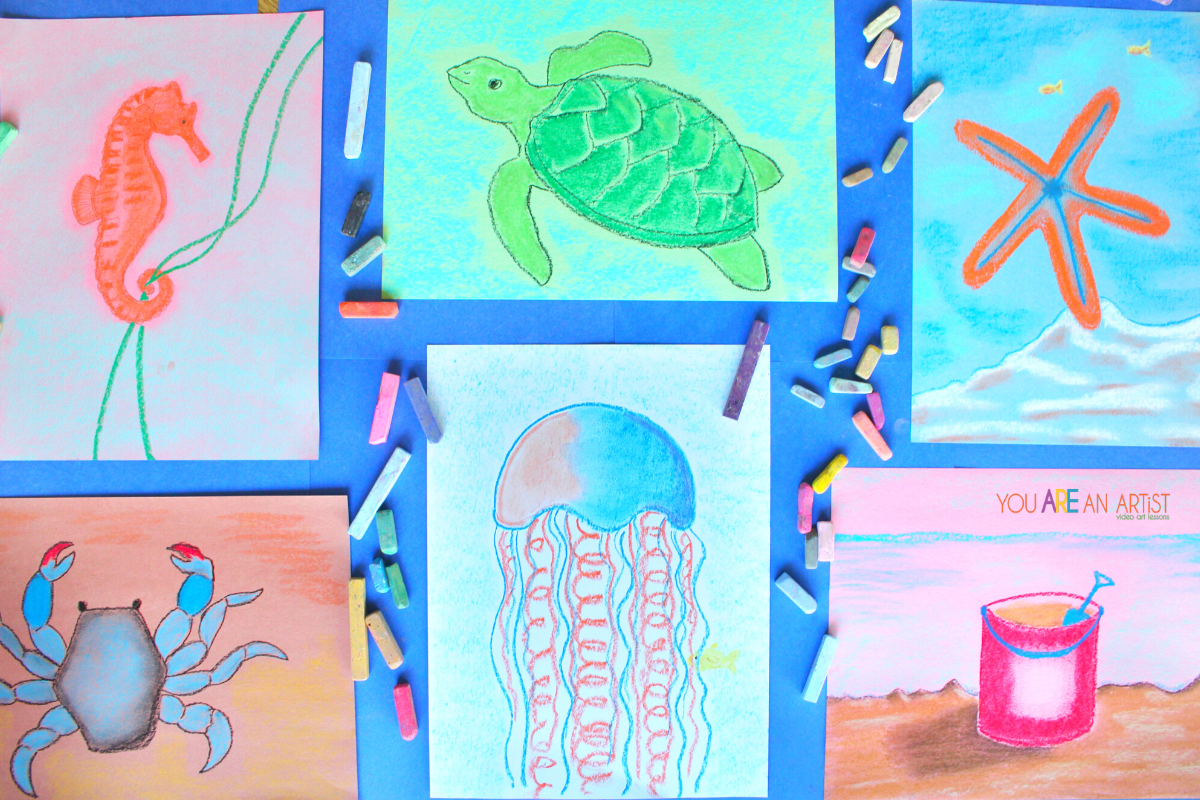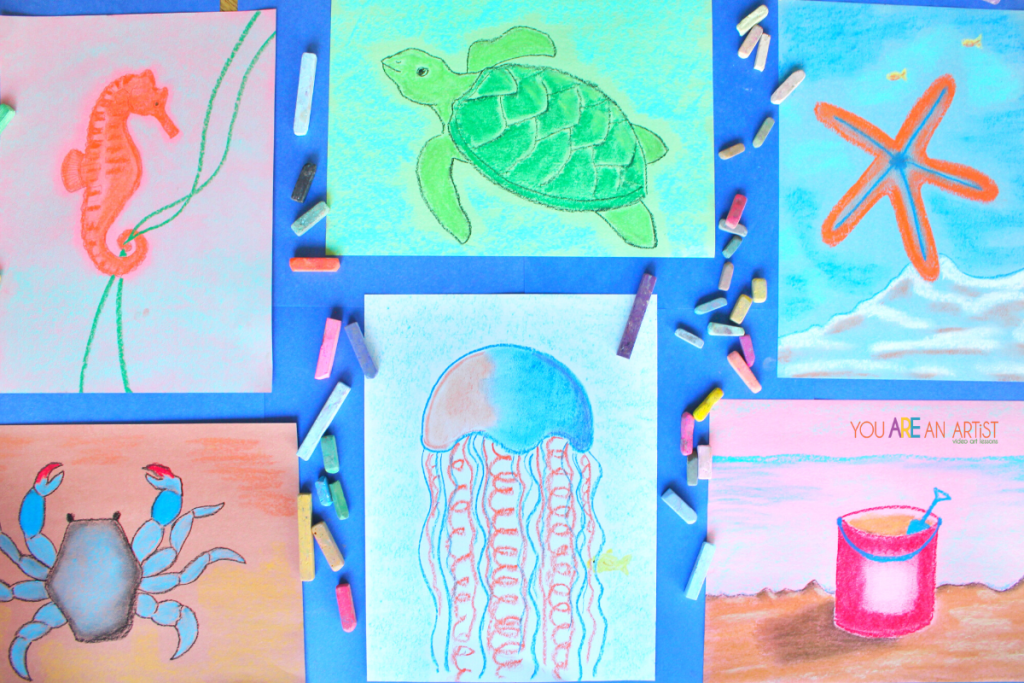 Additional Resources For Ocean Study
Do you have a student who just can't wait to explore marine life? If so, you might want to spend time putting your feet in the sand and listening to the rhythmic waves with Nana! In this Majestic Ocean Study, she will take your marine biologist along sandy beaches to build sand castles and uncover the fascinating life beyond the sea! You will discover the power of nature study in your homeschool, fantastic ocean resources, and books to combine with your ocean study! Bring your sand buckets and all colorful pastels!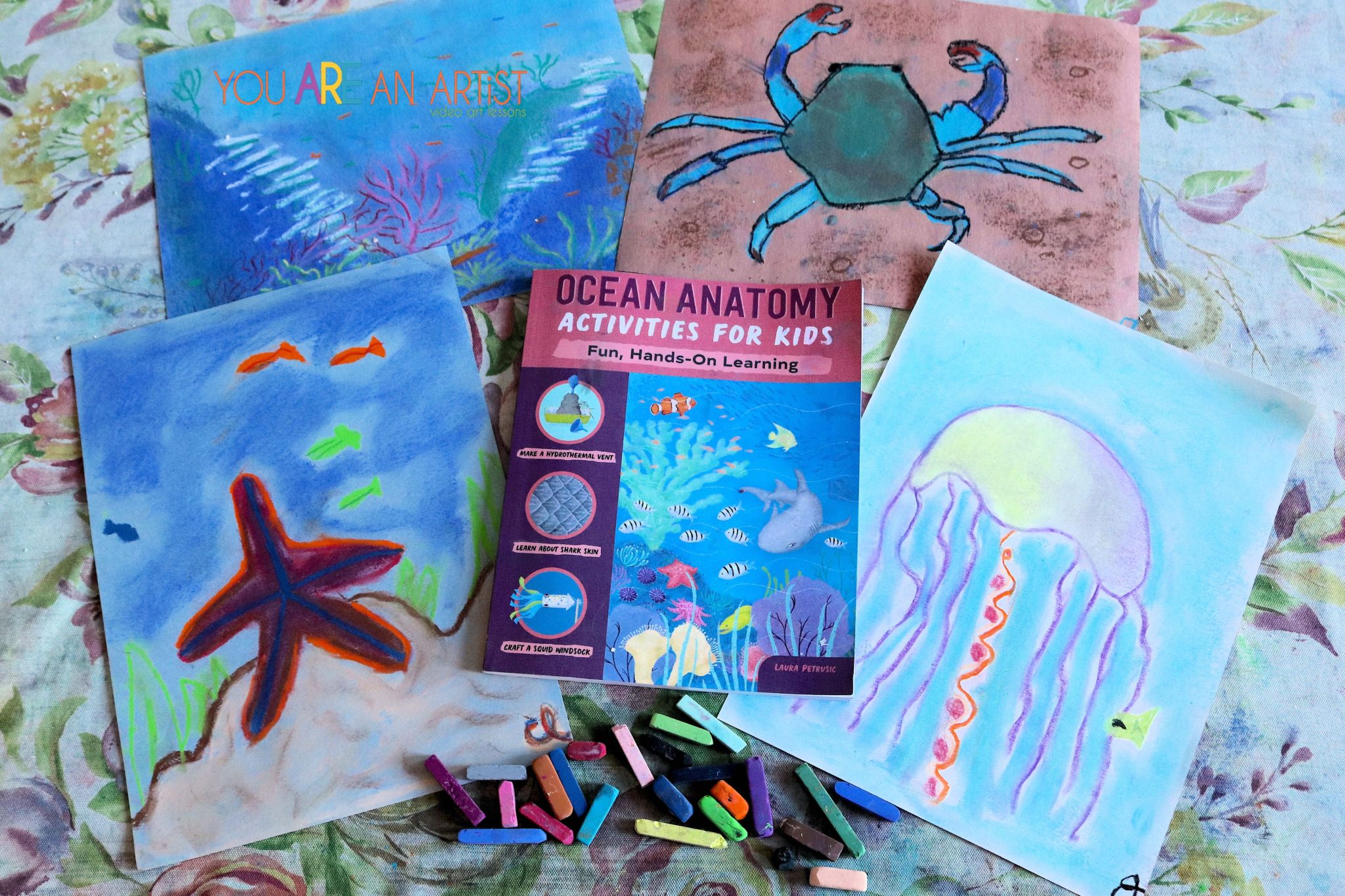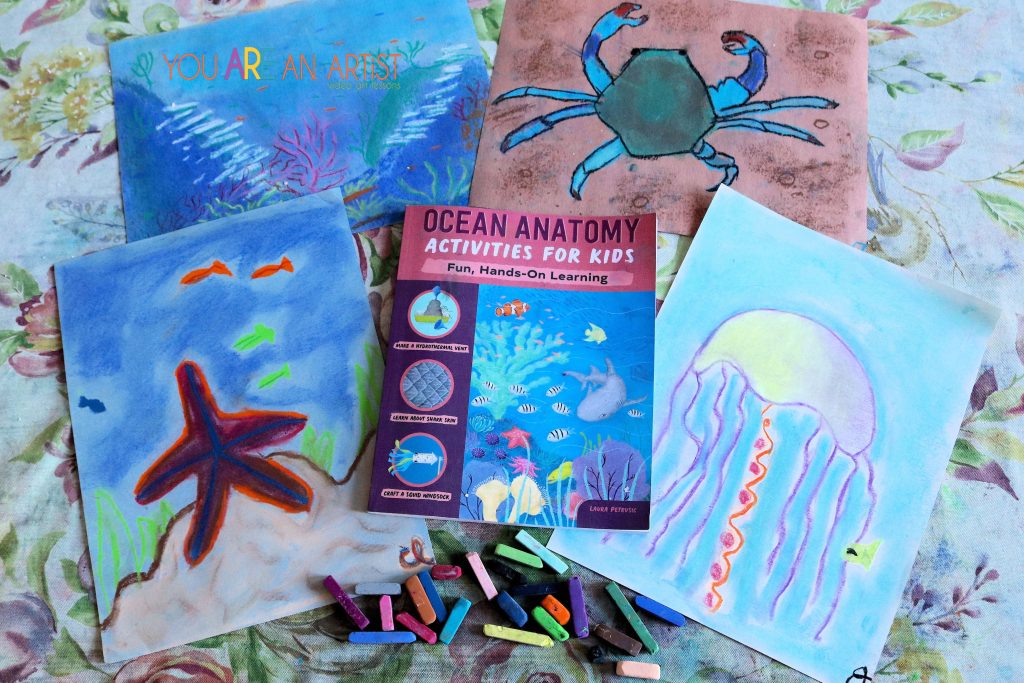 Ocean Anatomy For Kids Fun, Hands-On Learning by Laura Petrusic
My marine scientists and I have recently embarked on a journey through the deep seas! In search of simple resources to incorporate into our summer studies, we found this valuable resource full of hands-on learning by Laura Petrusic. I love this multi-sensory book so much! Filled with hands-on activities for all ages and journal entry ideas, Ocean Anatomy Activities for Kids is easy to navigate and pairs so well with Nana's ocean art lessons! In it are six chapters total with twenty lessons. The lessons are simple and the information is conveyed in a hassle-free way.
For our shark study, we learned about the Anatomy of a Shark, then finished our study by creating denticles! My children loved the hands on learning experience by boiling eggs, peeling eggs, and crushing the shells. We glued the egg shells on a shark template. This provided a wonderful representation of shark skin!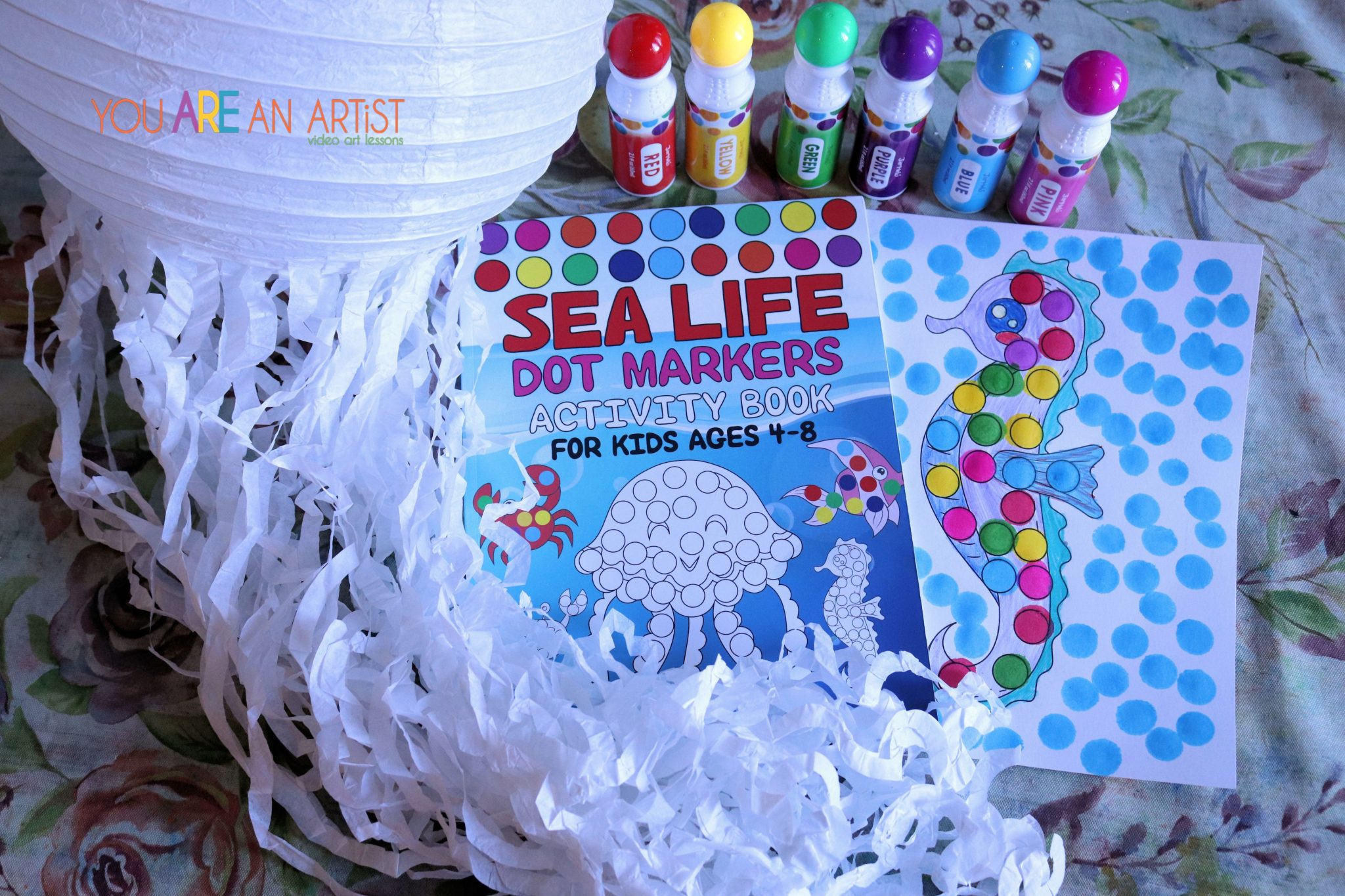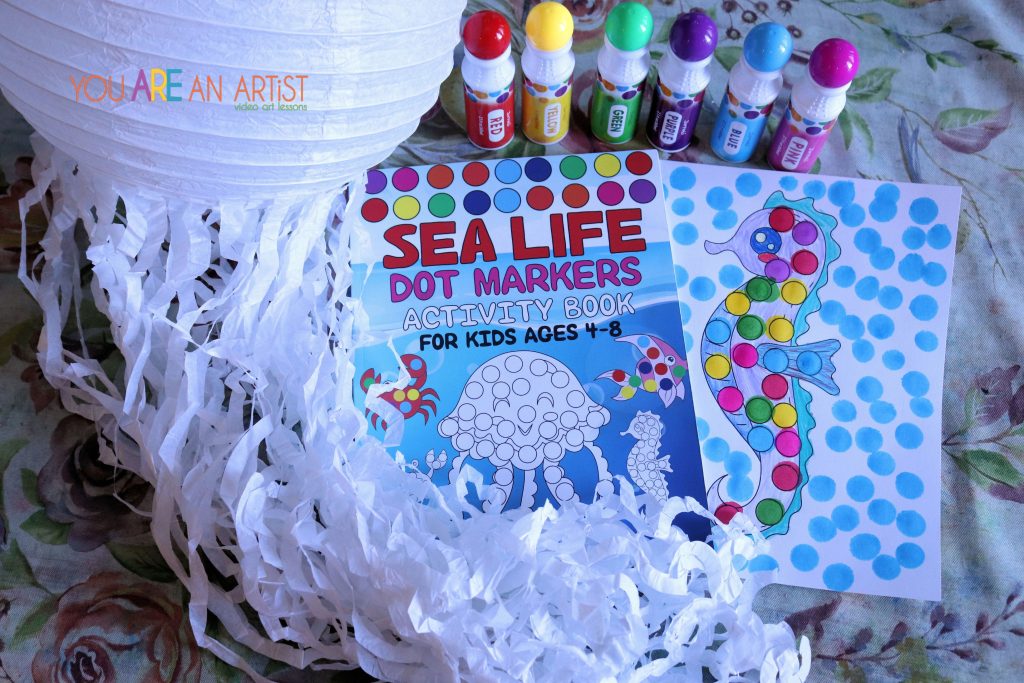 Sea Life Dot Markers Activity Book for Kids Ages 4-8
My little learners always love to be a part of our studies. Sea Life Dot Markers Activity Book for Kids is another hands-on, multi-sensory resource. Filled with an ocean themed templates, budding oceanographers have fun exploring with dot markers while experiencing creatures that live in the deep seas.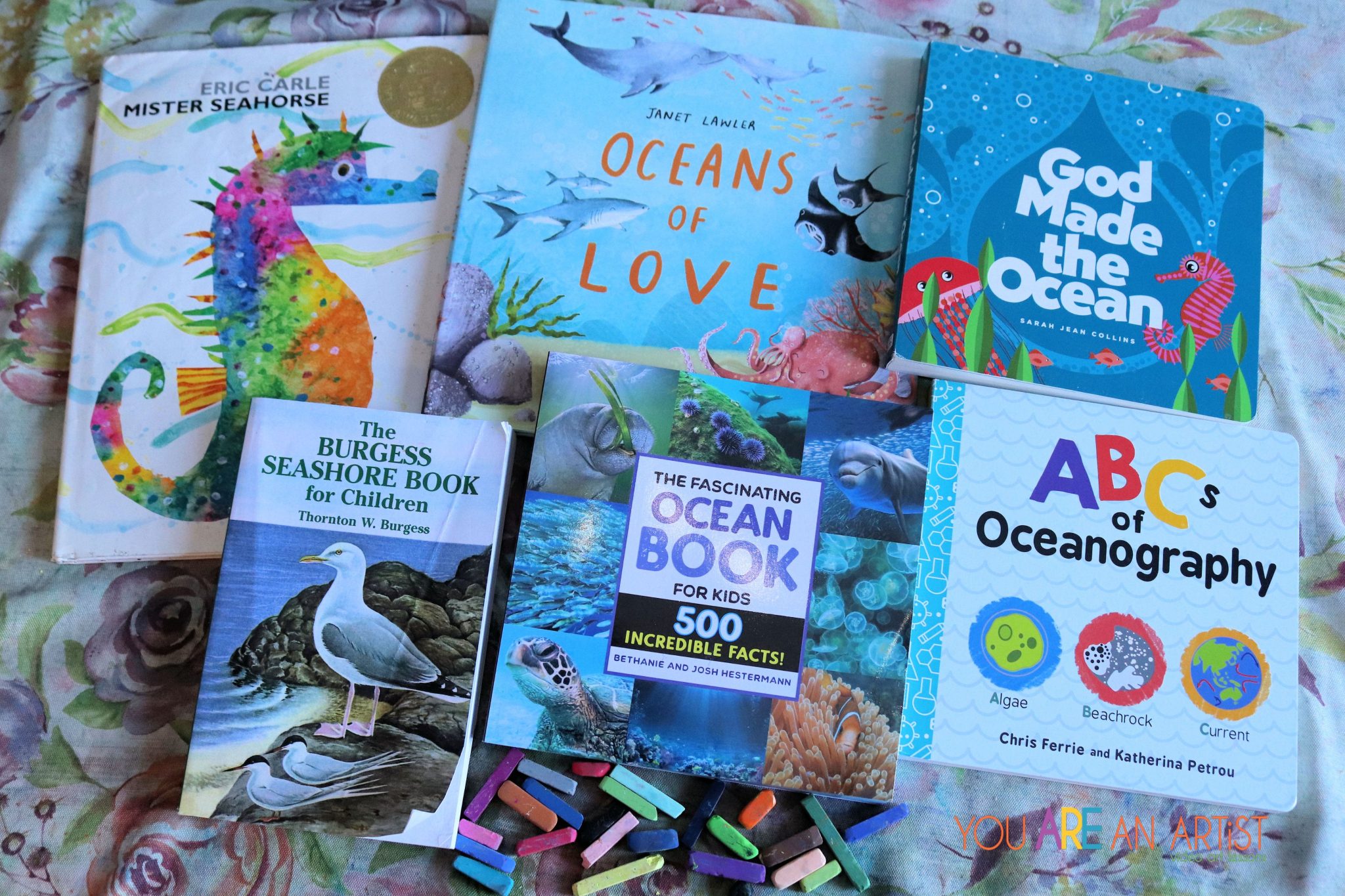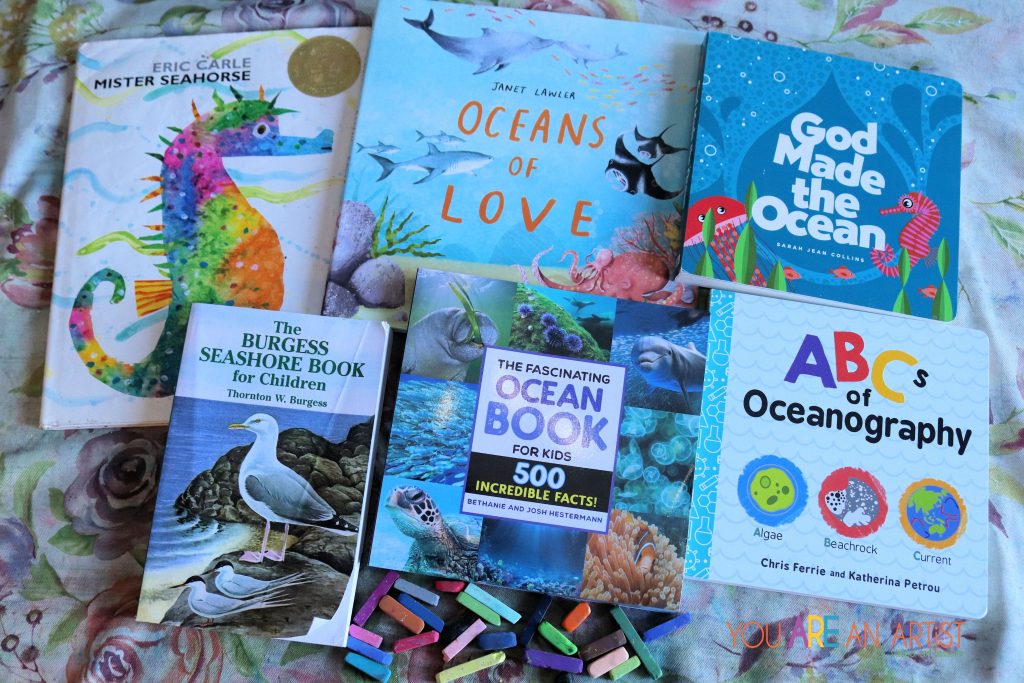 Our Favorite Ocean Themed Books for All Ages
Art and literature-my absolute favorite! Combine the two, and they provide a spectacular learning experience. Here is a list of our ocean themed books we are currently using. All books complement all of Nana's seashore lessons for a wonderful shark homeschool study!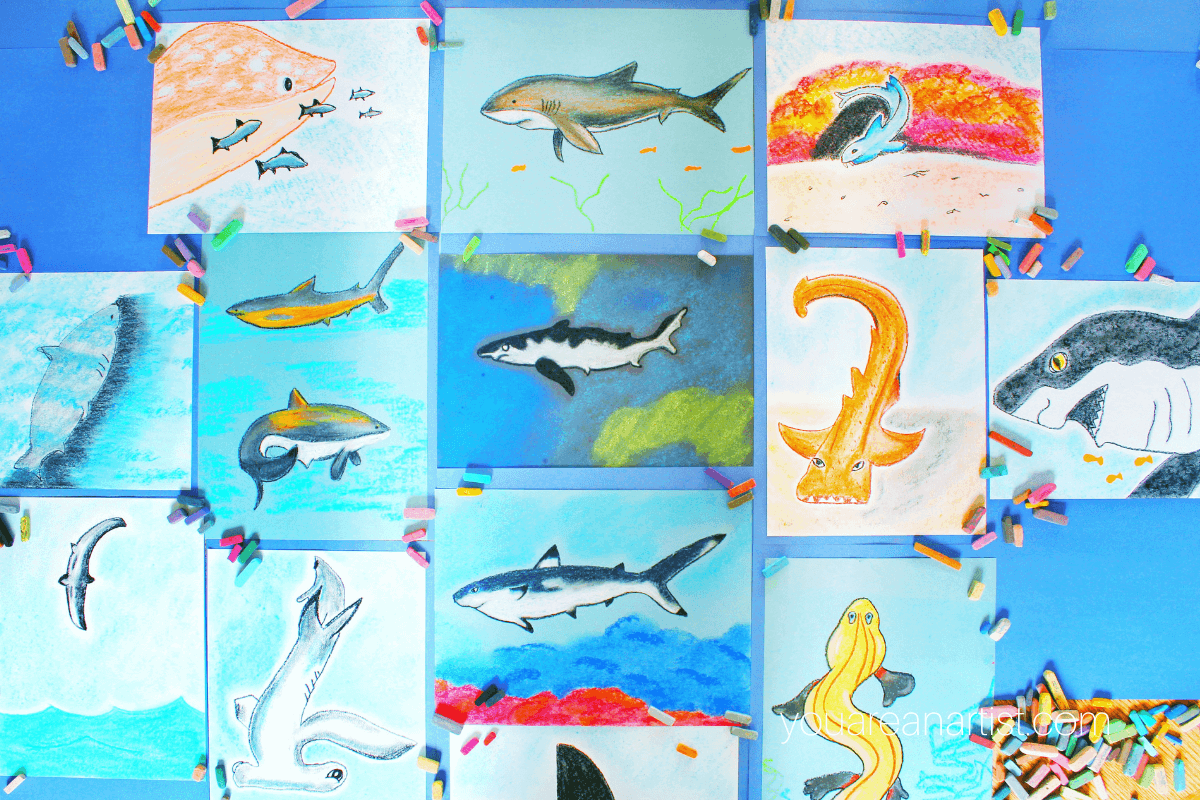 Shark Homeschool Study with Nana in the You ARE an ARTiST Clubhouse
You and your shark biologists can enjoy all of Nana's shark video art lessons! Here is the list of shark lessons included:
Great White Shark
Bull Shark
Spinner Shark
Hammerhead Shark
Zebra Shark
Night Shark
Black Tip Reef Shark
Flying Shark
Shark Fin
School of Sharks
Nurse Shark
Megaladon
Catshark
Thresher Shark
AND the NEW shark tracking lesson!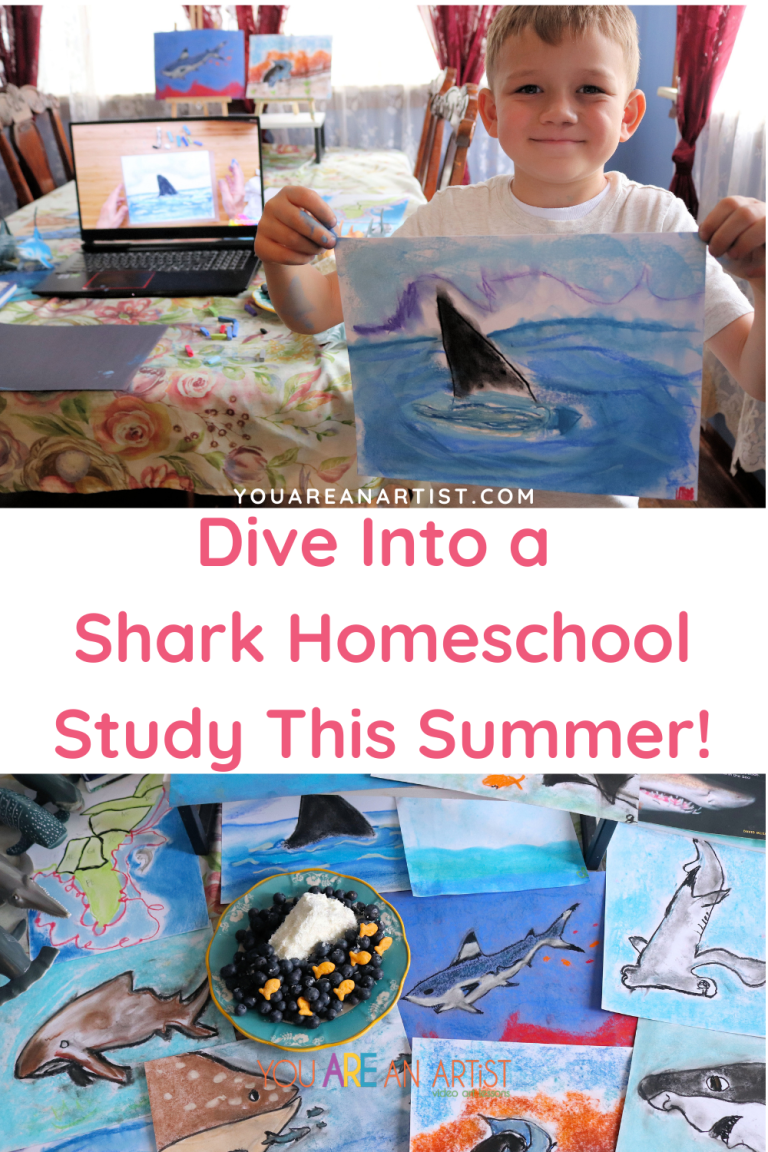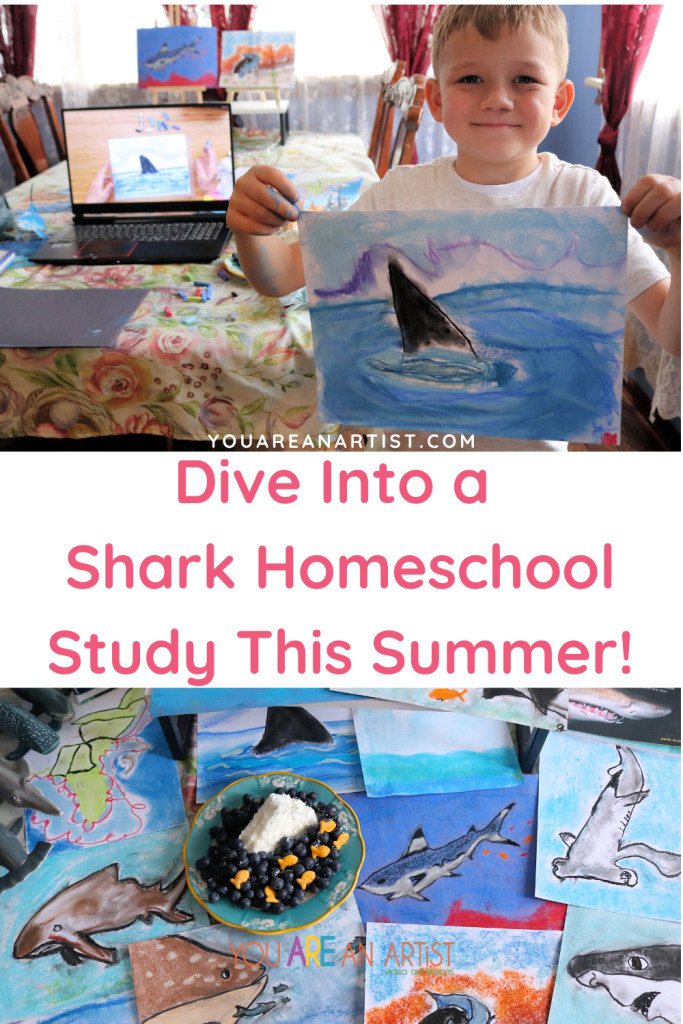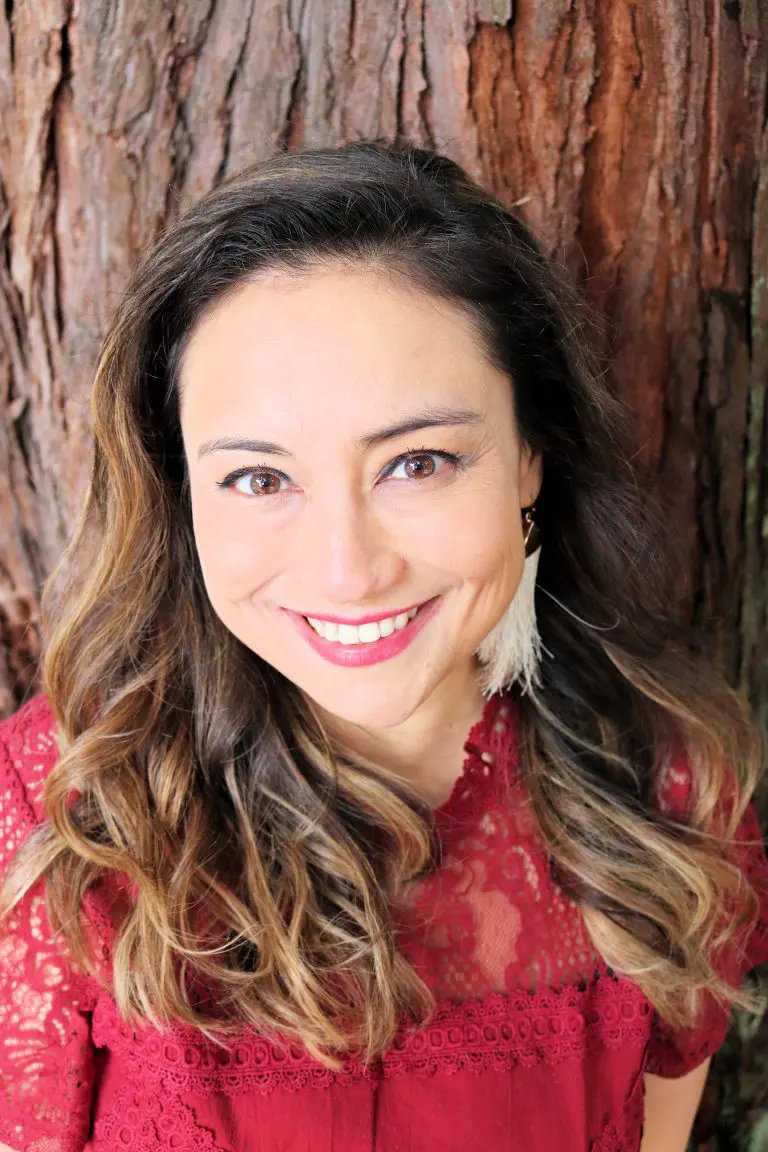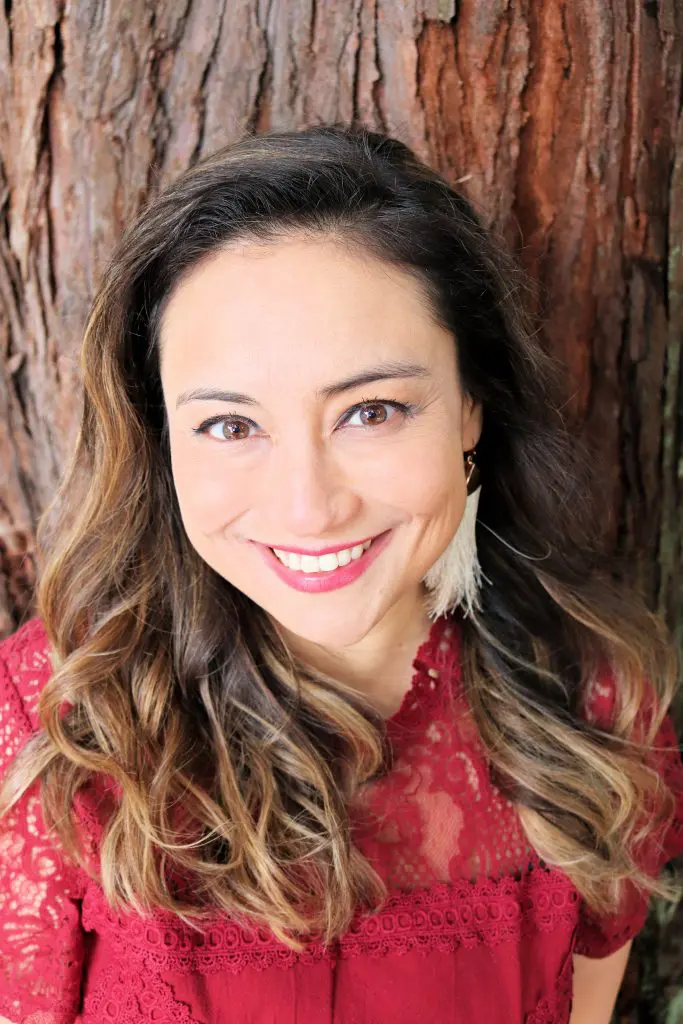 Jamie is the author of A Brown Bear's Language Arts Study, a literature-inspired homeschool mom of eight, and a former educator. She enjoys a bookshelf bursting with colorful picture books and children's stories of all genres. Indulging in a read aloud with all of her children around her is one of Jamie's favorite moments of her days. Be sure to find Jamie on Instagram and visit her blog, Treasuring the Tiny Moments Homeschool, to be encouraged by all her learning adventures with her wonderful family.