This preschool art and music curriculum for your homeschool has everything you need to foster an early love and appreciation of art and music.
The Benefits Of Adding Art And Music To Your Homeschool
What do you think of when you hear art and music for preschoolers? Do you think that should be for older children? Maybe you already have a full plate and do not know how to add anything else. You might even be thinking that your preschooler is far too wiggly to sit still for art and music lessons.
I have great news, art and music for preschoolers has many benefits and can be super simple to implement in your homeschool.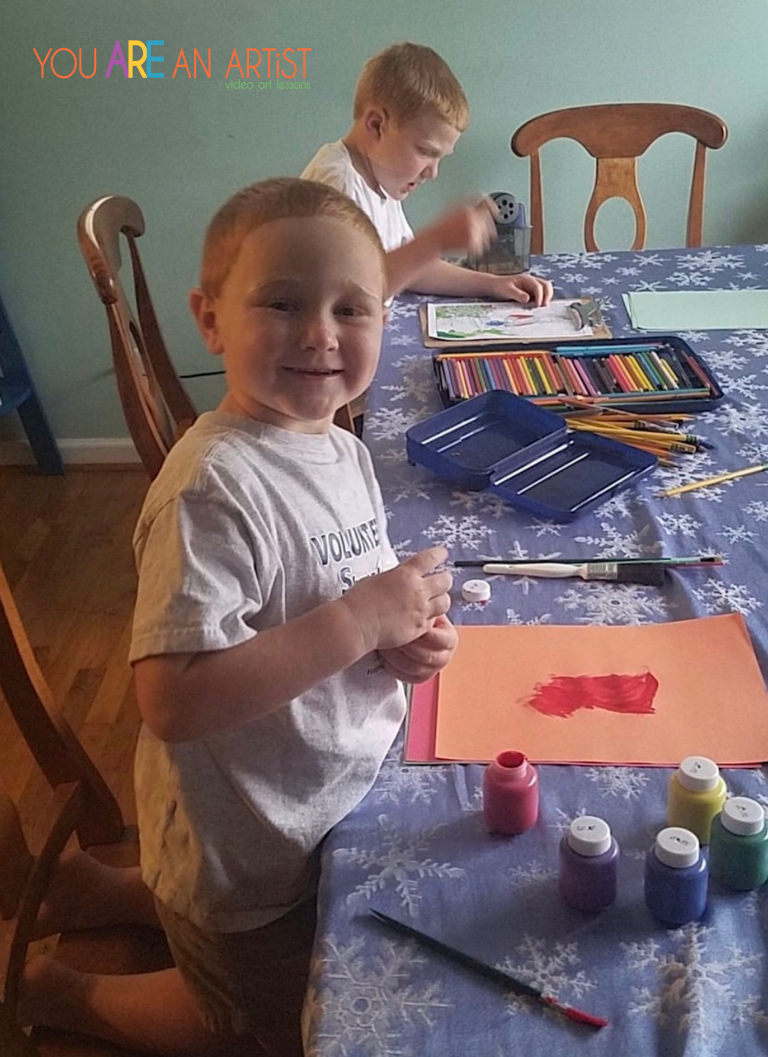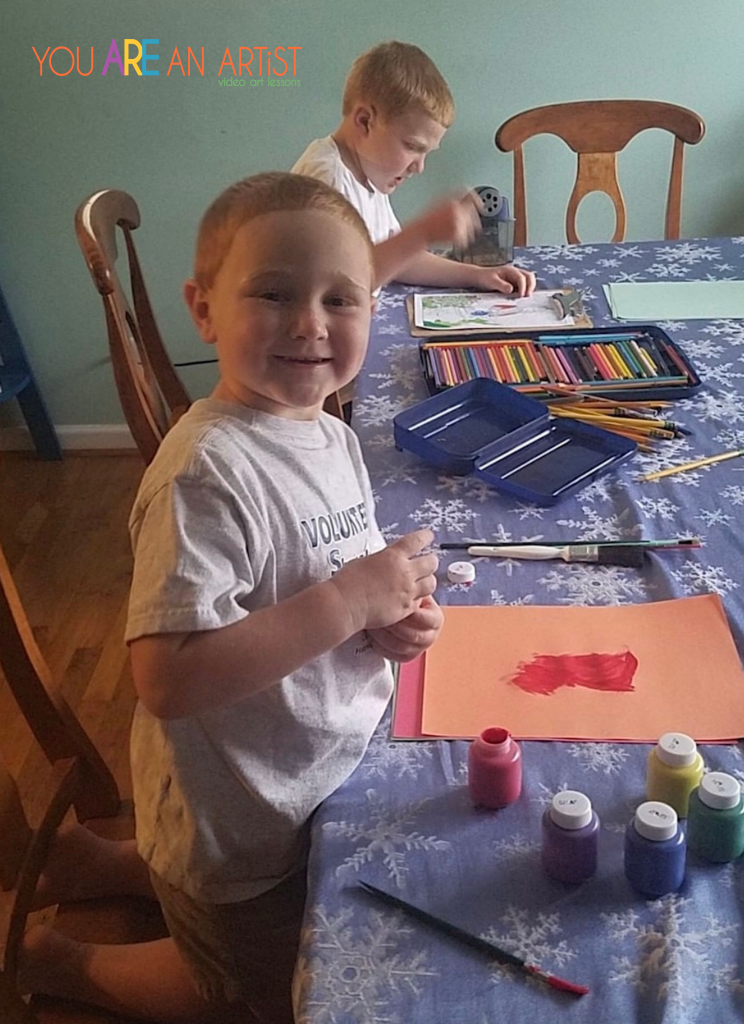 First, incorporating art and music with your preschooler is a great way to create shared family experiences and bonding. You can sing songs together, talk about art, and even create art together.
Second, music and art can help increase language skills. So often, parents feel pressured to focus on reading and math. However, preschool-aged children learn best through hands-on activities and play. Art and music will help prepare them to learn those reading skills when the time is right.
Art and music also help develop preschoolers' fine and gross motor skills. Holding a paintbrush or chalk pastel, singing with rhythm instruments, and dancing with the music are just examples of how art and music help with motor skills.
Finally, art and music lessons in your homeschool can increase emotional well-being in children by helping them learn to express themselves and become more aware and observant of the world around them. They learn to describe artwork and use those same skills to describe their own emotions. Children hear songs that express different feelings and learn to use that same vocabulary.
Remember, with preschool art and music, the goal is exposure and experience, not mastery and perfection.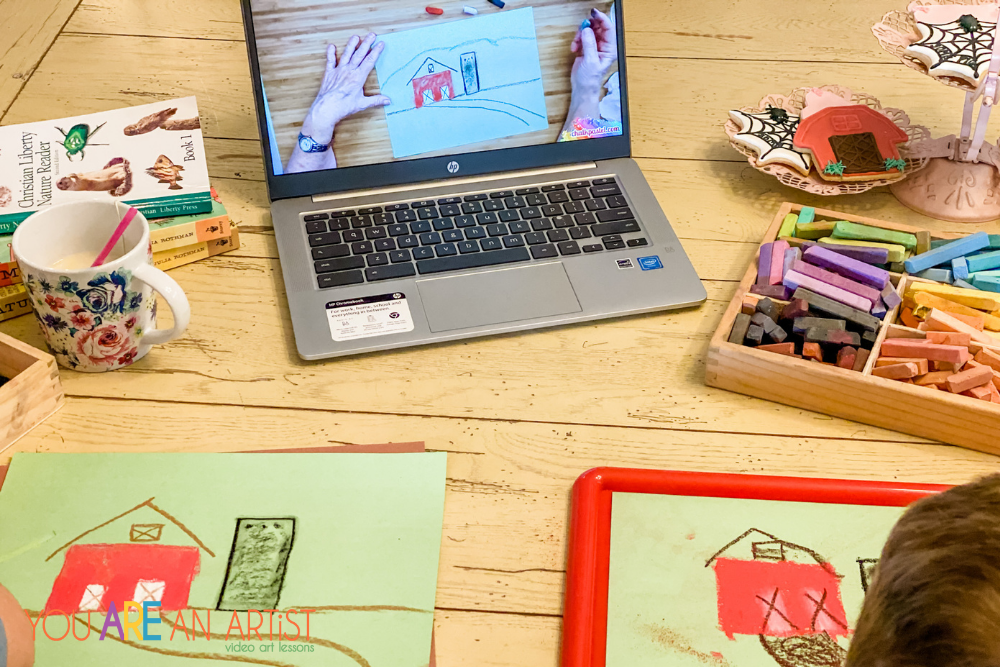 Our Favorite Homeschool Preschool Art Curriculum Choices
The benefits of art and music are many, but that does not change the fact that it may seem like a daunting task. However, there are many great options to include an art and music curriculum in your home. Remember that this doesn't have to be something you do for hours a day or even every day. A few minutes or an hour a few times a week will offer your child a depth of incredible knowledge and experience.
One of the easiest ways to include your preschooler in art lessons is the Preschool homeschool art lessons from Nana! She has created a wide variety of simple chalk pastel lessons perfect for the preschool age group.
She starts with a short five-minute video that explains to parents how to teach art to preschoolers. Then there are some fun basic shape drawings. In addition, there is a course for each season and our personal favorite, the Preschool Barnyard Homeschool Art Lessons. The adorable tractor and farm animals from that course are lessons my children go back to time and time again.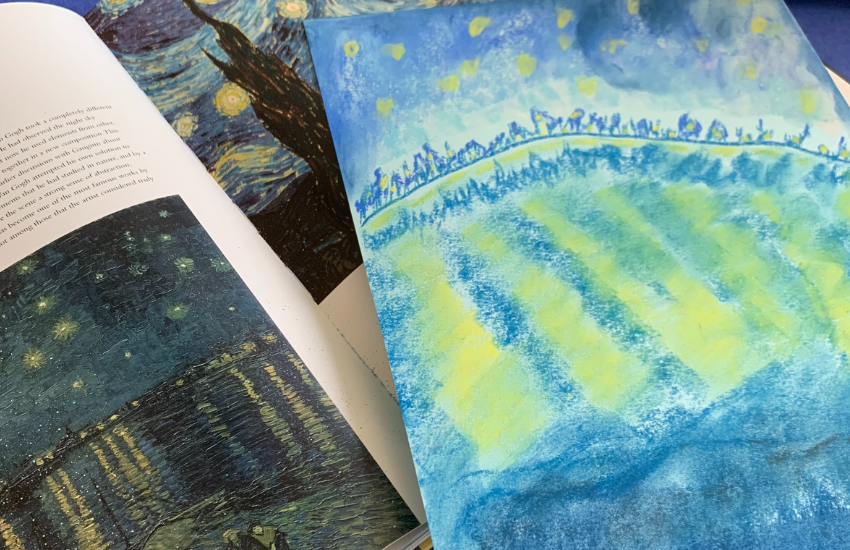 One ought, every day at least, to hear a little song, read a good poem, see a fine picture, and, if it were possible, to speak a few reasonable words." – Johann Wolfgang von Goethe
In addition to teaching preschoolers to create art, it is beneficial to teach them to appreciate the art of others. Art history is a subject that many parents do not feel comfortable teaching, and it might feel overwhelming or like it is too complicated for preschoolers. However, the new first-grade fine arts lessons are the perfect solution. I know it says first grade, but the great ideas and resources easily adapt for preschoolers (and can be used with older children to do them as a family to save time and create shared memories).
This simple homeschool fine arts program will help you choose good pieces of artwork to share with your children and give you different ways to engage with that artwork. There are links to digital images that you can view and discuss, hands-on artwork ideas, book suggestions, and an idea for incorporating some great artwork in a hands-on fashion with Child-Sized Masterpieces and Dover Classics coloring books.
The child-sized masterpieces were an excellent addition for my three-year-old. He started by matching them and advanced to using them as a memory game. They are so simple to use and exposed him to many great works of art.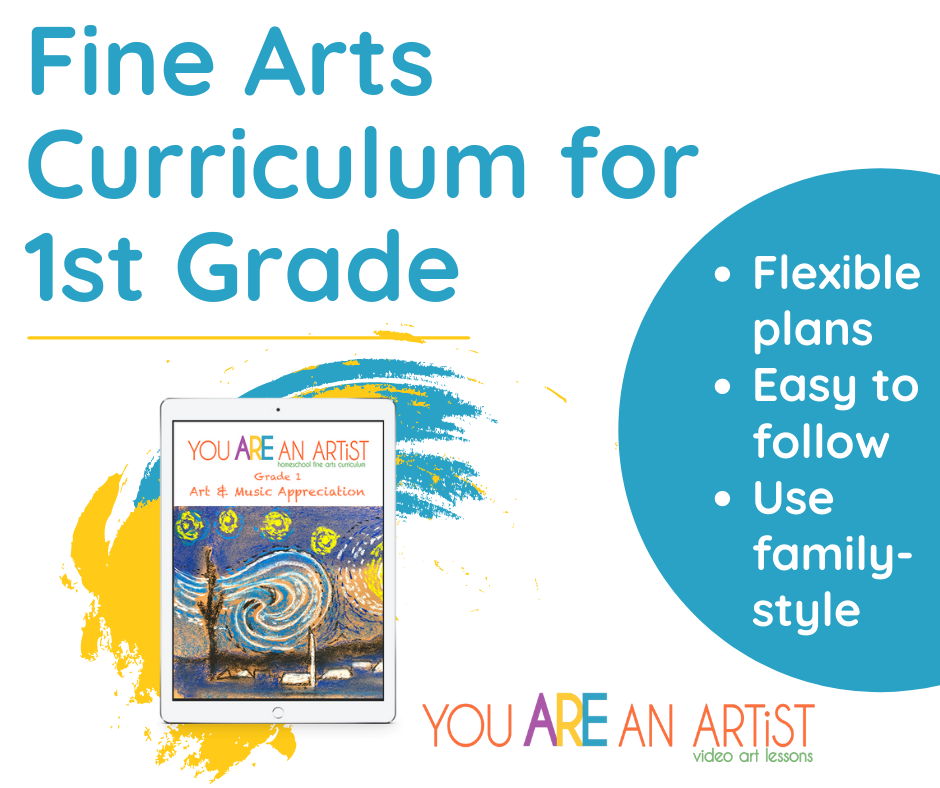 Top Homeschool Music Curriculum Choices
In addition to art lessons, the first-grade fine arts lessons include ideas for music appreciation. In a low-pressure manner, it introduces a new composer every four weeks. You can read about the composer and then listen to various music from that composer. The style is easy to incorporate into your day. You might listen while you eat lunch or as you are getting ready for nap time. Other families might enjoy playing the music while children are quietly coloring or building with blocks.
If you have a You Are an Artist membership, there is a beautiful four-week homeschool unit study about George F. Handel. This study is set up much the same as the fine arts lessons and includes information about Handel and suggested listening. If you have older children joining in, there are some worksheets you can include.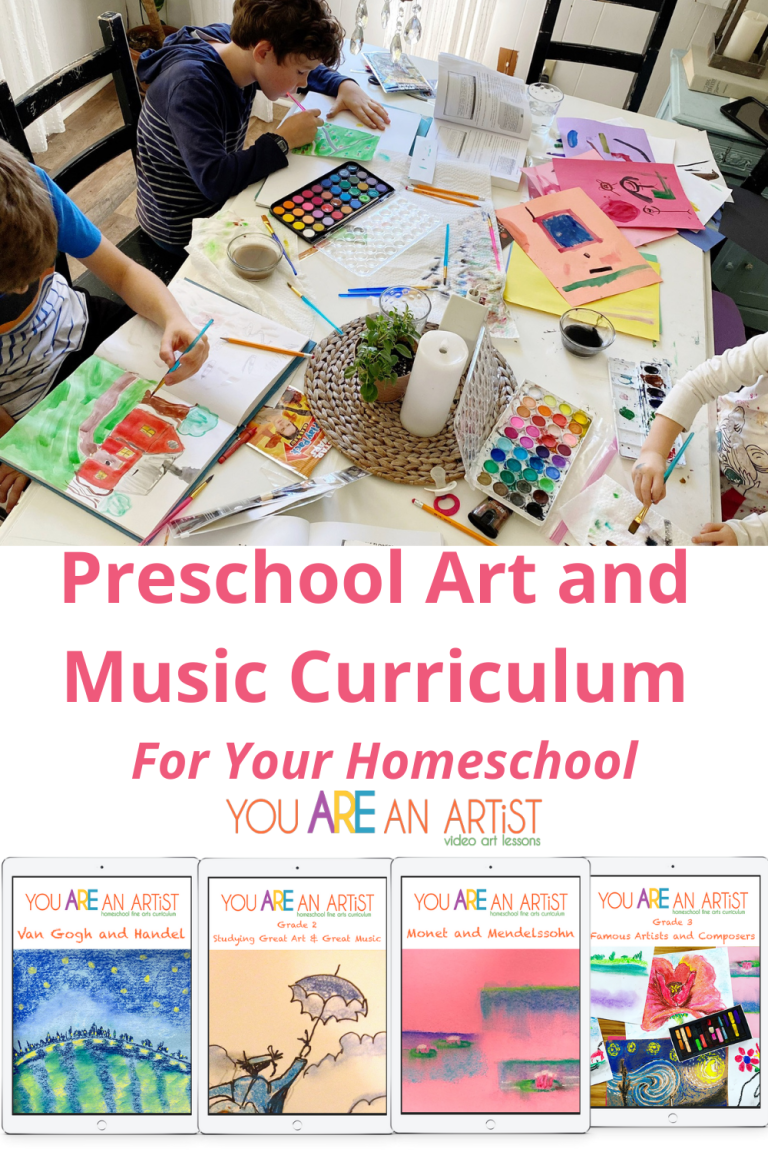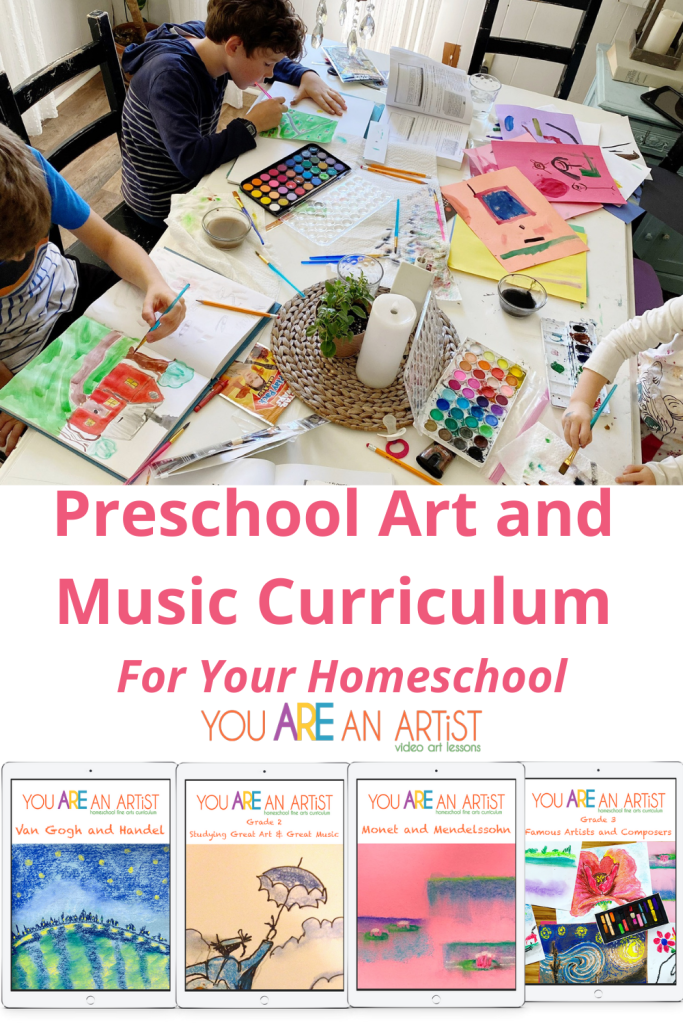 Additional Resources For Homeschool Art and Music For All Ages
Whenever possible, we enjoy using programs that work for the whole family. Hymn studies can be a great way to incorporate music and art for the entire family. These hymn studies include music and art, and they are perfect for the whole family to enjoy together.
You can also check out this great post with ideas for making time for preschool art in your home!
Finally, if you have a Disney fan in your house, you may want to check out the second-grade fine arts curriculum for homeschool. It includes some songs from favorite Disney movies, and this would be a great way to get even a preschooler interested in music and fun for the whole family.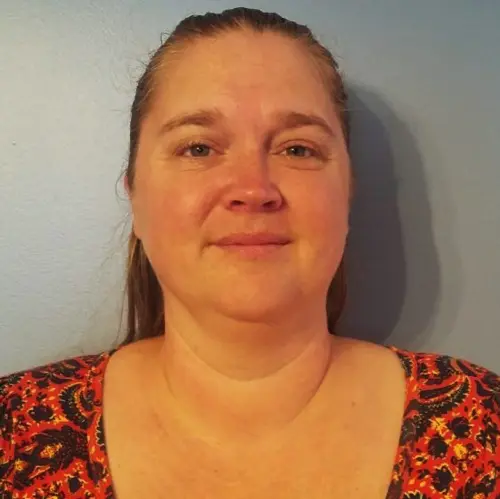 Dawn is a passionate follower of Jesus, wife to Chris, and homeschool mom of four. In her spare time she loves to read, hike, and write on her blog Schoolin' Swag. She enjoys reviewing curriculum and helping moms find the right fit for their family.