This winter homeschool snowflake study combines the beauty of winter with the fascinating life of Snowflake Bentley.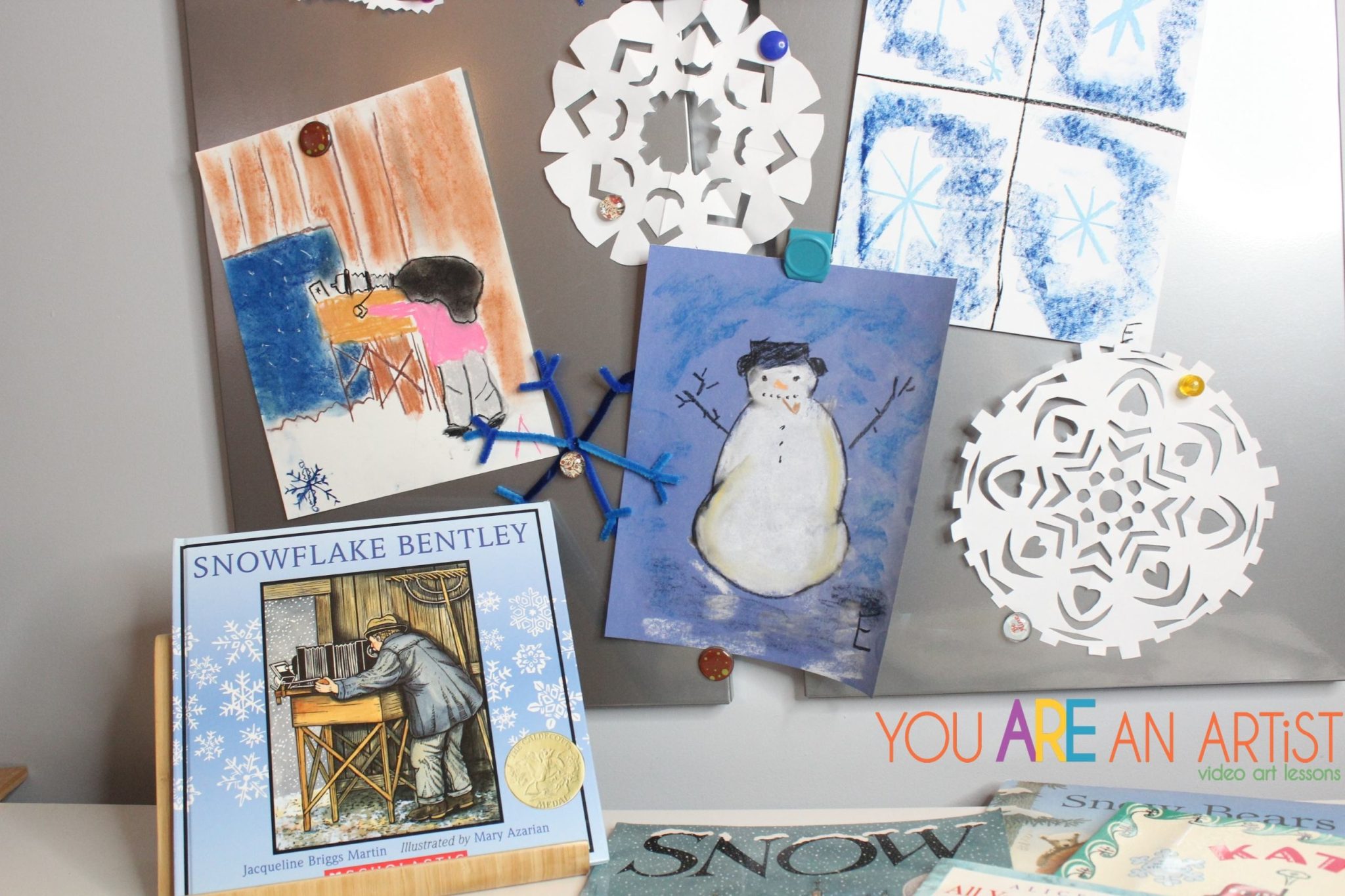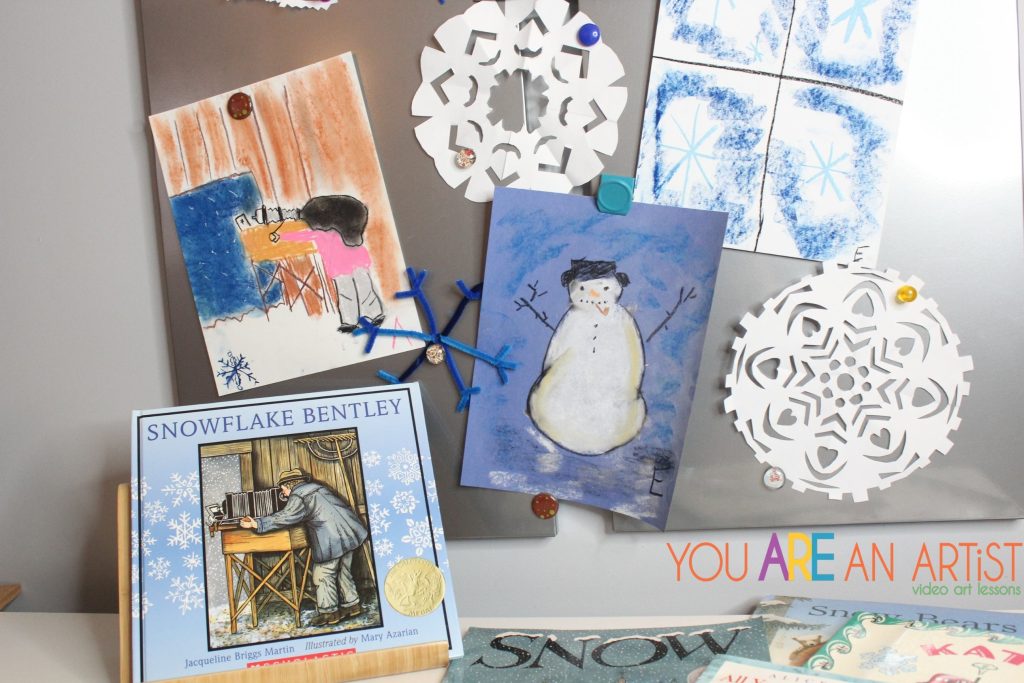 In our part of New England, the arrival of the first snow is greatly anticipated. It can happen as early as October or as late as January. We watch the sky and weather reports eagerly for this delightful precipitation.
What is this somewhat magical weather phenomenon that turns ordinary dreary rainfall into a puffy playscape for kids of all ages?
It seems hard to believe it's simply the temperature dropping! Yet, it really is that simple. Let the red line drop below thirty-two degrees and our dreams of a white winter crystalize into reality! Our breath plumes white to match the snow, and suddenly the world is renewed!
In our house, my boys have their boots on as soon as there's a skim of snow to make tracks in. Snow angels, snowmen, snow ball fights, and sledding take up hours of their time until they've quite worn the snow out!
Whether you get snow in your area or not, you can create a winter snowflake study of this beautiful white fluffy stuff in your homeschool this year! Just gather a few simple materials to show your kids the wonder of these winter crystals.
"The snow crystals . . . come to us not only to reveal the wondrous beauty of the minute in Nature, but to teach us that all earthly beauty is transient and must soon fade way. But though the beauty of the snow is evanescent, like the beauties of the autumn, as of the evening sky, it fades but to come again." ― Wilson A. Bentley
Learning About Snowflakes
There is no person better to start learning about snowflakes from than the man who dedicated his life to capturing these ephemeral water-stars.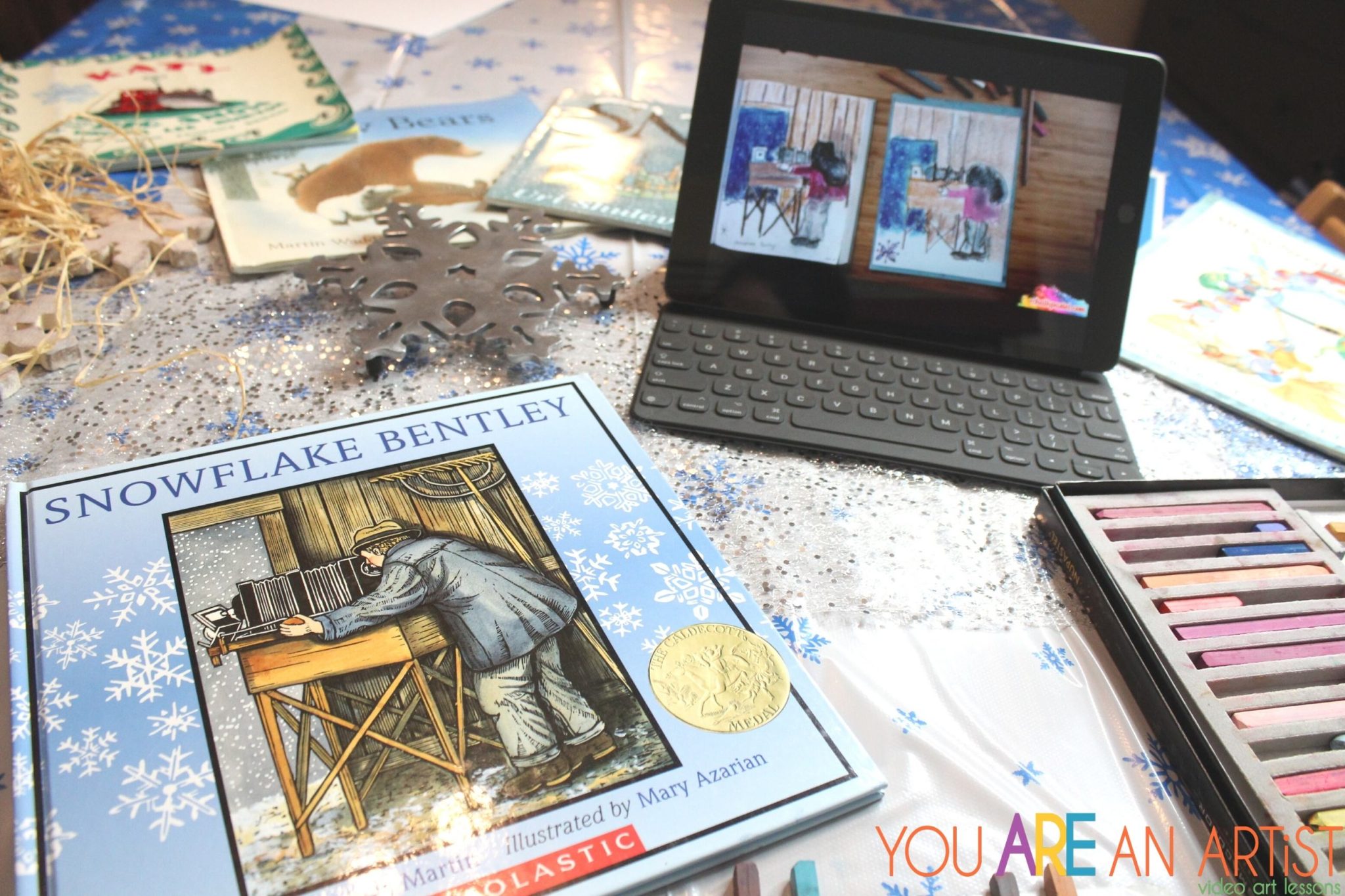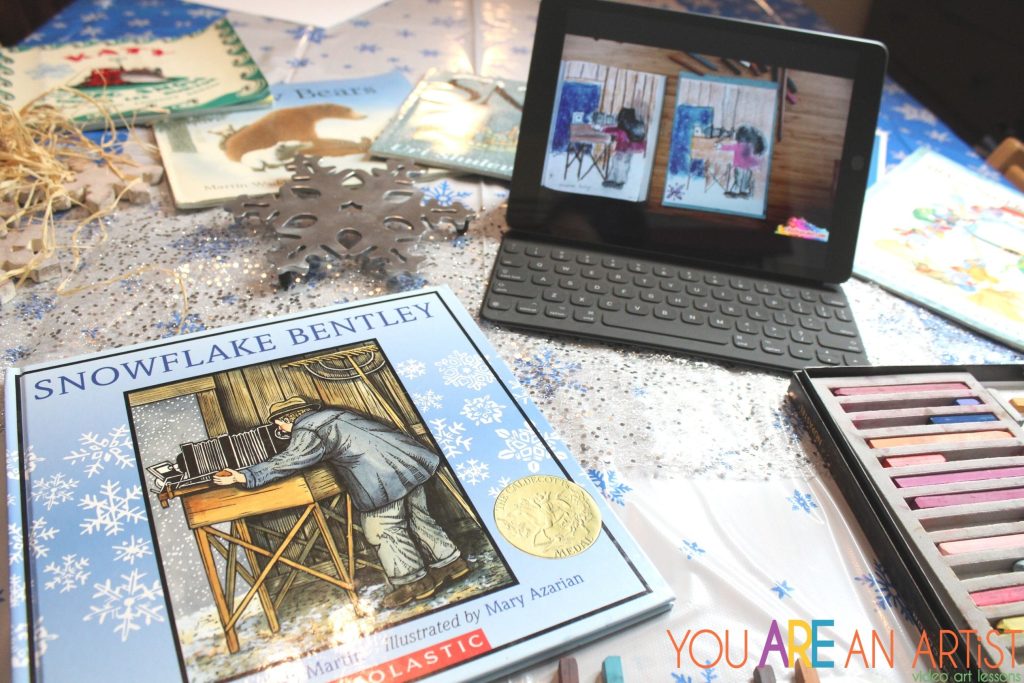 Wilson Bentley of Vermont said, "… from the beginning, it was the snowflakes that fascinated me most." We agree, snowflakes are simply mesmerizing!
Wilson Bentley's website contains a rich and lengthy biography, as well as several articles about snowflakes written by Bentley himself. Bookmark this site for some "mother culture" reading time as you plan your homeschool snowflake study. Bentley's articles are written with as much beauty as their subject matter.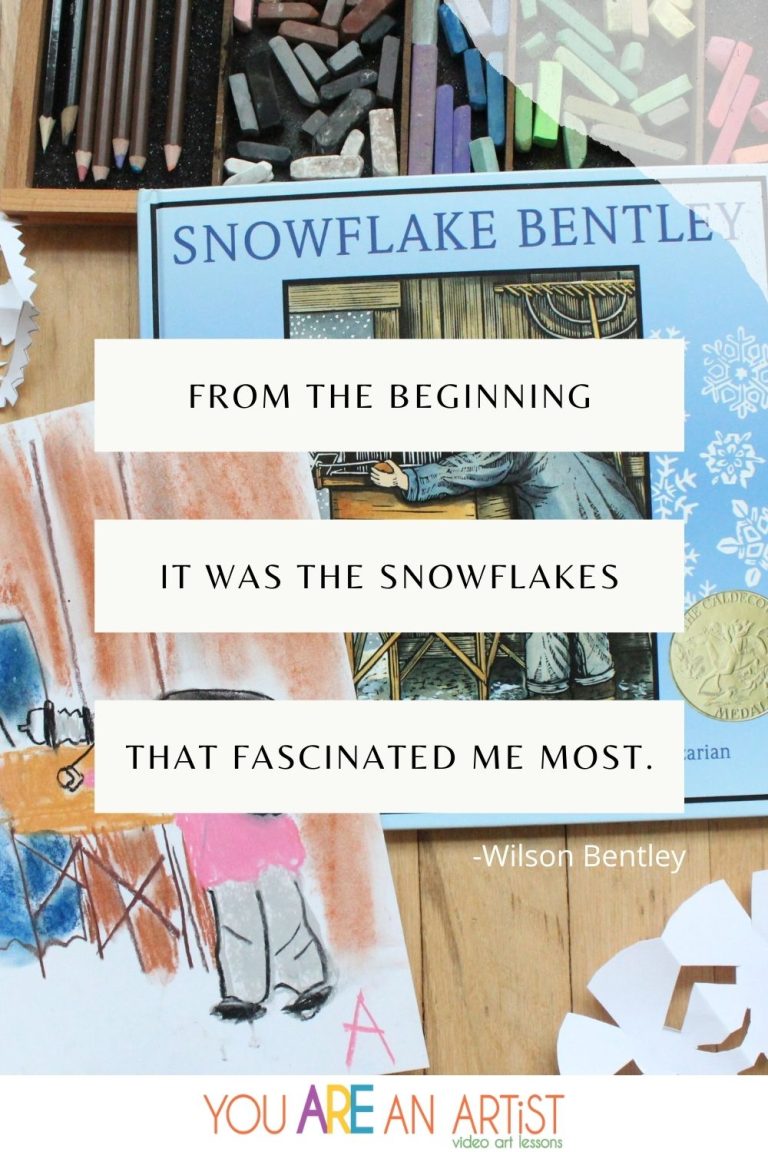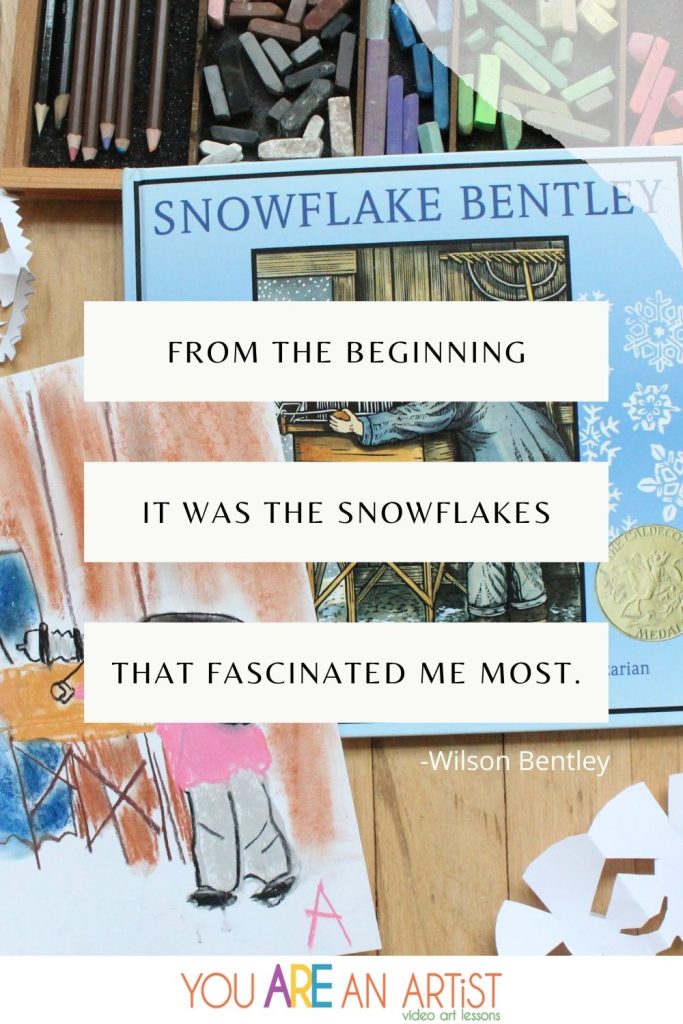 Snowflake Bentley Homeschool Read Aloud
As the first person to ever capture a snowflake's intricacy on camera, Wilson Bentley's passion for snowflakes earned him the nickname "Snowflake Bentley." His story is best enjoyed in the picture book by the same name.
This read-aloud book is distinctive in that it uses two side-by-side narratives to share Snowflake Bentley's story. The narrative under the woodcut illustrations lyrically tells the story of Bentley's life and passion for snow. The margin text adds facts and scientific details that help the reader understand the excitement and importance of Bentley's work.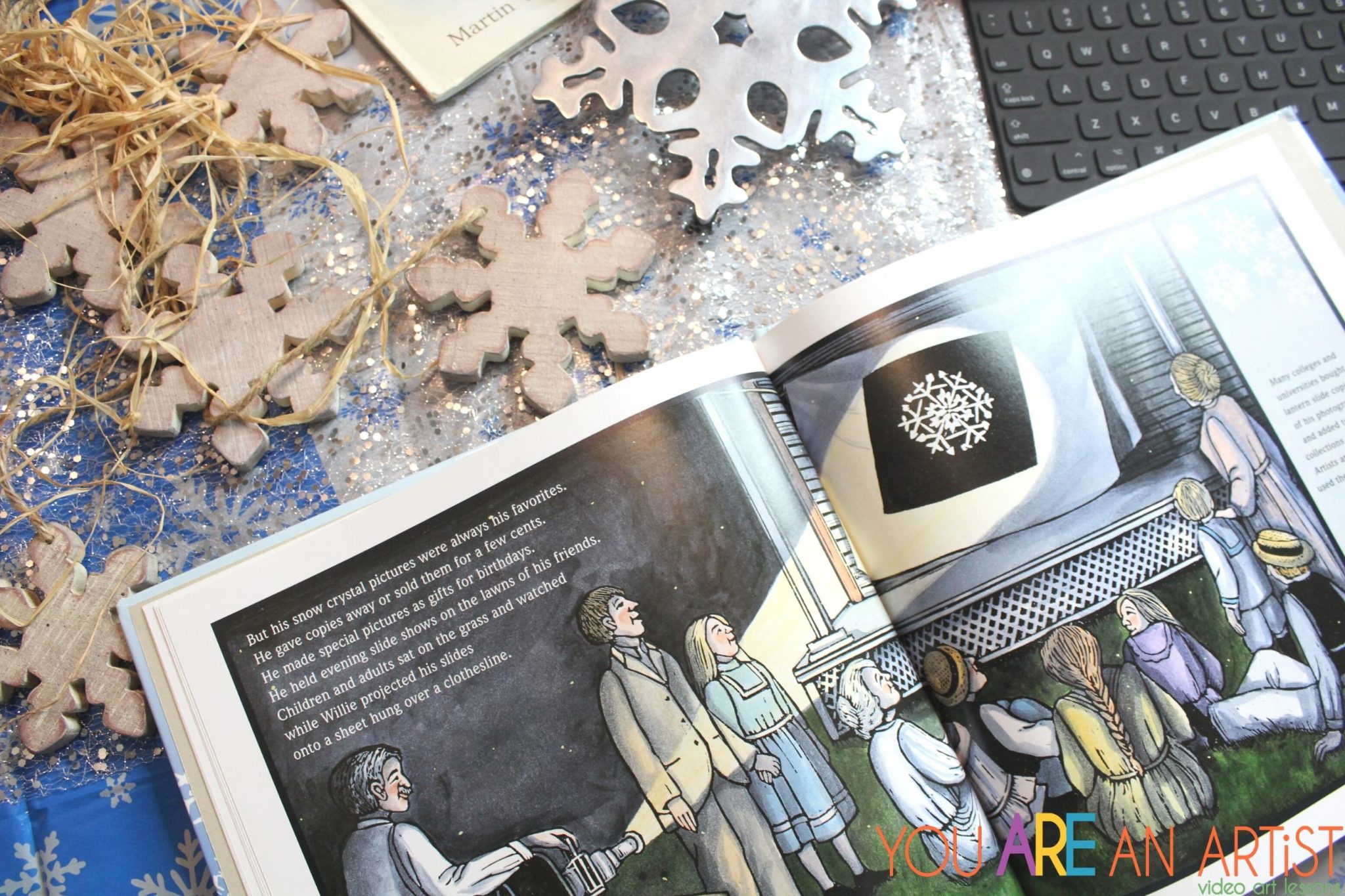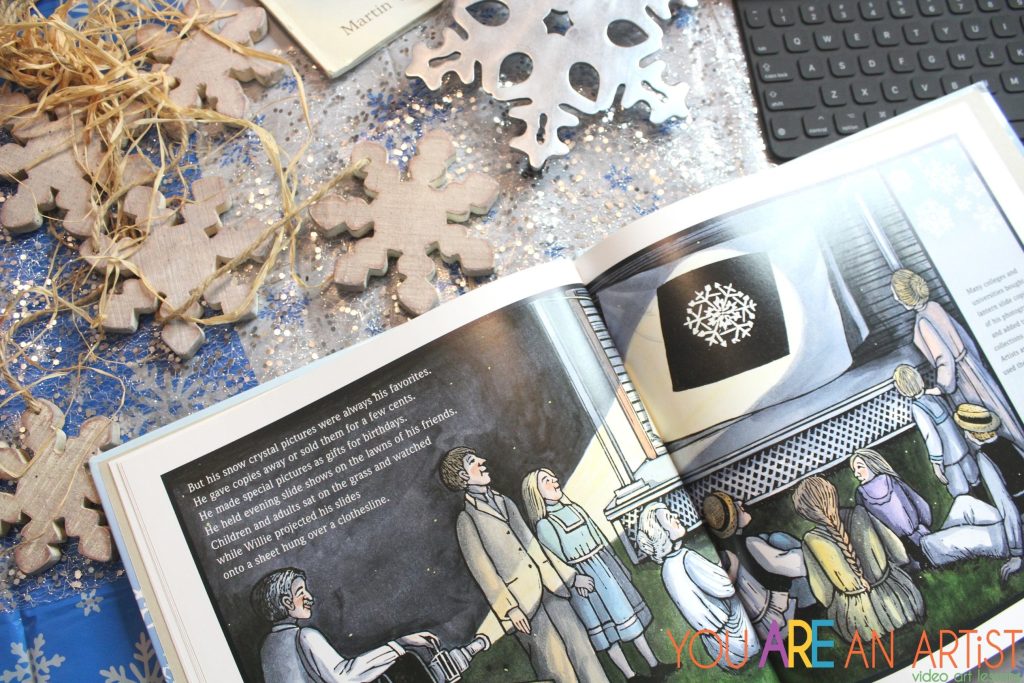 Bentley grew from a young boy who loved snow to a teenager who pursued his passions to a young man who determinedly persevered through failures. He knew there were "treasures in the snow" and he would gift these treasures to the world.
And so he did. After decades of effort, he had a vast collection of snowflake photos compiled into a book: Snow Crystals. From passionate child to "snowflake authority" figure, Snowflake Bentley's story is both endearing and insightful.
Under the microscope, I found that snowflakes were miracles of beauty; and it seemed a shame that this beauty should not be seen and appreciated by others. Every crystal was a masterpiece of design and no one design was ever repeated. When a snowflake melted, that design was forever lost. Just that much beauty was gone, without leaving any record behind." — Wilson Bentley
A Snowflake Bentley Study For All Ages In Your Homeschool
After reading about the startling beauty of snowflakes, children will definitely want to explore more!
My boys took turns creating chalk pastel paintings to celebrate all things snow.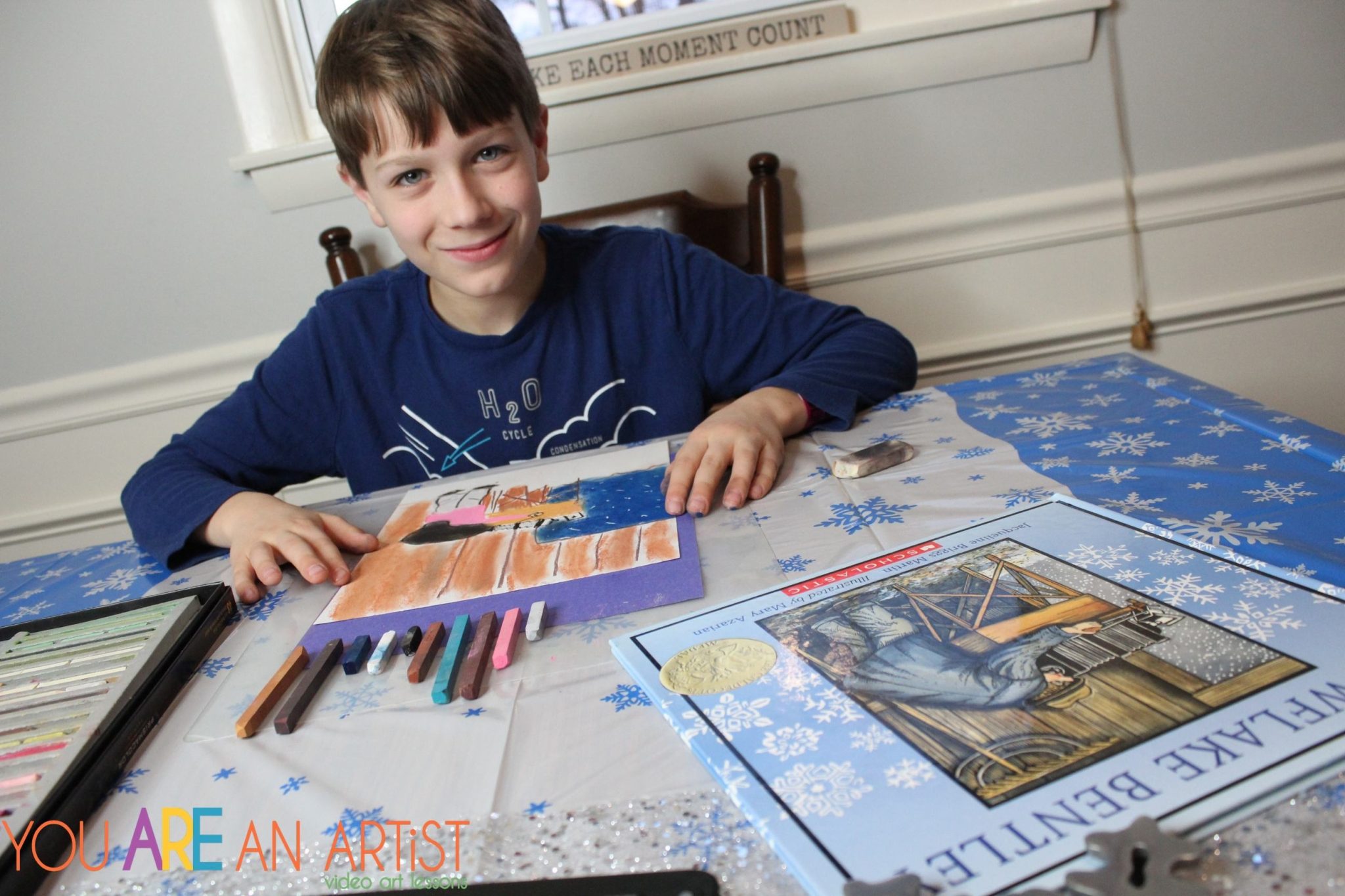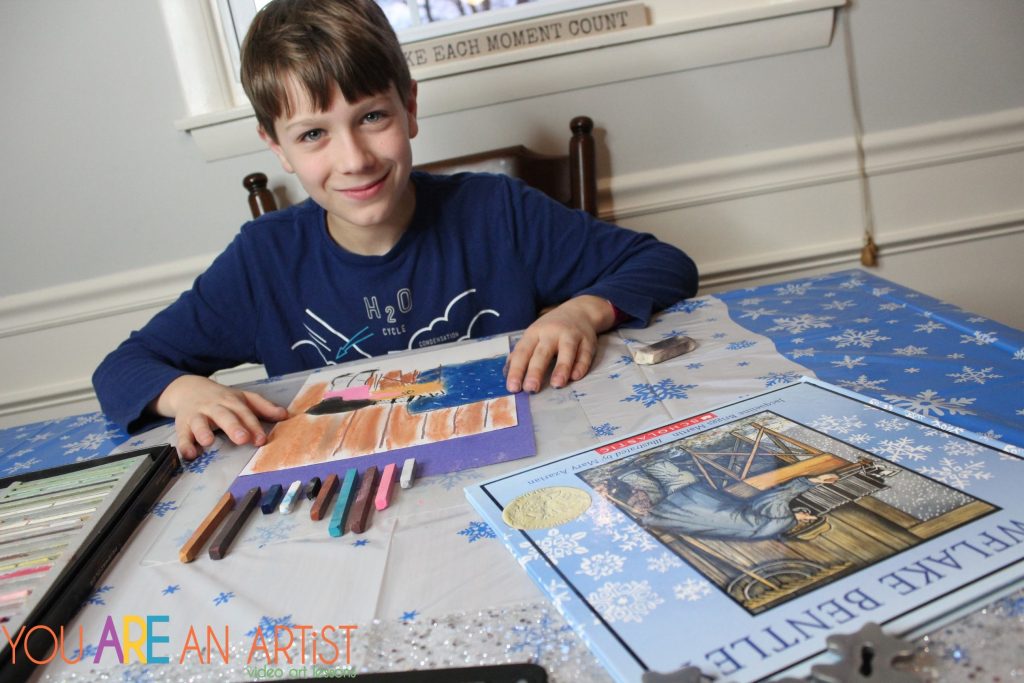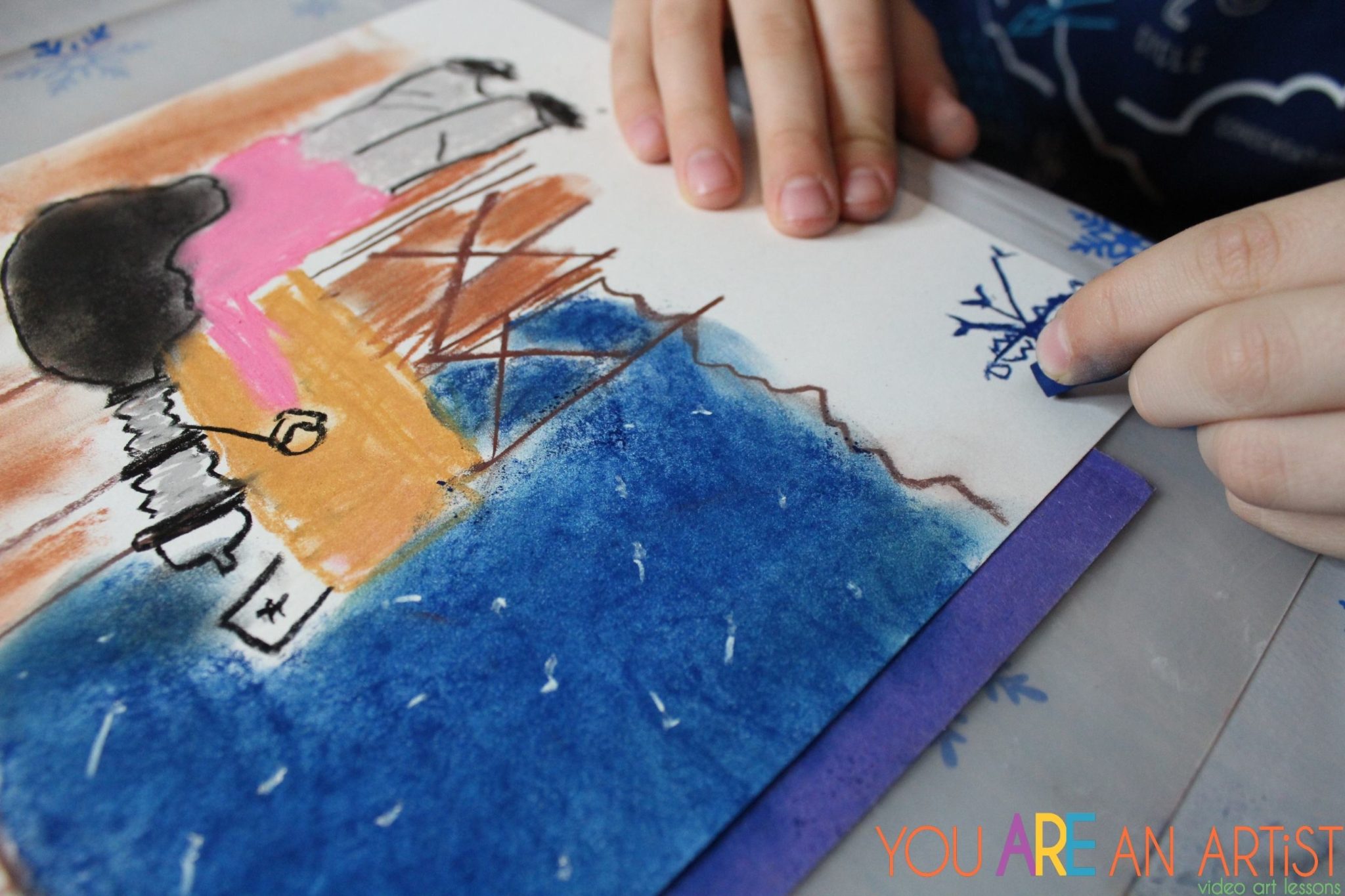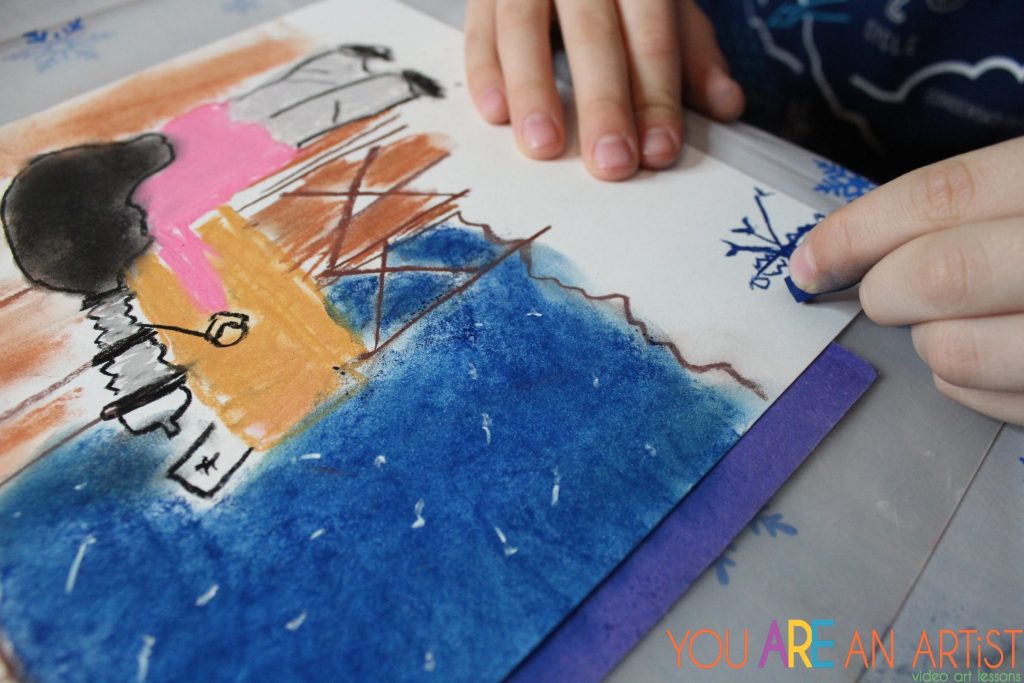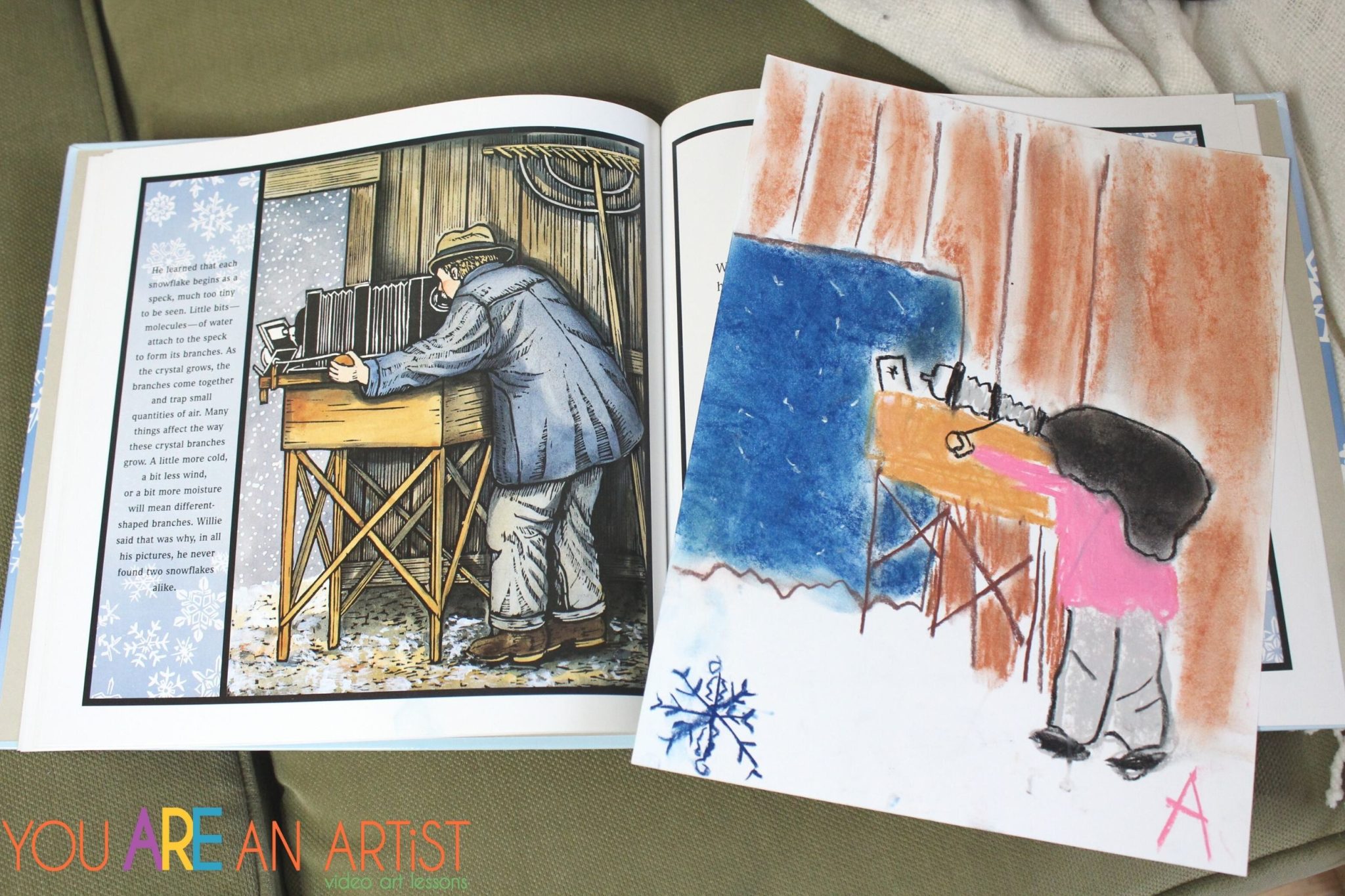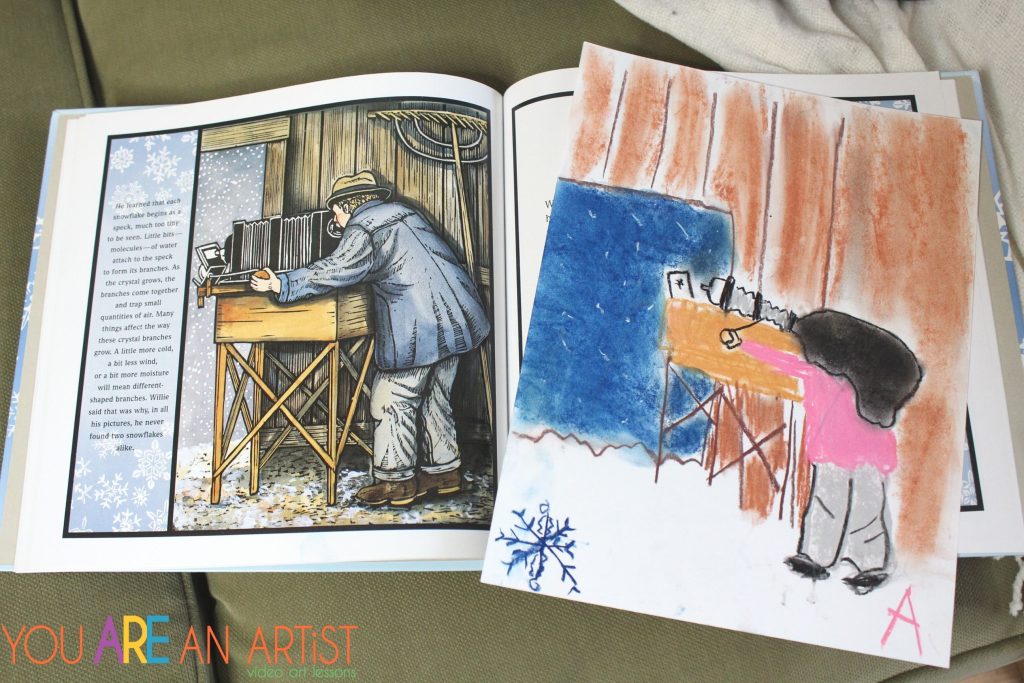 We started with the lesson on Snowflake Bentley and his camera. This lesson is perfect for older students because it's a bit more intricate.
The preschool lesson on snowflakes in Snow Clubhouse is short and sweet and delightful for beginners or younger students. Even a few minutes of painting with Nana helps kids to pause for a moment and consider the wonder of these tiny, transient winter gems. Nana's patient instruction guides kids to wonder at the uniqueness of snowflakes as they draw.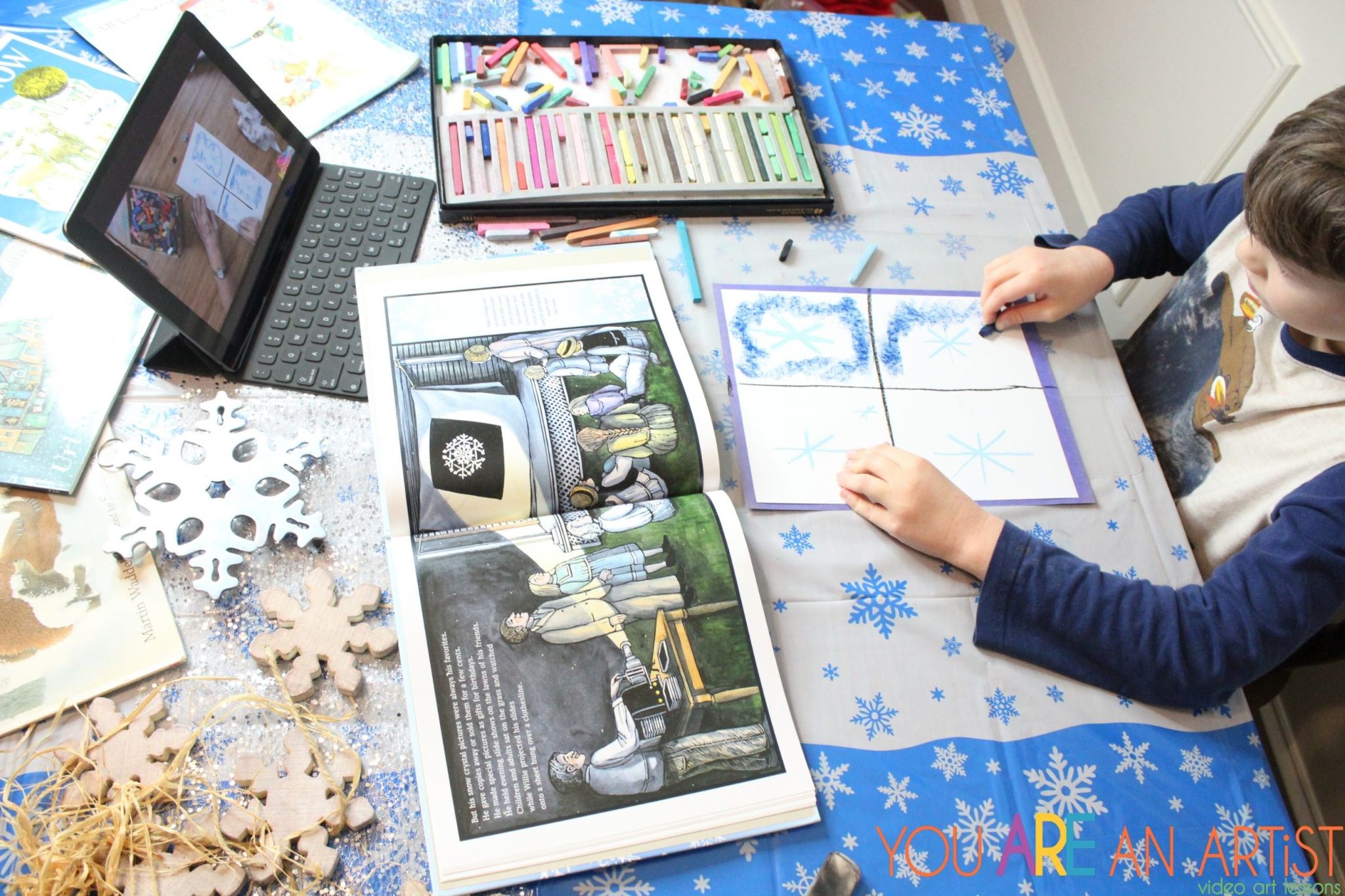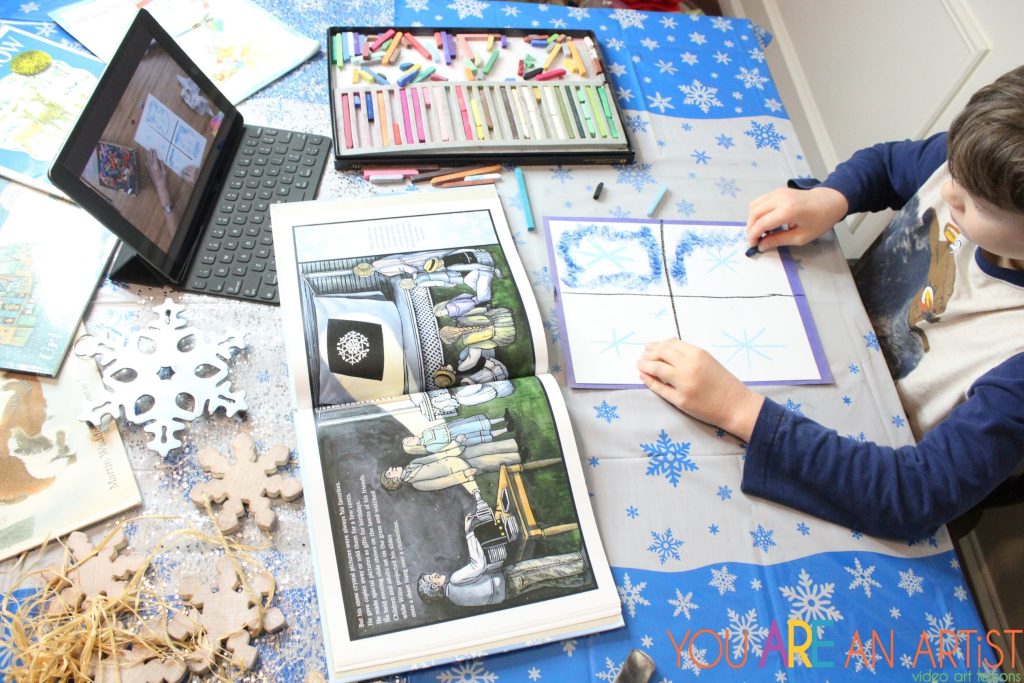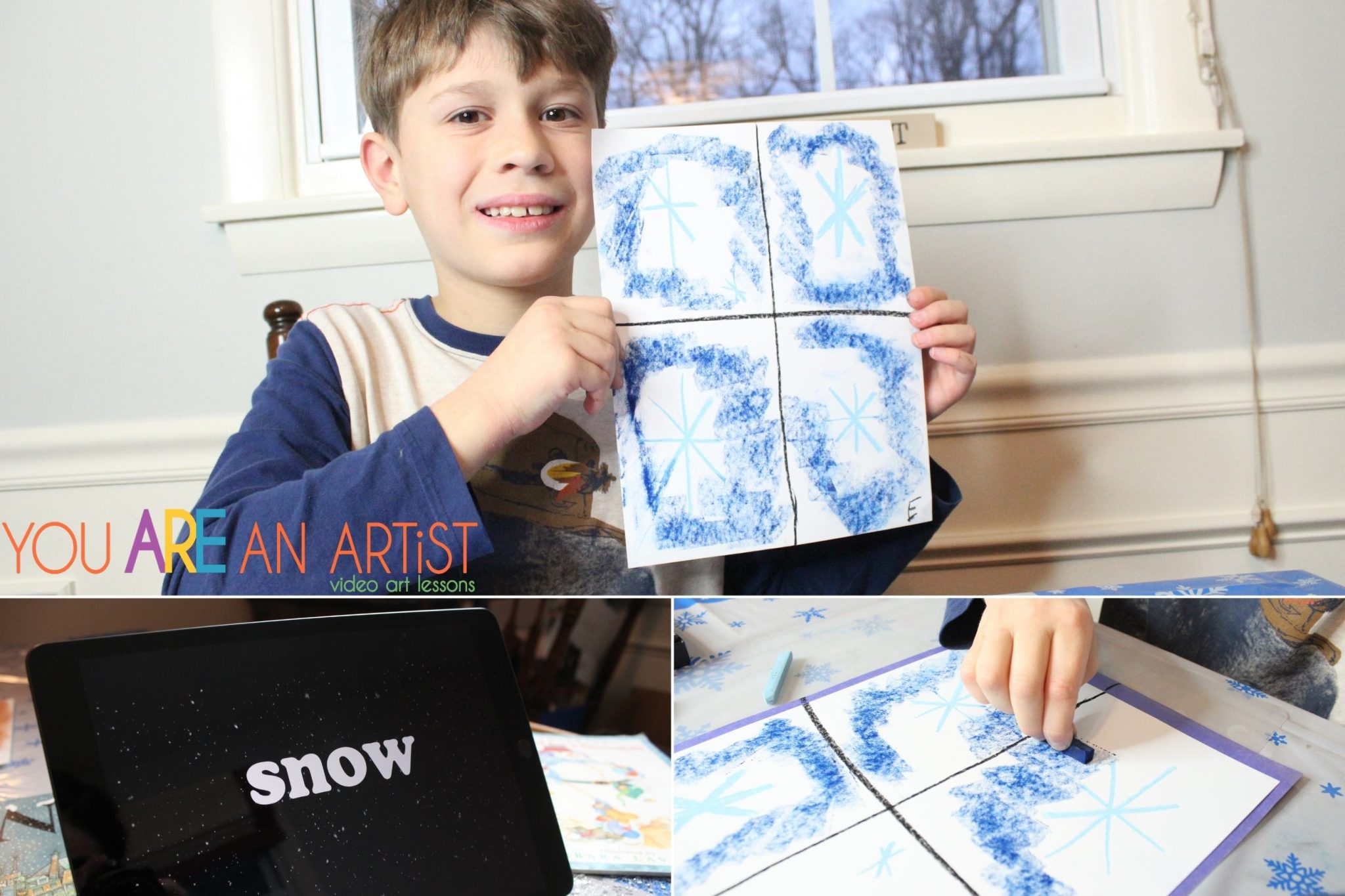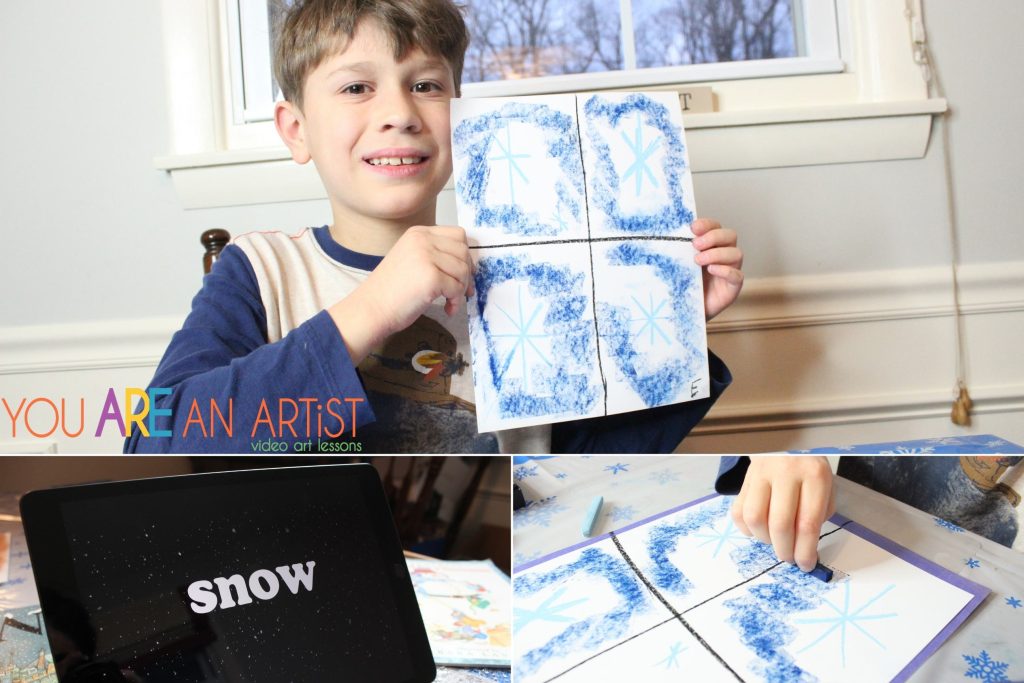 Bird in Snow is the perfect lesson to connect snowflakes to wildlife in your backyard – plus it uses black paper like Bentley's black snowflake tray! The contrast of the chalk pastels on different colored backgrounds is stunning.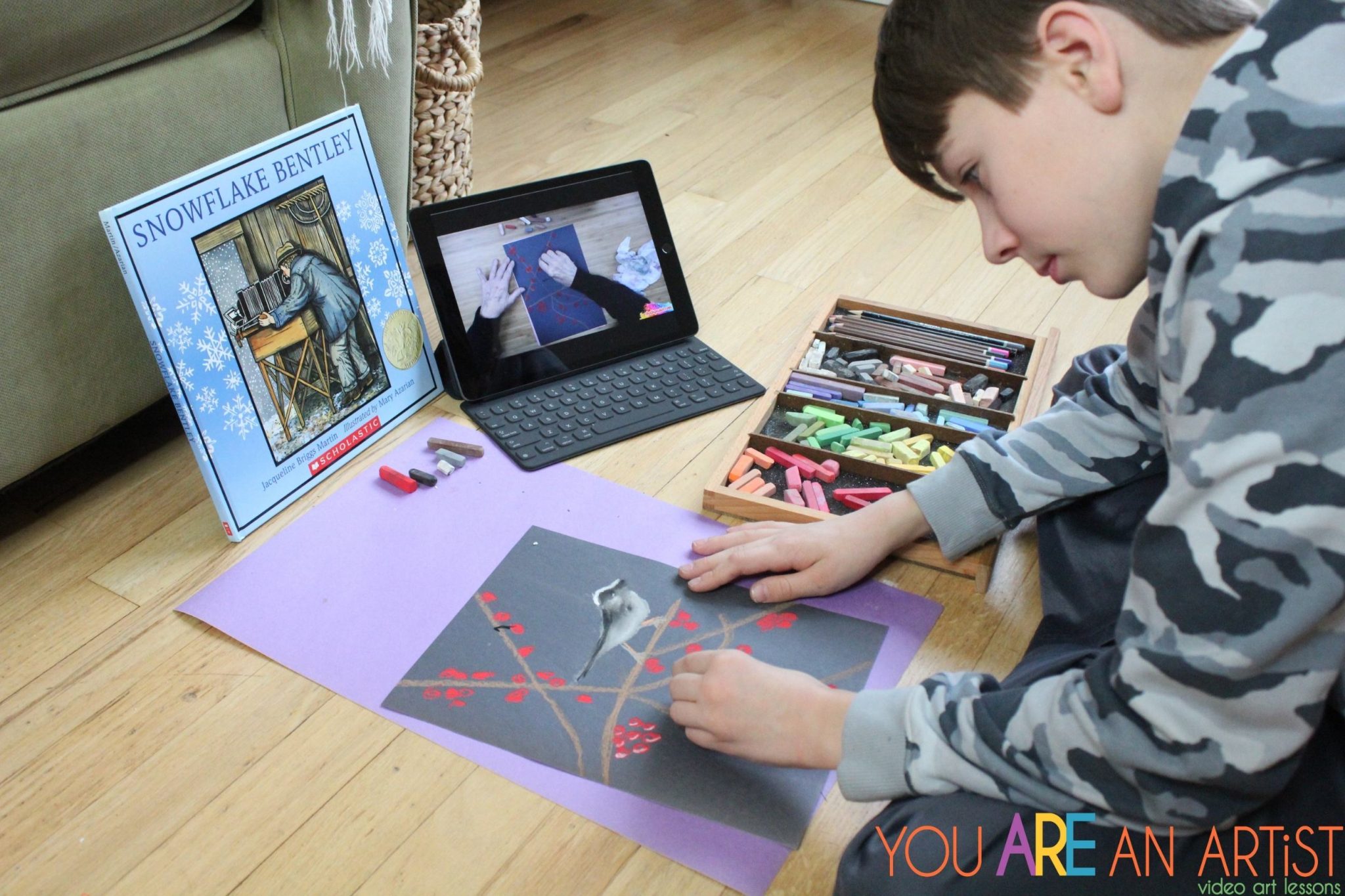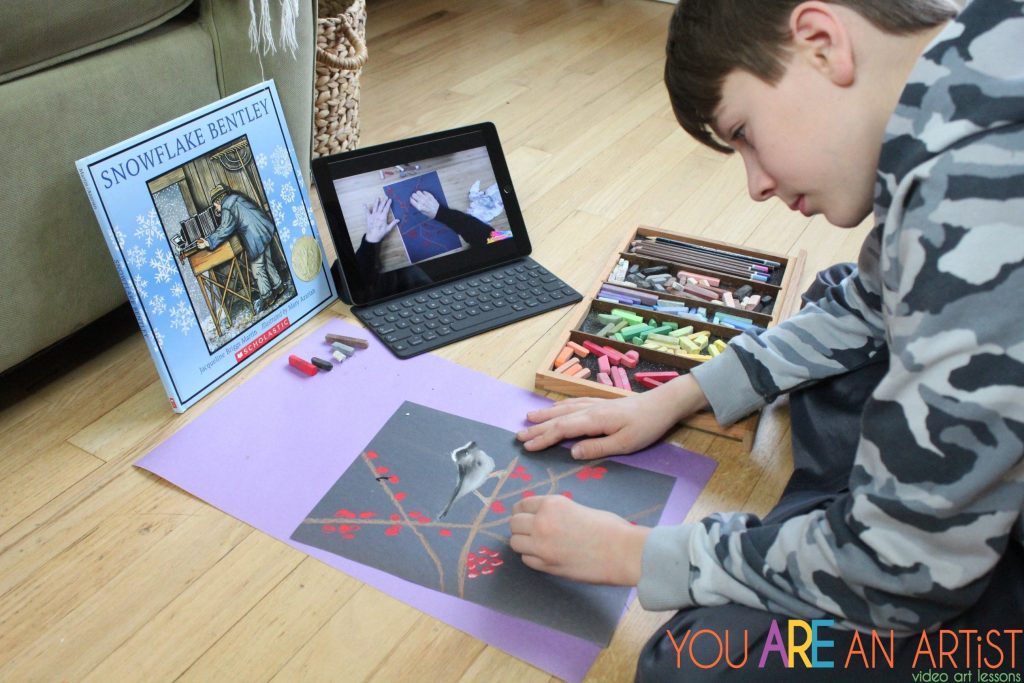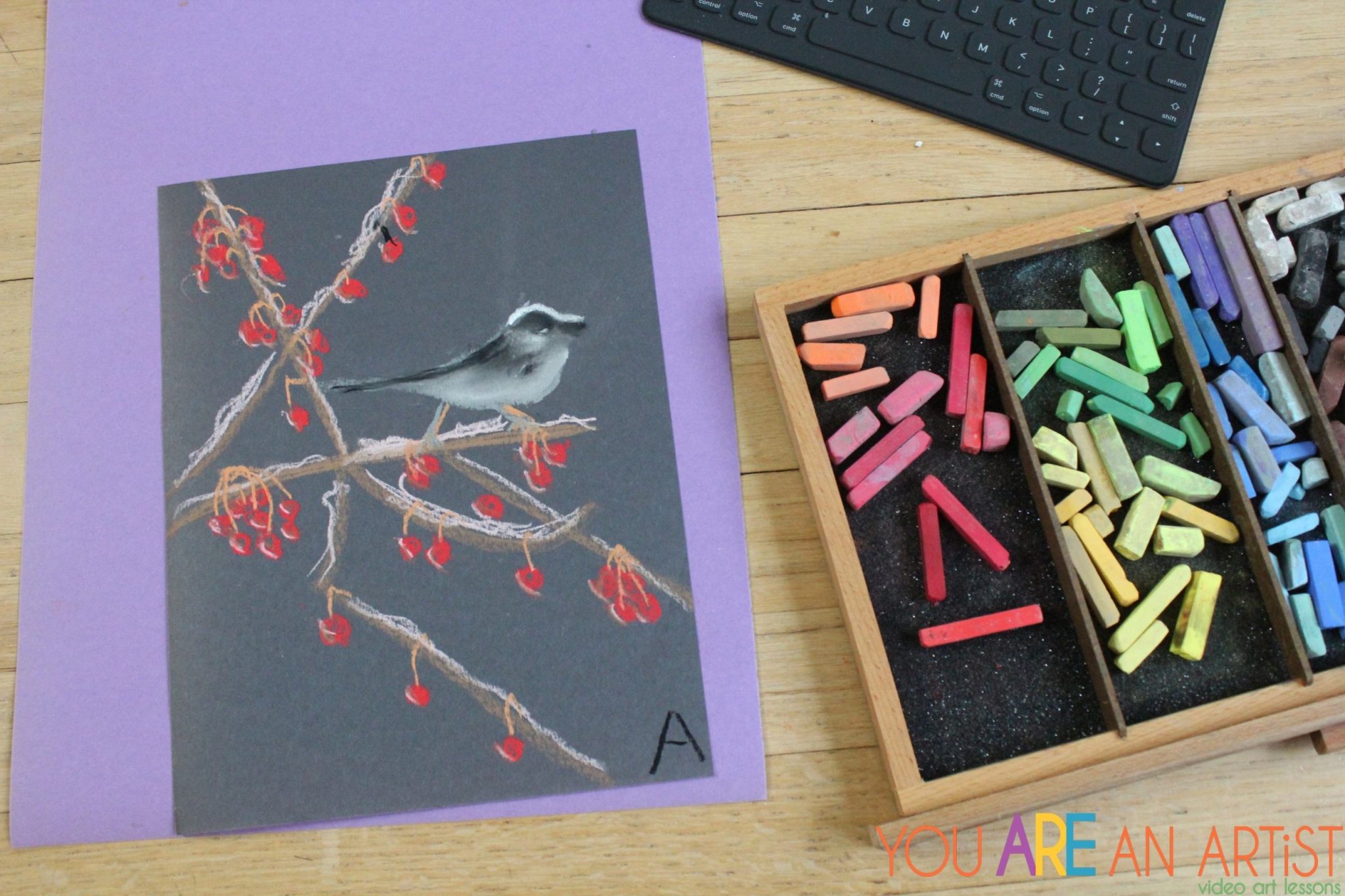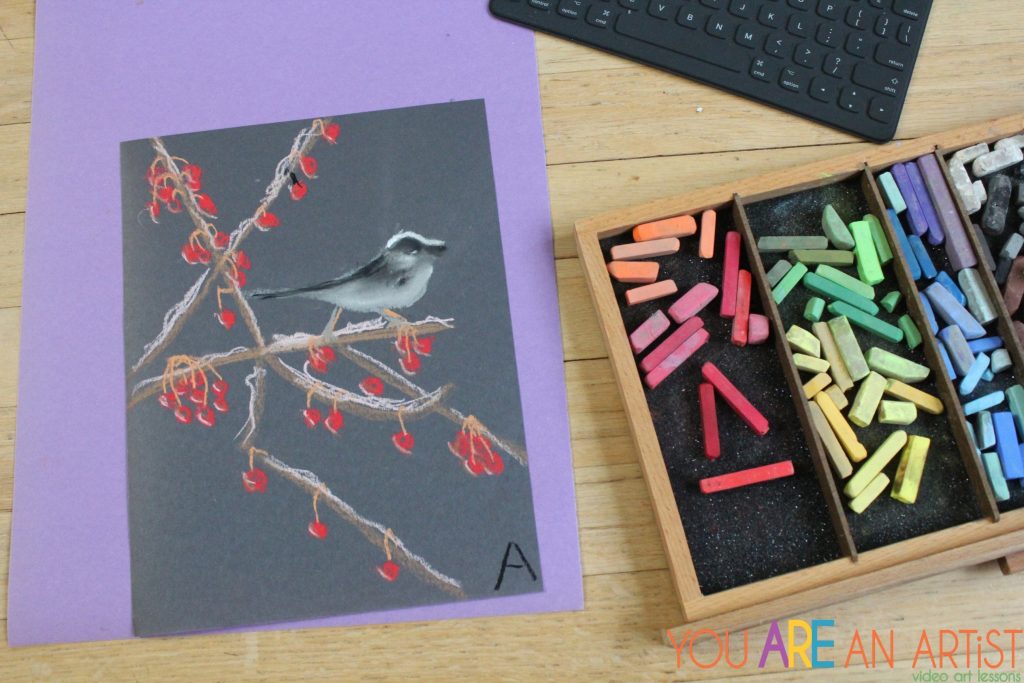 My youngest painted Welcome Winter Snowman to celebrate the fun we can all enjoy with snowflakes!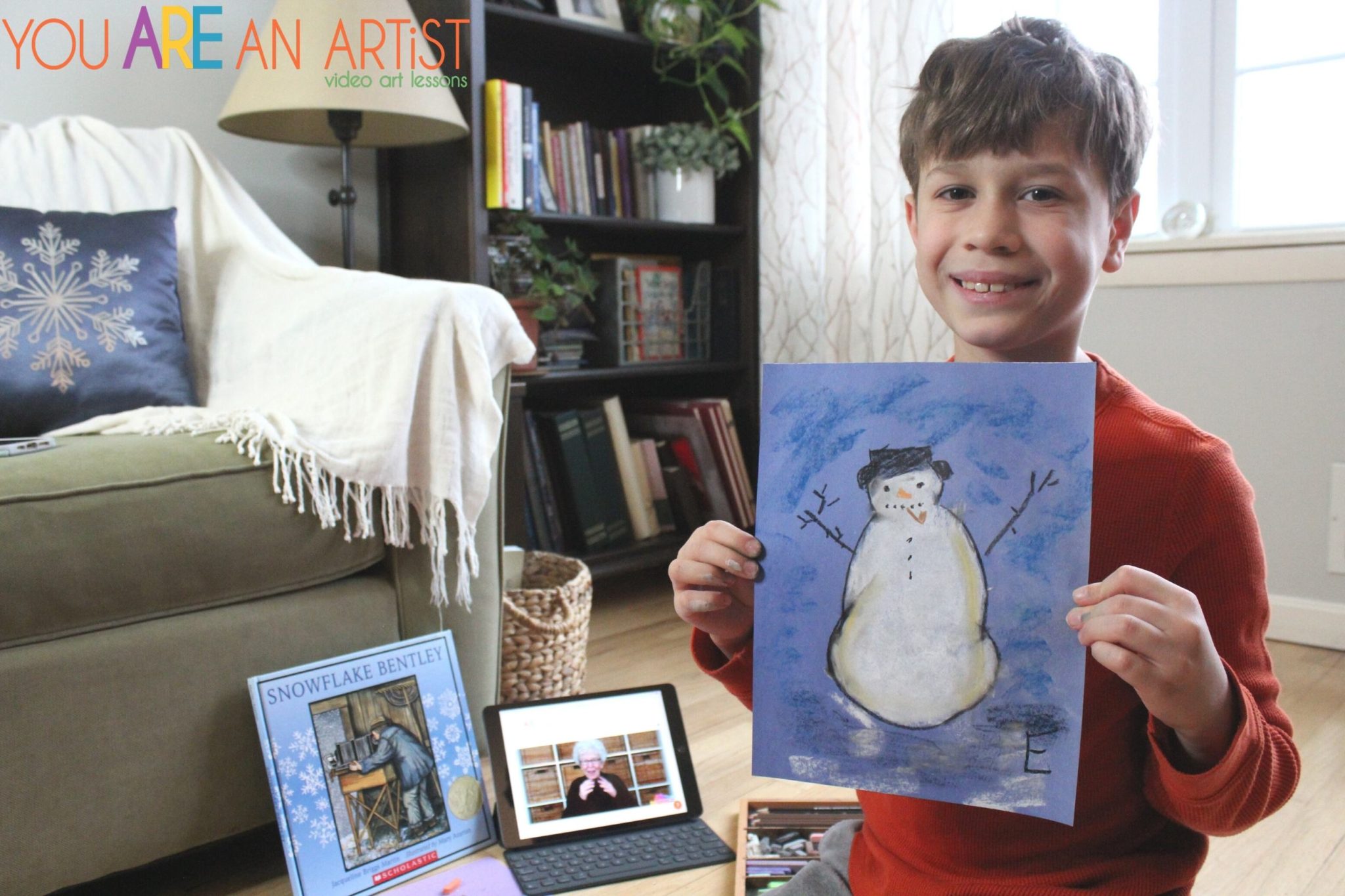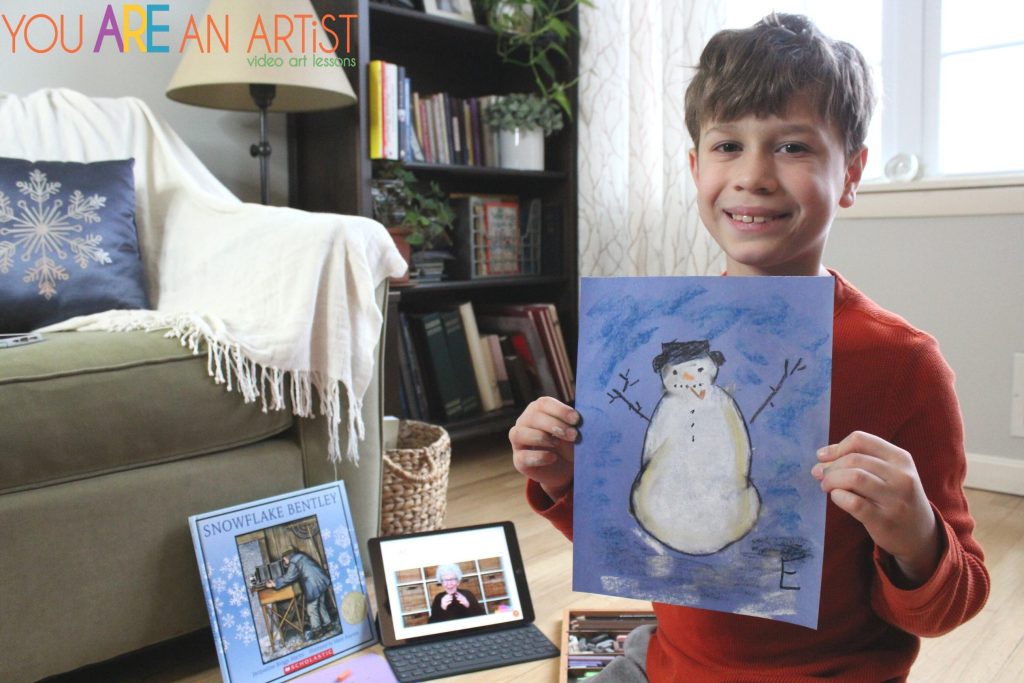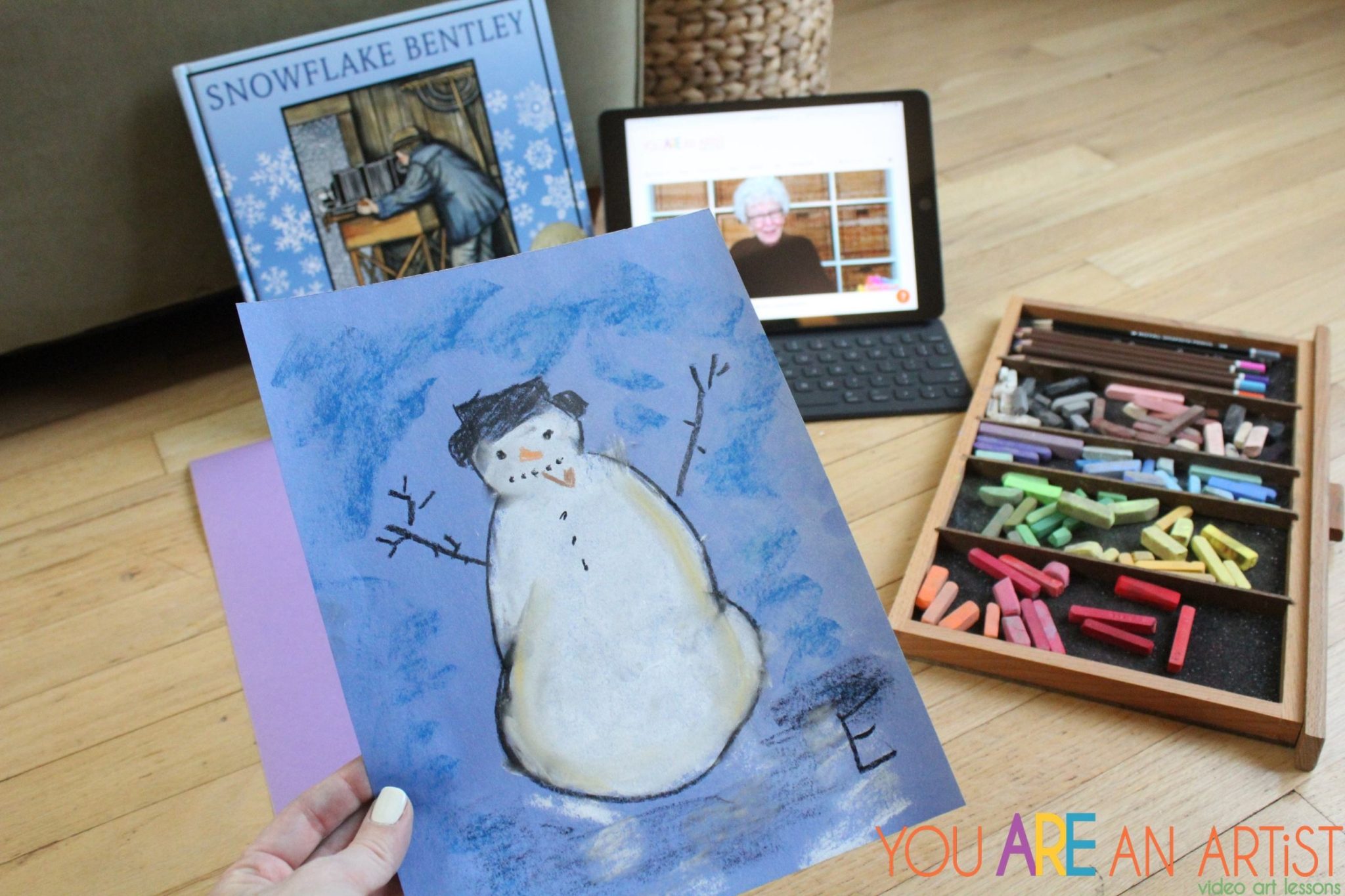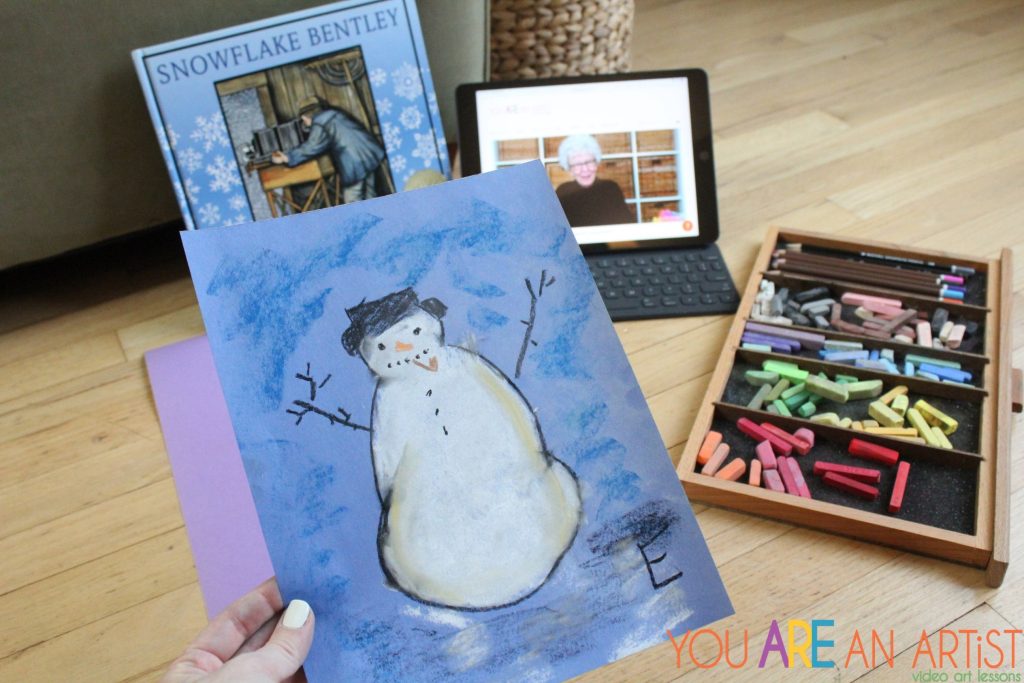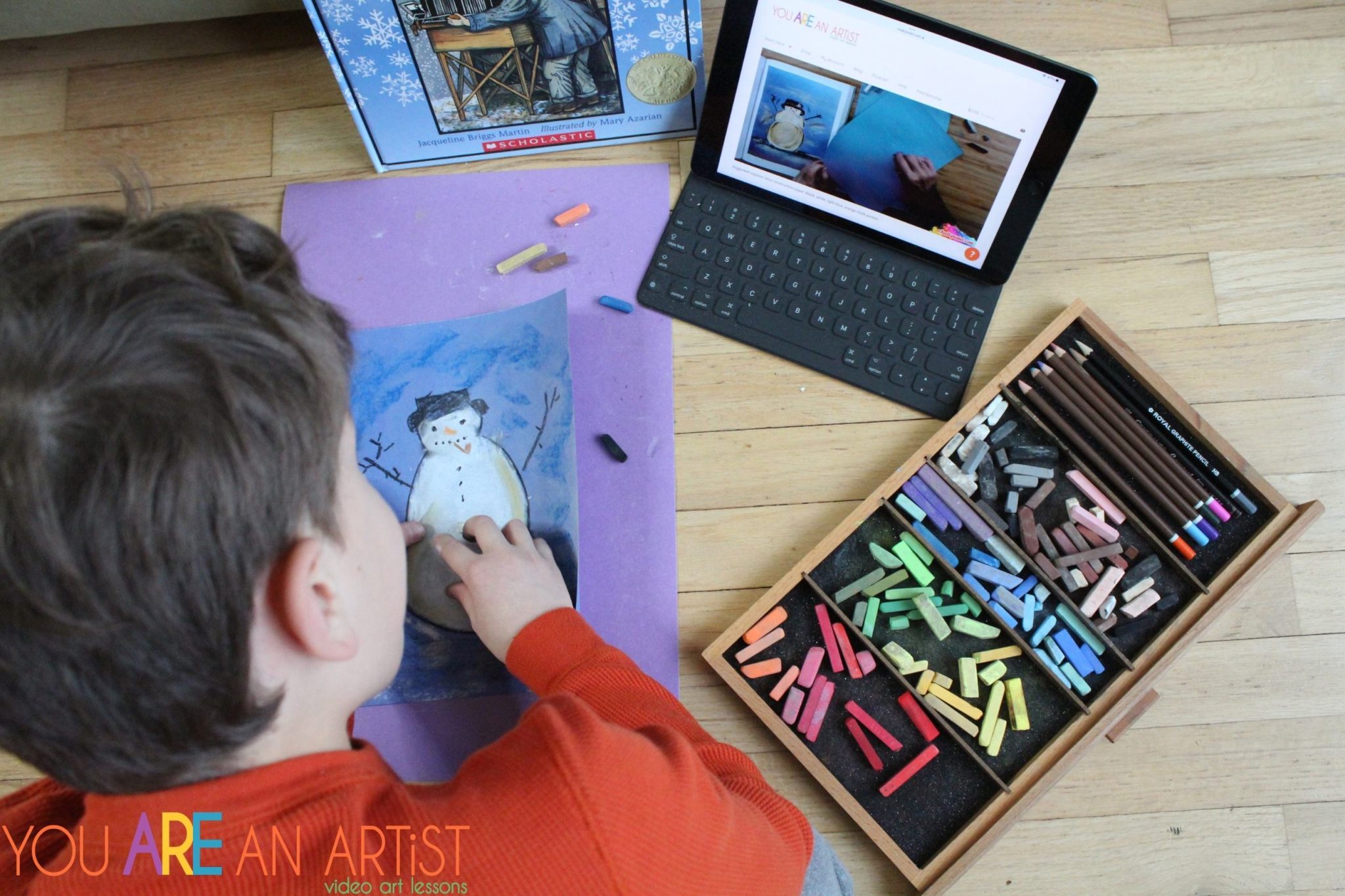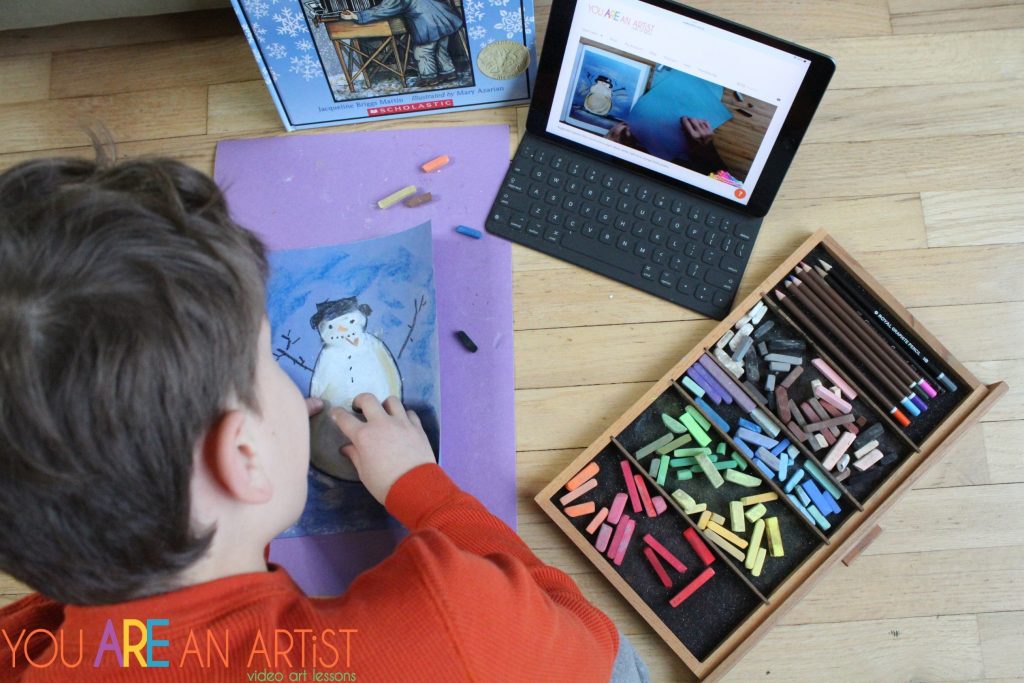 More Winter Homeschooling Resources
These snowy treasures of Bentley's are well-celebrated in Nana's Chalk Pastel lessons! Check out the ideas in this Winter Solstice celebration post.
From a snowflake study, you can move easily to exploring other winter weather topics. Enjoy lessons on frosted leaves, icicles, beautiful frozen winter lakes at midnight and more with Nana. Your kids will see how snow, with its delicate, icy touch, creates beauty in all aspects of wintertime.
Along with our chalk pastel lessons, we added in a few other hands-on craft activities.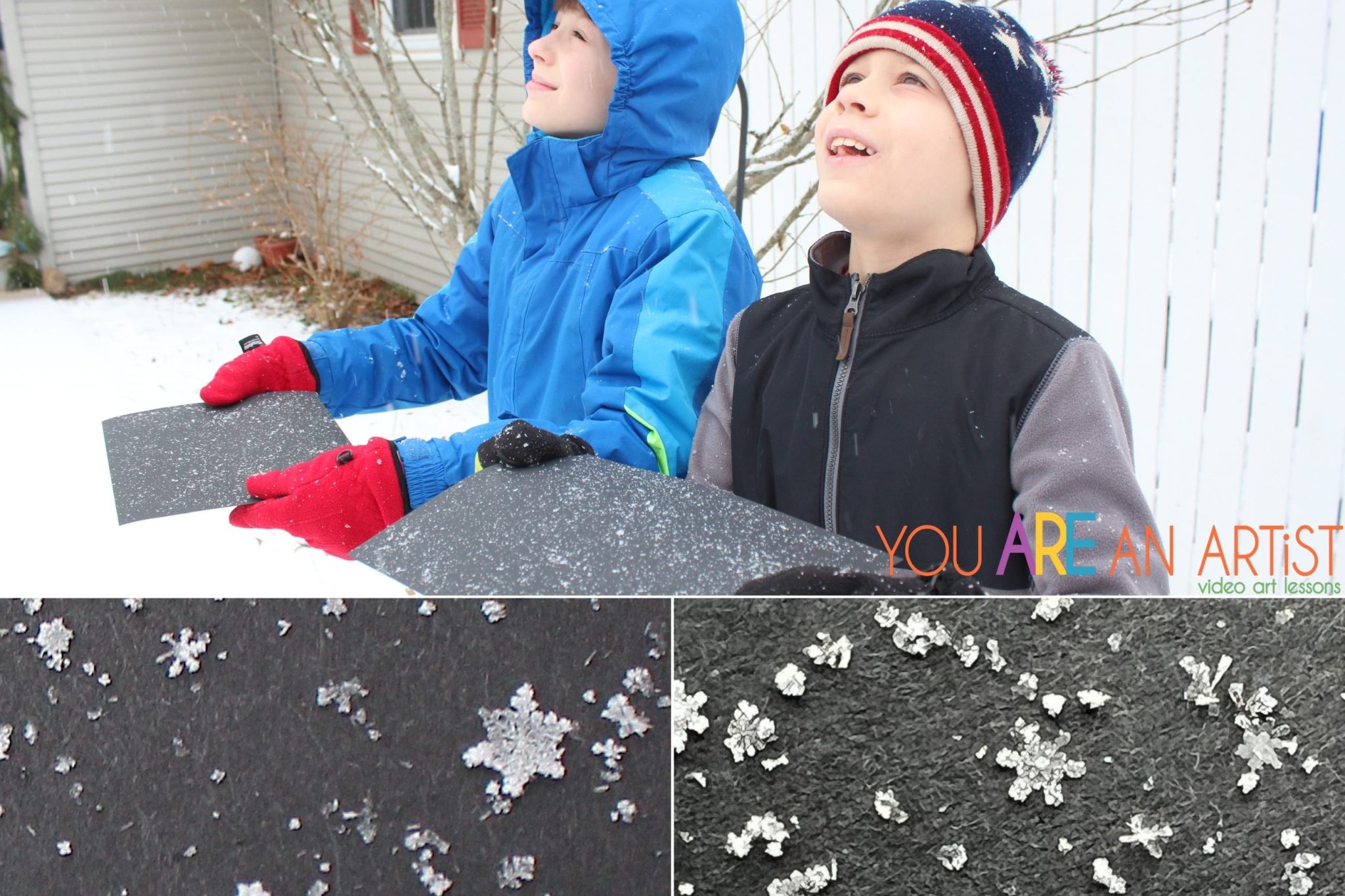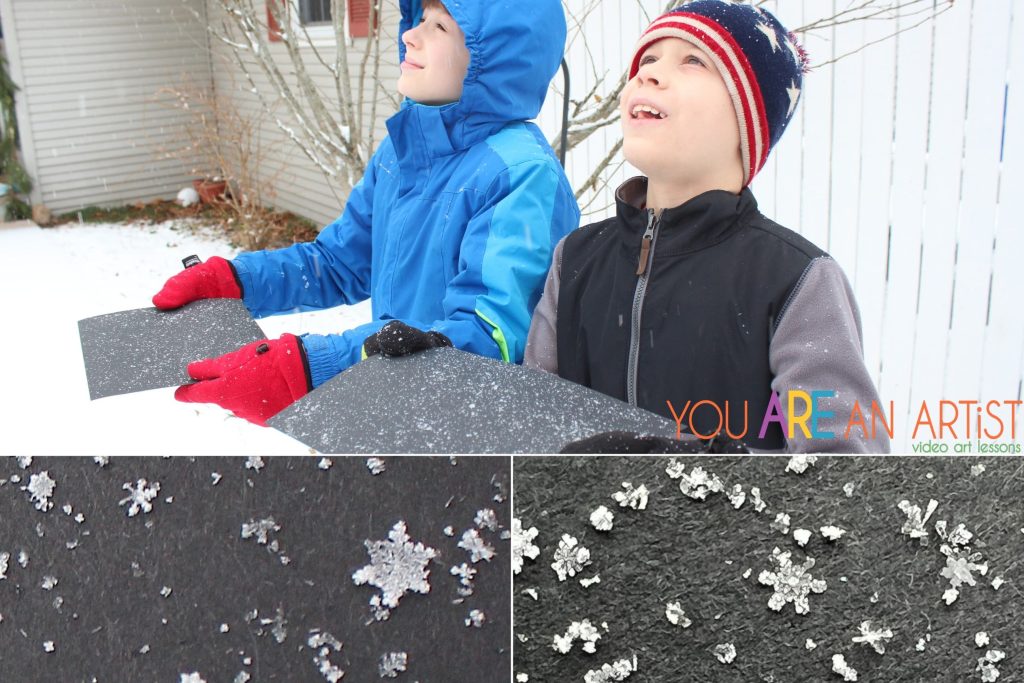 We were blessed beyond delight when the morning after painting our snow pictures with Nana, we had a suddenly snowfall! I handed out black construction paper and we rushed out to play Snowflake Bentley and collect our own snow crystals. Although I'm no photographer like he was, I managed to snap a few closeups to capture the detail of a handful of our flakes.
The boys and I studied my photos later, commenting on the shapes, edges, and variety in our small sampling. When we draw attention to the fleeting beauty of snow, we're teaching children to pay attention to even the smallest of things. This skill of noticing is foundational to keep our children enthralled with learning.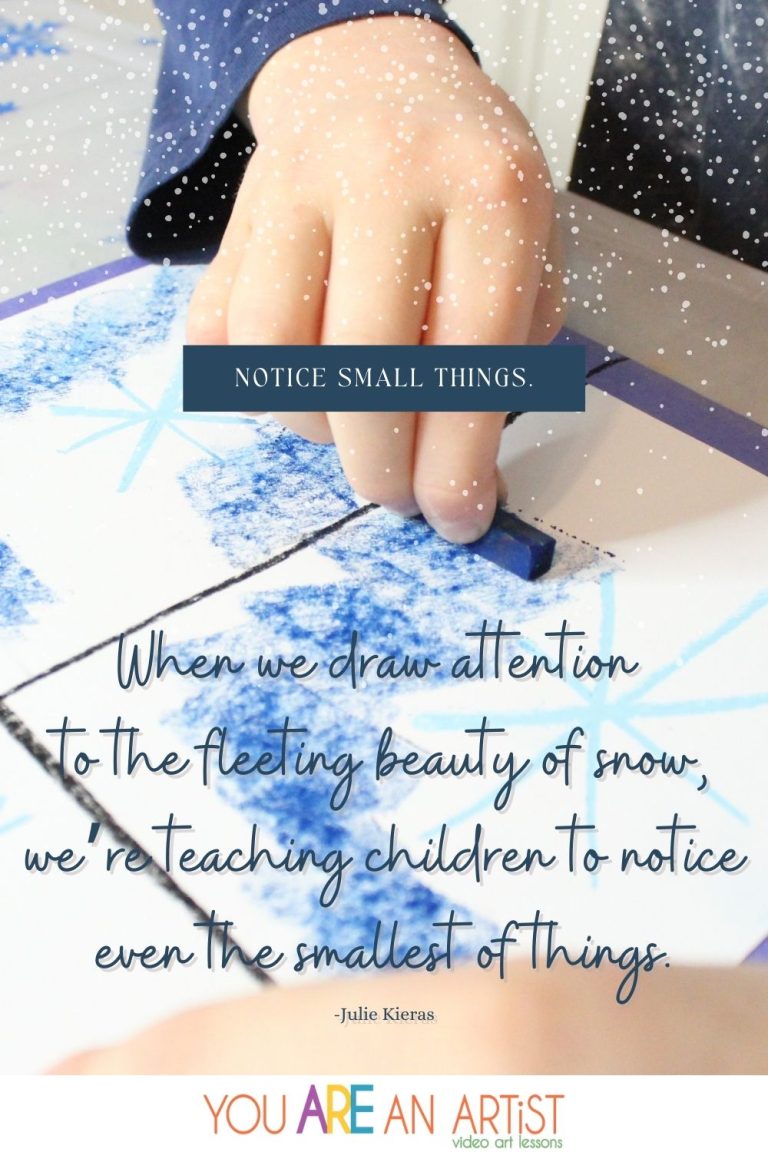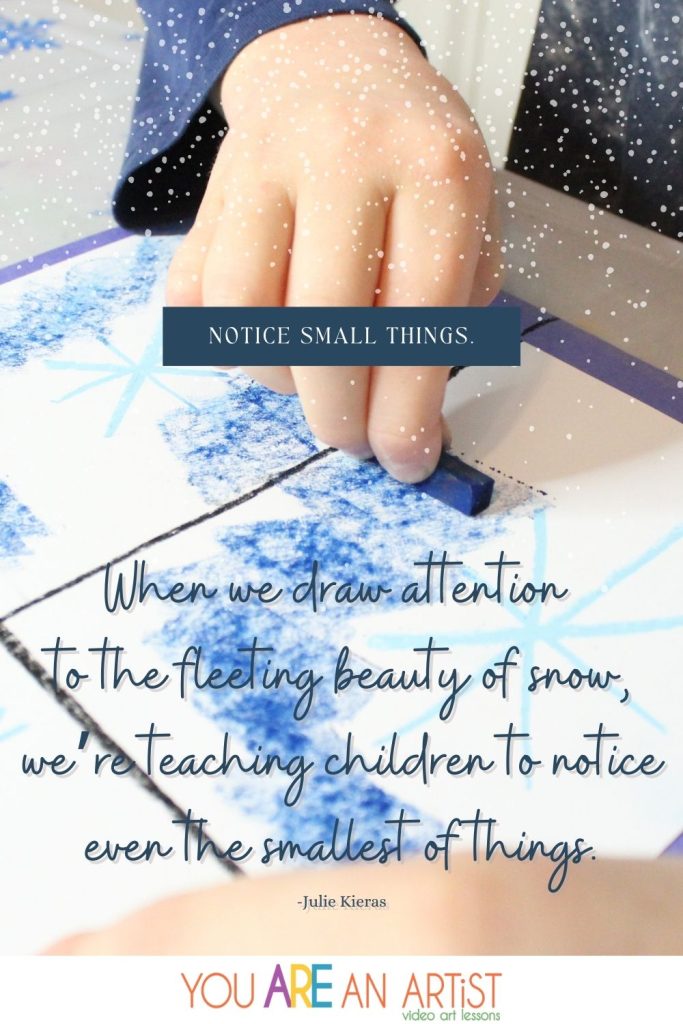 Later in the week, the boys and I made snowflakes. Snowflake cutouts can be simple and fun to make. Since my husband's family is Polish, every so often, we attempt the Polish paper cutting technique of Gwiazdy (or, stars). Very similar to cutting paper snowflakes, but with more detailed cut-out designs. Just like snowflakes, no two are ever the same, no matter how we might try!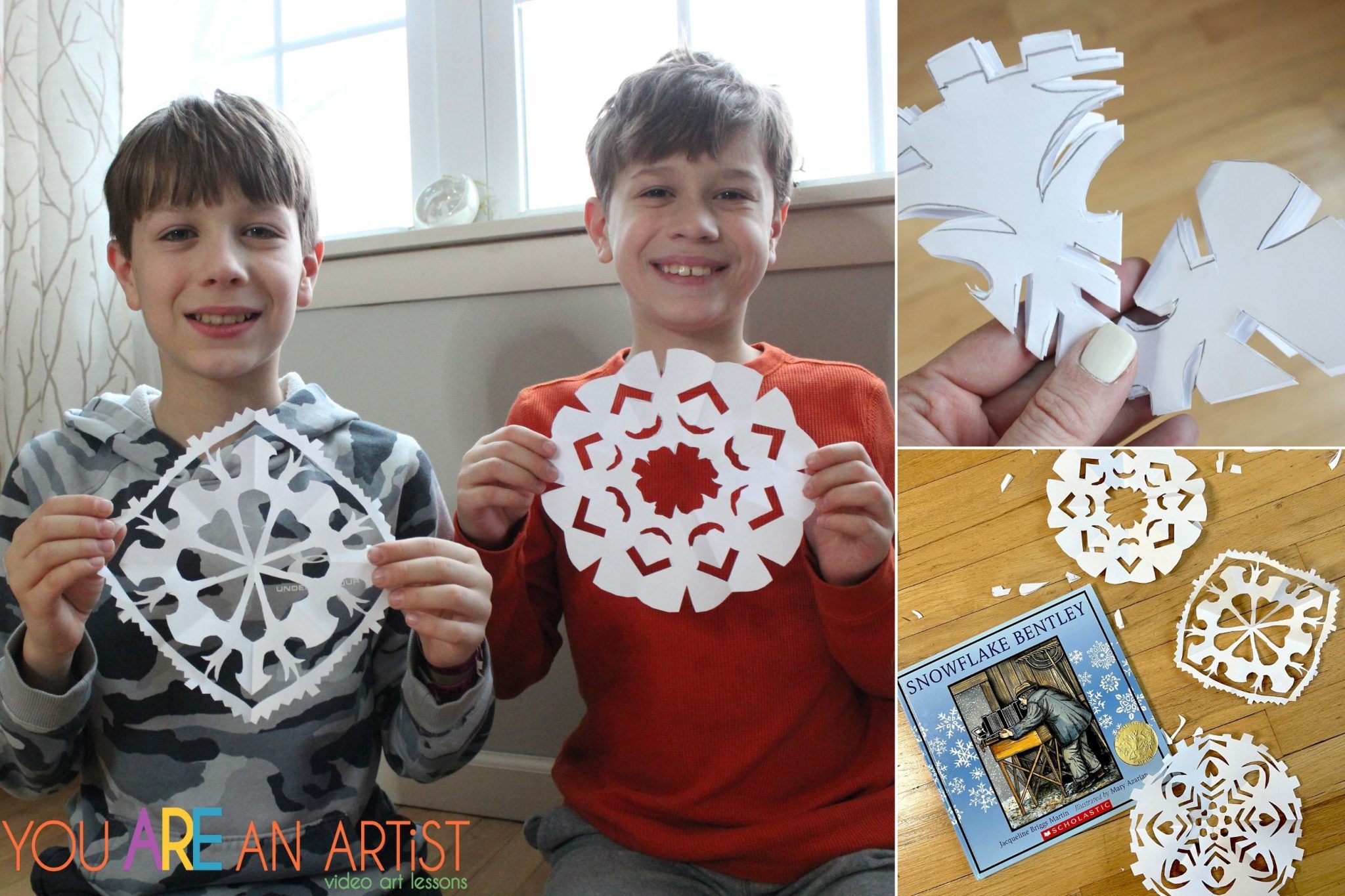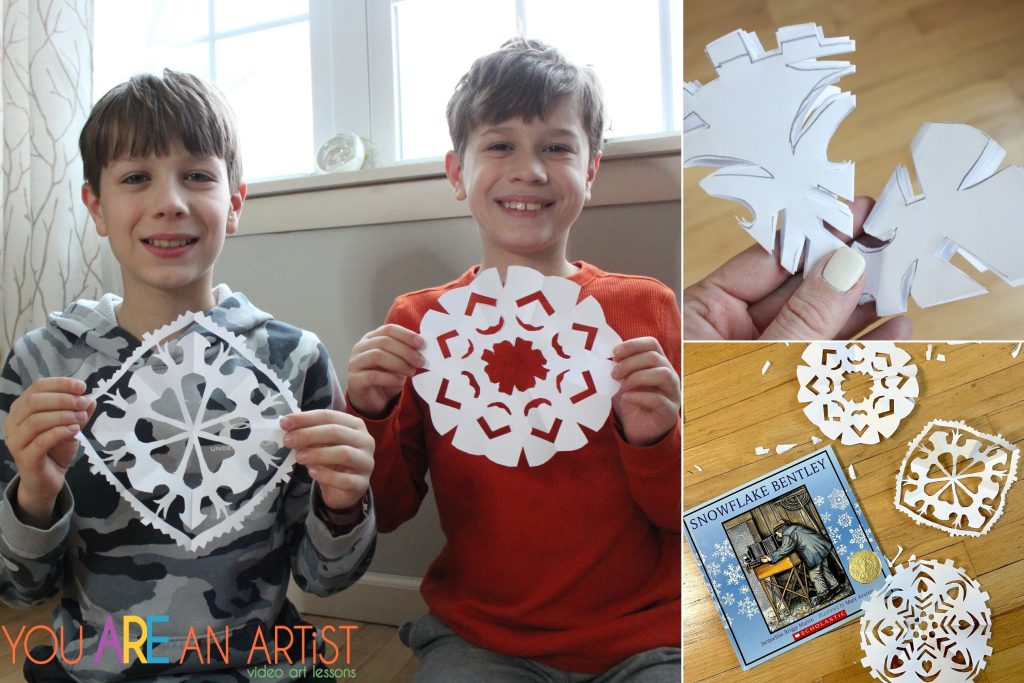 We also designed snowflakes out of pipe cleaners. Extend this activity into a science lesson by making your own snow crystals! Kids can make actual crystal structures using a borax solution (especially wondrous if you live in an area that won't have snow).
You might also enjoy a Silent Winter Snow Walk using your senses. Find out how with our sister site, Homeschool Nature Study's Outdoor Hour Challenge Instagram post!
However you choose to study snowflakes, whether reading, painting, or crafting, there is no doubt snowflakes are one of nature's most beautiful wonders. The melt-away beauty of snowflakes never fails to melt hearts of nature lovers everywhere.
Of all the forms of water the tiny six-pointed crystals of ice called snow are incomparably the most beautiful and varied. – Wilson Bentley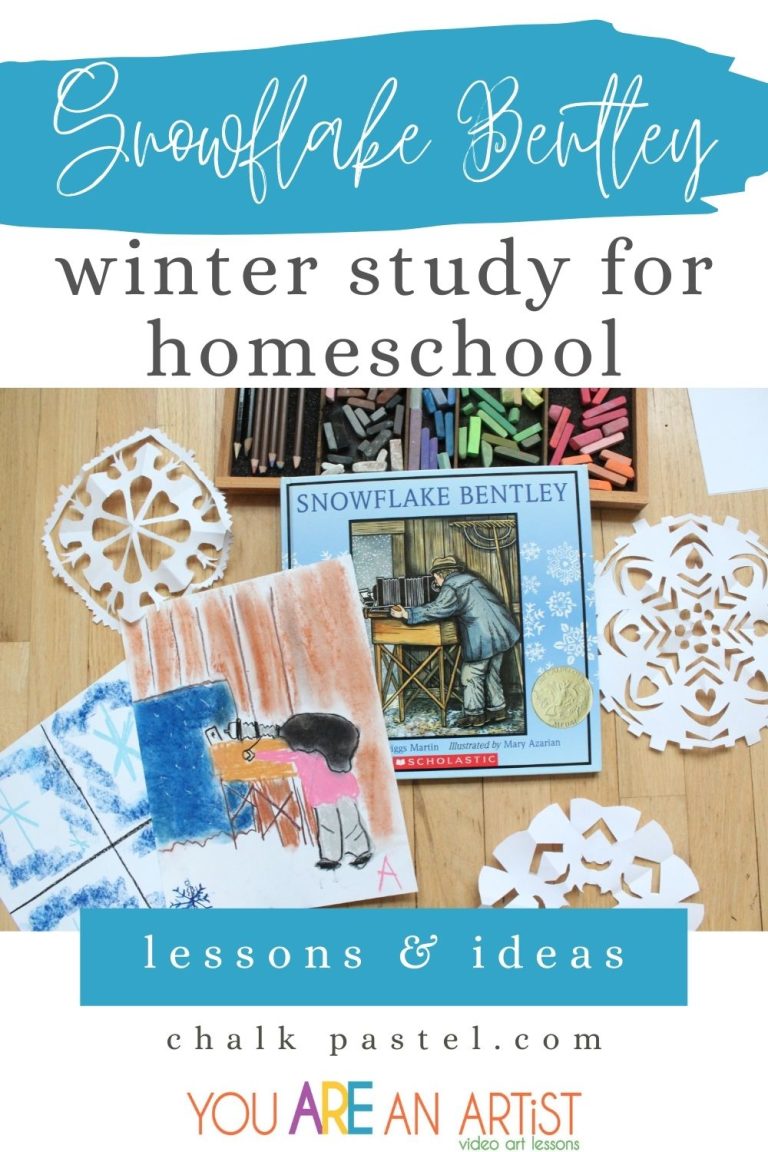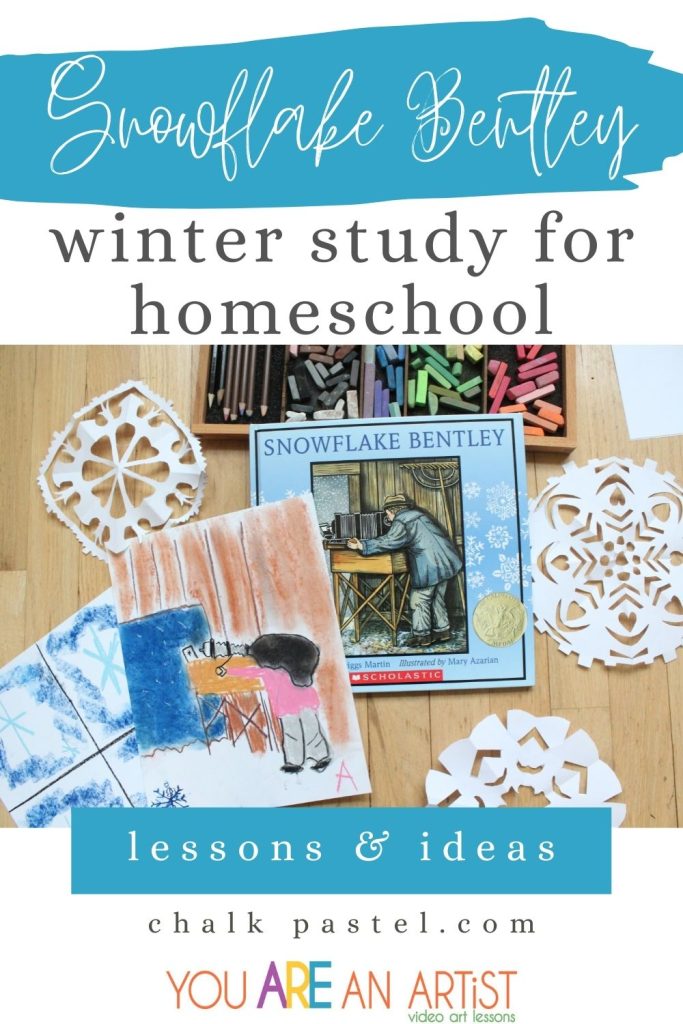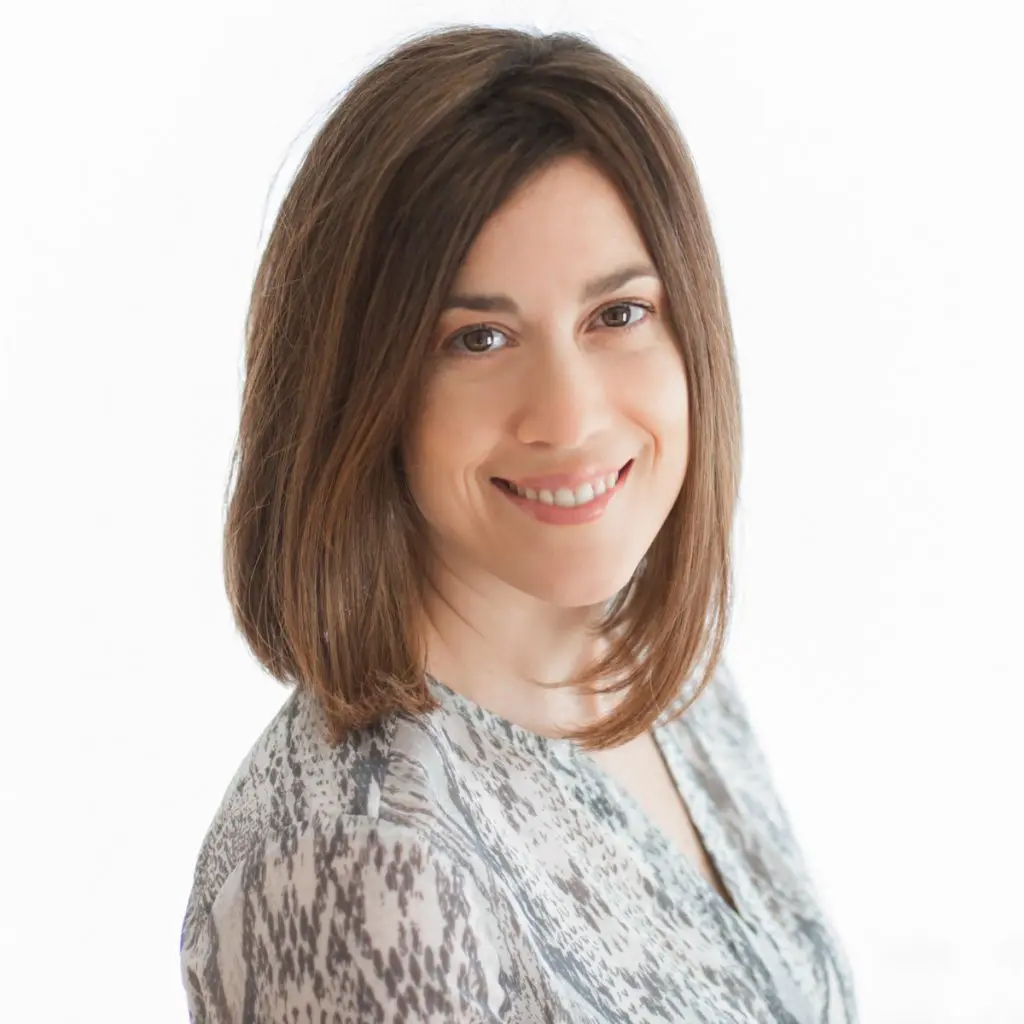 Julie is a teacher, writer and homeschool mom. Her blog Happy Strong Home shares encouragement for cherishing children, enjoying motherhood, and growing strong families. Discover homeschool resources, natural living tips, and family activity ideas. Julie has been featured on Million Praying Moms, The Old Schoolhouse Magazine, and the Melissa and Doug blog. She offers writing workshops and a "homeschool neighborhood" community to support parents in their homeschool adventures. Find Julie on Instagram to be the first to know when new workshops and community events are available.