This homeschool lesson has everything you need to learn more about artist Steve Penley and the Statue of Liberty he painted, including a chance to create your own work of art!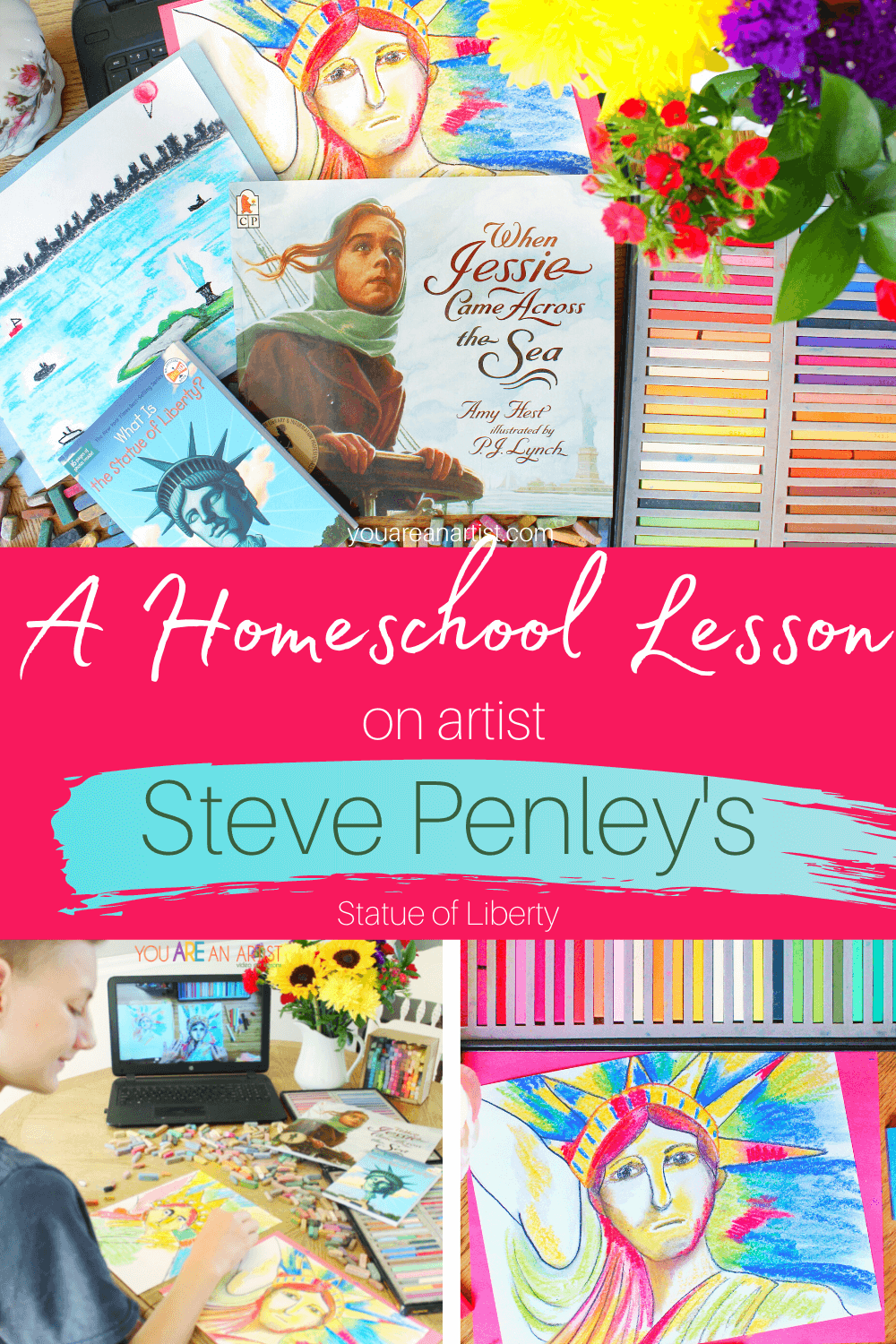 Steve Penley was born in Chattanooga, Tennessee, and is known for his explosions of color and historical paintings. While Steve Penley does his artwork with oil paints, Nana shows us how to create his iconic Statue of Liberty with chalk pastels! With this gorgeous painting, I thought it would be a lovely time to add in Nana's other Statue of Liberty lesson that includes Ellis Island and make a homeschool study all about the Statue of Liberty.
Why is Lady Liberty green anyway?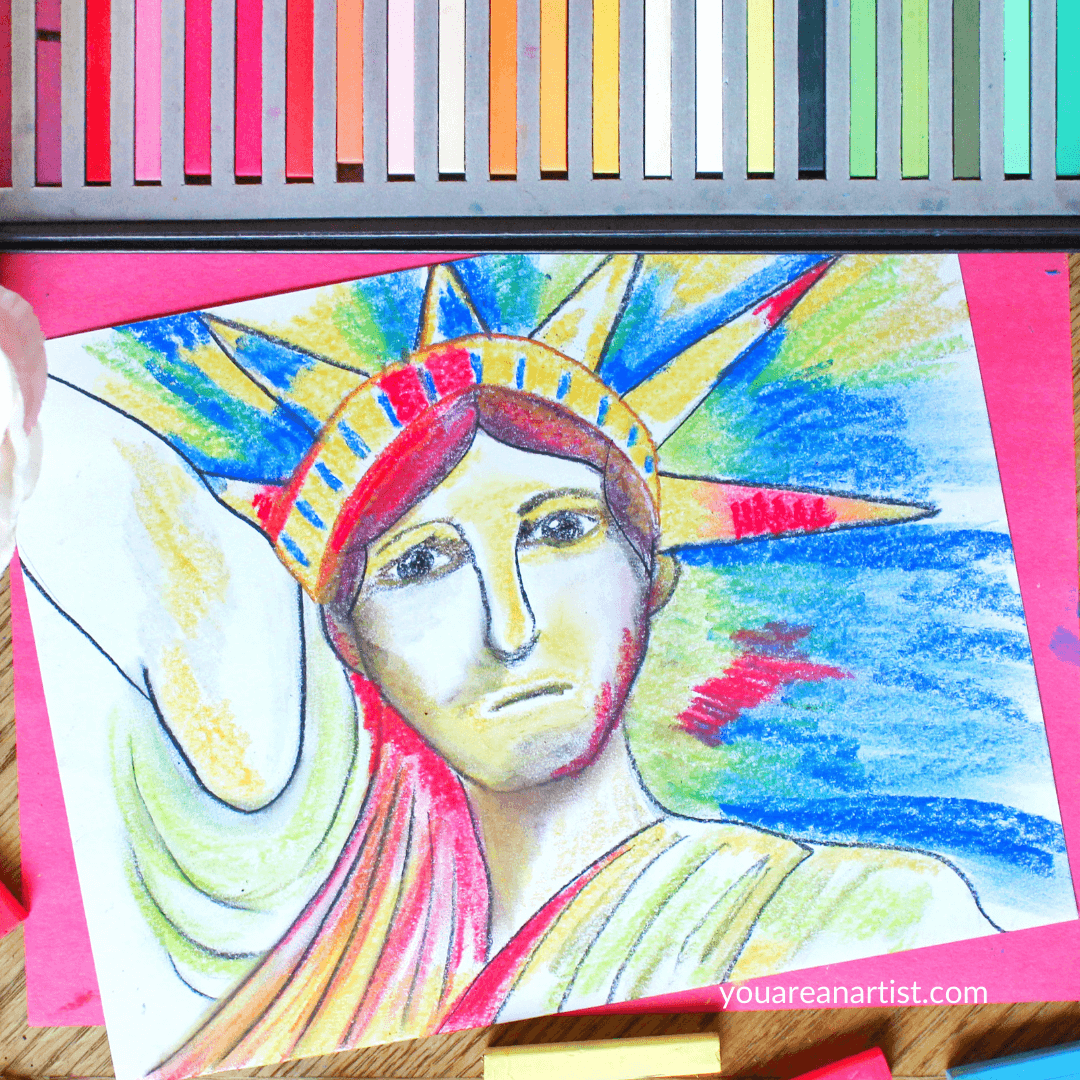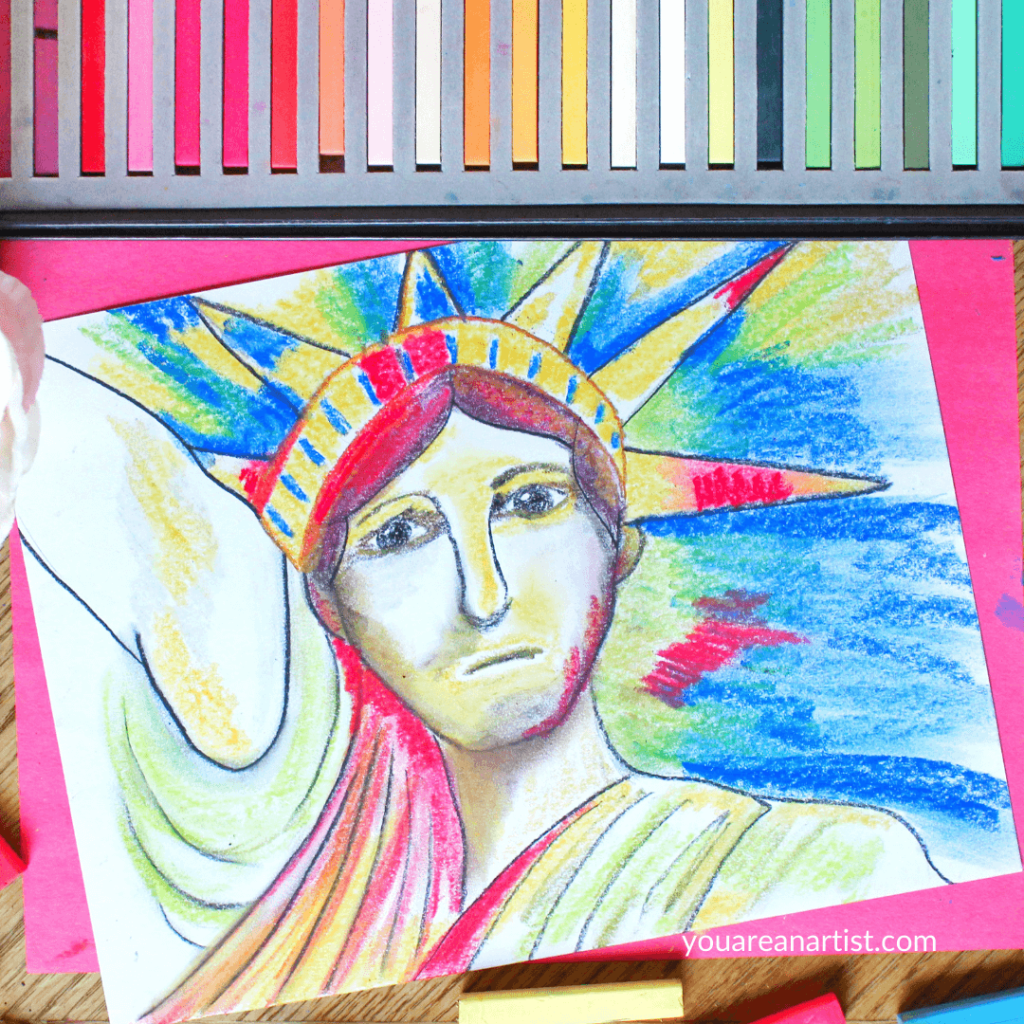 Statue of Liberty Homeschool Study
With a couple of books on hand, we discovered that the Statue of Liberty is green because of the chemistry of copper. Yes, the Statue of Liberty is covered in a thin layer of copper which has turned green due to reactions with air and water. This green color is called patina.
I prefer to start with a few books for our unit studies, and if the children show more interest as we go along, I'll find more books or videos on the subject.
Did you know that her official name is Liberty Enlightening the World?
One of the books we chose to start us on our learning adventure of Lady Liberty is the book What Is the Statue of Liberty? This book took us through the history and creation of this famous symbol of America. Lady Liberty was a gift from the people of France. She was designed by French sculptor Frederic Auguste Bartholdi and her framework was built by Gustave Eiffel. Eiffel is best known for the world-famous Eiffel Tower. (You could even continue your study with Nana's Eiffel Tower lesson in World Landmarks).
Did you know the Statue of Liberty is mostly hollow?
Another book we chose to add to our homeschool study is When Jessie Came Across the Sea, which tells the lovely story of a young immigrant girl leaving her home for a better life in America. The sight of Lady Liberty gave the passengers of her ship such pause and awe as they entered the harbor, and the illustrations are breathtaking.
Lady Liberty was and is a tremendous beacon of hope and a symbol of welcome to immigrants arriving by sea.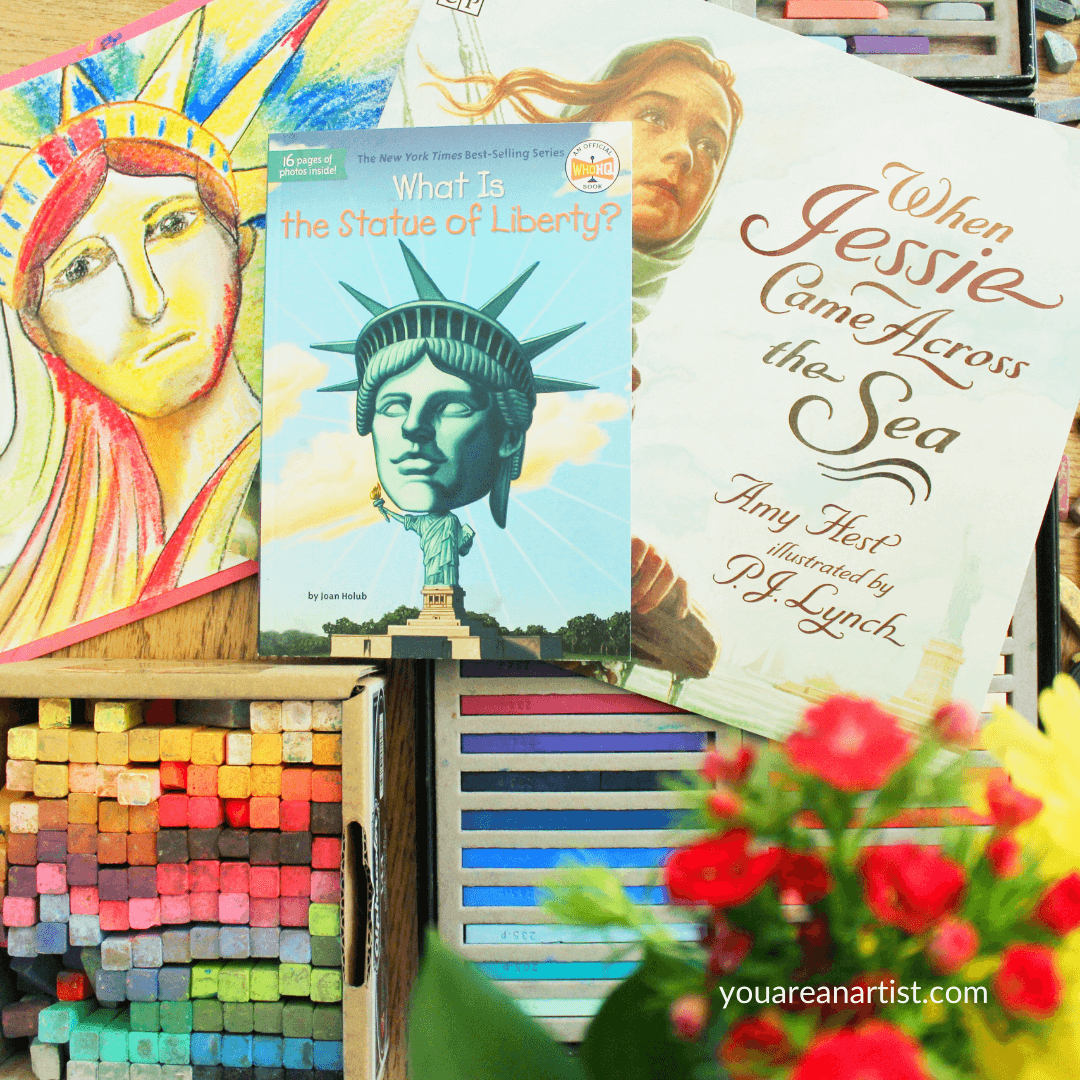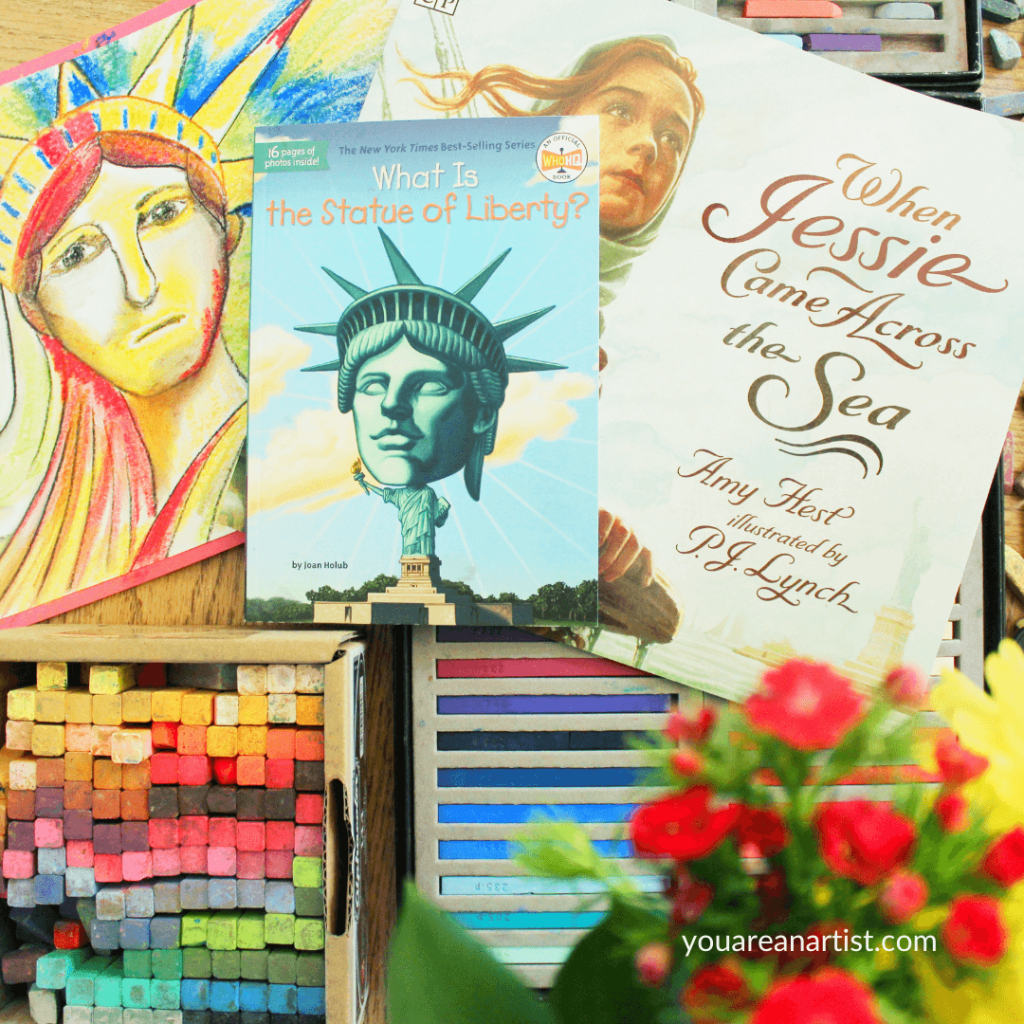 Statue of Liberty Art Lessons for Your Homeschool
Nana showed us step-by-step how to create our own Steve Penley version of Lady Liberty. She was so colorful and vibrant! With her Famous Artist online art course, Nana brought the Statue of Liberty and Steve Penley right into our home.
Then we recreated New York Harbor with the New York City skyline, the Statue of Liberty, and even boats in the water!
This is just one of the reasons we LOVE our You ARE An Artist Clubhouse Membership! We have access to 700+ video art lessons, including Nana's Famous Artists series and podcast! Nana makes learning about art and artists intriguing and fun! Be sure to check out her Steve Penley podcast lesson below! In it, she goes over Steve Penley's life and art. My kiddos truly enjoyed learning about his use of color, bold brush strokes, and even the books he has authored and illustrated.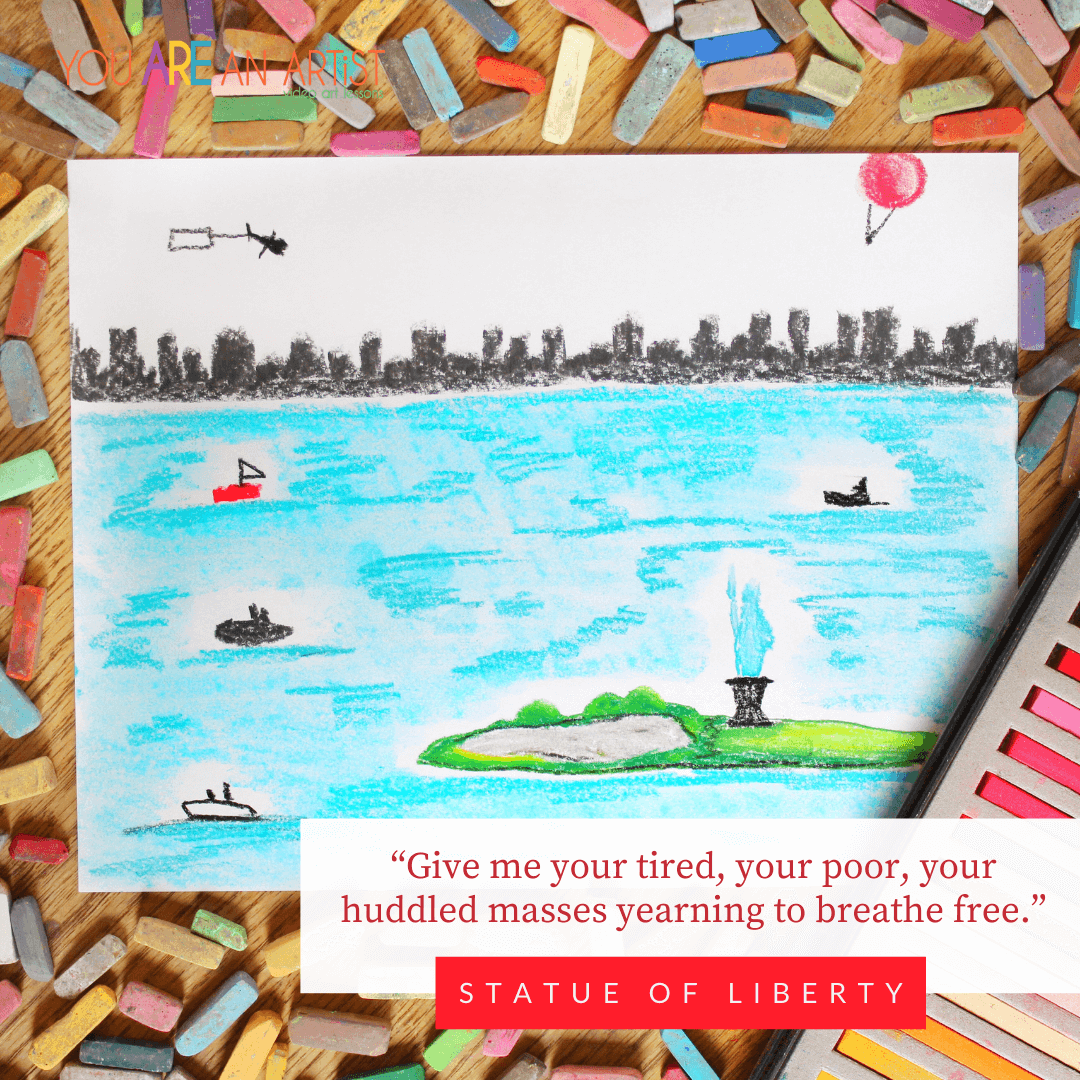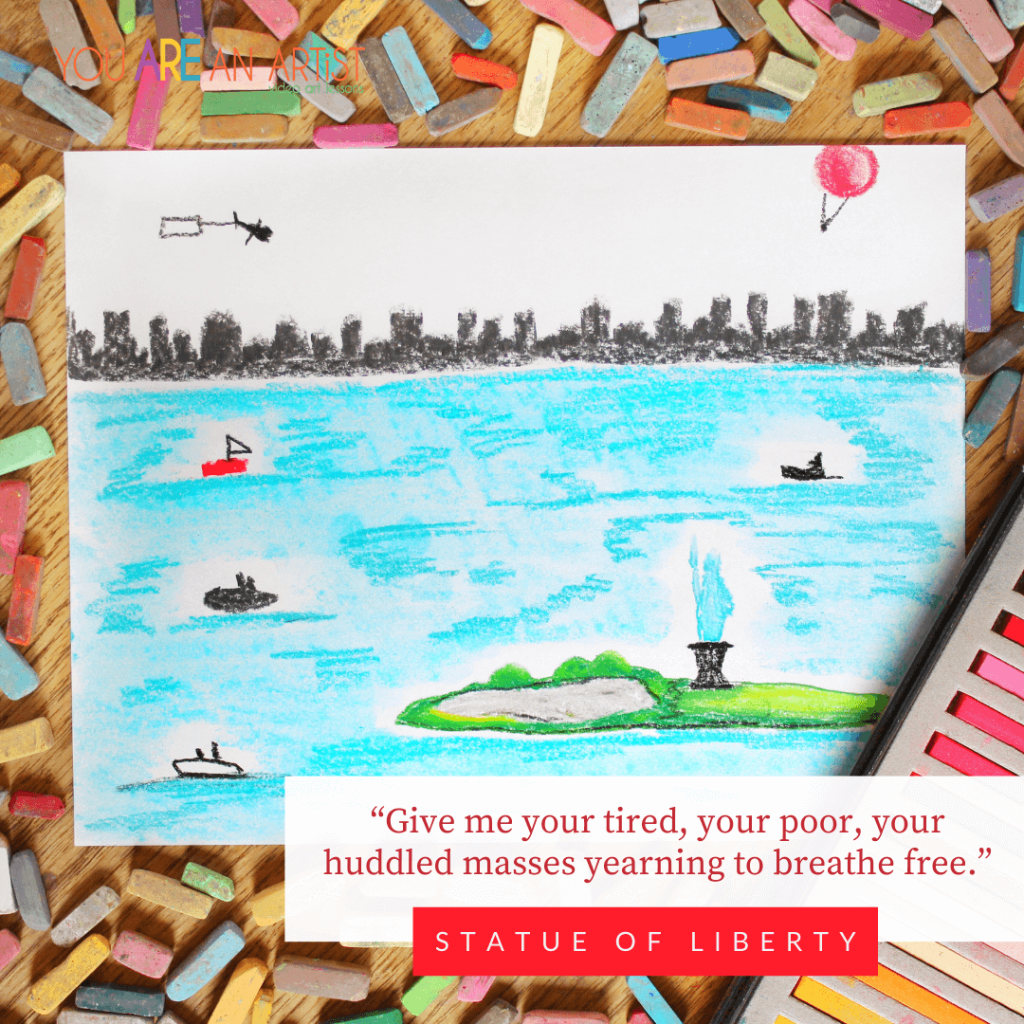 An Overview of Our Steve Penley Homeschool Lesson – Nana's From My Back Porch Podcast
1:22 Penley's Education
2:34 Penley's Painting Style
4:34 Penley's Paintings for Corporations
5:00 Penley's Books
Listen to Nana's Steve Penley Podcast on YouTube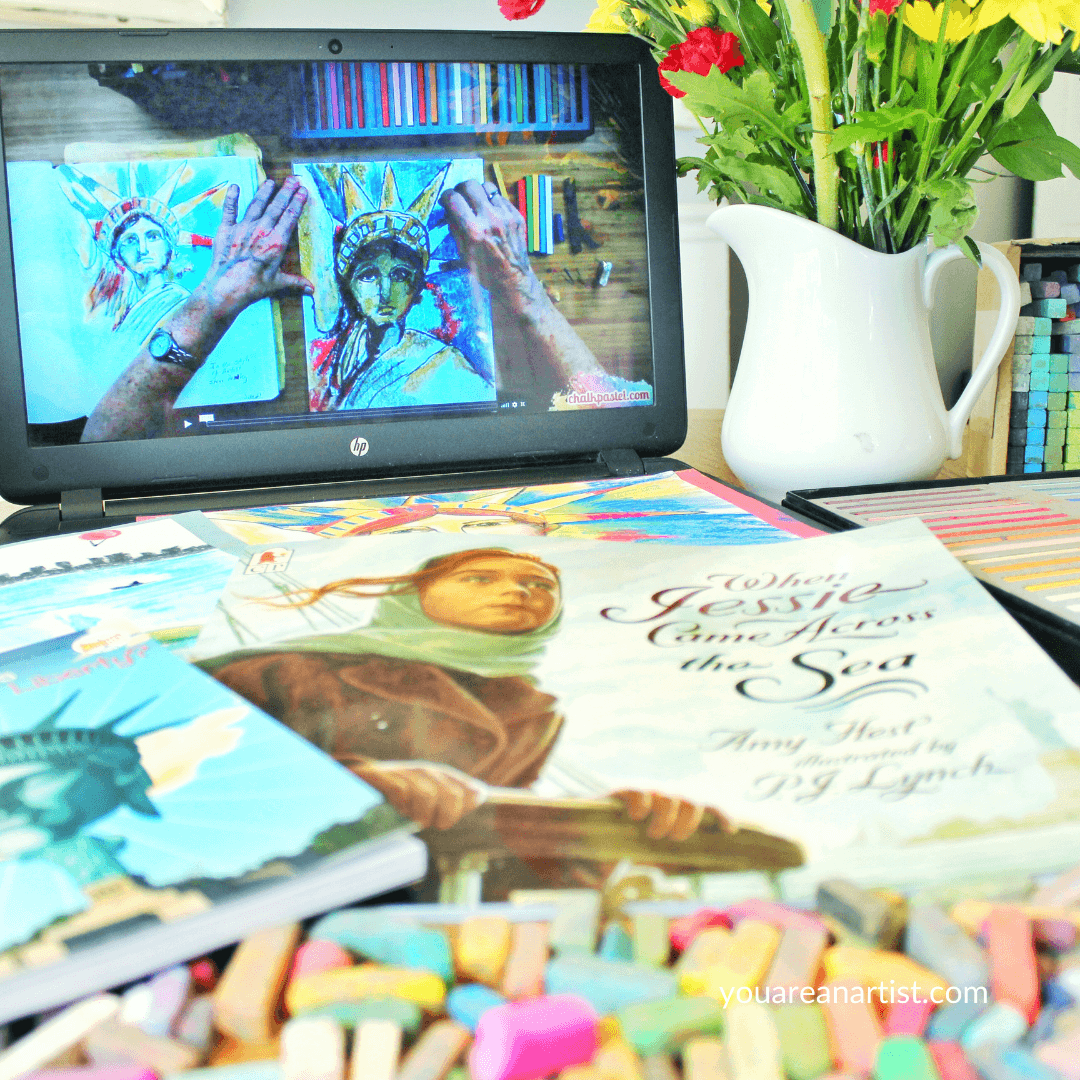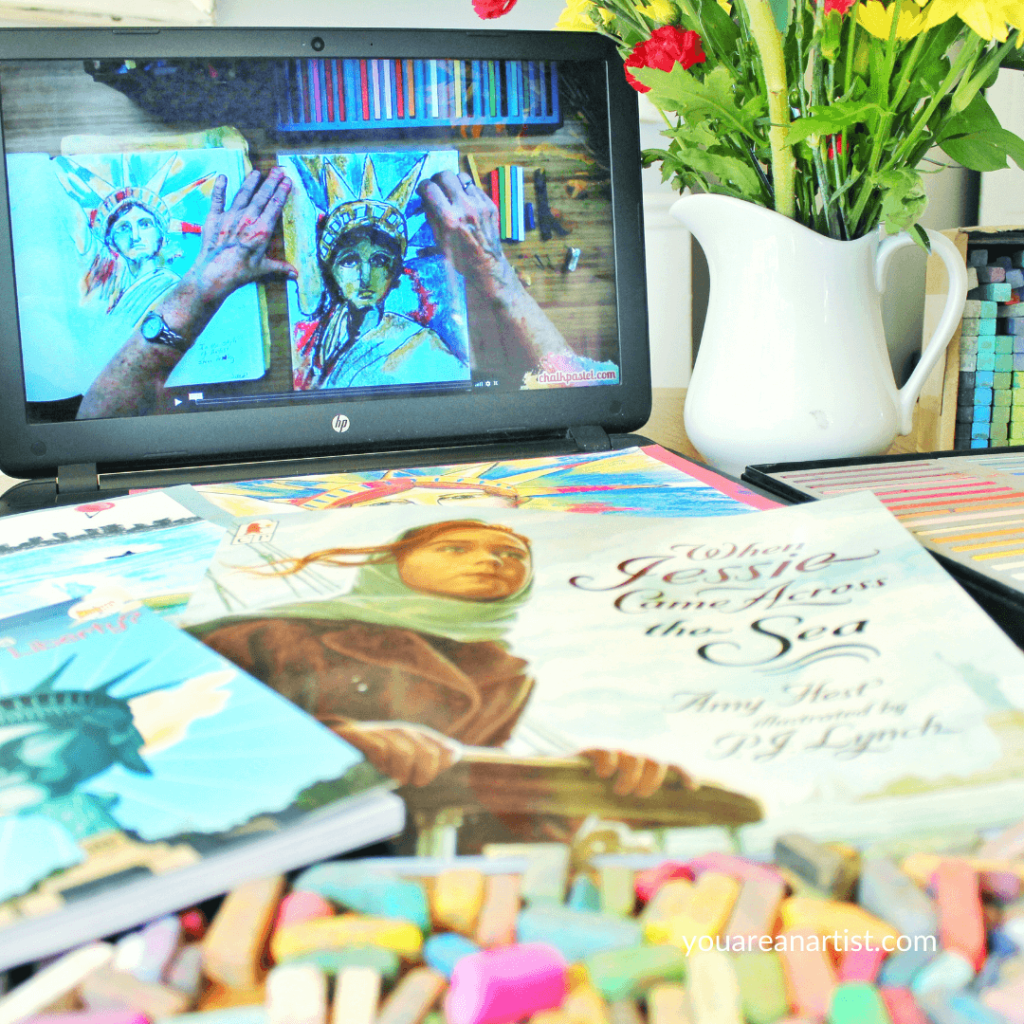 Additional Resources For Studying Famous Artists In Your Homeschool
Nana's Steve Penley Statue of Liberty lesson is a part of our Famous Artists Series. The You ARE An Artist Clubhouse Membership offers 47 famous artists video lessons for your homeschool including:
Vermeer
Michelangelo
da Vinci
Warhol
Monet
Rockwell
Rembrandt
Lichtenstein
Audubon
Beatrix Potter
… and a new one added about once a month!
The Famous Artists series is exclusive to the You ARE an Artist Complete Clubhouse. There is so much to learn about art, artists, and art history! The Famous Artist series is the perfect way to introduce these master artists and their works to your kids!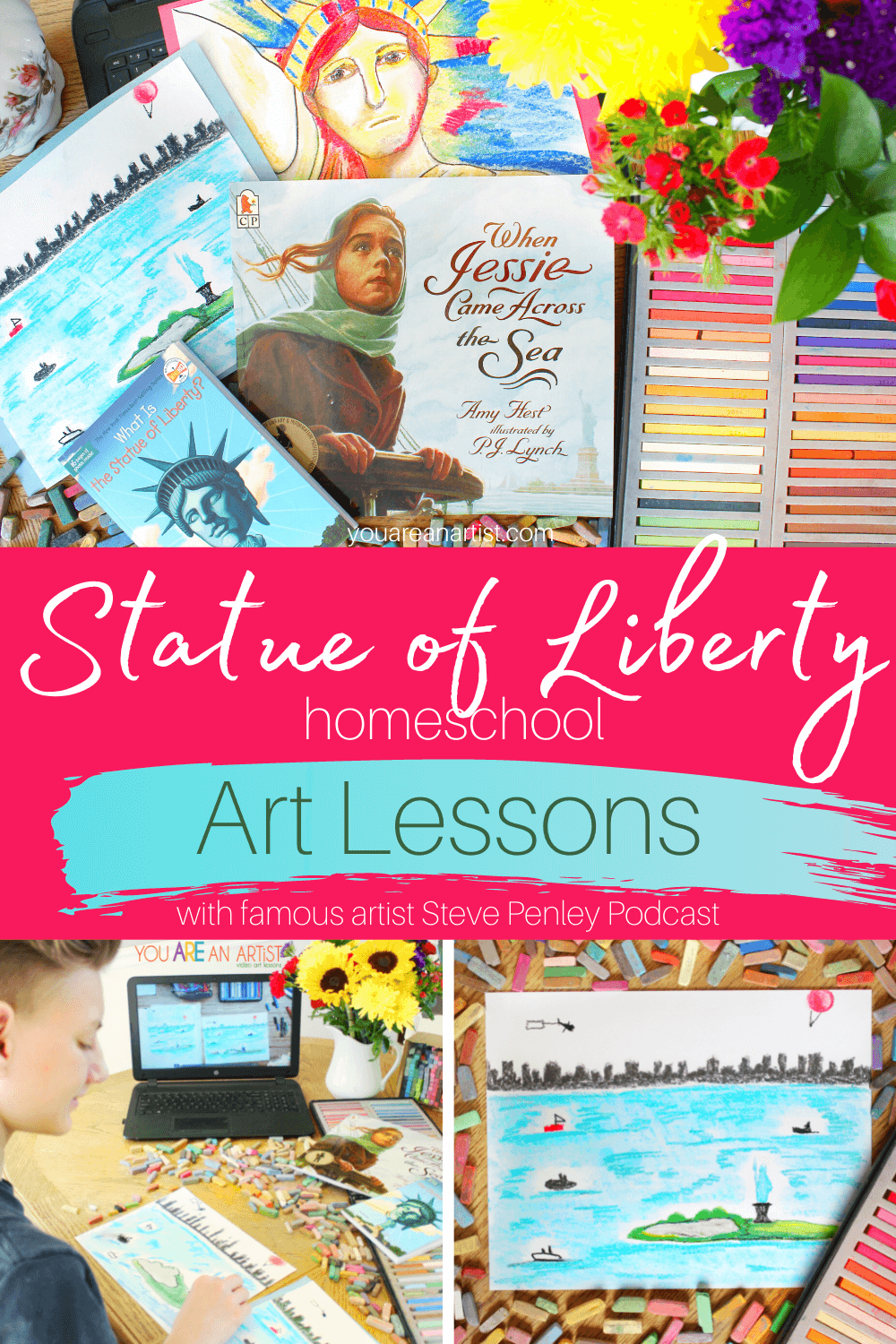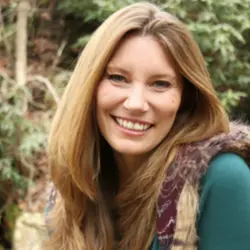 Erin is a writer, blogger, and homeschooler to two intense kids. Her blog is filled with information to help you explore a child led education while making meaningful connections with your children. Discover favorite read alouds, seasonal books, games, art projects, hands-on activities, and learn to just breathe through the ups and downs of life. She loves nature, farm life, good books, knitting, new pens, and hot coffee. Erin is a contributing writer for Weird Unsocialized Homeschoolers. Her work has also been featured on Simple Homeschool and Book Shark.