Are you looking for a summer art camp for your kiddo this year? How about an online summer art camp chocked full of artful activities? With just a little bit of planning you can create an online summer camp right from the comfort of your own home!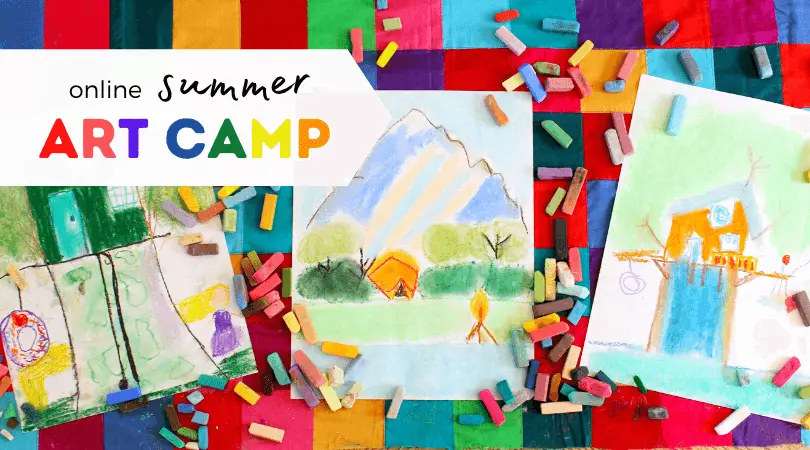 Online Summer Art Camp for Kids
Even if you can't get your children to a "real" summer art camp this year, I want to encourage you to explore an online camp. With the wonders of technology at our fingertips, this can be an amazing option for many families to choose from. Plus, art camp can be an easy way for kids to learn to express themselves this summer. That's because art gives children the chance to be creative, carefree, and engaged. Your child will gain self-confidence as they develop the skills and techniques to bring their creations to fruition. No artistic talent needed. Just an openness to creative expression!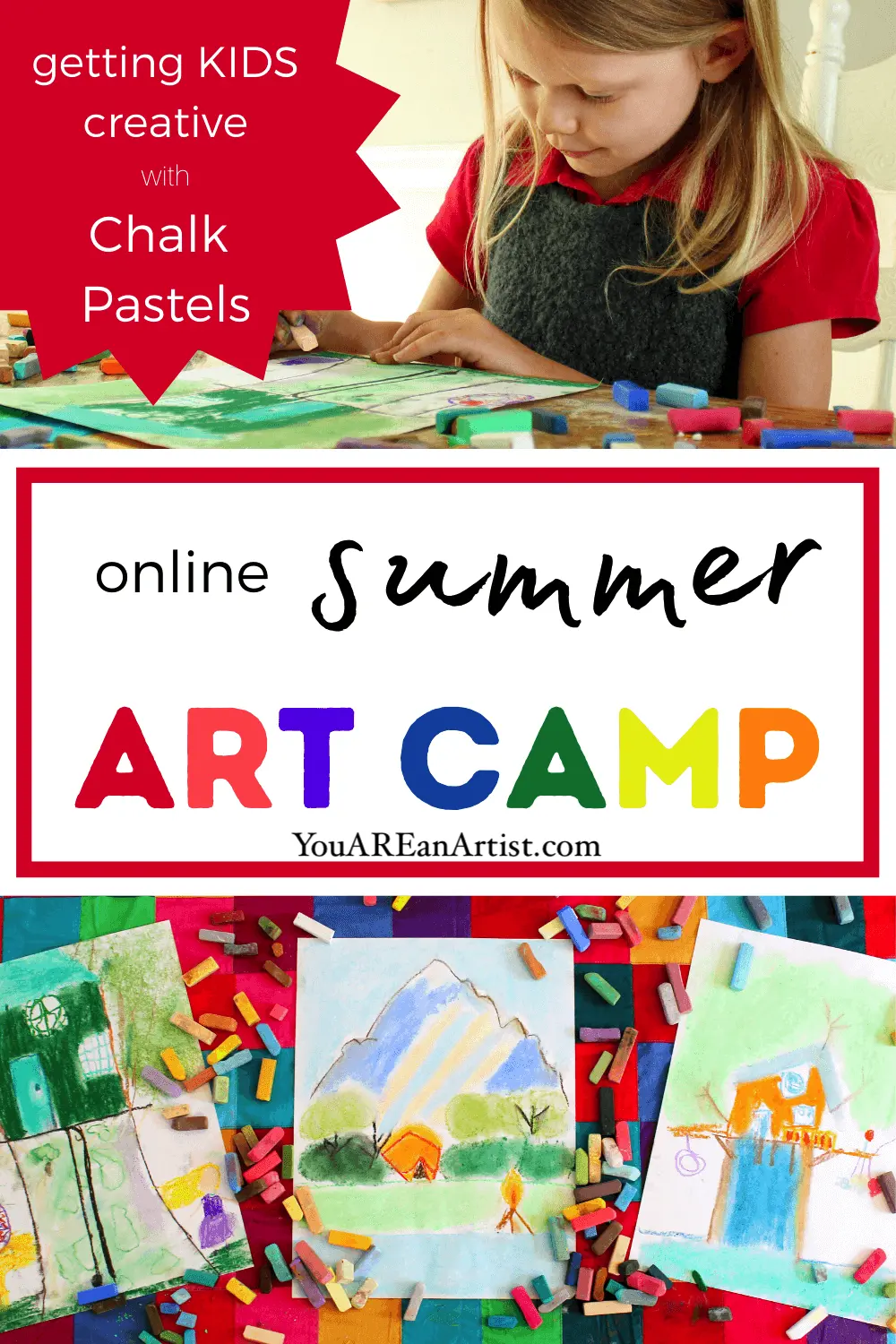 Summer Art Camp For All Ages
The first step in creating a fantastic online summer art camp to decide how long you want your summer art camp to be. Maybe you want to do one artistic thing with your kiddos per day for a whole week, or maybe you would prefer to have multiple lessons on only a single day. Do what works for you and your kids!
Next, gather your art supplies! We adore Chalk Pastels! They are so easy to use that preschoolers through adults can enjoy this wonderful art medium. Chalk Pastels make gathering needed art supplies easy. All you need is a set of chalk pastels, construction paper and the You Are An Artist Clubhouse Membership!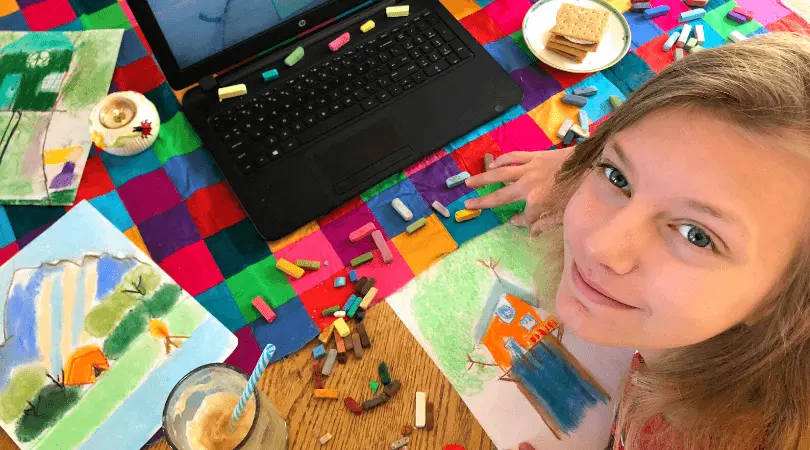 With the You Are An Artist Clubhouse Membership, you have access to a bank of art lessons for all ages, a wonderful art community; plus new art lessons from "Nana", including themed art events throughout the year! You don't have to worry about being the teacher, "Nana" has got your covered!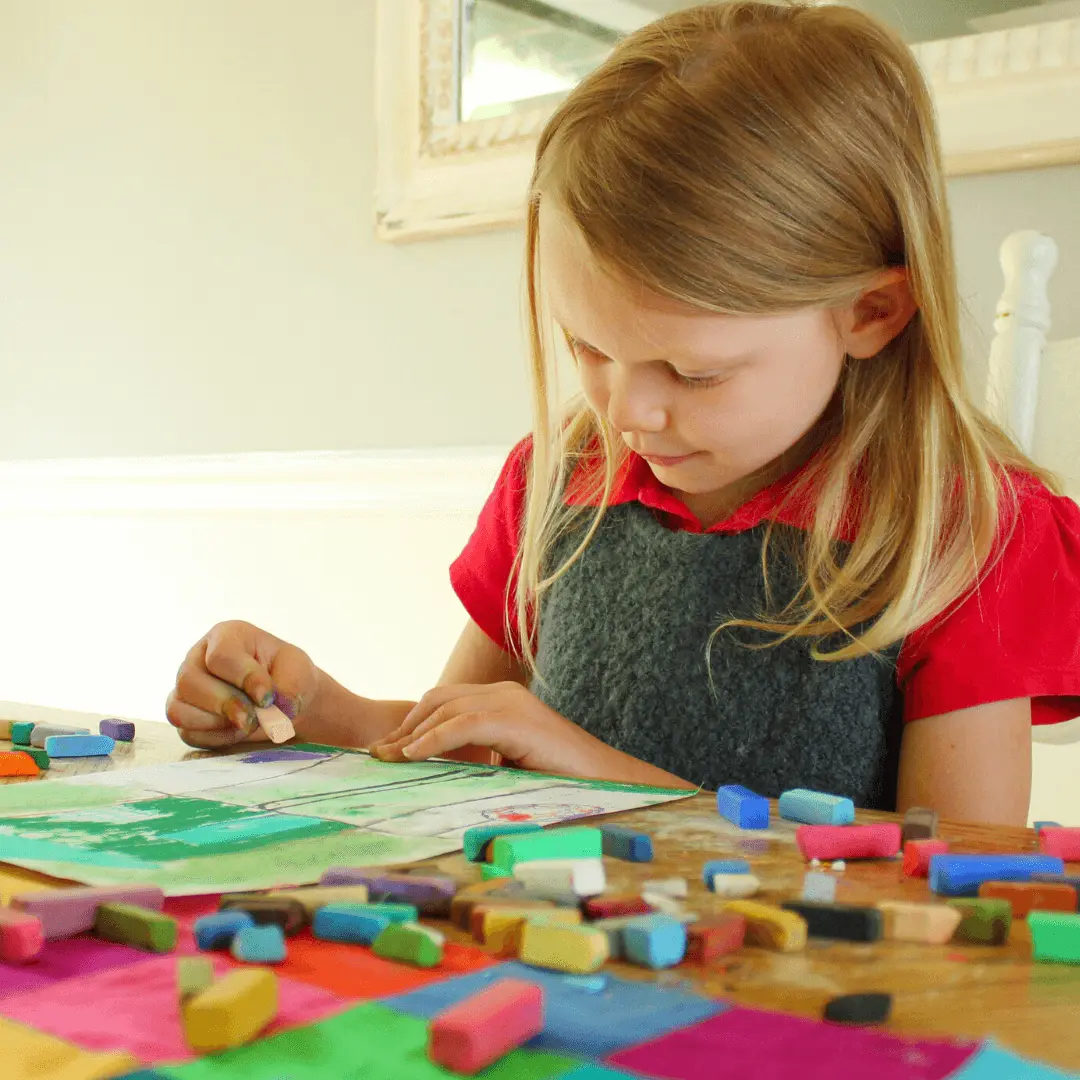 Let Kids Choose Their Own Lessons
My kid's love "Nana" and her videos! She is such a wonderful art teacher and with every lesson she always reminds us that, "You Are An Artist!"
Another aspect that brings my children joy is that they get to choose which art video lessons they want to explore. The Complete You Are An Artist Clubhouse Membership offers you endless access to the ENTIRE Chalk Pastel library of courses! Clubhouse members enjoy a monthly curated calendar with lessons chosen for you, should you choose to access it. Members also receive exclusive, new Summer Art Camp lessons.
That means your kiddos could choose:
Summer Camp Video Art Lessons which include camping, camp tree house, bubbles, canoes, hammocks, and pools!
Nature courses such as Sharks, Seashore, Forest Nature, Spring, Garden Nature, Backyard Nature, Pond Nature, and more! Many of these Nature lessons contain everything kids love about summer – lightning bugs, beach vacations, bullfrogs, dragonflies, flowers, and dandelions.
Famous Artists series explores Michelangelo, da Vinci, Monet, and Rembrandt.
American Landmarks Lessons include the Liberty Bell, Washington Monument, Niagara Falls, and loads more landmarks you'd only see on summer road trips.
Plus, so much more!!!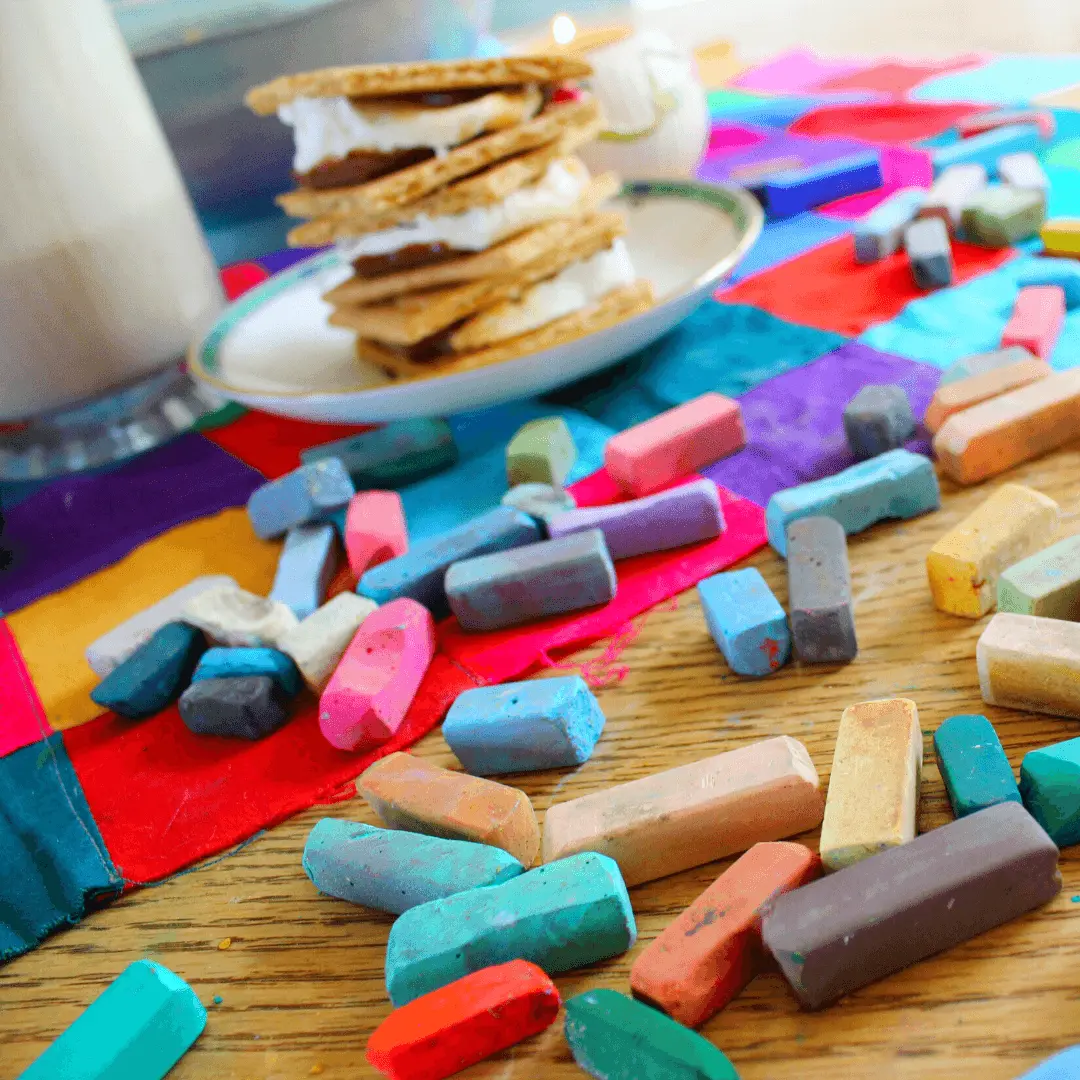 Making Summer Camp Special
So, how can you make your kiddo's online summer art camp just a little bit extra special?
Set the table with a fun tablecloth or strip of fabric. I used an old top to a quilt that was never finished. The colorful squares just screamed summer picnic!
I added a vase of flowers to the table that I had picked earlier from our yard.
Light some candles, tealights, or string a few Christmas lights to give off that "campfire" glow.
Following the summer camp/picnic theme I let the children make their own S'mores in the microwave. If you've got the time and the day is nice and sunny, you could always let your kiddos make Solar Oven S'mores before getting started with their art.
Nothing says summertime like S'mores and Root Beer Floats; however, any treat and favorite beverage will do. It doesn't have to be fancy!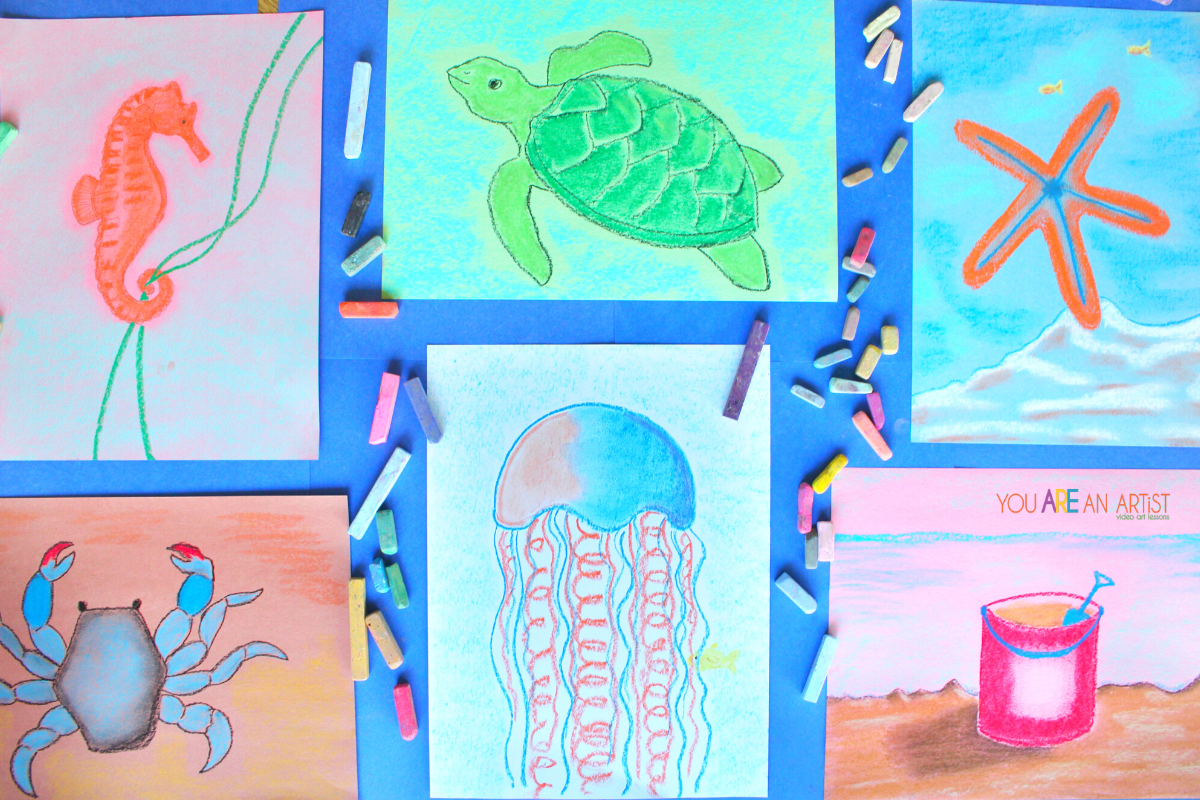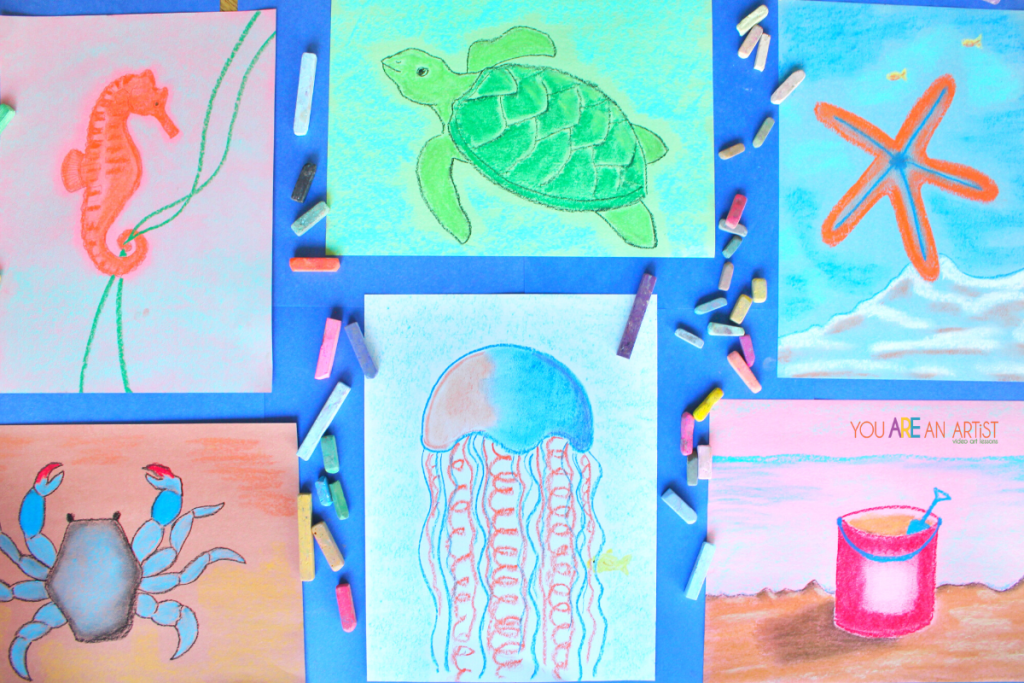 Tailoring Summer Art Camp to Your Child's Interests
Besides the ideas above, you and your children can choose to focus on a specific area of Summer Art Camp with Nana!
Choose from: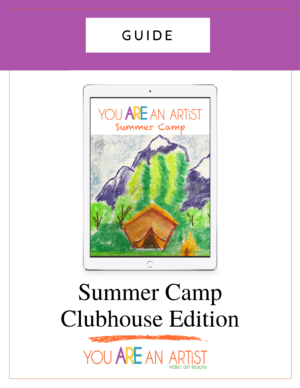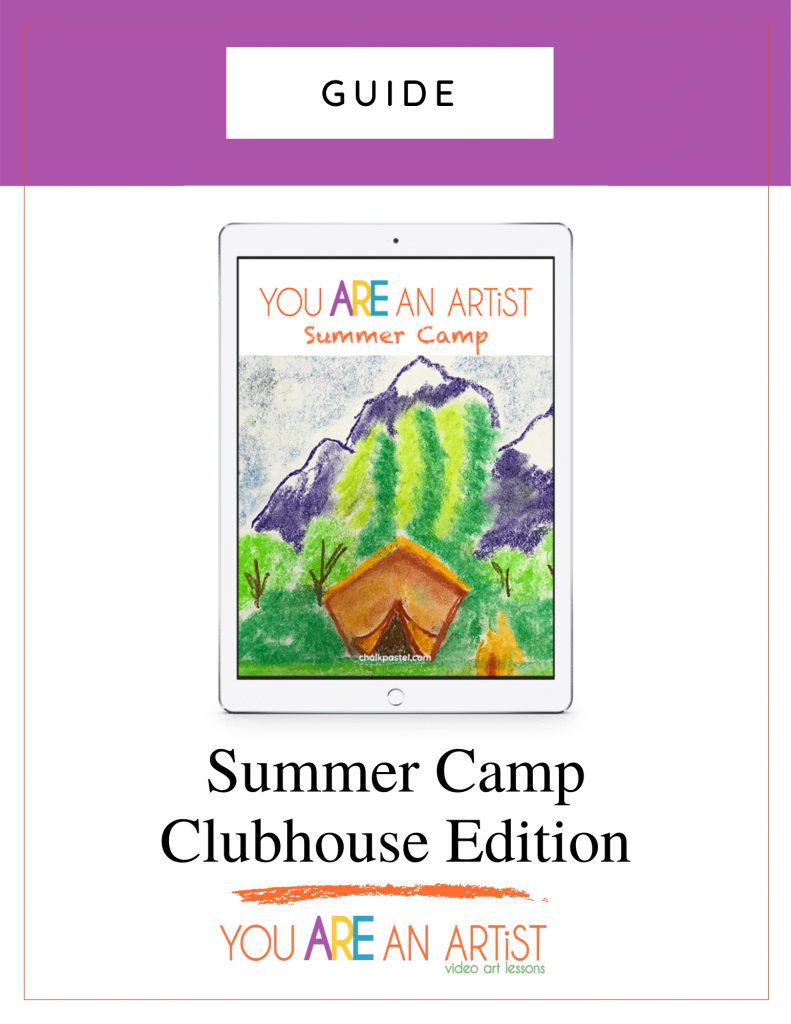 You ARE an ARTiST Clubhouse members enjoy a calendar filled with summer camp art lessons for an entire month. Plus, a fabulous Summer Camp Guide FULL of fun ideas: themed days for each day of the week, detective work, planners, a certificate of completion to print out for each week and more! There is even a special prompts list from Nana!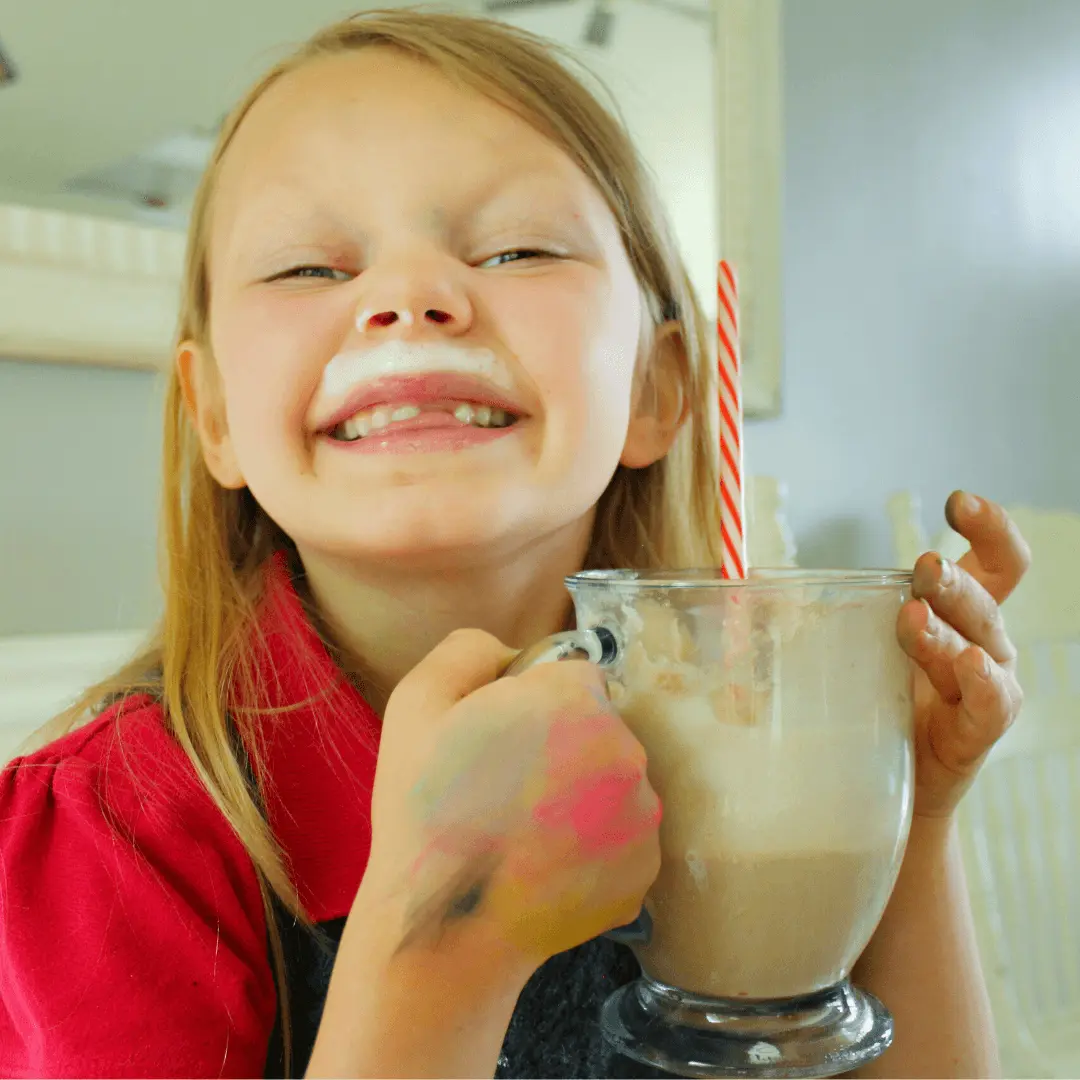 Summer Art Camp Fun
I like to include the poetry teatime aspect to our art time by making it enjoyable with treats, beverages, and twinkle lights or candles. The ambiance and fun factor can change a child's perception of art! It doesn't matter what the art looks like. It doesn't have to be perfect. All that matters is that your children are finding joy and making memories. I always quote Miss Frizzle to my kids, "get messy, make mistakes!"
But keep a roll of moistened paper towels nearby.
Easy Online Summer Art Camp
Summertime is the perfect time for kids to explore and get excited about art! With endless chalk pastel lessons to choose from, your kiddos are going to love celebrating these lazy months in new creative ways.
An art camp is perfect for kids this summer as it provides a wonderful artistic outlet!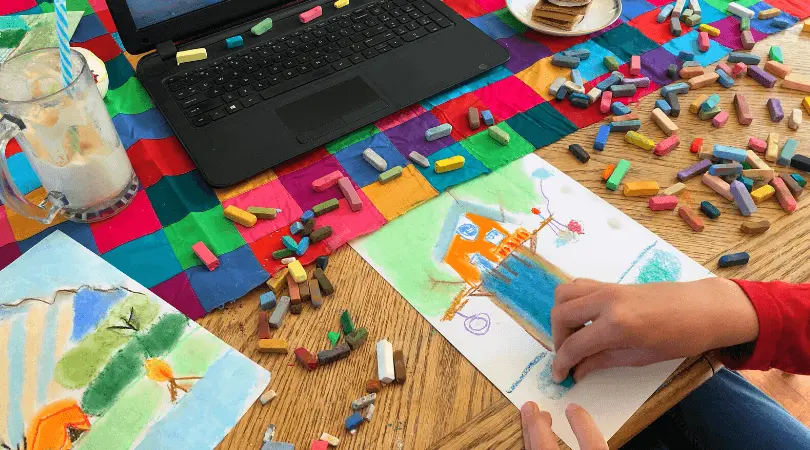 So, call the kids in from the heat and watch as they learn, explore, and grow their imaginative talents! Your children are going to enjoy traversing the world of chalk pastels. There is so much to discover about color, technique, and self-expression with an online summer art camp! Additionally, at the end of each lesson they will always be reminded that they ARE an artist!
Online summer art camp is one of the MANY benefits of You ARE an ARTiST Clubhouse membership. Our Clubhouse members enjoy special events and new art lessons!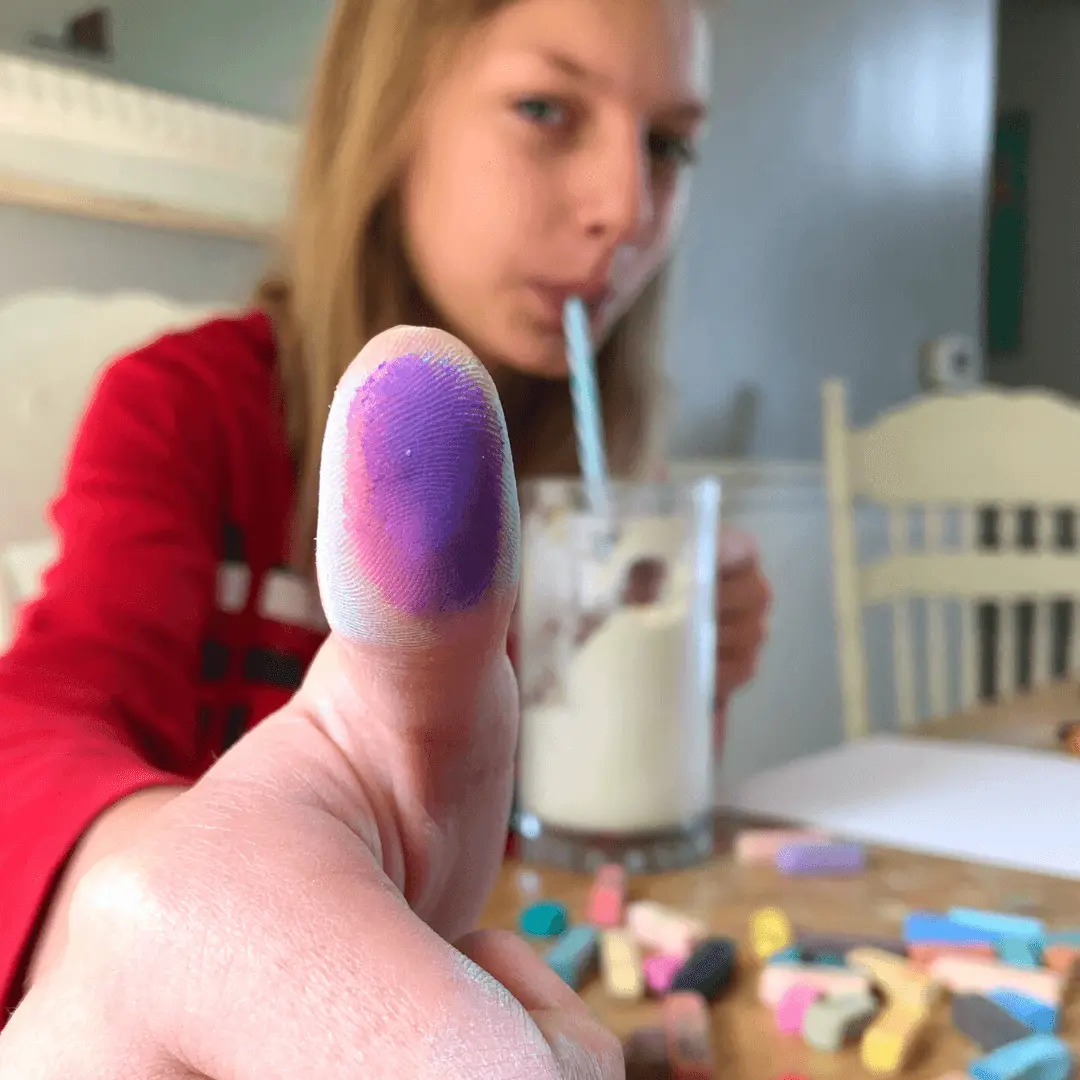 Enjoy a Sample Online Summer Art Camp Lesson – Treehouse
Suggested supplies: white construction paper and all the chalk pastel colors! Baby wipes or slightly damp paper towels for easy clean up.
You might also like:
Erin is a writer, blogger, and homeschooler to two intense kids. Her blog is filled with information to help you explore a child led education while making meaningful connections with your children. Discover favorite read alouds, seasonal books, games, art projects, hands-on activities, and learn to just breathe through the ups and downs of life. She loves nature, farm life, good books, knitting, new pens, and hot coffee. Erin is a contributing writer for Weird Unsocialized Homeschoolers. Her work has also been featured on Simple Homeschool and Book Shark.