My two youngest children have been looking forward to the end of Charlotte's Web for a while now. Not because they haven't enjoyed it, but because they know that we will celebrate the end of the book with an art & tea time with Nana. It's has been our tradition to complete the book and join Nana for a corresponding art lesson. And honestly, I couldn't wait for this one either. Nana has the perfect Charlotte's Web homeschool art lessons to enjoy.
Charlotte's Web is a fantastic elementary read-aloud, and I am so excited to share some art & tea time ideas to help you plan something memorable for your homeschool too.
End of book celebrations are not only an incentive to complete the book, but they are a great way to continue to grow a love for reading. If you have a child who is a reluctant reader or hasn't adapted to family read-alouds yet, you may want to think about adding in these hands-on homeschool art lessons from YOU ARE AN ARTiST.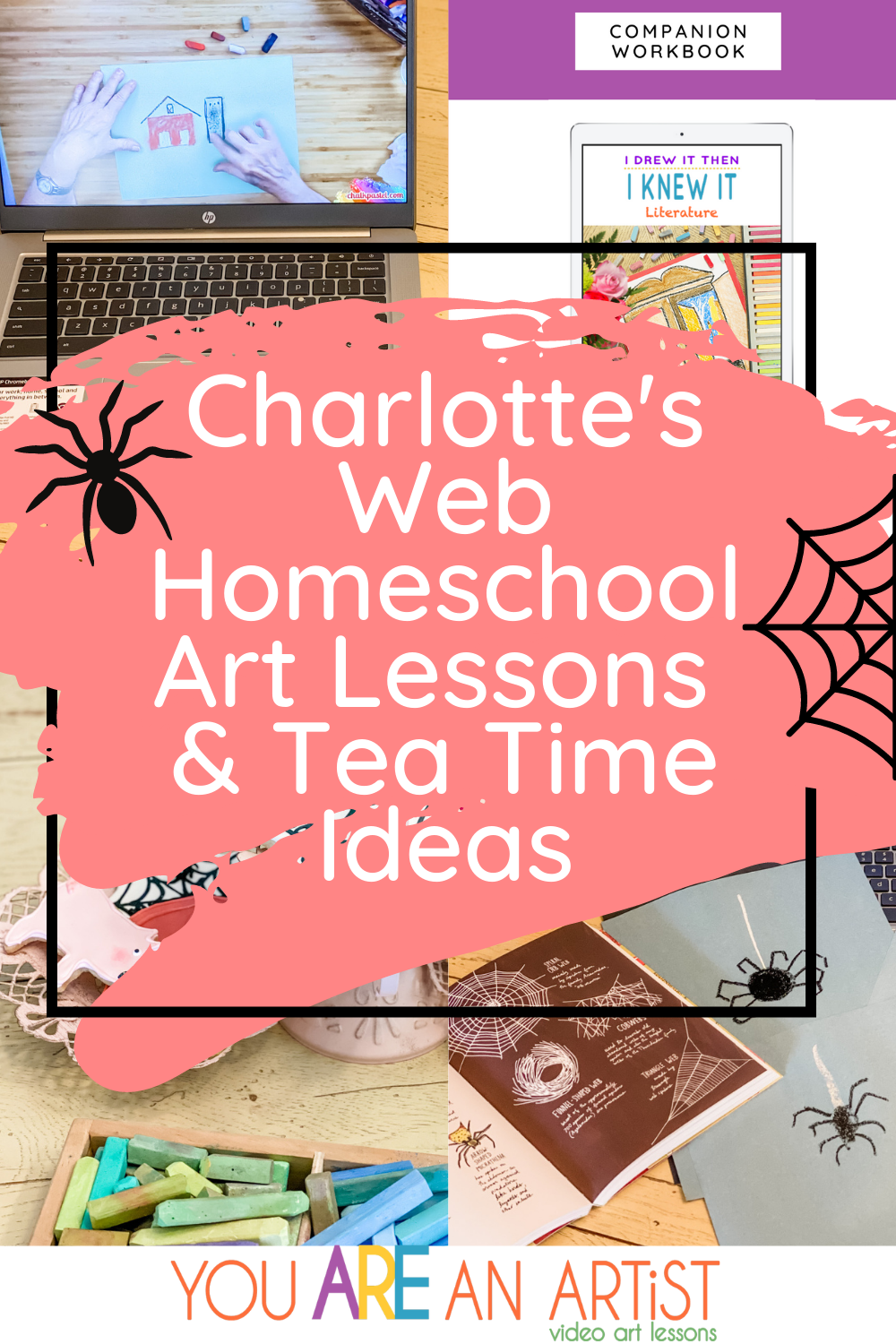 Charlotte's Web Homeschool Art Lessons
If you are going to host a Charlotte's Web homeschool art lesson & tea time, you have to draw Charlotte; am I right? The Spider art lesson is suitable for all ages and looks like Charlotte. Even your littlest of learners can join in on this one. Nana also has a colorful spider web art lesson. You can enjoy this one and even 'weave' in 'SOME PIG' and more of Charlotte's words.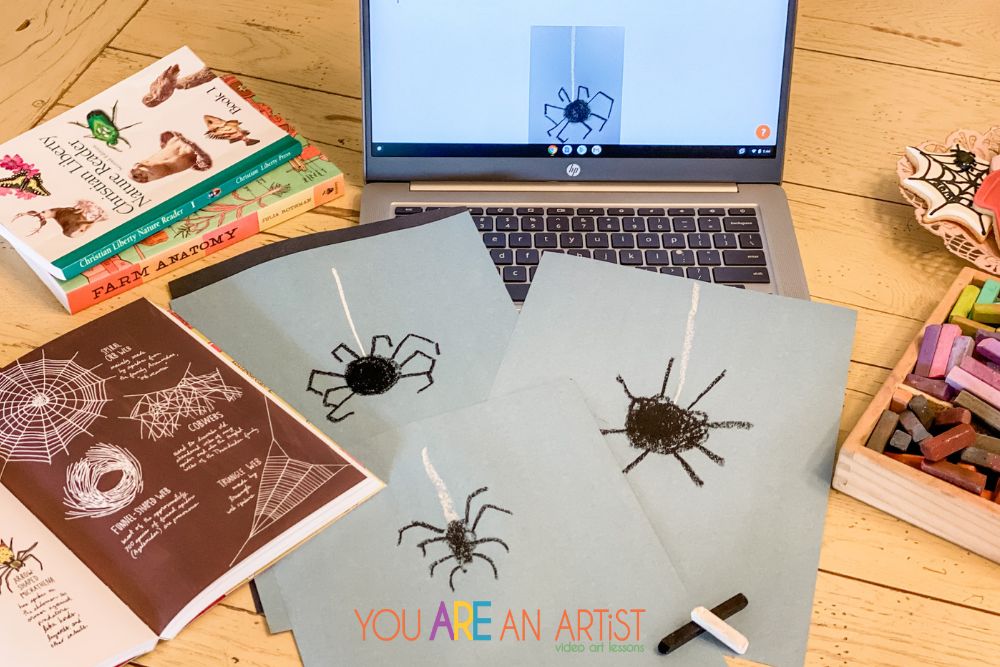 And of course, there is Wilbur! We have had so many discussions about him over the past couple of weeks; it is so much fun to create him finally. I love how drawing Wilbur really brought him to life for the kids.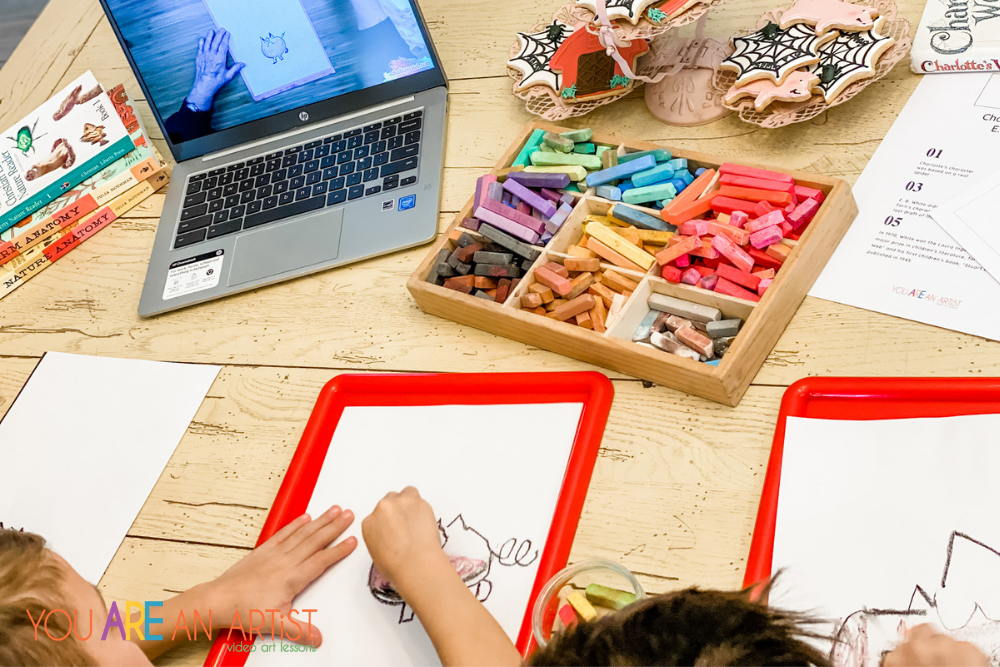 In addition to Charlotte and Wilbur, you may want to create some of the other animals in the barn. The Preschool Barnyard Course includes a Barnyard Farm, Tractor, Chick, and Mixed Animals Tutorials. These art lessons are easy enough for preschoolers but can also be used for elementary.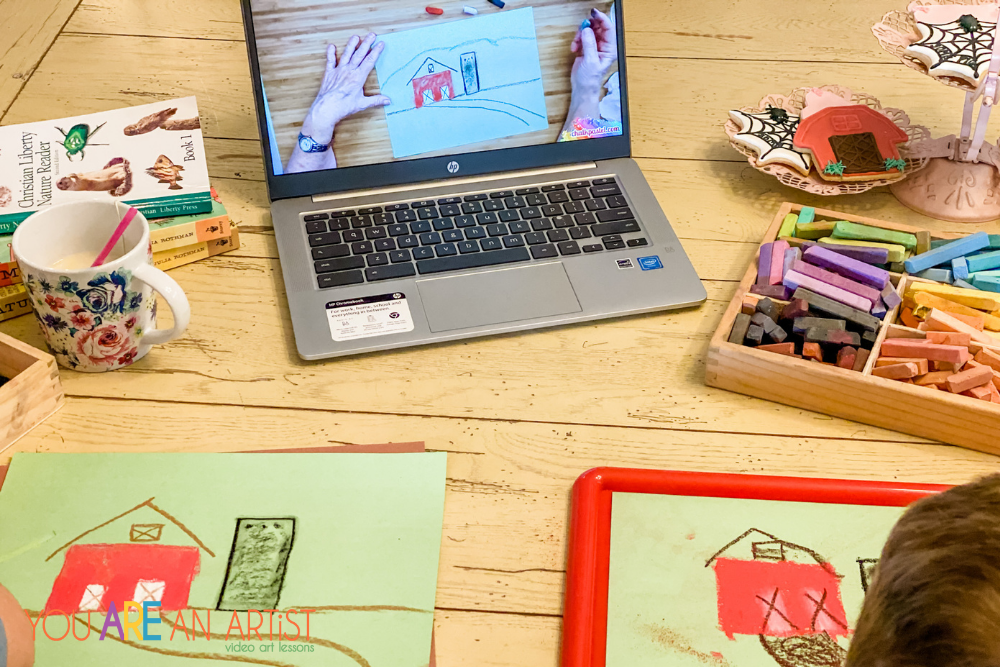 Other Charlotte's Web homeschool art lessons to include are from the Baby Animals, and Animals Courses – the lamb, piglet, and cow are perfect for rounding out your farm animals.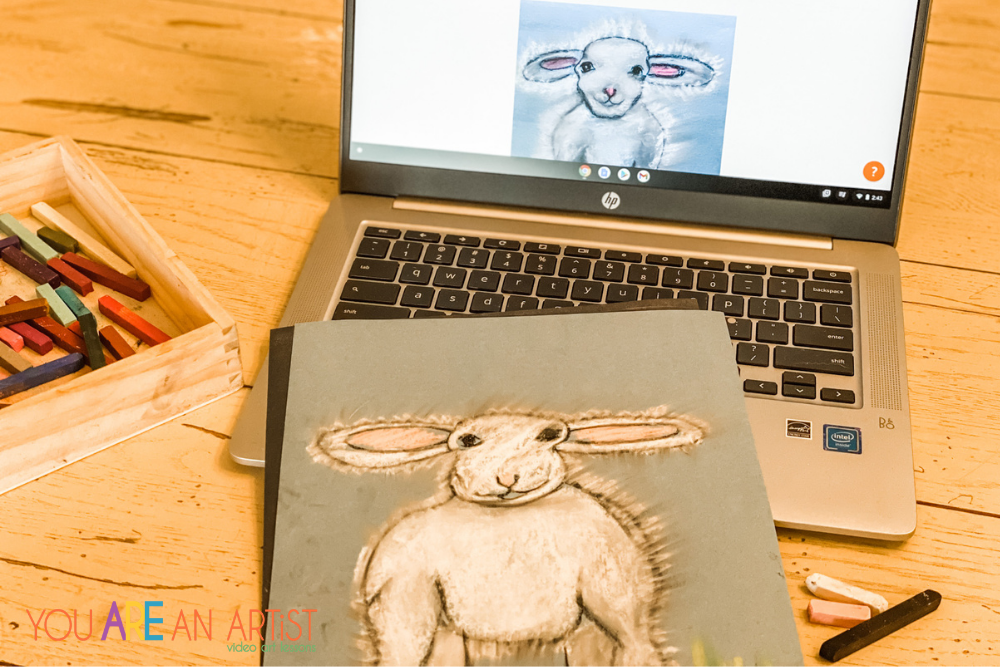 Educational Resources To Include While Reading Charlotte's Web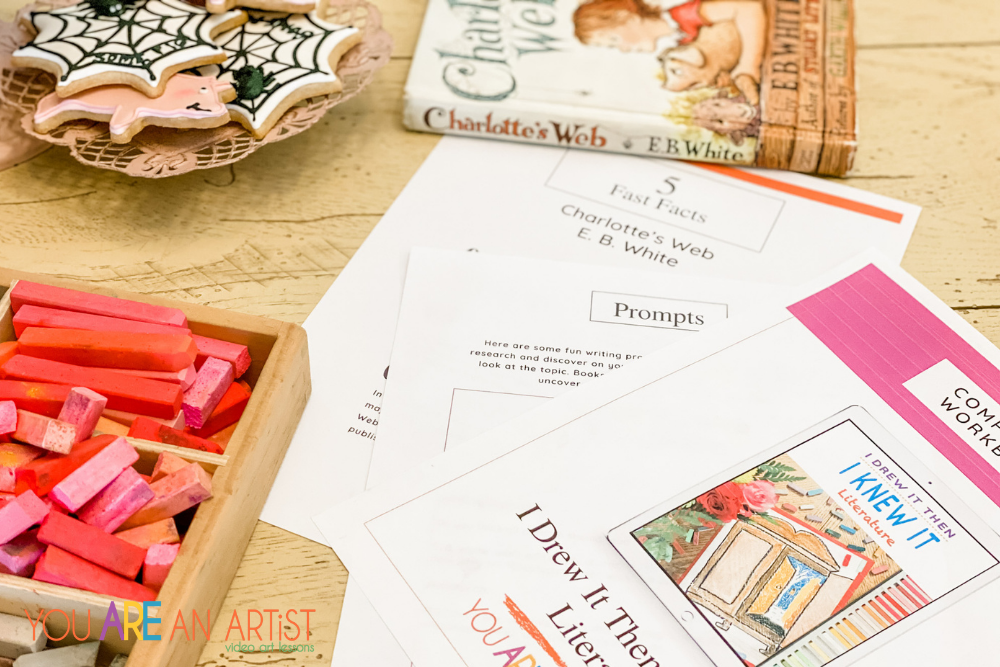 Literature: One of my absolute favorite resources that pairs with YOU ARE AN ARTiST online art lessons for homeschoolers are the I Drew It Then I Knew It Companion Workbooks! You can get a sneak peek into one here in a video where I show you all the details. But inside the Literature Companion Workbook, there is an accompanying lesson for Charlotte's Web. Eeeek, yes! It comes complete with 5 Fast Facts about E.B. White, Writing Prompts, Art Planners, and more. It is an excellent resource for all ages, and you can use it with multiple children.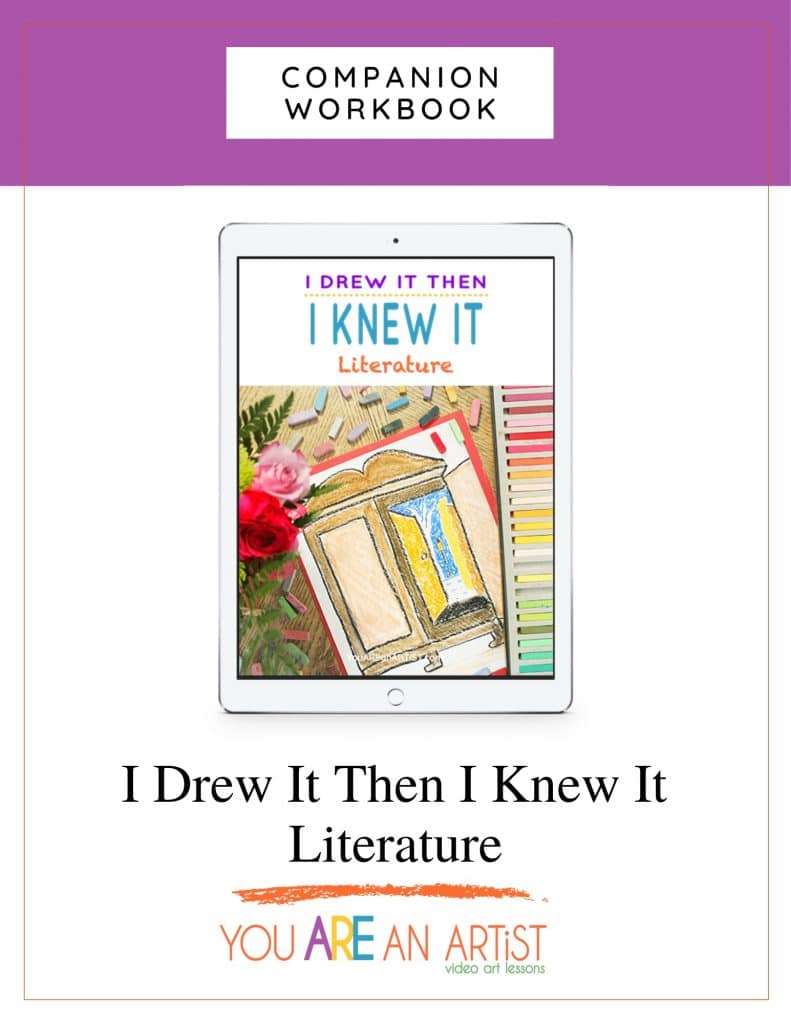 Spider: Spiders and web-spinning sure are fascinating! I can't tell you how many questions I fielded from the boys over the past few weeks as we read through Charlotte's Web. One resource that I found helpful is the Christian Liberty Nature Reader Book 1. It covered a few different spiders, and some of their incredible handiwork ties right into what Charlotte shares about herself and her cousins. You could also include the life cycle of a spider.
Research: Like me, you will probably answer plenty of questions such as why the pig eats slops? Or what are slops? These are great questions, and one thing that helped me was to make a list. Keep a notepad nearby and as questions pop up, jot them down to look up later so you won't have to interrupt your reading aloud.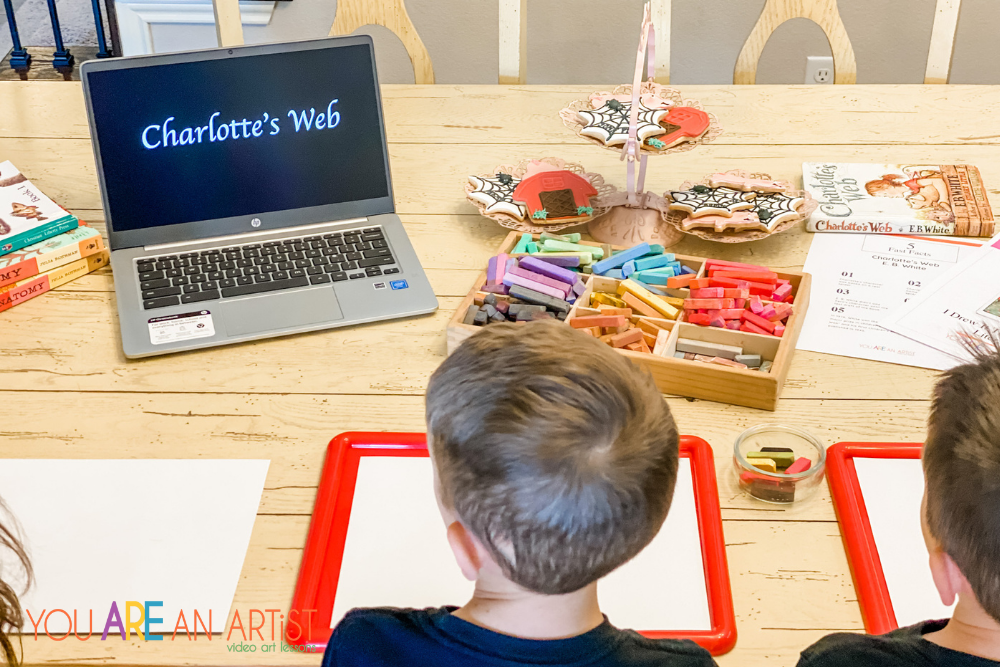 Farm Life and Animals: Your children may also be interested in some of the other animals on Zuckerman's farm. If so, animal reports are another easy and effective way to learn more. Creating an animal report can be as easy as making a page in a spiral for each animal. As your kids research, you can record facts and other interesting tidbits about each animal. Another excellent resource to accompany your farm life and animal research are Julia Rotham's Farm Anatomy and Nature books. They are packed with illustrations and information to help you dive into all things farm-related and nature.
Vocabulary: Charlotte's Web is filled with words that may be new to your students. Add these words to your list of things to look up later. You can look up the definitions and also practice spelling with them. This may also be a good opportunity for you to help teach your kids how to look up words in the dictionary.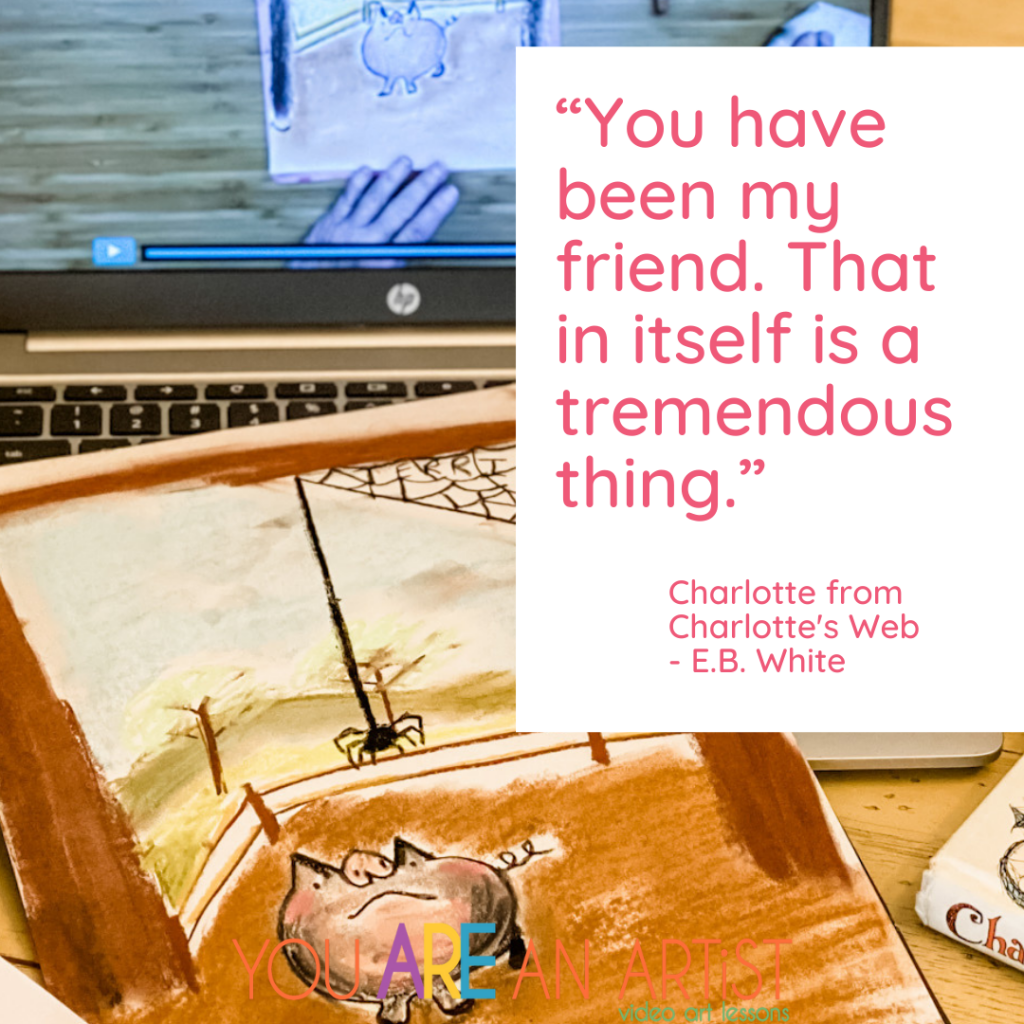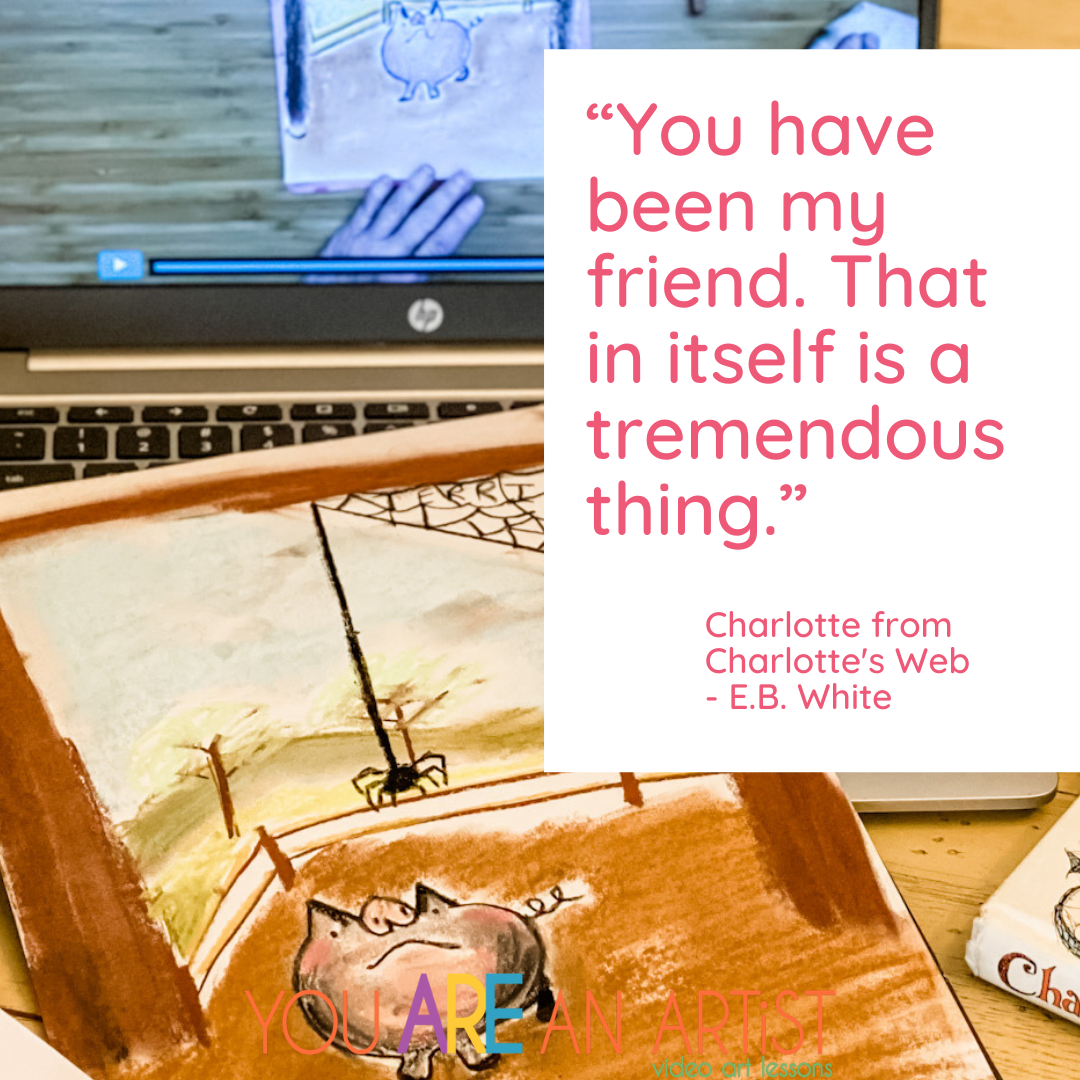 Field Trip & Activity Ideas To Complement Charlotte's Web Homeschool Art Lessons
Visit a local farm. 
Take a trip to the apple orchard. 
Watch one of Charlotte's Web movie adaptations. 
Find a local or state fair to attend. 
Bake Nana's Apple Pie.
Make sure to add art with Nana! You can enjoy so many art lessons to complement all that you are studying.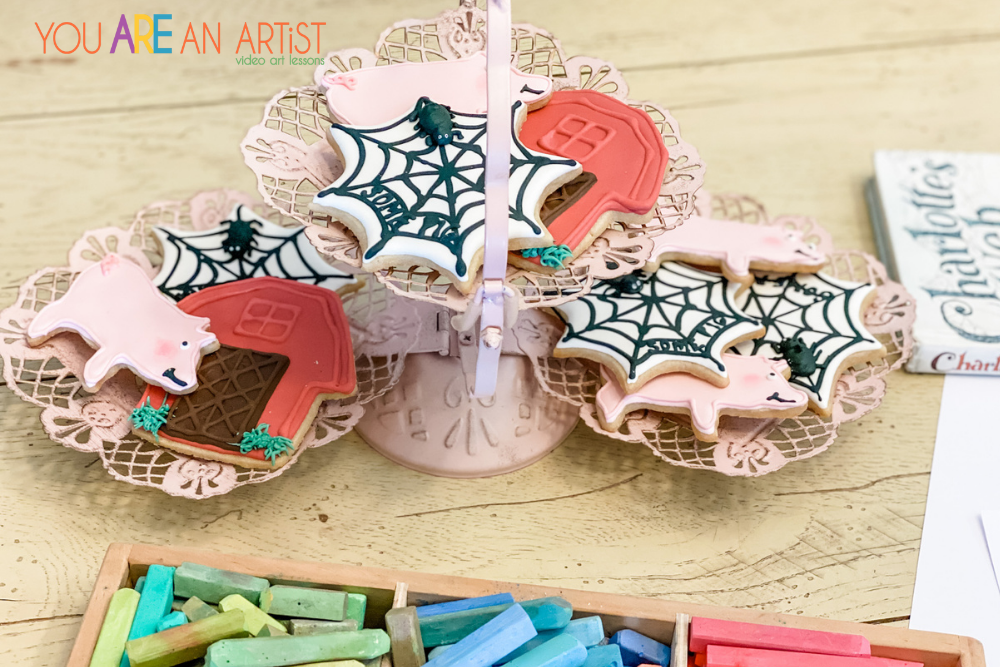 Tea Time Ideas for Charlotte's Web Homeschool Art Lesson
We love our tea time while we enjoy our online art lessons with Nana. It is a favorite in our homeschool and almost always includes food. We all like the feeling of creating, relaxing, and enjoying some tea & treats together. But, I have to admit, since this was an end-of-book celebration that my youngest two were really looking forward to, I decided to do something special and have cookies made. Charlotte's Web was one of their first bigger chapter books to complete, and I wanted to encourage their eagerness to read and learn. So don't go thinking I made those adorable cookies! Lol But seriously, if you haven't done a fun tea time like this, you should definitely try it. Even with the simplest of snacks, my children still think our time with Nana is the best.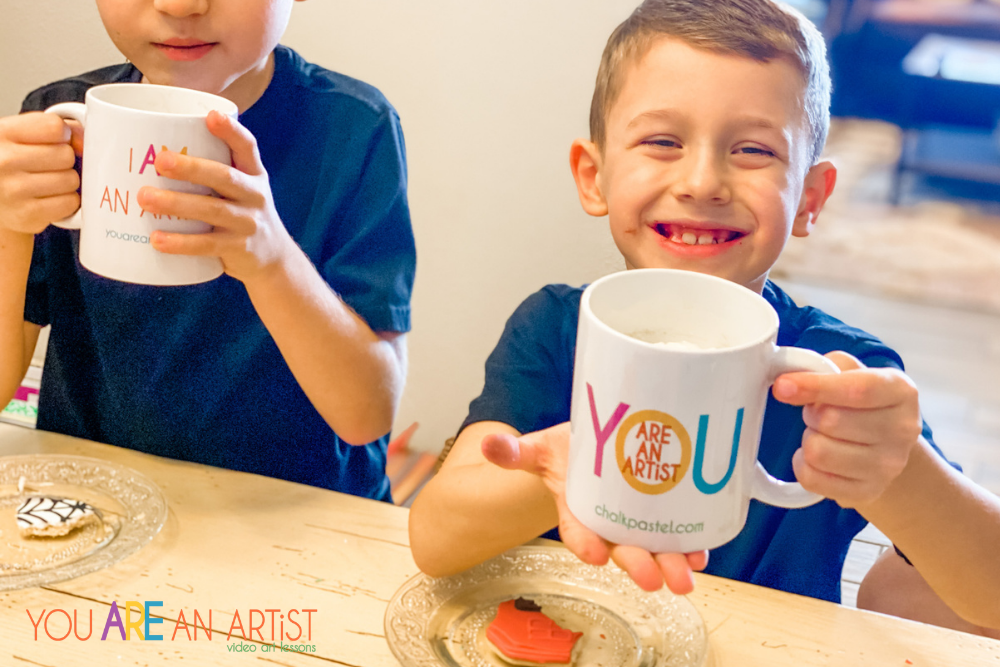 You can choose any kind of treats for Charlotte's Web Homeschool Art Lessons – farm-shaped cookies, animal cupcakes, easy muffins, all make fun tea time treats. But my children will spend more time creating and listening when there are tasty treats in front of them. And tea, of course.
You don't have to wait till the end of the book to experience online art lessons with Nana; you can incorporate art into any homeschool lesson anytime with YOU ARE AN ARTiST'S self-paced video art lessons. Your kids will thank you! Grab a membership today and enrich your homeschool with art.
Courtney is a Jesus-pursuing, native Texan, homeschool mom of three, and she believes homeschooling can be a peaceful and productive rhythm. At Grace, Grow & Edify she helps families create peaceful homeschooling atmospheres through faith, organizational strategies, and cultivating strong roots at home. She is also the founder of Homeschool Mastery Academy.