Dr. Seuss art activities for kids with chalk pastels? Yes, please! How adorable would a Cat in the Hat be hanging on your refrigerator? How about the lovely Truffula Trees? Nana has a lesson for both! Now you and your kiddo can enjoy a Seussical art time with chalk pastels!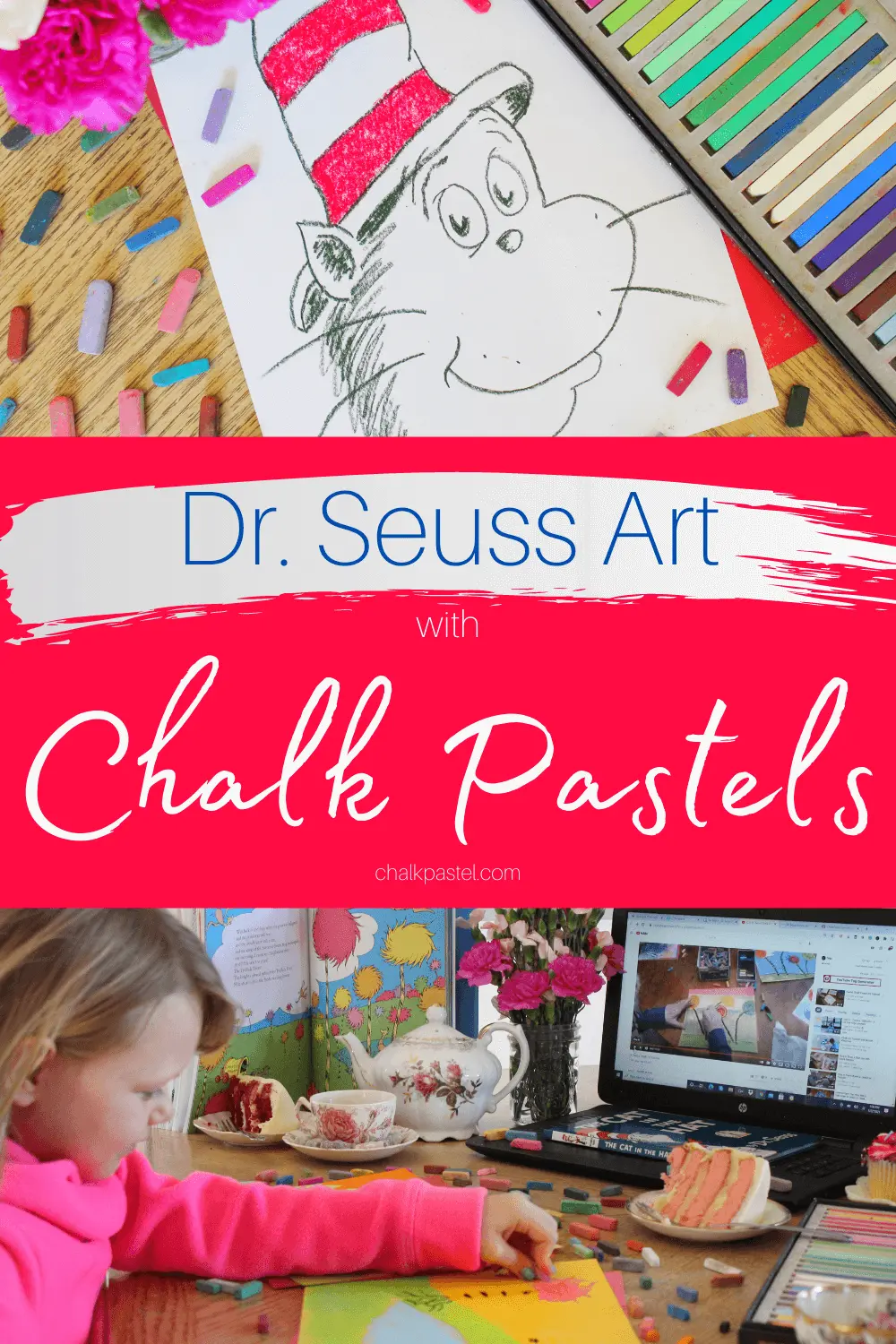 Dr. Seuss Art Activities for Kids
Here we go, go, go, go on a chalk pastel art adventure! Oh yes, Dr. Seuss makes for a whimsical teatime. Teatime art lessons are such a fun way to highlight a favorite book or read aloud.
My daughter has been really enjoying her Dr. Seuss books lately, so I was thrilled when I saw that Nana had video art lessons for the Cat in the Hat and Truffula Trees!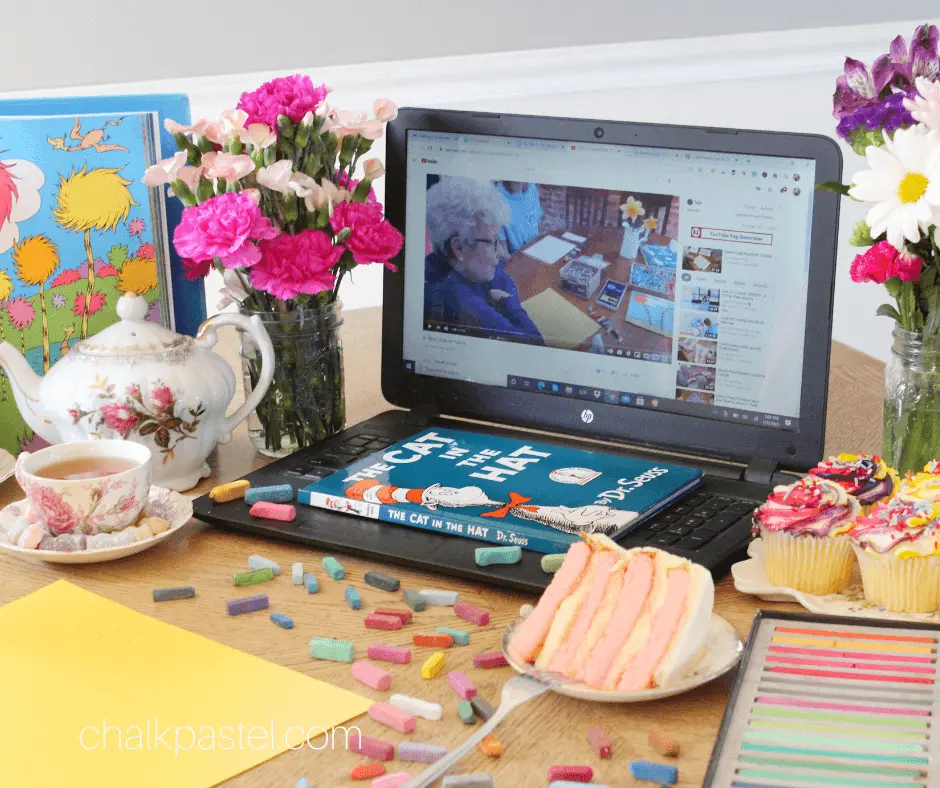 Chalk pastels are a great way to supplement learning. If your kids are studying something, then Nana probably has an art video to go along with it! Are you children studying birds? She's got you covered! How about geography? Yep, she's got chalk pastel maps! But what about science, nature, or history? YES! Nana has lessons on it all!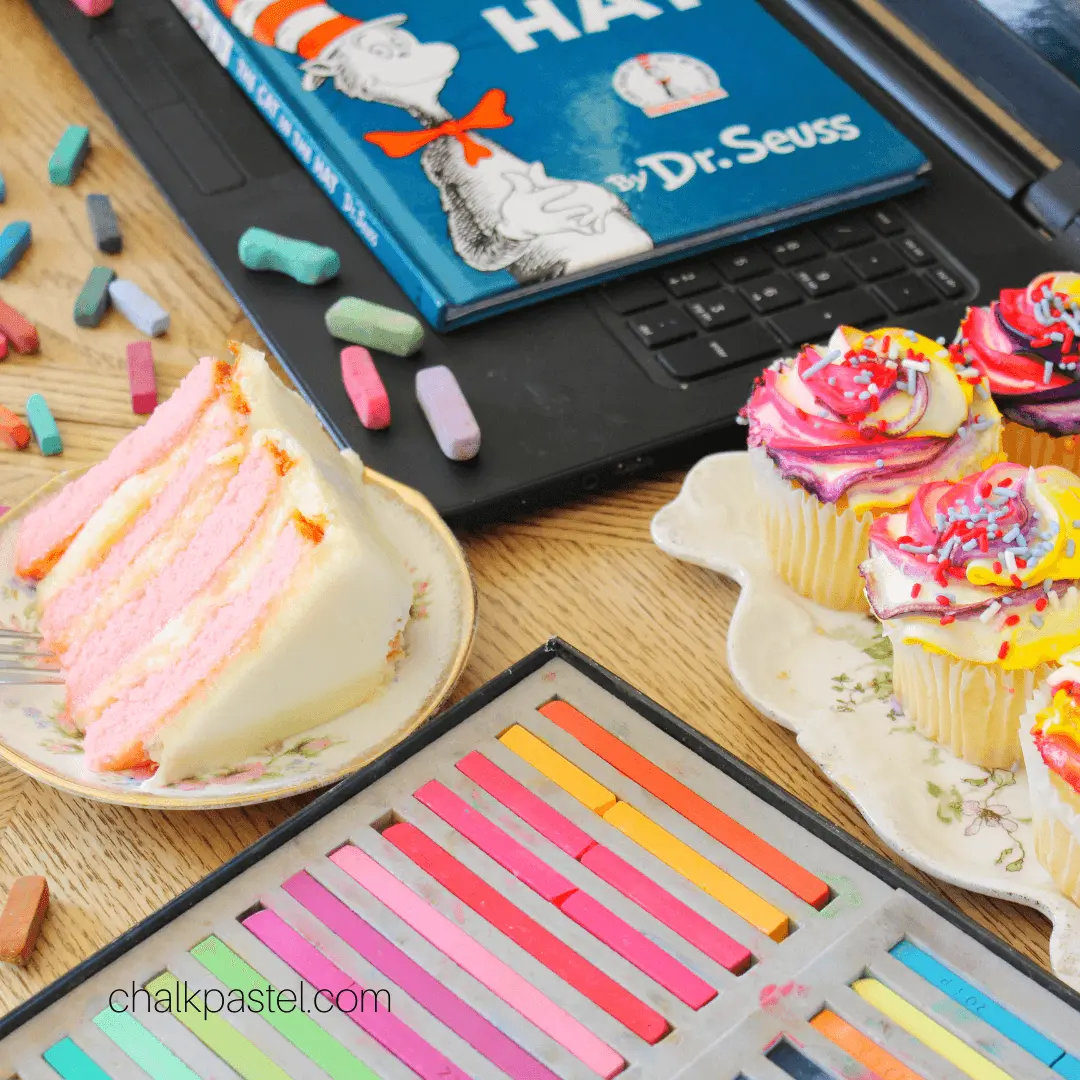 Now, part of our weekly art tradition is to make our chalk pastel art time into an art teatime. I like to serve favorite beverages and tasty treats. It's something we've done for years in our homeschool and it just makes our art time a bit more magical and memorable.
Dr. Seuss Art with Chalk Pastels
Chalk pastels are so simple to use that the whole family can join in. Plus, they're fun! All you need is a starter set of chalk pastels, construction paper, and a damp paper towel. That's it! No intimidating supply list. My son even joined in because who can say no to art and yummy treats?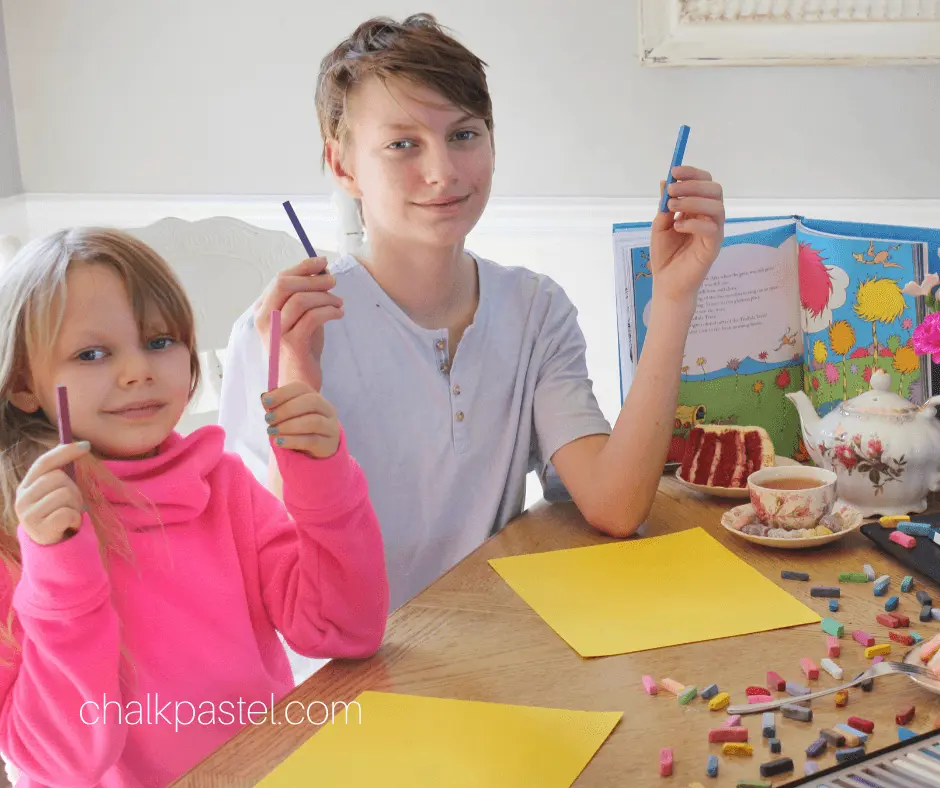 The Cat in the Hat Homeschool Art Lesson
We started our Dr. Seuss art with the famous Cat in the Hat! Nana showed us step-by-step how to draw this entertaining creature. Just don't let him make any huge messes…unless he's going to clean them up!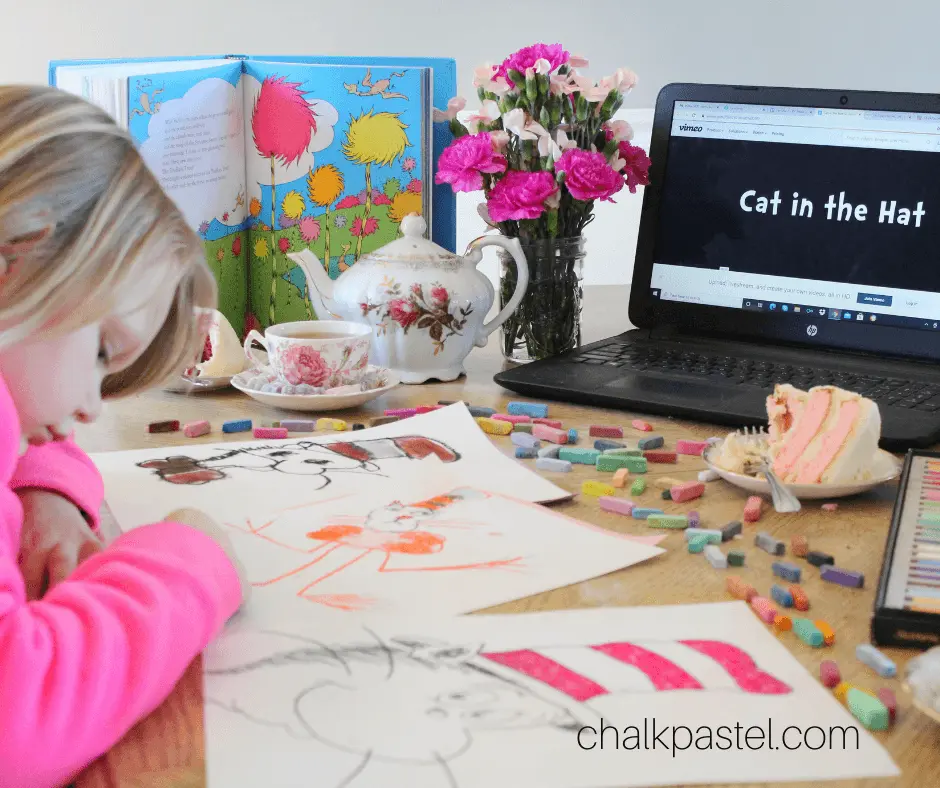 Truffula Trees Art Activity
Oh, the lovely Truffula Trees from "The Lorax!" Aren't they so beautiful swaying in the breeze? We really had fun with the different colors and swirls of these famous trees.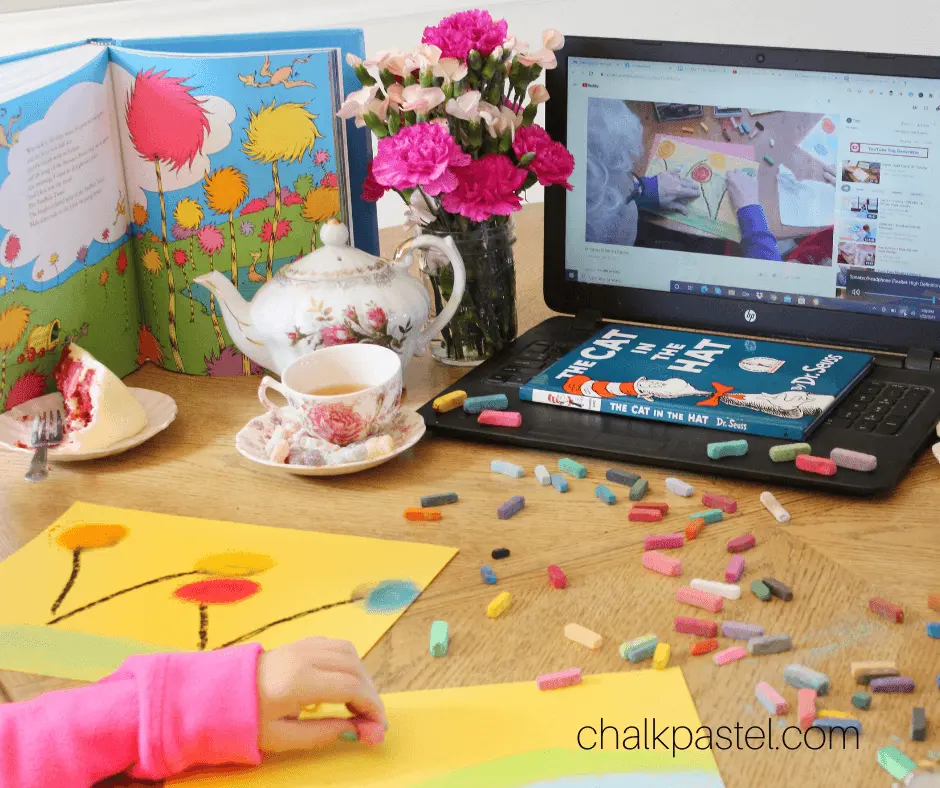 You ARE An Artist Clubhouse Membership
With the You ARE An Artist Clubhouse Membership you'll have access to over 700 video art lessons including the Dr. Seuss art activities for kids and all of Nana's Preschool and Teatime art lessons!
Here are just a few of the Teatime art lessons your kid's will have access to:
Apple
Bird Nest
Castle
Chalk Pastel Nature Journaling
Christmas Star
Columbus Sailed the Ocean Blue
Creation
Dr. Martin Luther King, Jr.
Frosty Leaf
Golden Gate Bridge
Great White Shark
Hummingbirds
Ice Cream Cone
Northern Lights
Nutcracker
Palm Branch
Pond
Pumpkin
Sandcastle
Shield
Spring Tree
Snail
Snowman
Summer Camping
Sun
Tree
Watermelon
Plus so much more!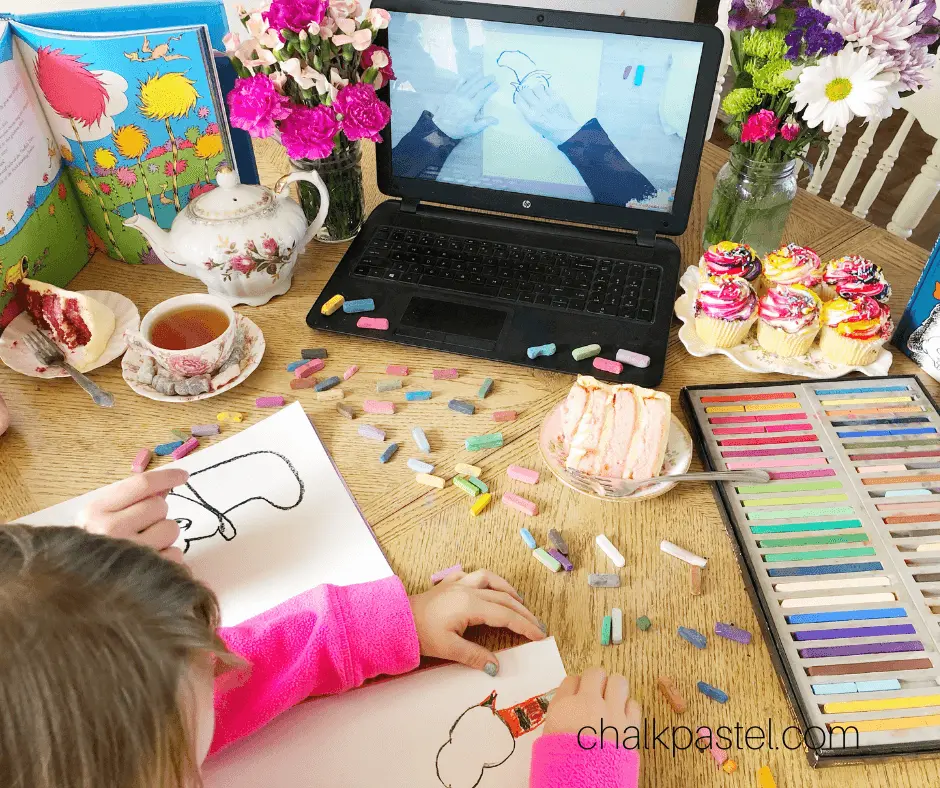 Dr. Seuss Art with Chalk Pastels
Seriously, we've been using Nana's chalk pastel lessons for years and I don't think we've done the same lesson twice! There is so much to choose from, and that makes it super easy to pair art with your current studies. Be it Sharks, Space, or Dr. Seuss art it's all included in the Clubhouse Membership!
You can make your art time as whimsical and creative as you like with food, drink, and flowers. Enjoy these creative moments and embrace the chalk dust mess. After all, "You ARE all artists!"
Suggested supplies: white construction paper plus black, red and blue chalk pastels. Baby wipes or a slightly damp paper towel for easy clean up.