Winter is a wonderful time for tea in your homeschool. Most of us have seen lovely homeschool tea time spread photos on social media and feel intimidated to try our own. Or perhaps, you aren't quite sure where to begin.
Well, I want to share a poetry tea time with you today that is easy to set up, and every bit counts as educational. And, if your children are anything like mine, they will be asking when the next poetry tea time is.
One of the best poems to enjoy during winter is the renowned Robert Frost's, Stopping By Woods On A Snowy Evening. It is one of those poems that instantly comes to life with all of the delights of winter.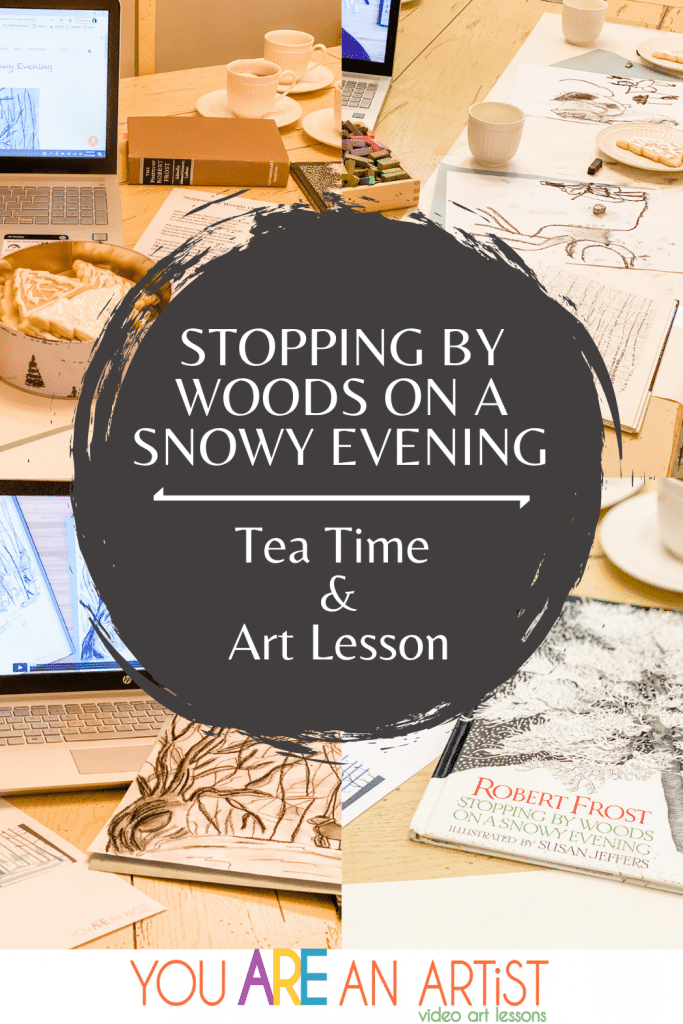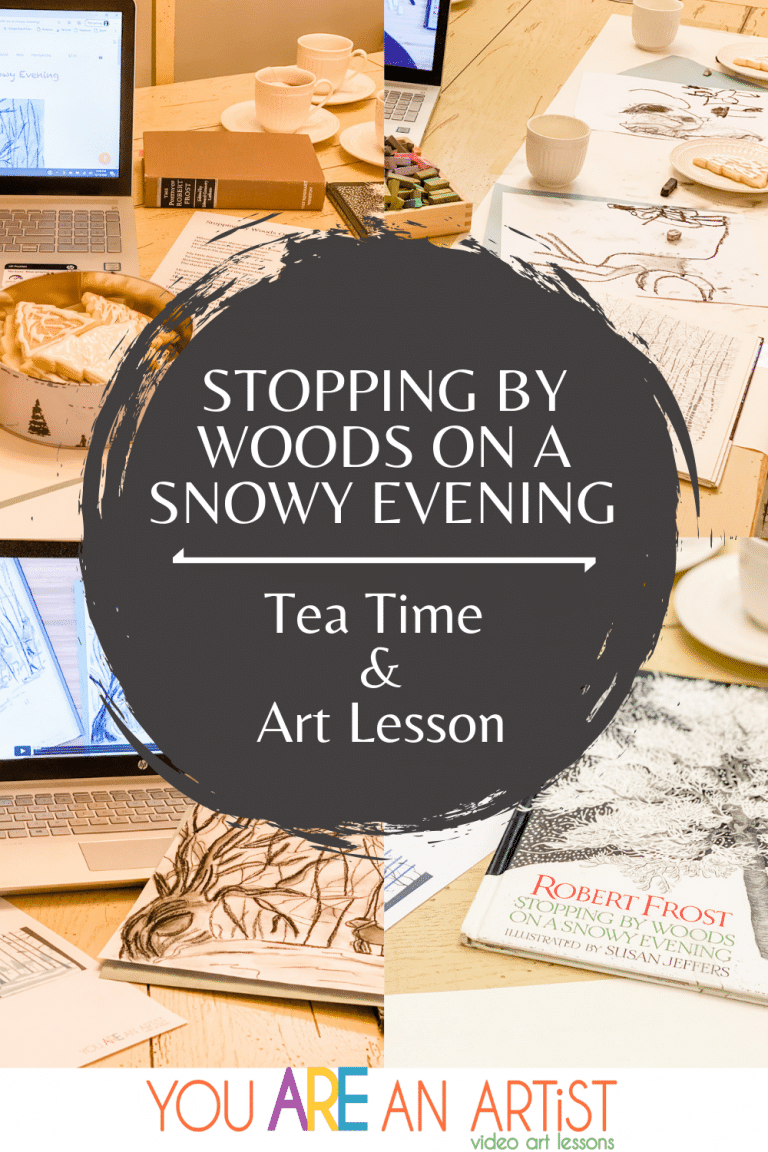 You ARE An Artist's art tutorial of Stopping By Woods On A Snowy Evening will help you round out an entire hands-on lesson for your family to enjoy.
We do think this poem is worthy of a special tea time. This time of year can be busy and leave us feeling stressed about the holidays. But Stopping By Woods On A Snowy Evening helps us remember it is ok to stop and linger a bit at God's wonderful creation. Like the traveler, we all have obligations to get to. But we also can stop and take in the beauty around us, if even for a moment. Often, that is precisely the refreshment we need.
That's is why we think this tea time with chalk pastels will leave you and your children feeling refreshed and renewed for the winter season.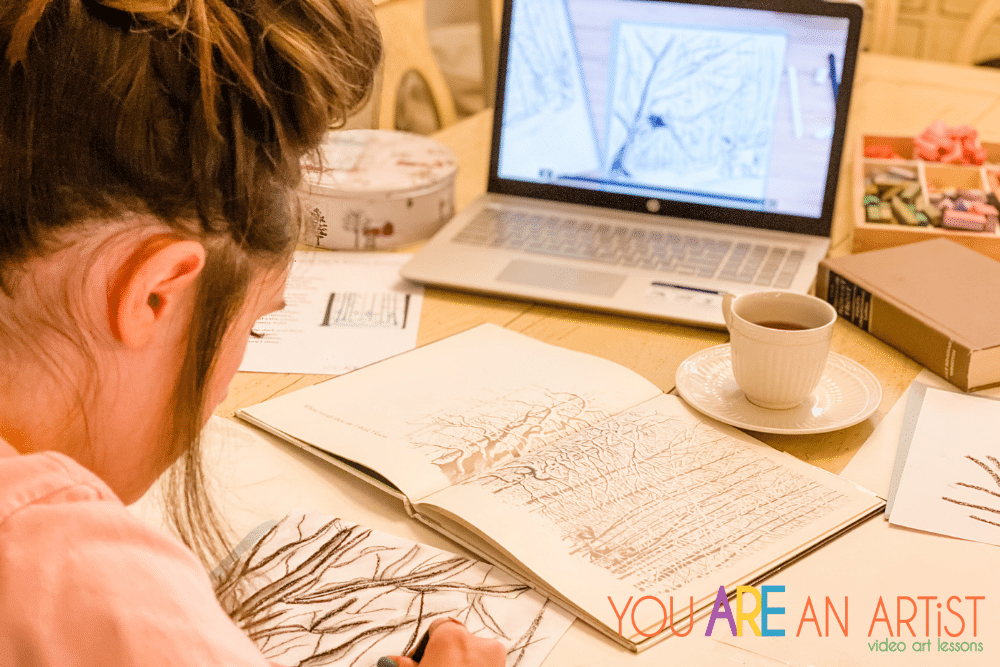 What Do You Need For A Snowy Art Homeschool Tea Time
The supplies you need for the art lesson are minimal; chalk pastels and construction paper. And a Clubhouse Membership from You Are An Artist, not only to enjoy this chalk pastel project, but you will also get over 700 other art lessons that your entire family can do and a beautiful poem to print out.
We love the picture book Stopping By Woods On A Snowy Evening that is illustrated by Susan Jeffers too. The beautiful illustrations that accompany Robert Frost's words are a perfect combination to share with your family.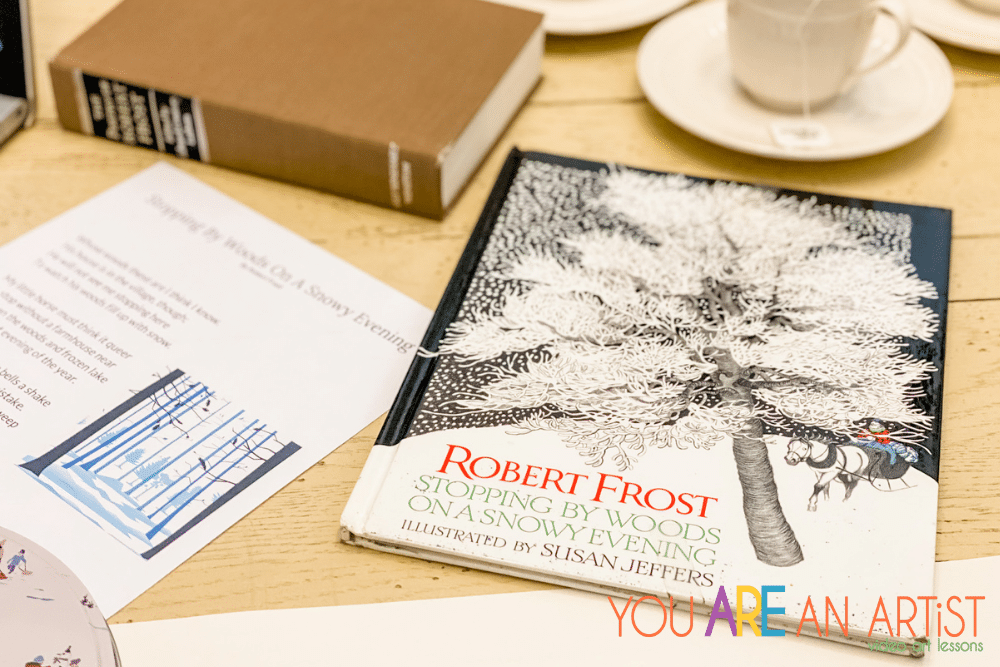 The fun part is what else you can add! We like to enjoy tea or hot cocoa to drink and make an entire experience of it. The kids sip as I read.
We also add some treats like tree-shaped sugar cookies or something white to signify snow. But you can add anything that your kids might find exciting. I think ice cream would also be fun for this tea time. Remember, there are no rules!
You may be wondering if you have to add any snacks or drinks. I will share with you why I almost always do. My children linger longer with something to sip or snack. It's true. If I want to read to my kids and keep their attention, I add a little something that counts as a treat. It also makes poetry tea time with art a special time to look forward to. We like to celebrate the end of each week with art.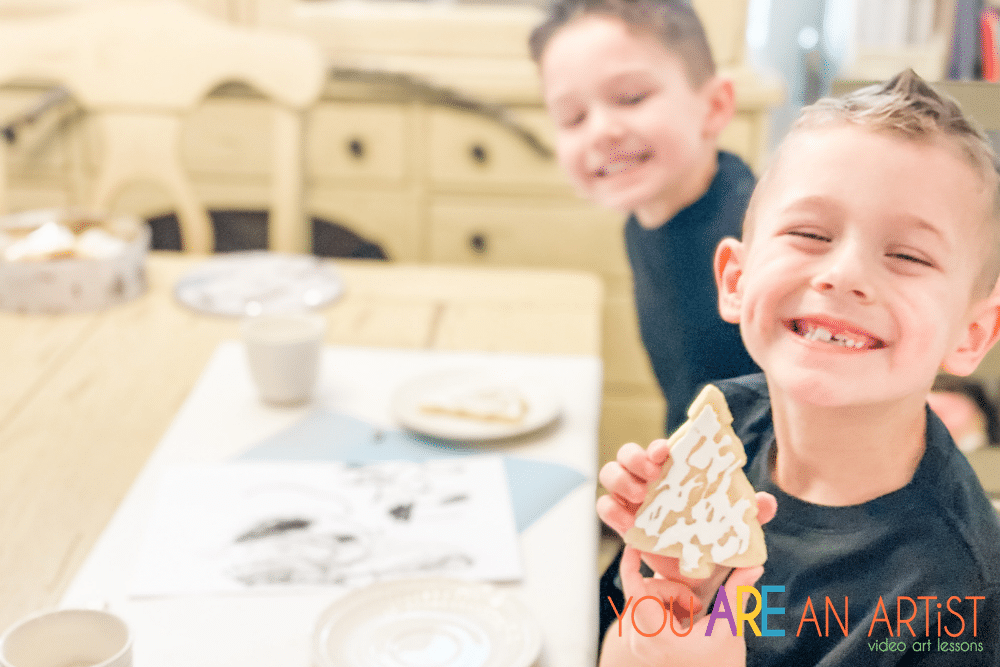 Once you decide on all of the fun stuff, now let's prepare our educational resources.
If you are afraid that you can't count art or poetry tea time as educational, you might need a fresh new perspective. Let me assure you, art and poetry tea time is 100% educational. Let's discuss all of the educational aspects of this single project.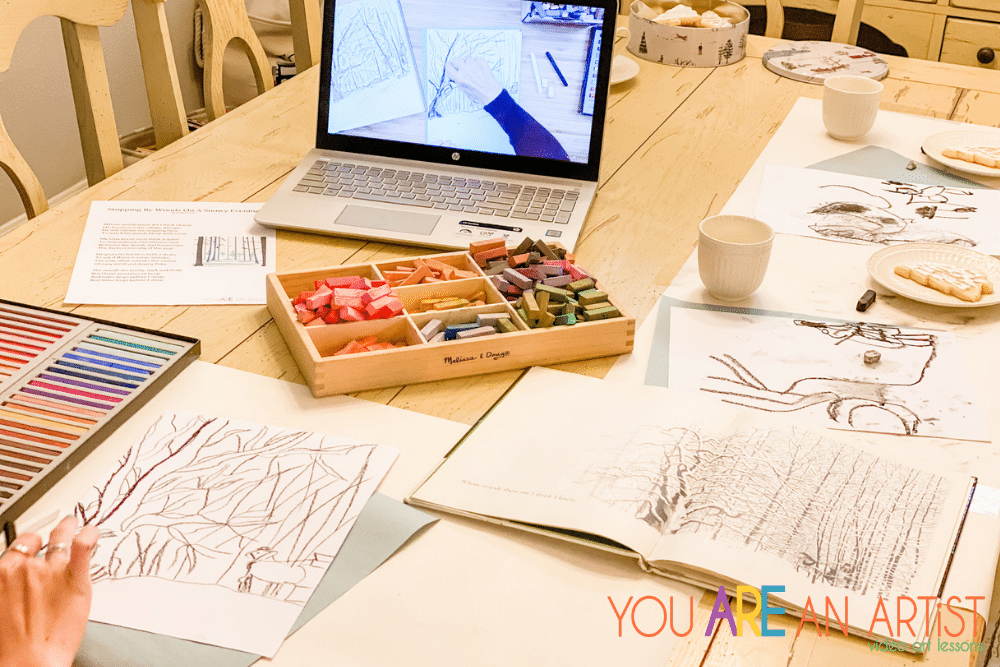 What Can We Learn From Stopping By Woods On A Snowy Evening Tea Time
New Art Techniques. Your child will learn chalk pastel techniques to create a lovely piece of art. Hands-on art with chalk pastels is an excellent fit for all types of learners, and it's a great way to foster their creative expression.
History. You can dive into the biography of Robert Frost; he was a well-known American poet with four Pulitzer Prizes. You may very well have heard some of his most famous works already! Older children can help research his life and other poems if you want to travel down a few new rabbit trails together!
Poetry. Stopping By Woods On A Snowy Evening is not just a beautiful poem; there is much you can learn from it alone. If you have a high school student, you may want to discuss the poem's rhyme scheme and other poetic devices. It is full of imagery and literary devices, all worth pointing out as well. 
Nature. Stopping By The Woods On A Snowy Evening fits perfectly into winter nature study. If you are working through a winter nature study curriculum, this tea time and art project will coincide nicely. 
Togetherness. Winter is the best time to cozy up with warm drinks, create art, and discuss poetry. Even your earliest learners can sit in a draw with chalk on a piece of construction paper while listening along.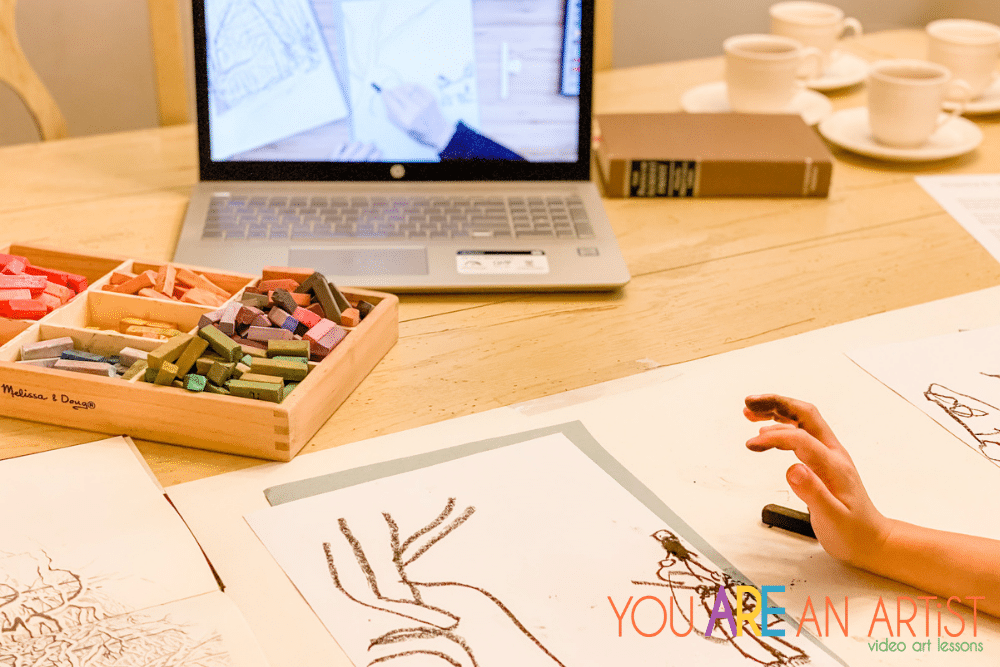 We hope you enjoy the sights, sounds, and smells of winter with this special poetry tea time! Celebrate winter nature and bond over the arts together as a family with books, art, and tea.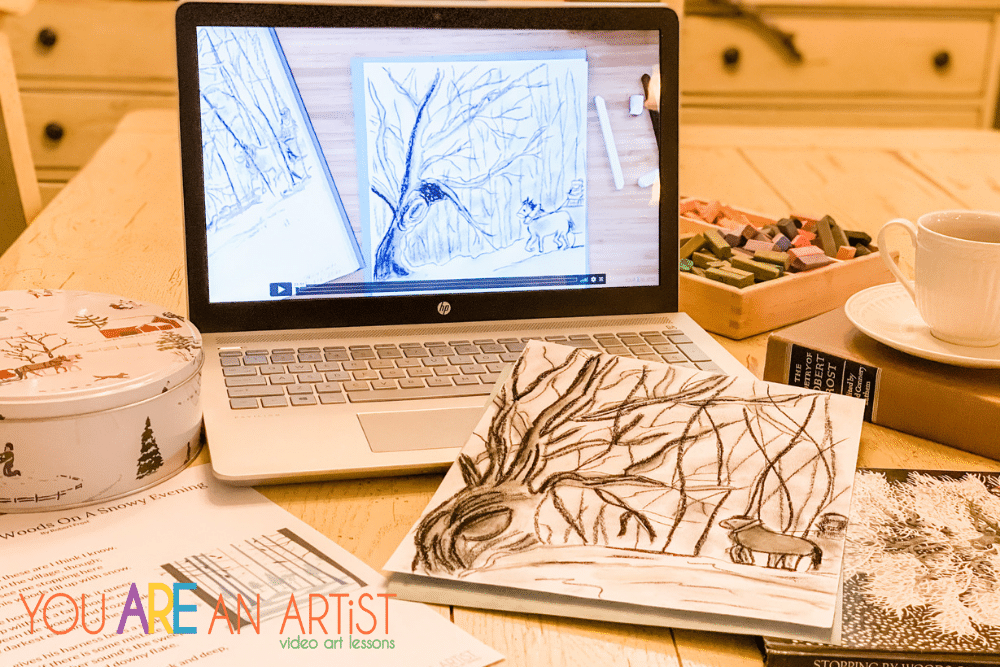 More Delightful Homeschool Learning Activities
There are even more homeschool learning opportunities with these ideas!
Courtney is a Jesus-pursuing, native Texan, homeschool mom of three, and she believes homeschooling can be a peaceful and productive rhythm. At Grace, Grow & Edify she helps families create peaceful homeschooling atmospheres through faith, organizational strategies, and cultivating strong roots at home. She is also the founder of Homeschool Mastery Academy.