Veterans Day in the United States is a great opportunity to celebrate and thank the members of the U.S. Military for their sacrifice and service. Veterans Day is a holiday that tends to flash by in mid-fall, but with these intentional Veterans Day homeschool activities, lessons and ideas, it can be a day rich with remembrance and thanksgiving.
But where to begin? After all, Veterans Day is often confused with another patriotic holiday, Memorial Day. It's true they both honor our military forces. The main difference is that Veterans Day is about honoring all veterans, living or dead.
Whether a veteran served during war or peace, Veterans Day is a time to thank them! Most people probably know someone in their family or friend circles who is a veteran. This makes the Veterans Day holiday incredibly personal, doesn't it? We don't have to look far to see we all benefit from the service and sacrifice of our veterans.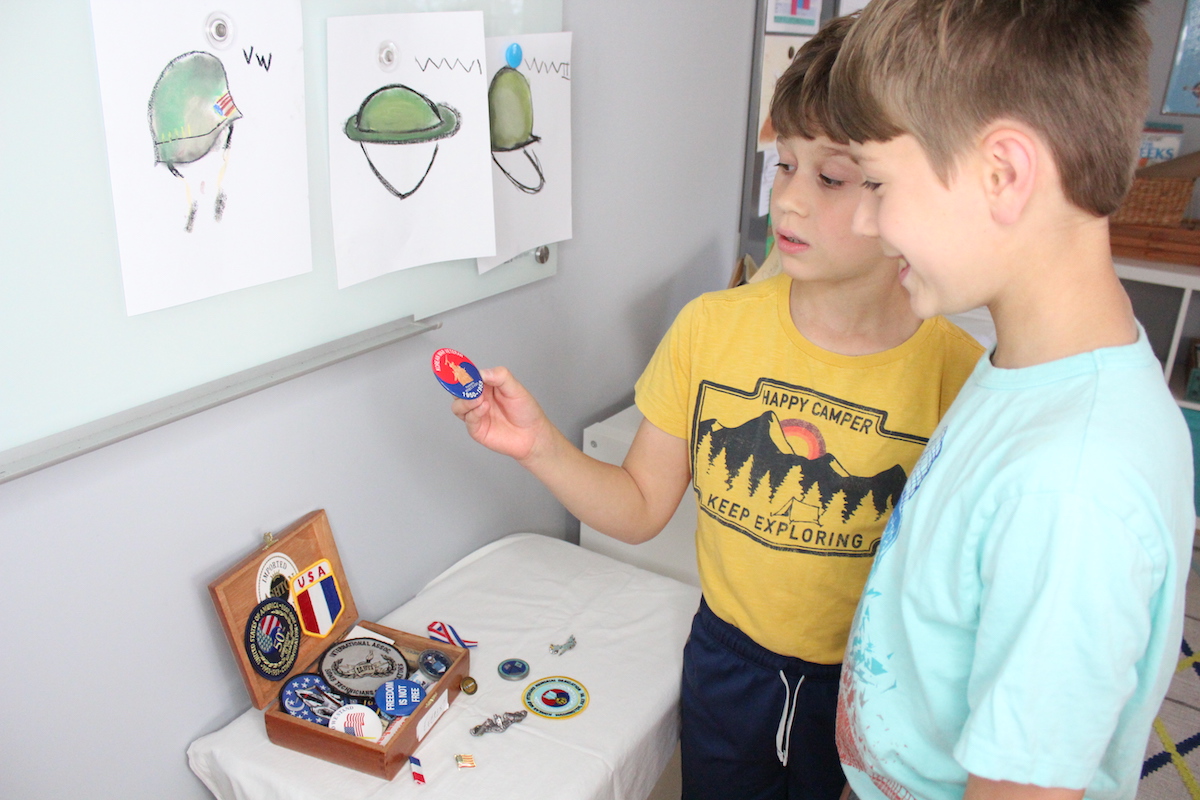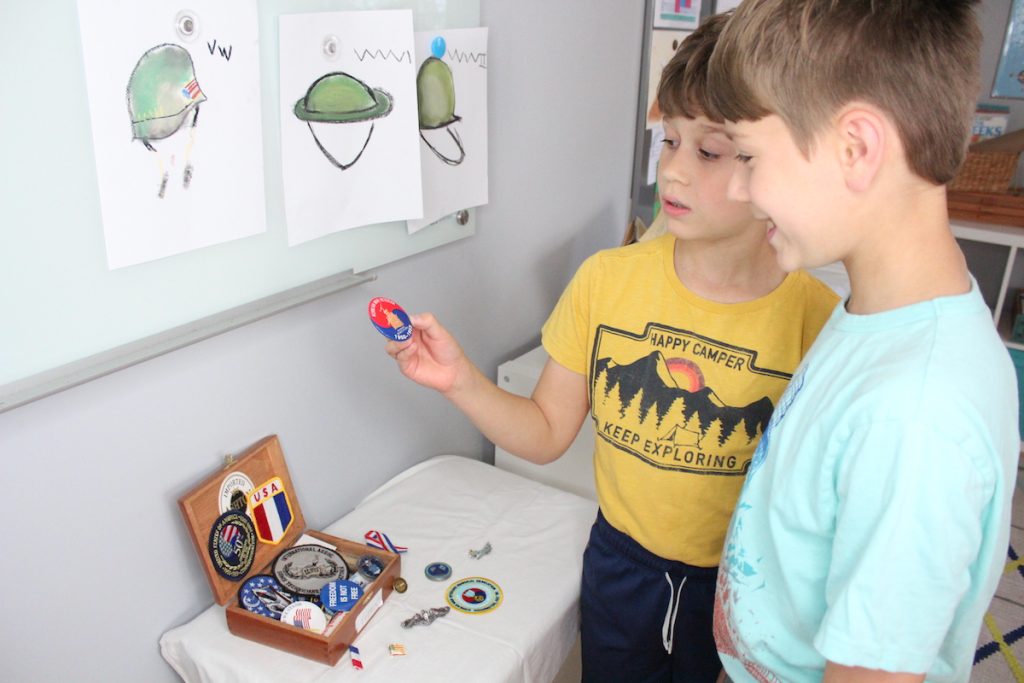 In our family, both my boys' grandfathers served in the military. The boys love asking their Papa and Pop Pop about their time in the service. They keep a special treasure box filled with pins and badges—mementos of their grandfather's time in the Korean War.
Whether you know a military member personally or not, there are several activities and ideas you can use to help children recognize and honor our veterans.
The History Of Veterans Day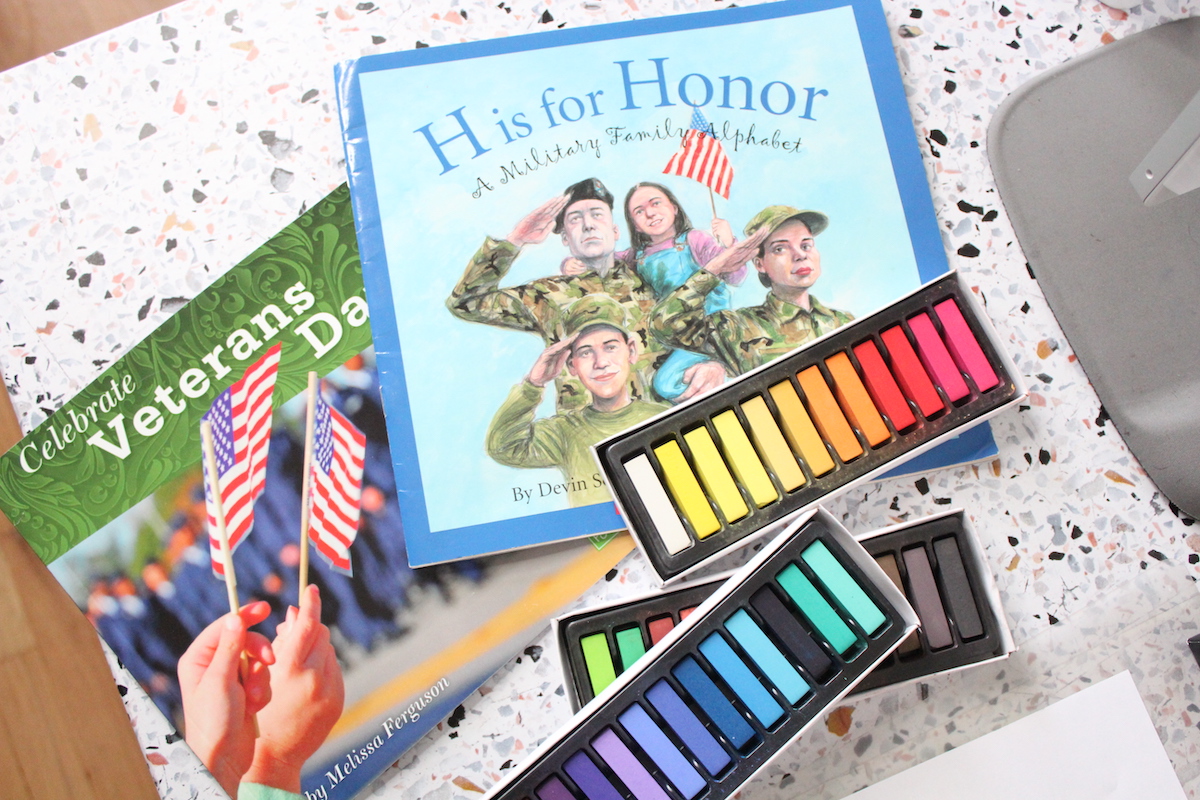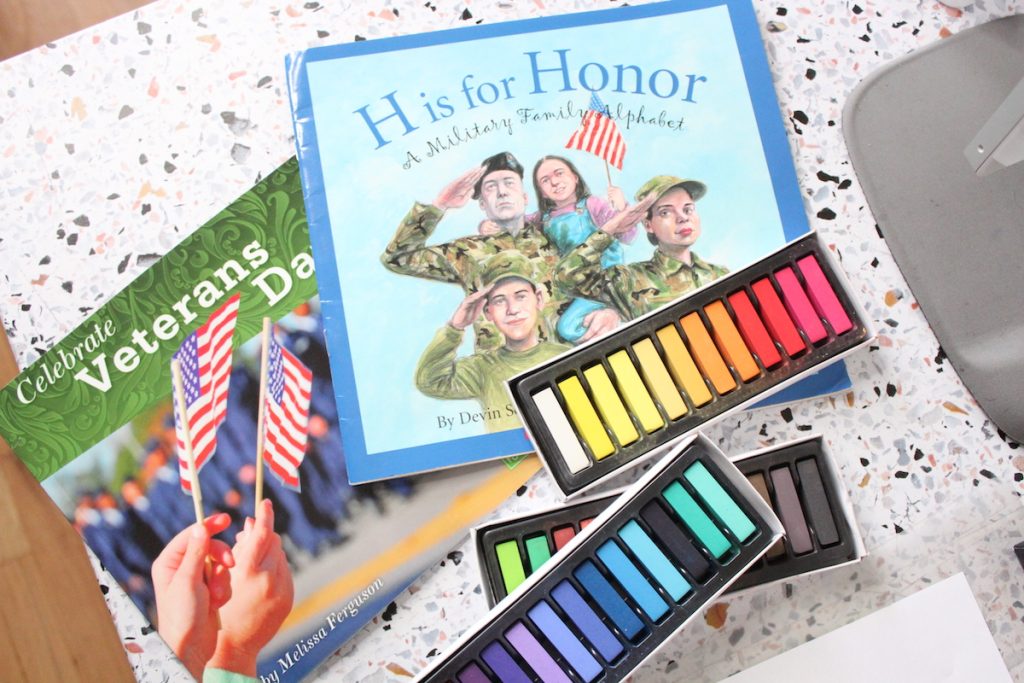 Introduce your kids to Veterans Day homeschool activities with a few trivia Q & A's to get them interested.
Why is Veterans Day observed on November 11?
Set an alarm for 11:00 a.m. to help your kids remember that the number eleven plays an important role in this holiday. Veterans Day is always observed on November 11th, to honor the "eleventh hour of the eleventh day of the eleventh month" when World War I ended.
Which veterans do we honor on Veterans Day?
Veterans Day used to be only for remembering the end of World War I, but our President Eisenhower expanded the day to include all wars. He even renamed it from Armistice Day to Veterans Day!
Is Veterans Day only observed in the U.S.?
Veterans Day isn't an American holiday. Five other countries: Britain, France, Australia, and Canada, also celebrate Veterans Day, although on different days.
Look at the calendar to see when the other countries hold their Veterans Day.
Learn more about veterans and Veterans Day over at The History Channel!
Veterans Day Activities For Your Homeschool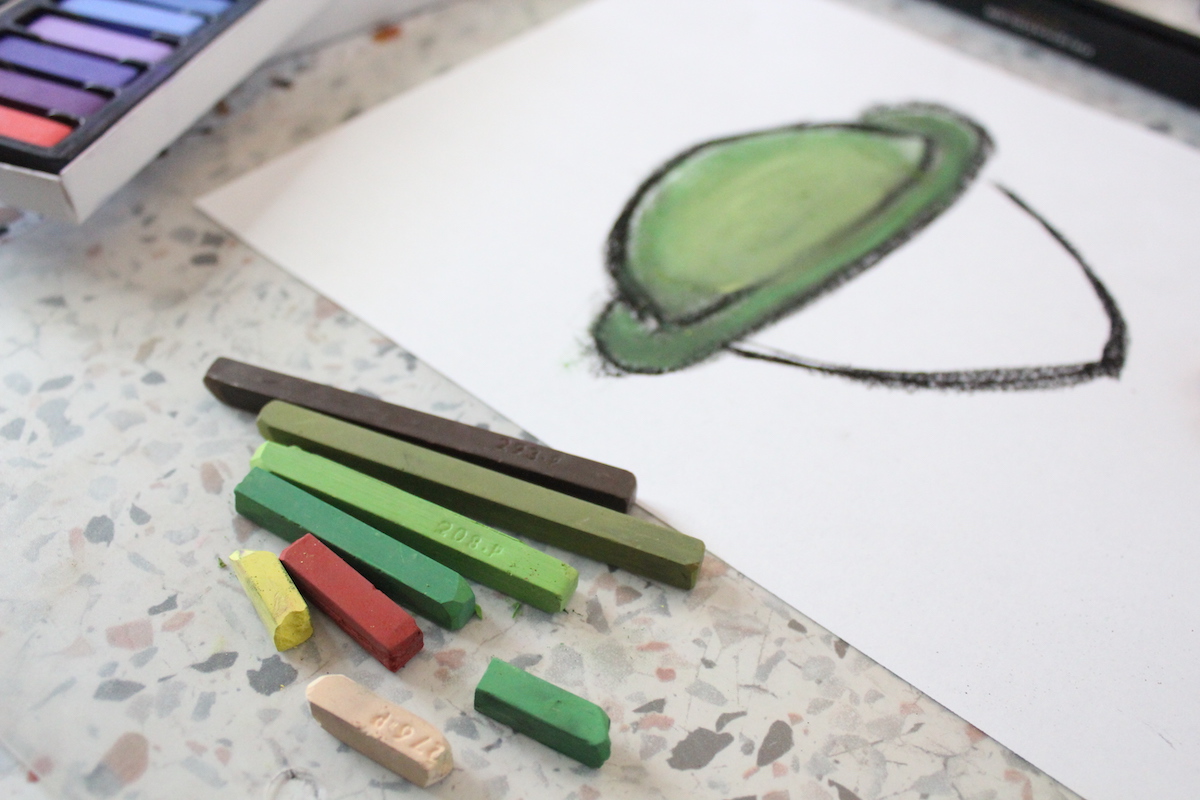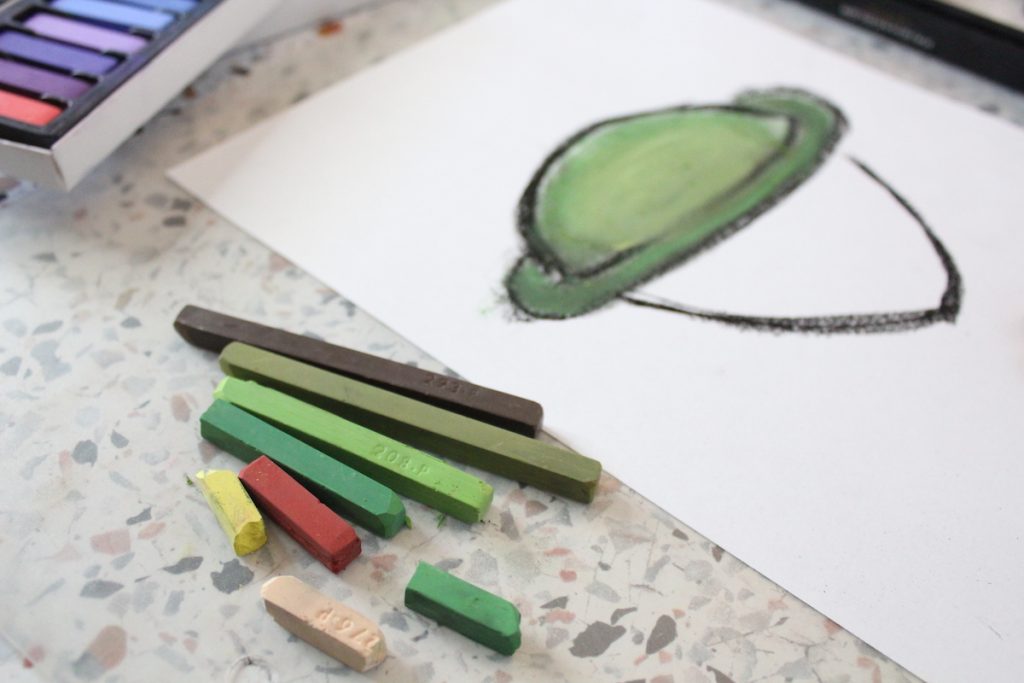 My boys always enjoy learning about military history. So they loved our study of veterans through their painting with Nana.
Military gear is fascinating, especially the way it has changed over the years with new technology. Nana does such a wonderful job teaching about the various helmet designs from World War I, II, and the Vietnam War.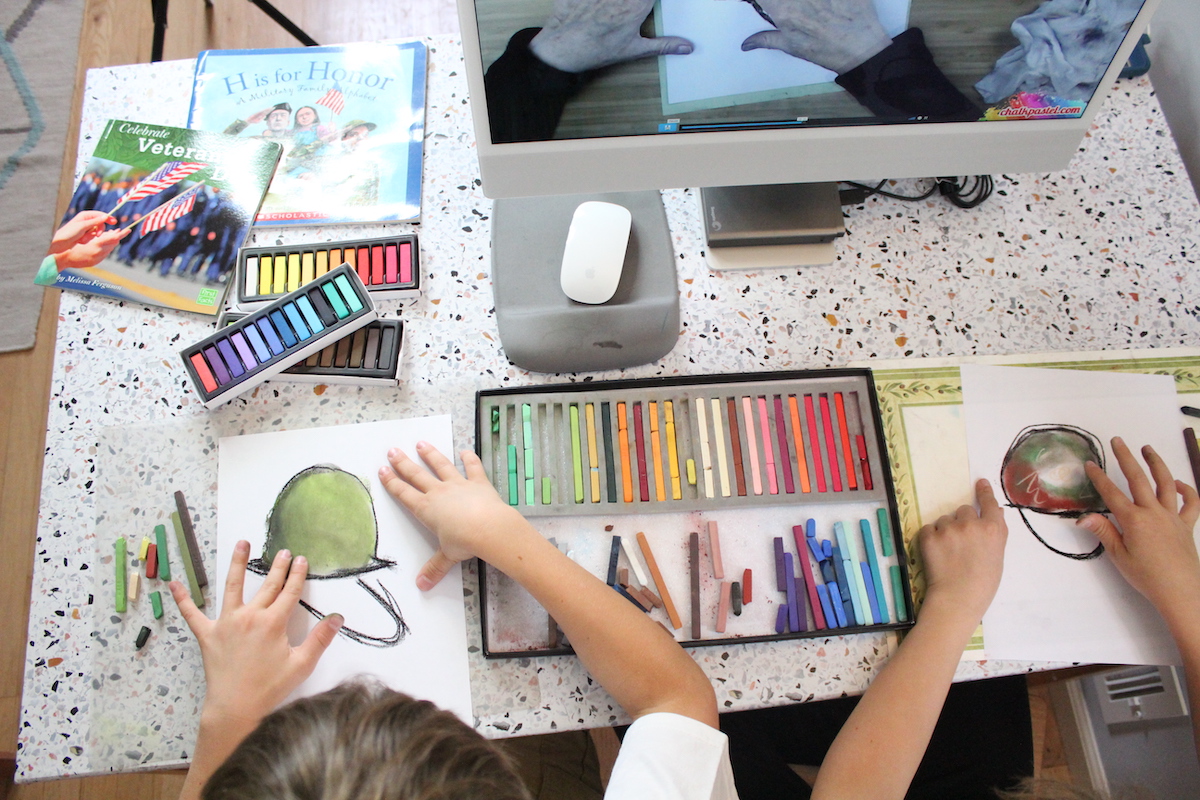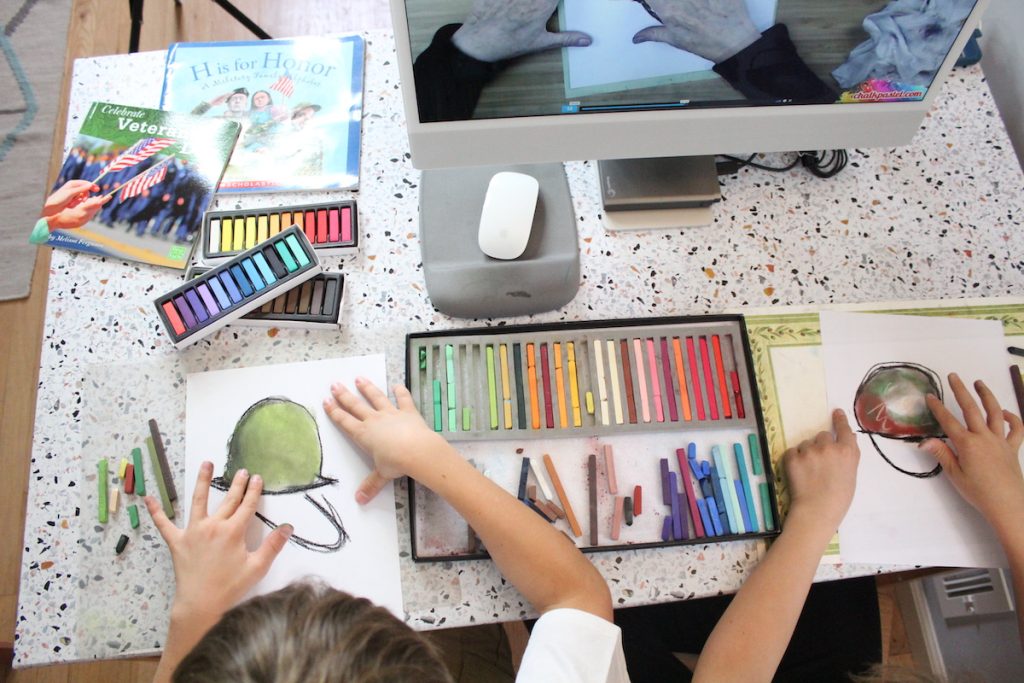 Do you know anyone who might share some of their military uniforms with your kids? Ask them to tell your children about how they have to care for their uniform. Or have them tell your children about any badges, medals, or awards they have earned.
Maybe your child would like to see what wearing an army helmet is like? If you don't have any dress-up helmets, wrap a plastic mixing bowl with a dark fabric or large tea towel, and let them wear it on their heads. Have kids think about what it would be like to wear such a helmet (only much heavier!) all day, even when it's hot out!
If you are studying the history of a certain war, your children could paint a map of the country where the war was fought. Geography often helps history come alive like in this Great Britain Themed Art.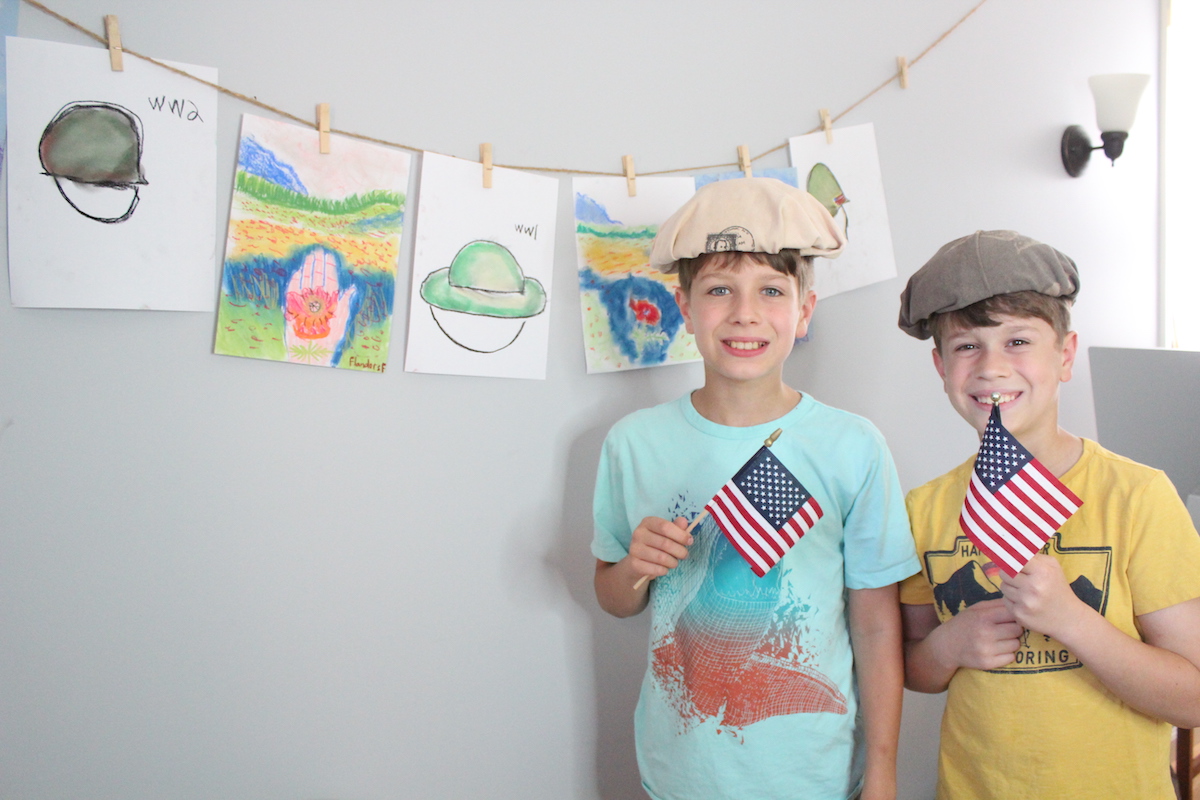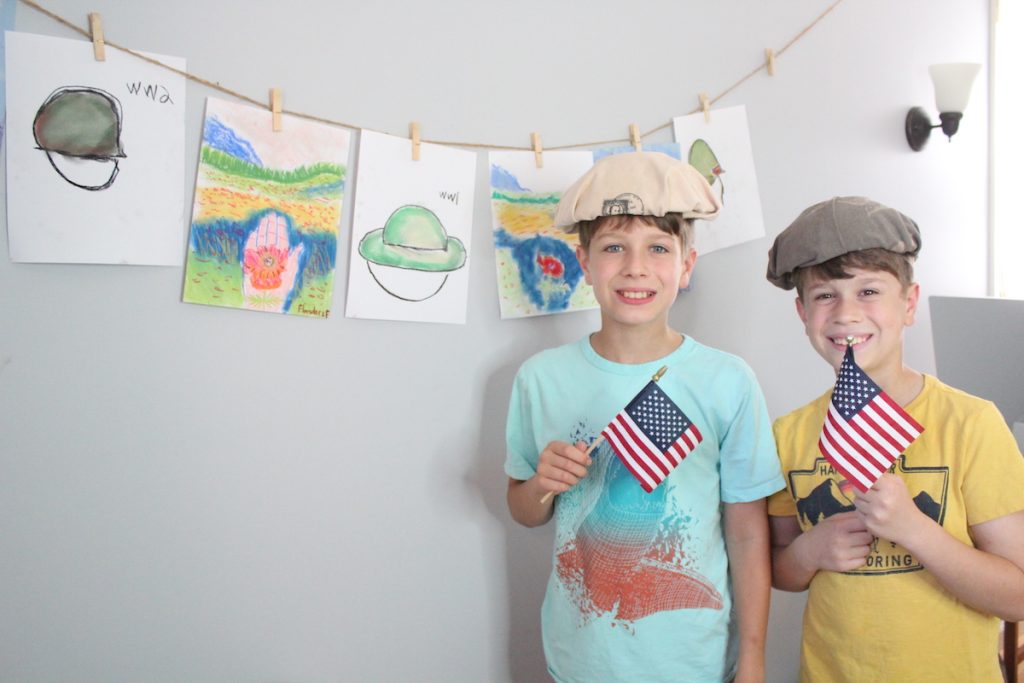 Learning about the symbols of a holiday helps kids remember details. After discussing helmets and military gear, we read about the significance of poppies on Veterans Day, and why poppies are used to honor Veterans. In her Veterans Day Poppies lesson, Nana shares intriguing details about the history of poppies at Flanders Field.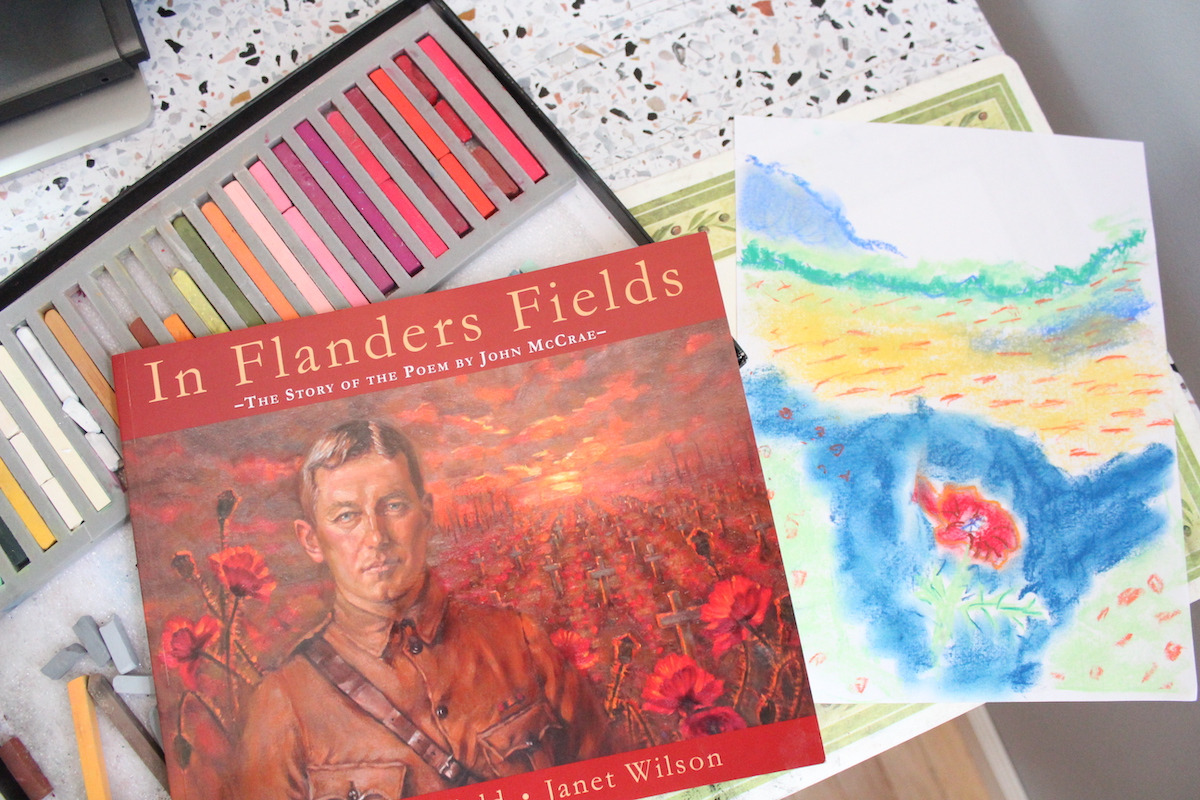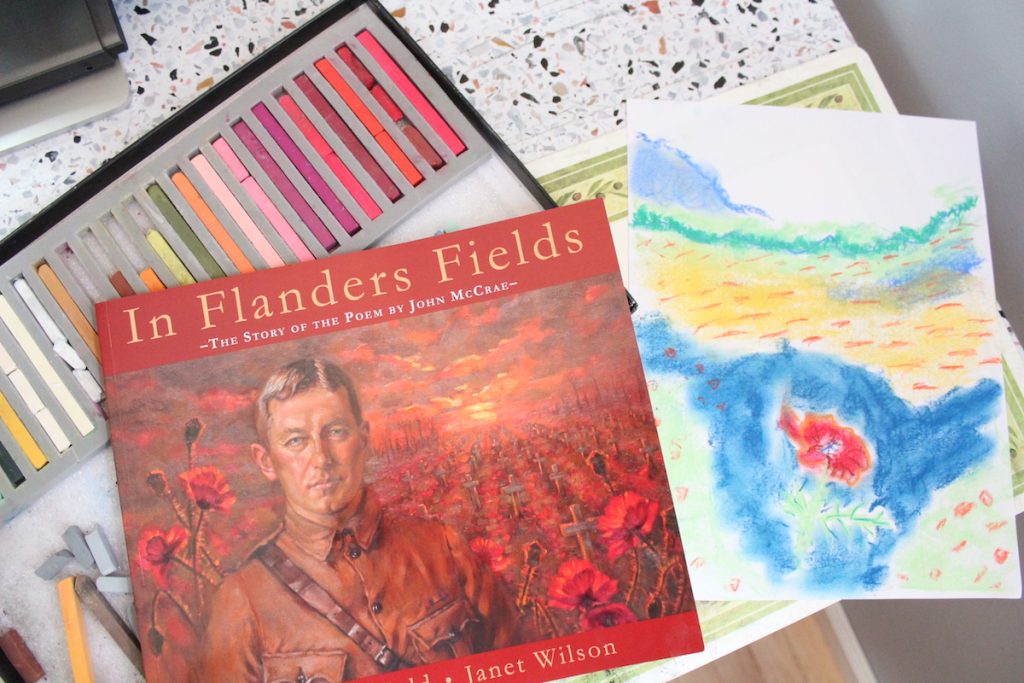 Watching the boys draw their own hands holding a poppy in this lesson was fascinating. I think it really personalized the artwork for the boys.
Maybe your child can paint this poppy artwork and give it to their favorite veteran this year.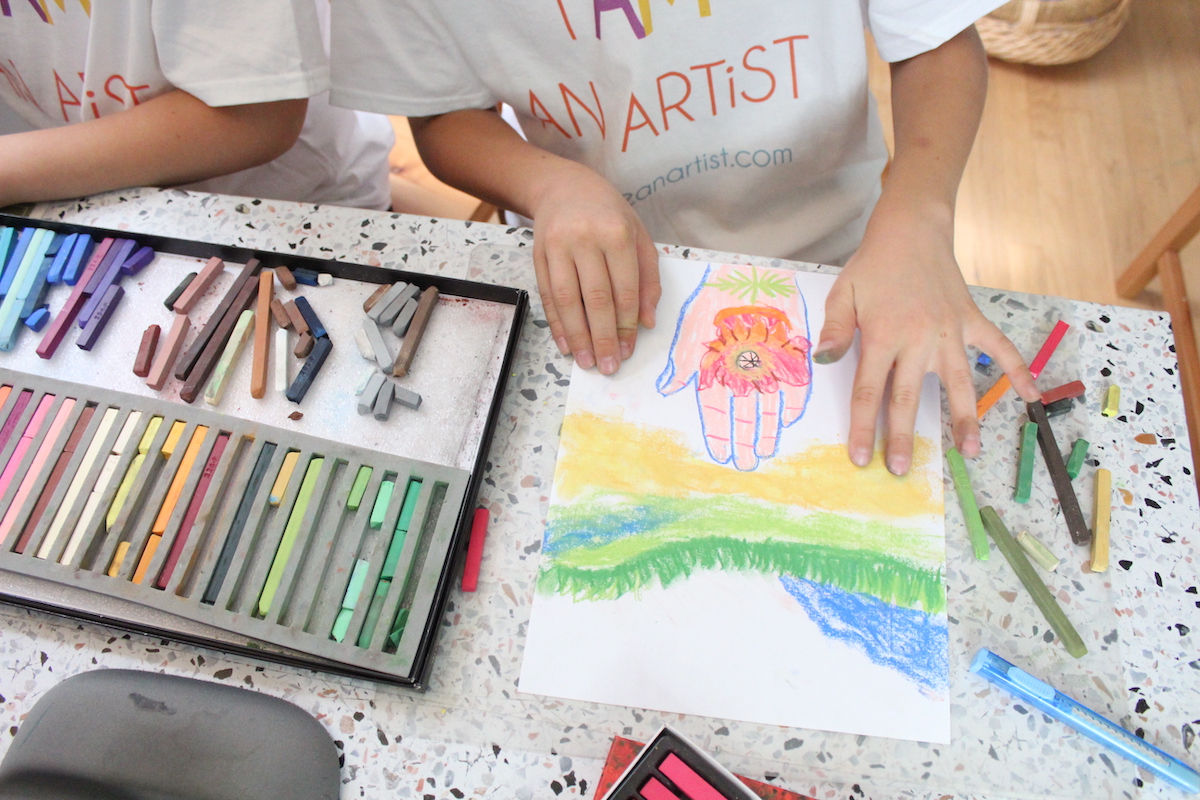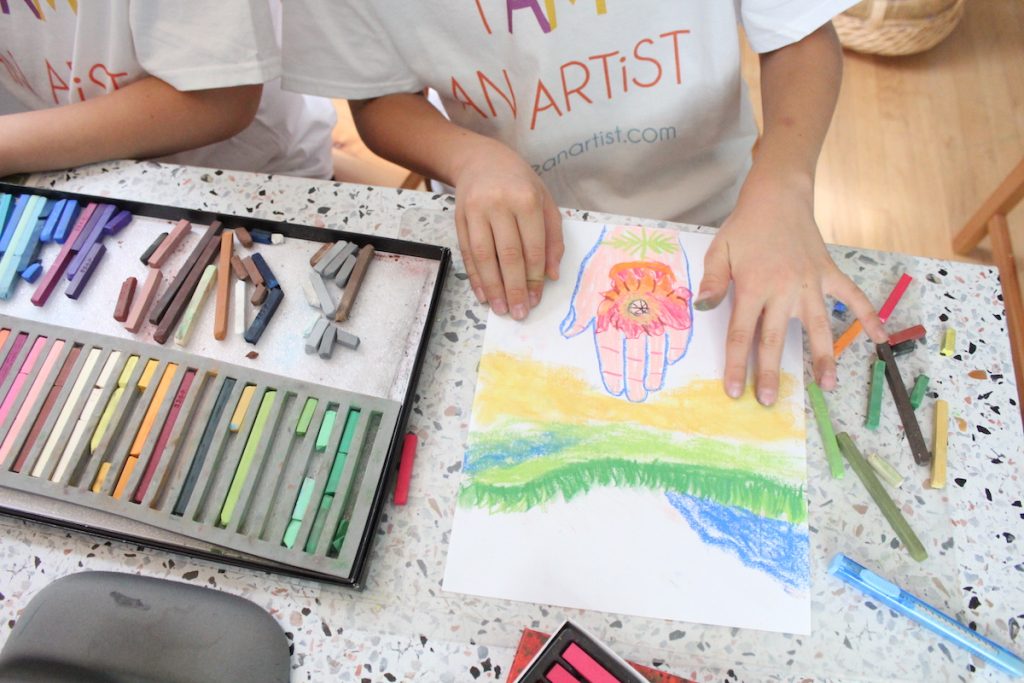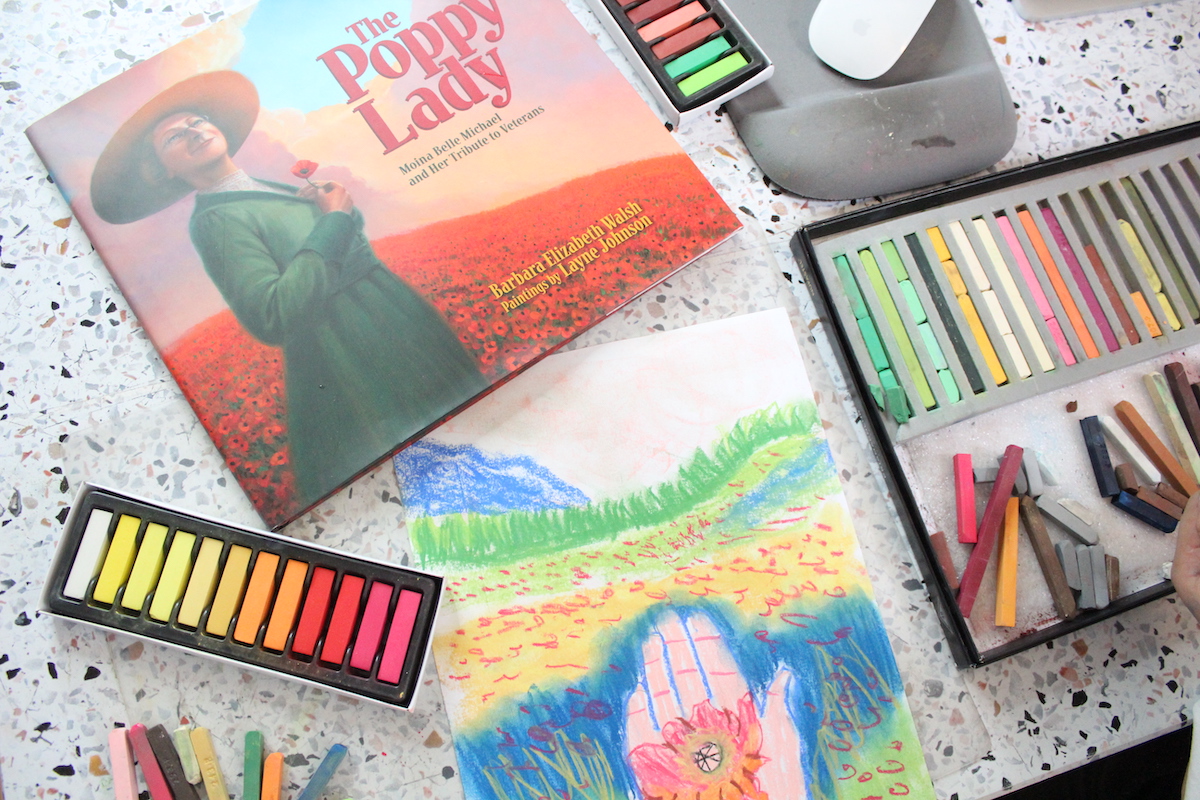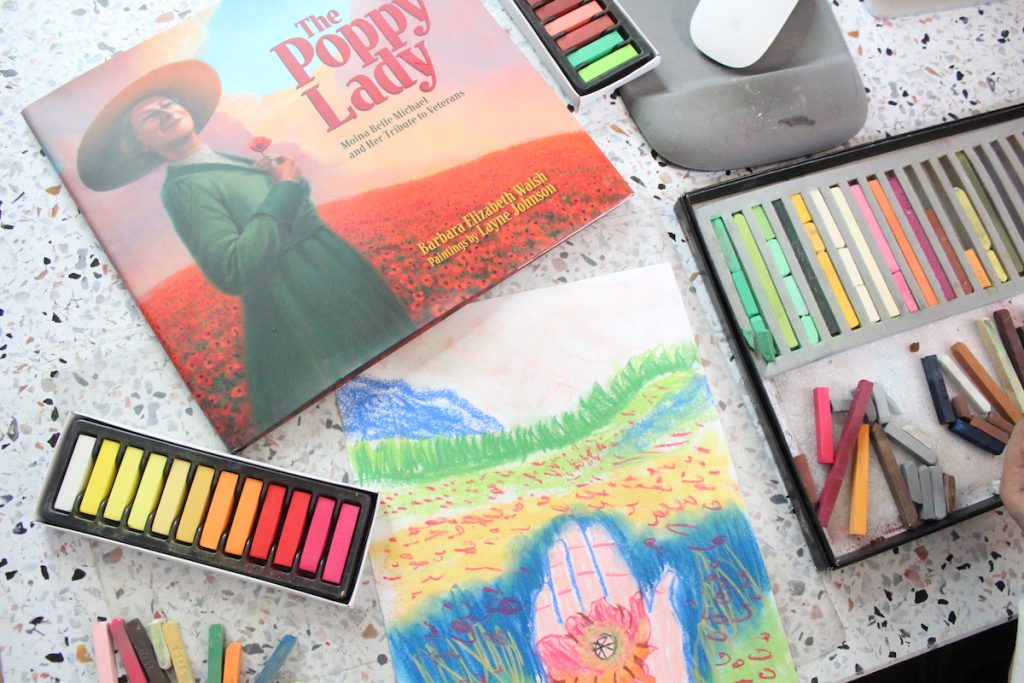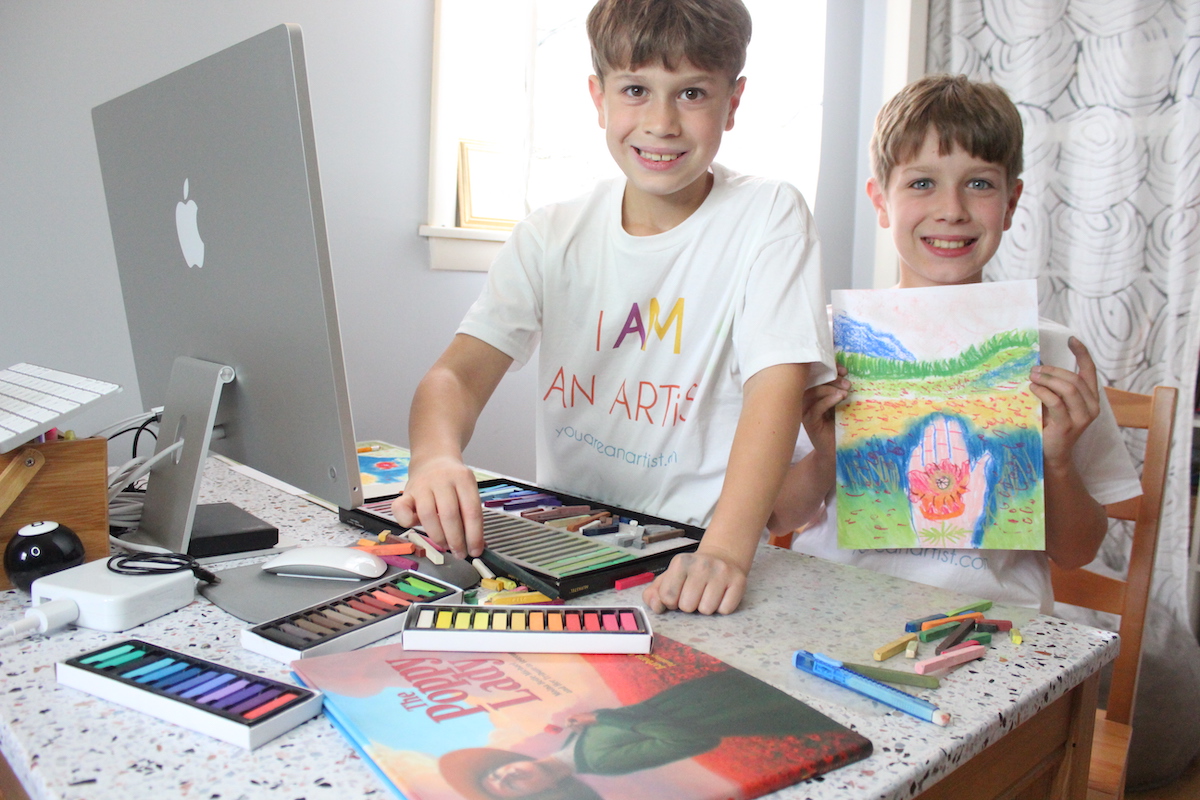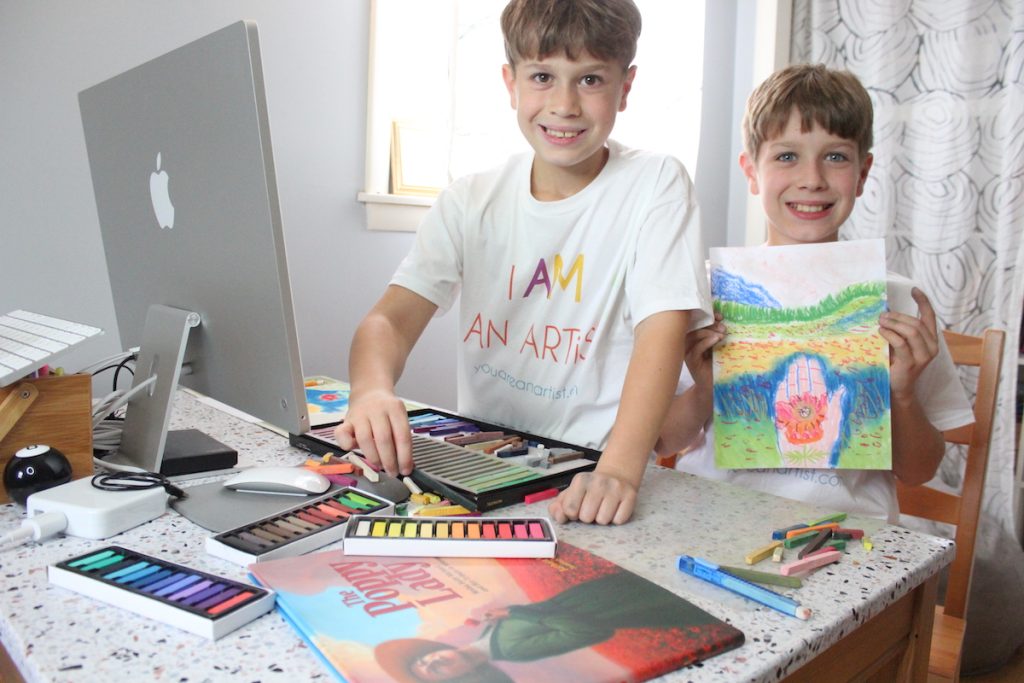 Of course, we celebrate veterans in gratitude for protecting and securing our freedoms in America. The sacrifice of our veterans makes it possible for us to enjoy the many ideas America stands for: Liberty, Justice, and Freedom for All! Drawing the United States flag is a great art lesson to connect to Veterans Day.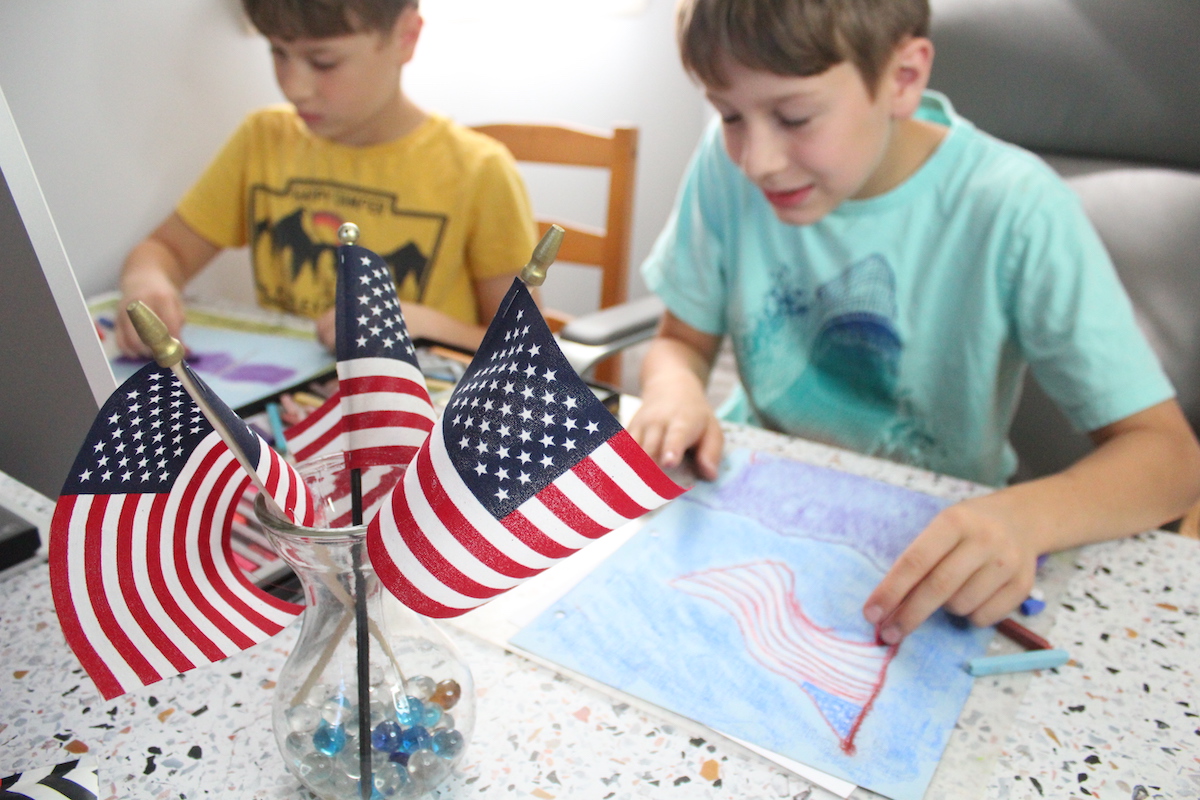 Nana's American Flag lesson shares two variations of the American Flag – during the day, or at night during a fireworks show! Have kids pick their favorite American Flag version and paint it with Nana! For this painting, the boys used a textured linen-like blue paper and I think it made the chalk pastel stand out fantastically! You can use plain paper or construction, but if you happen to have a different texture of paper, try it out with chalk pastel – you won't be disappointed.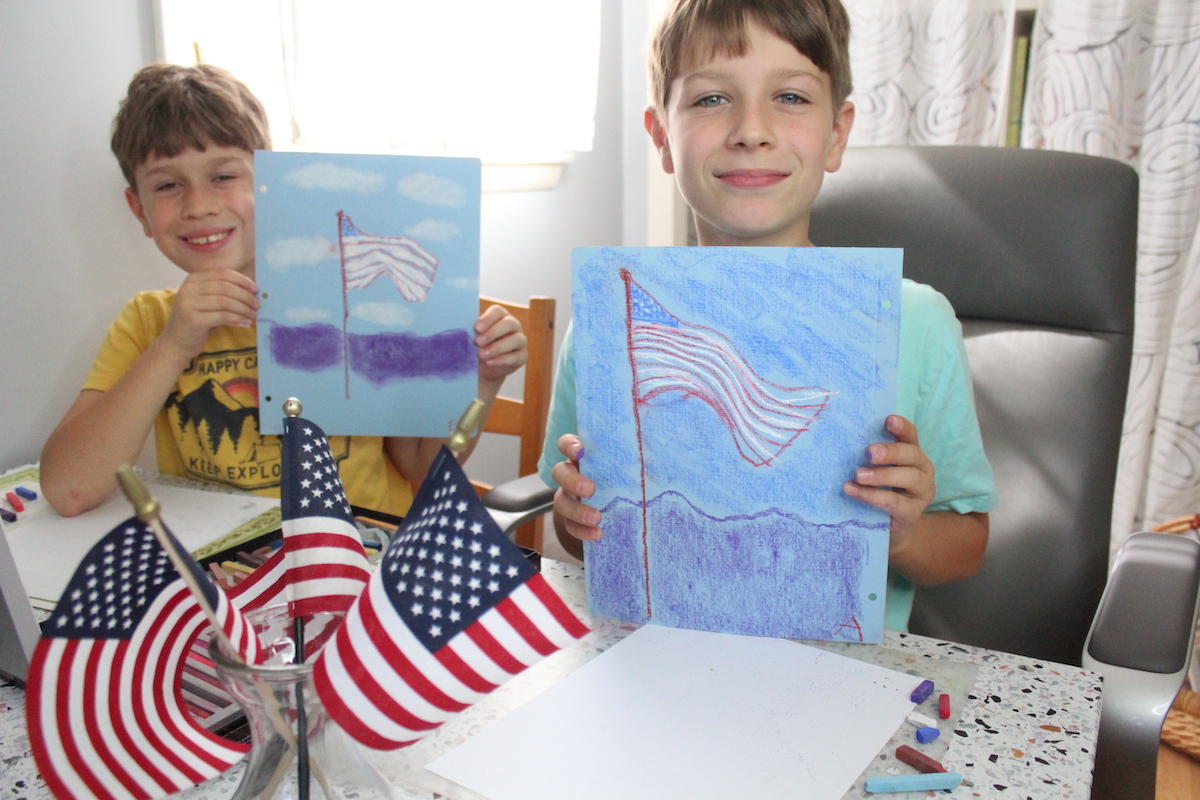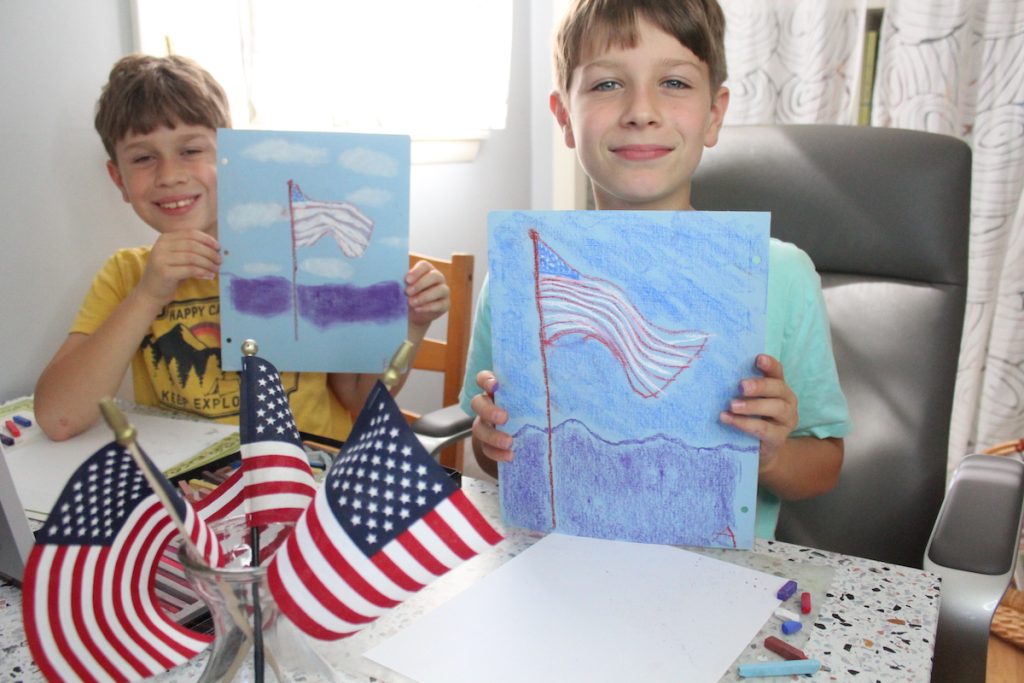 Additional Veterans Day Learning Resources
The kids love to read as much as they love to paint chalk pastel pictures. Talking about war and the military can be a serious discussion at times. Picture books help me share the details of a sensitive subject or holiday with my kids. Children's authors have a way of describing even serious topics at a child's level.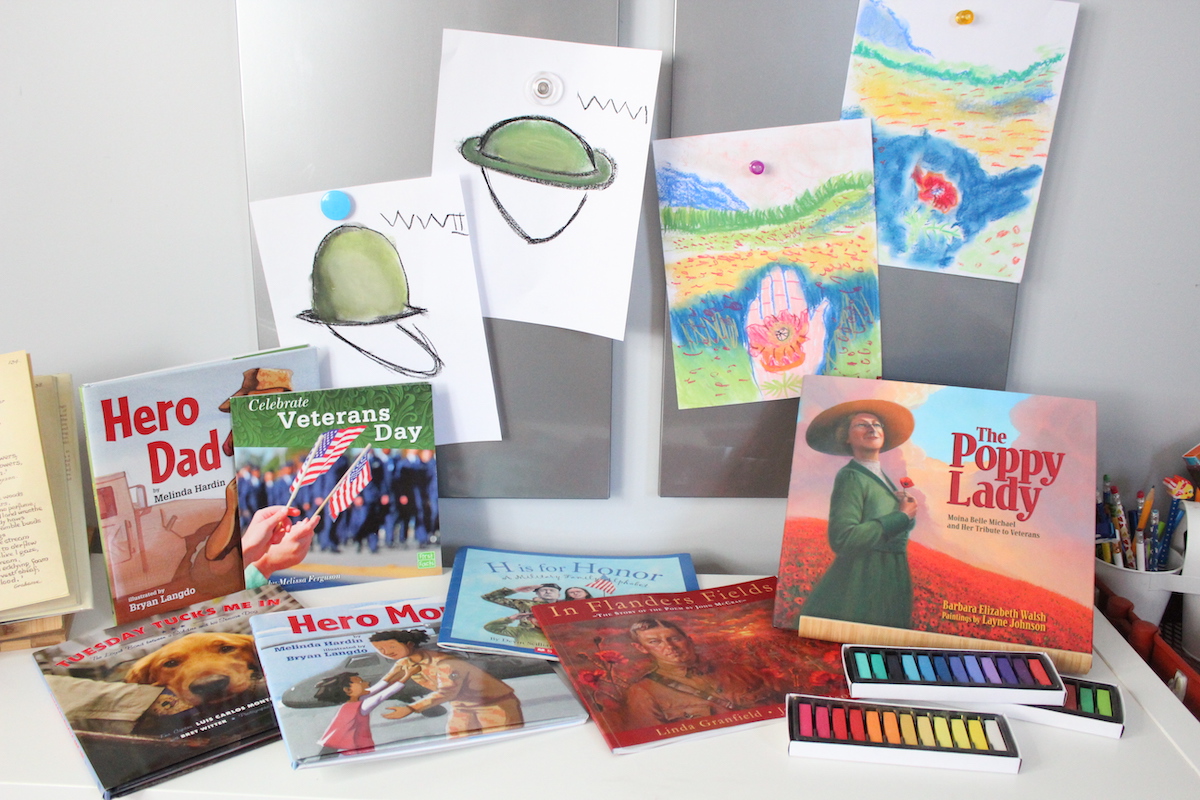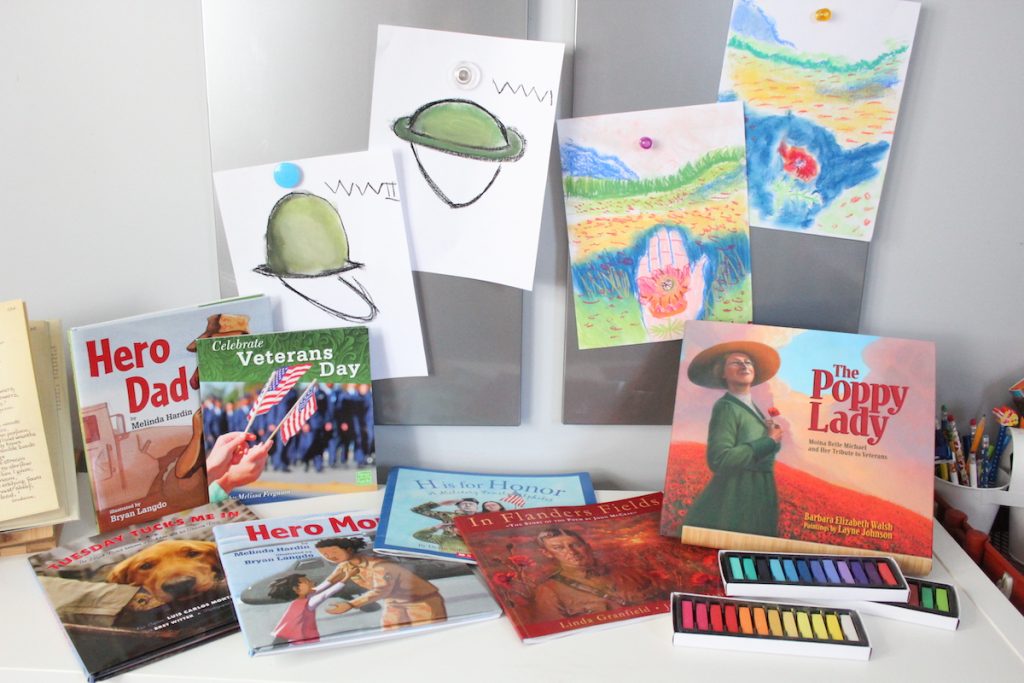 Start with simple nonfiction titles that help kids learn the basics of Veterans Day. Help them understand what it might be like to have a mom or dad in the military (or for kids who do have military parents, help them celebrate the amazing hero qualities their parents have!). Factual books about veterans and military life pair well with the art lesson on the Flag.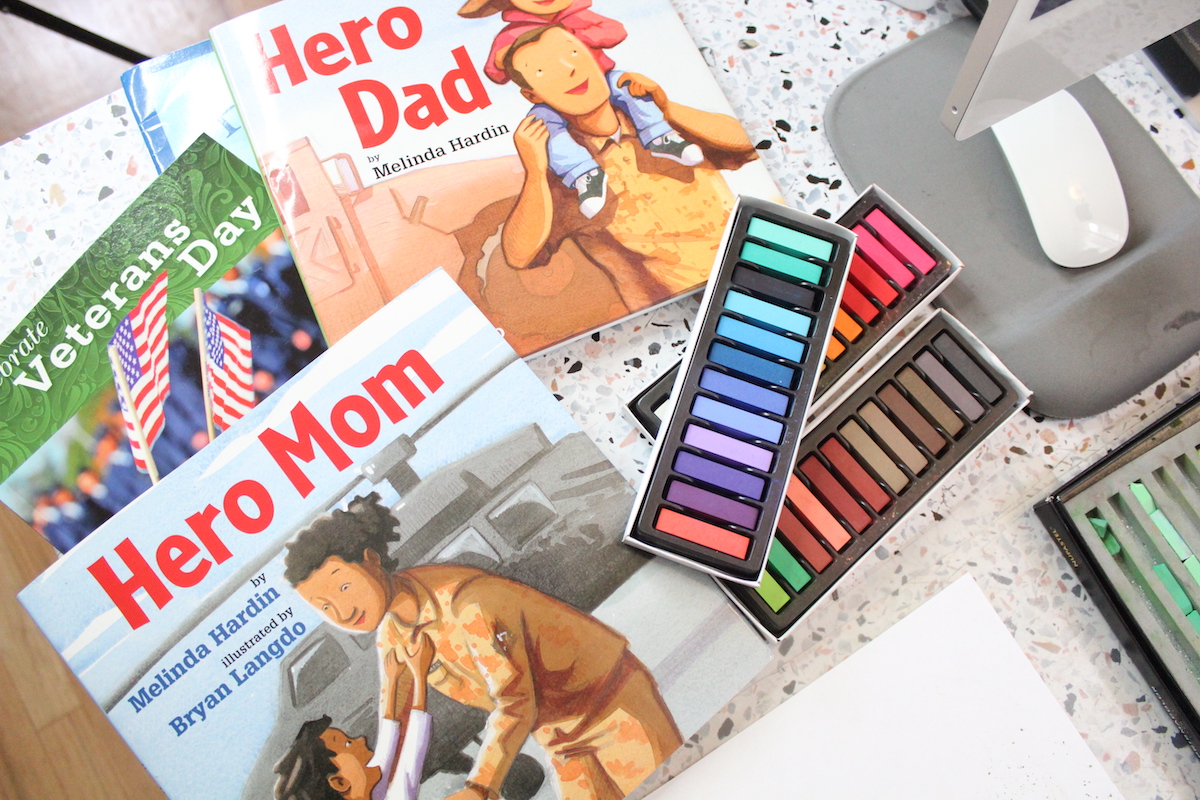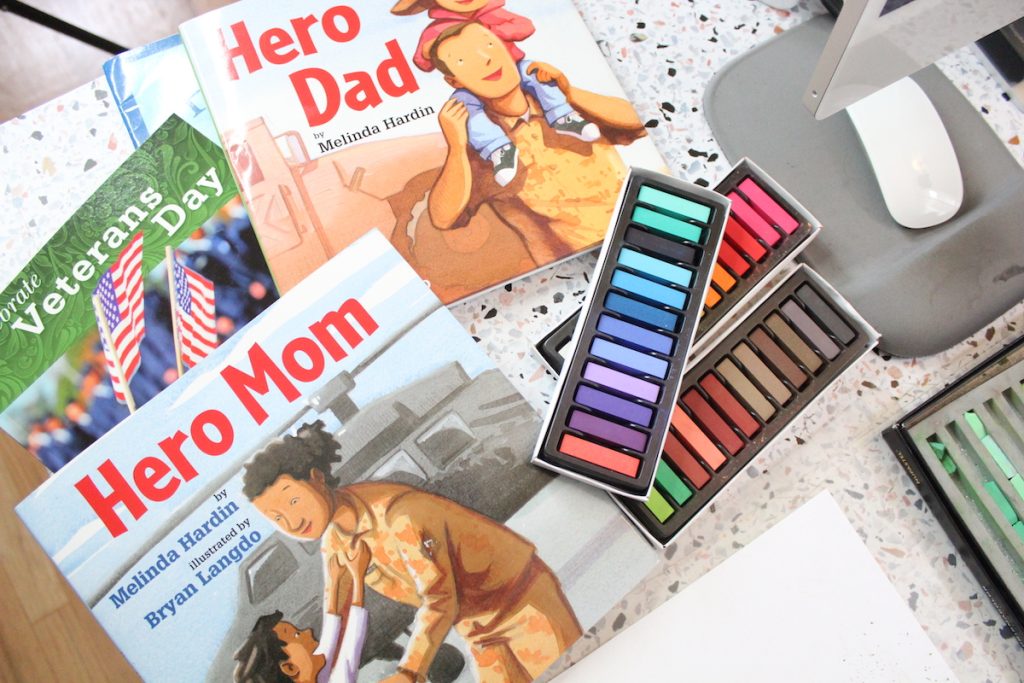 Read picture book biographies about Moina, The Poppy Lady, and John McCrae and his poem "In Flanders Fields" to go along with the Poppy Art Lesson. Select books that share an aspect of war or veterans in a narrative style, so children can relate to the emotions of veterans.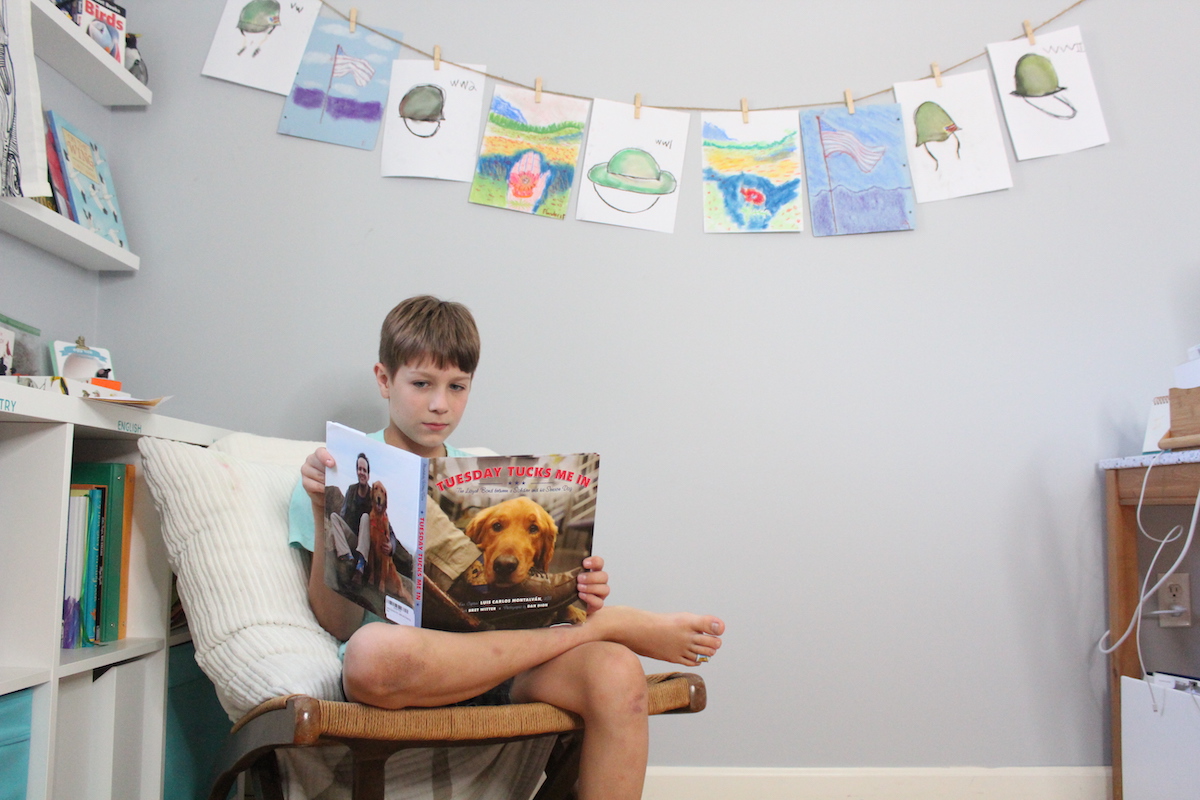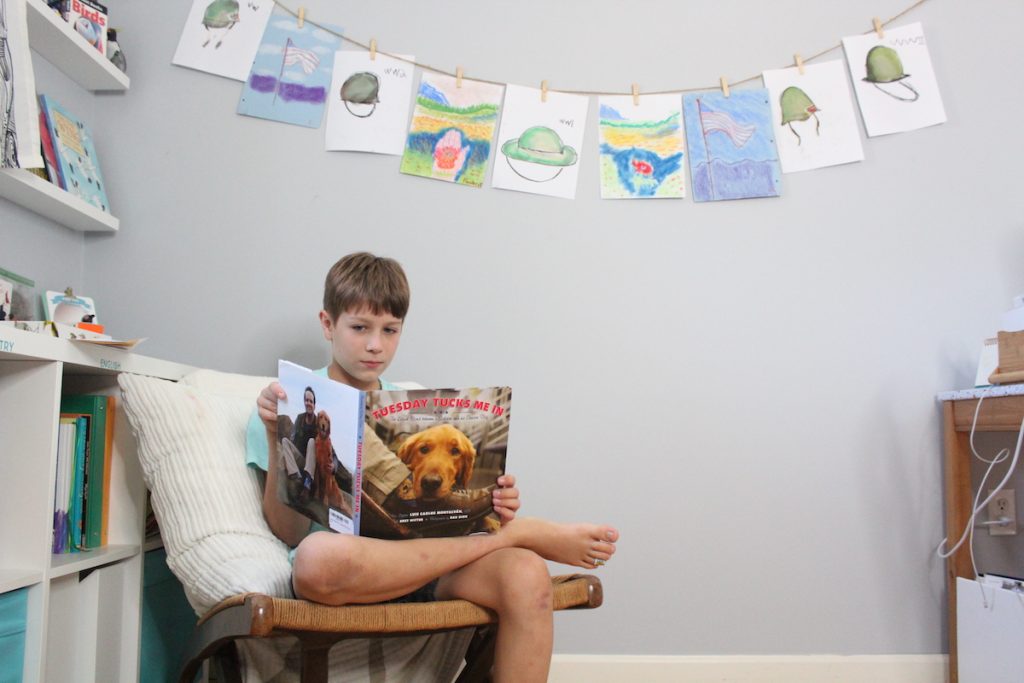 For more book titles and detailed recommendations, check out this Veterans Day Homeschool Activities post from The Curriculum Choice. In addition to the detailed summaries of the book picks, you'll find more ideas for observing Veterans Day with your family.
You will also enjoy the ideas in the Art of Patriotism for incorporating Nana's patriotic lessons and hymns into your homeschool studies.
More Homeschool Activities And Resources
Veterans Day is a great opportunity to write a letter to a Veteran. Use a letter template to help your kids send a greeting to a veteran they know, or even one they don't. Several options for sending letters to veterans are available. Check some of these out:
A Million Thanks
Support Our Troops
Operation We Are Here
Veterans United
To help your kids write their letter, download a free Veterans Day Letter Writing Template on my blog (you'll even find handy writing prompts in the blog post!).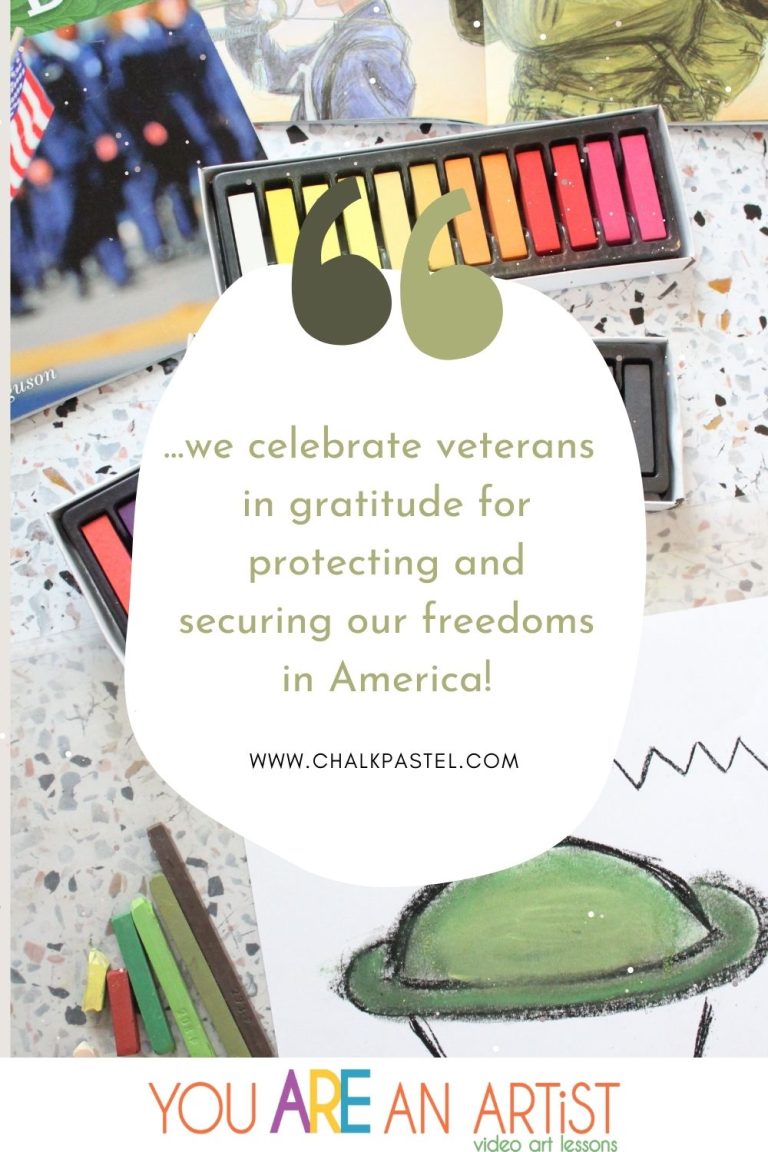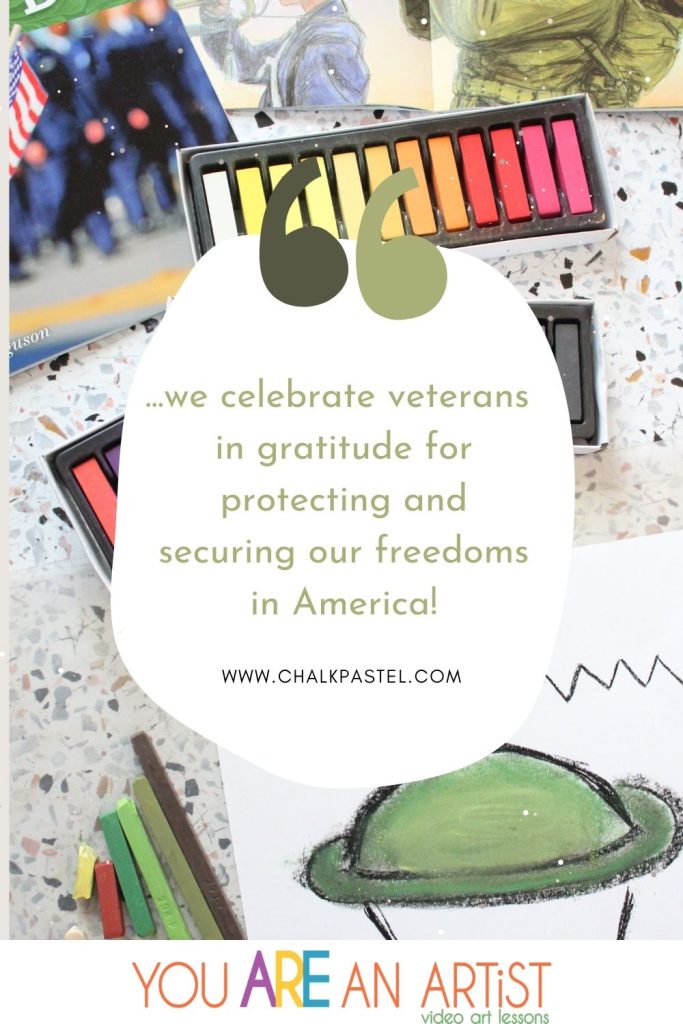 Look for opportunities to say thank you. You might run into a veteran at the store, library, church, or even just crossing the street. Sometimes your kids may spot a veteran right away by their uniform. Other times, veterans can be recognized by embroidered hats or lapel pins that tell what branch of the military they served in. I try to teach the boys to notice these details, and that when we meet a veteran we don't know, we can still simply say, "Thank you for your service." A simple thank you means so much.
You can also make Veterans Day a time to serve and bless these hard-working Americans with your thoughts, prayers, understanding, and appreciation!
Teaching your kids with Veterans Day homeschool activities can make this annual holiday a time of understanding and growth for your kids. Each year, they'll learn more about the sacrifice and bravery of our men and women in the military.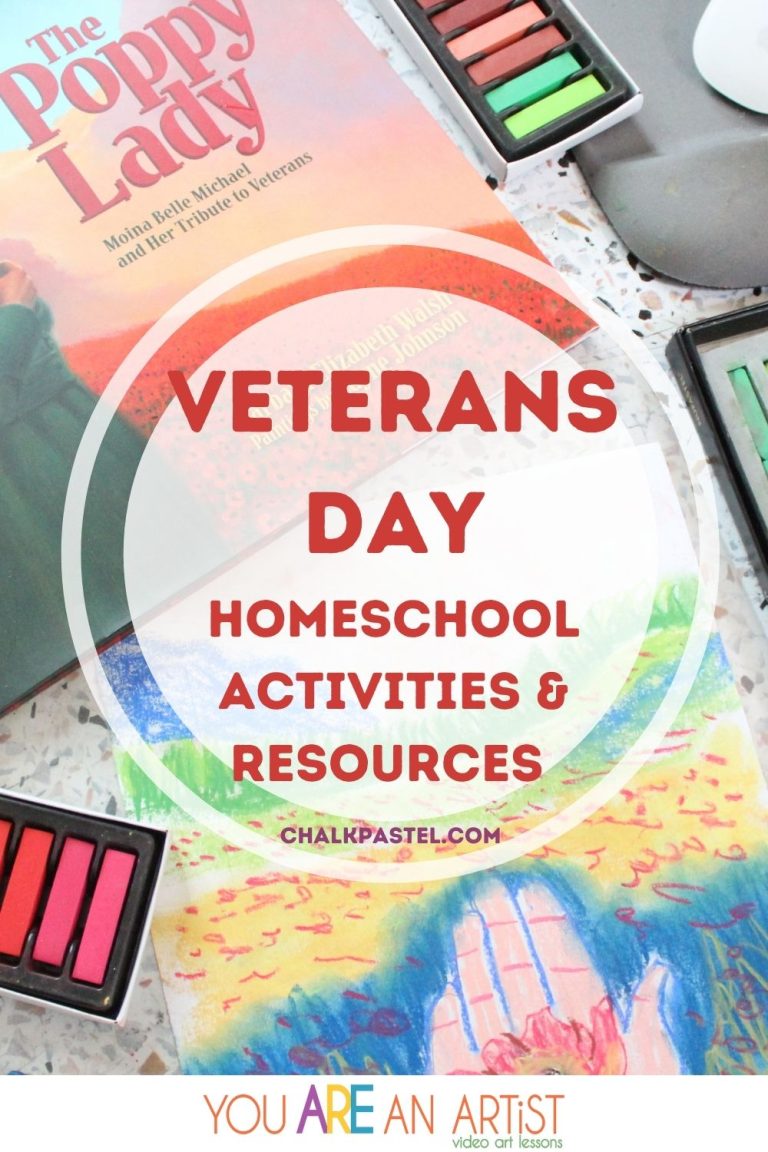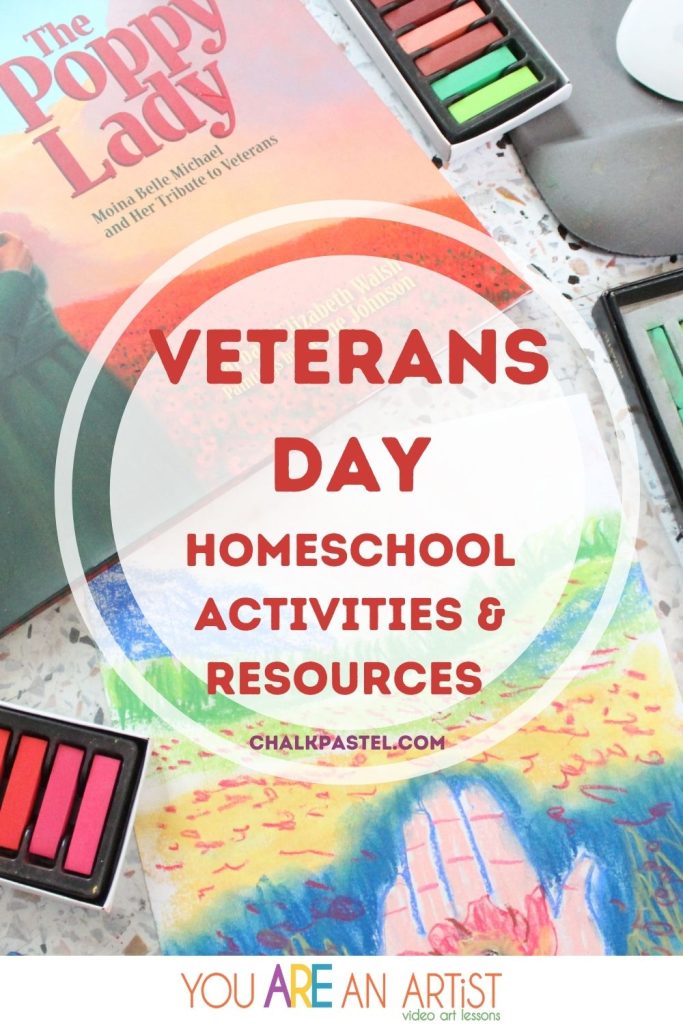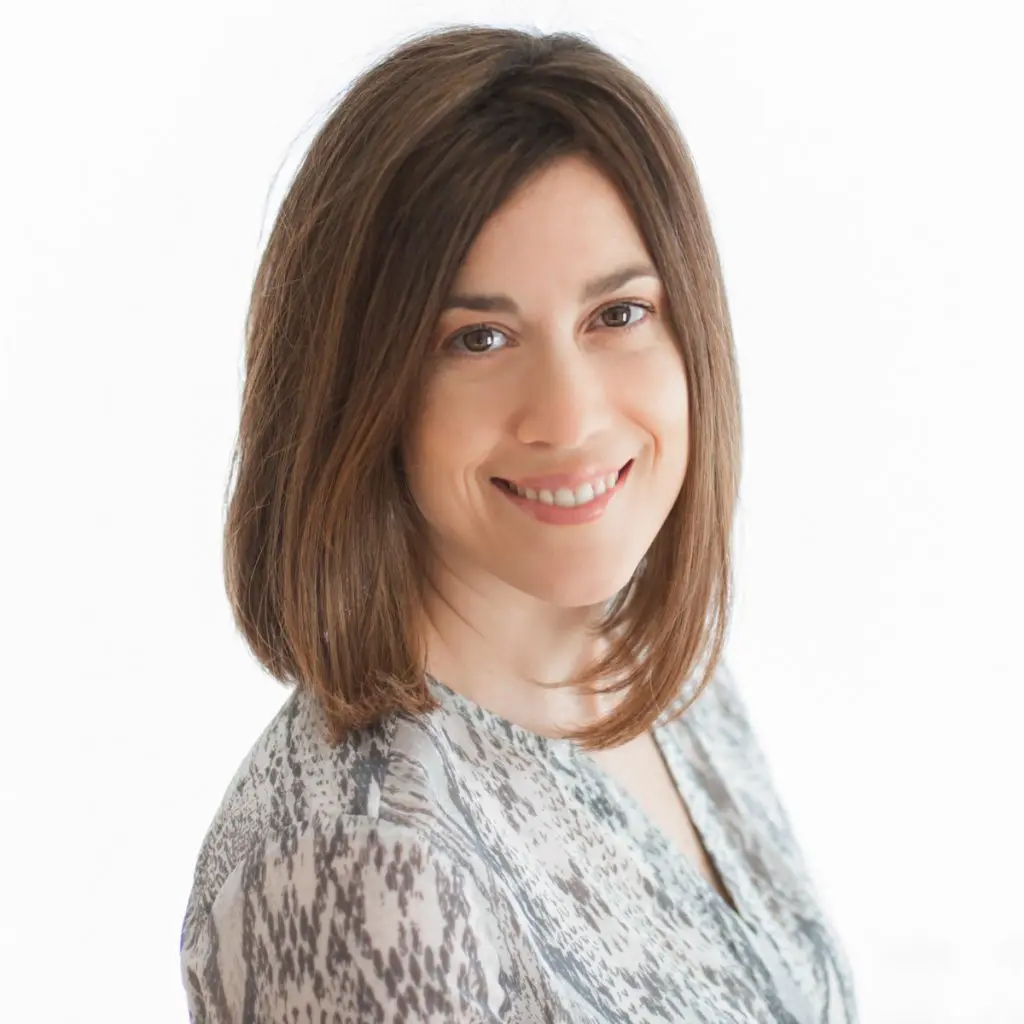 Julie is a teacher, writer and homeschool mom. Her blog Happy Strong Home shares encouragement for cherishing children, enjoying motherhood, and growing strong families. Discover homeschool resources, natural living tips, and family activity ideas. Julie has been featured on Million Praying Moms, The Old Schoolhouse Magazine, and the Melissa and Doug blog. She offers writing workshops and a "homeschool neighborhood" community to support parents in their homeschool adventures. Find Julie on Instagram to be the first to know when new workshops and community events are available.