Check out this fun Harry Potter homeschooll teatime that even muggles will love! You'll find magical art lessons that everyone in the family will enjoy. You don't have to have a magic wand or spellbook. All you need is a simple set of chalk pastels, a pack of construction paper, and the teatime treats of your choice to bring the magic of art and Harry Potter into your home!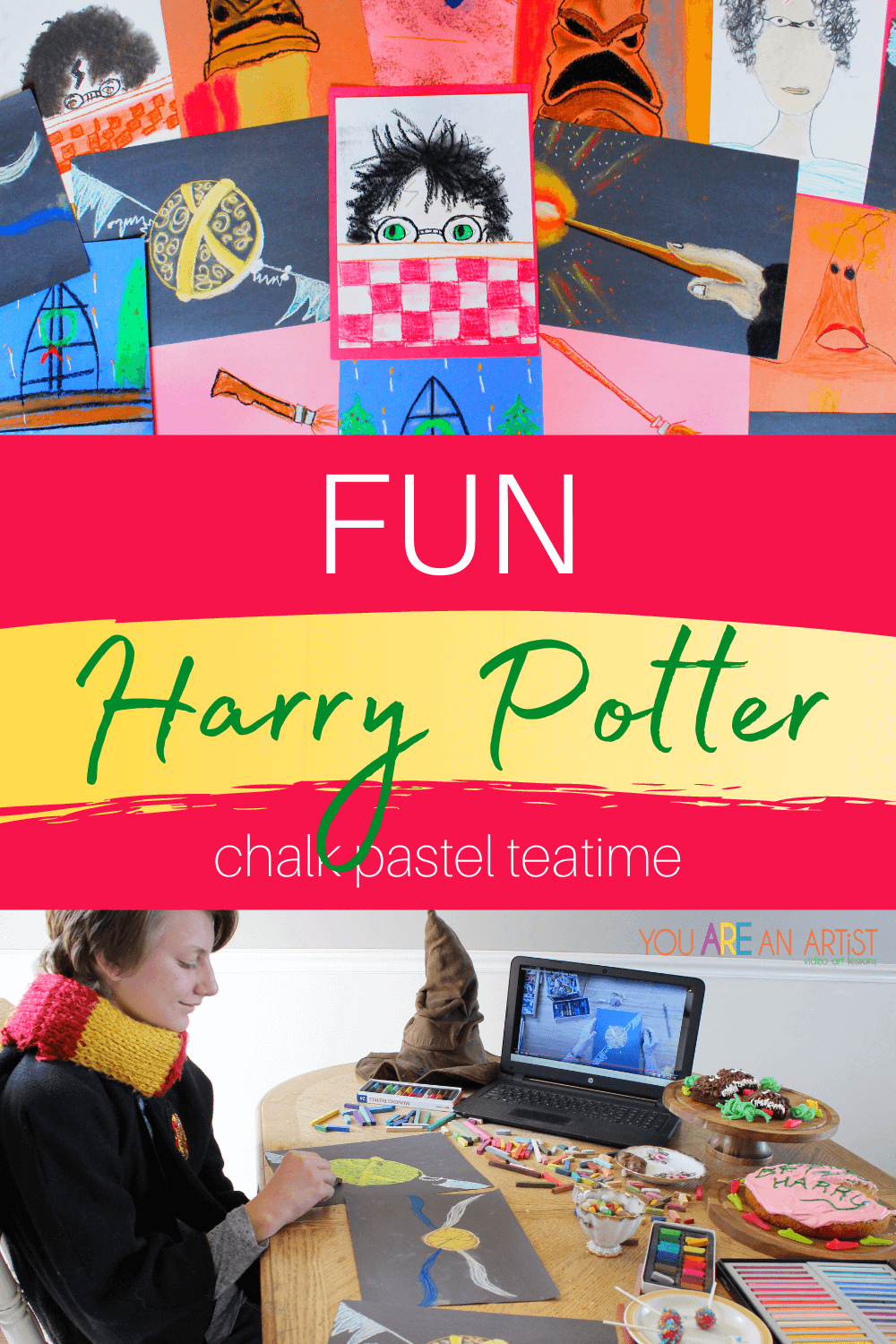 We are HUGE Harry Potter fans, folks! This is the series that made my son a prolific reader. Seriously, it will always have a special place in our hearts.
Why yes, we do own Hogwarts robes and two Sorting Hats.
I knitted a scarf for my son years ago in his favorite Gryffindor colors because he was so obsessed. I love that the kiddos pulled out ALL their themed garb for our Harry Potter chalk pastels with Nana! They had been looking forward to this teatime for weeks!
Did you know you can also print out your own Sorting Hat Fortune Teller and sort your kiddos into their Hogwarts houses before starting your Harry Potter teatime art?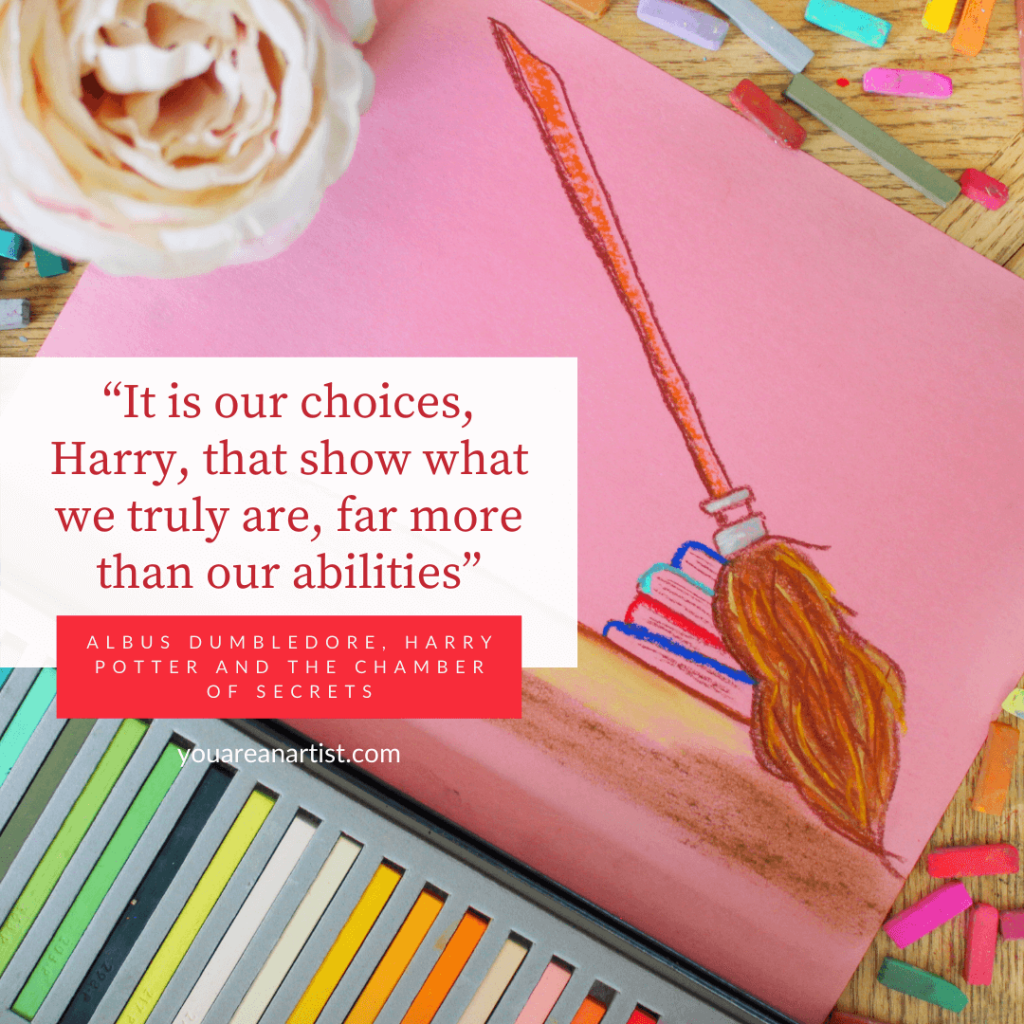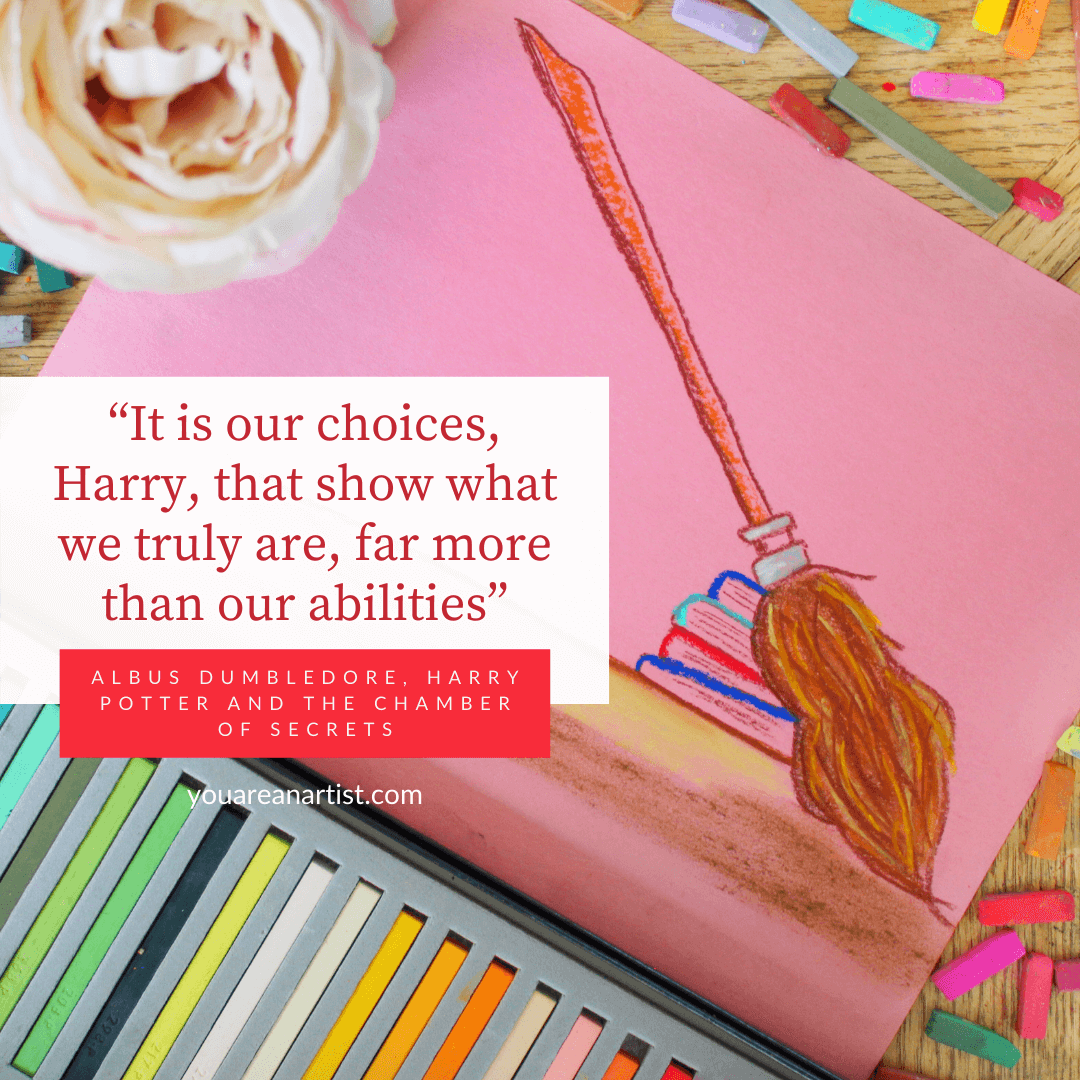 Harry Potter Homeschool Teatime Treats
My kiddos know that chalk pastel teatime means yummy treats! The biggest hit of our Hogwarts teatime was the homemade Butterbeer. You can scroll down to the very bottom of this post to see my recipe.
I ordered chocolate frogs, gummy slugs, and Bertie Botts every flavor beans off the internet.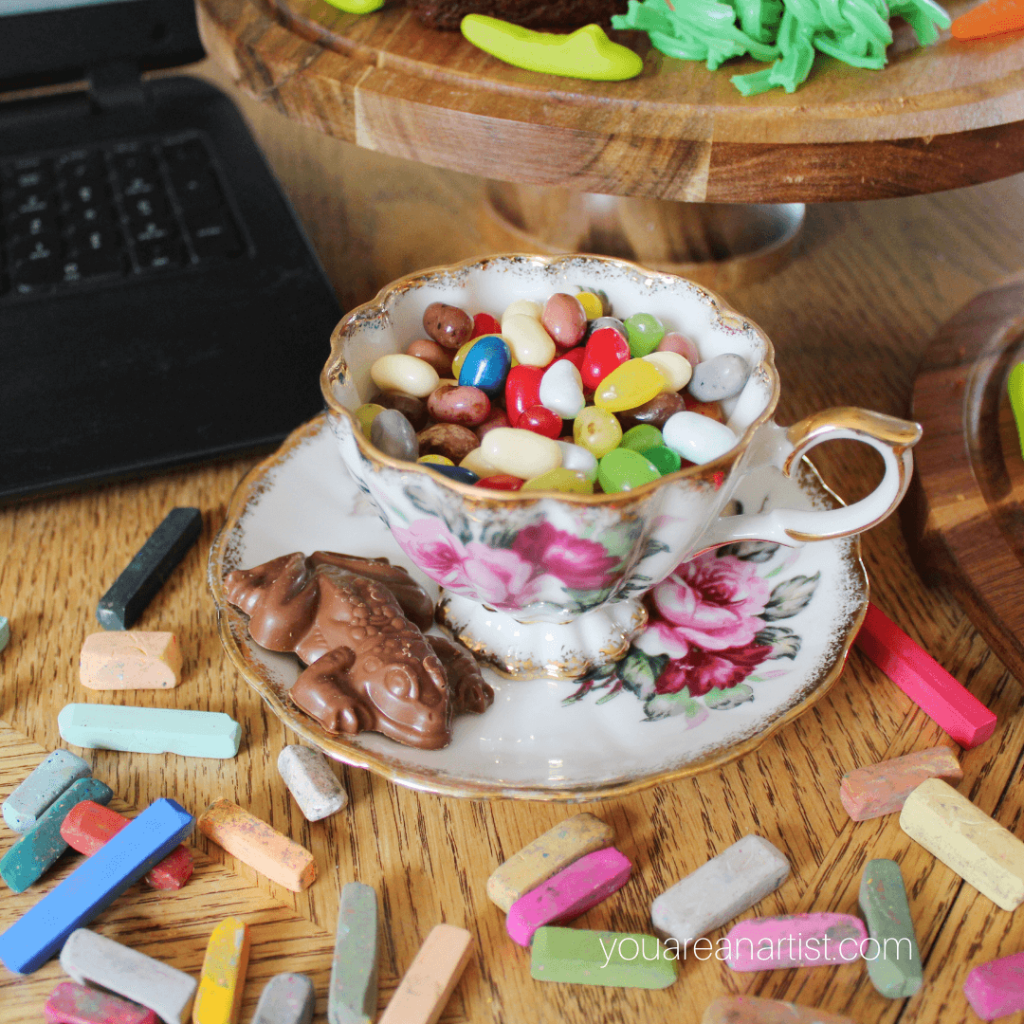 My daughter said she got an ear wax flavored jellybean during our teatime, ha!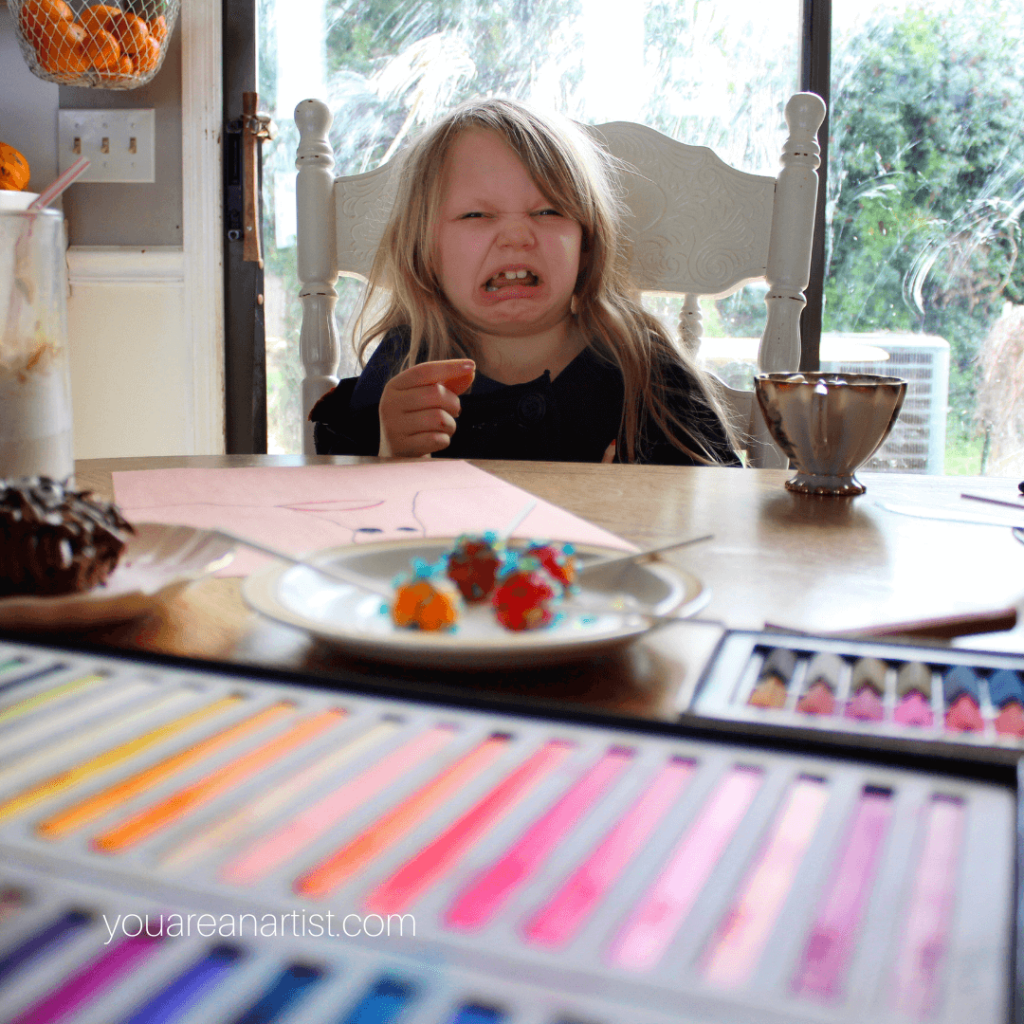 We made Hagrid's "Happee Brthdae Harry" cake the night before our teatime. It was just a plain yellow cake with pink frosting and green lettering.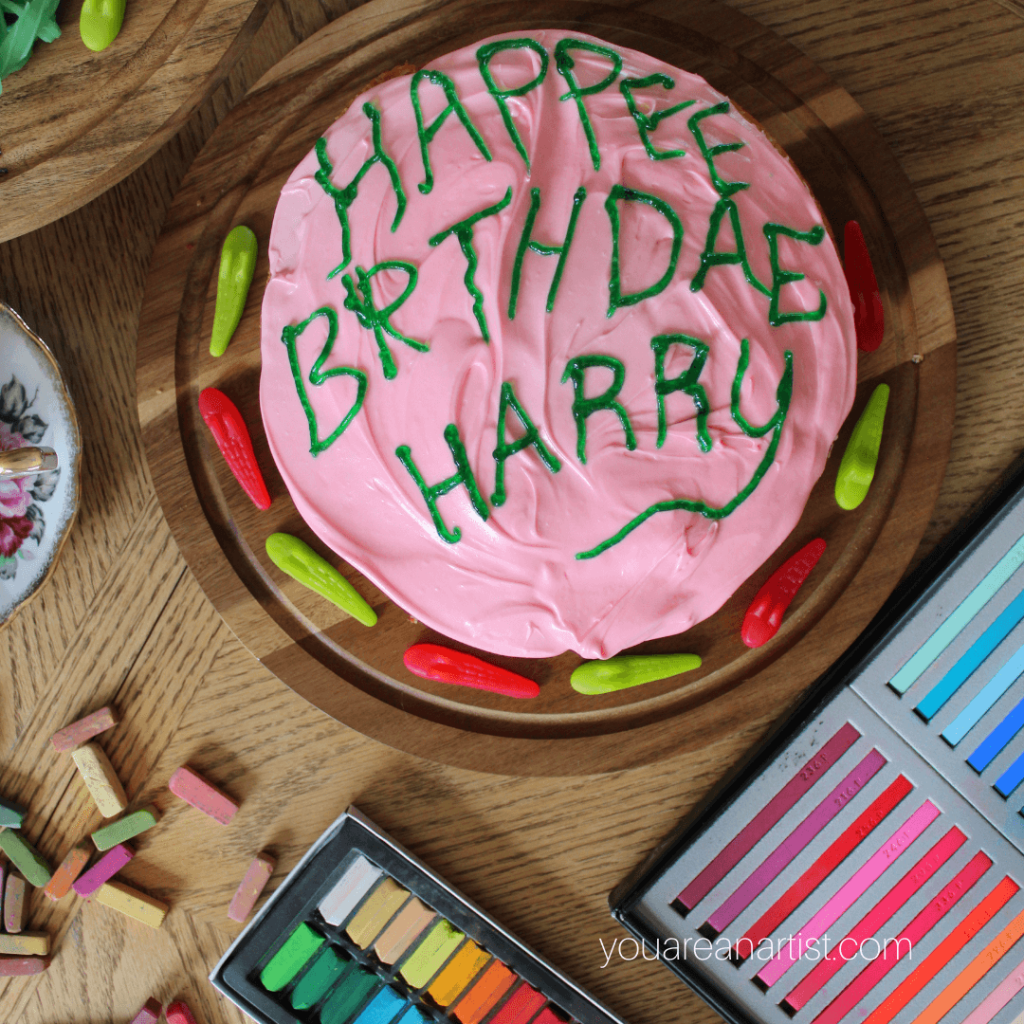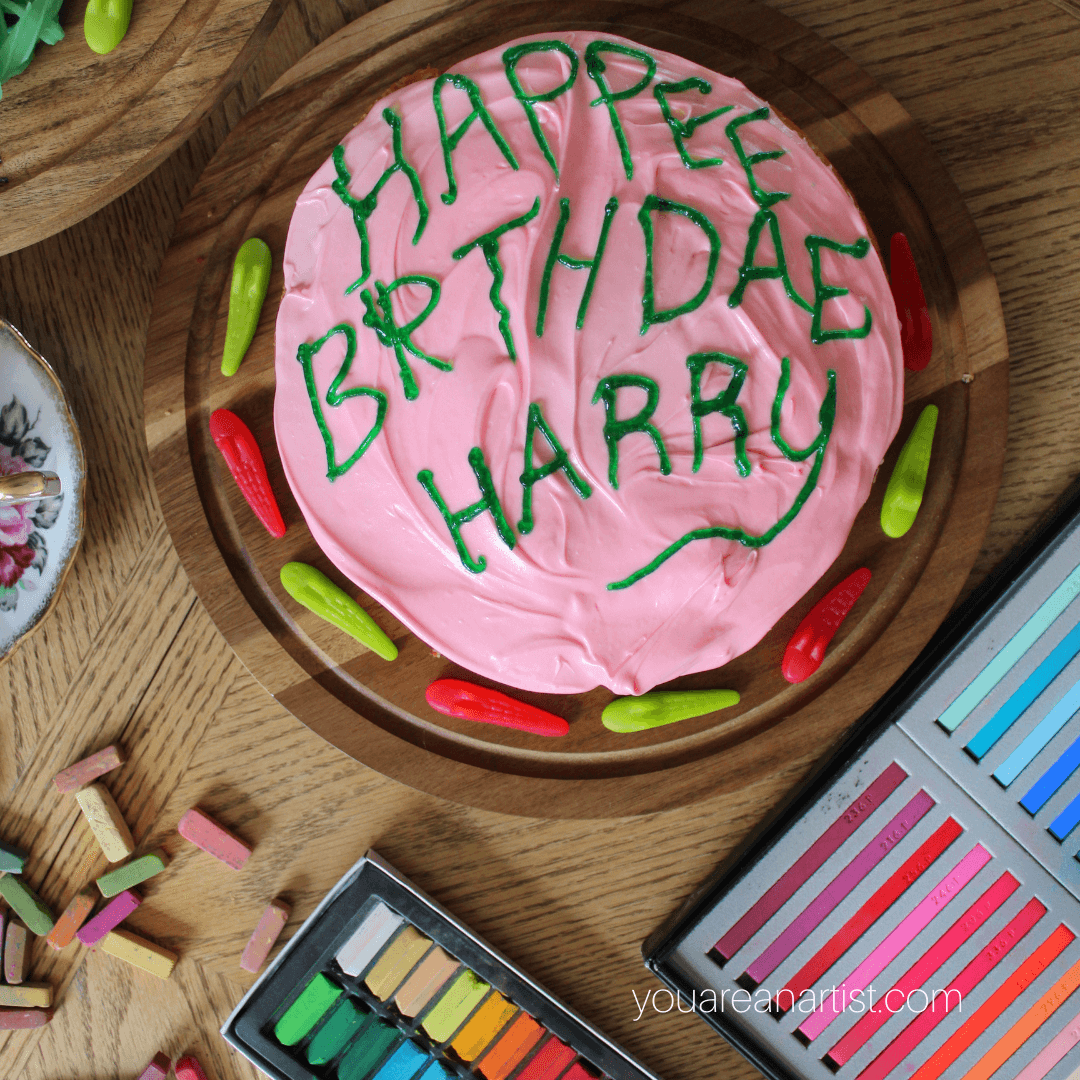 We made brownies and then decorated them with frosting and edible googly eyes to look like mini "Monster Book of Monsters." A piece of red twizzle made a great tongue.
Green Twizzlers pulled apart and then knotted back together made excellent "Gillyweed!"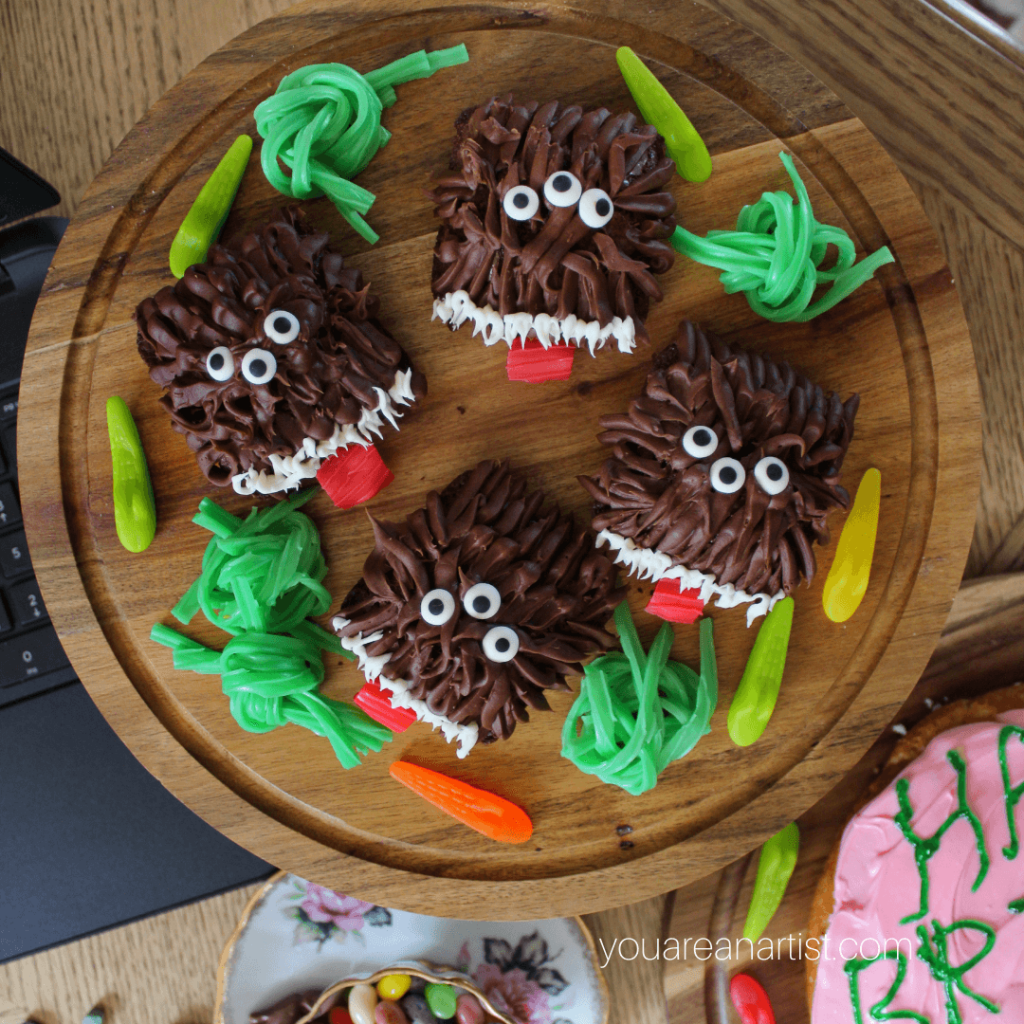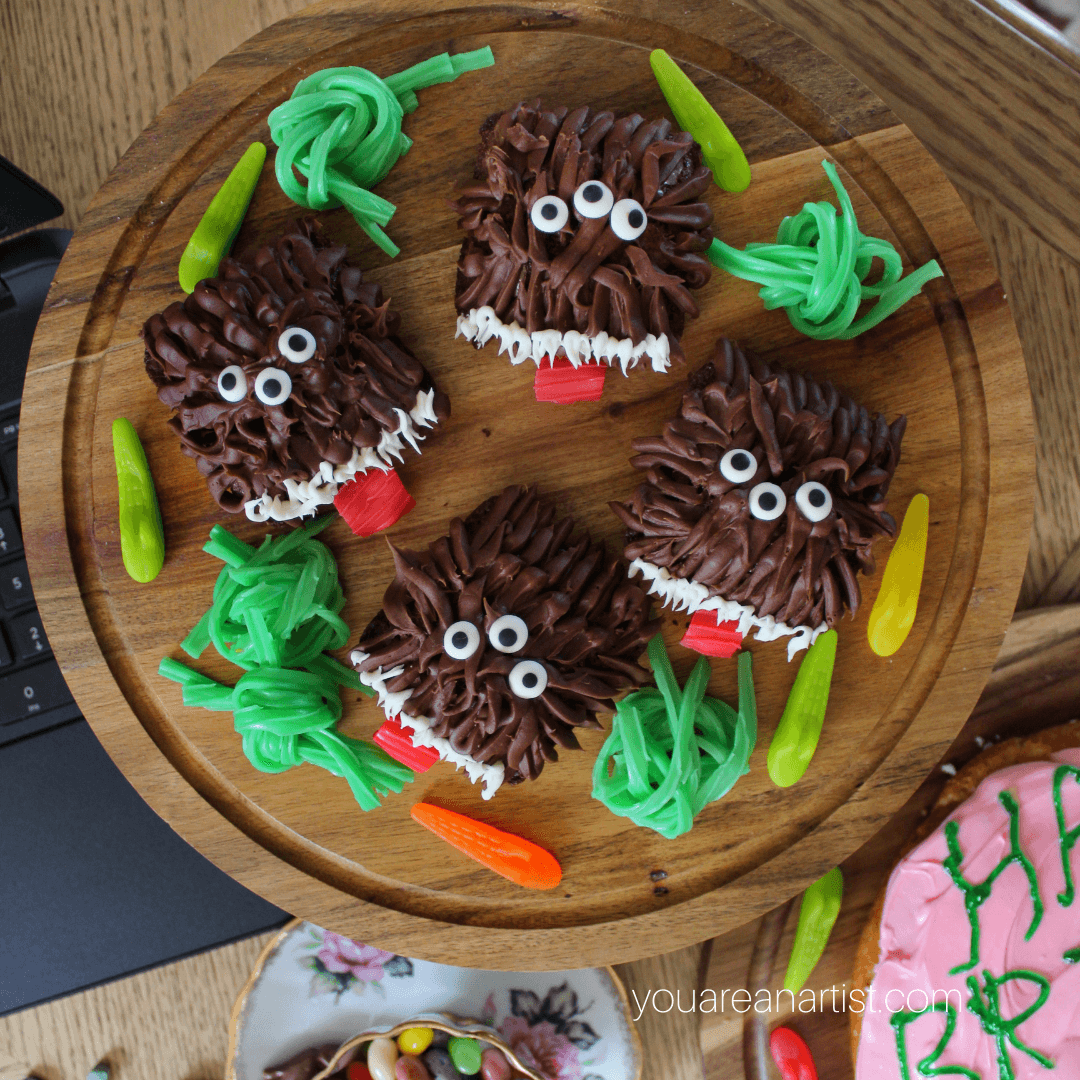 We also made "Acid Pops" which were really Dum Dum's dipped in honey and then rolled in crushed Dum Dum's. Pop rocks would have been even better, but we couldn't find any.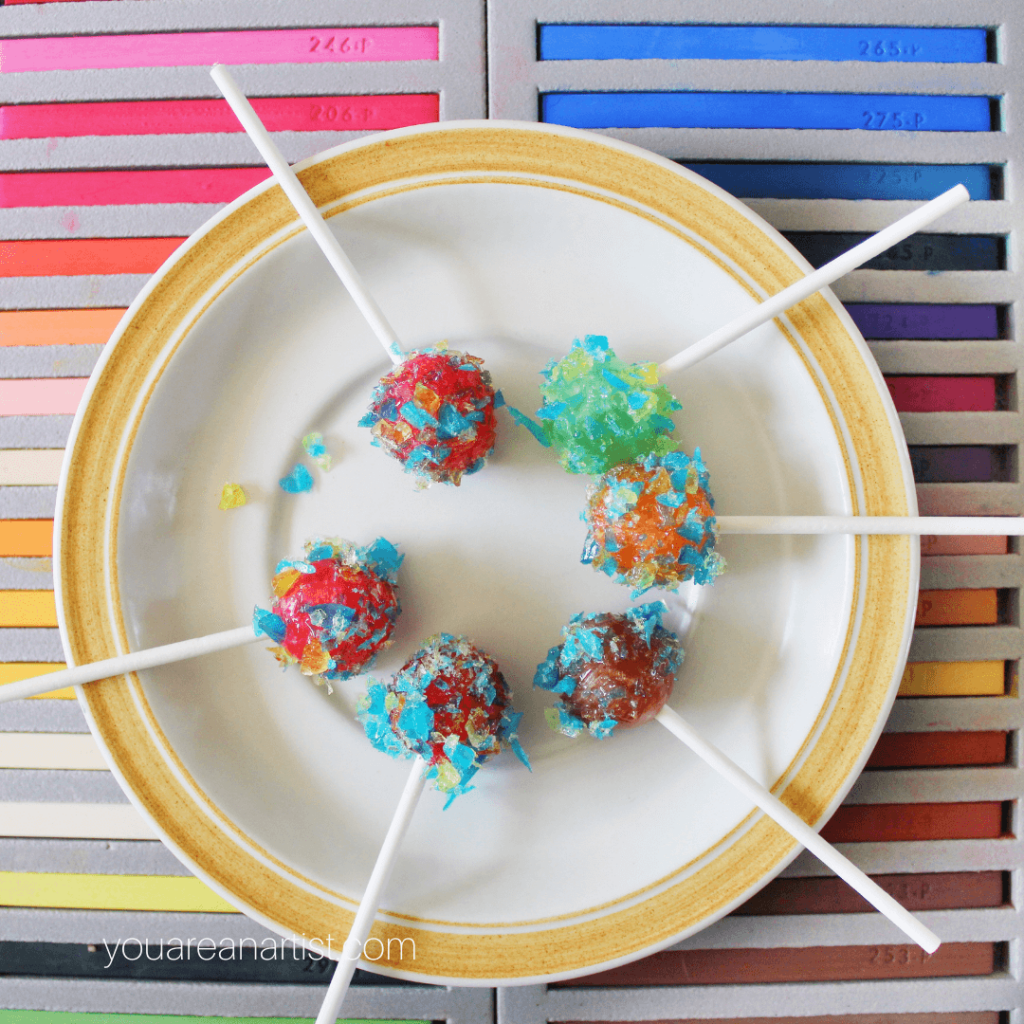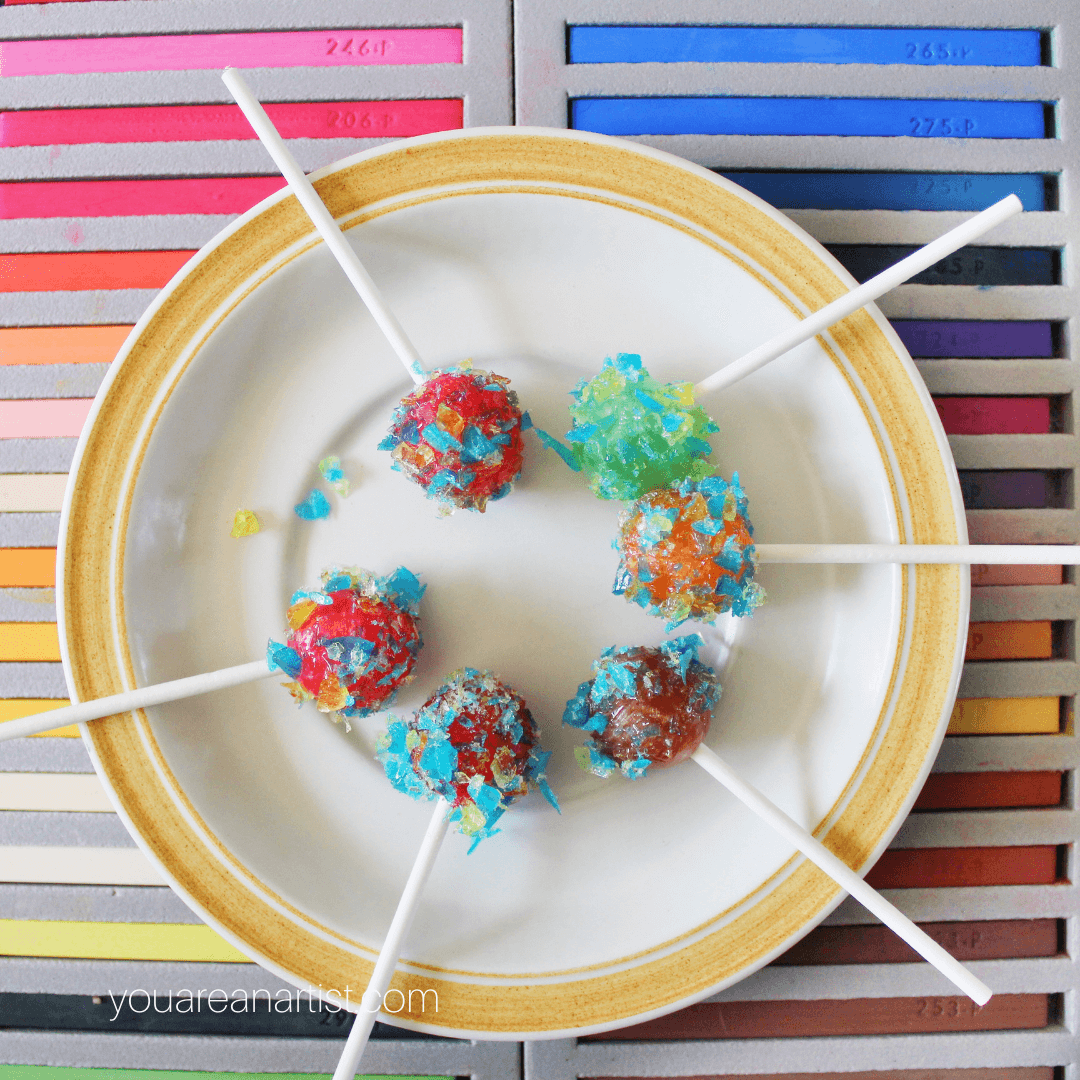 Easy Harry Potter Chalk Pastel Art Lessons for Your Homeschool
No chalk pastel teatime is complete without amazing video art lessons! Nana did not disappoint with this Chalk Pastels at The Movies Harry Potter art marathon. Nana also has a companion Fairy Tales and Mythical Creatures course for You ARE an ARTiST Clubhouse members!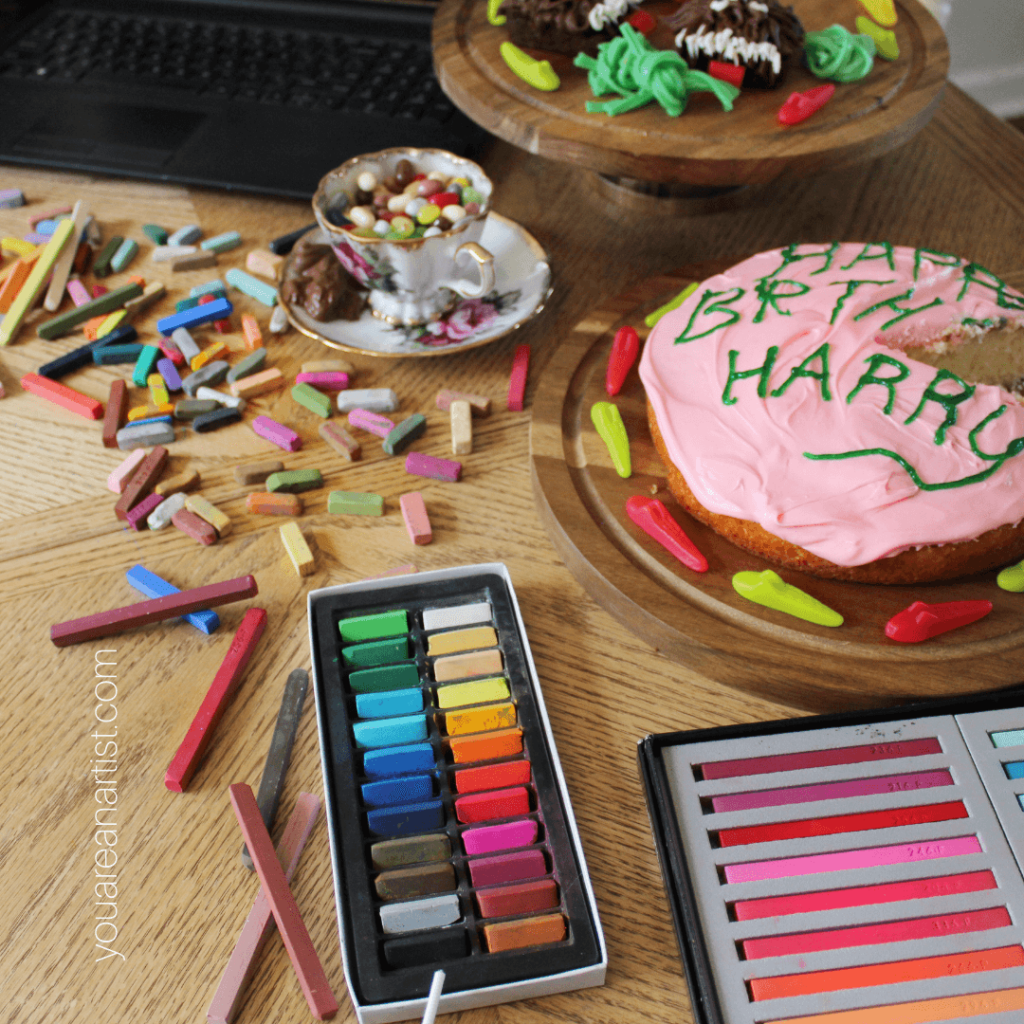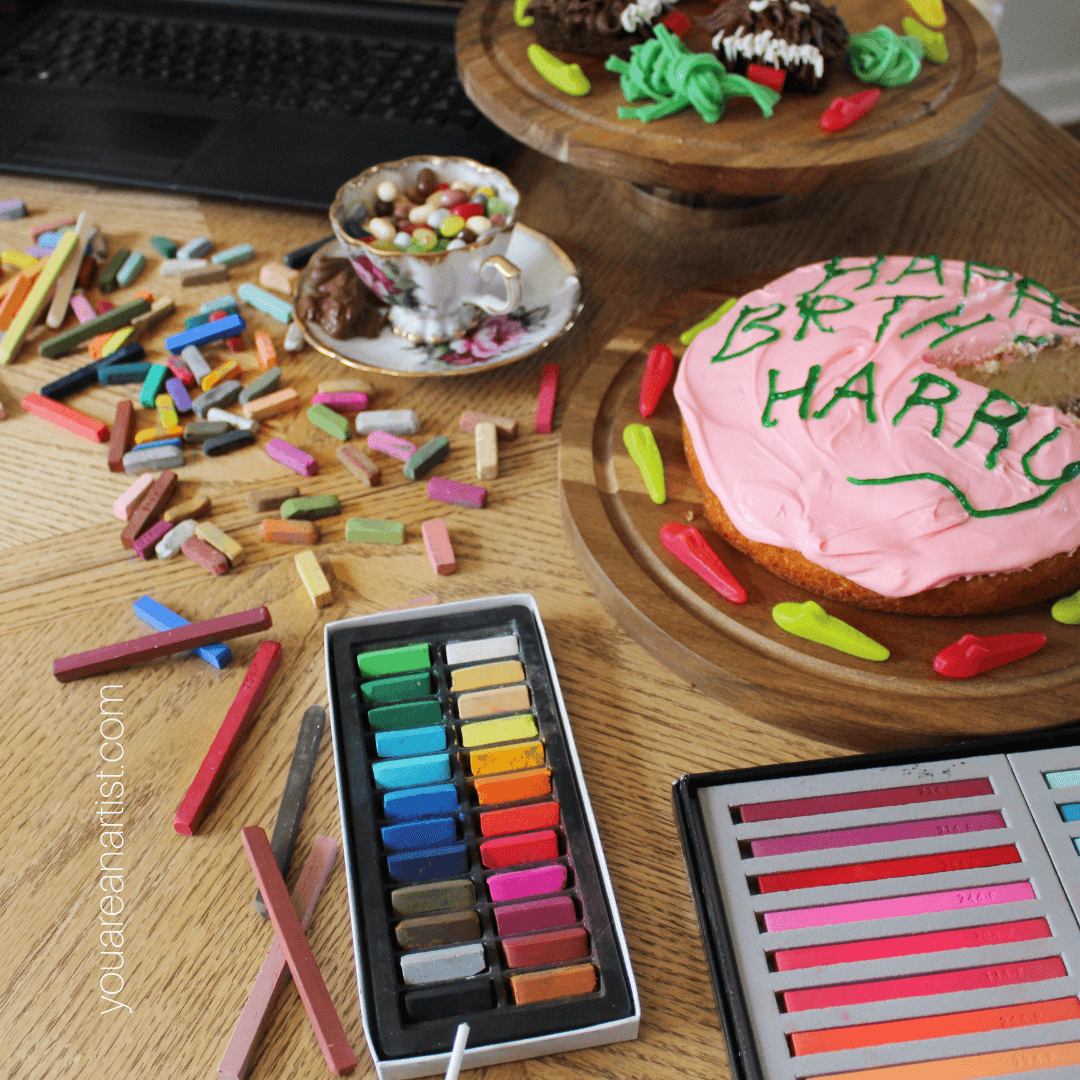 Nana did a fabulous job of showing us how to easily create our own:
Harry Potter's Lightning Scar
Wizard's Wand
Sorting Hat
Golden Snitch
Hogwarts Great Hall
Harry Potter Firebolt Broom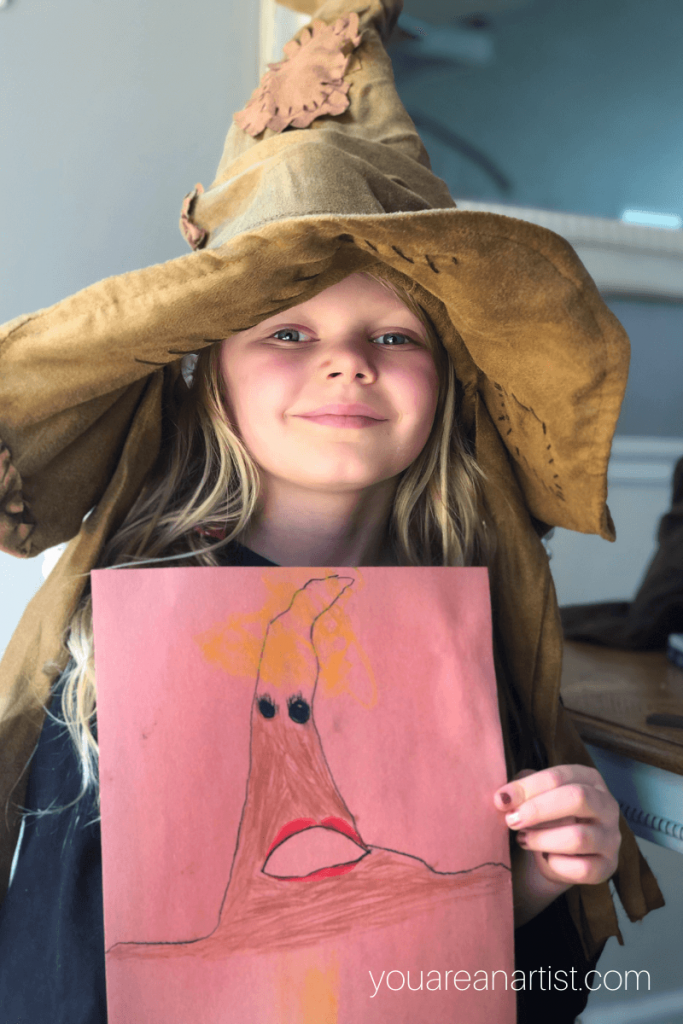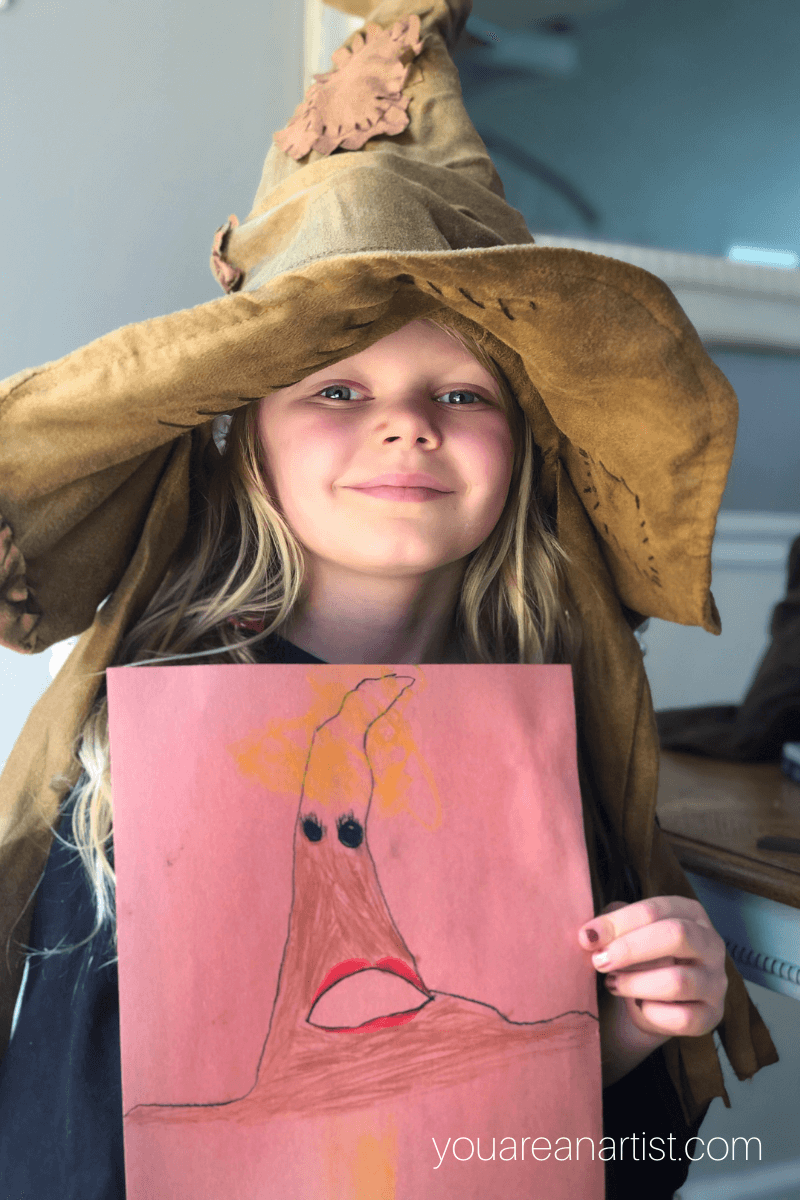 My daughter's favorite lesson was the Sorting Hat, which she made into a Lady Hat. She also enjoyed turning the Firebolt Broom lesson into Hermione and Crookshanks flying on a broom. Why did she take creative liberties with Nana's lesson?
Because Nana always reminds her that SHE IS THE ARTIST!
I just love how sweet and encouraging Nana is throughout all the art lessons.
My son's favorite lesson was Harry Potter's Lightning Scar and the Golden Snitch.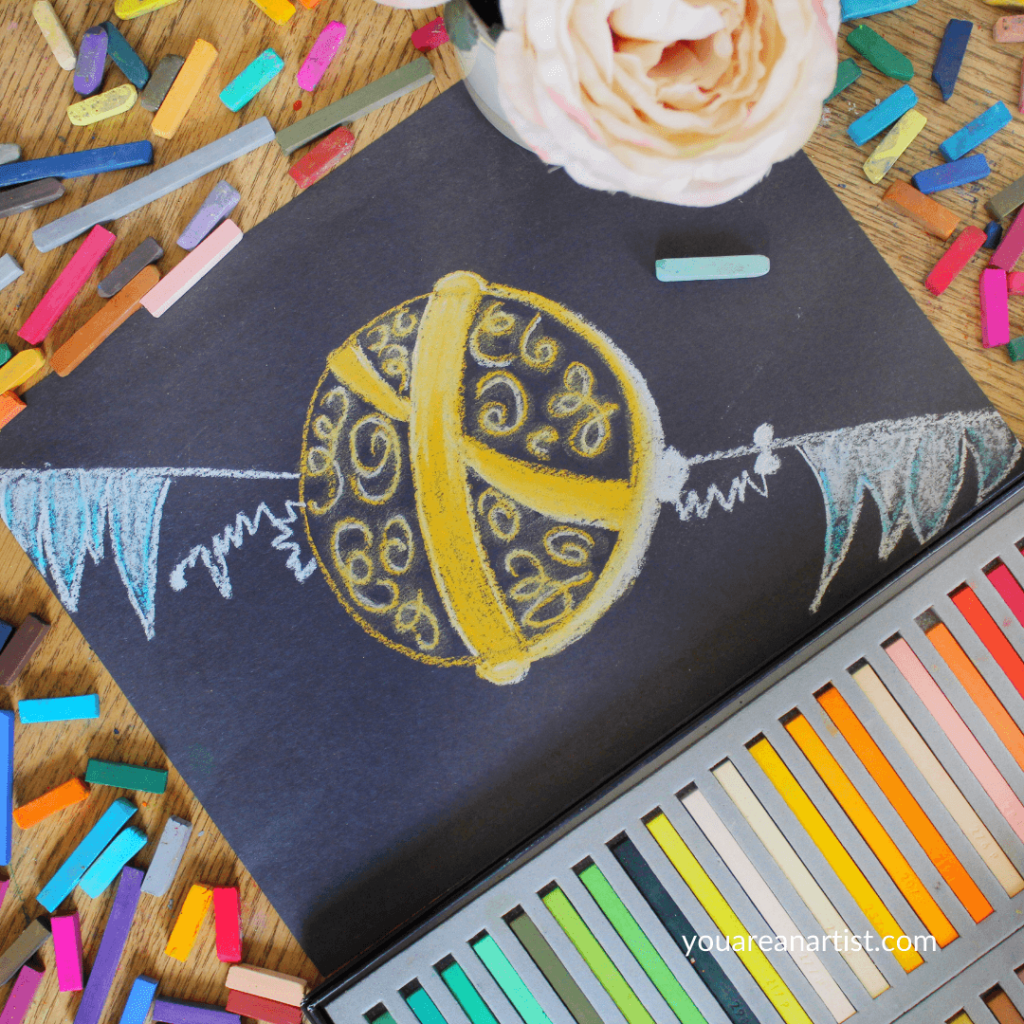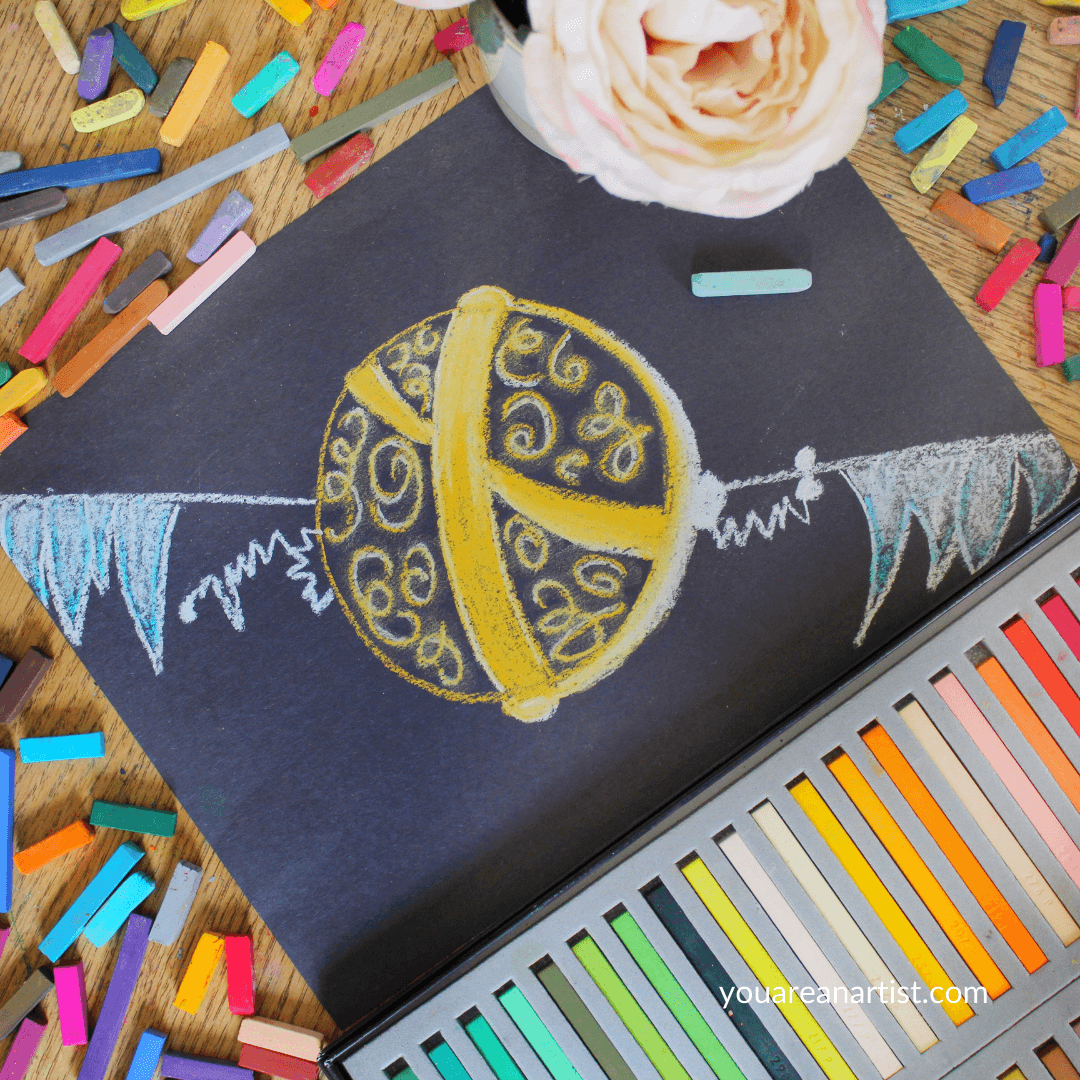 Harry Potter Homeschool Study in You ARE an Artist Clubhouse Membership
Did you know that with the You ARE An Artist Clubhouse Membership you'll have exclusive access to Nana's NEW Fairy Tales and Mythical Creatures course plus the You ARE An Artist Clubhouse Literature Video Art Lessons?
Fairy Tales and Mythical Creatures Art Lessons for Your Homeschool
A growing series of new lessons to complement your Harry Potter studies, including:
Centaur
Phoenix
Hippogriff
Giant's Hut
Dragon's egg
Fairy Tale Castle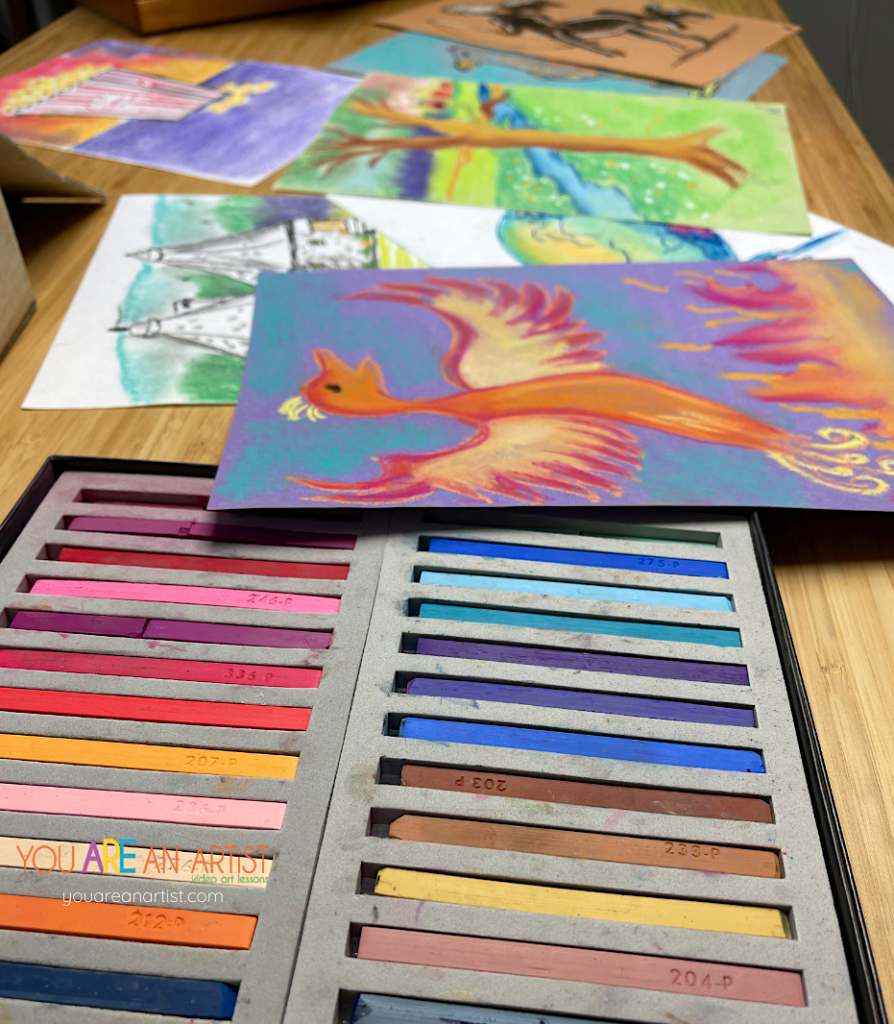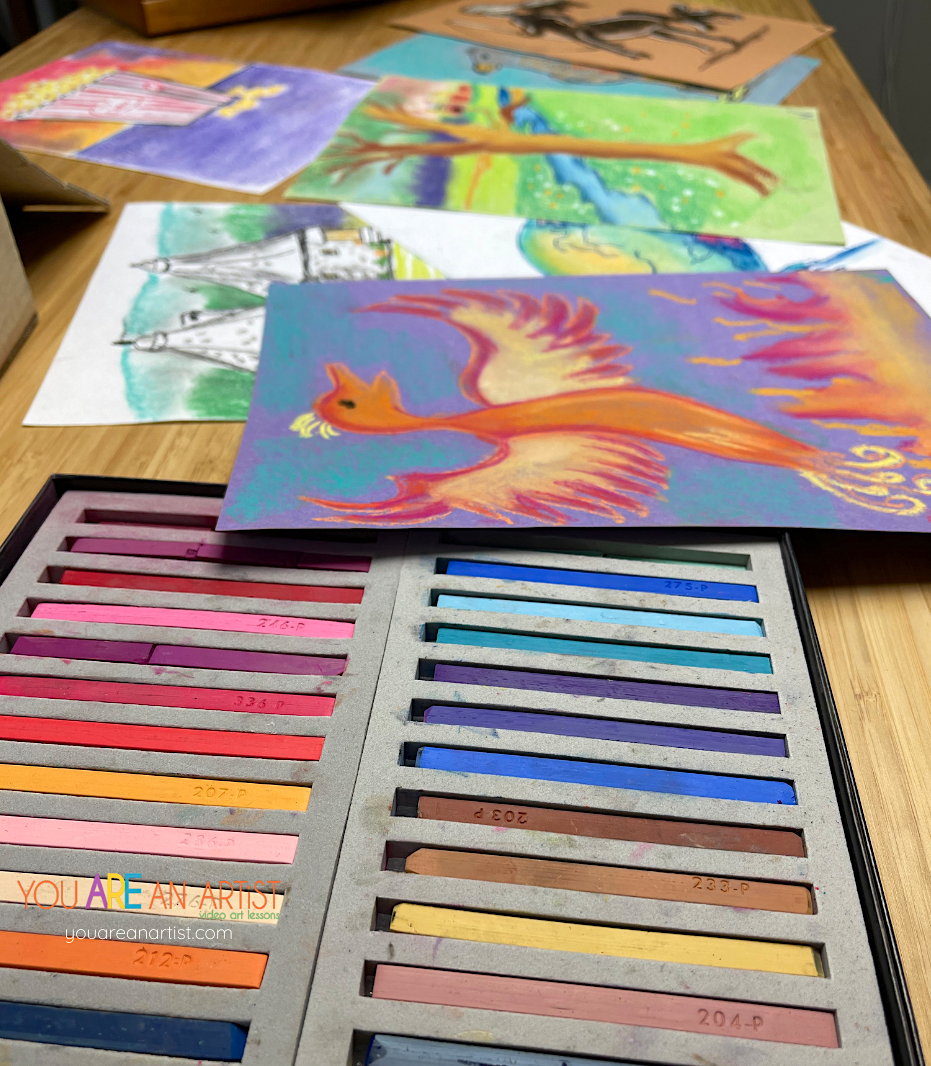 I Drew It Then I Knew It Literature Art Lessons for Your Homeschool
You ARE an ARTiST Clubhouse members also enjoy a new I Drew It Then I Knew It Literature Companion workbook to match these lessons including Harry Potter. The Literature Workbook includes writing prompts, fun facts, and more!
These literature chalk pastel lessons include:
Harry Potter series
Excalibur – Merlin
Shakespeare's Globe Theatre
The Swing – Robert Louis Stevenson
Charlotte's Web – E. B. White
Green Ember – S. D. Smith
Hundred Acre Wood – A.A. Milne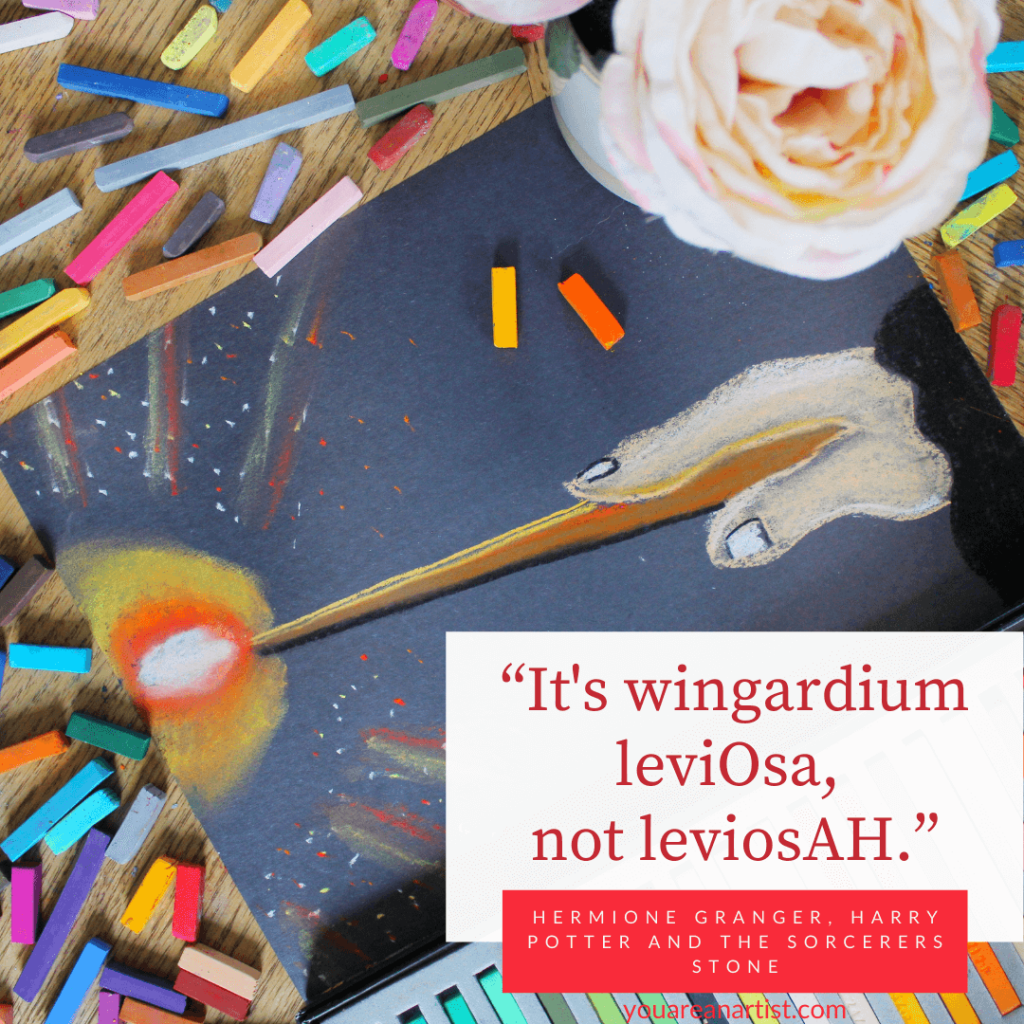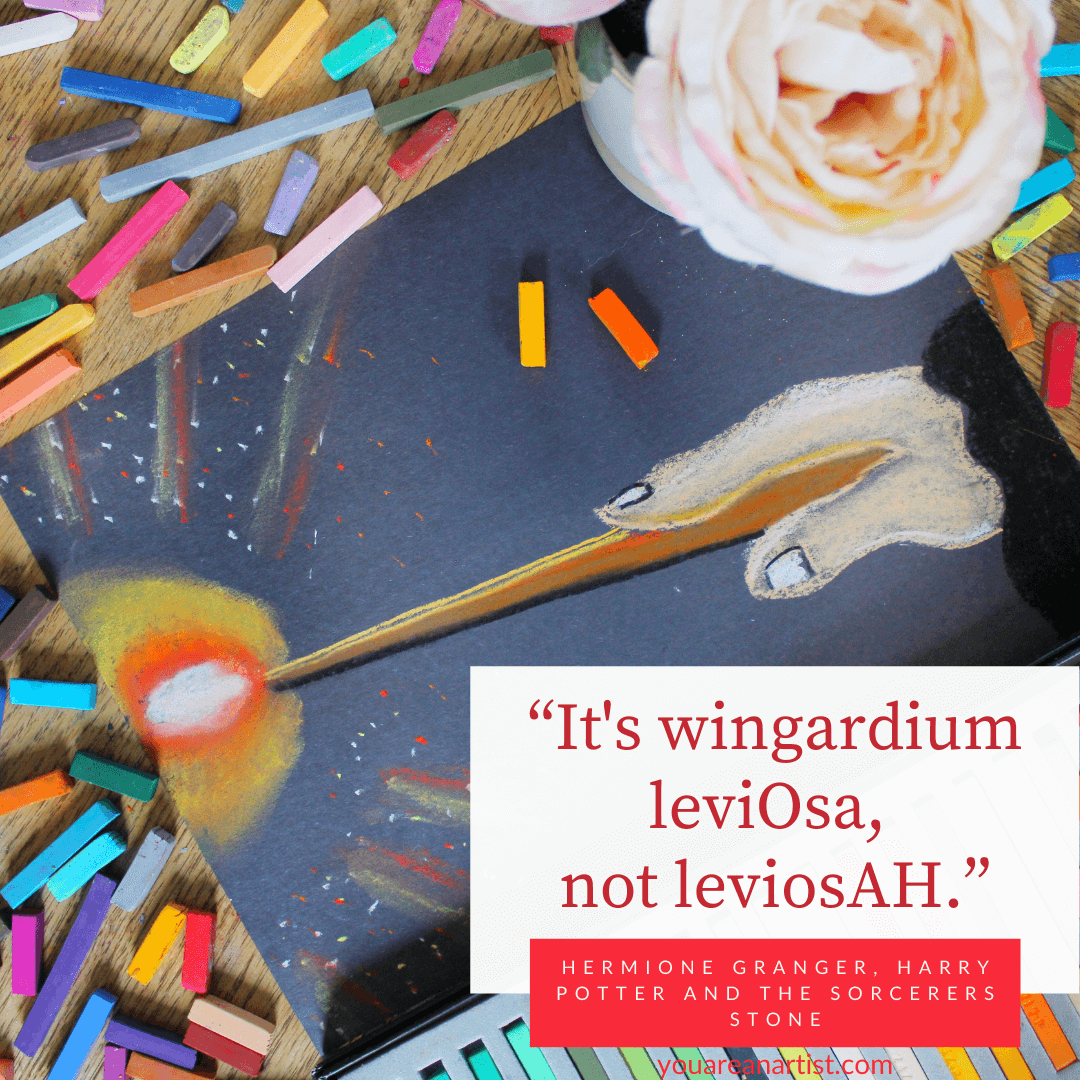 Fun Family Harry Potter Art For Your Homeschool
This was an EPIC Harry Potter themed chalk pastel teatime! A seriously fun collection of art lessons that the children had been looking forward to for weeks.
We are talking about an amazing chalk pastel teatime fit for wizards young and old alike! It will not be soon forgotten. I think this may be a teatime they will remember Always.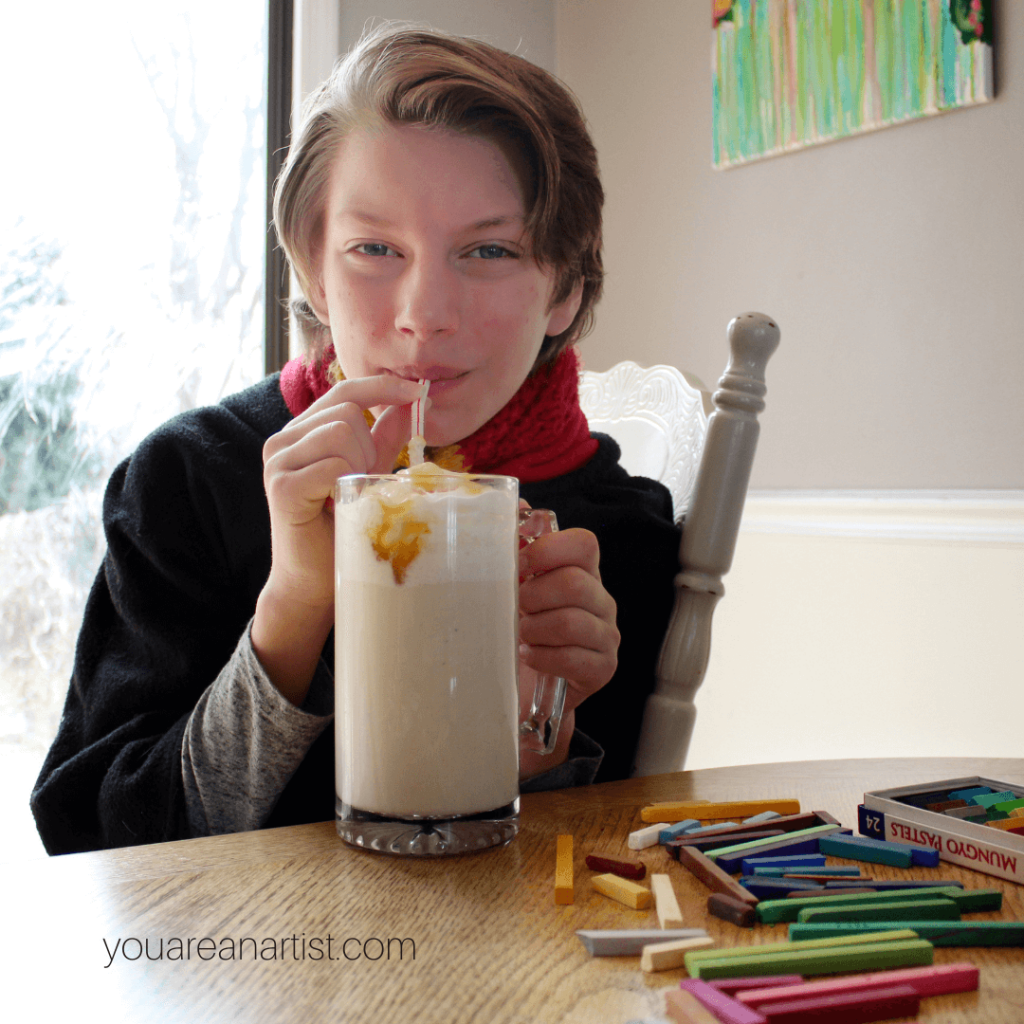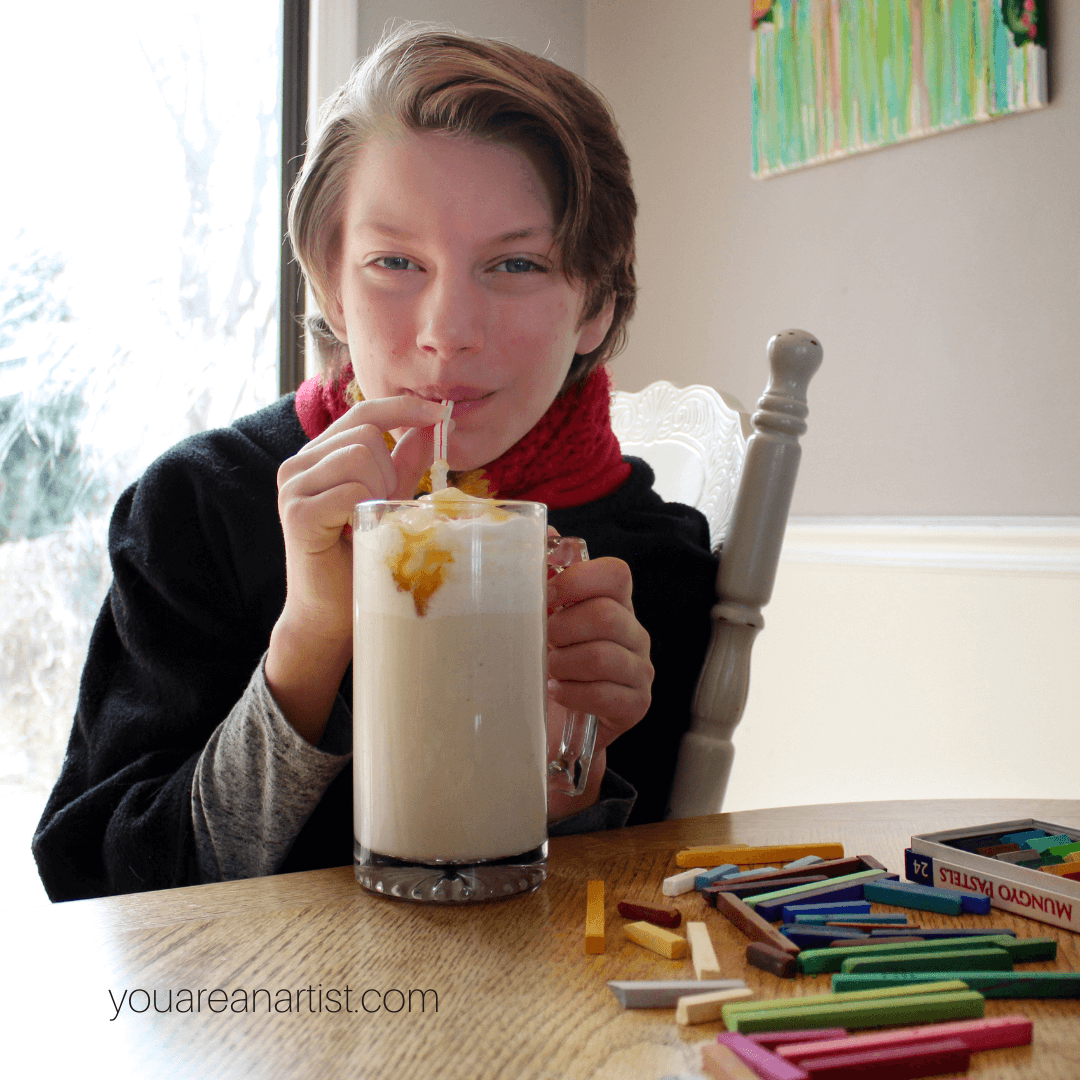 Tasty Harry Potter Butterbeer Recipe
Want to try our Butterbeer recipe? There are loads of Butterbeer recipes all across the internet. However, I've found that most of them are far too sweet and rich to be enjoyable. So, I came up with our own version that my kiddos love! This recipe made 2 HUGE frosty mugs full of "Butterbeer!"
Ingredients:
4 cups vanilla ice cream
2 cups cream soda ice cubes
3 teaspoons imitation butter extract
1 teaspoon rum extract
6 tablespoons butterscotch topping
2 cups cream soda
2 pinches of salt
whipped cream
Instructions:
Pour cream soda into ice cube trays and freeze.
Once the cream soda is frozen, place the ice cubes in the blender.
Add ice cream, imitation butter extract, rum extract, 2 cups of cream soda, butterscotch topping, salt, and blend until smooth.
Pour into your favorite frosted mug.
Add whipped cream and drizzle with butterscotch topping.
ENJOY!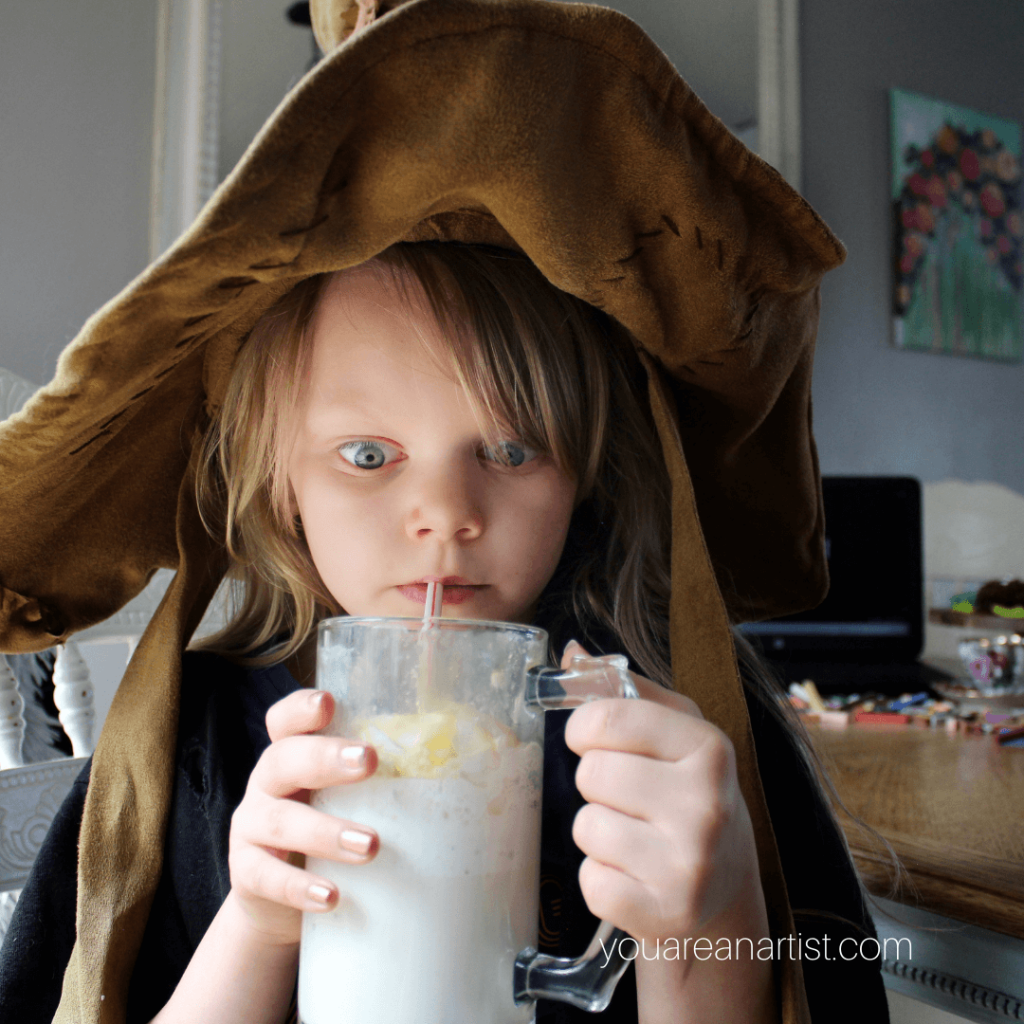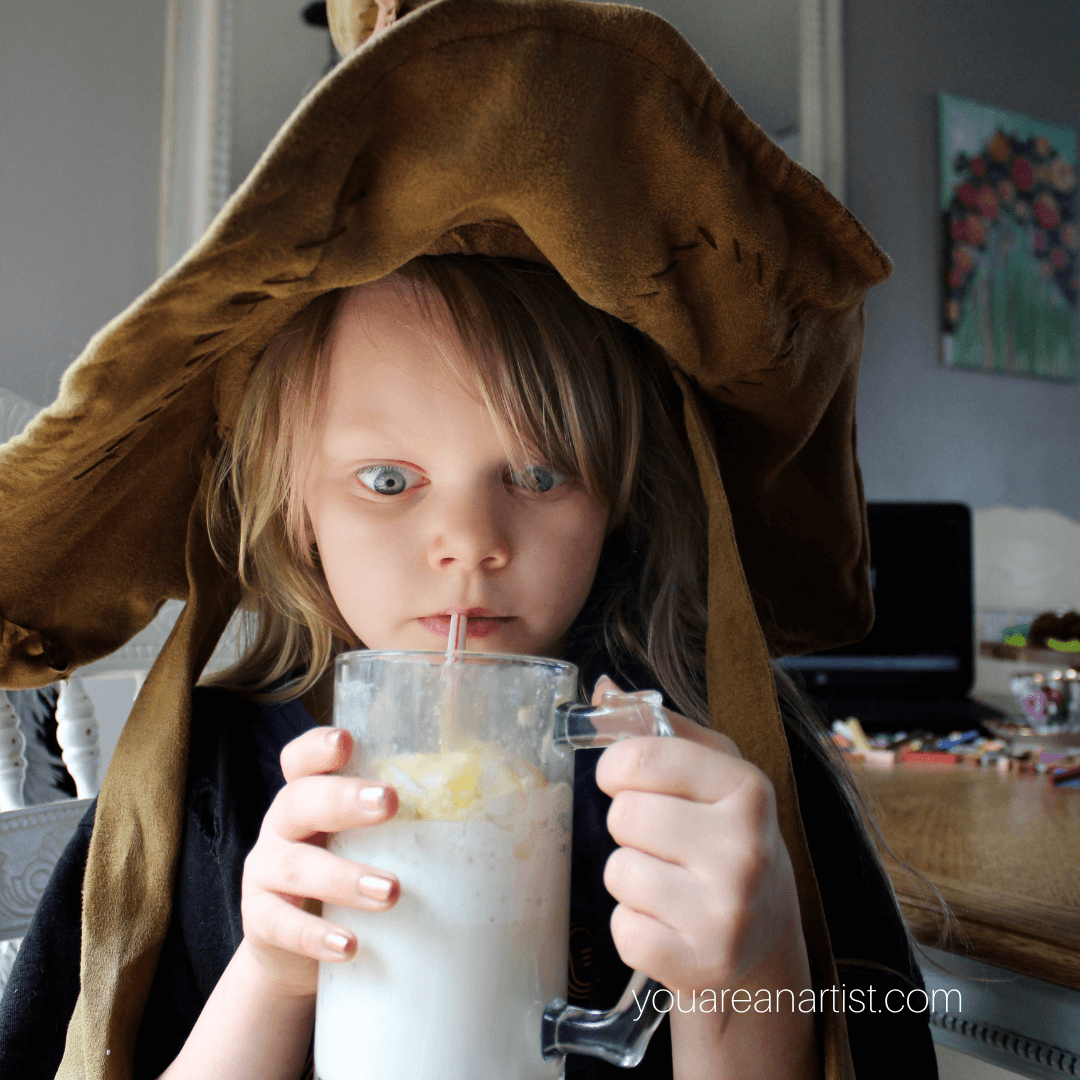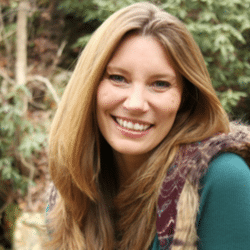 Erin is a writer, blogger, and homeschooler to two intense kids. Her blog is filled with information to help you explore a child led education while making meaningful connections with your children. Discover favorite read alouds, seasonal books, games, art projects, hands-on activities, and learn to just breathe through the ups and downs of life. She loves nature, farm life, good books, knitting, new pens, and hot coffee. Erin is a contributing writer for Weird Unsocialized Homeschoolers. Her work has also been featured on Simple Homeschool and Book Shark.