Help your child get excited about homeschool anatomy with these activities for hands on science! Diagram a cell, a bacterium, the human eye, the human heart and more!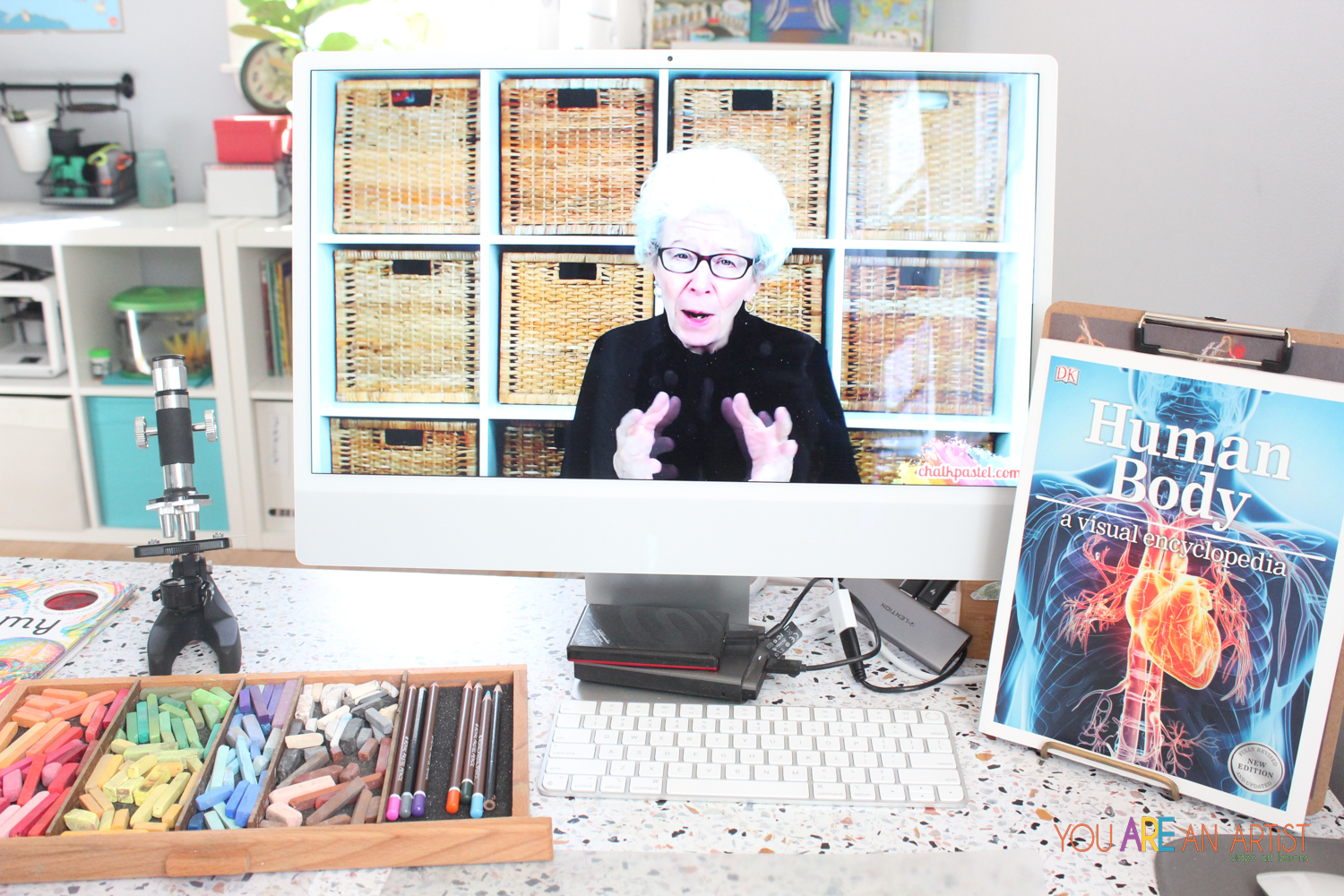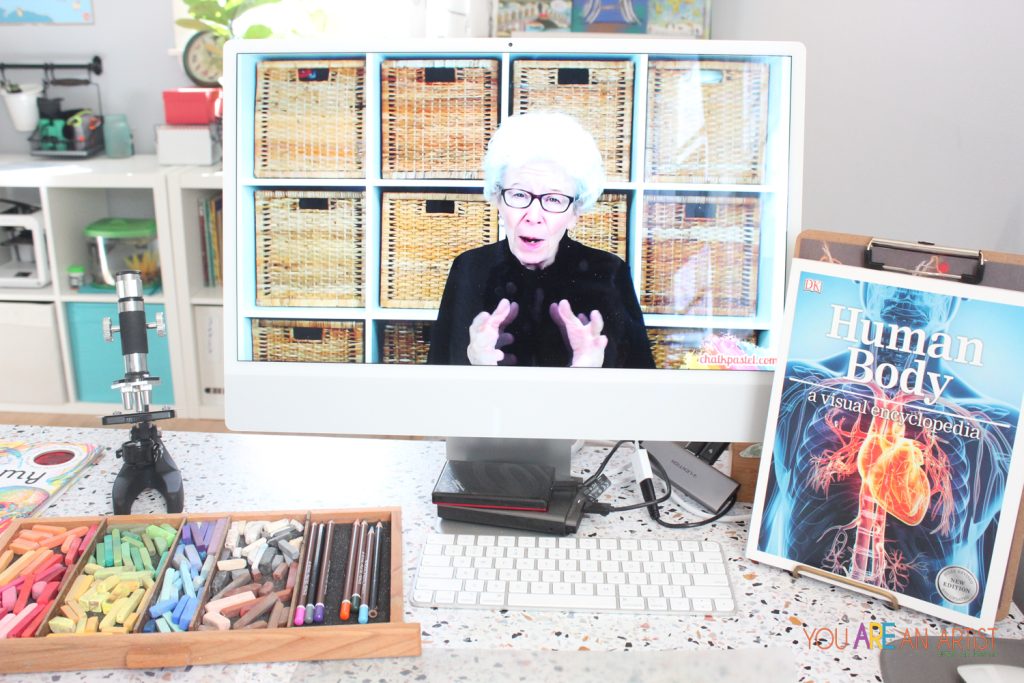 You know how much Nana loves maps! This is a new way to map and diagram with fantastic, hands on lessons with art! STEM learning just got better! You can even paint Newston's light prism, da Vinci's Vitruvian man and a lab-coated scientist.
Each science-themed art lesson from Nana focuses on a science concept that opens a door for further investigation, study, and discussion. Nana does such a wonderful job of dropping "breadcrumbs" of interesting and relevant facts as she gives her chalk pastel instruction.

Julie Kieras
An Ultimate List of Homeschool Anatomy Art Activities for Hands On Science
What a fun way to learn – with Nana's continuing homeschool anatomy series for You ARE an ARTiST Complete Clubhouse members.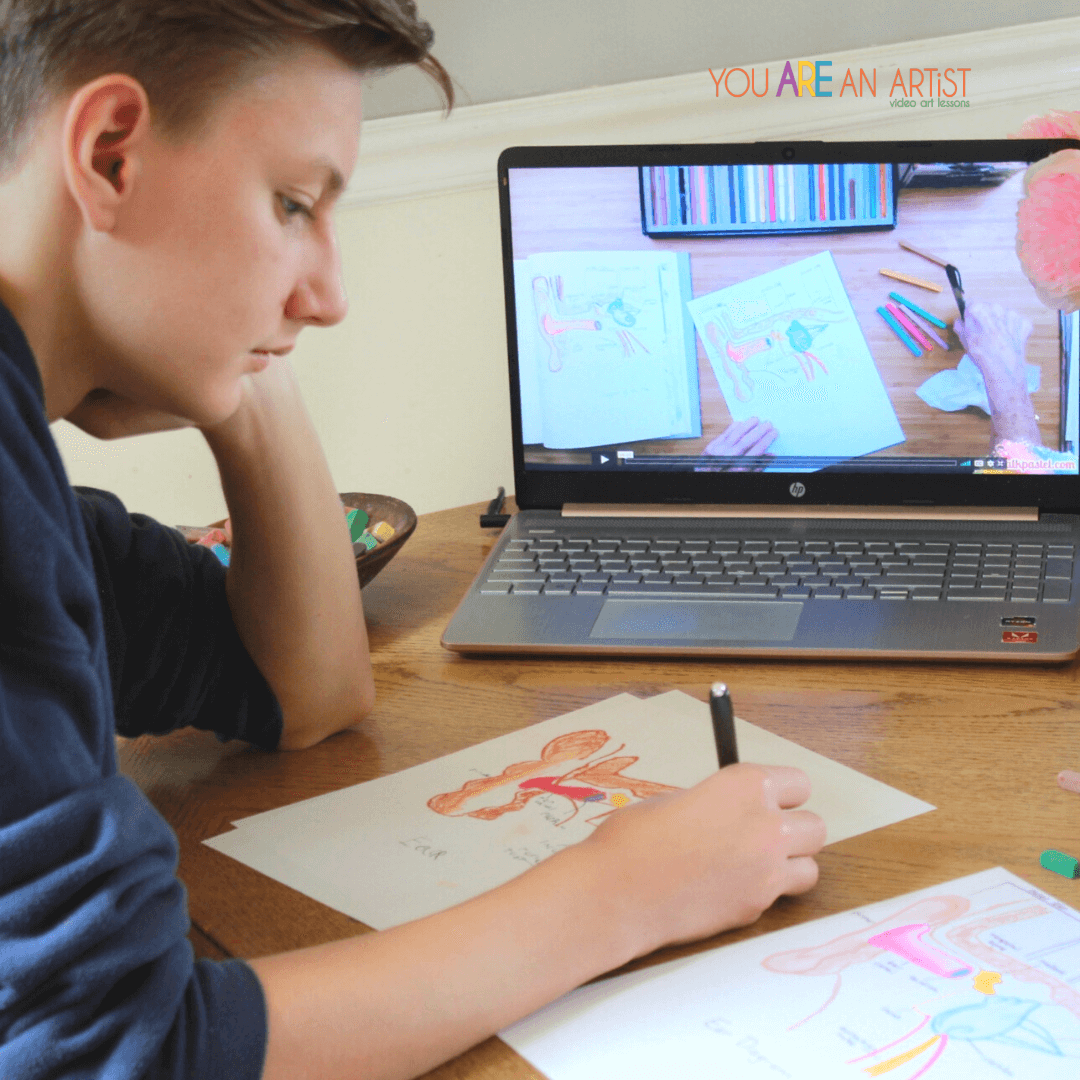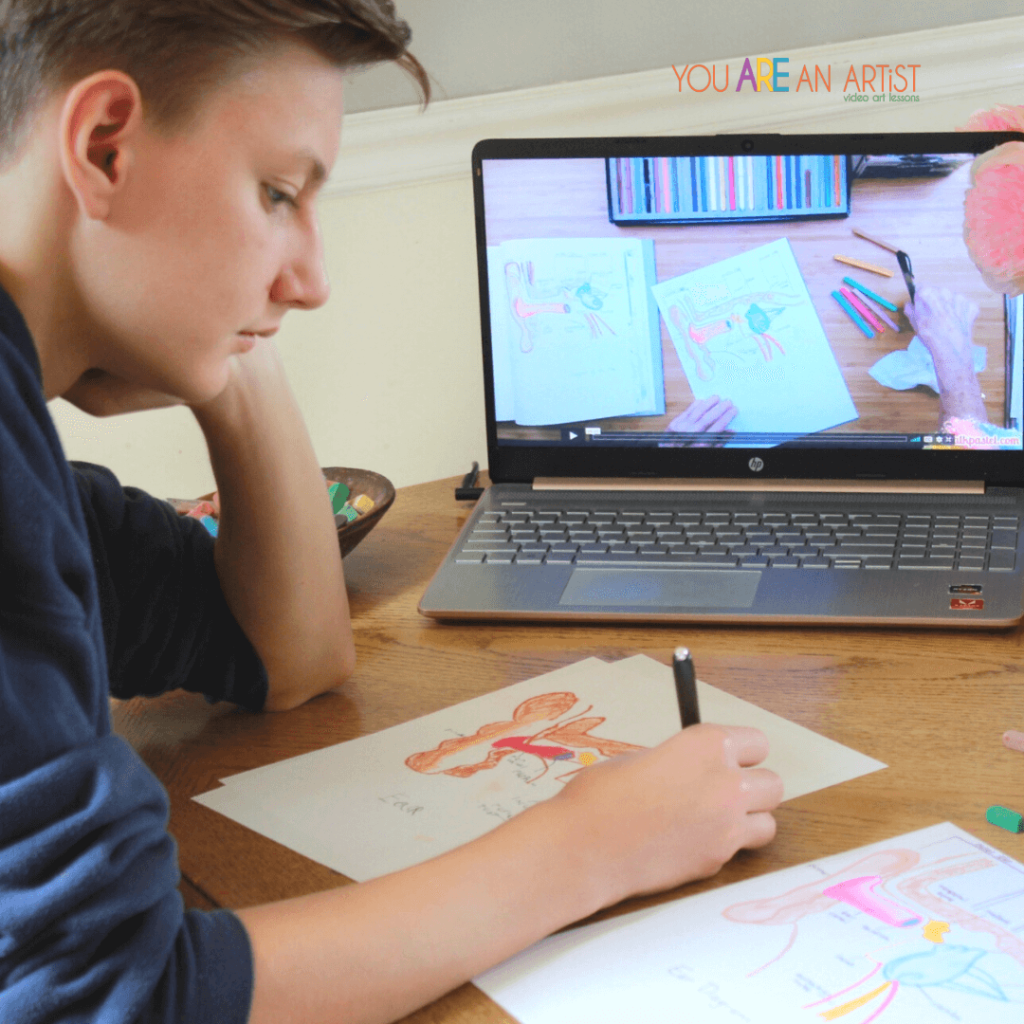 Homeschool Anatomy: Diagram of the Ear Activity
Hey, did you hear? Nana has a homeschool science ear diagram activity! This activity is a perfect way to learn the inner workings of the human ear while being creative. Find our more about Nana's Ear Homeschool Anatomy Study
No matter what your kiddo may be studying, Nana has a corresponding lesson that can solidify the knowledge in a hands-on way. And I, for one, love the colorful diagrams that pair so beautifully with our homeschool lessons.

Erin Vincent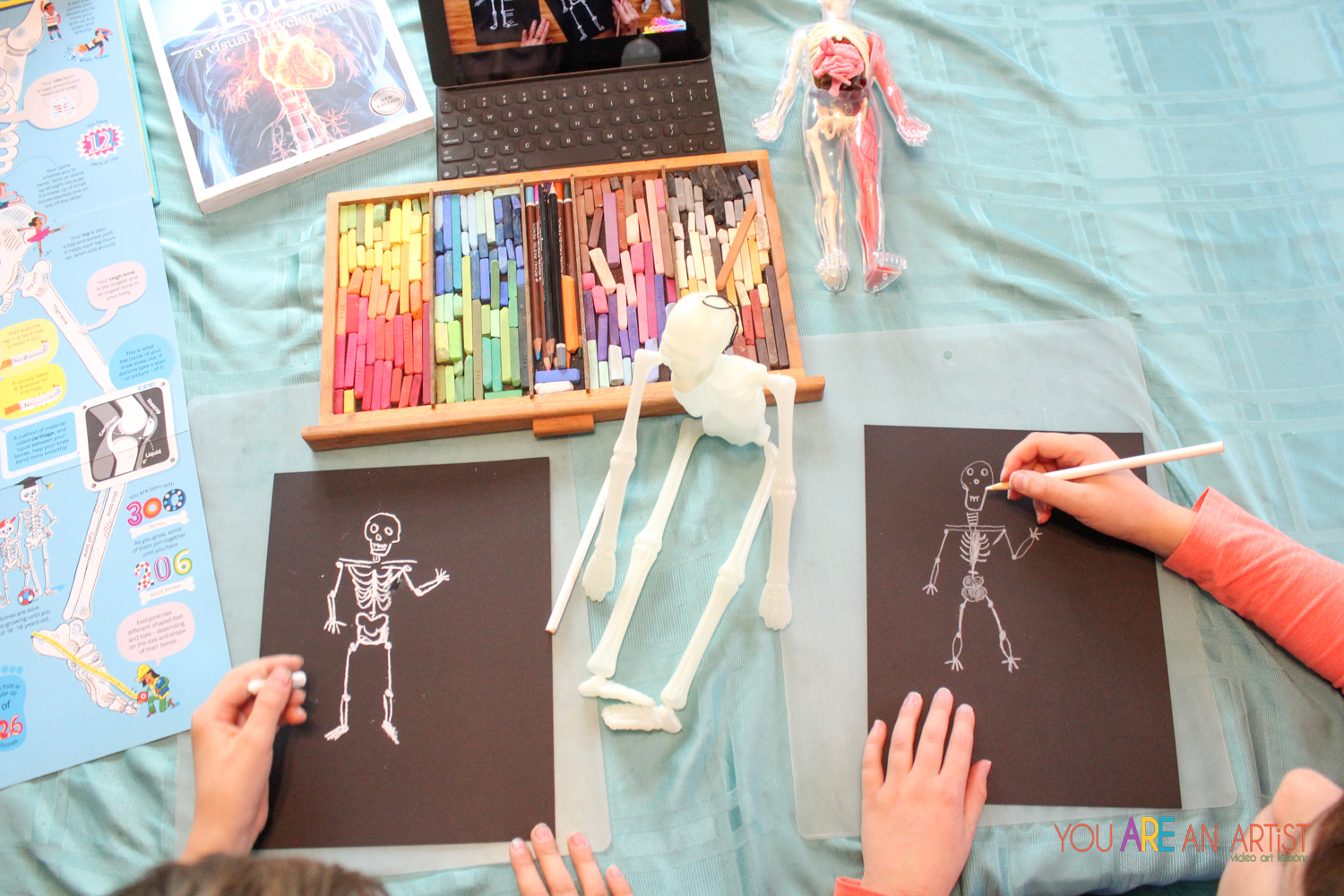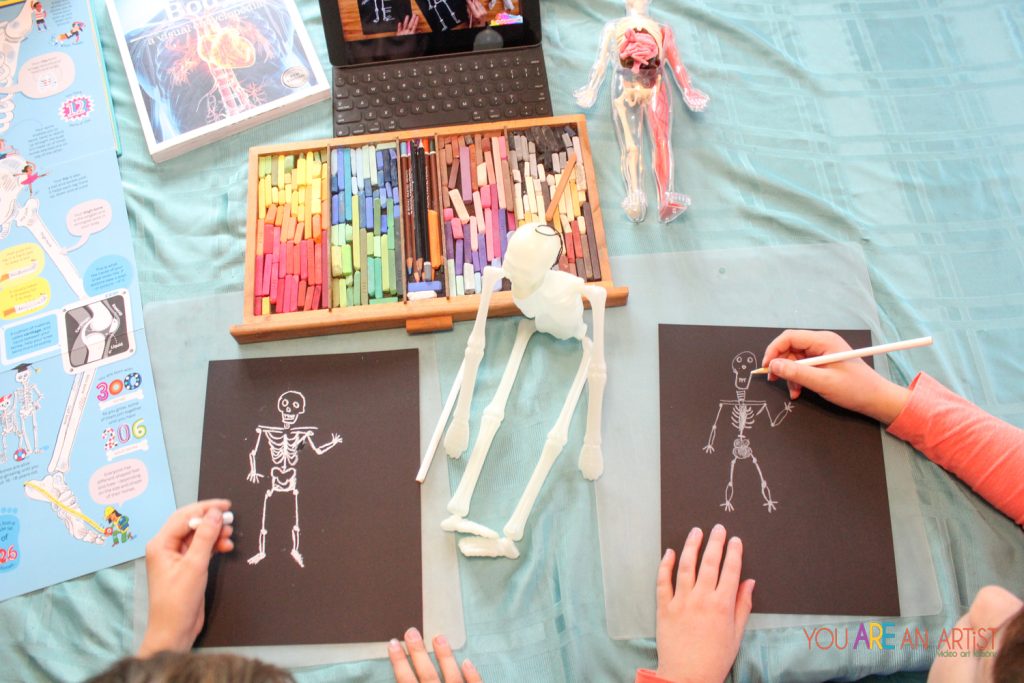 Skeletal System Diagram Lesson
As with every chalk pastel lesson we use in our homeschool, I adore how the boys never tire of this type of learning. Using art to learn homeschool anatomy is such an interactive teaching strategy. This collection of fun skeletal system activities for kids includes online lessons, fun facts, and hands-on projects. More here: Skeletal System Activities for Kids: Everything You Need for Learning and Fun!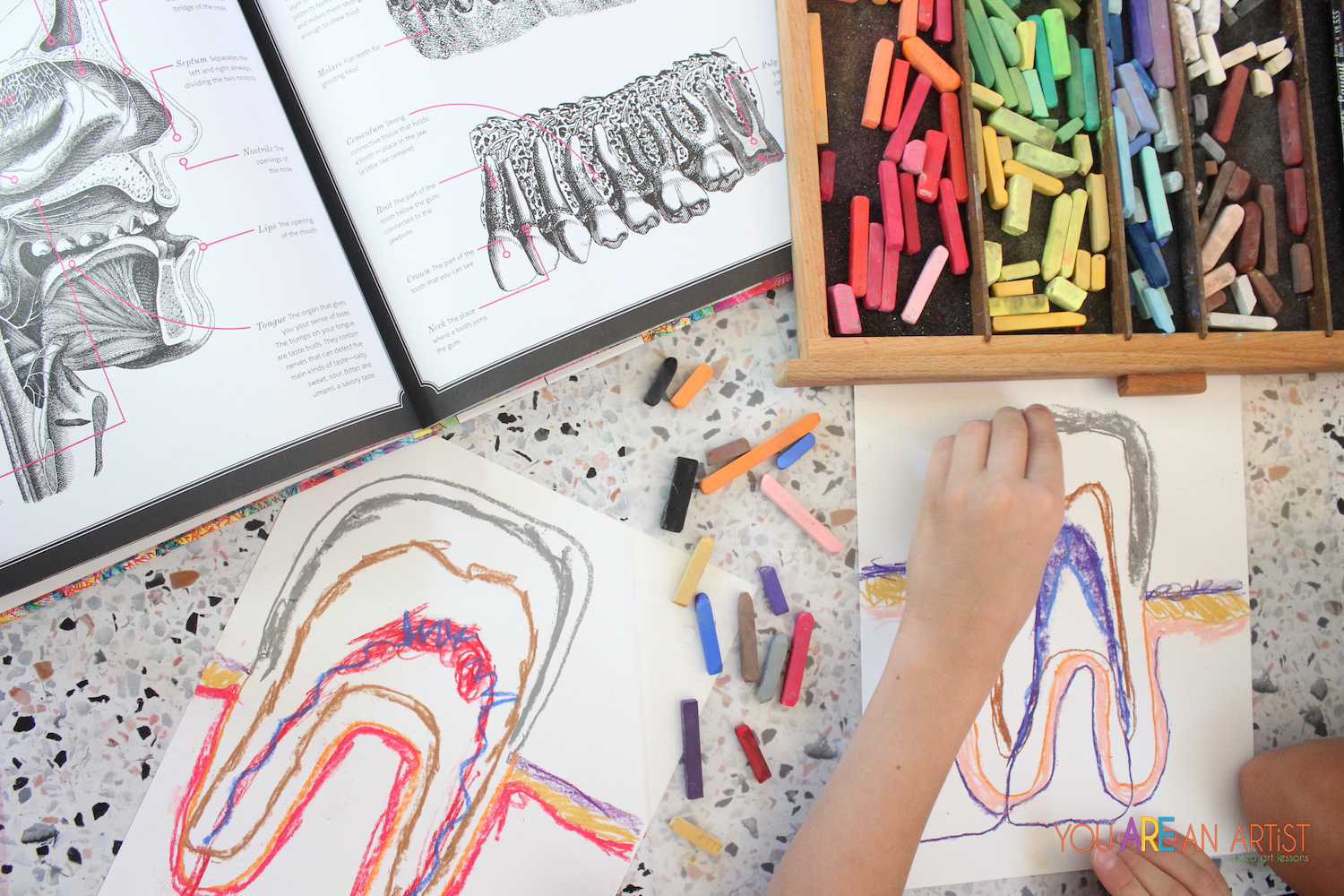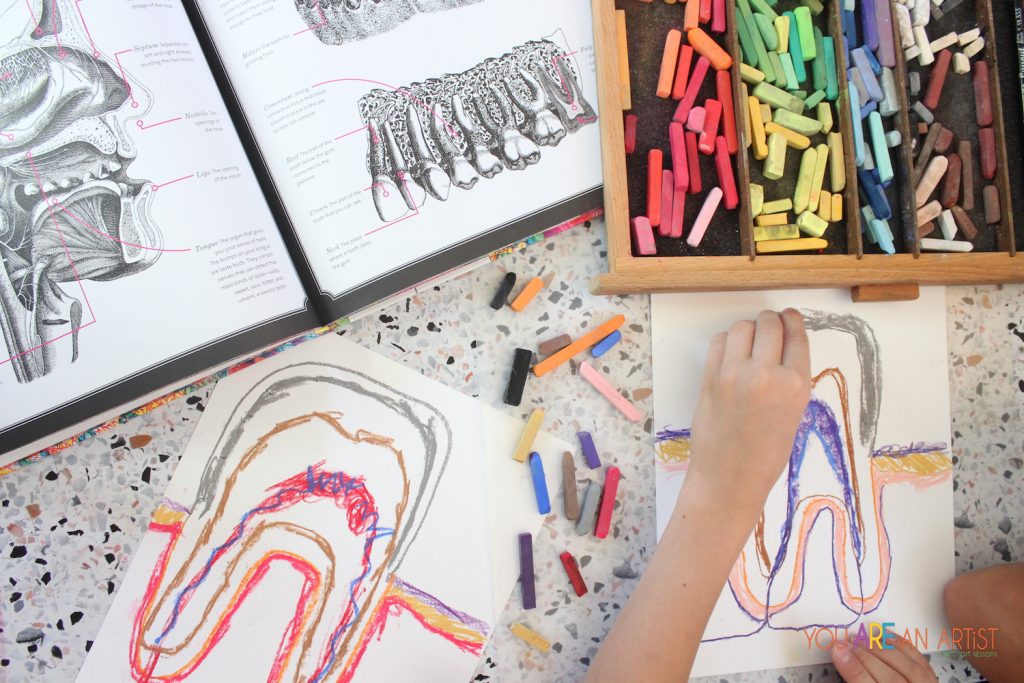 Diagram of a Tooth Activity
Simple to draw, this lesson shows kids all the layers of the tooth. We loved how the tooth is diagrammed in vivid colors to show all the parts of the tooth and gums! Nana's humor really comes through in this lesson as she discusses each part of the tooth. Maybe it will inspire more dental hygiene as well! More here: A Tooth Diagram Activity for Your Homeschool That Will Make You Smile!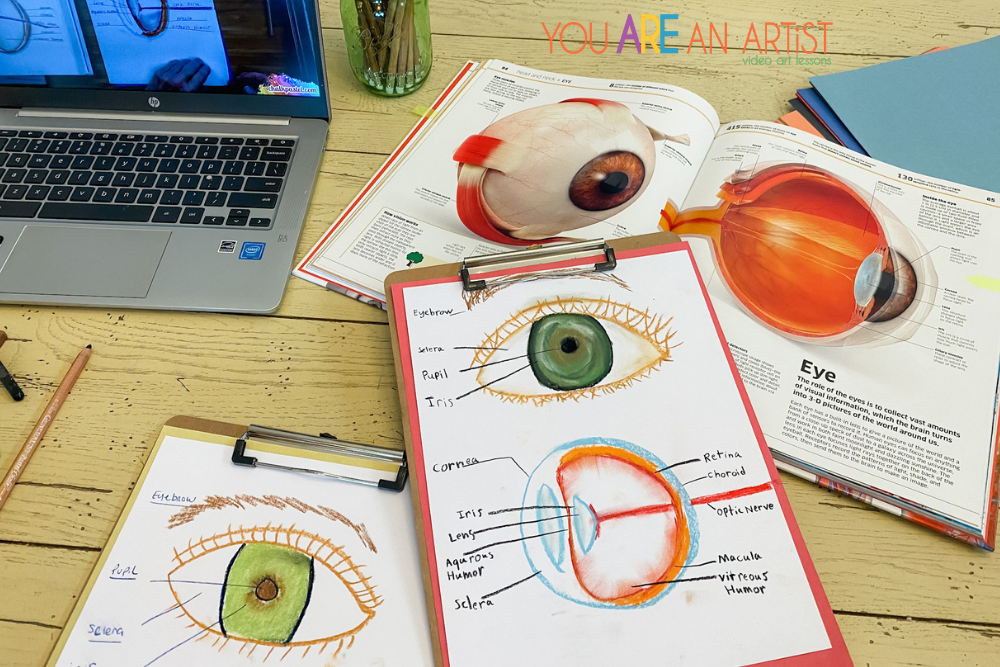 Diagram of The Eye Lesson
The eye looks so simple, but has so many parts we cannot see! Nana helps students draw both the outside of the eye and the inner workings of the eye. Plus, students can color their eye to match their own eye color. More here: Eye Diagram and Microscopic World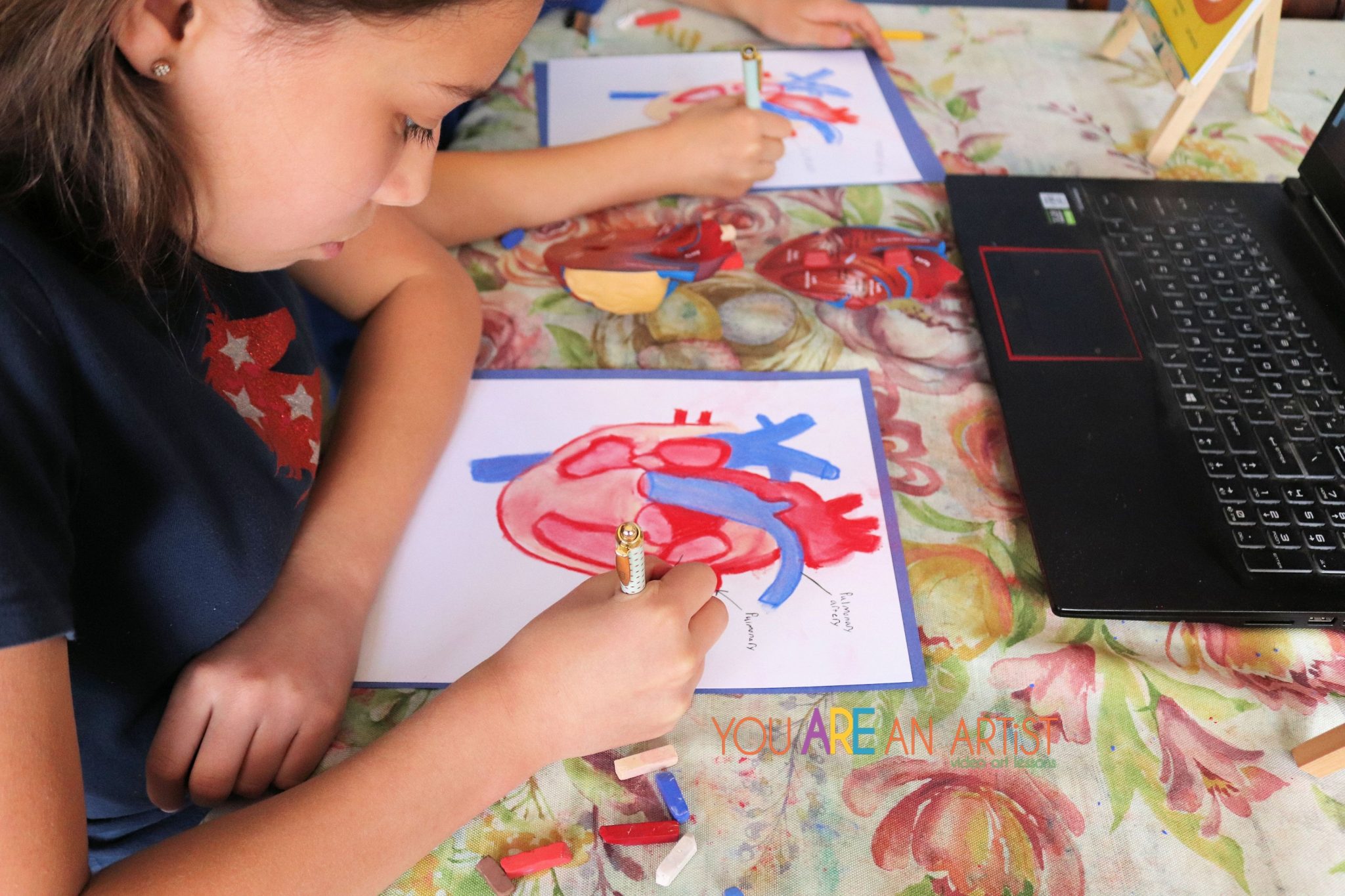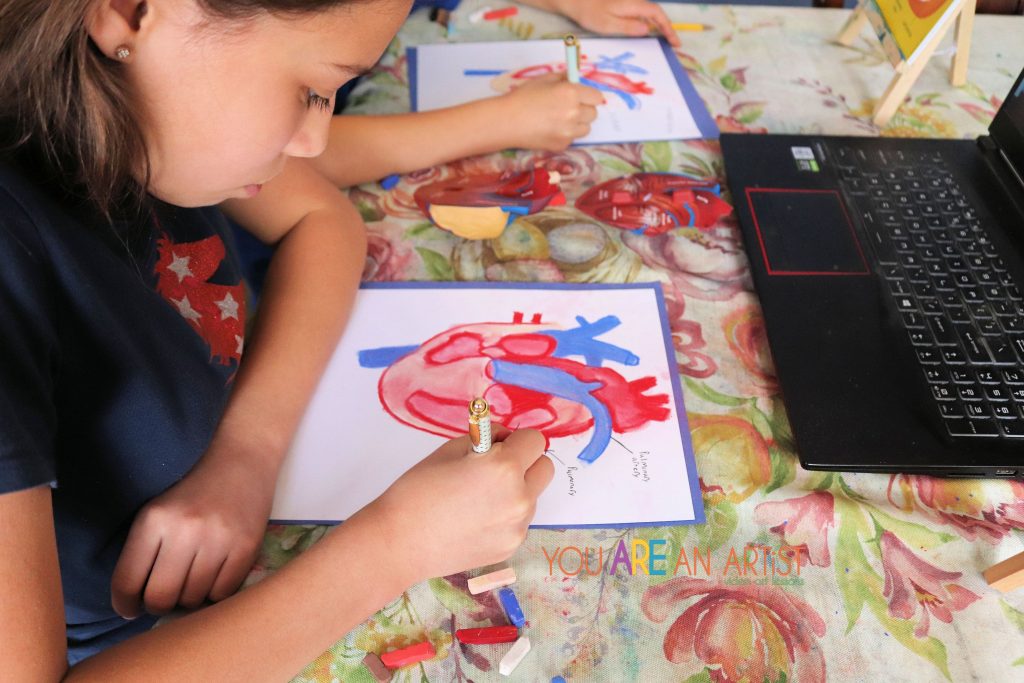 Diagram of Heart Activity for Your Homeschool Anatomy
This intricate lesson doesn't shy away from detail. Young students will draw a beautiful human heart kids can admire and show off! All the parts are labeled, and this lesson would make a wonderful jumping off point for further study. More homeschool anatomy here: Human Heart Activity for Kids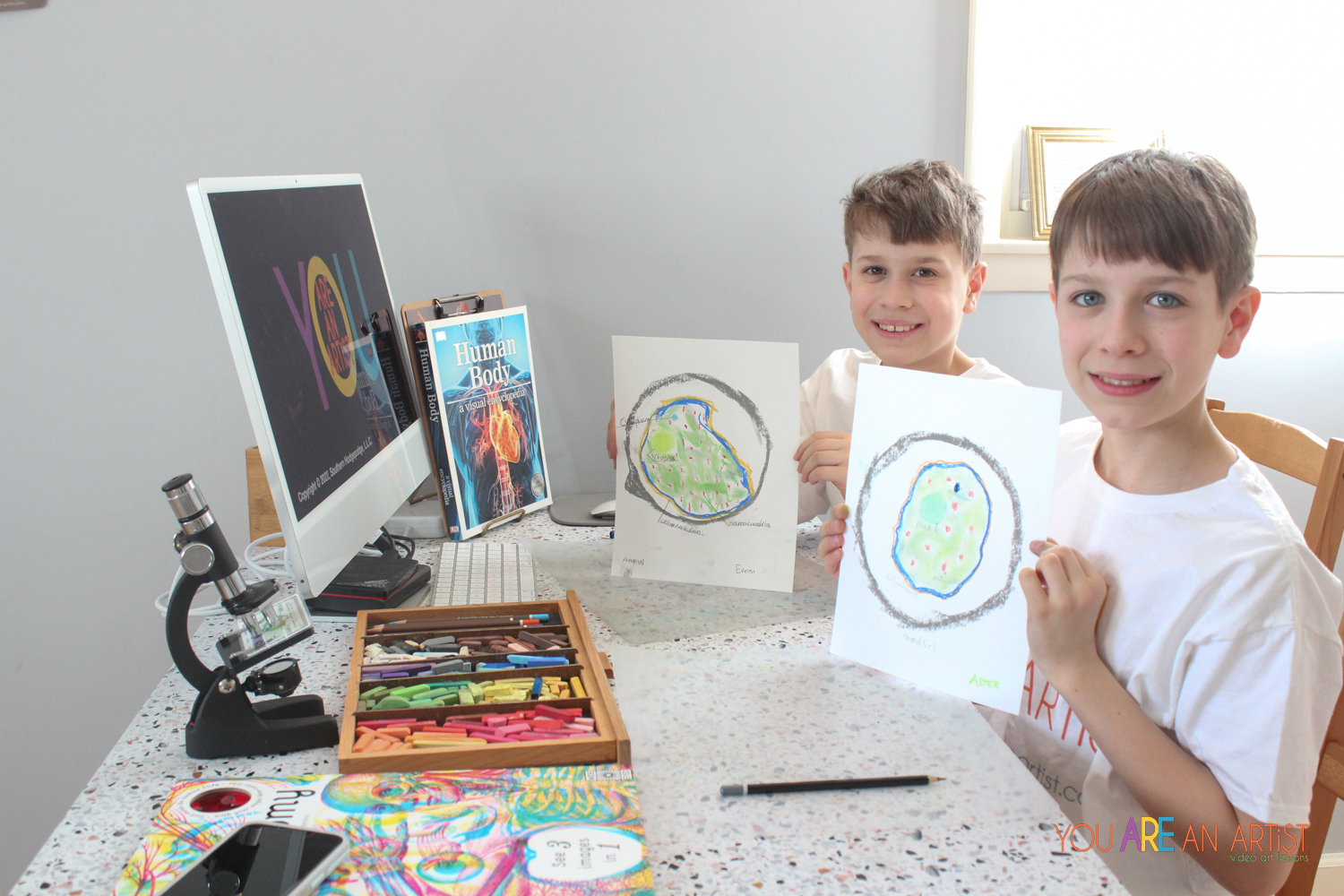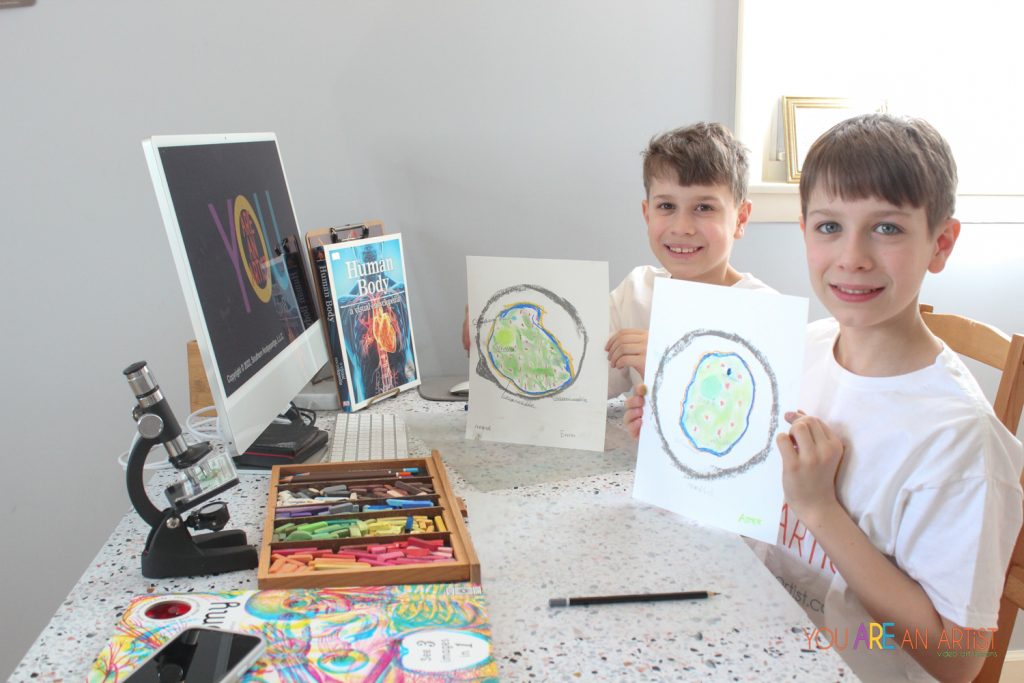 Diagram of a Cell and a Bacterium Lesson
These online cell activities for your homeschool anatomy are multisensory and appropriate for all ages. In fact, online cellular biology lessons are an excellent addition for your homeschool science. Take a look! More here: Small But Mighty Cell Activities for Your Homeschool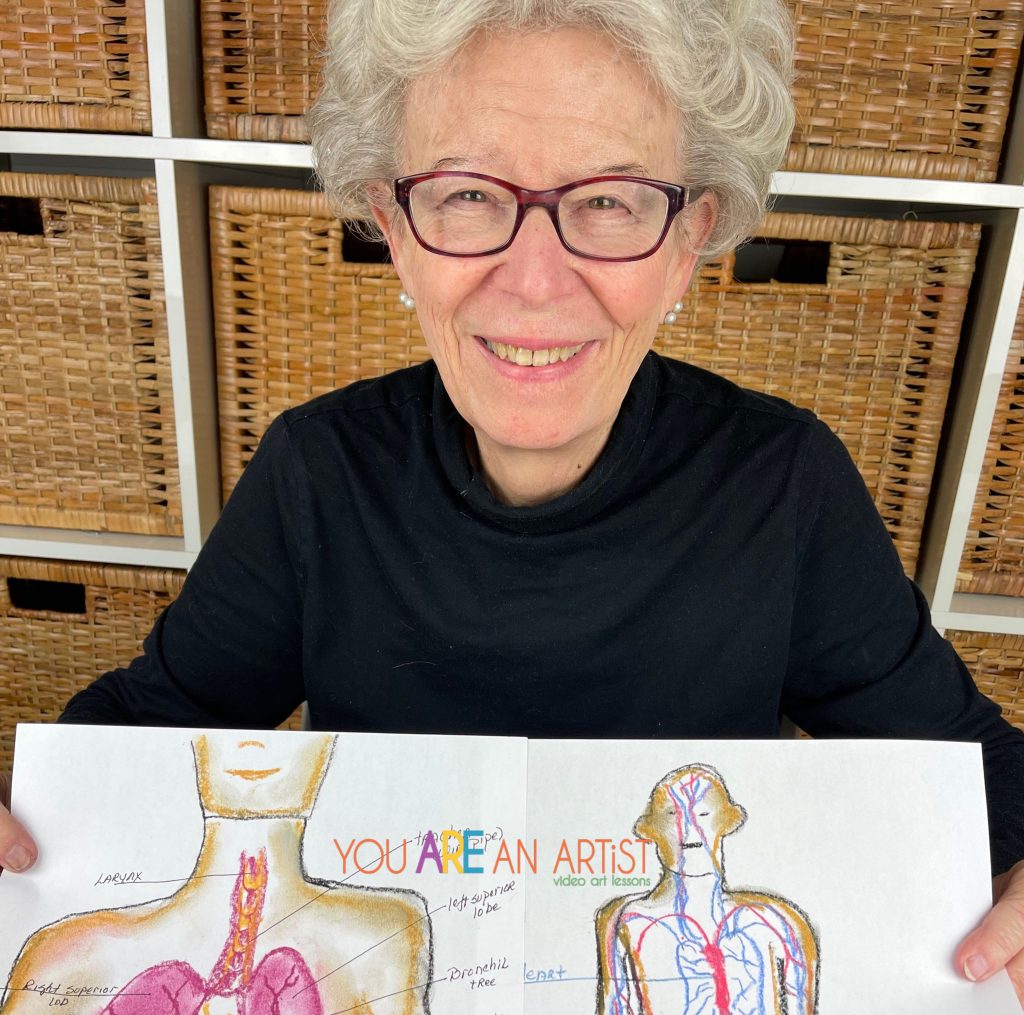 Lungs and Respiratory System and Circulatory System Art Activities
Nana recently added both the Lungs and Respiratory System plus the Circulatory System to her continuing human anatomy series.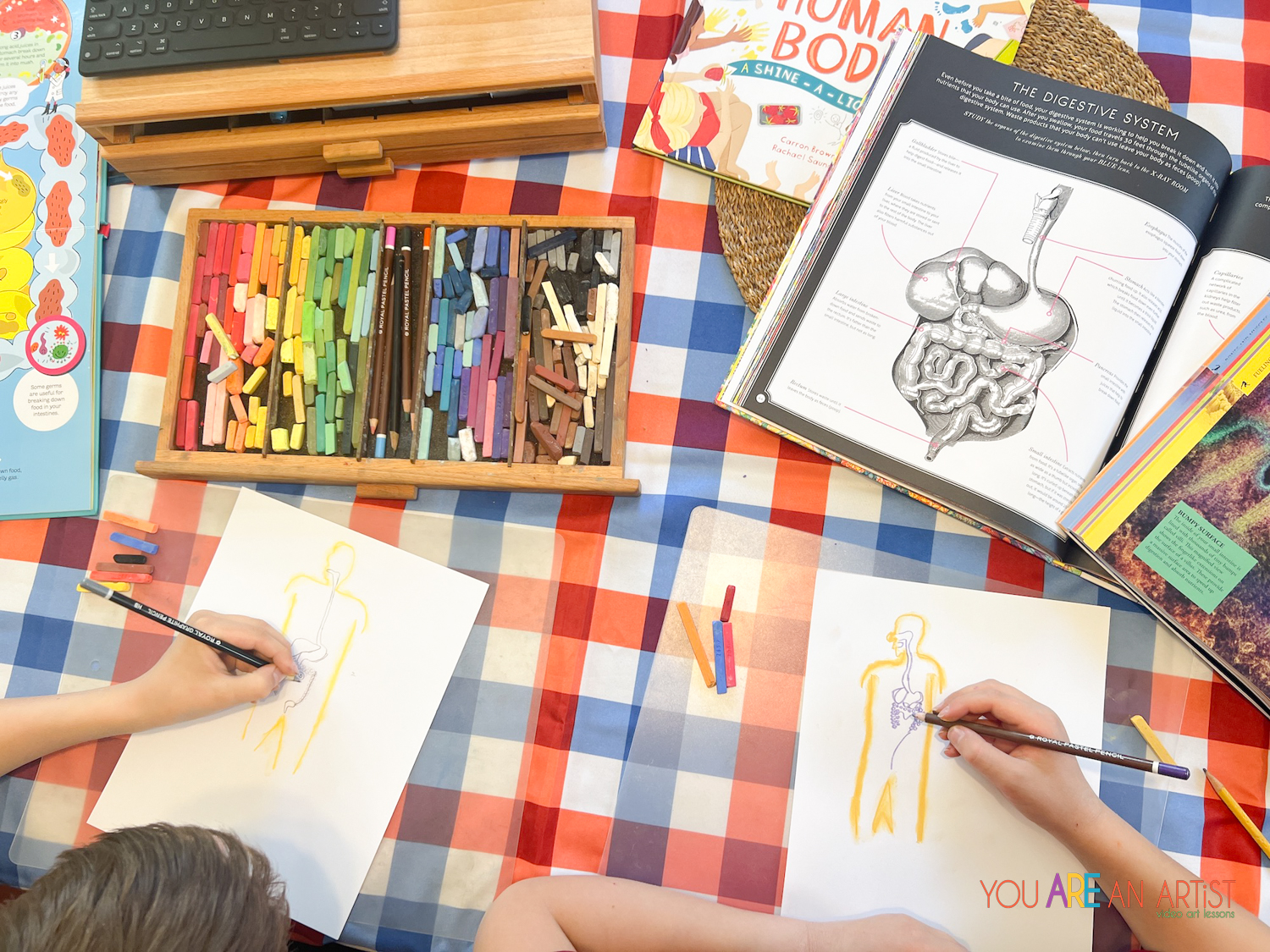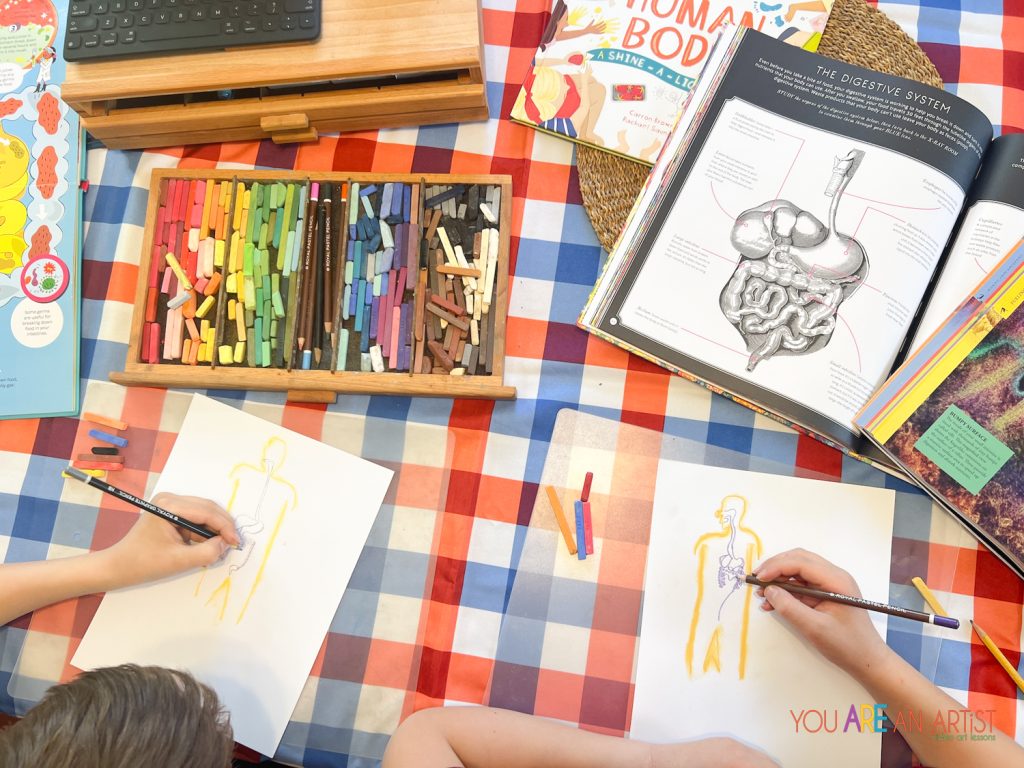 Digestive System Art Lesson
Julie shares, "Now, the human digestive system is one of these scientific topics that is not easy for kids to imagine. Plus it is quite complicated. So an art lesson is perfect for exploring the intricacies of this system. Nana with her delightful teaching style makes this detailed drawing accessible for kids. She even named the person she draws "Oscar." This made my boys giggle! "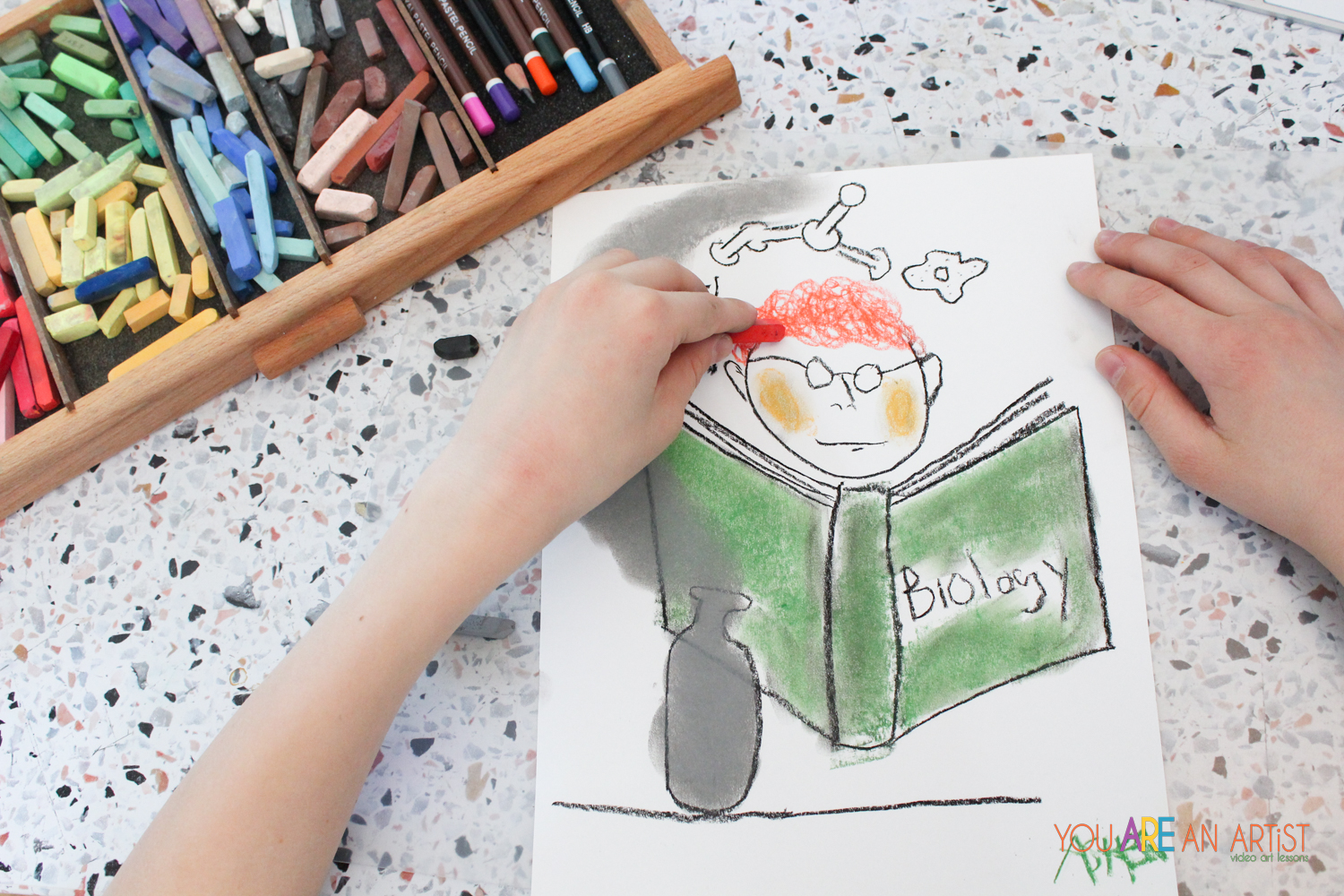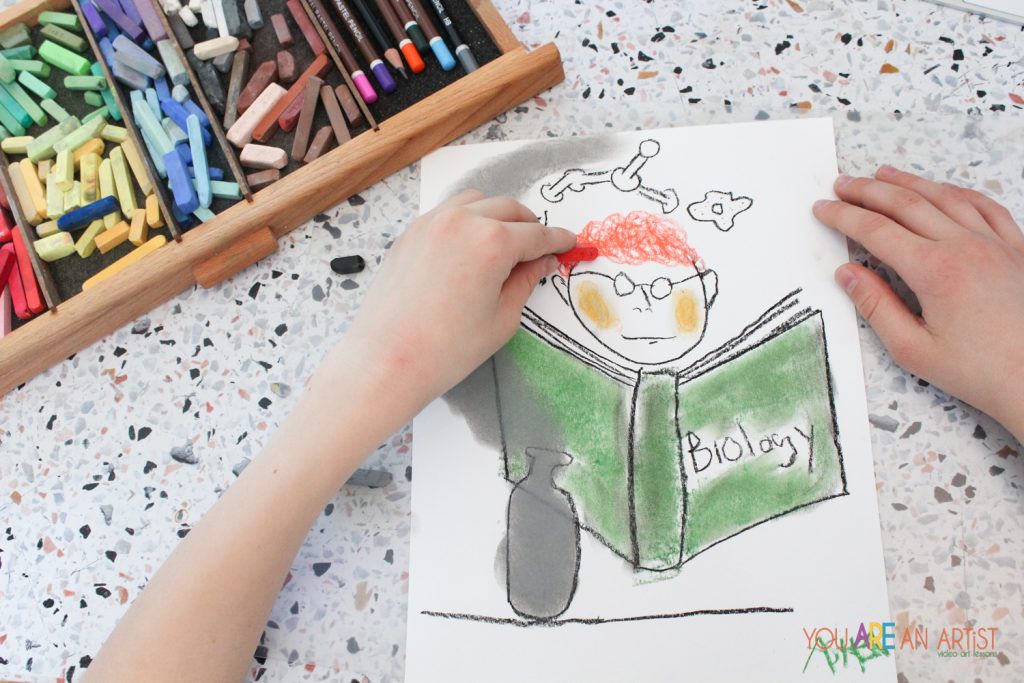 Fun Lab-Coated Scientist
Nana has included a wonderful "opener" lesson in her Lab Coated Scientist class. My oldest created a painting of a scientist researching in a book, with swirling scientific symbols above his head. While this scientist is drawn as a chemistry teacher by Nana, my oldest changed the book to read "Biology" to match our current science studies. He replaced Nana's chemical notations with a DNA strand and a bacterium! Kids can be so creative with these lessons.
DaVinci's Vetruvian Man painting makes a great finish to a series on the human body. This makes a wonderful lesson in the proportions of both artwork and the human body. As you sketch out the dive into the concept held by this Old Master that "everything is connected." Our cells are microscopic, but work together to create a larger system. In the same way, people are smaller parts of God's much larger universe.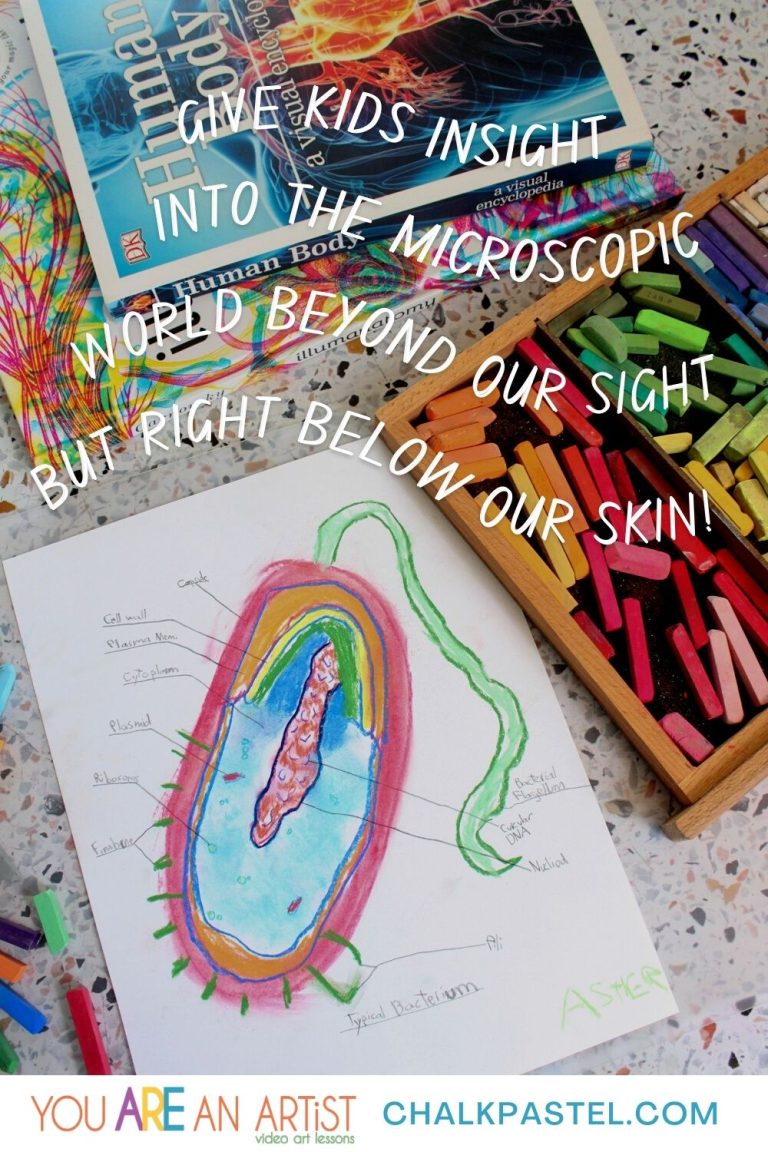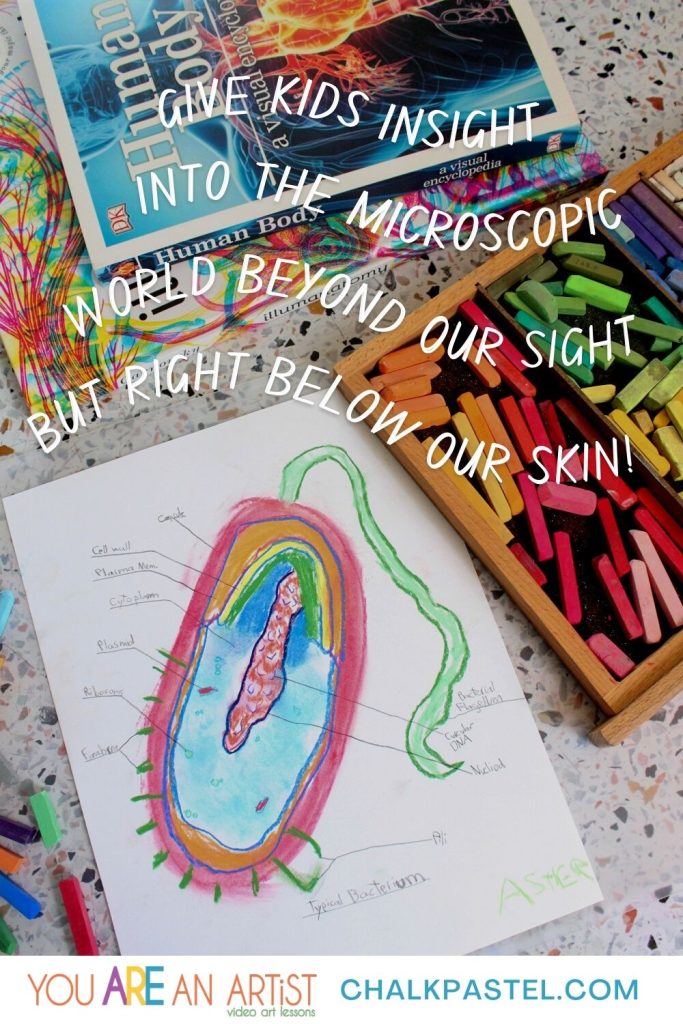 …this helps to solidify any reading or more formal learning we complete, by allowing my son the opportunity to engage with the topic in much more creative and hands-on way. (We have also use art as a way to "test" what my son has really learned and will again with this unit.)

Shawna Wingert – Why Art is an Essential Part of Science in Our Homeschool
More Homeschool Science Activities
All the hands-on homeschool science fun doesn't end here! It's just the beginning! Chalk Pastel Art offers many art adventures that combine perfectly with all ages and with any hands on science activity.
Why Art is an Essential Part of Science in Our Homeschool by Shawna – While we have used You ARE An ARTIST across many different subjects, including nature study, language arts and history, this year, we are incorporating it into our science study. I continue to be grateful for the support it provides for my sons' learning needs and today, I want to share a bit of how it works for us.
Check out all the wonderful ways art coupled with science can work in your family with this Science and Art: A STEAM Curriculum Match Up.
The Light Prism with Sir Isaac Newton lesson would be a fantastic intro lesson for studying chemistry and physics. Is it so beautifully colorful and symmetrical, you will want to frame this artwork after your kids create it!
For additional scientific artwork, try the Daffodil lesson where kids will paint a gorgeous yellow daffodil with their chalks and label the parts of a flower. You might revisit your cell painting and discuss how a plant cell is slightly different than an animal/human cell.
As our friend Julie says, "Don't be afraid to blend art and science for a colorful hands-on experience for everyone. Human anatomy is a wonderful place to begin."
Fill your homeschool with hands-on learning in every subject with a You ARE an Artist Clubhouse membership. This way you'll have full access to all the video art lessons all the time! No matter what topic you're studying, be it history, science, music, or literature, you can find a coordinating lesson to engage your learners. Plus, You ARE an Artist is always adding in valuable curriculum workbooks to give you fast facts, lesson planners, and more for your homeschool.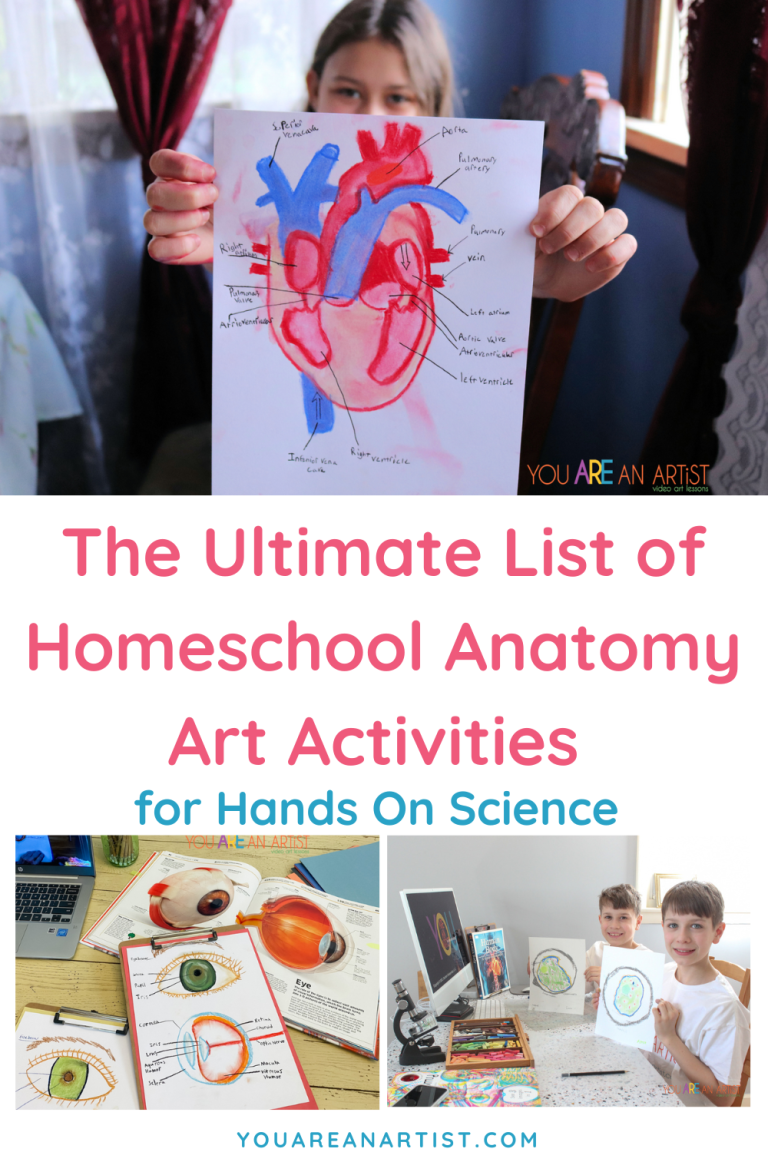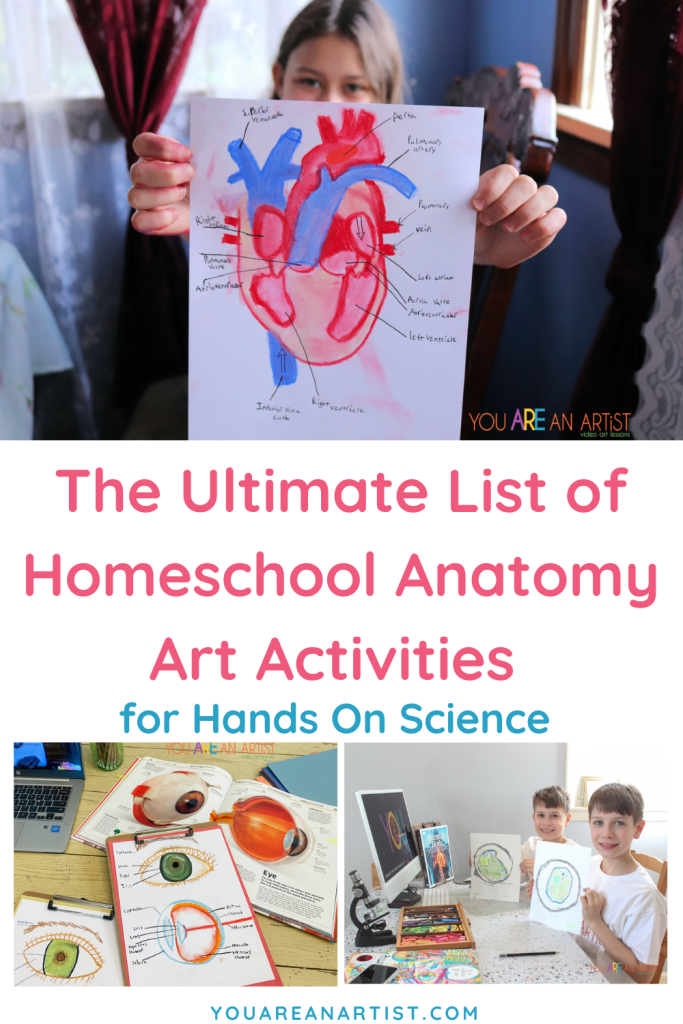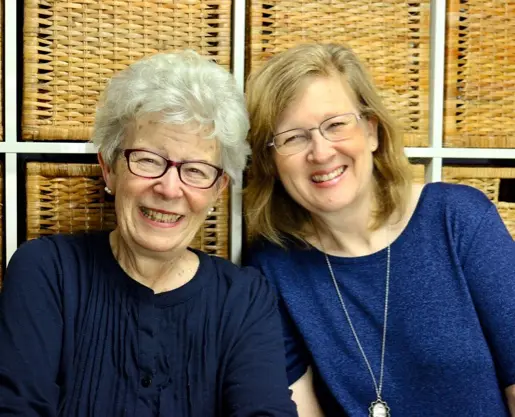 Growing a love of art at You ARE an ARTiST is a multi-generational passion! Tricia is Nana's daughter and a mama of five children. Nana shared the fun of her first chalk pastel art lessons with her grandchildren around Tricia's kitchen table. Homeschooling since 2000, Tricia has seen the fruits of home education with three homeschool grads so far! She shares the art and heart of homeschooling at Your Best Homeschool and is author of the book, Help! I'm Homeschooling! She and her husband, Steve, are also owners of sister sites Homeschool Nature Study and The Curriculum Choice.