This homeschool literature study of Robin Hood has everything you need for engaged and hands-on learning.
The Story of Robin Hood
What do you think of when you hear the name, Robin Hood?
Like many medieval tales, the story of Robin Hood has many versions. There are oral legends, passed down from generation to generation, a wide variety of books, and even several movies about Robin Hood.
"IN MERRY ENGLAND in the time of old, when good King Henry the Second ruled the land, there lived within the green glades of Sherwood Forest, near Nottingham Town, a famous outlaw whose name was Robin Hood." – Pyle
Robin Hood: Legend or History?
The basis of the Robin Hood story that we all know today is that a man named Robin of the Hood would steal money from travelers in the forest. He was a remarkable shot with his bow and arrow and loved among the people.
The legend goes that he would steal from the wealthy and share that money amongst the poor. Another common thread is an evil sheriff known as the Sheriff of Nottingham. Robin and his companions, known as the Merry Men, would help the common people and retaliate against the corrupt sheriff. The story takes place during the reigns of King Richard and his brother King John in England.
It is a fun legend that is action-packed for children who want adventure and includes a little romance between Robin Hood and Maid Marian.
There is much debate on the historical accuracy of the tales and the ethics of his tactics. True or not, they provide great literature, entertainment, and a peek into life in medieval times.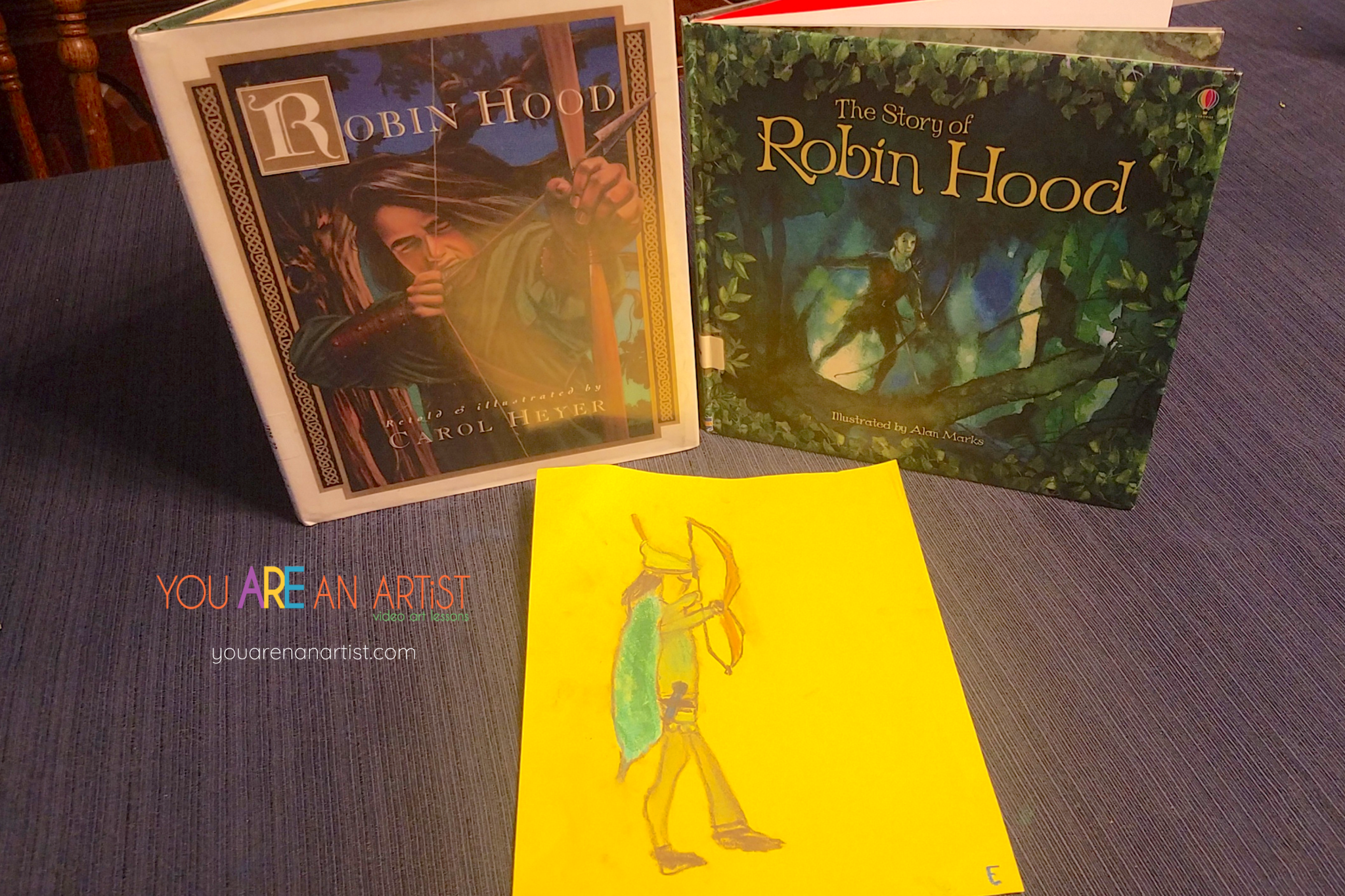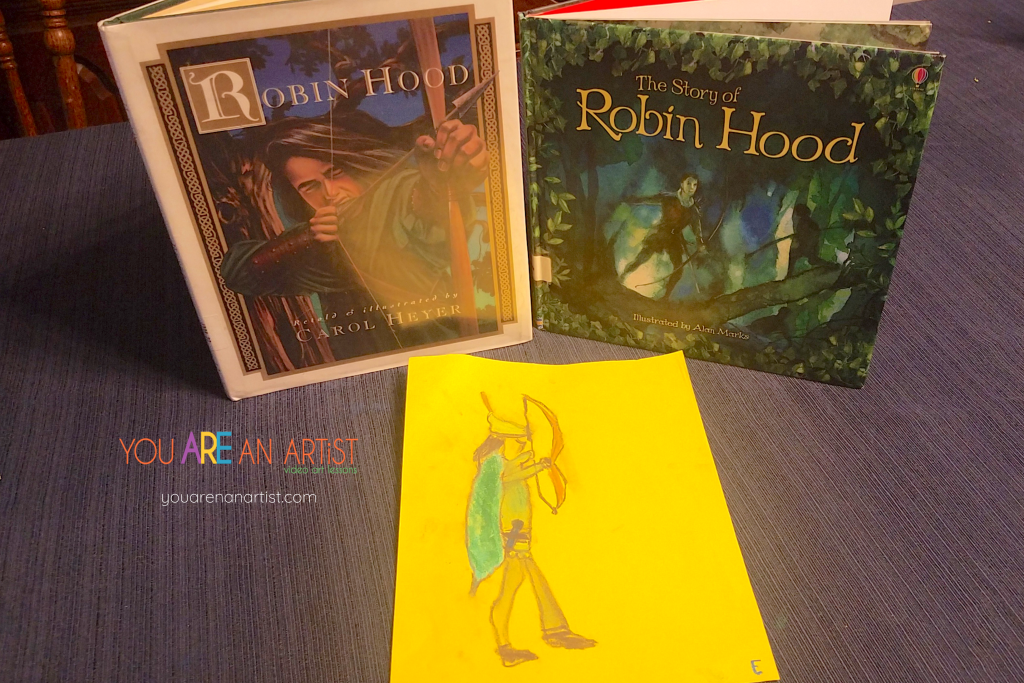 Online Homeschool Literature Lesson: Robin Hood

Robin Hood is well known for wearing a green outfit and hood to help him better hide in the woods. Nana has created an engaging chalk pastel lesson of Robin Hood with his bow and arrows.
This lesson is only about fifteen minutes long and is perfect for elementary through high school-age students. As always, with Nana's lessons, you do not need a lot of supplies, just some construction paper and chalk pastels.
This art activity is a great way to add a hands-on component to your study. Painting Robin Hood with chalk pastels will help students make connections and remember what they have learned. As Nana says, "I Drew It, and Then I Knew It."
Your artists may want to continue with even more Medieval Times Homeschool Art Lessons which include a catapult, castle, court dress, dragon, knights and crusaders and much more.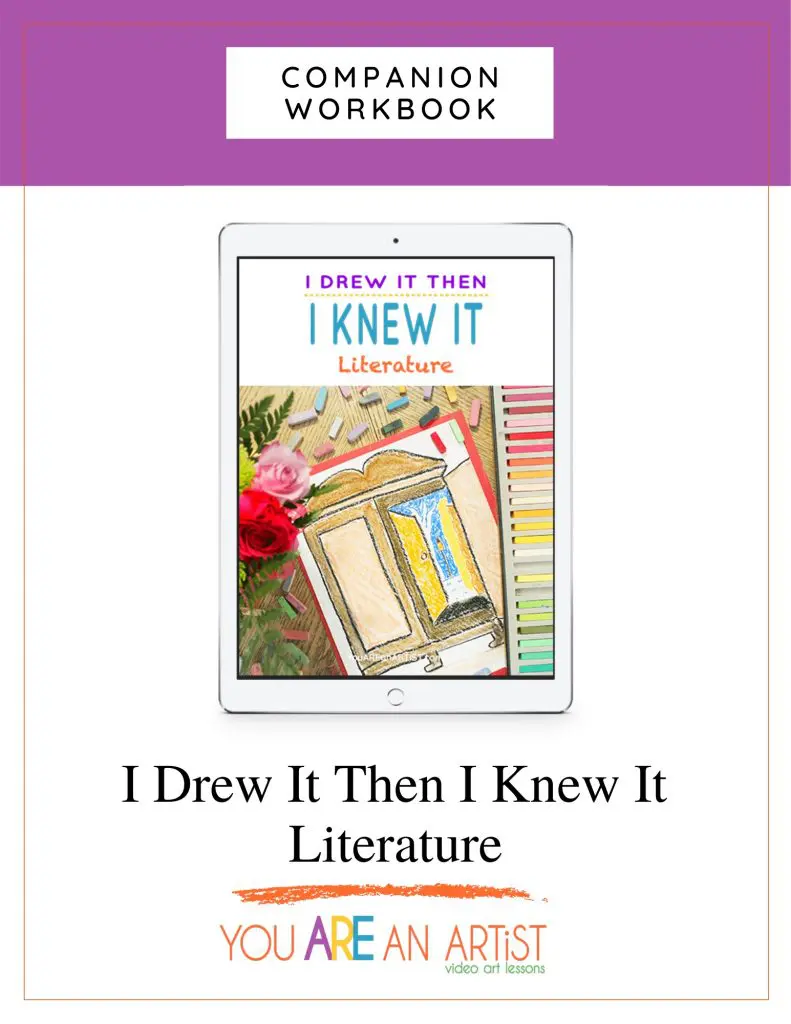 More Resources for Studying Robin Hood In Your Homeschool

There are so many ways to include the story of Robin Hood throughout your homeschool curriculum. You can tie it all together to make a complete study. In addition to Nana's wonderful chalk pastel lesson, the You Are an Artist membership includes a lovely I Drew It Then I knew It Literature Workbook. The workbook consists of fun facts and writing prompts to go along with your study of Robin Hood.
There are many different versions of the Robin Hood story in print. Depending on the ages of your children, you could choose one of the shorter picture books or the more complete story by Howard Pyle (written and illustrated in 1883).
We particularly enjoyed The Story of Robin Hood by Usborne for young children and Robin Hood by Carol Heyer for elementary-aged children. Both were available at our local library.
Robin Hood fits in well with a study of knights, the Crusades, or Medieval history in general. Our family is adding this Robin Hood unit to our current Medieval studies with Story of the World. However, you could also use this to start an independent medieval study. Nana has many art lessons that would coordinate well with a medieval study!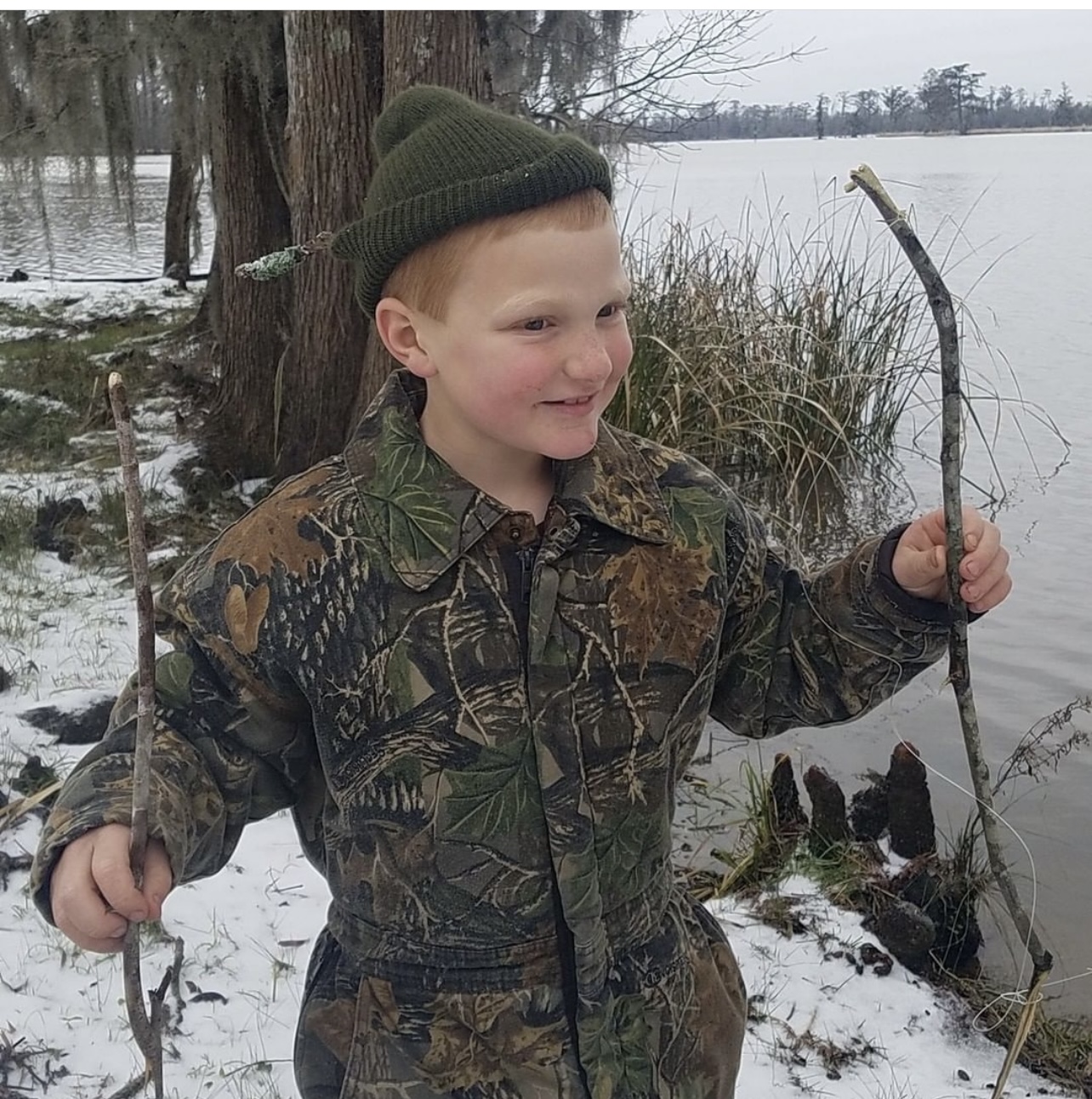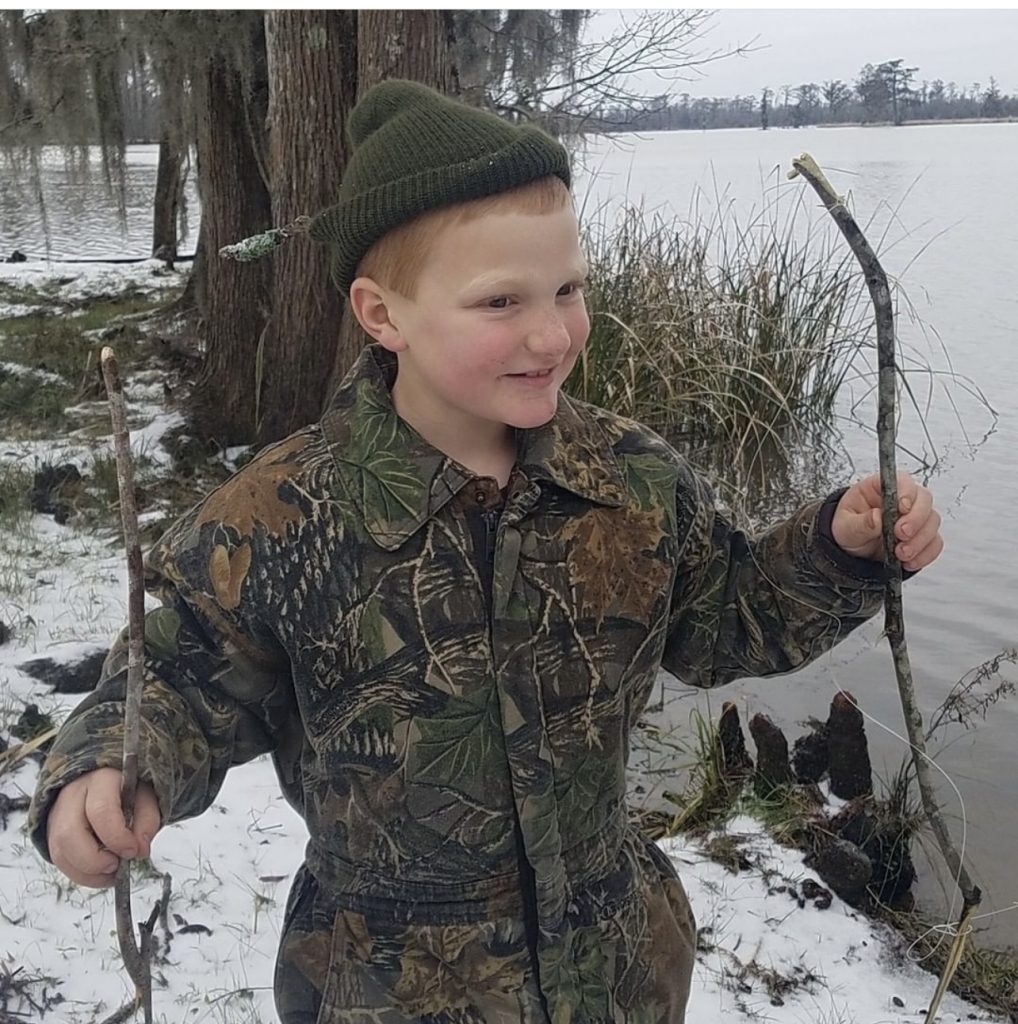 Adding Hands-On Nature Study to Your Homeschool Study
You could add a bit of nature study by tying in a study of forests. You can study the forests around you and then do a little research and compare your local forests with Sherwood Forest. On our sister website, there is an excellent Forest course available in the Homeschool Nature Study membership that would be perfect. You could also add more art with the lessons from the Forest Nature course for clubhouse members.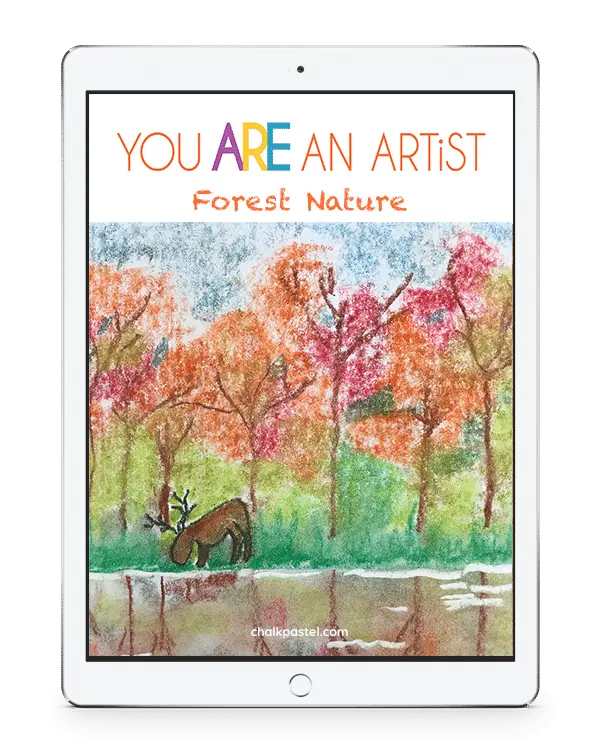 Homeschool Share has a great free Robin Hood unit study and lapbook that would be an excellent addition to your unit. It includes literature, science, and history components.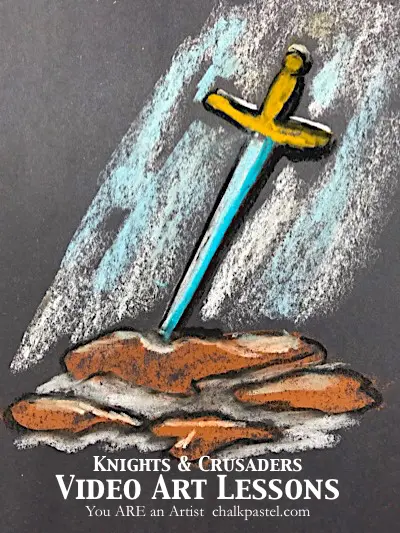 Additional Homeschool Literature Studies

Linking literature with art and then tying in other subjects to make a complete unit study make a fun family study.
If you enjoyed Robin Hood and want to continue with more medieval history, check out the Sword and the Stone. Then pair it with Nana's Excalibur lesson.
Another family favorite that lends itself to pairing literature with art and nature study is Charlottes Web. We just finished that one up this fall, and it was so much fun.
Living in the south, I never know if we will have a snowfall in the winter, but Snowflake Bentley is a beautiful option for winter study. The book and study are a great way to incorporate learning into your snow day fun.
Nana has many more art lessons combined with literature, and the I Drew It, and Then I Knew It workbook will help you with fun facts and creative writing prompts! Be sure to check out this post on The Power of Adding Art to Your Literature for more great ideas.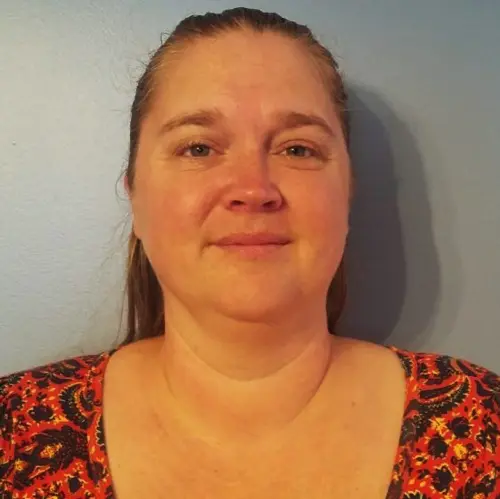 Dawn is a passionate follower of Jesus, wife to Chris, and homeschool mom of four. In her spare time she loves to read, hike, and write on her blog Schoolin' Swag. She enjoys reviewing curriculum and helping moms find the right fit for their family.