Learn about Medieval times with Nana's I Drew It Then I Knew It chalk pastel video art lessons! Medieval Times homeschool art is the perfect hands-on way to bring a bit of color and excitement to history.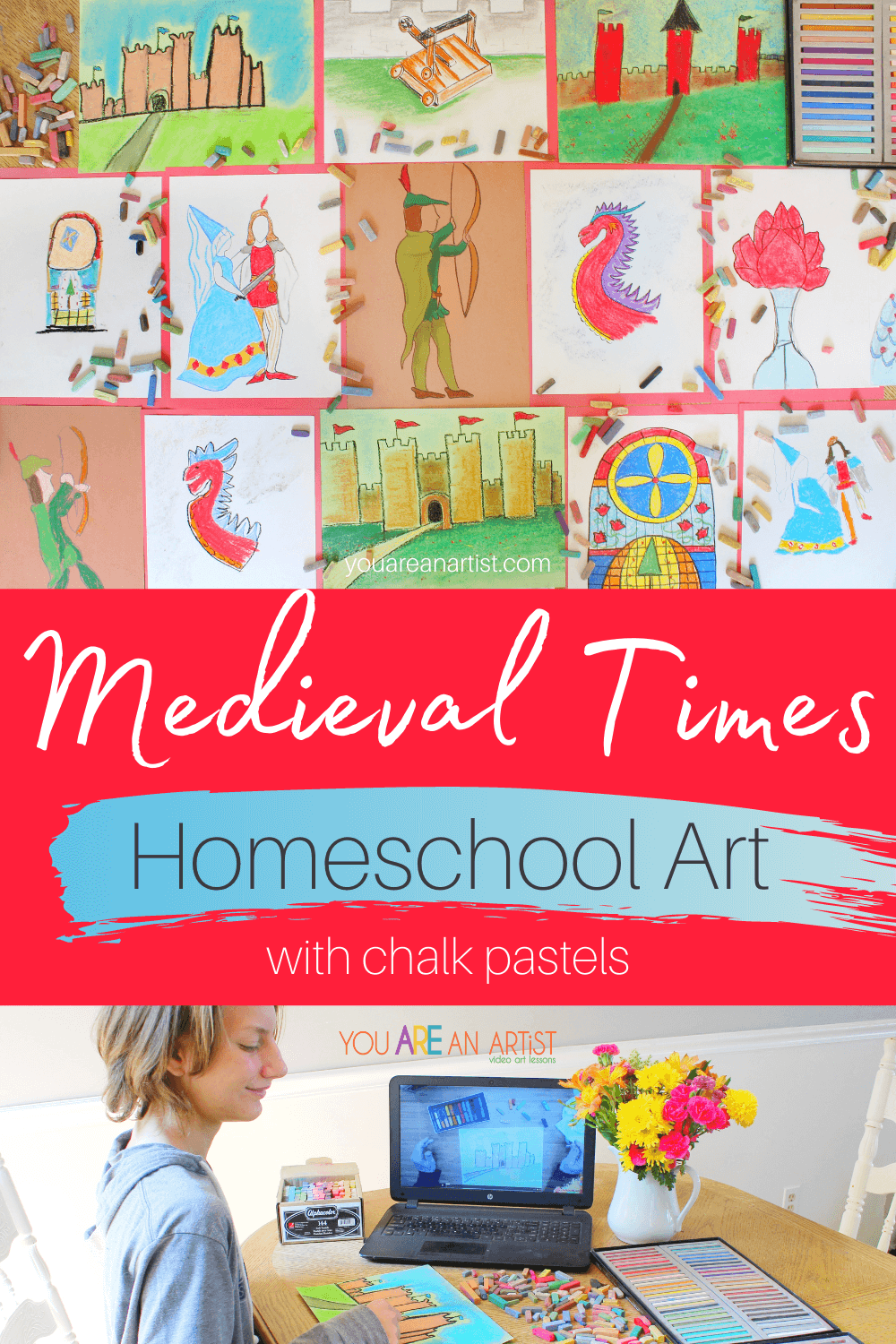 Medieval Themed Art Lessons with Chalk Pastels
Do your kiddos love dragons, and knights, and princesses? Or maybe you are studying the Medieval world this year with your history curriculum. The Middle ages were an interesting time. The Roman Empire had fallen, and smaller kingdoms were vying for control. There were Barbarian raiders, wars on faith, and the Black Death to contend with, but there were some pretty exciting inventions too! The printing press, flying buttresses in gothic architecture, eyeglasses, and knights in shining armor, to name a few!
Nana at Chalk Pastels has got you covered with oodles of Medieval times homeschool art lessons! We've done a few Medieval chalk pastels in the past, but she keeps adding more! All you need is a pack of construction paper, a starter set of chalk pastels, and the You Are An Artist Complete Clubhouse Membership to enjoy all that Nana has to offer!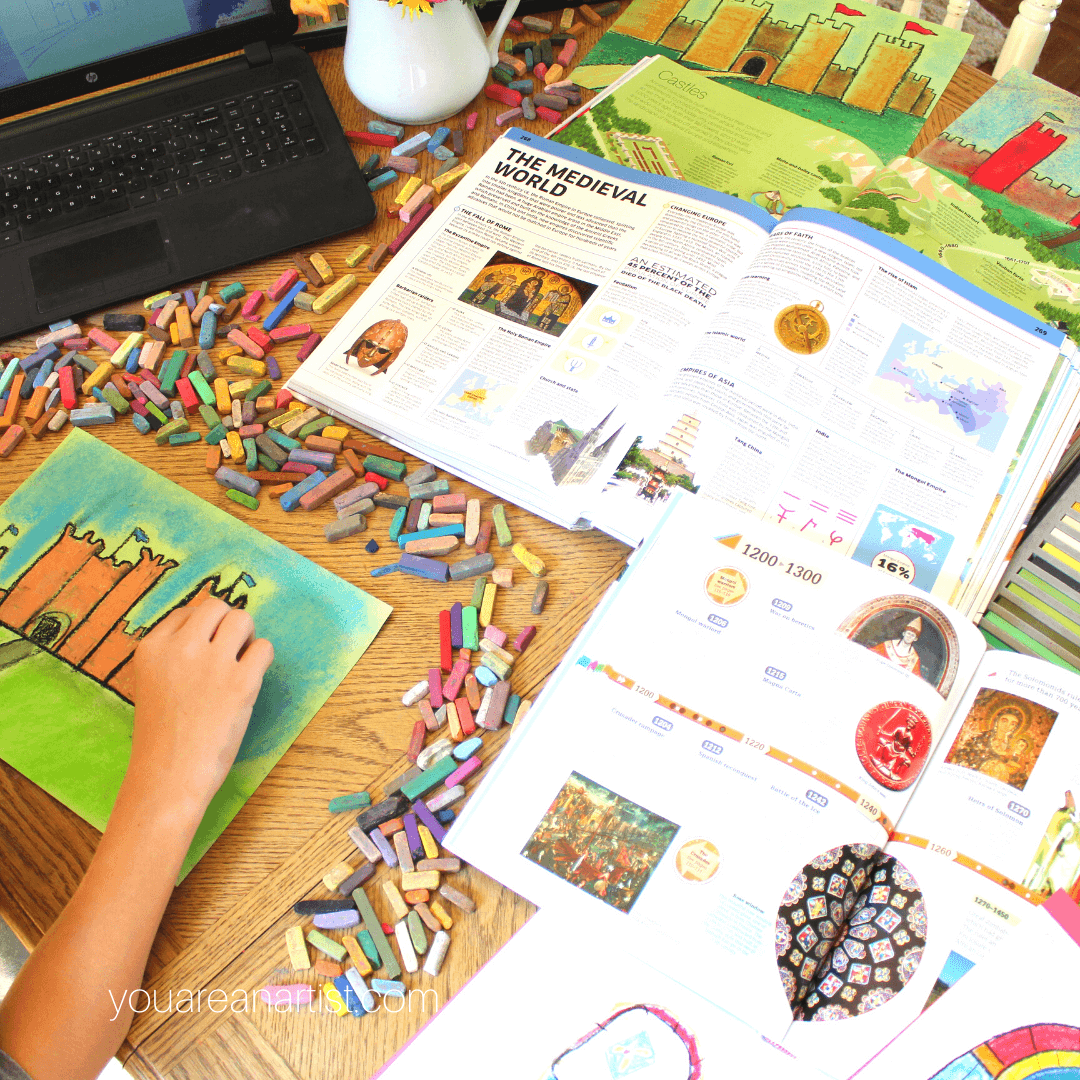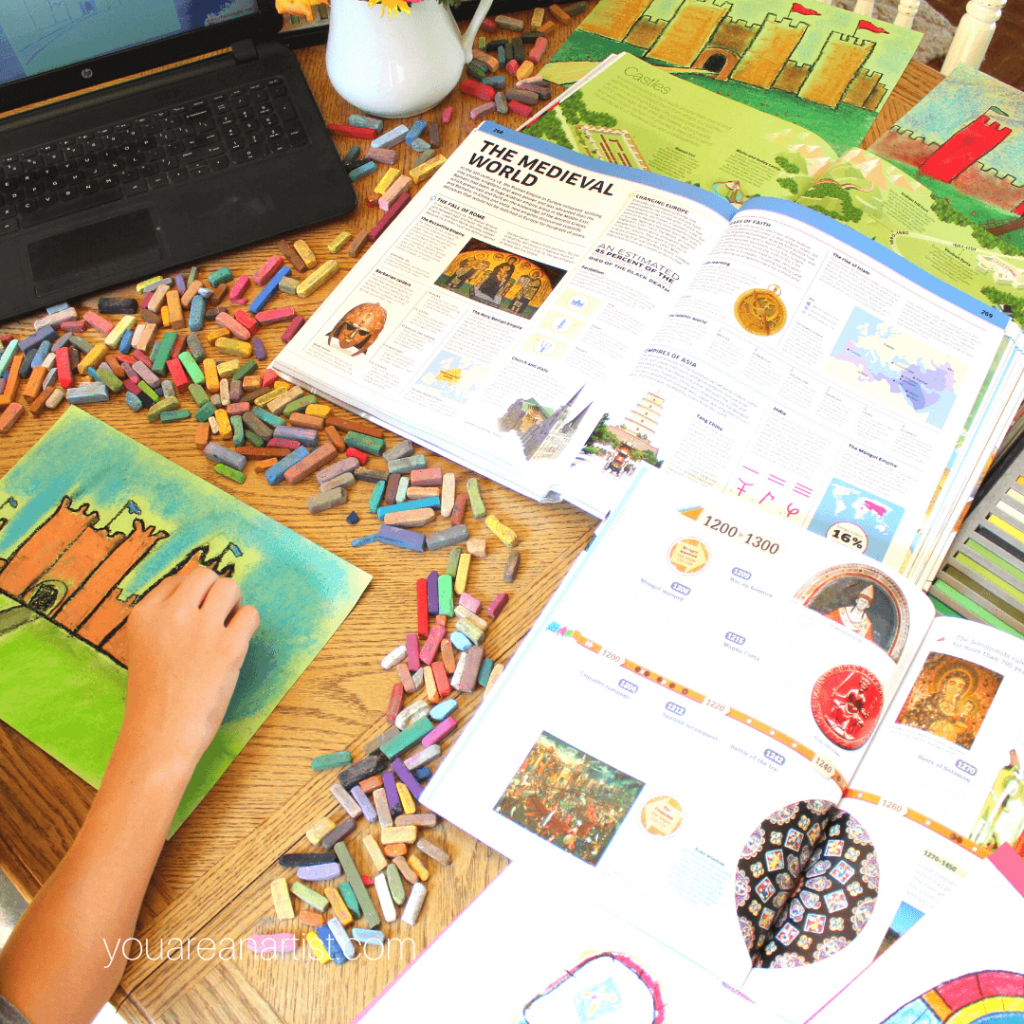 Medieval Castle Art Lesson
We started our Medieval unit study by gathering all of our visual encyclopedias to the table. My kiddos wanted to learn about castles. Did you know the Normans built the first castles in England? We learned quite a bit about castles, mainly how they evolved from earth and wood to thick stone walls, tall towers, and even moats!
Did you know that the largest castle in the world today by surface area is built of brick? It's the Malbork castle in Poland and was created by the Teutonic Knights. I love learning interesting tidbits like this along with my kids!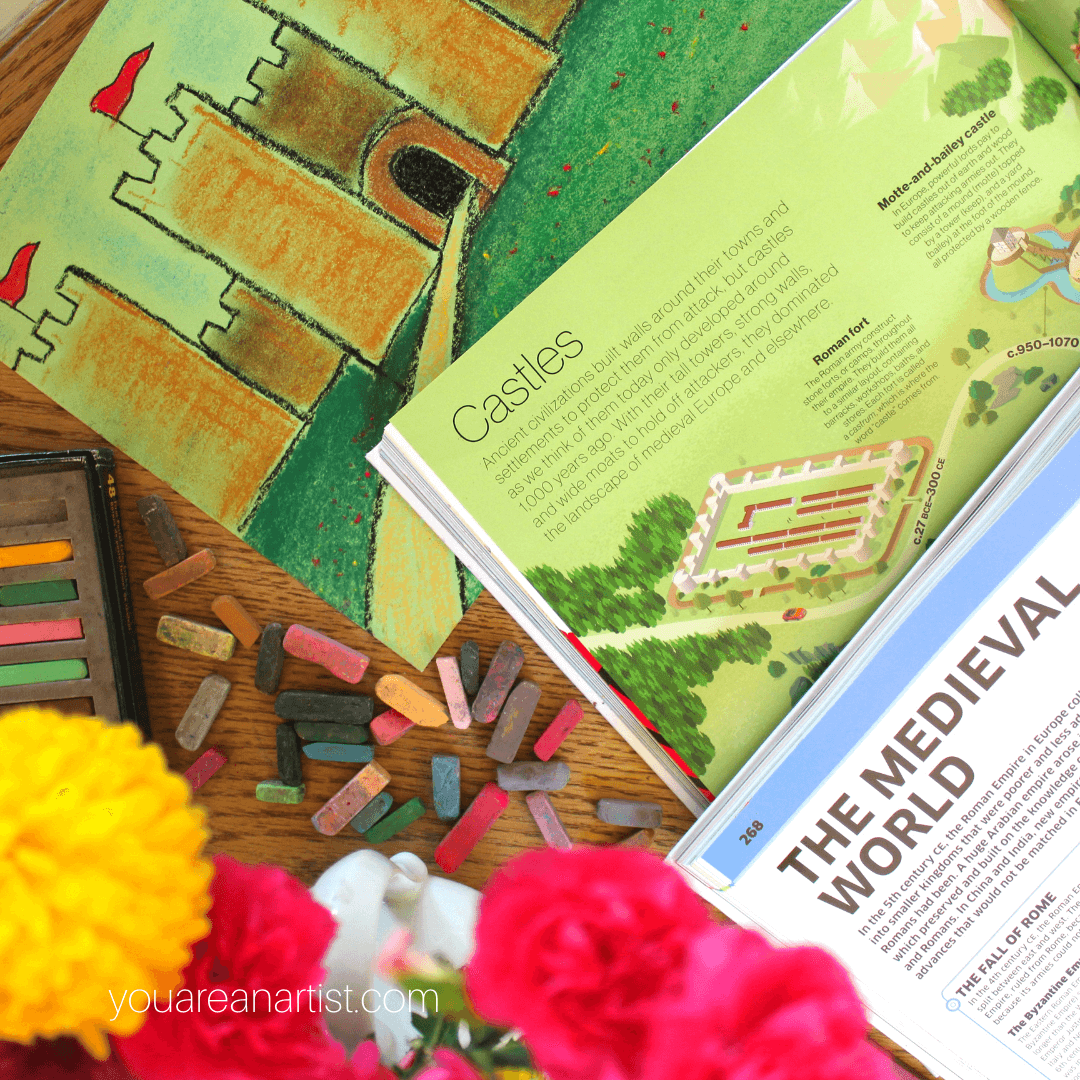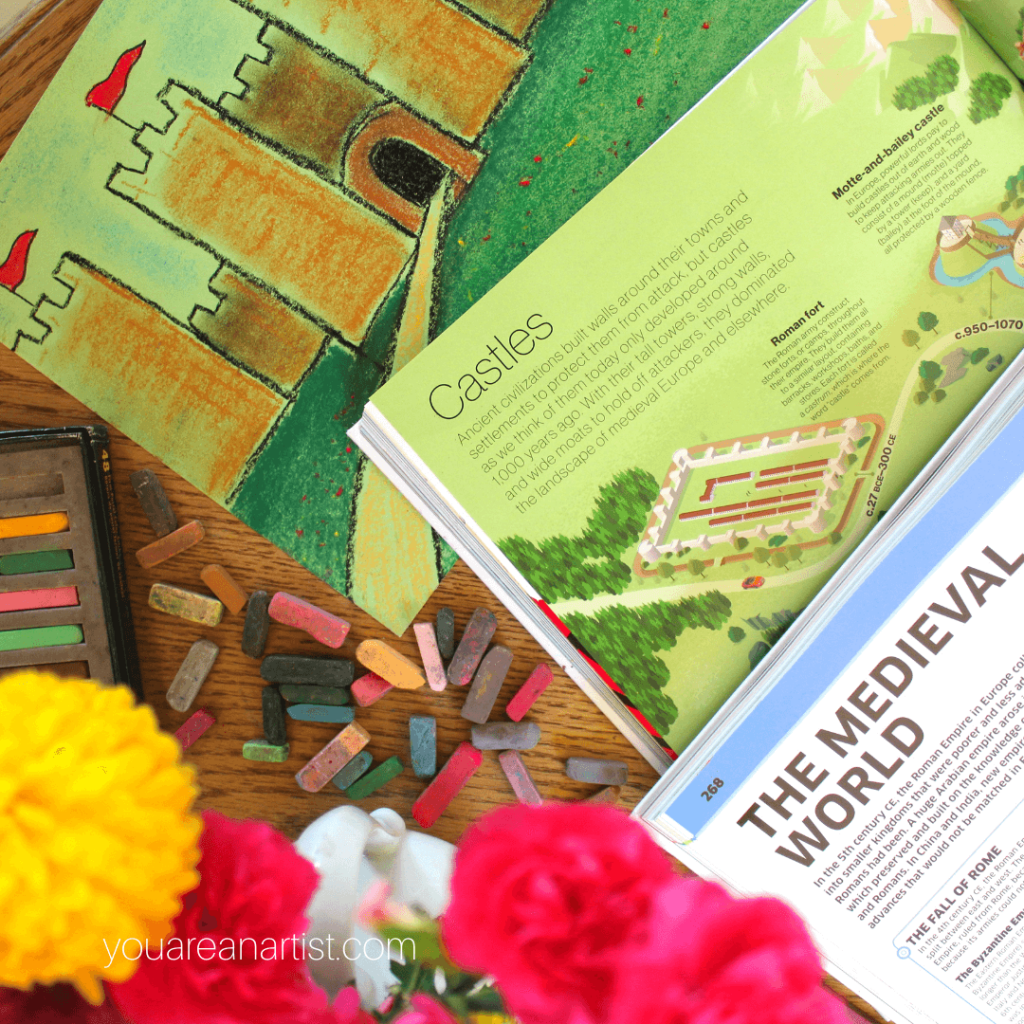 Medieval Dragon Homeschool Art Lesson
"There be DRAGONS in our chalk pastels!"
That's what I declared loudly for the children. They LOVE dragons. We have ever so many books about dragons. So, it was a delightful surprise to see a dragon in our homeschool art lessons. Of course, in the Middle Ages, dragons were something to be feared, not celebrated.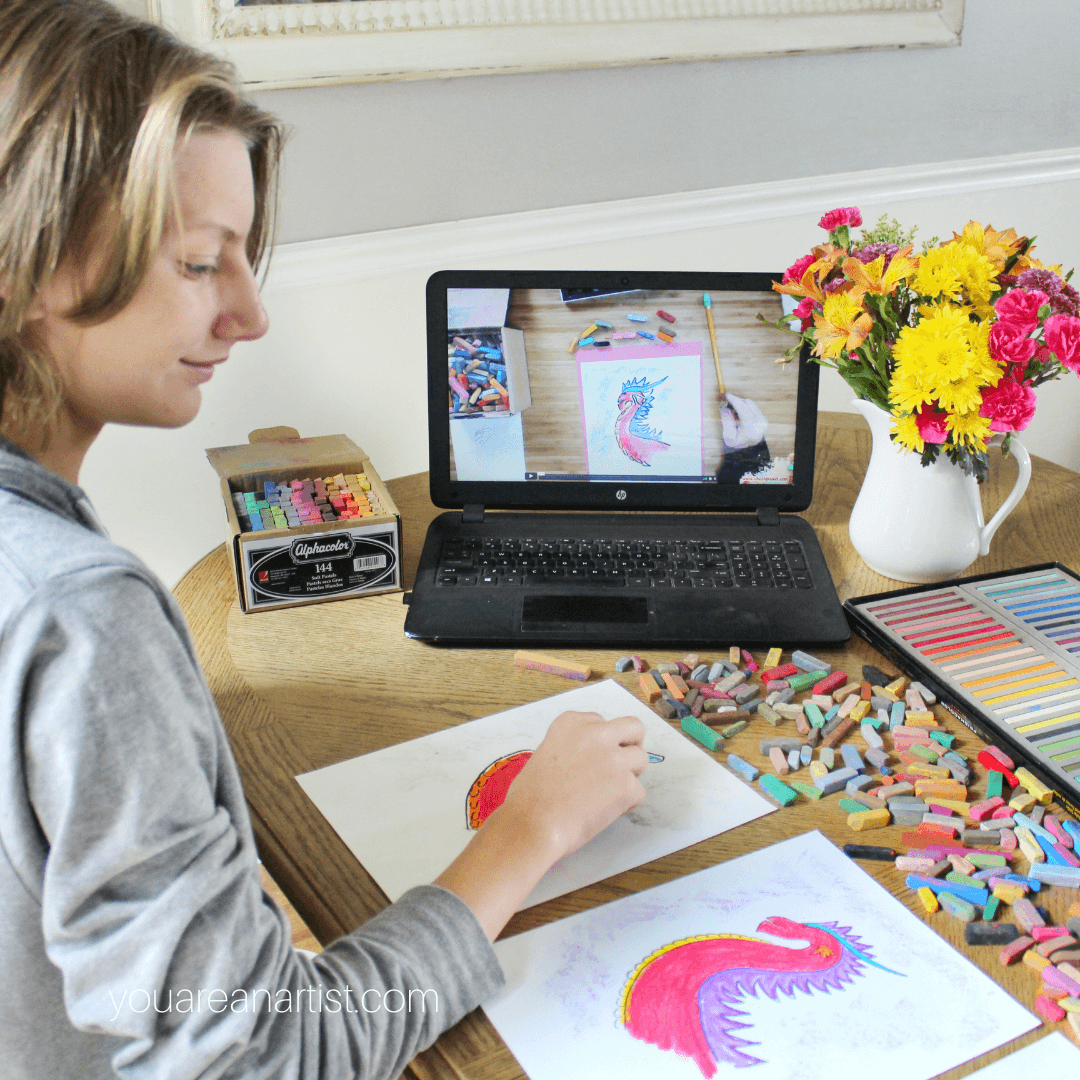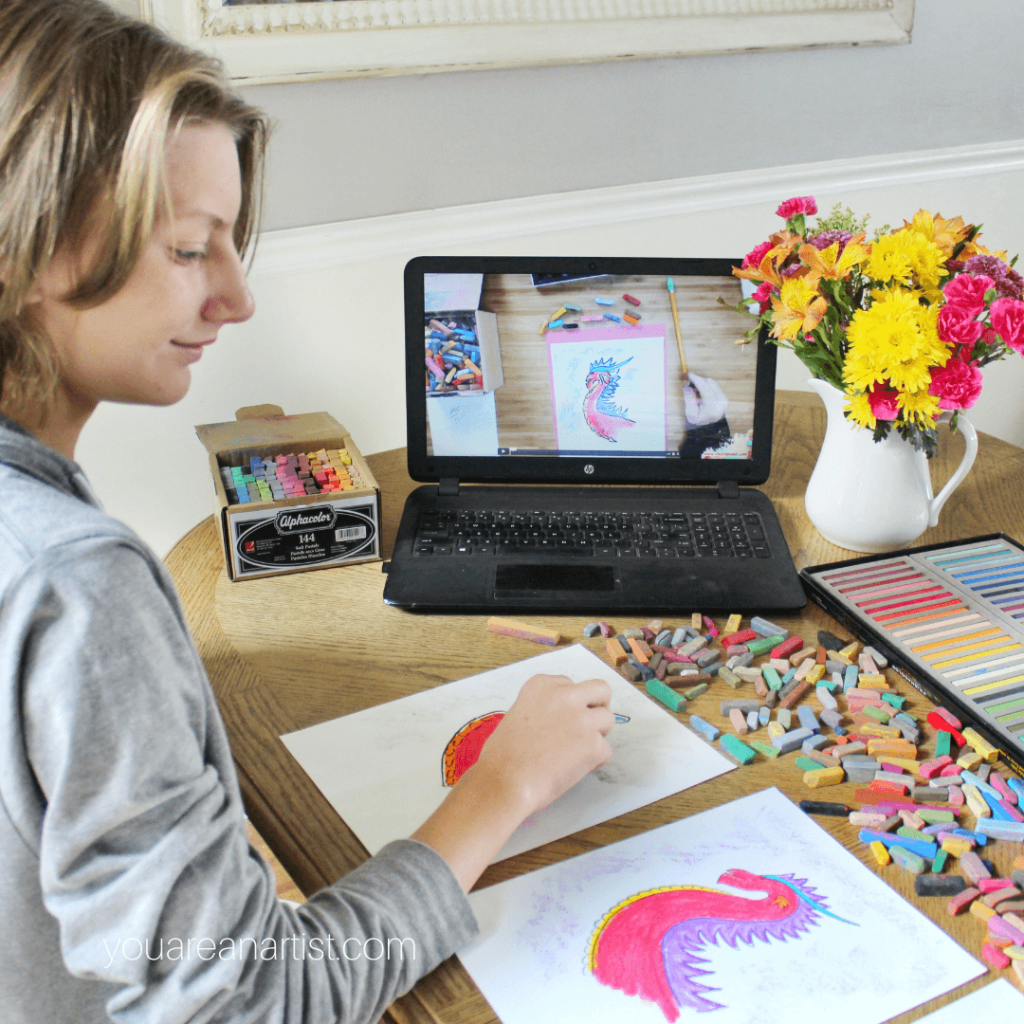 FYI: Nana has another art course for Mythical Creatures where she has a baby dragon hatching from its egg! Just in case you have dragon enthusiasts too.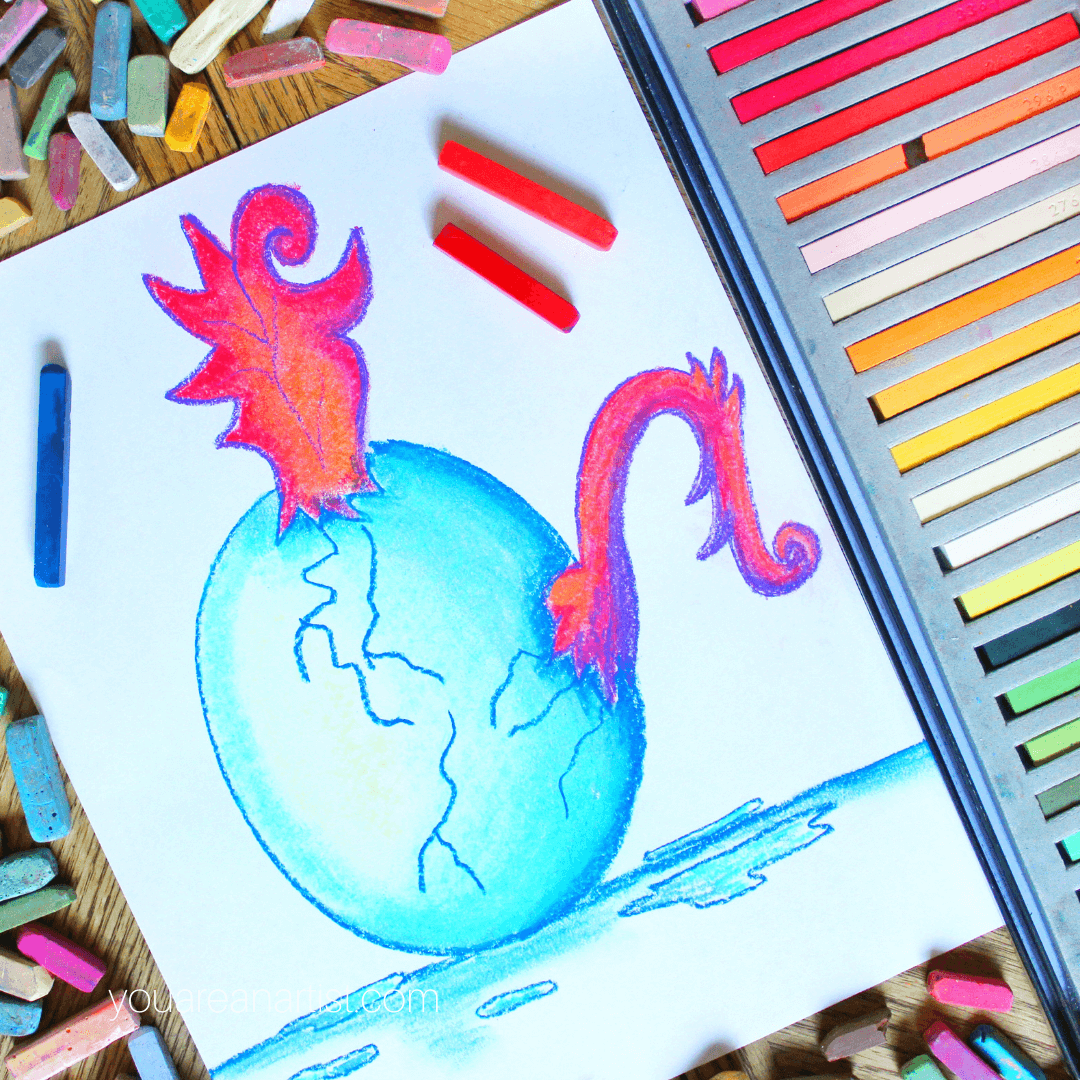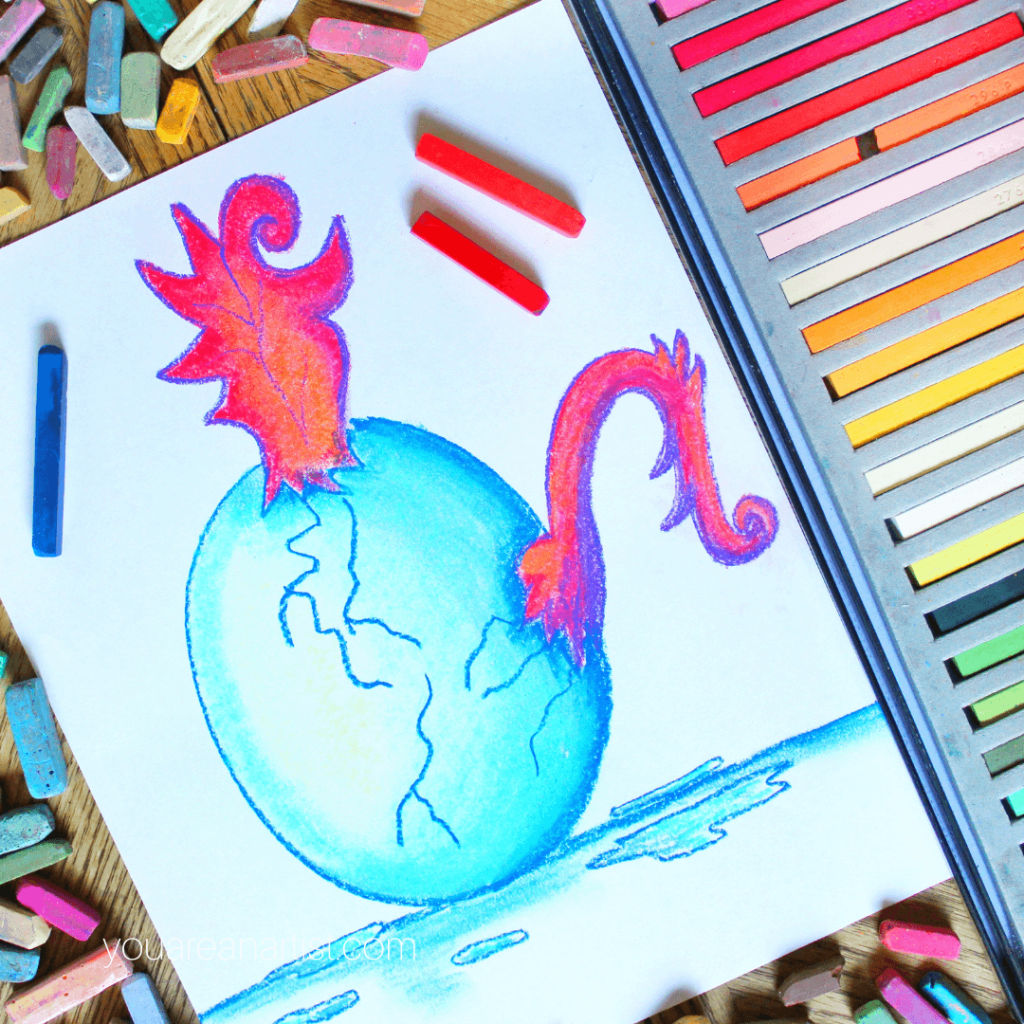 We enjoyed the Court Dress, Catapult, Stained Glass, and Robin Hood art lessons. I may have given a sword to the fair lady of the court after my daughter complained that she had no weapon. Afterward, the kids said maybe she was Maid Marian of Robin Hood's story, and she was robbing one of the wealthy nobles of the court, ha! Maybe it was Robin Hood himself in one of his many disguises!
My daughter created her stained glass window to look like a rose which I thought was pretty creative. Then we talked about the rose window in the Chartres Cathedral in France and their techniques to create the stained glass windows of the Middle ages. If you haven't heard of the rose window before, be sure to look it up. It is beautiful!
Catapult Art Lesson for Homeschool
We would randomly yell, "CAT-A-PULT!" as if we were commanding an army of soldiers about to attack a castle keep while drawing our catapults. Then, we'd laugh at our silliness. Seriously folks, who yells, "CAT-A-PULT!" at the kitchen table while doing art? My kiddos and I do!
FYI, there are four types of catapults:
trebuchet
mangonel
onager
ballista
You ARE AN Artist Complete Clubhouse Membership for Your Homeschool
There are so many fun history art lessons to explore. With the You ARE AN Artist Complete Clubhouse Membership, you'll have access to 700+ video art lessons, including these Medieval Times Homeschool lessons plus Knights and Crusaders lessons:
Dragon
Stained glass
Cathedral
Viking ship
Viking helmet
Castle
Catapult
Lute
Jester
Crown
Court dress
Illuminated letter
Medieval garden
Crusade banner
Robin Hood
Knight
Banquet table
Shield
Falconer-Hawk
Excalibur in the stone
Festival tent
War of roses
Joan of Arc
With the Complete Clubhouse Membership, you'll also get the Companion I Drew It Then I Knew It Workbooks. These workbooks are perfect for adding layers of extra learning to your homeschool art studies.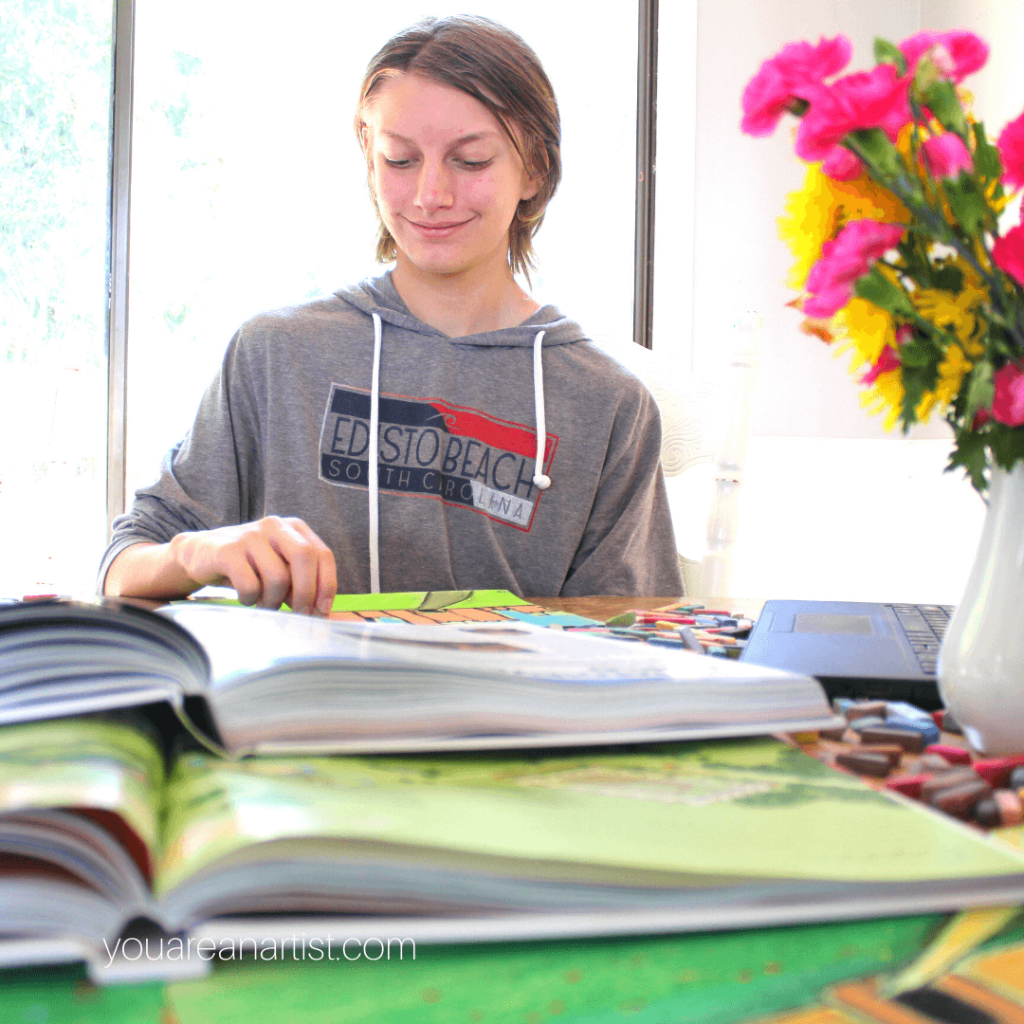 Medieval Times Homeschool Art with Chalk Pastels
Expand your history studies and make them come alive with Nana's chalk pastel homeschool art lessons! Art is the perfect way to encourage hands-on learning and exploration through time. Engage your children with color, lines, and form as they recreate these periods of the past. Medieval history is just one of the four eras you can study with chalk pastels! Nana also has courses for:
We had lots of fun with these Middle Ages history art lessons. Letting the kids be silly or adding their unique twist to a drawing is where the magic happens. Remember, they are learning even when yelling "CAT-A-PULT" at the kitchen table.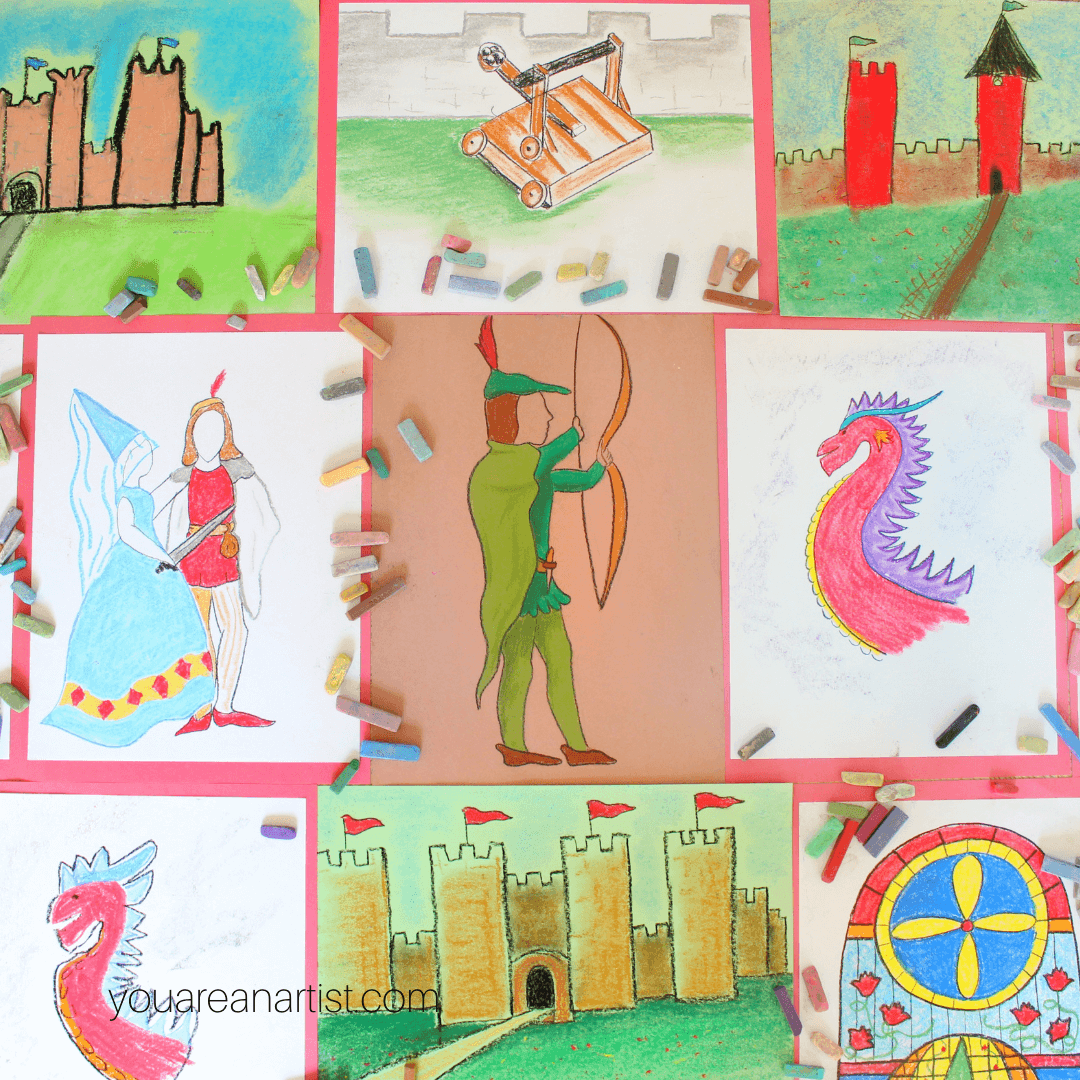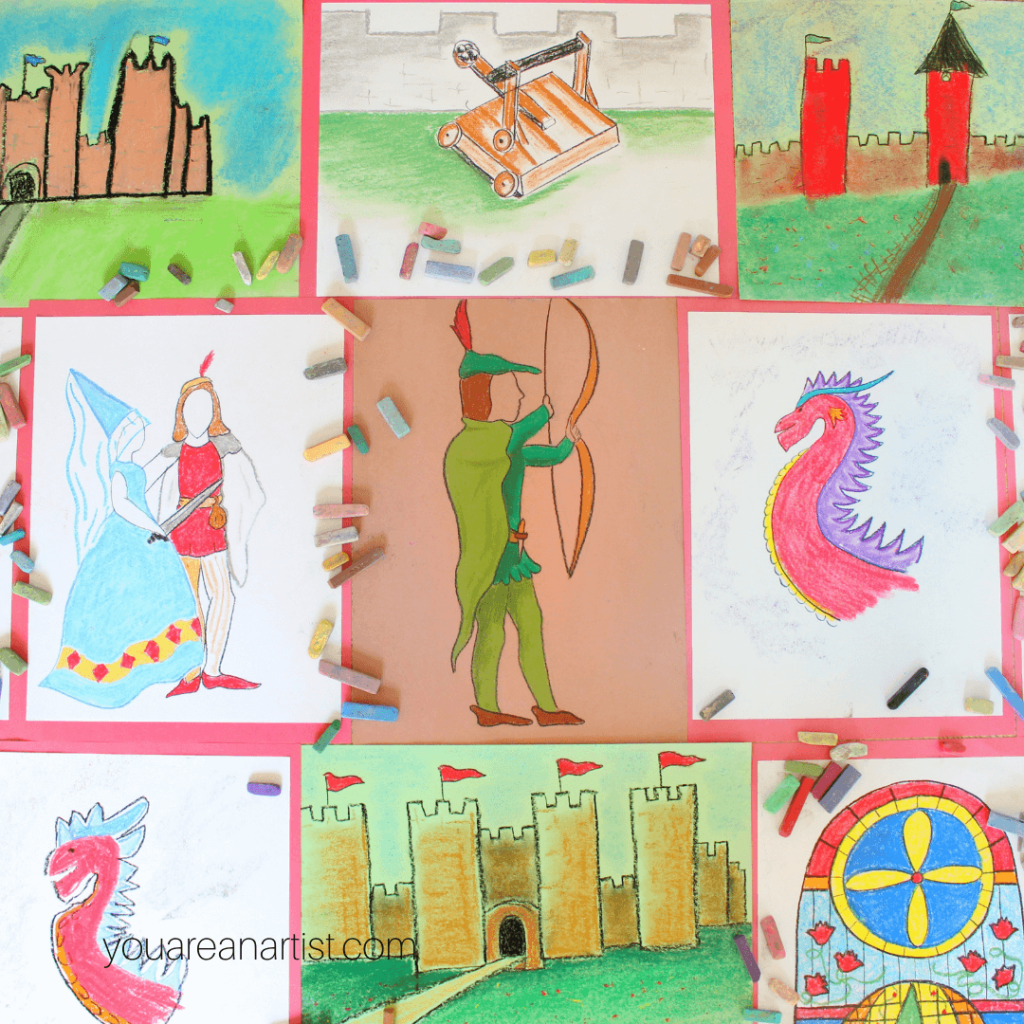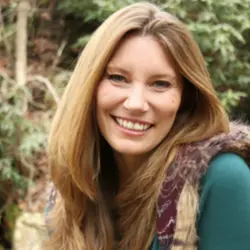 Erin is a writer, blogger, and homeschooler to two intense kids. Her blog is filled with information to help you explore a child led education while making meaningful connections with your children. Discover favorite read alouds, seasonal books, games, art projects, hands-on activities, and learn to just breathe through the ups and downs of life. She loves nature, farm life, good books, knitting, new pens, and hot coffee. Erin is a contributing writer for Weird Unsocialized Homeschoolers. Her work has also been featured on Simple Homeschool and Book Shark.