Learn the history of Valentines day while enjoying some fun activities and art with this hands-on homeschool unit study for Valentines day!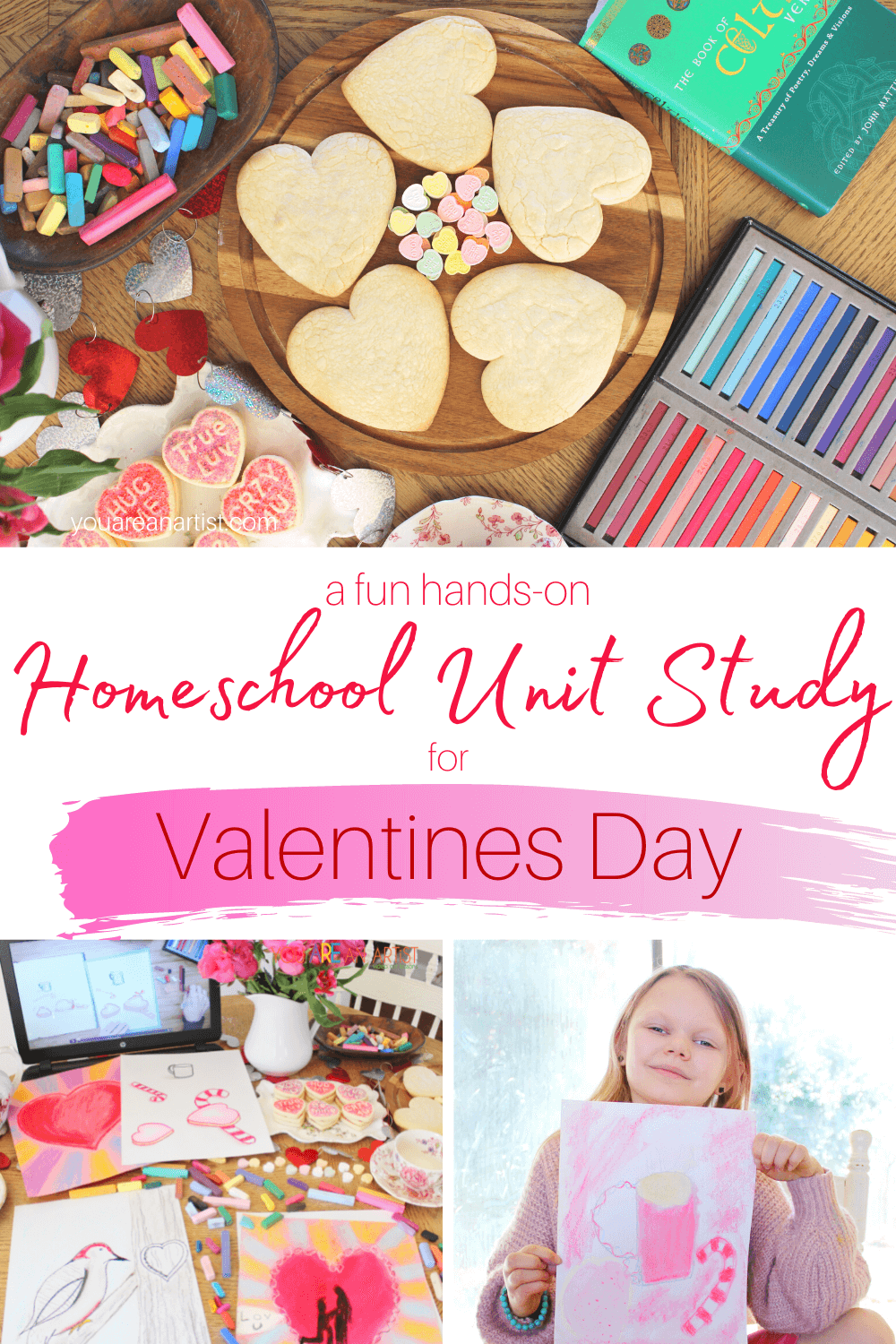 The History Of Valentines Day

When you think of Valentine's day, you probably think of chocolate, candy hearts, handmade cards and flowers! This lovely celebration happens every year on February 14th. But the history of Valentine's day has roots with a Roman priest!
Emperor Claudius II of Rome, who reigned from 268 A.D. to 270 A.D., banned marriage because he thought unmarried men made better soldiers. A Roman priest named Valentine disagreed and conducted marriages in secret. But Valentine was eventually caught and put to death on February 14th in the year 270 A.D. Before he died, as the story goes, he created the first "valentine" and gave it to the jailer's daughter!
Later, in the 496 A.D., Pope Gelasius I declared the day Valentine died, February 14th, St. Valentine's Day.
But it wasn't until the Middle Ages that the idea of Valentines day took off. The oldest known Valentine still in existence is from 1415 by Charles Duke of Orleans to his wife while he was held captive in the Tower of London. This Valentine greeting is part of a manuscript collection in the British Library in London, England.
The poet Geoffrey Chaucer was the first to record Valentine's day as a romantic celebration in 1375 in his poem "Parliament of Foules."
Did you know that Ester A. Howland is considered the "Mother of Valentine." In the 1840's she made elaborate valentine creations out of lace, ribbon, and scrap pictures, and she was also the first to mass-produce them!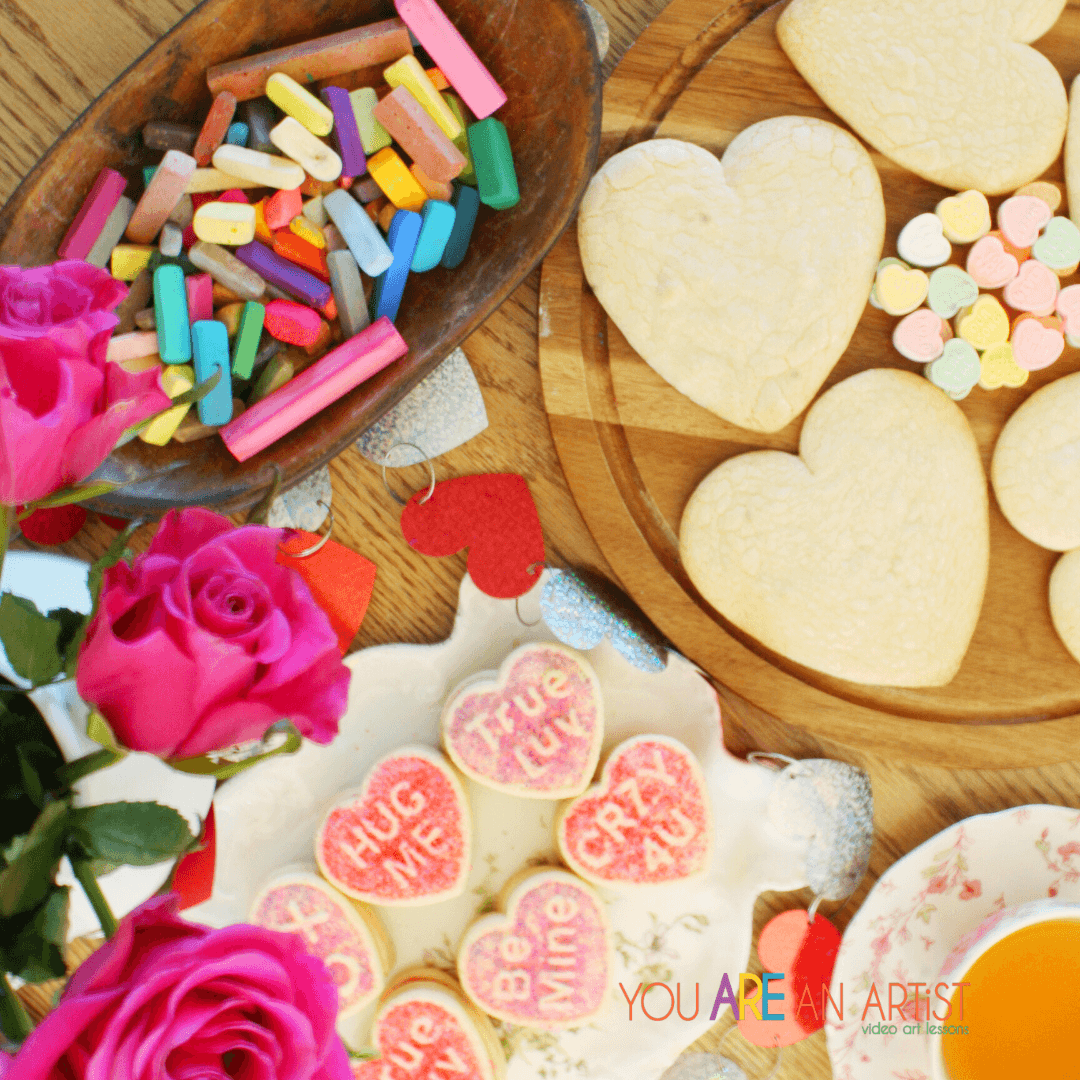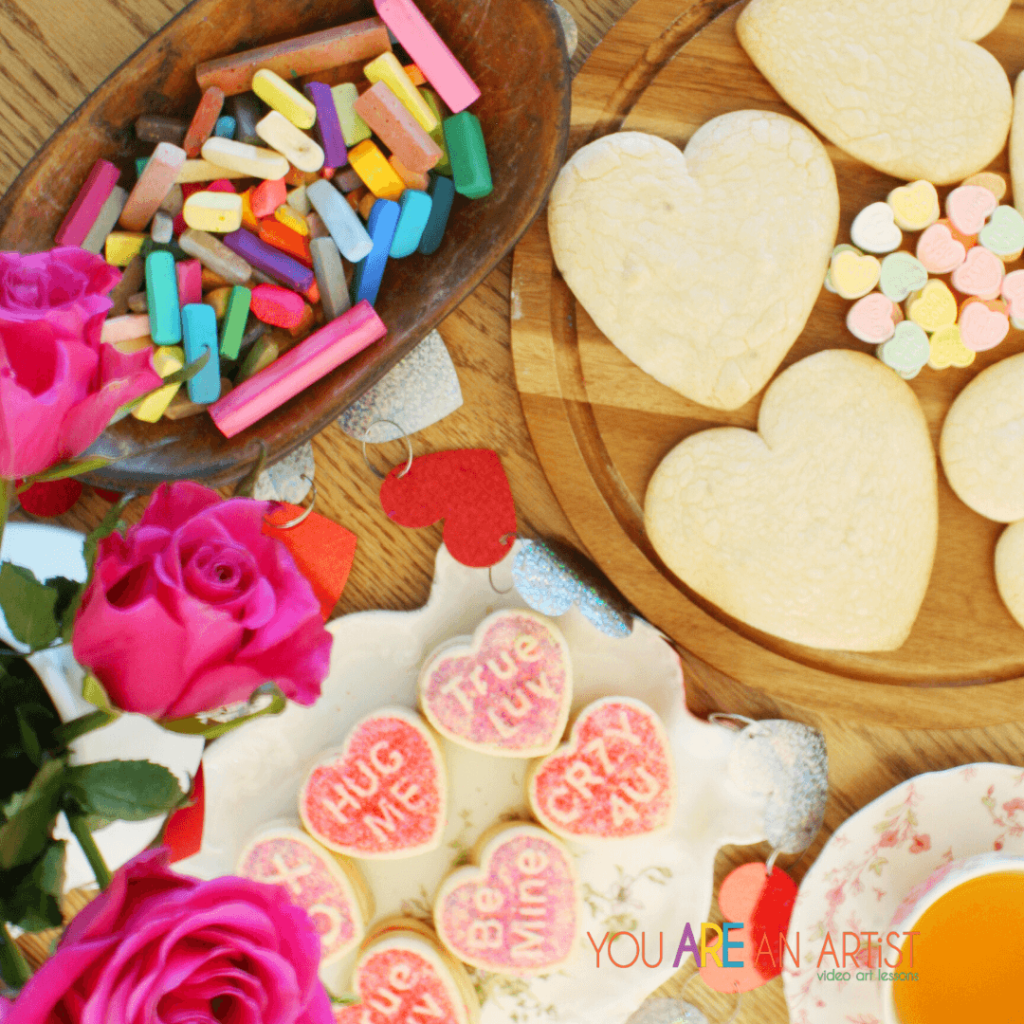 Hands-On Unit Study Valentines Day Activities For The Entire Family

Valentine's day has definitely evolved over the centuries, but now you know some of the history of St. Valentine, how about some art? If you want, set the table with heart-shaped cookies, or candies, and serve the kid's favorite beverage. Make your Valentine's teatime as festive as you want!
Did you know that Nana has some lovely Valentine's Day art for you and your kiddos to enjoy? All you'll need is a simple set of chalk pastels and a pack of construction paper!
We started with this heart cookies and mug lesson I found after reading Courtney's post: Little House On The Prairie Homeschool Ideas You'll Love.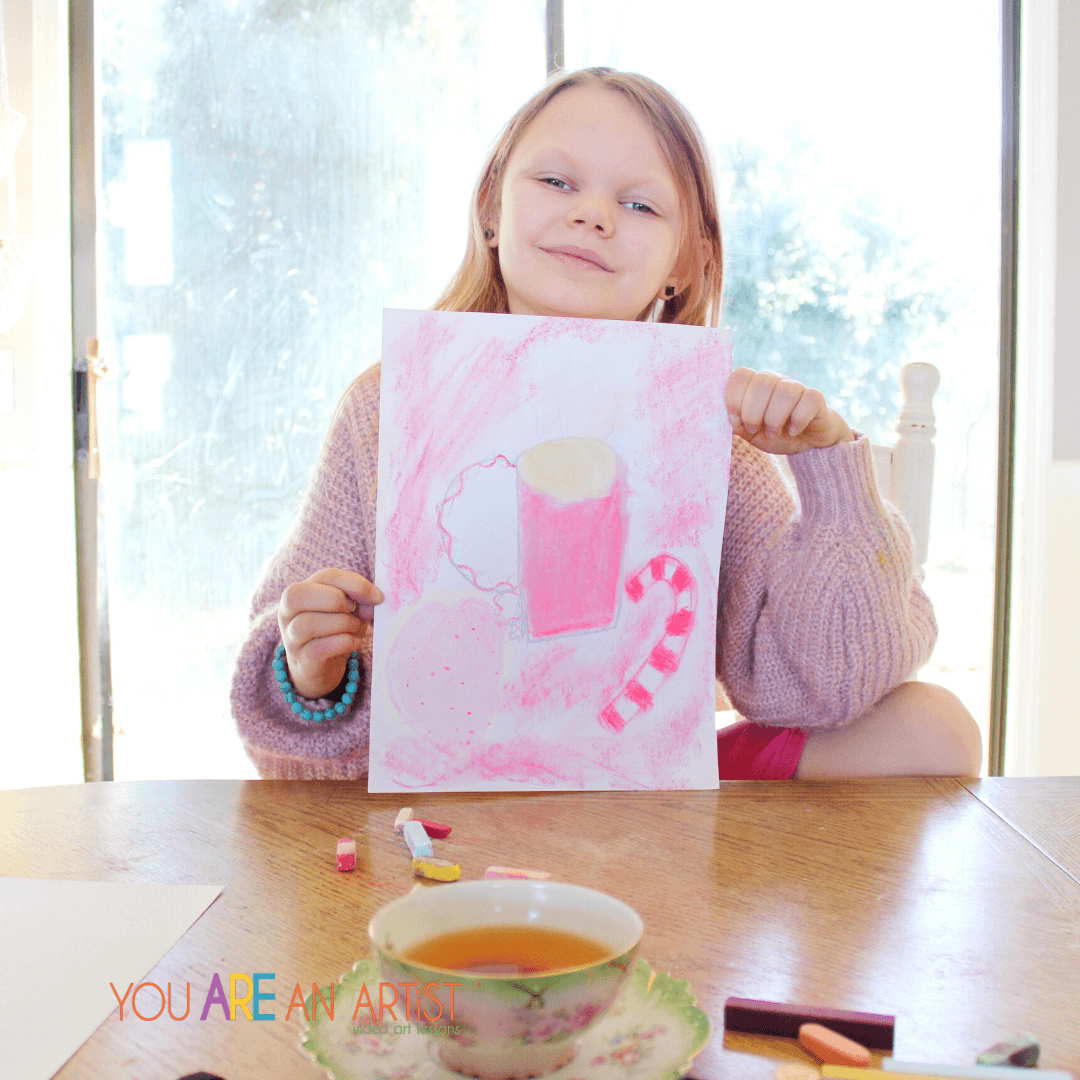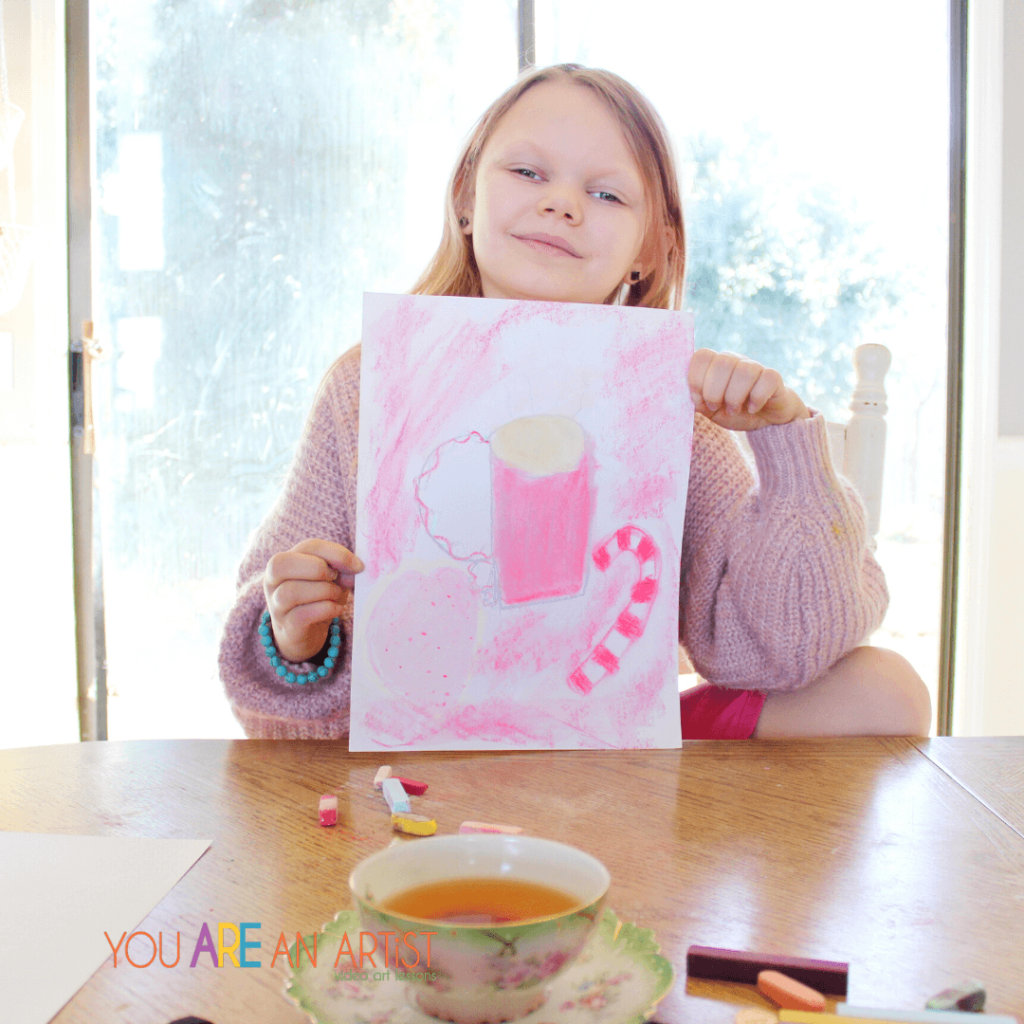 Then, we continued with the Valentine woodpecker from the Bird Clubhouse Edition.
*Did you know we did a whole bird study using our Clubhouse Membership last year?*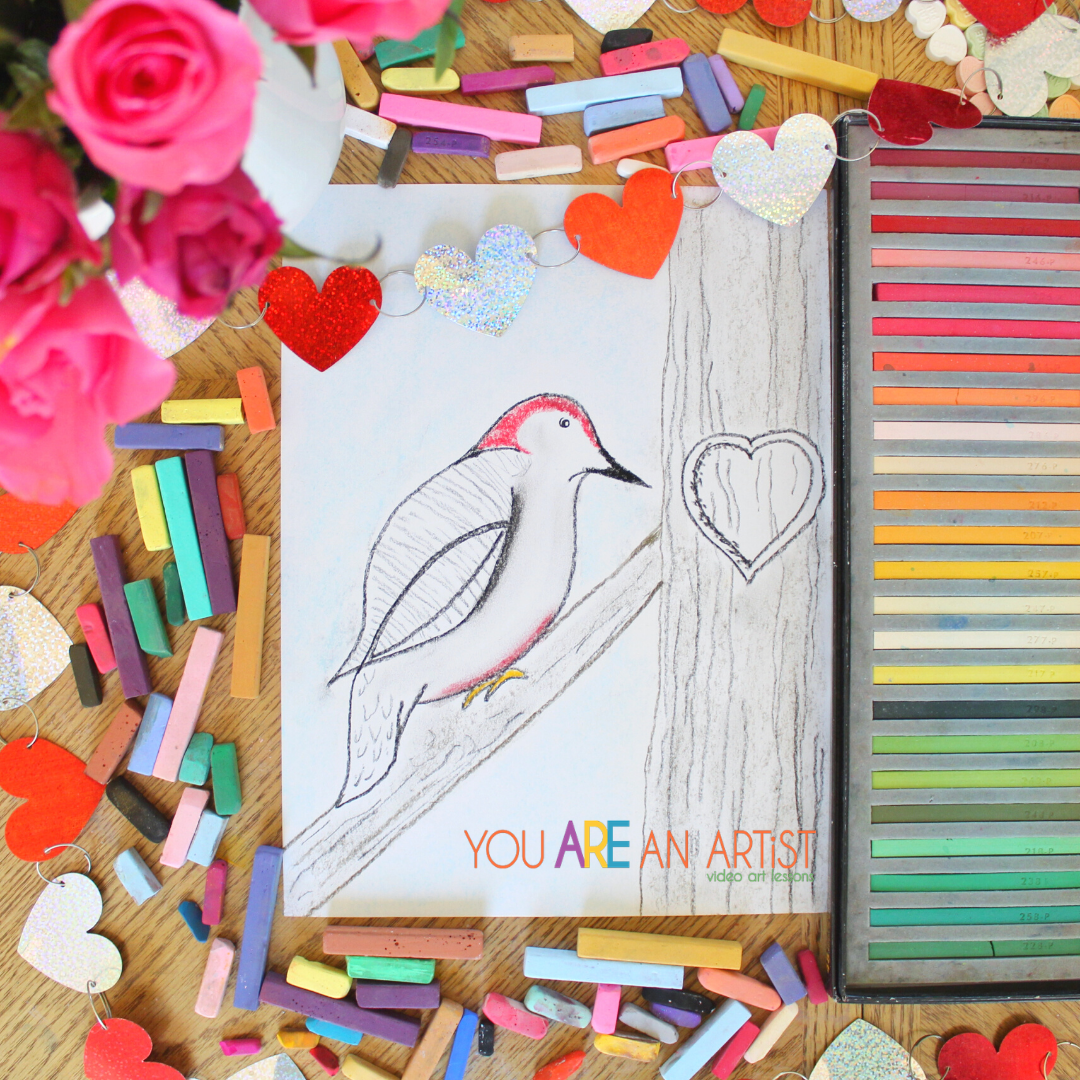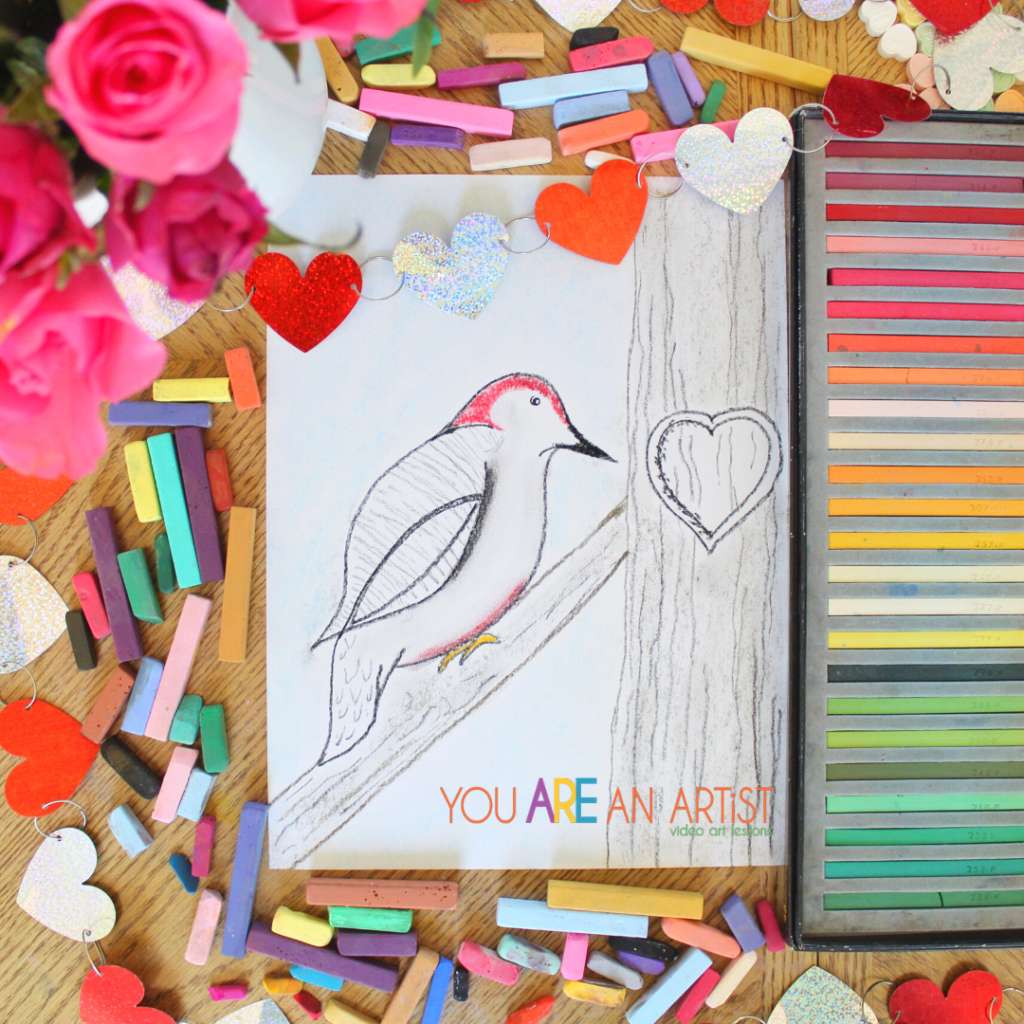 The Heart from the Preschool Spring Clubhouse Edition was our final piece of art, but it wasn't the end of our Valentine's teatime.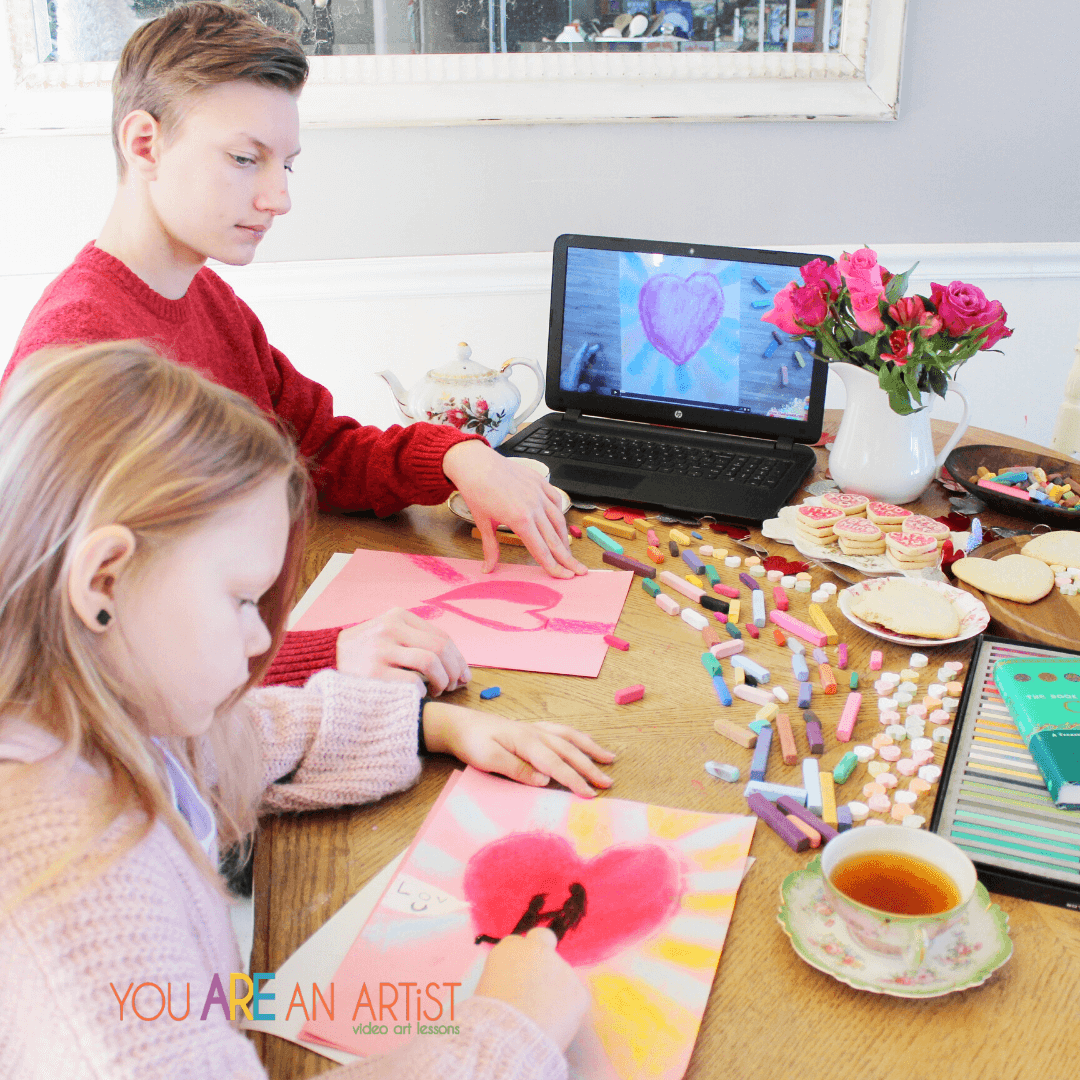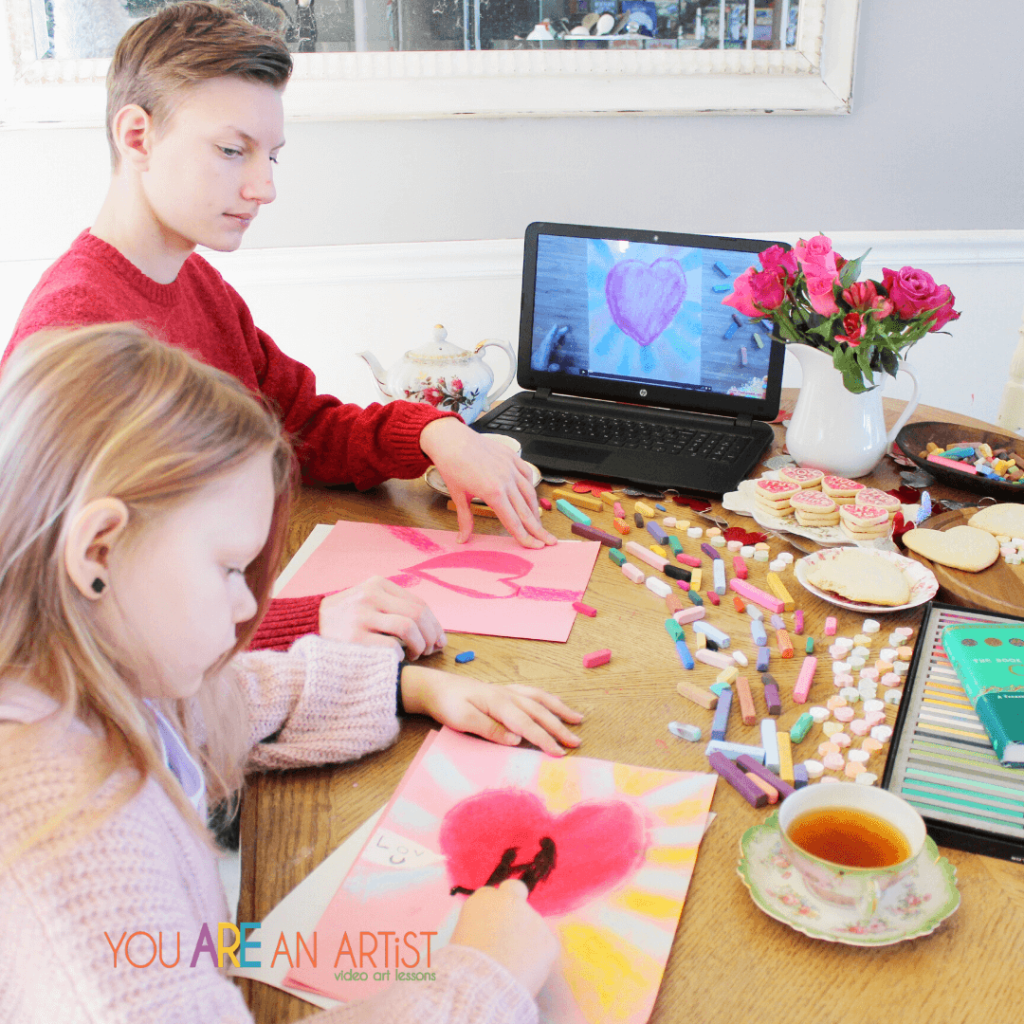 *There is also this Heart Collage: Mixed Media Acrylic you could do with your kid's too!*

More Fun Ideas For Your Homeschool Unit Study for Valentines Day

We chose to add a bit of poetry to our chalk pastel teatime. I selected a couple of pieces about love from my Celtic book of poetry, and they were just perfect for our Valentine teatime!
If you are looking for more Valentine's day resources, consider a stack of children's picture books about love! Or what about these 25 Inspired Ideas for Valentine's Day in Your Homeschool?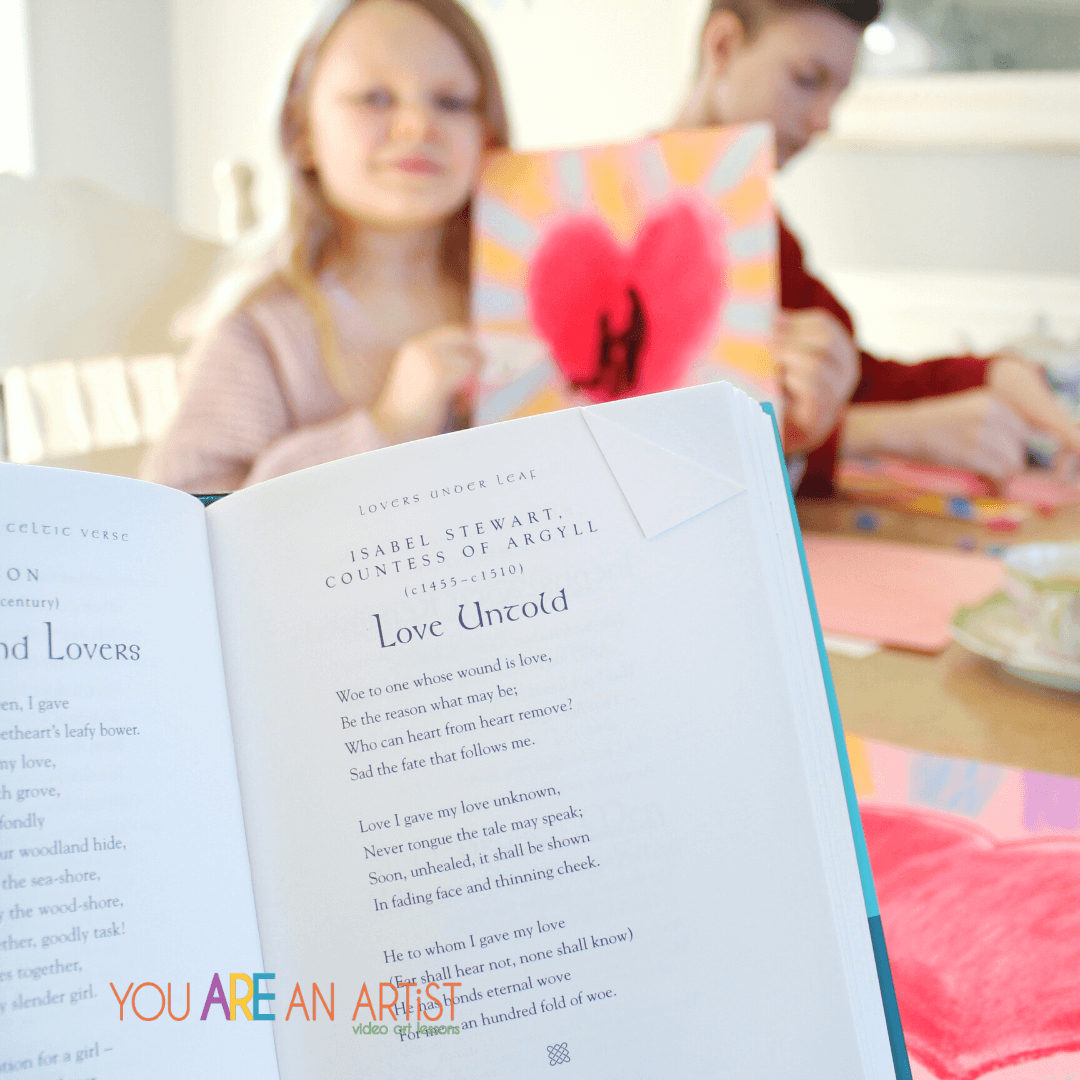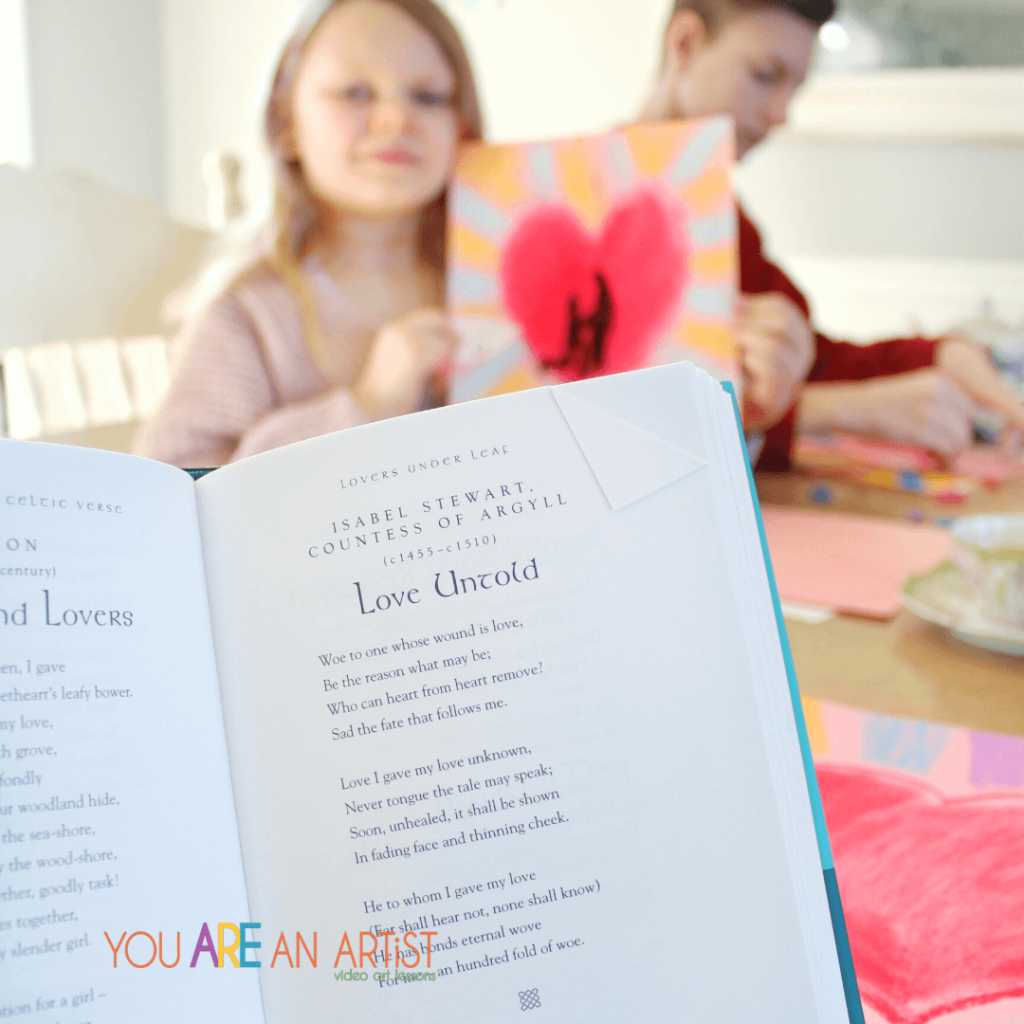 Additional Hands-On Unit Study Homeschool Art Lessons For Springtime

Springtime is the perfect time for hands-on unit studies in your homeschool! Check out some of these you can do while incorporating art!
If you want to add more creative ways to learn in your homeschool, grab a You ARE An Artist membership. With over 800 art tutorials, you will never run out of exciting ways to add a bit of artistic fun to your homeschool.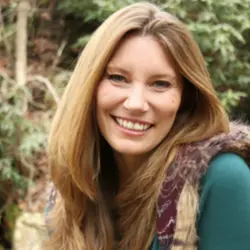 Erin is a writer, blogger, and homeschooler to two intense kids. Her blog is filled with information to help you explore a child led education while making meaningful connections with your children. Discover favorite read alouds, seasonal books, games, art projects, hands-on activities, and learn to just breathe through the ups and downs of life. She loves nature, farm life, good books, knitting, new pens, and hot coffee. Erin is a contributing writer for Weird Unsocialized Homeschoolers. Her work has also been featured on Simple Homeschool and Book Shark.