If the title of this post excites you, you are my people! I absolutely love quality literature, and studying the great works of authoress Jane Austen can be a thrilling journey. Most importantly, we hope the voyage is just as compelling for our high school students. For that reason, we want to share with you resources and ideas that will help you and your children dive headfirst into the world of Jane Austen.
Why Study Jane Austen in High School
Often, we choose literature about heroes, historical figures, and fantasy tales to study. But interestingly, Jane Austen wrote about ordinary people and everyday life, which can be a refreshing change to explore the beauty of regular people. Jane Austen conveys that there is beauty in the imperfection of people. That is definitely something worth discussing with our teens. Not everyone is destined for greatness, fame, and fortune; what we do in the everyday ordinariness of it all is what matters. This is also fundamental to helping our teens understand that good habits, being responsible, and daily life choices matter.
Jane Austen wrote the first draft of Sense and Sensibility at 19 years old and completed Pride and Prejudice in 1813 at just 21 years old. When I read that, I thought, "What am I doing with my life?" Ok, kidding! But seriously, what a remarkable feat to have written one of the most beloved romances of all time that young. But, actually, this is a wonderful tidbit of information to get your student excited about studying Jane Austen. I know it certainly piqued my daughter's interest a bit more when she learned that fact.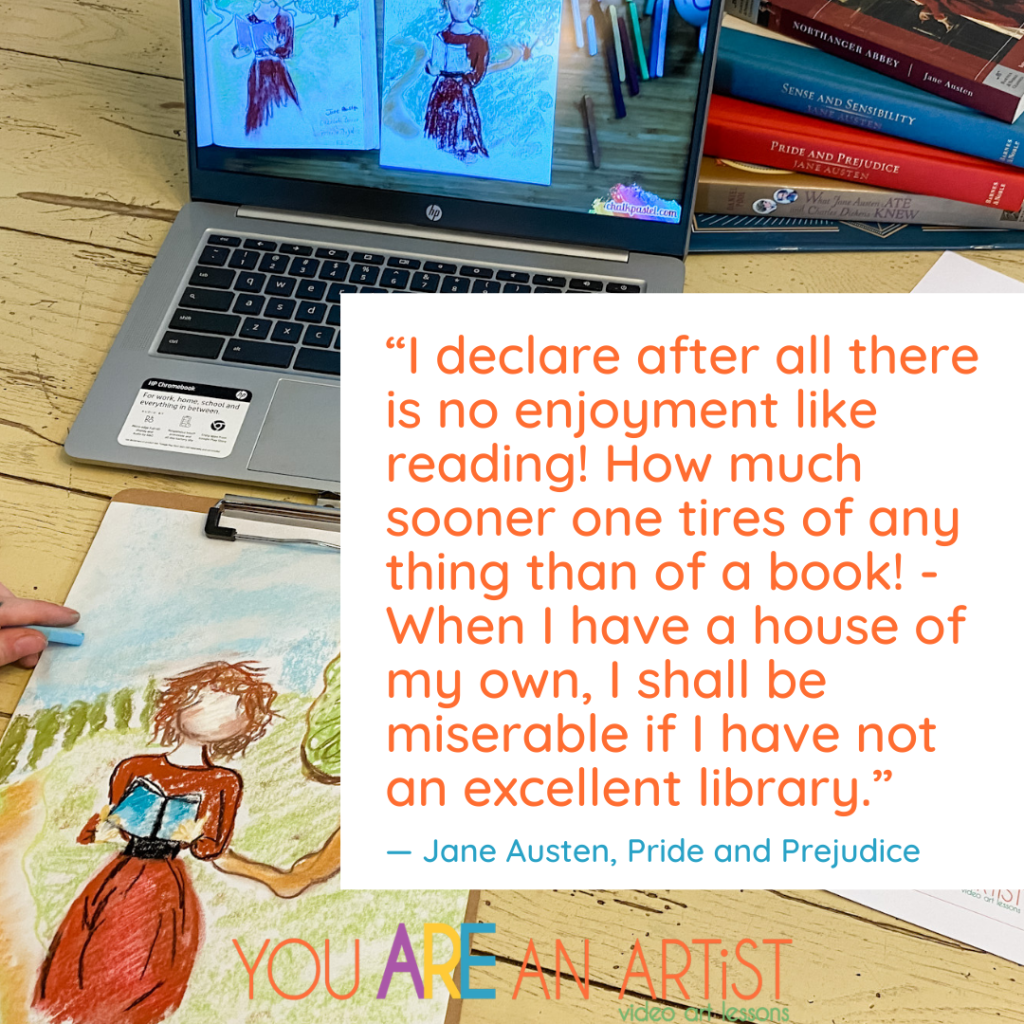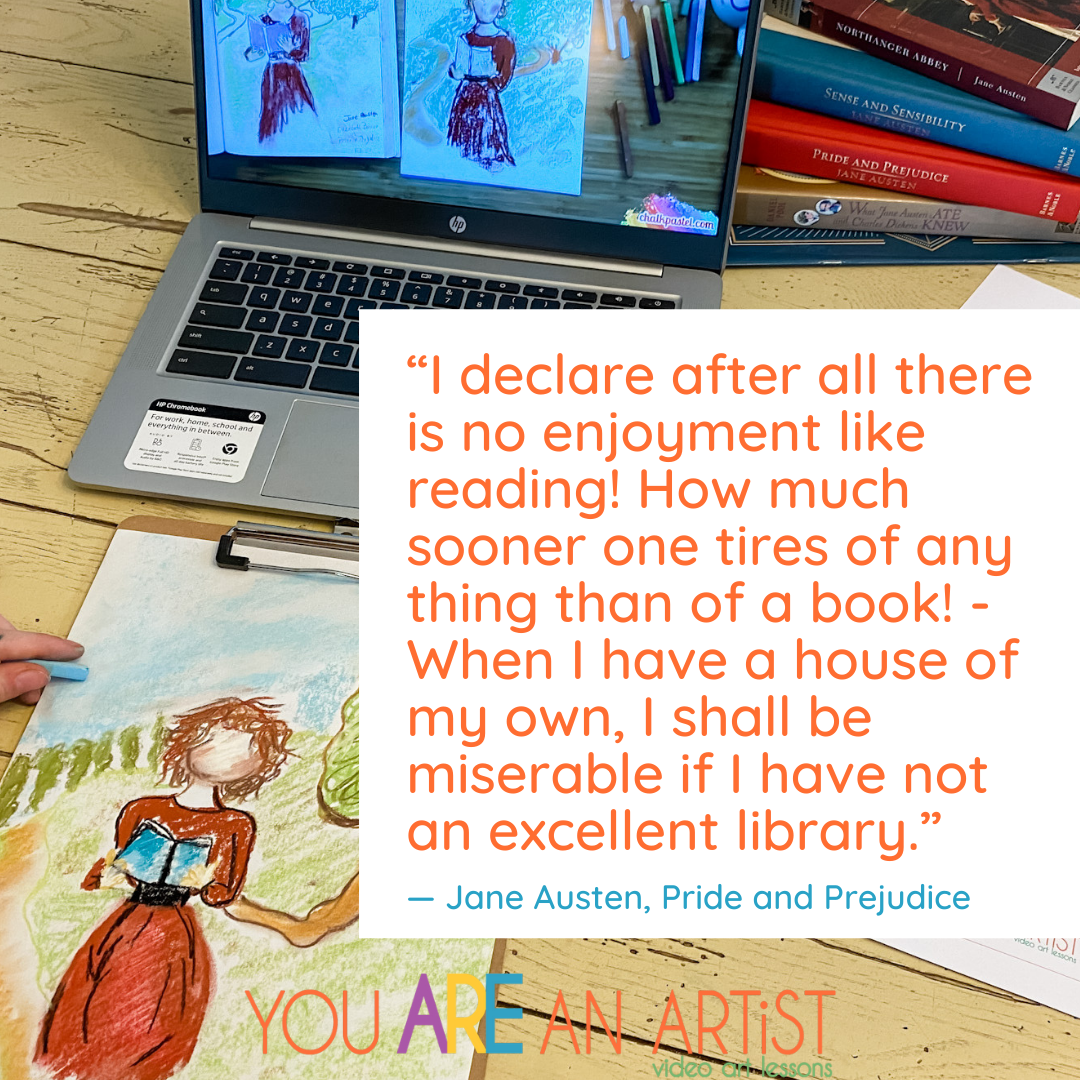 Jane was also dedicated to her craft; our teens are at an age when they are honing in on their own talents and unique gifts. So studying a young person who was dedicated to an art can be inspiring for many high school teens. They should see examples of young people pursuing a craft and failing and continuing to pursue despite all else. That is precisely what Jane did. When you begin to learn more about her, you will see that she was not an overnight success. But more of a pursuer of her passion, and becoming a female novelist at that time was no easy task.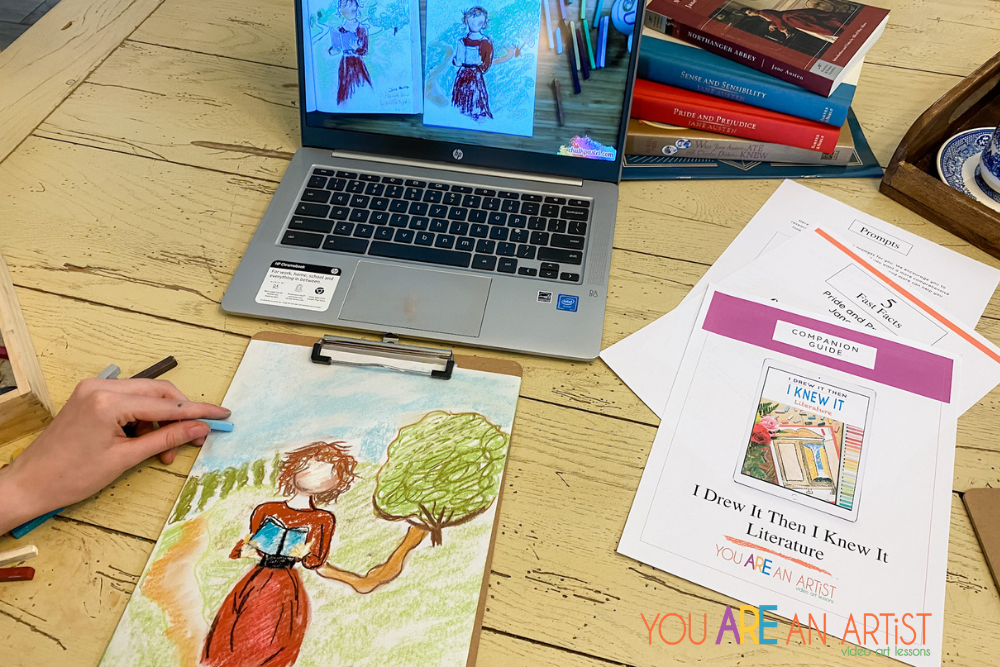 Create Your Own Jane Austen Literature-Based Study
Studying Jane Austen has multiple facets and lessons that you and your student can explore together. And here is a sample of topics that you can cover at the high school level. In addition to all that you can learn from studying Jane Austen, as a parent, you can appreciate that Jane Austen's novels are wholesome reads.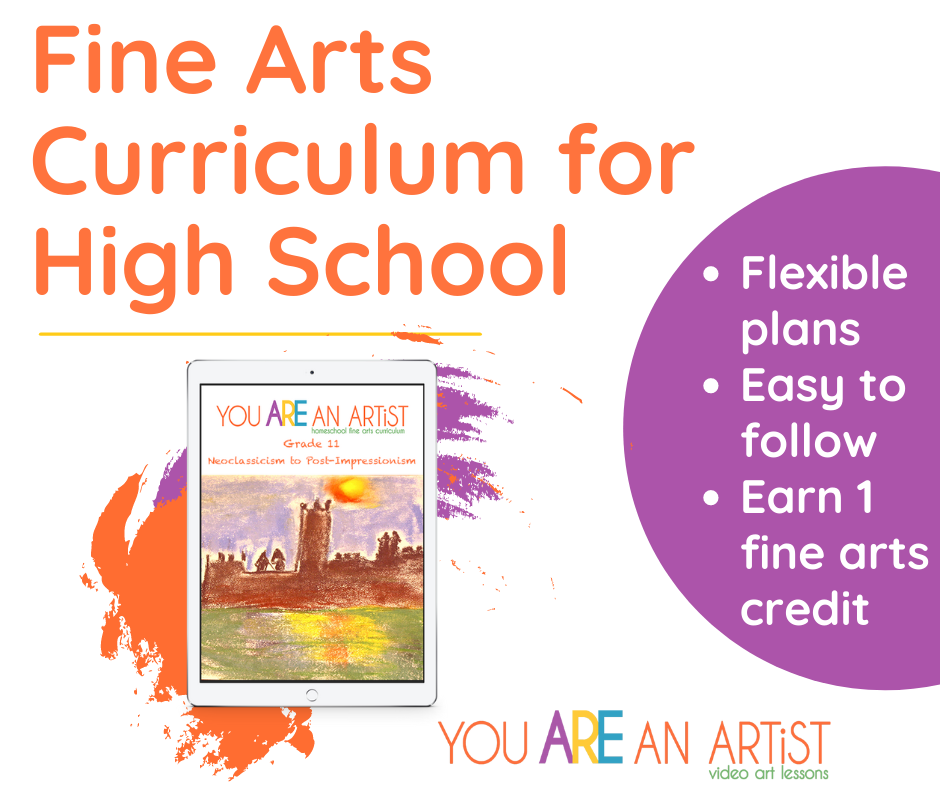 Explore Neoclassicism and Romanticism through Fine Arts: Another fantastic way to make your Jane Austen study well-rounded is to incorporate the fine arts of her novel's time. Jane loved balls and dancing, that was a big part of her life, and she wrote about it frequently. Learning about the music and art that influenced so many of these novels and Austen's movie adaptations is a great way to keep your study fun! We have a full-year high school level fine arts curriculum worth one credit and would parallel perfectly with her novels. You could also tour some art museums virtually; this is perfect if you are working towards a fine arts or visual arts credit in high school.
Novelist Jane Austen: When you study Jane Austen, you explore one of the greatest writers in English history. You can research her life, history, and writing style as extensively as you like. However, it's hard not to get lost in exploring the various avenues. To learn more about her style of writing, study her novel structure. Discuss with your teen what makes Jane Austen's Novels timeless. Compare Austen to other authors of her time; what made her unique?
Literature Studies: Jane Austen completed six novels, so you have some great literature to choose from. Sense and Sensibility, Pride and Prejudice, Mansfield Park, Emma, Persuasion, and Northanger Abbey. There is also Sanditon; it was unfinished at the time of her death. Many literature guides (and teacher guides) for high school can help you cover everything thoroughly if you are unsure about putting together your own literary study. Memoria Press, The Good and the Beautiful, and Progeny Press for Pride and Prejudice, to name a few.
Extensive Vocabulary: The vocabulary in Pride and Prejudice is vast. Have your student go through and do a word study on particular words, make definition cards to practice, or create a vocab notebook. Every time your student comes across a new word, have them jot it down in their vocabulary notebook and write out the definition.
Rank and Social Class: Learning more about the social ladder from previous time periods can be fascinating. Jane Austen's novels concentrate on many characters' social class and rank. You can dive into learning a lot about nineteenth-century English families and lifestyles in the Georgian period. The book What Jane Austen Ate and Charles Dickens Knew by Daniel Pool has so much information about daily life in ninetieth century England. (There may be a chapter or two that you will want to review ahead of your teen.)
Etiquette and Manners: This is another topic I find fascinating, and what a great topic to cover in the teen years. Our current culture has no emphasis on general manners and etiquette. It is ever so important to revisit basic things like dinner table manners, opening doors, and pulling out chairs. Many of our children are experiencing organized dances for the first time, such as prom. Learning to dance with a partner, practice dining together at a nice restaurant, or role-playing polite conversation would all be wonderful ways to help prepare them.
Geography: Learn all about the United Kingdom, England, and the settings from Jane Austen's novels. Sussex, Oxford, London, and Bath might be places to note.
Proper Tea: Have tea time at home and incorporate some proper tea etiquette or a few items from a traditional English tea menu.
Additional Books: There is a Jane Austen Memoir you may want to include that was written by her nephew James Edward Austen-Leigh. You may also want to read the collection of Jane Austen's left behind letters, hand-written by Jane herself.
Writing Prompts or Essay Assignments: You can suggest many creative writing prompts or research-based essay assignments to accompany Jane Austen's Novels. The options are endless! We include a few ideas to help you inside our I Drew It Then I Knew It Companion Guides, along with 5 Fast Facts about Jane Austen. Make sure you download your Companion Guide inside the Clubhouse! A membership will allow you access to all the I Drew It Then I Knew It Companion Guides and art lessons. (This is a fantastic investment for your homeschool!)
Movie Adaptations: The perfect study of anything has elements of fun! One way to keep this study fun and exciting is to pepper it with fine arts, art lessons, and movies! When my daughter and I complete a book, we enjoy watching various film adaptations and rate them together. It's quite fun and requires more than a couple of movie nights. Another ideal option may be to host a Jane Austen book club or Jane Austen movie night for homeschool moms! We can't let the kids have all the fun, can we? With so many Jane Austen books and movie adaptations, you can have fun with this for a while.
Art: Yes, I have saved the best part for last! I highly recommend it! Adding art to your Jane Austen study for high school is another aspect that can perfectly round it out. The hands-on art projects will be enjoyable for your high school student and you, if you choose to join in. Below you can see these two Jane Austen art lessons that you won't want to pass up!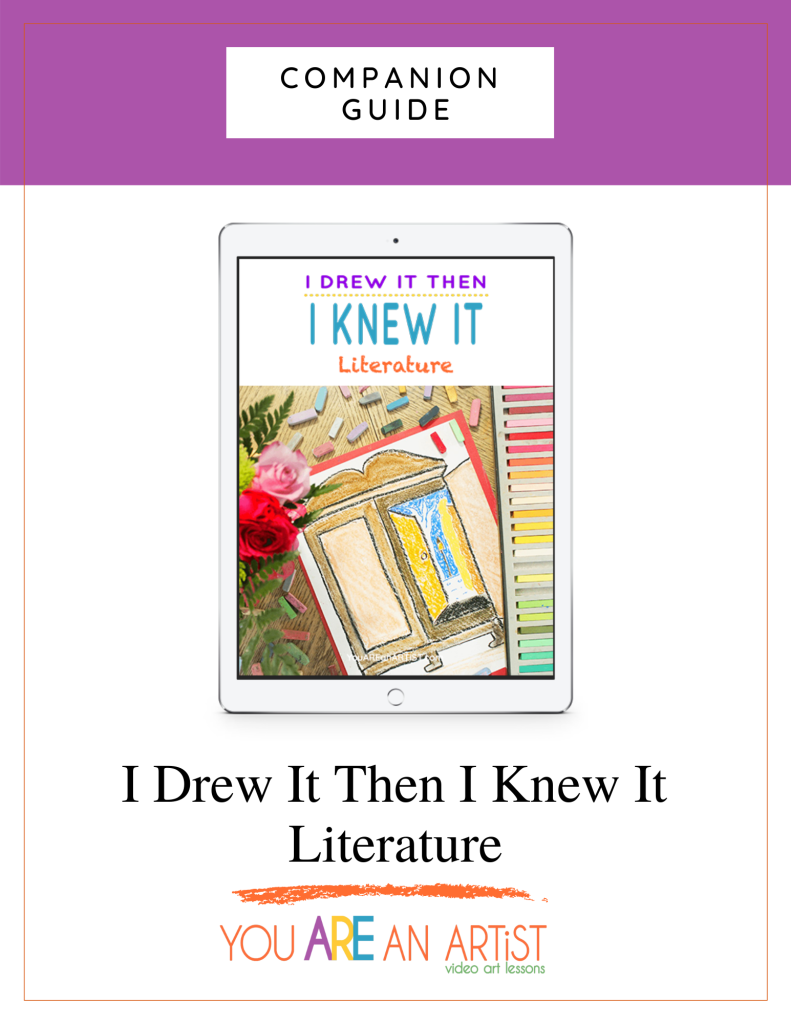 Nana's New Jane Austen Art Lessons Pair Perfectly
Nana has done it again by capturing the simplicity of Jane Austen alongside the beauty! These two new lessons are perfect for tying into your studies, and we always enjoy quality literature and art together with tea time.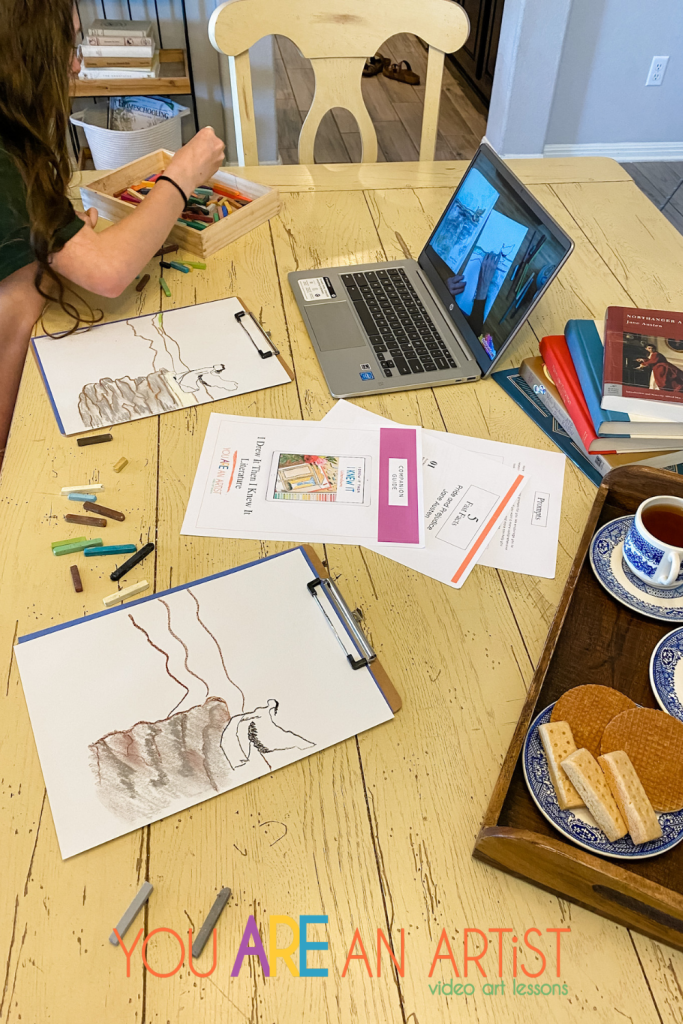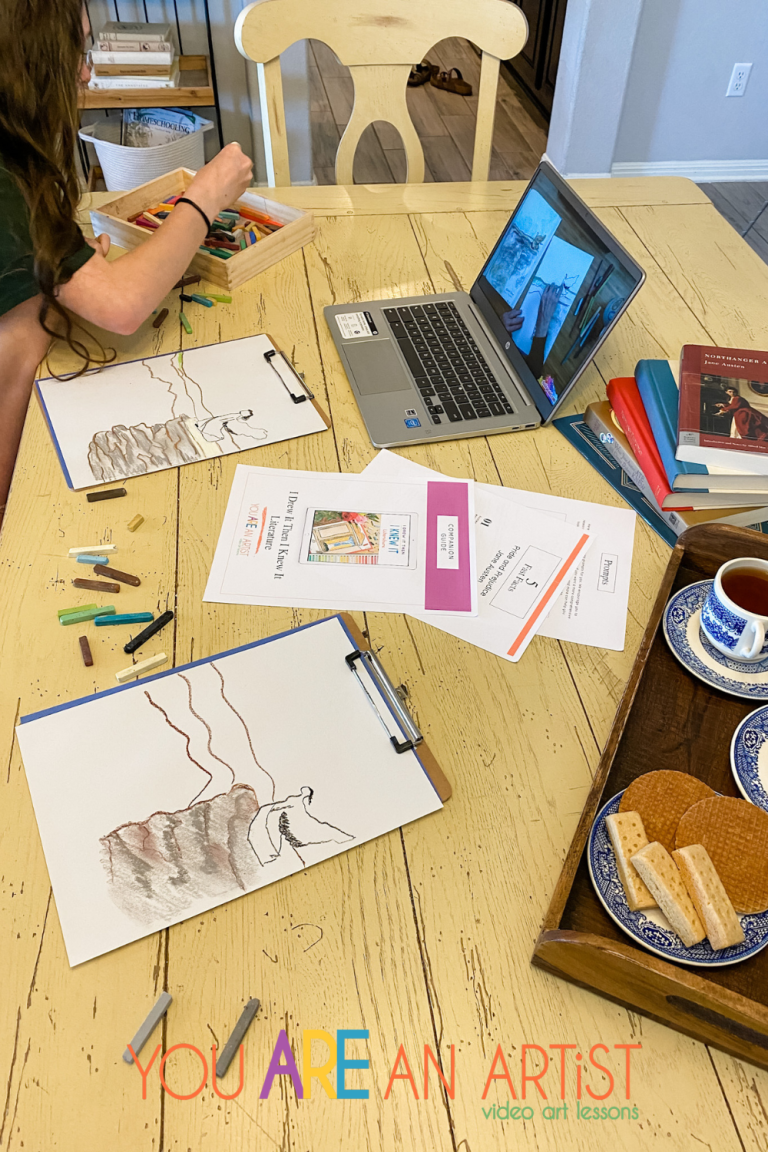 Nana has created two Jane Austen art lessons that you and your students will love! One is this stunning Elizabeth Bennet art lesson; Lizzy is on a cliff contemplating her future. This scene also makes me think of my teen daughter or any teen for that matter. Their whole life is before them, and what shall they pursue?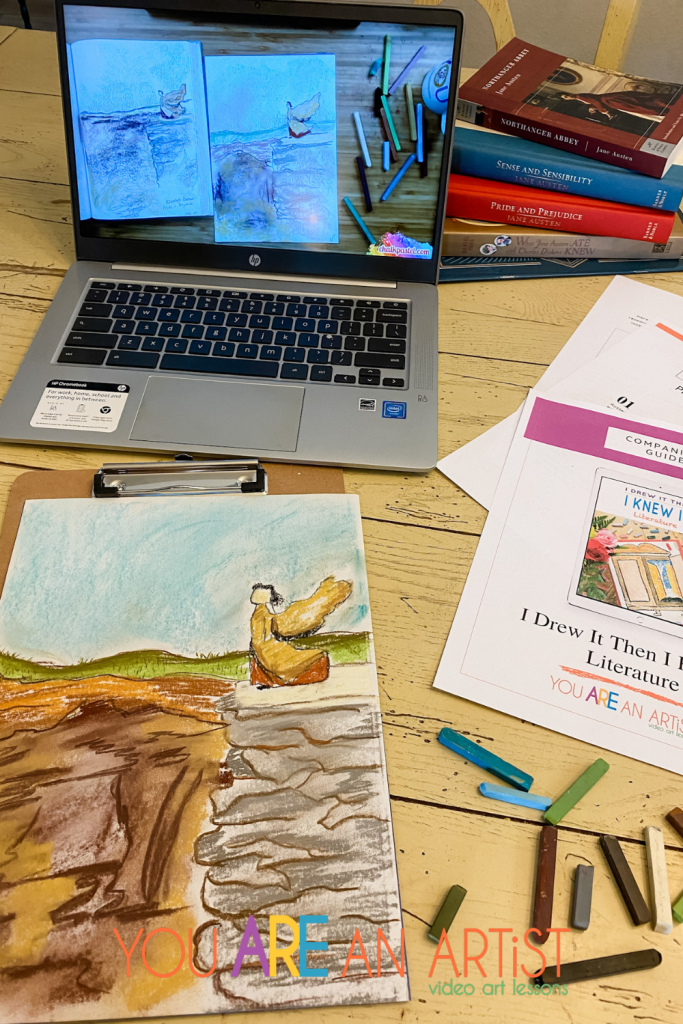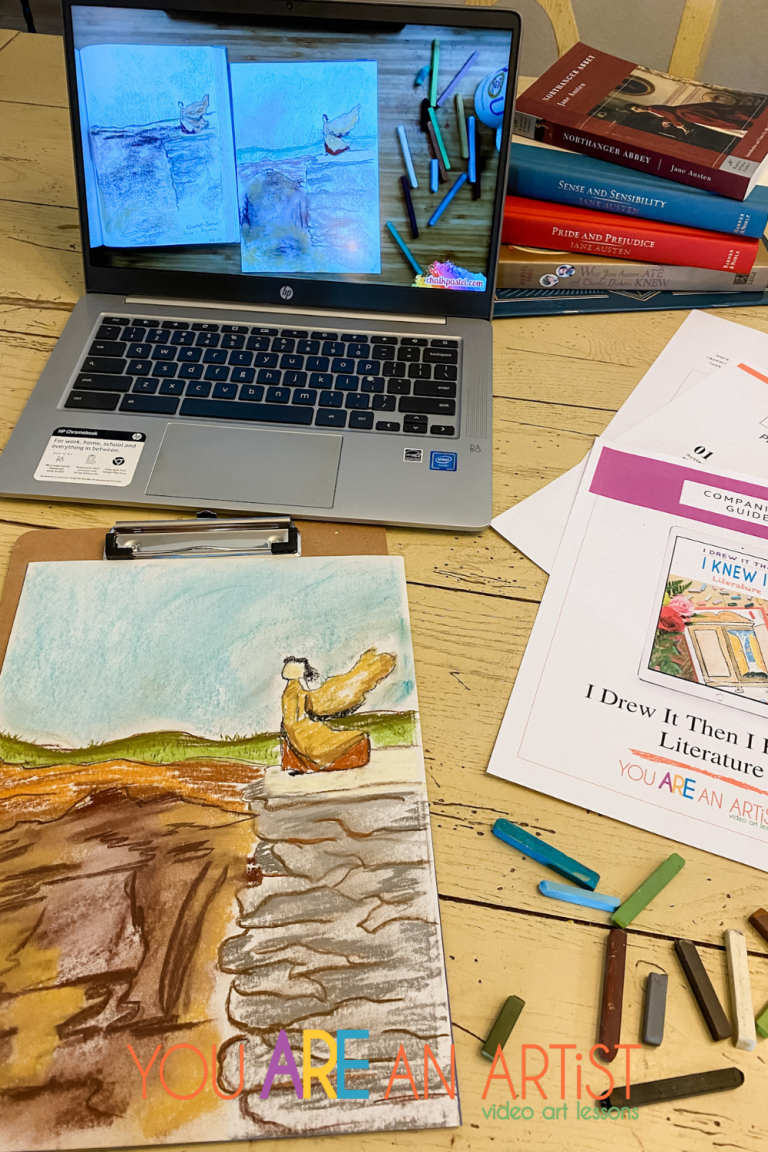 Another splendid hands-on activity to incorporate into your study of Jane Austen for high school is this Pride and Prejudice art lesson. I am obsessed with the way Nana has approached drawing faces recently. I think the blank face style is so elegant. Plus, my daughter used to obsess about getting the faces just so. It looks very classic this way, and I don't have to hear my daughter fuss about the perfection of the face.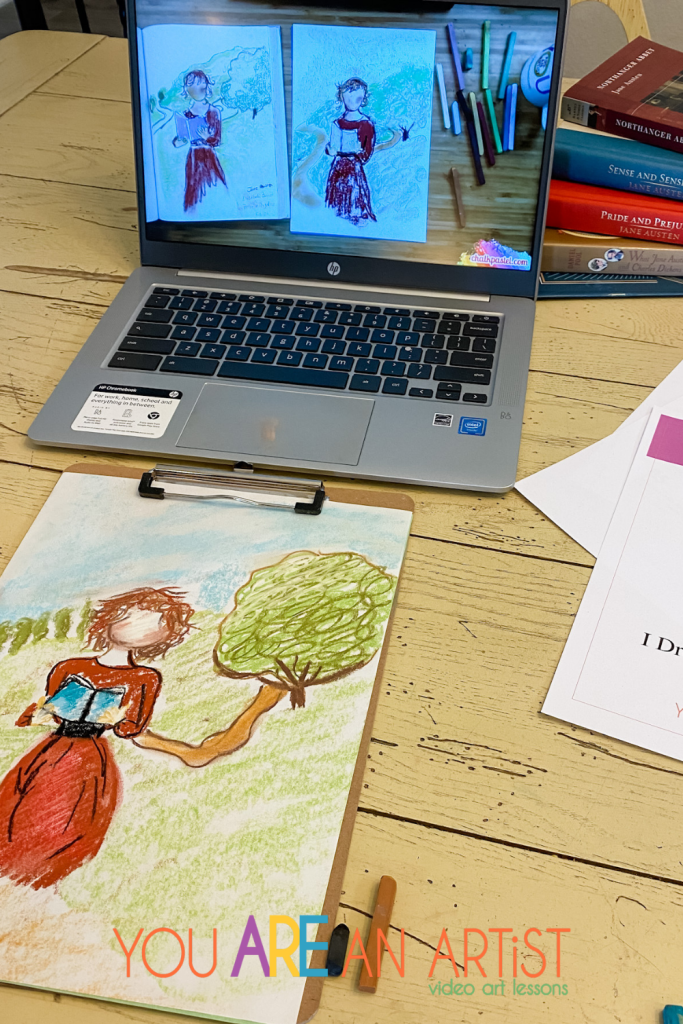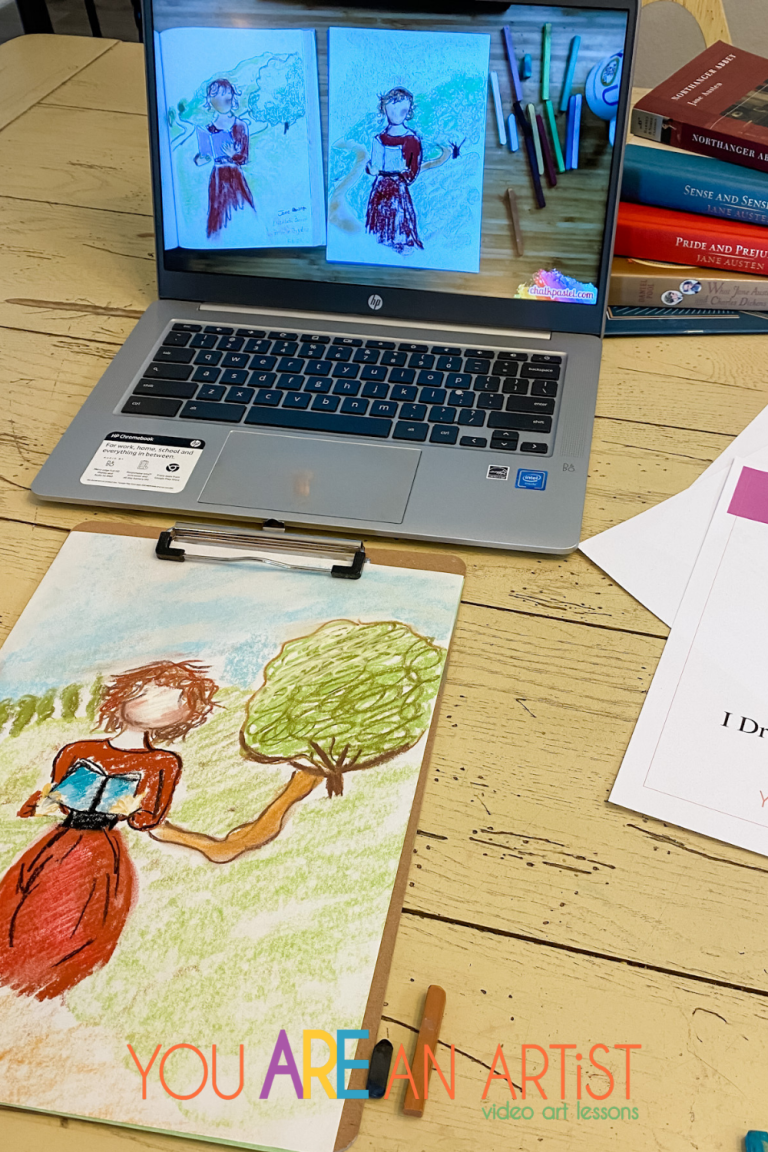 Don't Be Intimidated to Teach Literature in High School
The most important advice that I could give is to be teachable, relax, and enjoy it! You don't have to know all the answers or have a degree in literature to teach Jane Austen. You can learn right alongside your teen! Sure, you will need to guide them, but everything can be learned, researched, and looked up. You and your teen can have a memorable time reading great literature together and studying all the exciting topics that stand out to you—this freedom in what you are learning and how is homeschooling at its finest.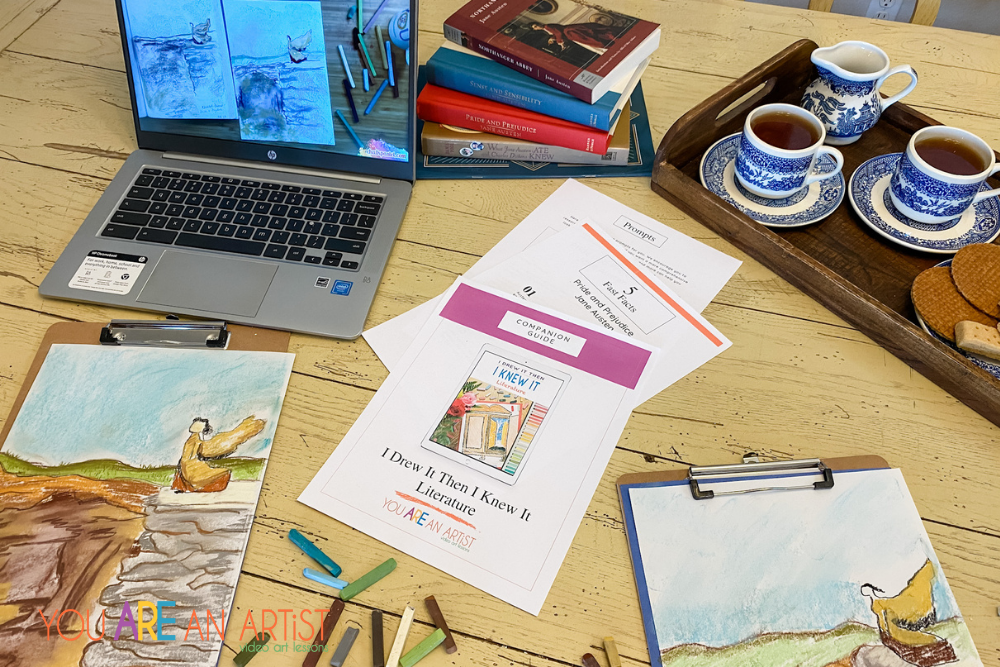 More English and Literature-Based Activities for High School
Courtney is a Jesus-pursuing, native Texan, homeschool mom of three, and she believes homeschooling can be a peaceful and productive rhythm. At Grace, Grow & Edify she helps families create peaceful homeschooling atmospheres through faith, organizational strategies, and cultivating strong roots at home. She is also the founder of Homeschool Mastery Academy.