The story of Thanksgiving is one of my favorites to cover every year in our homeschool. Our home's tradition is to revisit the Thanksgiving story with art, books, and activities inspiring gratitude. I mix it up a little differently each year to keep my kids engaged and excited.
We Americans celebrate Thanksgiving as a national holiday each year. But there is much more to Thanksgiving than just eating turkey with your family. The Thanksgiving story is rich in history, traditions, and there are so many reasons to remain thankful.
Here are some ideas and resources to help you plan some time to dive all into learning about Thanksgiving and creating your own homeschool traditions.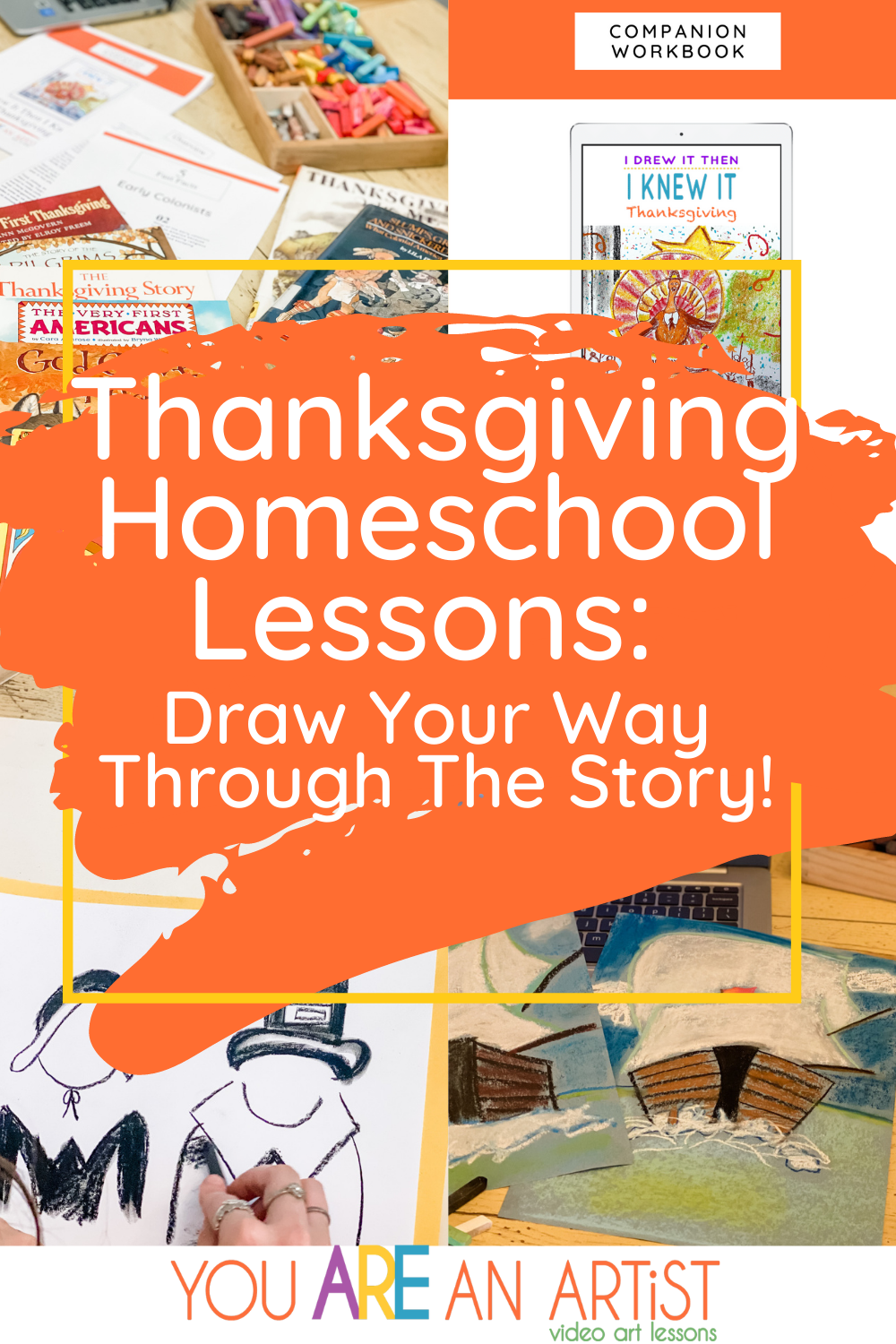 Homeschool Activities Your Family Will Love In November
Every November, some activities that have become traditions for us are thankful pumpkins or trees, using a fall bucket list, gratitude journals, and art with Nana. Oh, and pumpkin pie! No Thanksgiving activities are complete without pumpkin pie.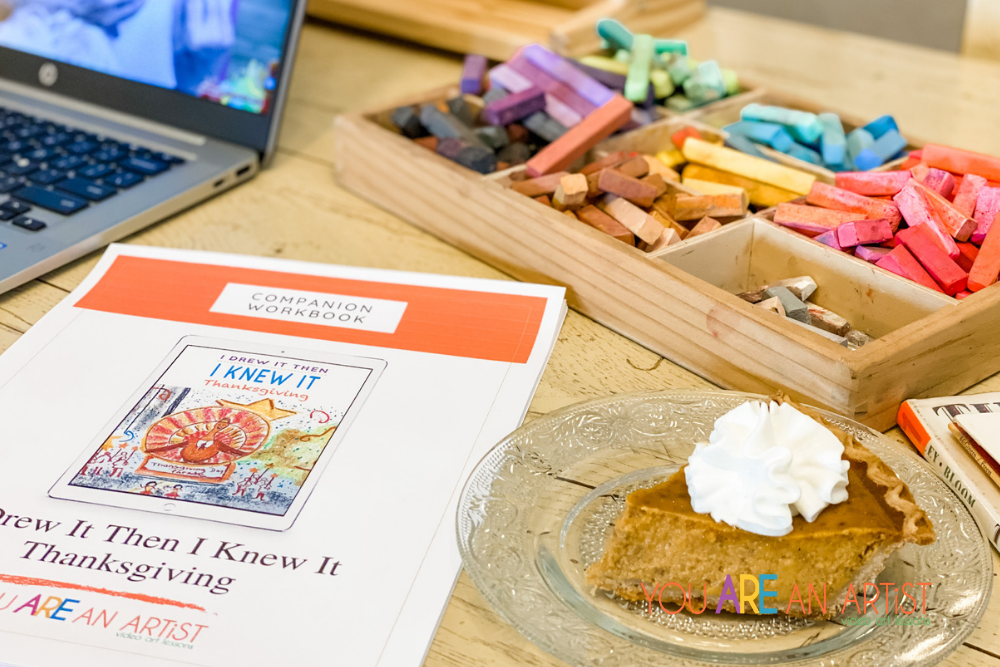 The thankful pumpkin or tree can be as simple as writing one thing each child is grateful for each homeschool day until your tree or pumpkin is complete.
A gratitude journal or prompts are always included in our homeschool November. Luckily, this year you can snag thankful journal prompts inside of the I Drew It Then I Knew It Thanksgiving Companion Workbook too.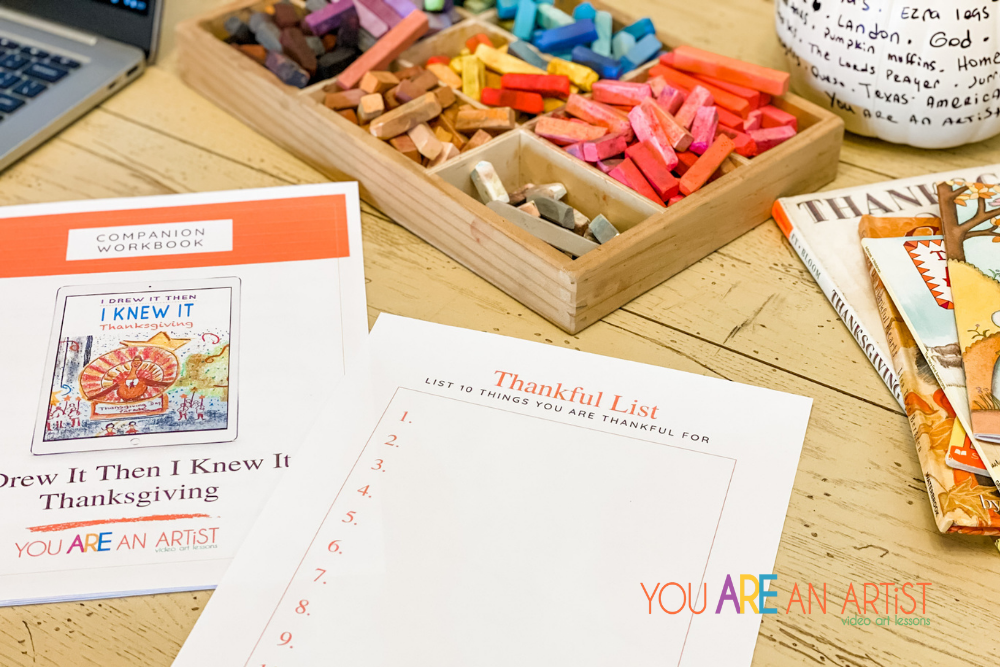 You will also find a printable fall bucket list inside the workbook! I print it out at the beginning of fall and check off different activities to ensure we got as many in as the season allows. Each year varies a bit, but I try to do all of the fun and traditional activities. I sprinkle them in here and there and do as many as we have time for without stressing about it. If we don't do everything we want to do this year, there is always the next. It's more important that we are enjoying our time together and have peace above all else.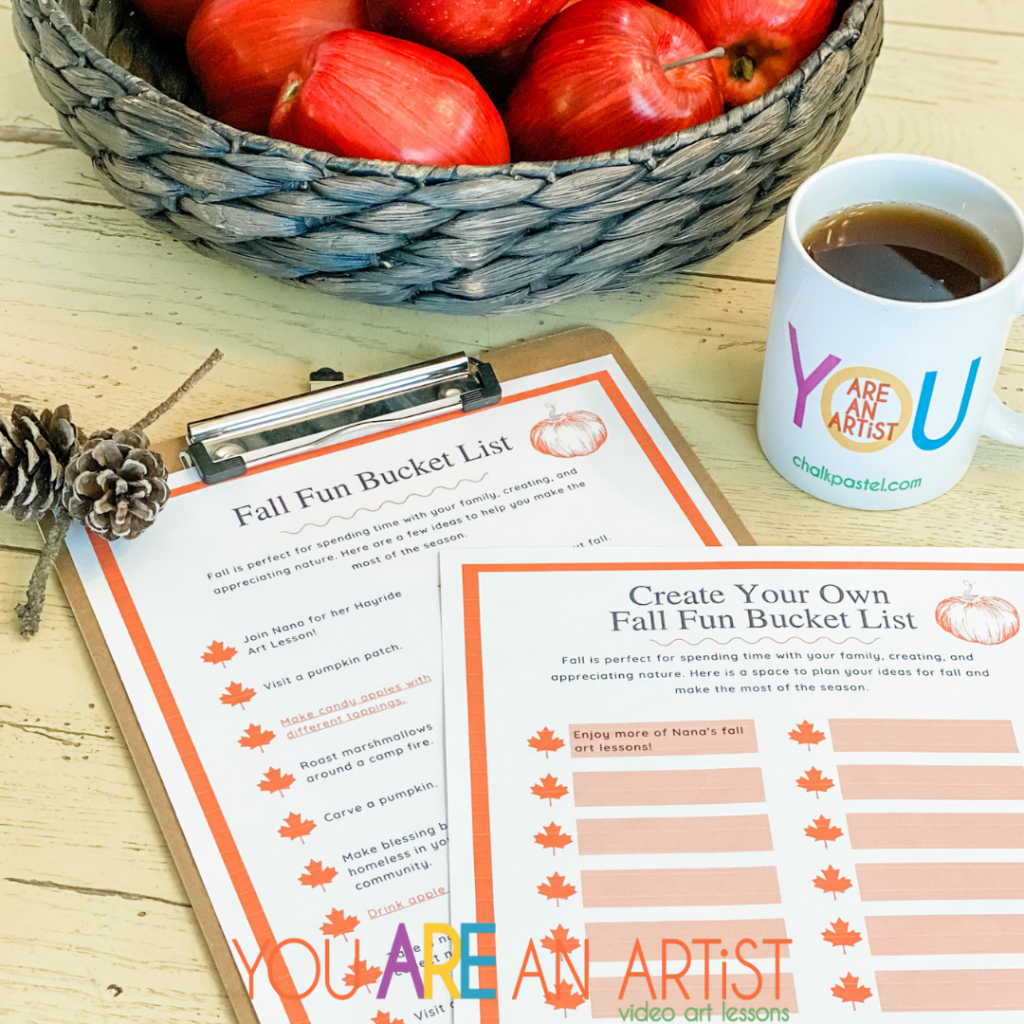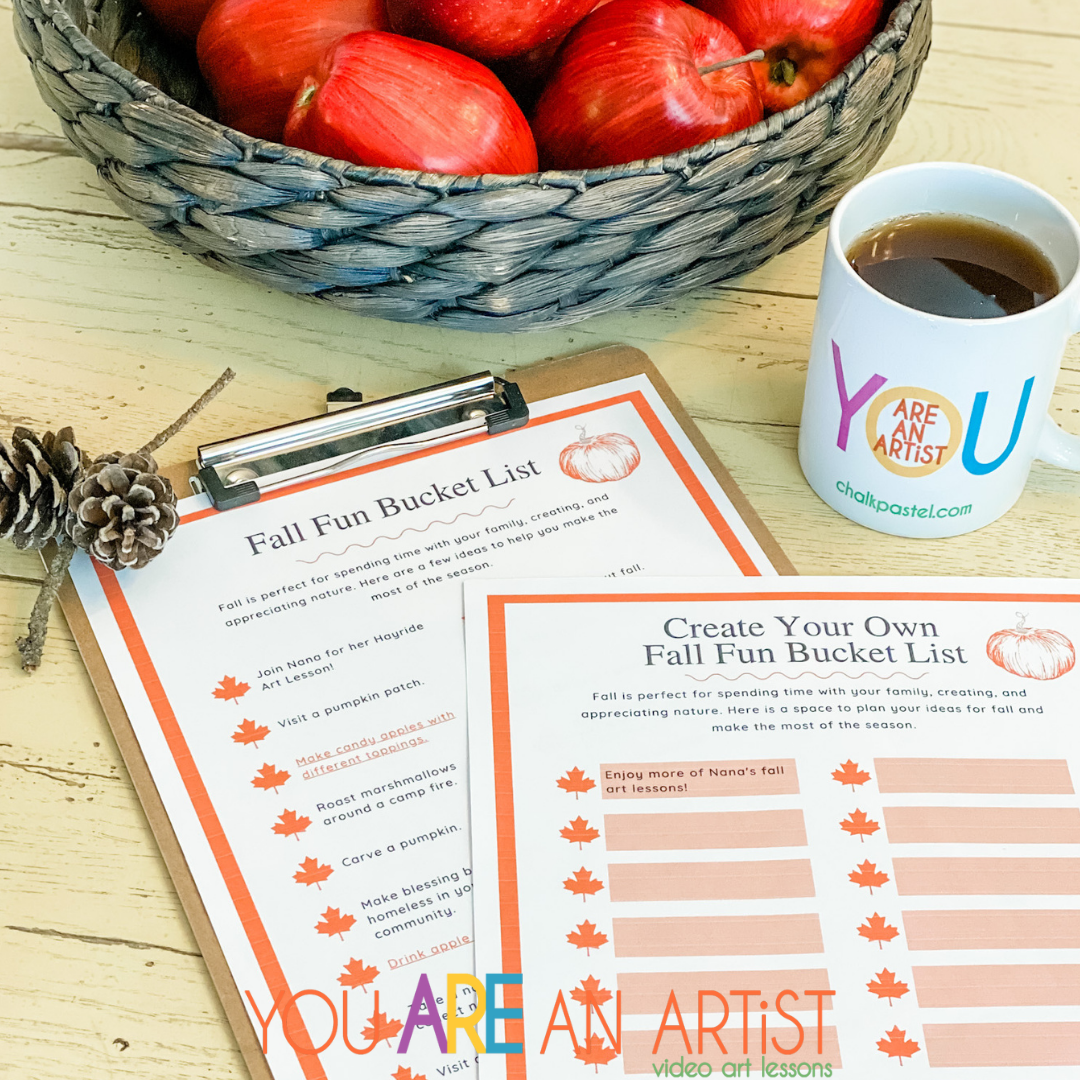 And that brings me to art with Nana, the best part of all!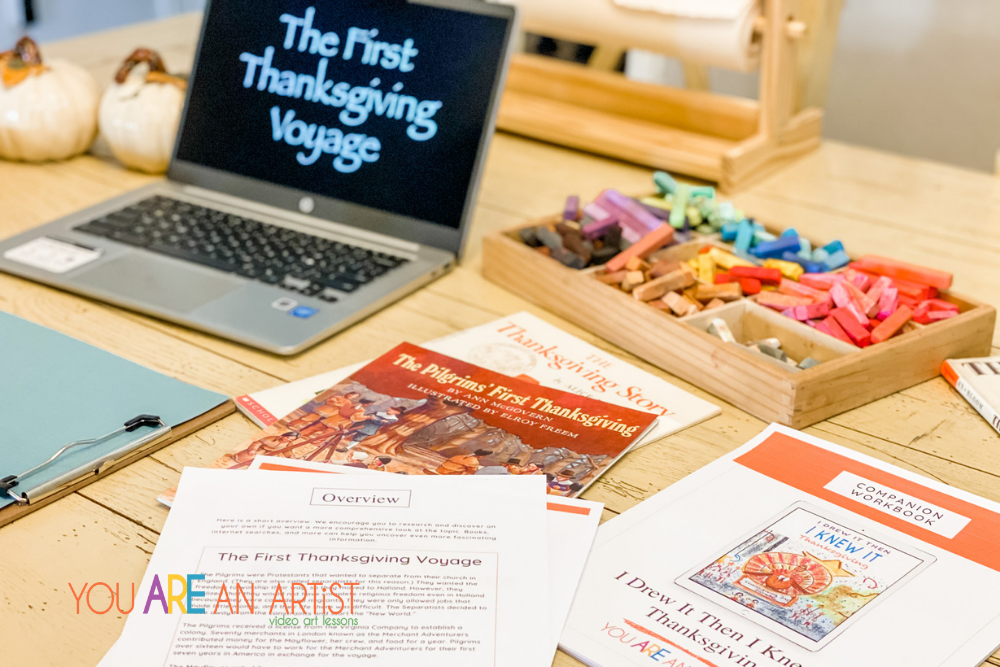 Thanksgiving Homeschool Art Lessons For The Entire Family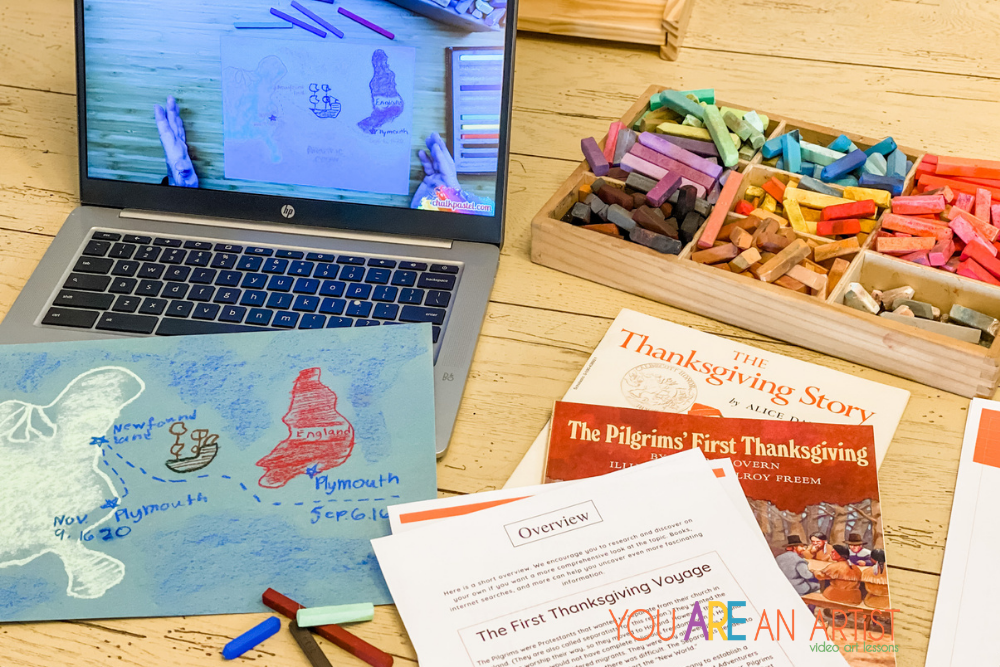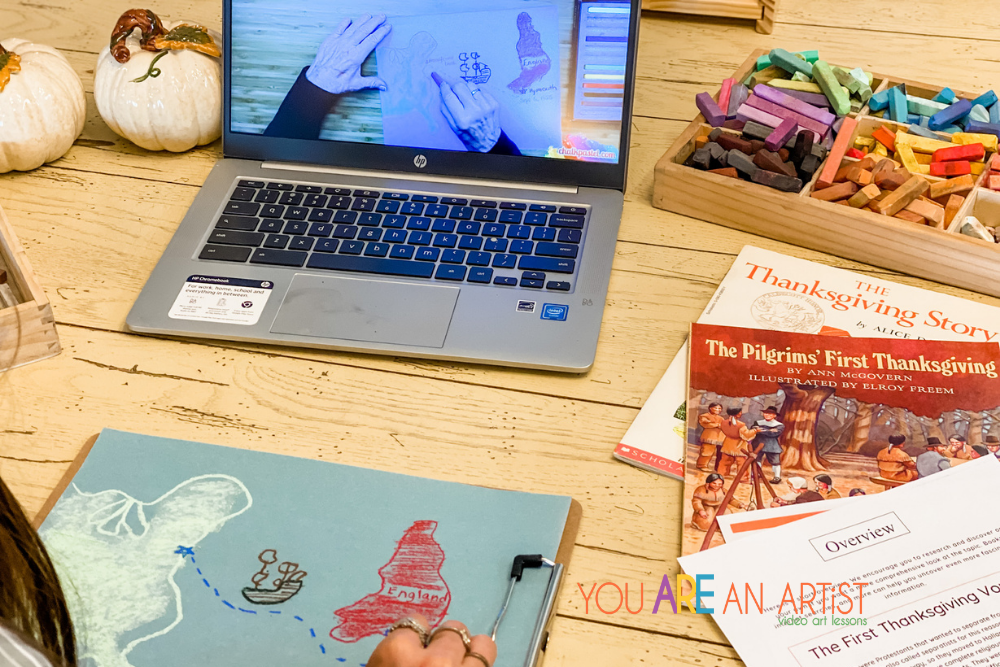 Voyage of Mayflower Map – This Thanksgiving homeschool art lesson is perfect for drawing your way through the story. It also helps children visualize the journey and retain the information even better by creating this map.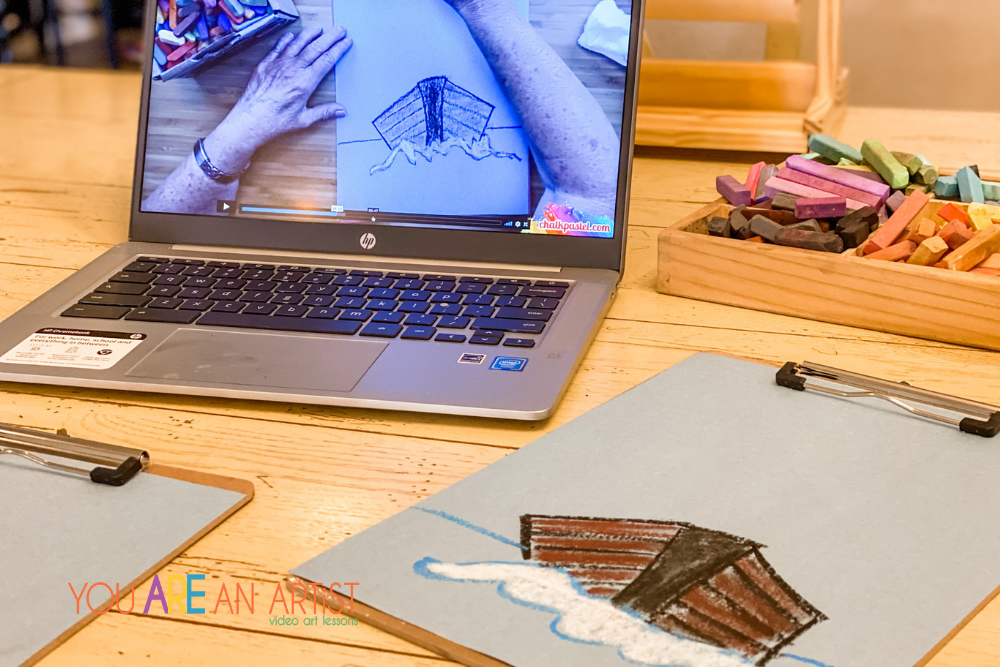 Columbus Tall Ship for the Mayflower – We needed an excuse to draw this ship! I have to admit that I have wanted to enjoy this Columbus Ship art lesson for a while, and I thought it would align perfectly with our draw your way through the Thanksgiving story plans.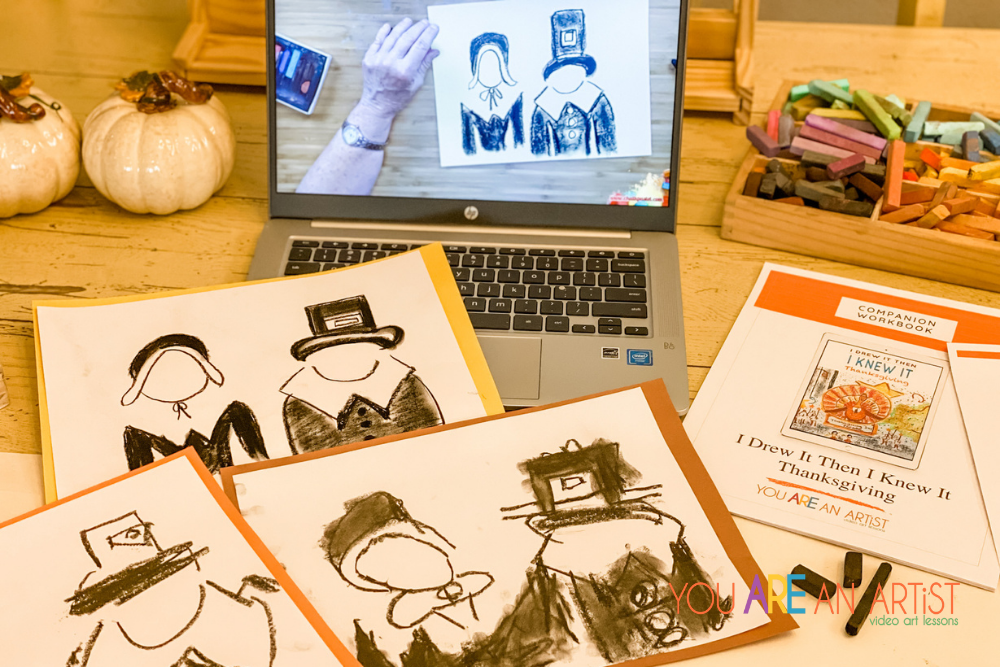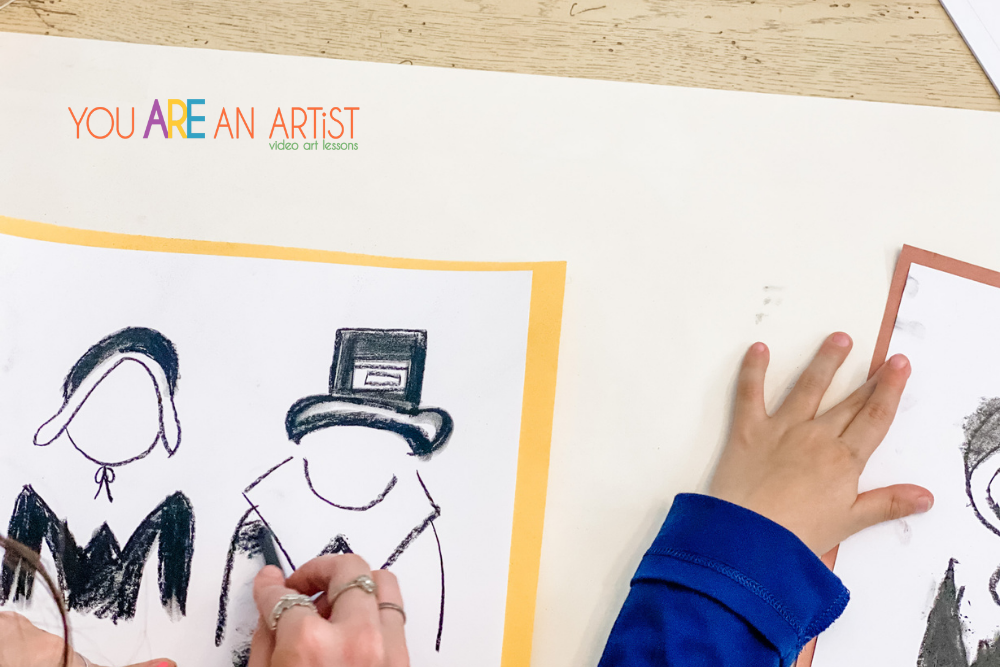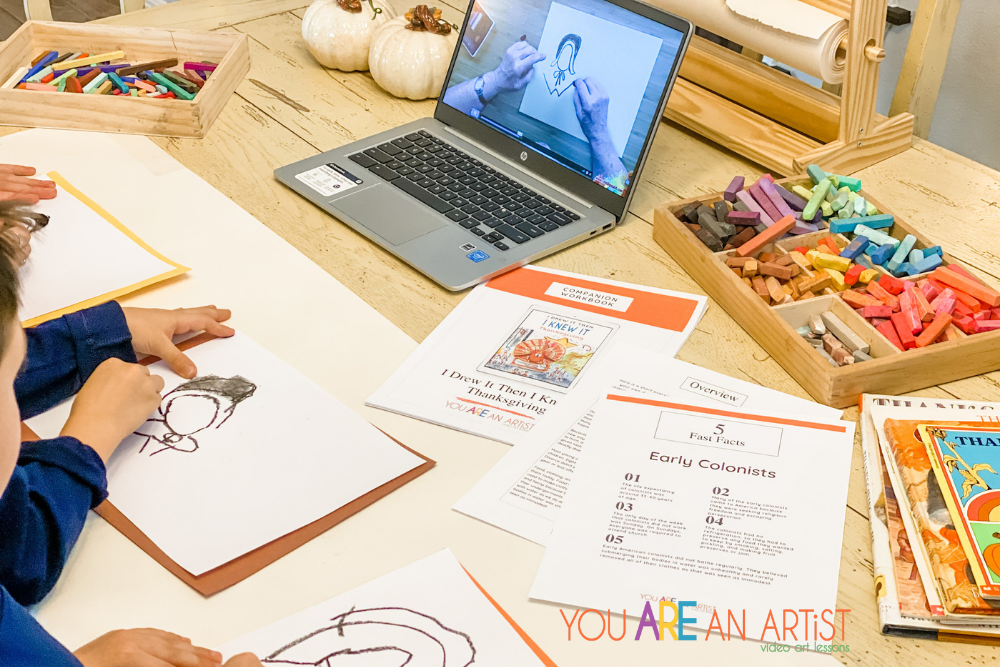 Pilgrims – You can't draw your way through the Thanksgiving story without the pilgrims. Plus, there is an overview inside the Thanksgiving Companion Workbook covering the colonial people that you can read before or after this homeschool art lesson.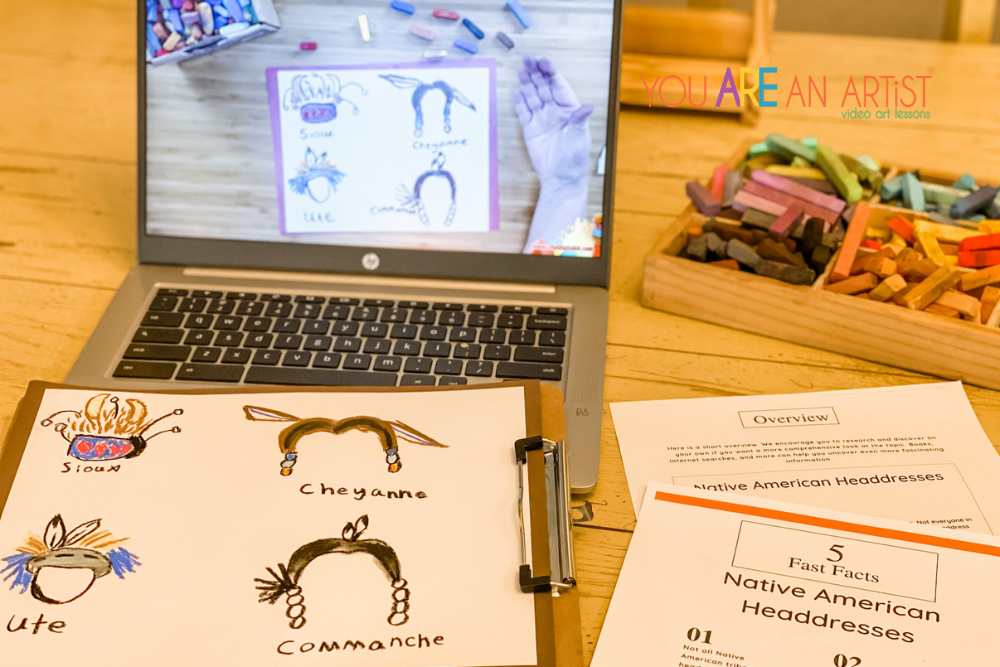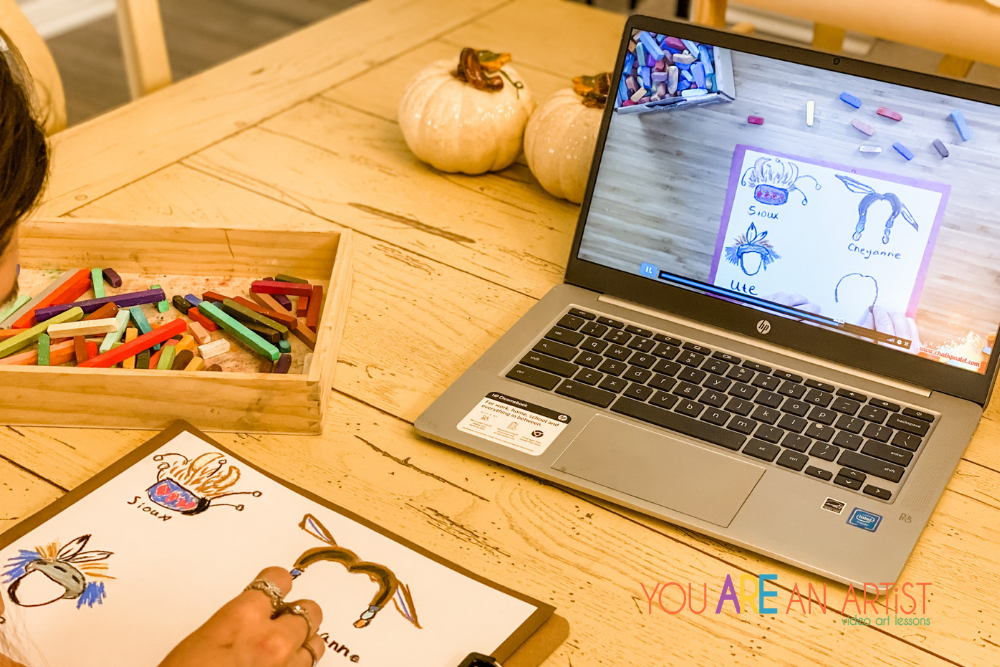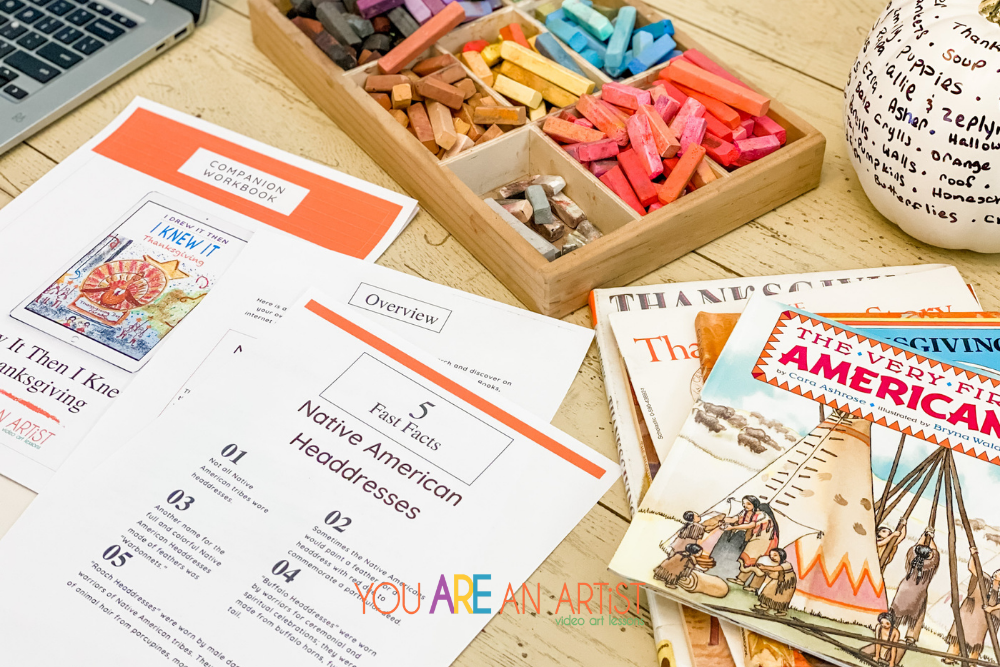 Indian Headdresses – Yes, of course, we had to discuss the Indians too! We all learned so much about the Indian Headdresses in the Thanksgiving Companion Workbook, and it is a great resource to have handy as you work through the story of the first Thanksgiving.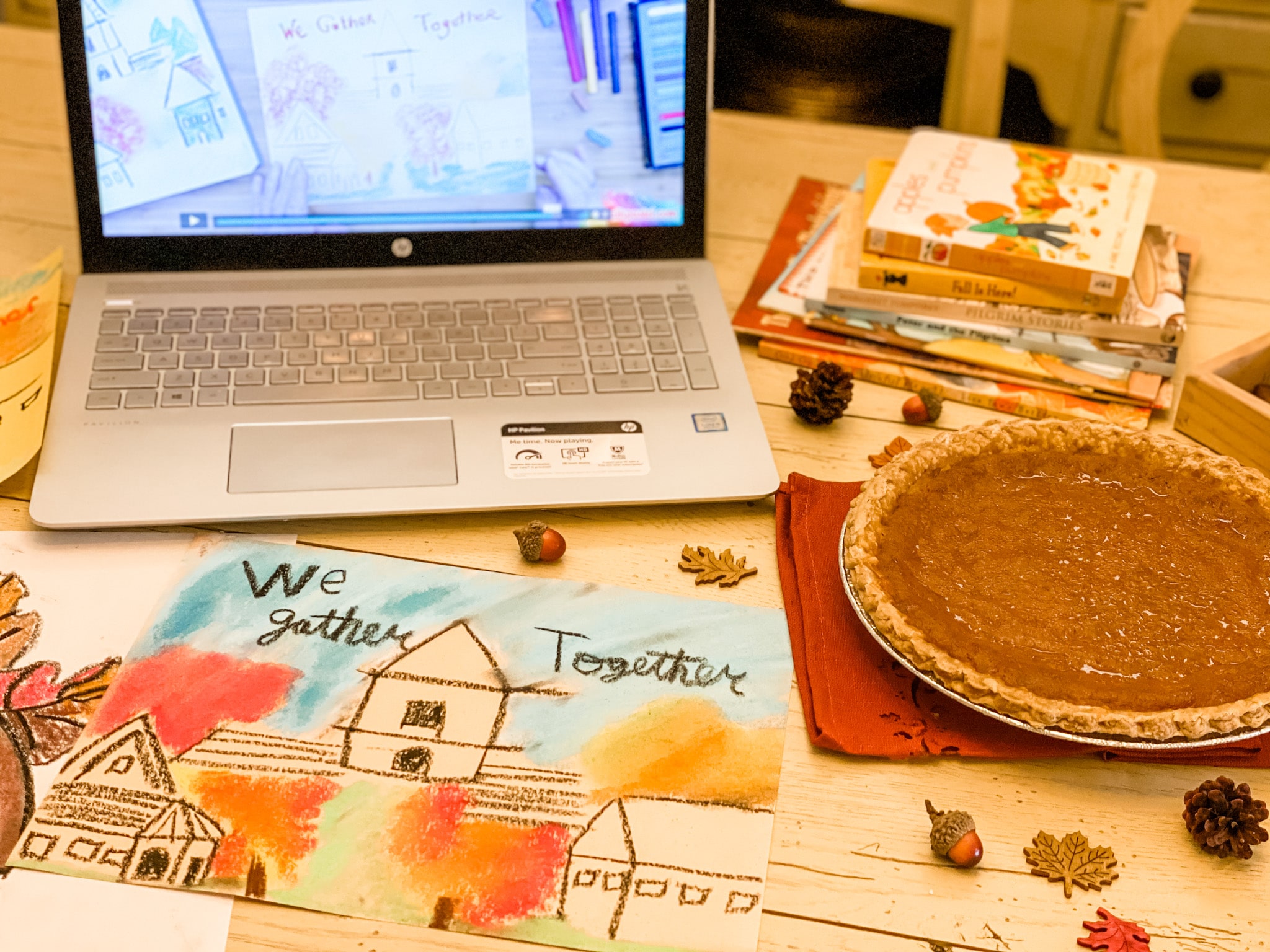 We Gather Together – I love adding hymns! And you can also print out the full version of the hymn from the Thanksgiving Companion Workbook. This one is a beautiful hymn to learn more about and listen to as well while you paint.
Tip: Remember not to get overwhelmed. Plan your Thanksgiving studies according to your homeschool and your family. There is no right or wrong way to do this, but peace and enjoyment are essential! You can spread your Thanksgiving homeschool art lessons throughout November or draw them all in one memorable day.
Here is a list of other Thanksgiving homeschool art lessons that you may want to consider adding to your lineup this year:
Corn
Thanksgiving Proclamation – Abraham Lincoln
Norman Rockwell
Thankfulness Tree (This one is with acrylic paint!)
Acorn
Turkey Nature Walk (Try this art lesson for free!)
Thanksgiving Turkey
Apple pie
Thanksgiving Parade
If you have preschool-level kiddos or early learners, you might like the apple, pumpkin, or leaves art lessons. I usually start with the easier art lessons for the youngest because they tire out sooner. Then I am usually left at the table with my oldest. We will linger longer with the more challenging art lessons and hot tea.
Exciting Resources To Learn The Thanksgiving Story
One new resource I am super excited to share with you is our I Drew It Then I Knew It Thanksgiving Companion Workbook! This companion workbook includes Thanksgiving planning printables, gratitude prompts, and a great book list!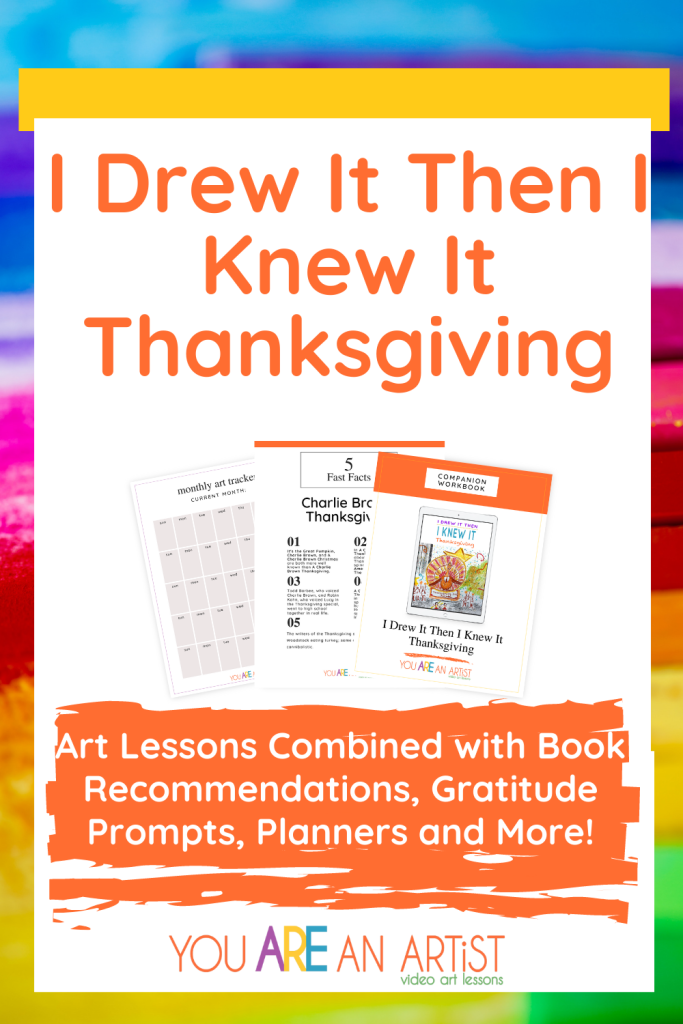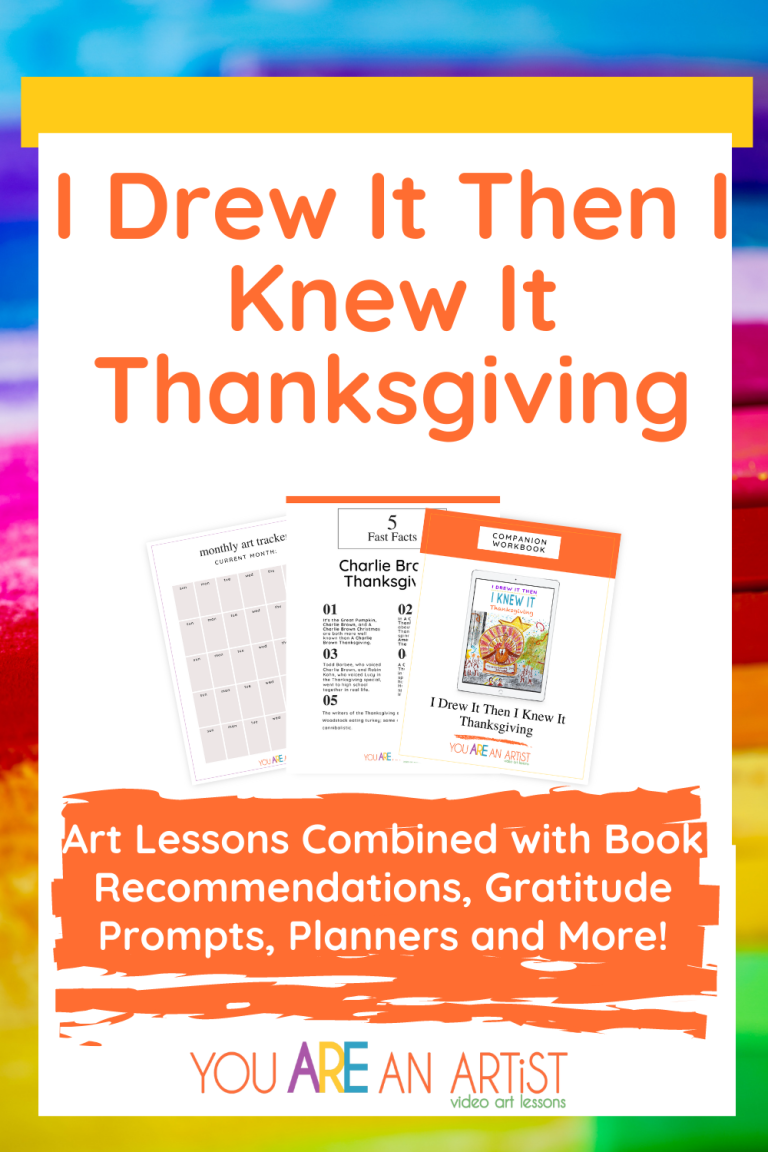 The Thanksgiving Companion Workbook has printable copies of hymns, the Thanksgiving Proclamation, and the Early Colonists and Native American Headdress overviews. In addition to that, it comes complete with five fast facts for each Thanksgiving homeschool art lesson. You could create an entire Thanksgiving unit study using the companion workbook and booklist as you draw your way through the Thanksgiving story.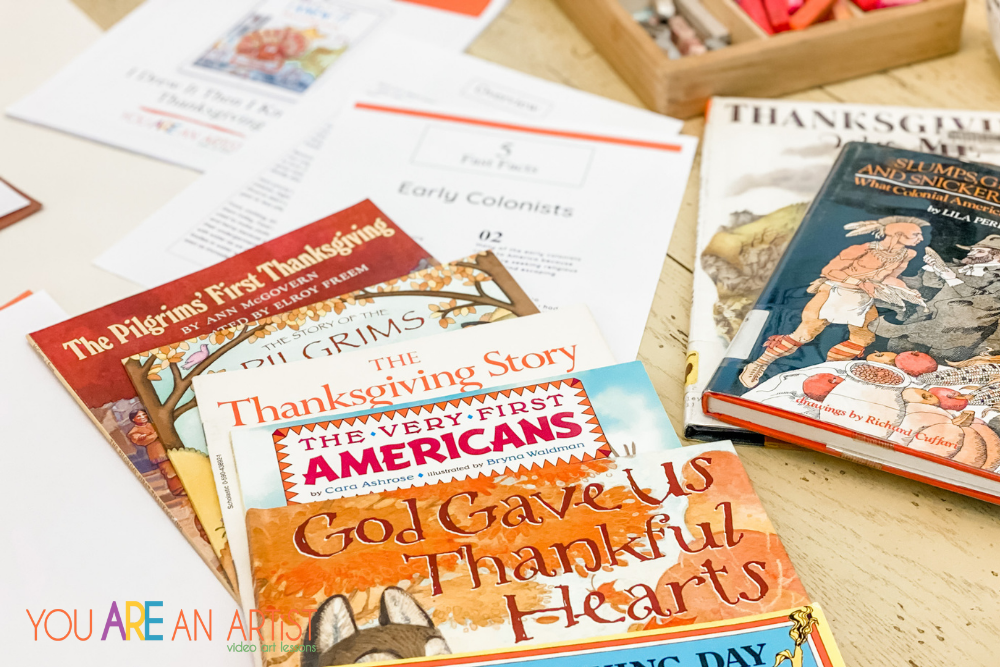 We also love learning with various books, and I have some of our favorites pictured here; I encourage you to grab our Thanksgiving book list inside the companion workbook. It will help you save time looking for books. 
We sure do hope that this inspires you to include some hands-on learning at home as you draw your way through the story of Thanksgiving with chalk pastels!
Courtney is a Jesus-pursuing, native Texan, homeschool mom of three, and she believes homeschooling can be a peaceful and productive rhythm. At Grace, Grow & Edify she helps families create peaceful homeschooling atmospheres through faith, organizational strategies, and cultivating strong roots at home. She is also the founder of Homeschool Mastery Academy.