Homeschool families come in all shapes, sizes and learning styles! These art lessons for homeschool families are a brilliant way to creatively bring learning to life, build memories together and have FUN learning. Let art add a layer of learning that brings joy to all ages.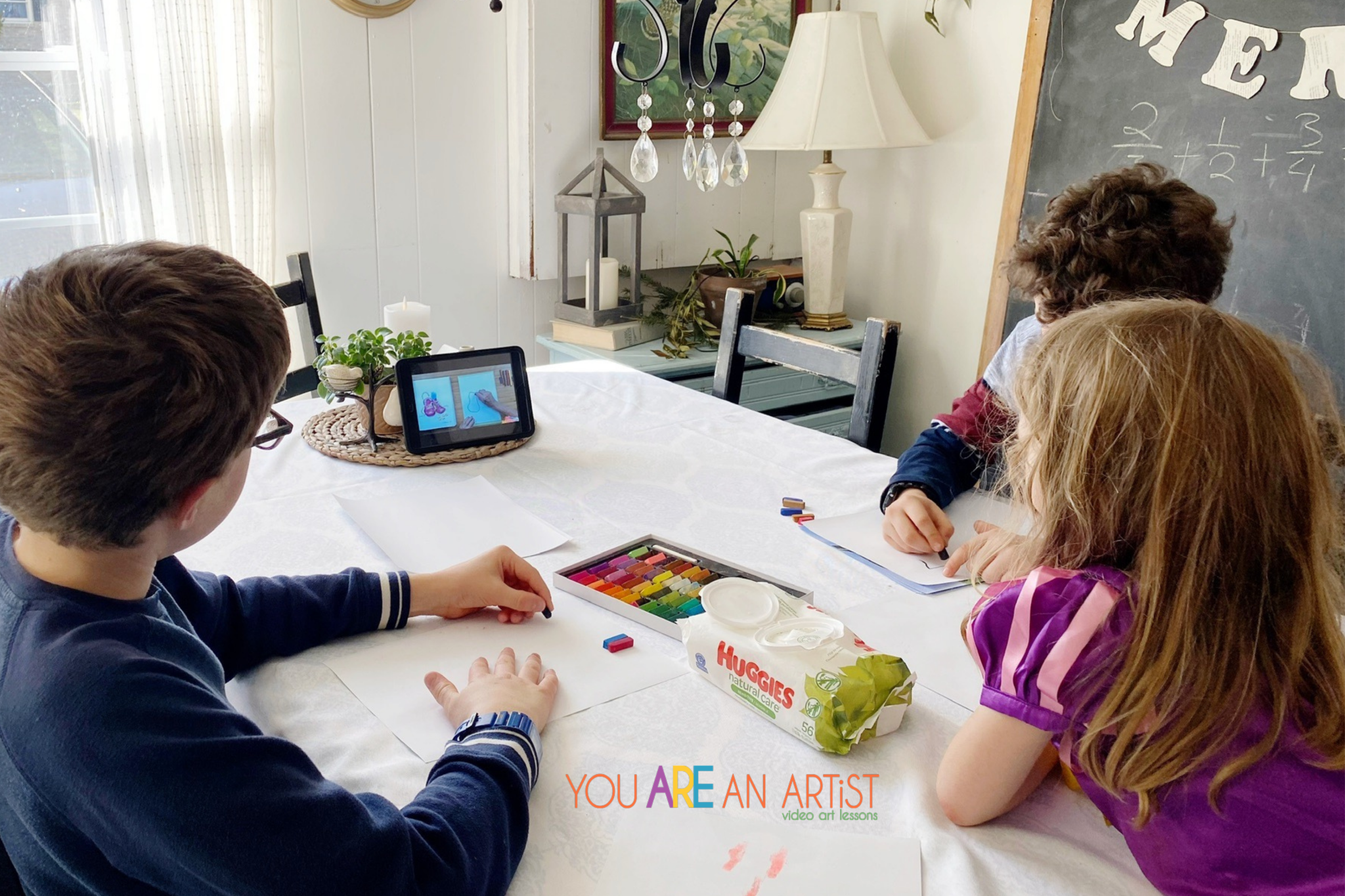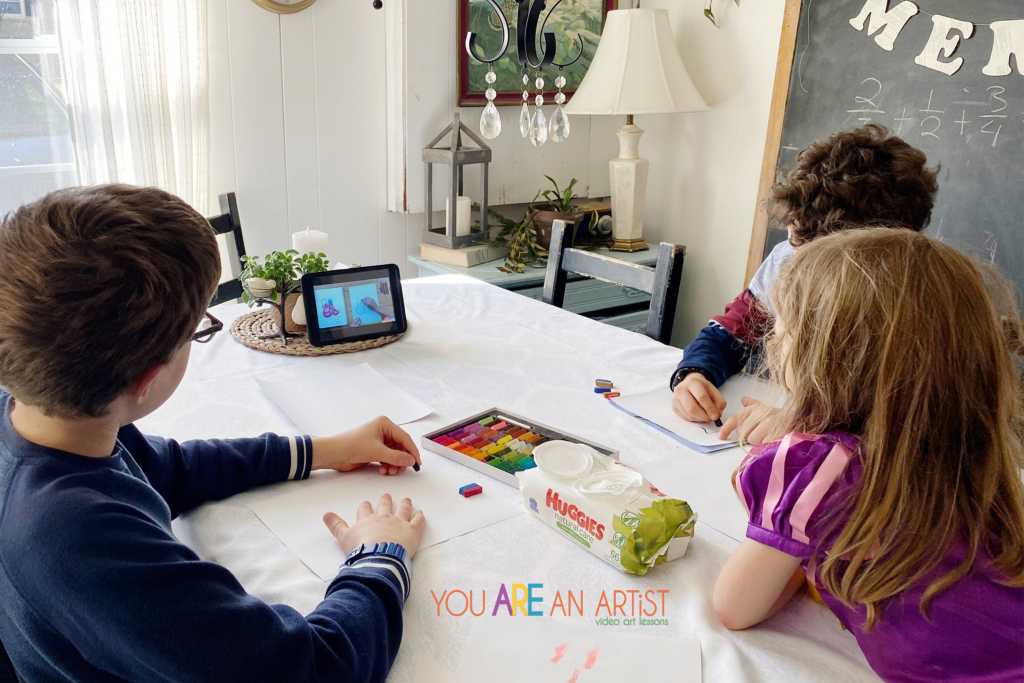 Here we share the various homeschool methods and how art blesses each. No matter which homeschooling style you use, the great news is that it is super simple to get started with chalk pastel online video art lessons.
Getting Started with Homeschool Art: Supplies List
To get started in homeschool art, all you need is:
construction paper
a starter set of chalk pastels (our favorites are here)
Nana's video art lessons
baby wipes or a slightly damp paper towel for easy clean up
Art Lessons for the Charlotte Mason Homeschool Family
In a Charlotte Mason homeschool, there are two major components to art education: art appreciation and art expression.
Art Appreciation is helping children know and love great art and artists. Students get exposure to a variety of different types of art and the works of many great artists. Picture study is a frequent component of a Charlotte Mason-style education.
Art Expression is the opportunity for the student to be creative and express themselves through art. Afternoon handicrafts time can be a great place to fit this in your schedule.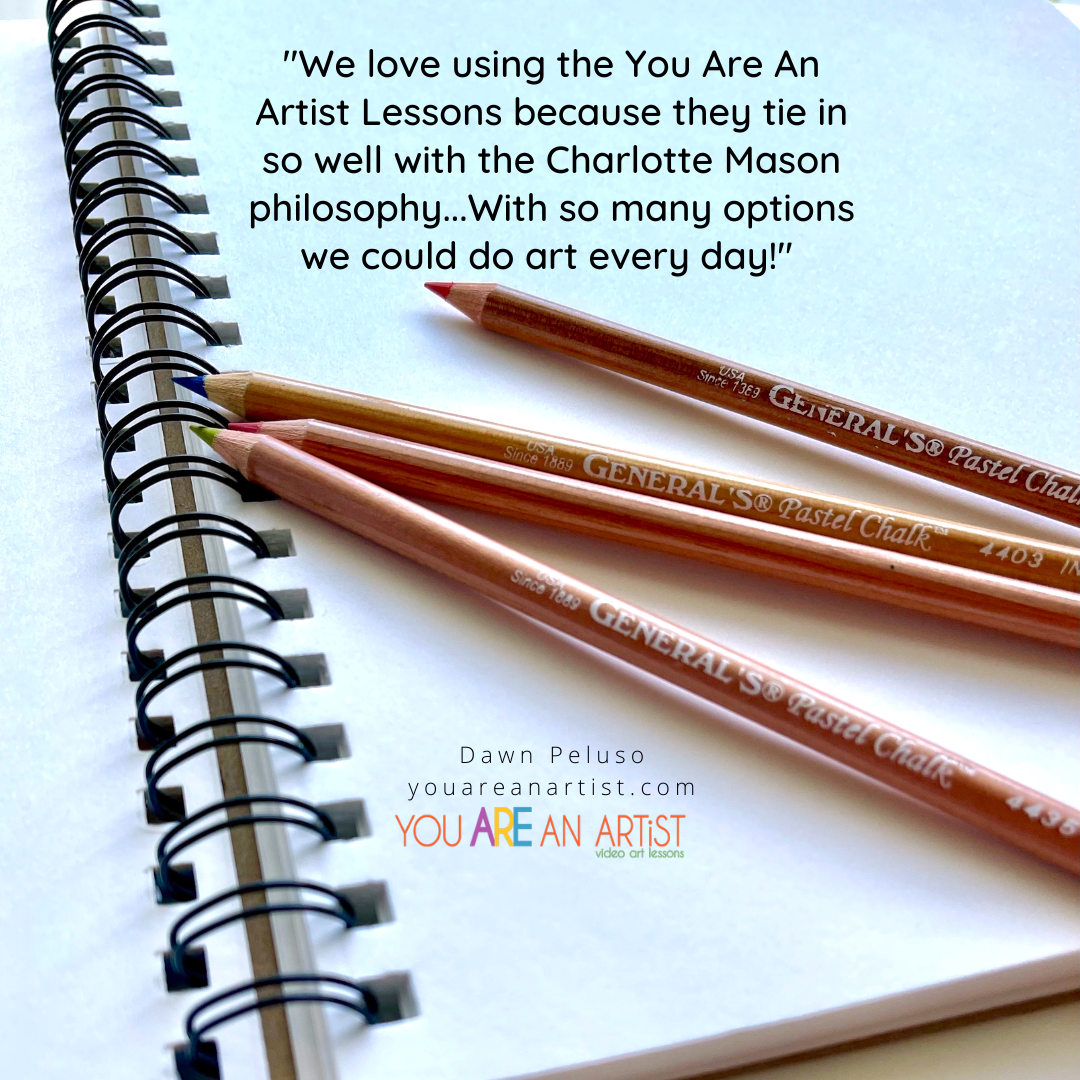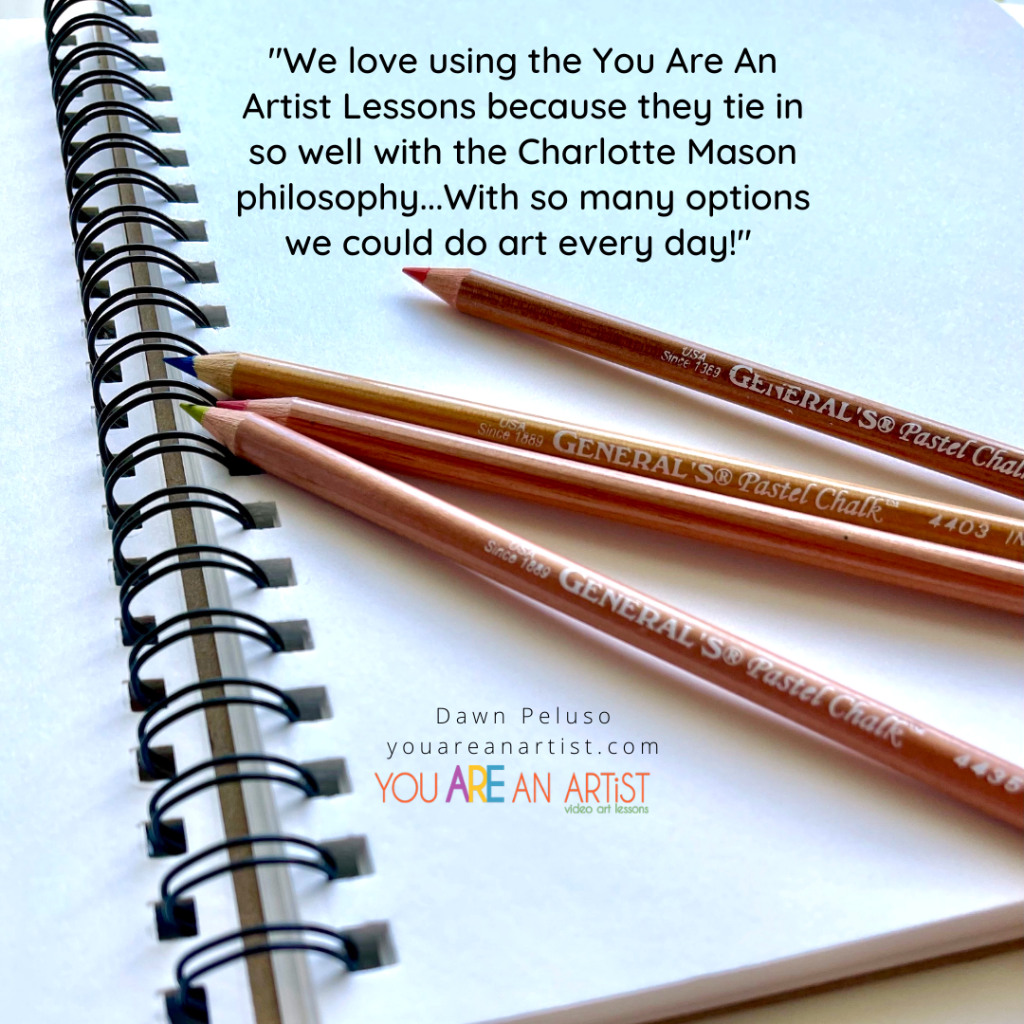 Though Nana would disagree (because You Are An Artist), I do not consider myself an artist. I really need the assistance of art lessons to help me include art in our homeschool.
We love using the You Are An Artist Lessons because they tie in so well with the Charlotte Mason philosophy. Instead of being an entirely separate subject, I can use the lessons to supplement history, hymn study, or nature study. Dawn shares about Art Lessons for the Charlotte Mason Homeschool Family.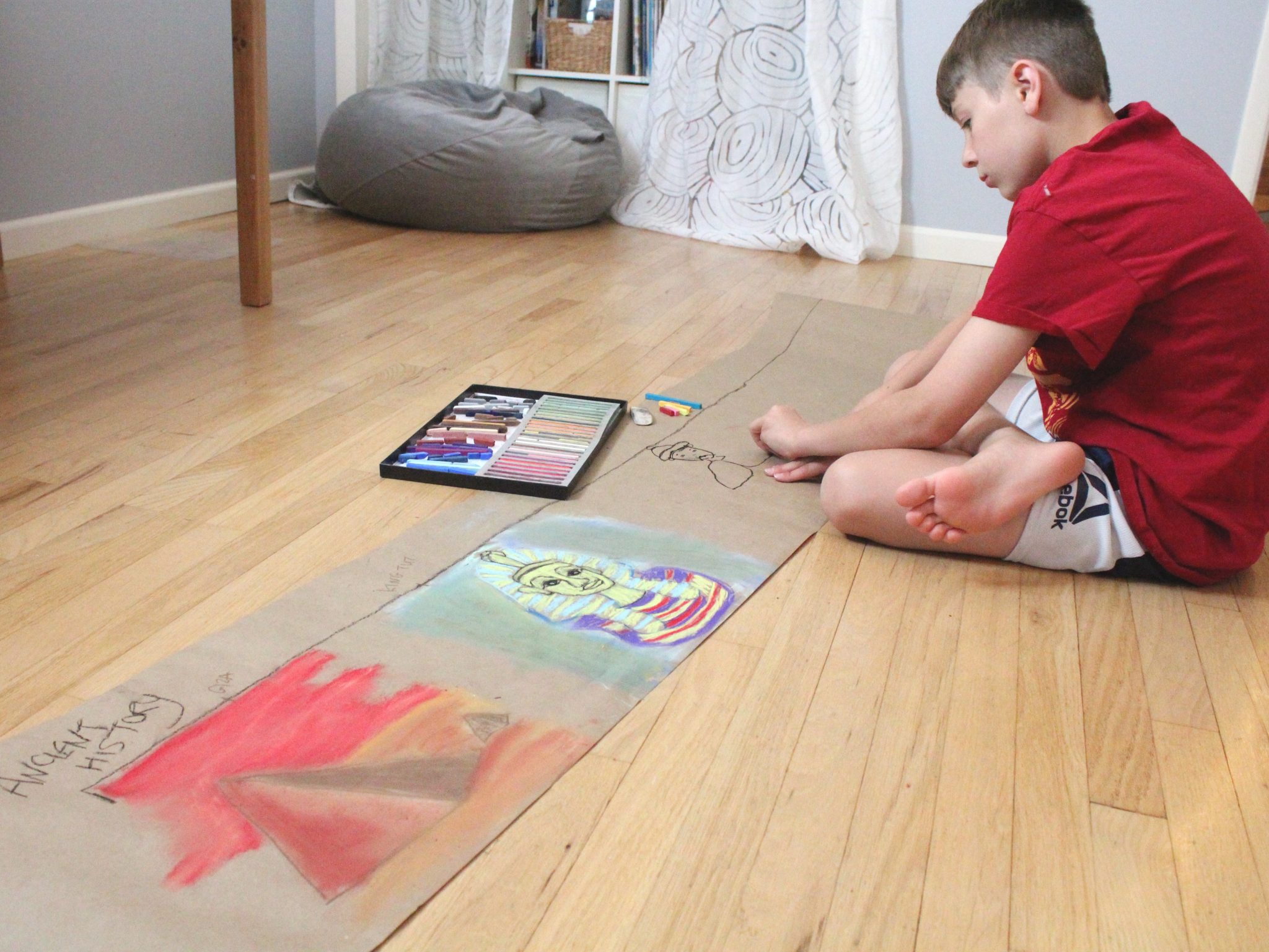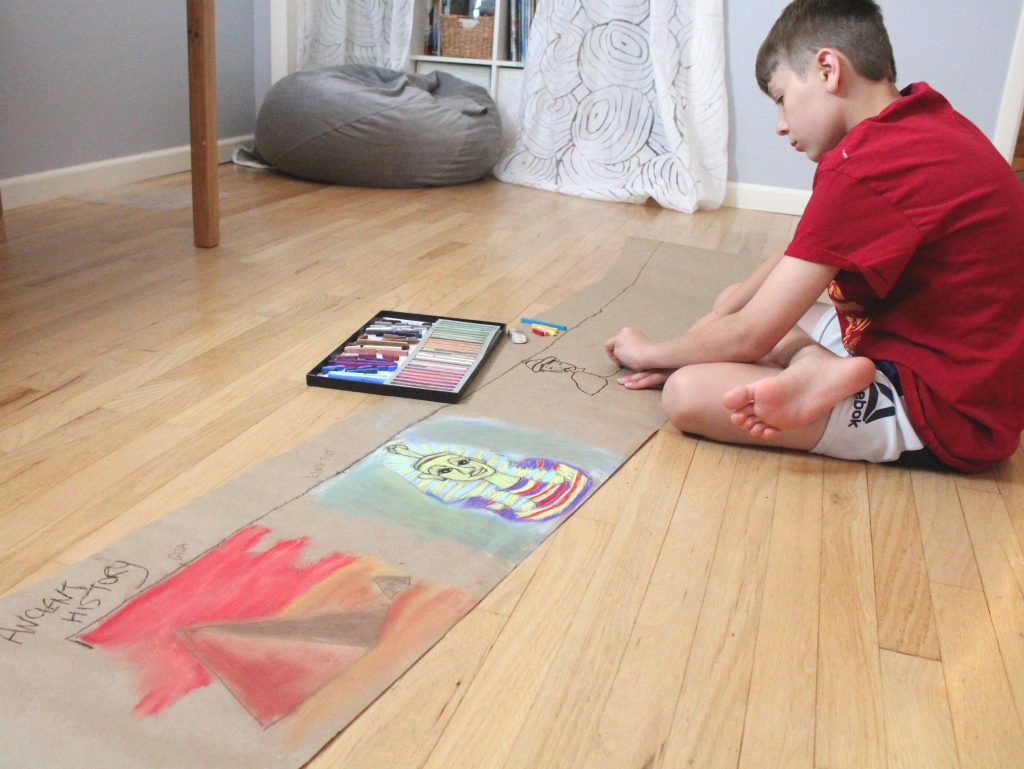 Art Lessons for the Classical Homeschool Family
At the core of a classical homeschool is the desire for students to delight in their observations, wonder and ask good questions, and share their knowledge. Classical homeschooling focuses on teaching children HOW to learn, not WHAT to learn.
I was dubious about my ability to teach art to my children because I never considered myself an artist. The classical method (and Nana!) helped me overcome these doubts.
If you know HOW to learn, you can learn anything! Even if you're new to art, you can learn right alongside your children.
Here's what learning art in classical education might look like: Julie shares Art Lessons for the Classical Homeschool Family.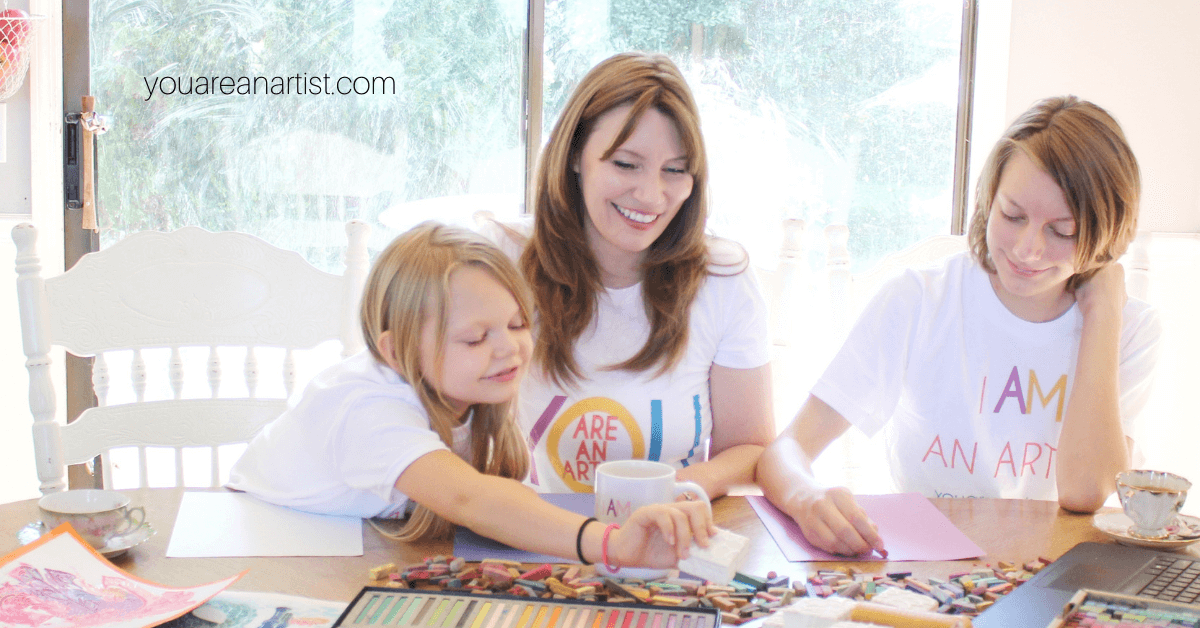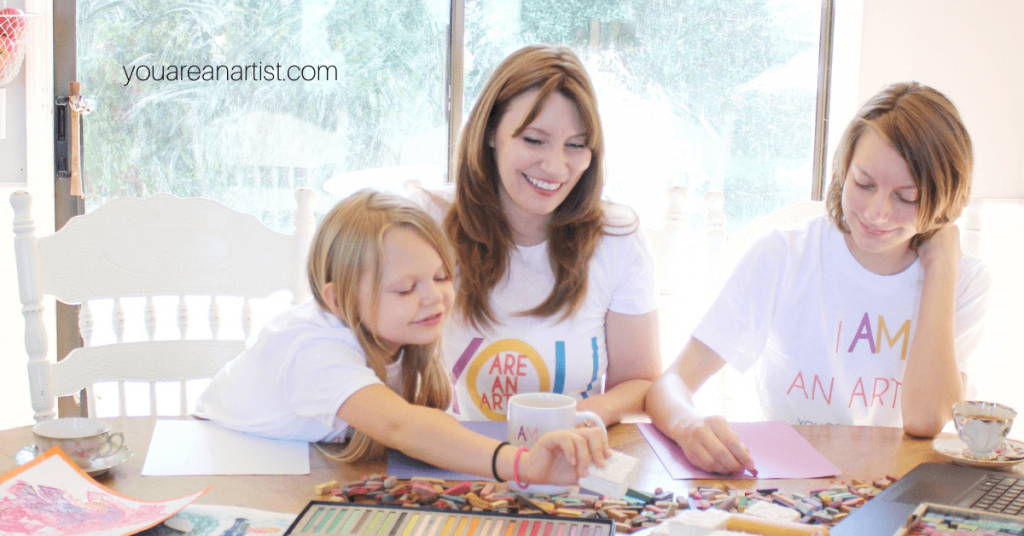 Art and the Delight-Directed Family
We follow our interests. And I learn right alongside my kids. My goal is to provide loads of great literature, intriguing documentaries, plenty of fun games, and tons of learning and creative opportunities that coincide with my children's interests. As part of our child-led education, I've been strewing to keep my kids exploring, engaged, and full of ideas. That means our tables are covered in books, games, modeling clay, maps, and hands-on activities. I want to foster a love of learning in my children, and following my kiddo's interests makes learning more relevant and meaningful.
Delight-directed homeschool art has been super easy with our You ARE An Artist Complete Membership. We like to pair the video art lessons with current read alouds, picture books, or current interests. When my son was obsessed with WWII for two years, Nana consistently added history art lessons to thrill my son.
Both children have been obsessed with Harry Potter, and lucky for us, creating an enchanting Hogwarts chalk pastel teatime was easy to pull together with Nana's clubhouse.
When the children were enamored with sharks, chalk pastels came to the rescue again! There were easy-to-follow tutorials on some of the weirdest and most beautiful sharks of the deep!
Erin shares Homeschool Art for the Delight Directed Family.
Art and the Eclectic Homeschooling Style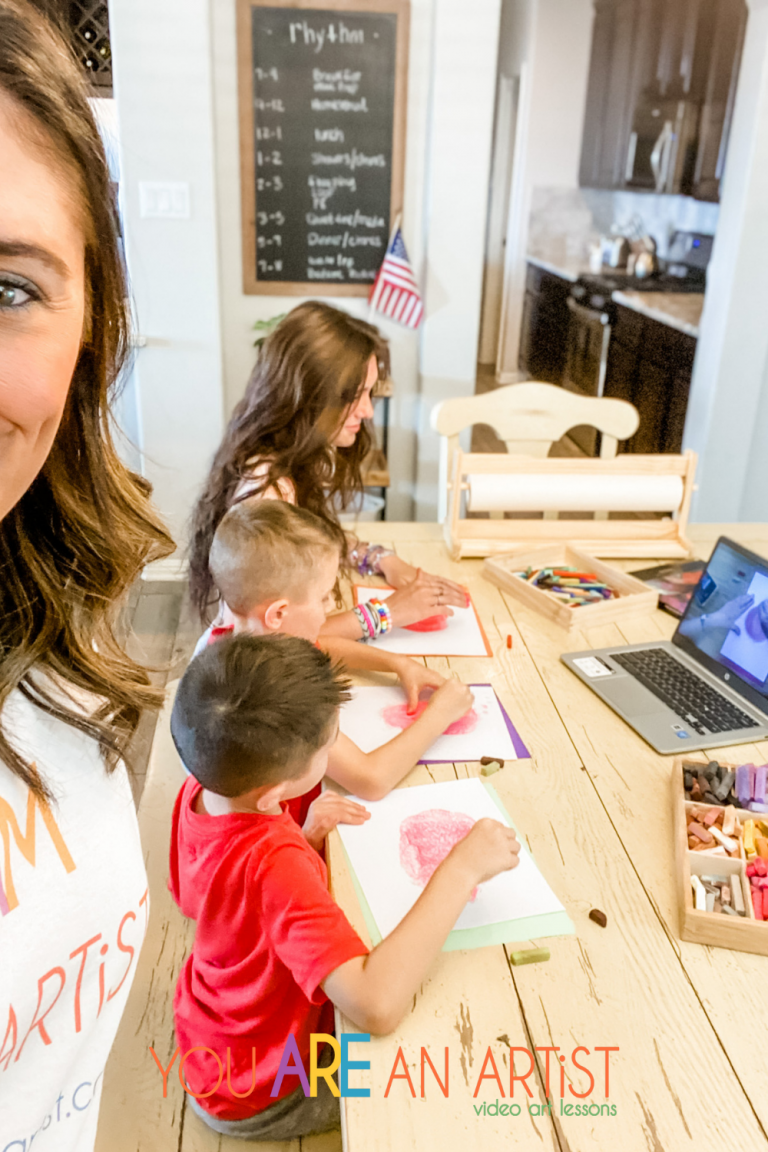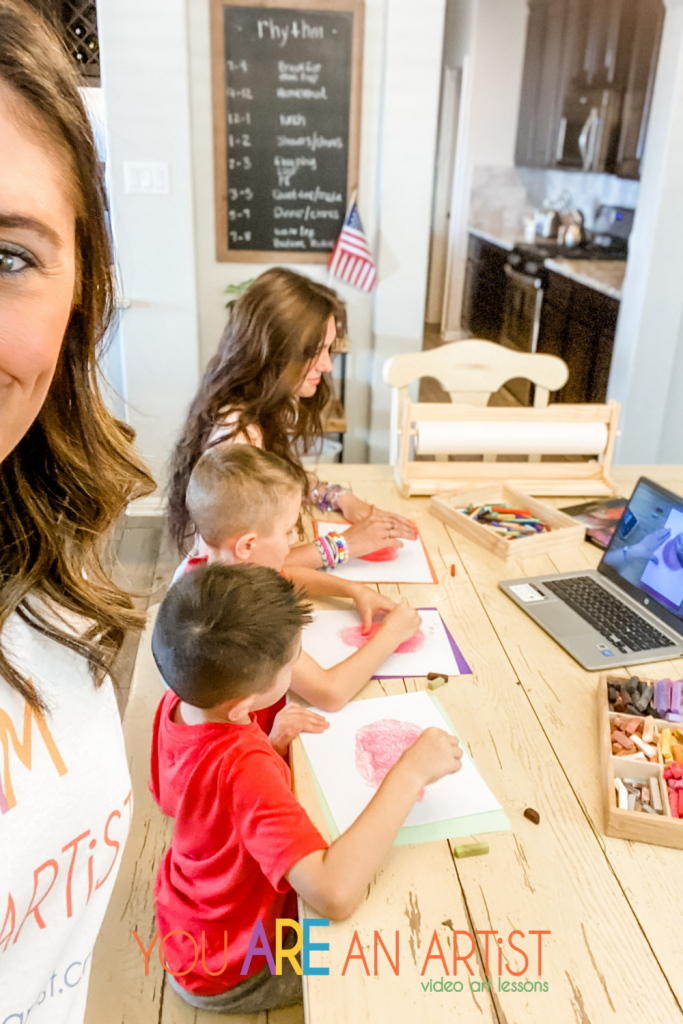 Art is the perfect addition to eclectic homeschooling. Since eclectic homeschooling has no boundaries, you can add art to anything. And with so many lessons to choose from, You ARE An Artist has an art lesson on just about everything. Seriously! You are sure to find an art lesson to coincide with almost anything you might be studying at home.
I say this all the time, but adding fun, creativity, and excitement to your homeschool can make a world of difference in your home and for your children. Art helps them express their creative ability, incorporates hands-on learning, and helps them retain what they have learned. Not to mention, we don't have to sit stiffly or still when we create. We can sit however we want (or wiggle) and enjoy art!
In addition to those wonderful benefits, by adding art, you can create an environment that shows your children learning can be a lifestyle! Isn't that the goal, cultivating lifelong learners? Courtney shares: Art and Eclectic Homeschooling.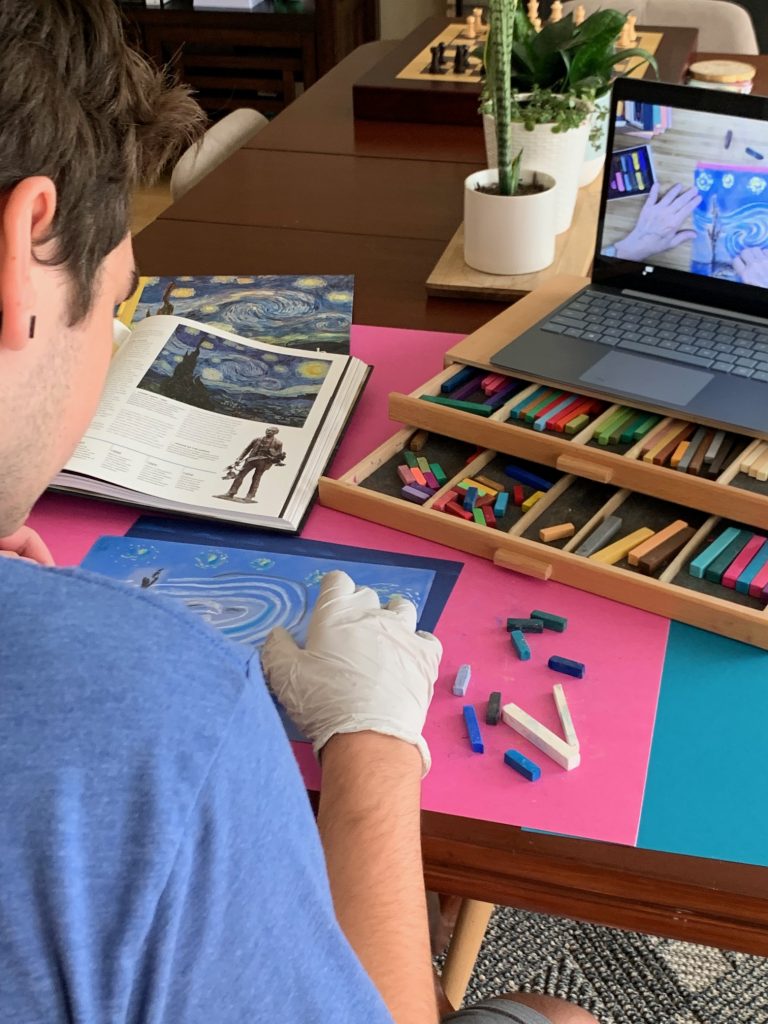 Art Lessons for Homeschooling a Child with Special Needs
My son has always been fascinated by art.
He is naturally a creative child. When we visited an art museum with a group of homeschool friends a few years ago, I understood a bit better why art is so meaningful to him.
After spending the day running all over the museum with other ten year olds, we got back into the car to begin our drive home. My son gazed out the window, tired but satisfied, and said, "That was the best field trip we've done in a long time."
Thrilled at this homeschool mom win, I asked him why he loved it so much.
He replied something to the effect of, "I was just like all the other kids today. I didn't have to read anything. I could just look at all the art and talk about why it was beautiful or cool. I like pictures so much more than writing."
At the time, I didn't realize how profound his statement really was. Now, four years later, I see how powerful art has been for him, both as a learner and as a human being.
Shawna shares four ways art can help struggling learners and more encouragement in Art Lessons for Homeschooling a Child with Special Needs.
Art Lessons For Your Morning Basket Homeschooling
Starting our homeschool day with art has been a beautiful way to encourage creative thinking throughout the day. In fact, incorporating art into your homeschool lessons has tons of amazing benefits! Keep reading to discover how we are using art in our morning baskets to support our current homeschool lessons and unit studies. Jessica of The Waldock Way shares Why Adding Art to Your Morning Basket Makes All The Difference!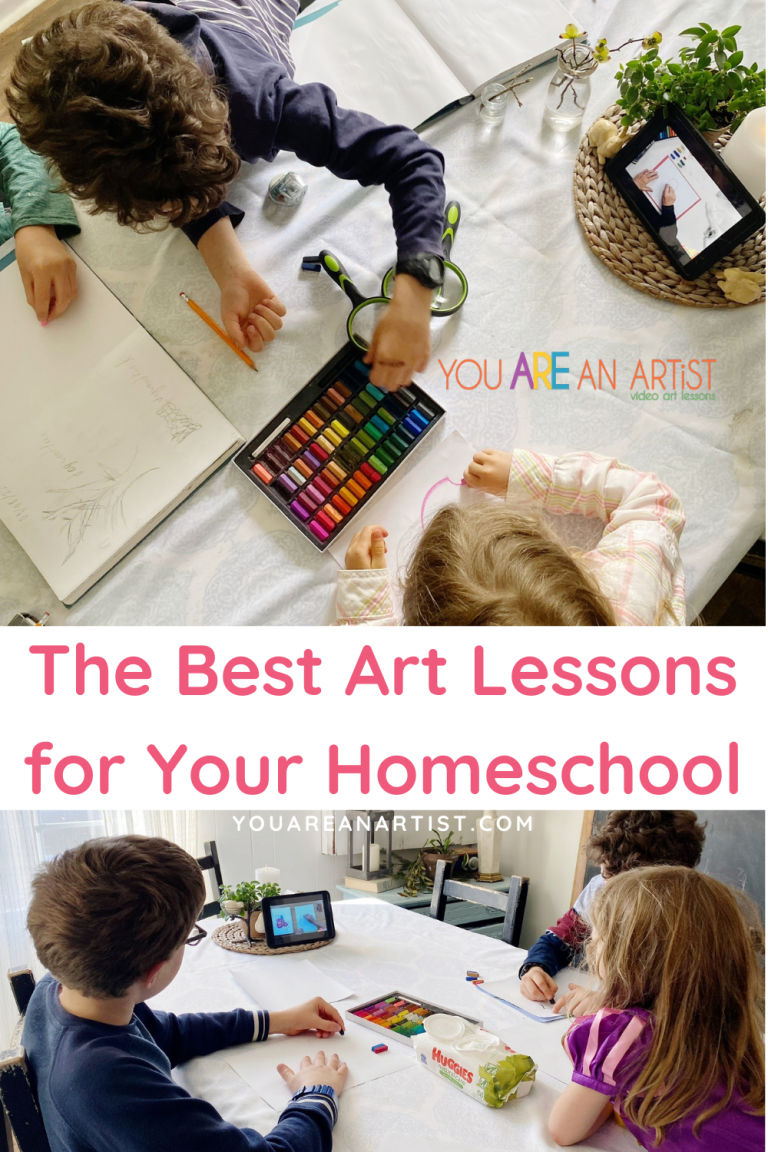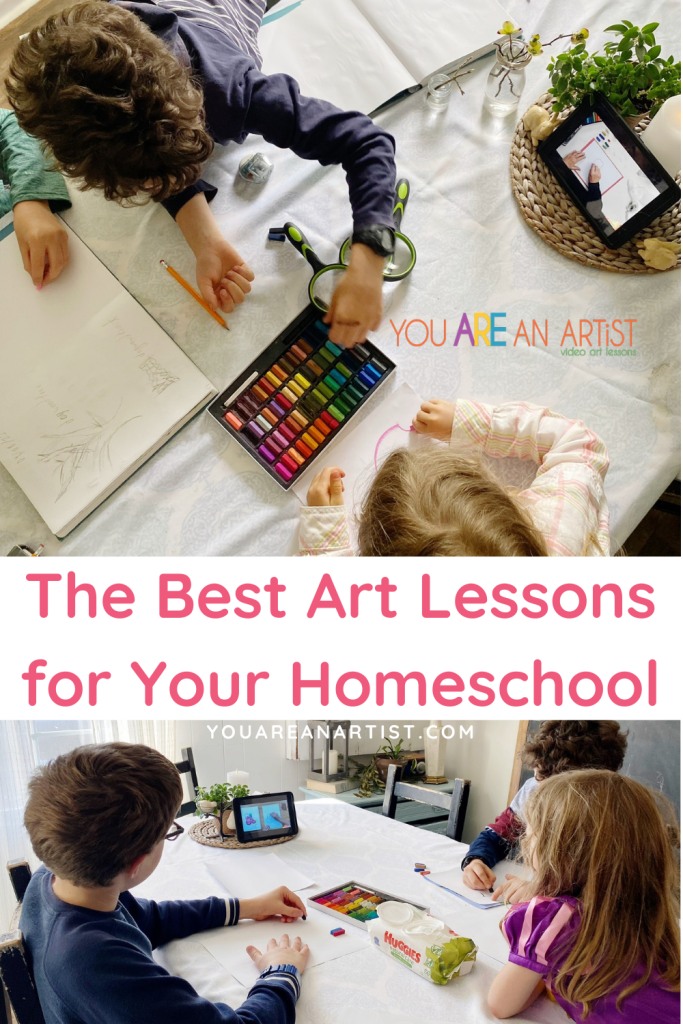 A Simple Start in Homeschool Art
As these families have shared, art opens the door to learning – no matter your homeschool method. It is simple to get started with just a very few supplies. There is not an intimidating or expensive list of supplies. Not only that, art lessons with Nana are a fun way to learn together as a family. Won't you join us?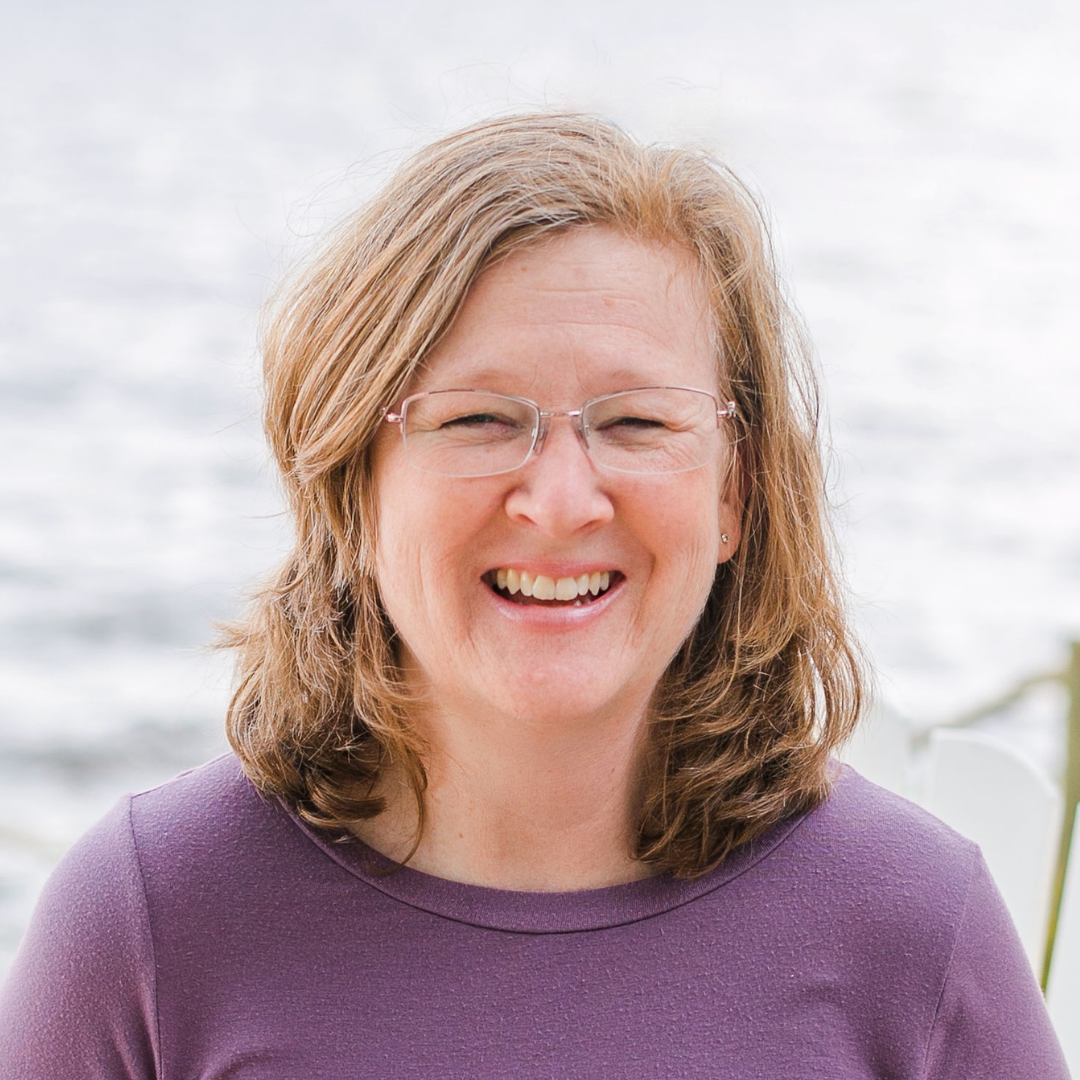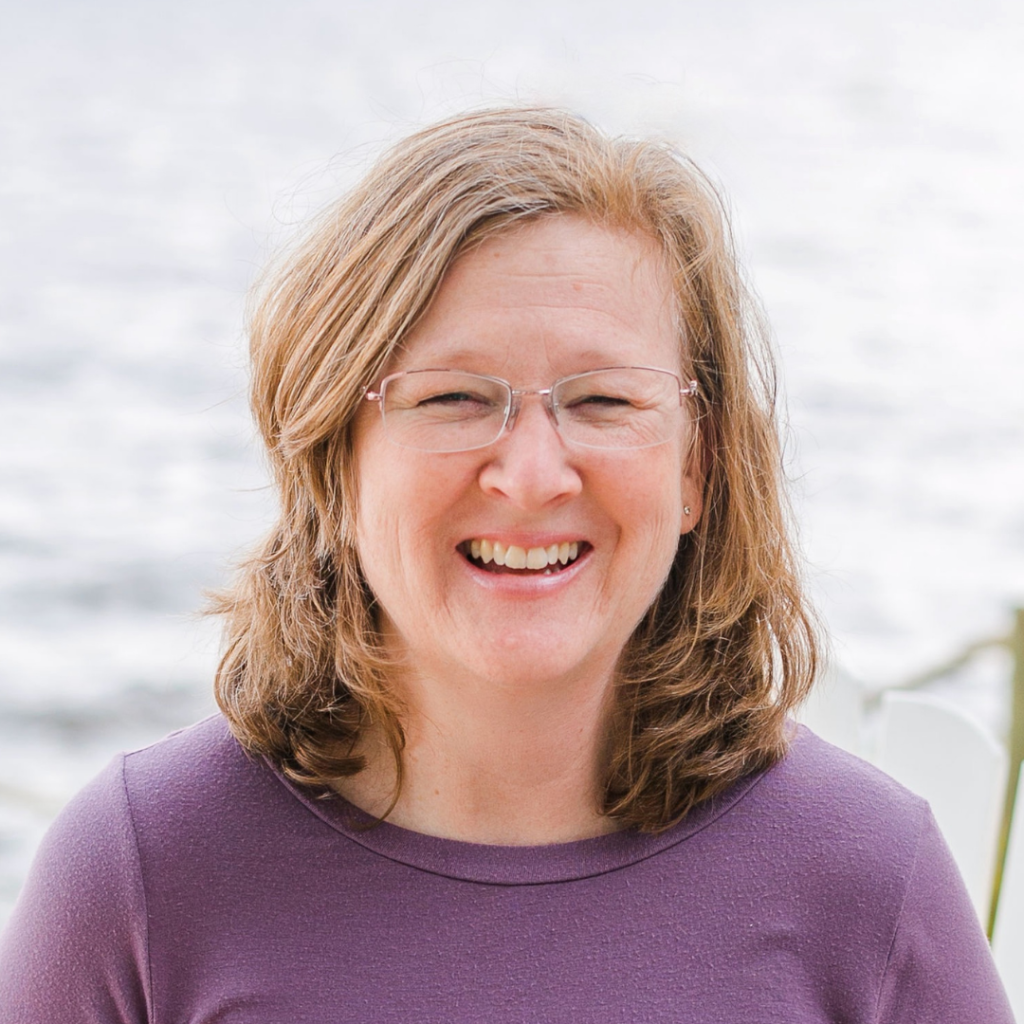 Growing a love of art at You ARE an ARTiST is a multi-generational passion! Tricia is Nana's daughter and a mama of five children. Nana shared the fun of her first chalk pastel art lessons with her grandchildren around Tricia's kitchen table. Homeschooling since 2000, Tricia has seen the fruits of home education with three homeschool grads so far! She shares the art and heart of homeschooling at Your Best Homeschool and is author of the book, Help! I'm Homeschooling! She and her husband, Steve, are also owners of sister sites Homeschool Nature Study and The Curriculum Choice.