We have all spent a holiday season, or two, caught up in the hustle and bustle. It happens to the best of us, doesn't it? But this year, don't forget to slow down and savor the season! One of the absolute best ways to do that is with a Christmas tea time.
But wait, there's more! As much of a delight as Christmas tea time sounds, you can add art, poetry, some holiday hymns and make an afternoon of it. It's like adding a cherry on top with sprinkles to your Christmas tea time!
The holidays are a great time to slow down for so many reasons. Especially if you homeschool, you may be ready for a break. But as most of you mommas know, we still have to keep the kids entertained. I also like to join my children in these entertaining activities! The holidays are so much better when you just take time to lean into your family.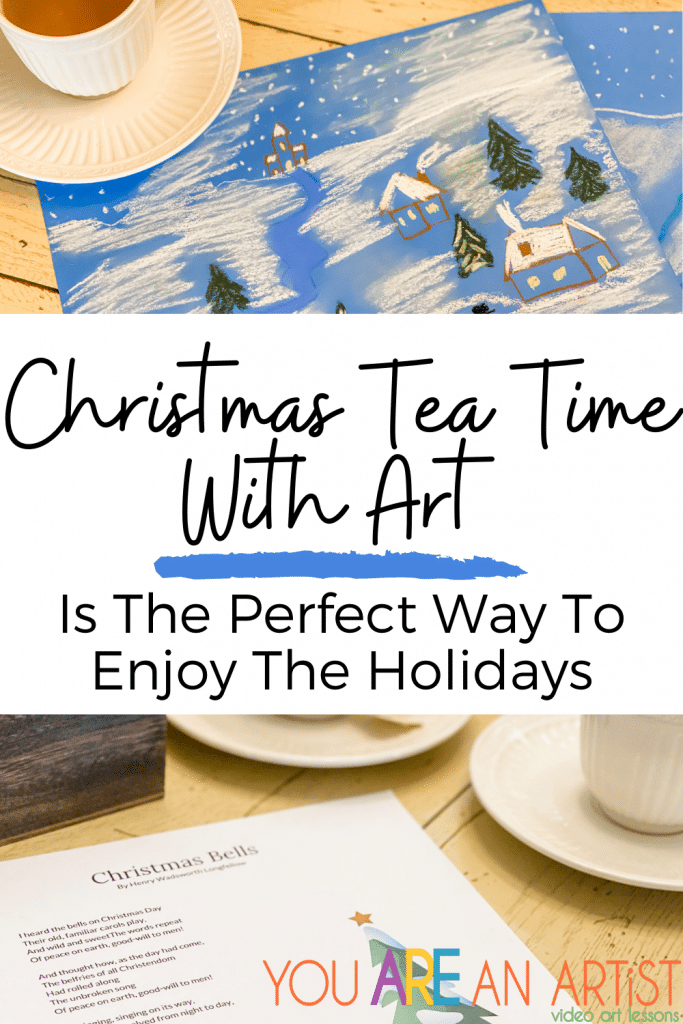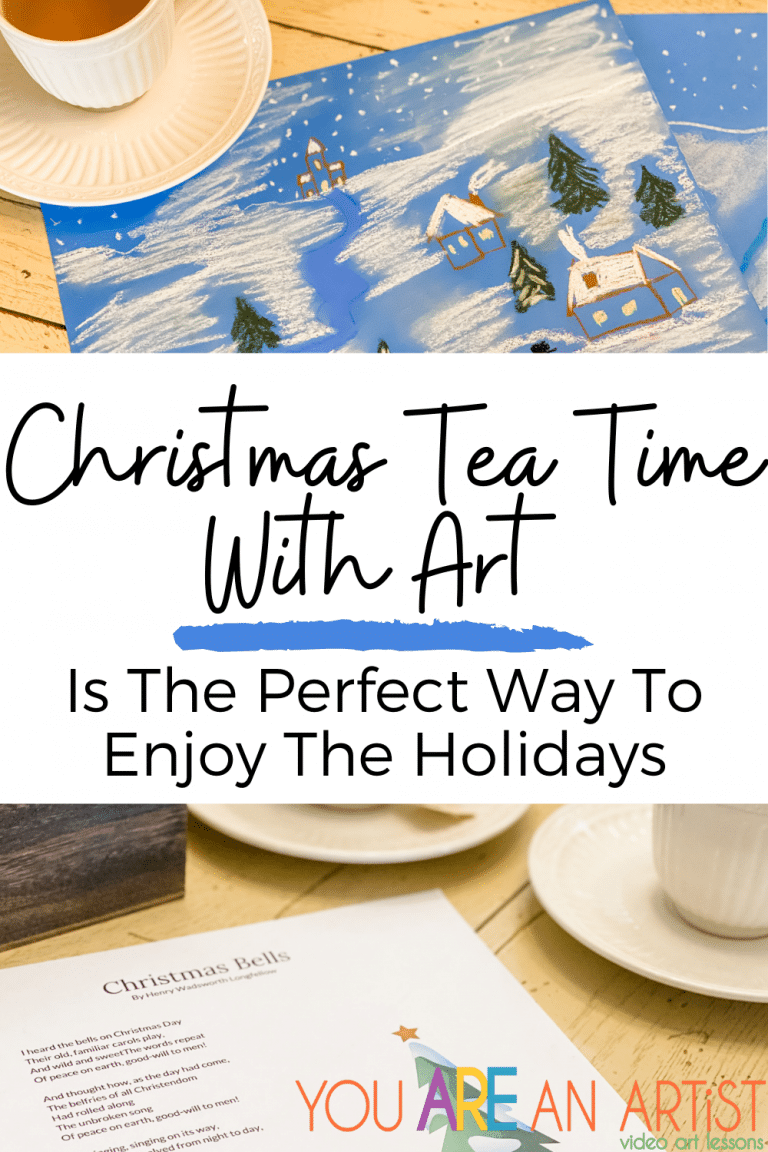 So if you are like me, you may want easy activities that don't require much preparation. We love chalk pastel art for this reason. I simply set out a few affordable supplies and turn on Nana. Our entire family can sit back and create together.
Add some holiday hymns playing in the background, a nice hot spiced tea, and a lovely Christmas art project – perfection!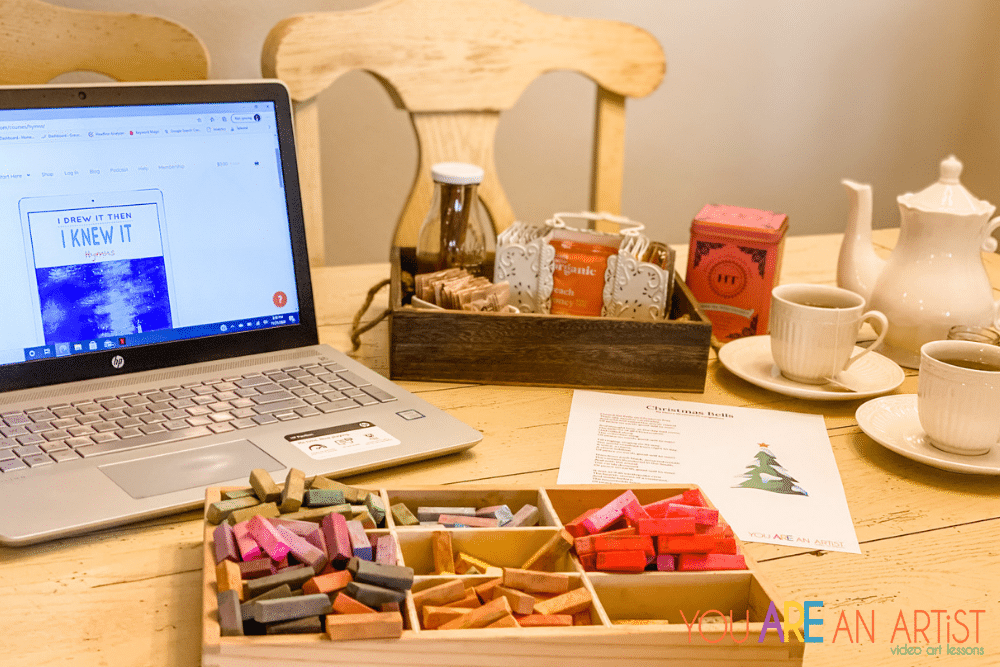 Christmas Tea Time With Art
If this sounds appealing to you, all you need is to grab your family a Clubhouse Membership from You Are An Artist. You can enjoy tea time and art anytime with over 600 art tutorials to choose from. It also makes a fantastic gift for the family that keeps on giving all year long.
We love this art tutorial of I Heard the Bells on Christmas Day. As a homeschool mom, I also love that there are so many learning opportunities woven into this project. History, poetry, and music are all tied to this one piece of art.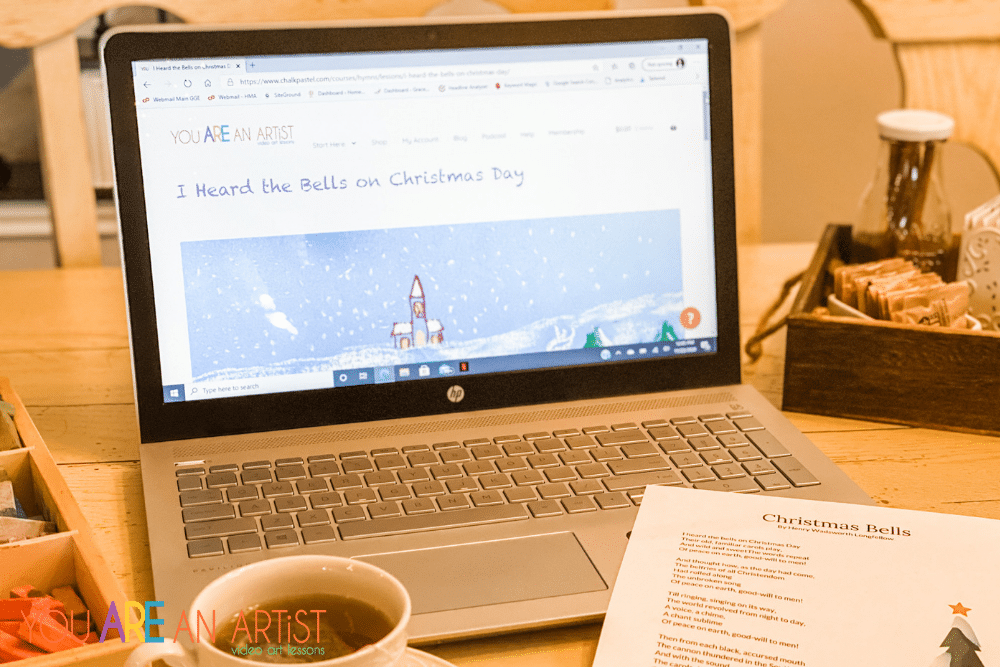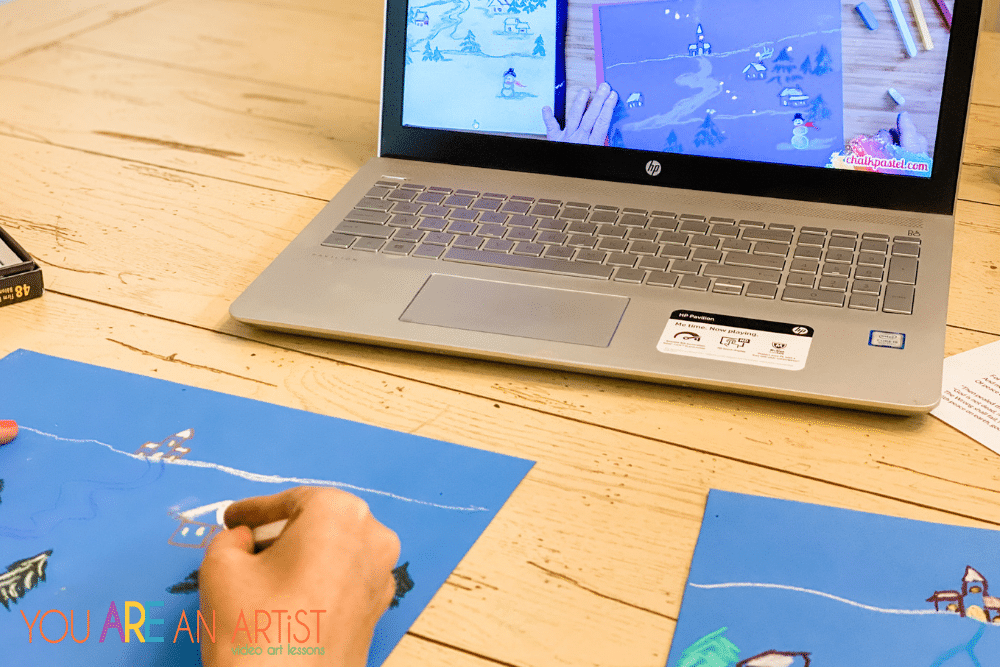 I Heard the Bells on Christmas Day art lesson is found in the I Drew It Then I Knew It: Hymns Course within the You Are An Artist Clubhouse Membership. This art lesson about the Christmas carol is originally from a Longfellow poem, making for a great homeschool lesson.
Henry Wadsworth Longfellow wrote the poem Christmas Bells in 1863. The sound of the bells signifies peace and hope during the civil war. It is a beautiful piece of American history worth learning during your holiday studies. The poem was set to music in 1872 and has been covered by many musical artists since.
Additional Resources For Christmas Tea Time In Your Homeschool
You can read or even memorize the infamous Longfellow poem and listen to various renditions of the Christmas carol too. We like to listen to different performances of the song and compare. It's fun to discuss which ones we liked better and why.
You could even look up the biography of Henry Wadsworth Longfellow, the poet. There is an interesting personal back story about how he came to write the poem Christmas Bells. Depending on how in-depth you would like to go, don't forget there are opportunities to discover new vocabulary words within the poem, poetic elements, and civil war geography.
You might also like these lovely Christmas activities: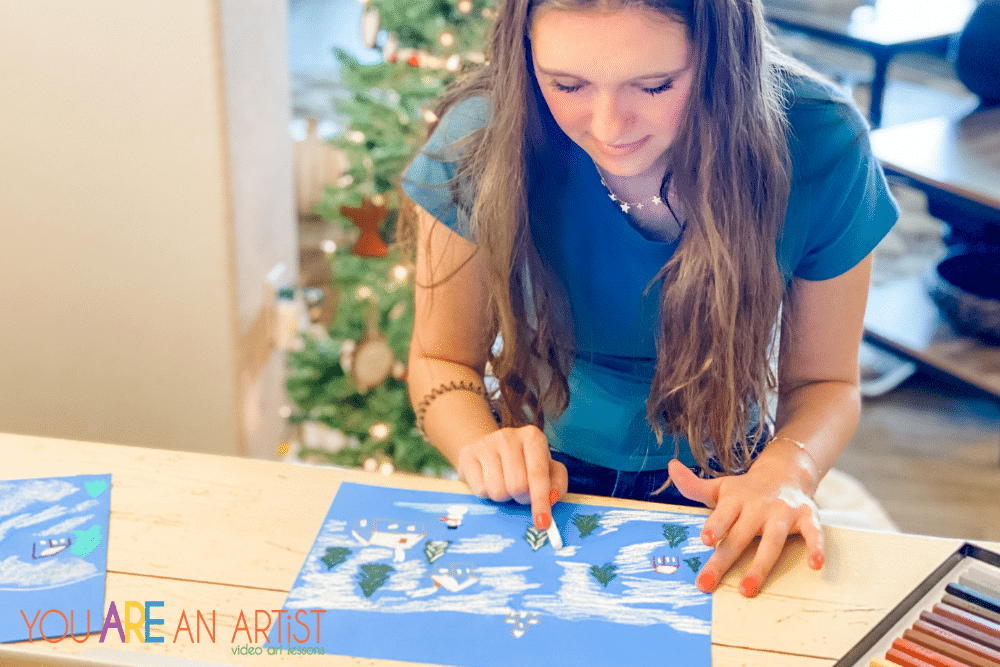 We think this one is a lovely art lesson rich with history and education that your family will truly benefit from. With peace at the core of this lesson, you will enjoy looking upon this beautiful scene all season long.
Courtney is a Jesus-pursuing, native Texan, homeschool mom of three, and she believes homeschooling can be a peaceful and productive rhythm. At Grace, Grow & Edify she helps families create peaceful homeschooling atmospheres through faith, organizational strategies, and cultivating strong roots at home. She is also the founder of Homeschool Mastery Academy.