When the nights turn chilly and darker, there are fewer places to go outdoors as a family. We usually see the return of "Family Movie Night" on Fridays in the fall and winter as a result. Our family loves watching movies based on books. Add a few hands-on homeschool activities, and everyone is ready for both learning and fun.
But whether you actually watch a movie or not after reading If You Take a Mouse to the Movies, the book itself is a delightful read for the little ones.
The boys were excited to revisit this old favorite and bring their mouse stuffed animals along for a chalk pastel lesson.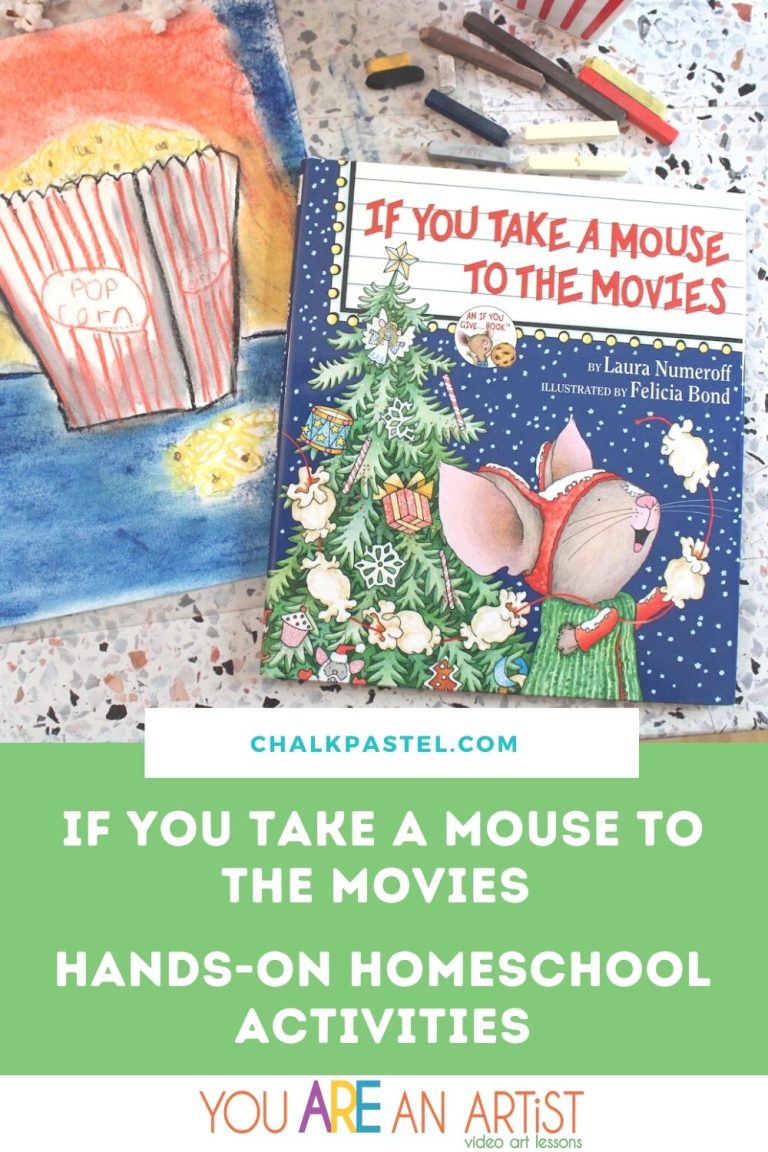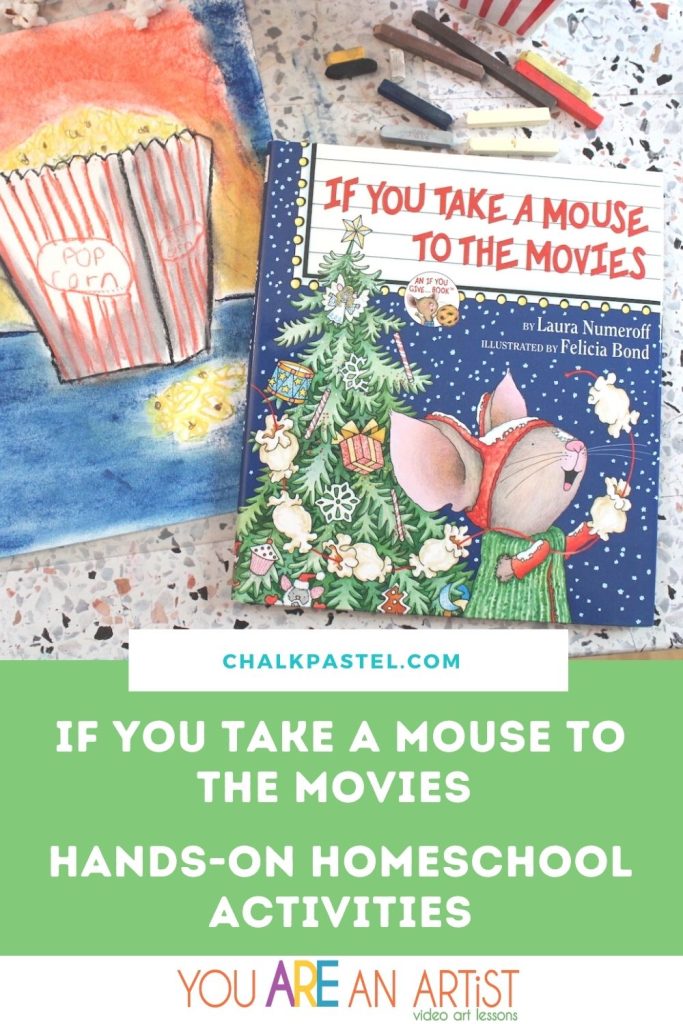 All About If You Take A Mouse To The Movies
If You Take a Mouse to the Movies is a sequel to If You Give a Mouse a Cookie. And if you haven't read that book, stop right now and go get a copy! It makes this second book even more enjoyable because you and your child will recognize the familiar pattern of the story.
We love this sweet tale of a little mouse who is easily distracted from one thing to the next. If this isn't a picture of all parents everywhere with their toddlers and preschoolers, then I don't know what is.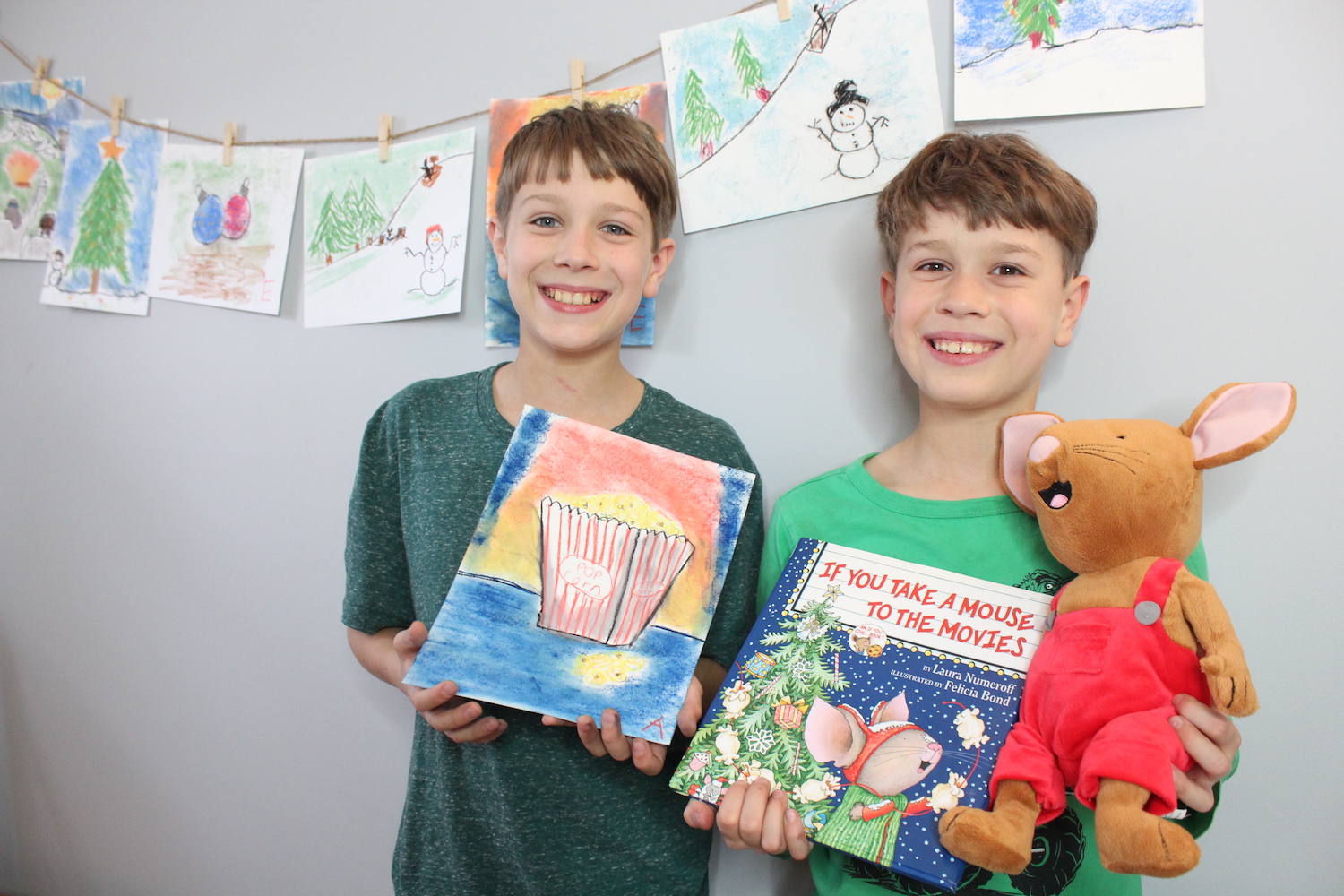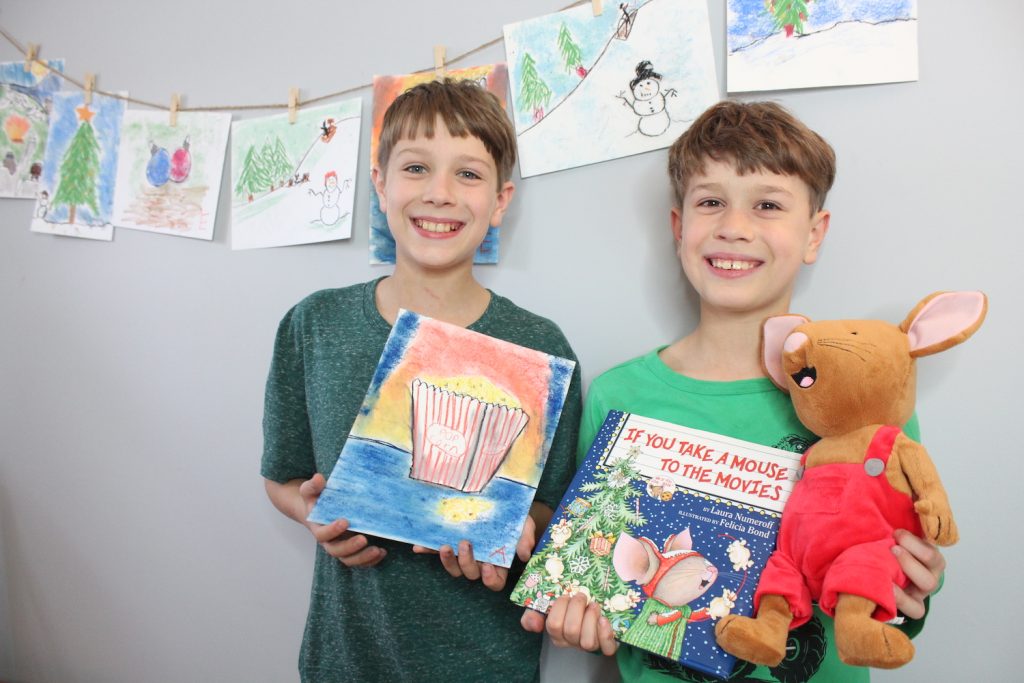 Even older readers enjoy the hilarious "cause and effect" sequence as the pages turn. From the movies to popcorn, from popcorn to decorating the tree, from the tree to a snowman, the story unfolds just how quickly one thing leads to another.
All along the way, Mouse brings so much joy and energy to each endeavor that you, along with his friend, can't help but indulge him "just this once" in his next idea!
Truly, as a parent this book always speaks to me about the serendipitous moments of life with kids, enjoying each experience, and greeting the day with more of an "open-hand" so you can just soak up the joy of being together.
The illustrations are a delight as well! You can feel the coziness of the huge blanket, sense the flurry of snow, and understand the glitterful creativity of making ornaments.
The best part of the story is at the end. Of course! I don't want to give it away, but, let's just say, the author does a great job of bringing things to a satisfying final page.
Definitely the If You Give… series is a wonderful reading choices for kids and makes a great gift to give any small child or new parent.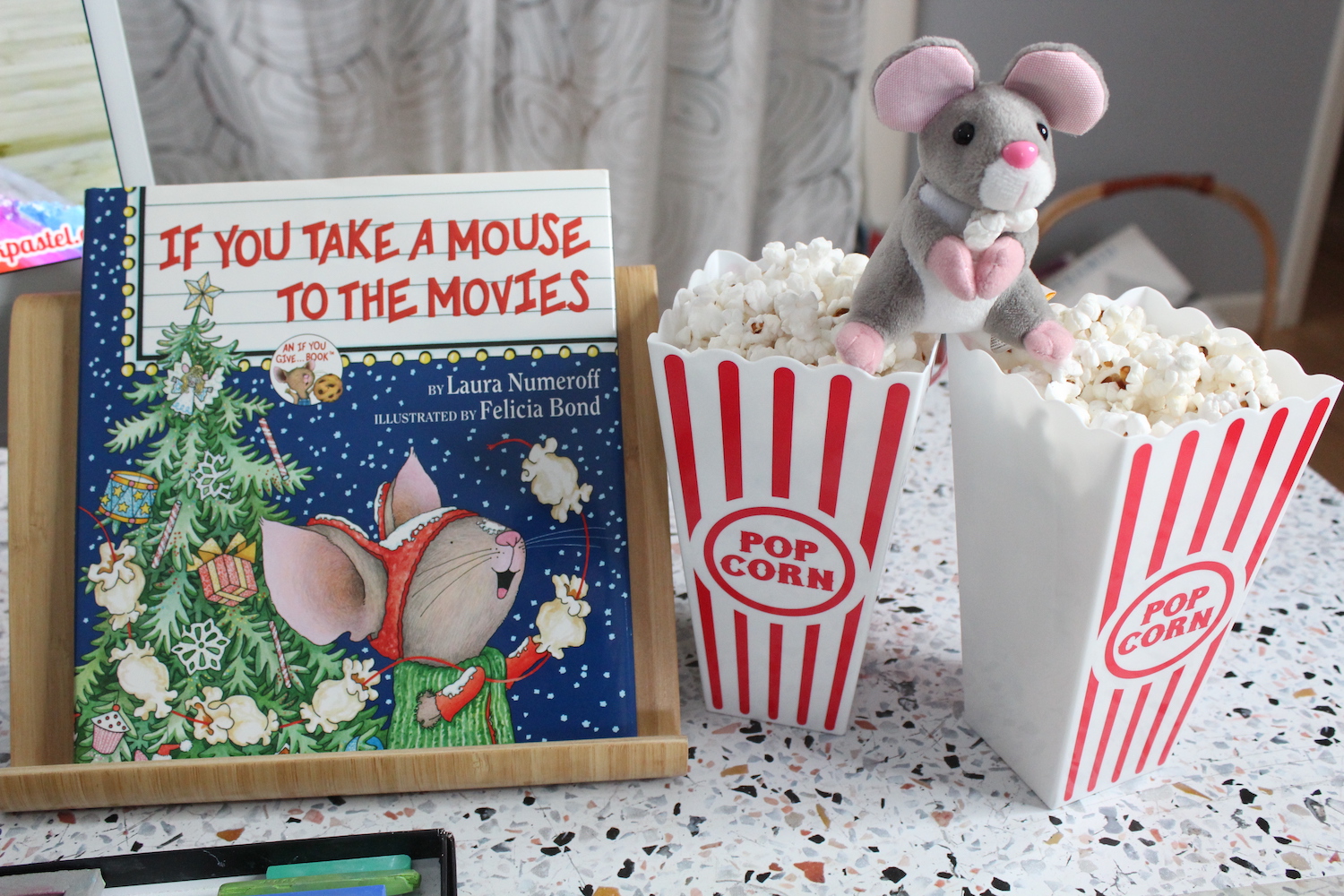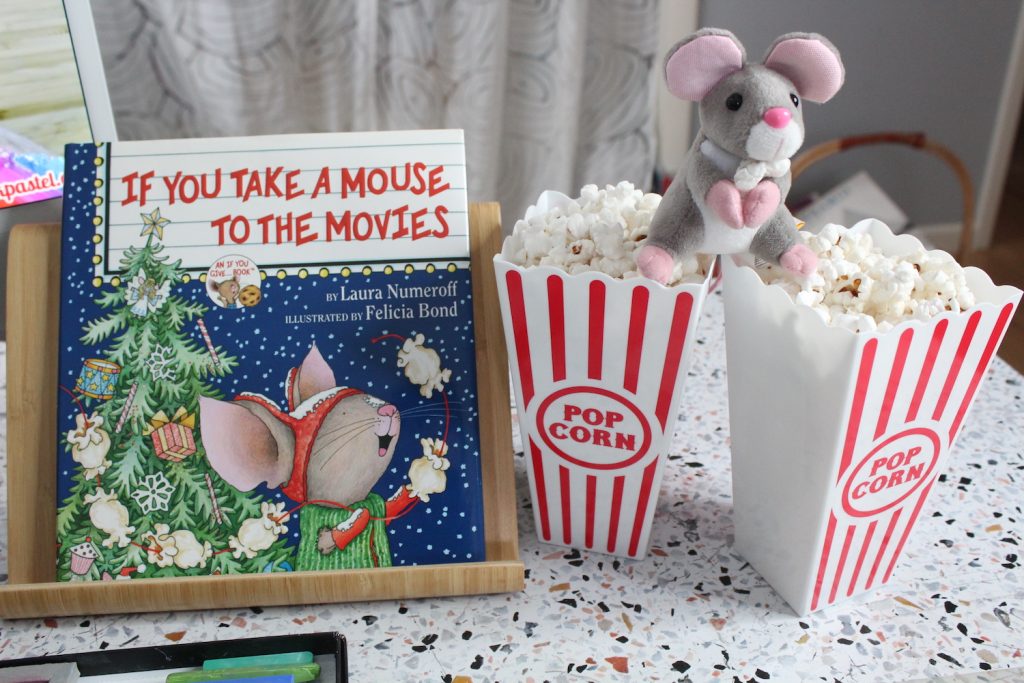 If You Take A Mouse To The Movies Homeschool Lesson
In our homeschool, a book is never just a book. It's nearly always a jumping off point for more! This book is no different. You can have SO much fun with the themes of If You Take a Mouse to the Movies!
Start with a collection of Nana's chalk pastel lessons to explore the fun activities the Mouse enjoyed in the book.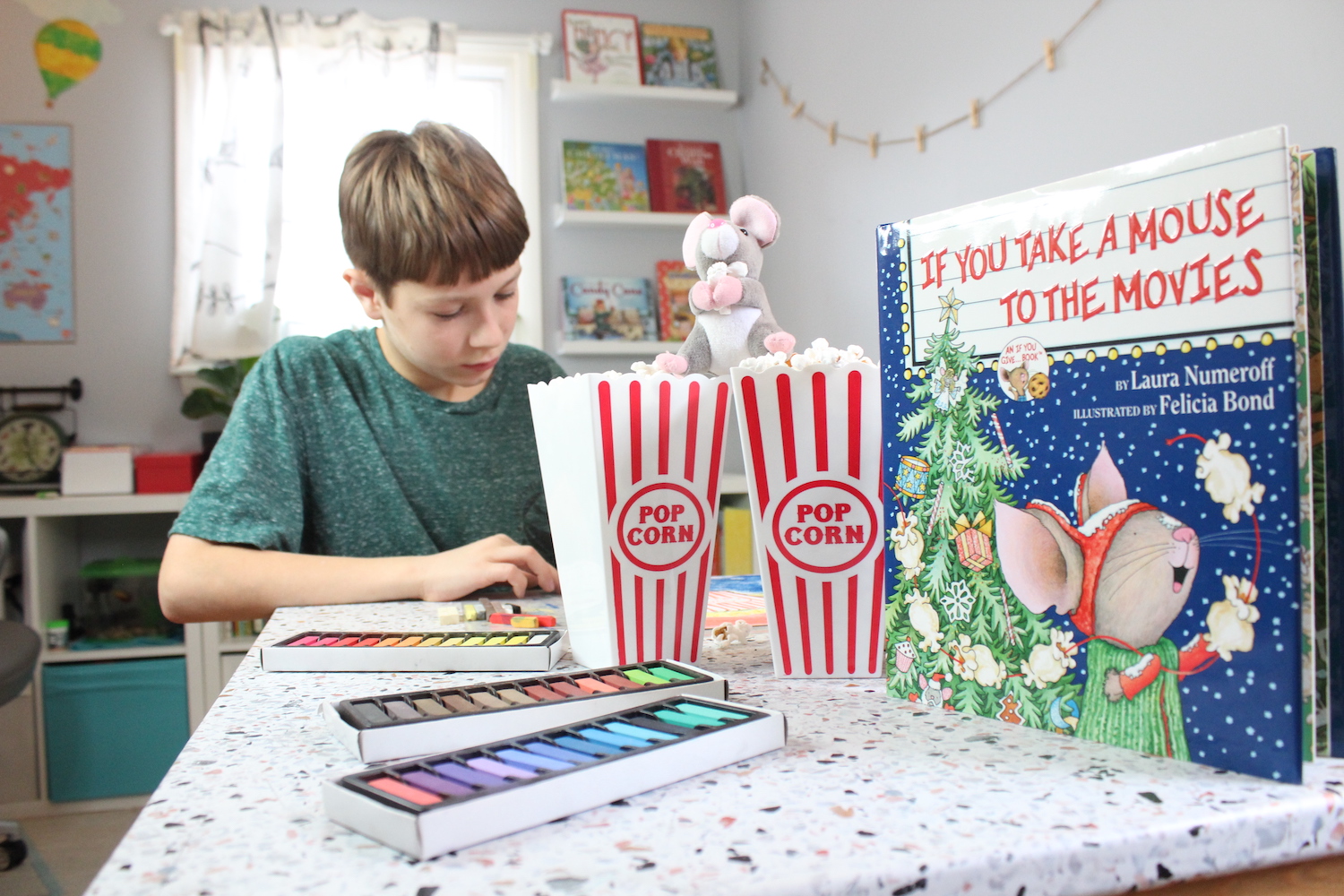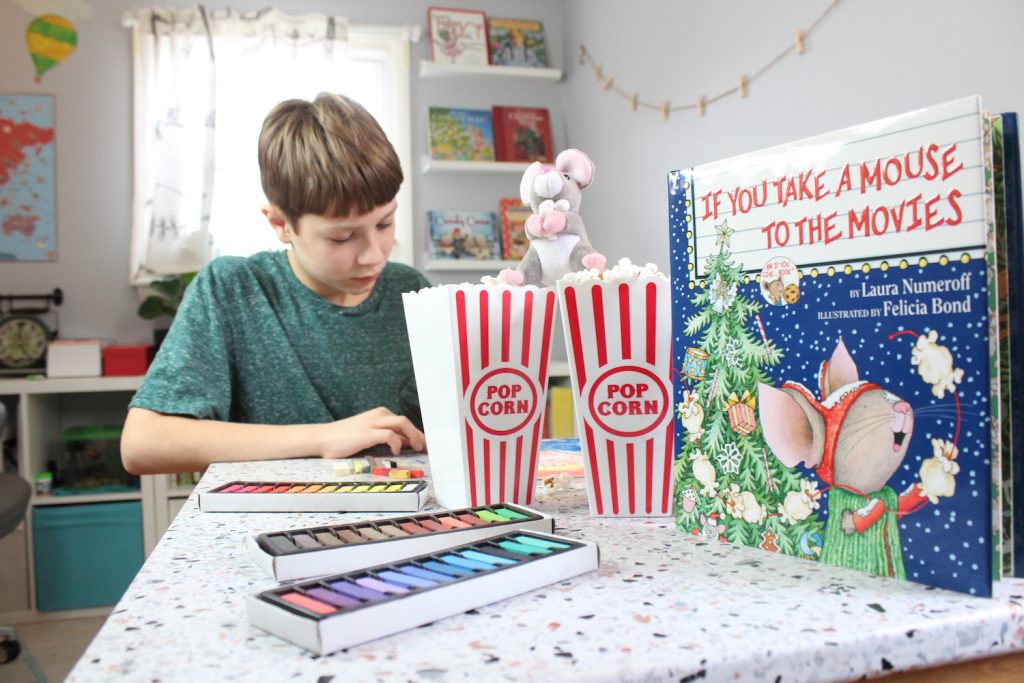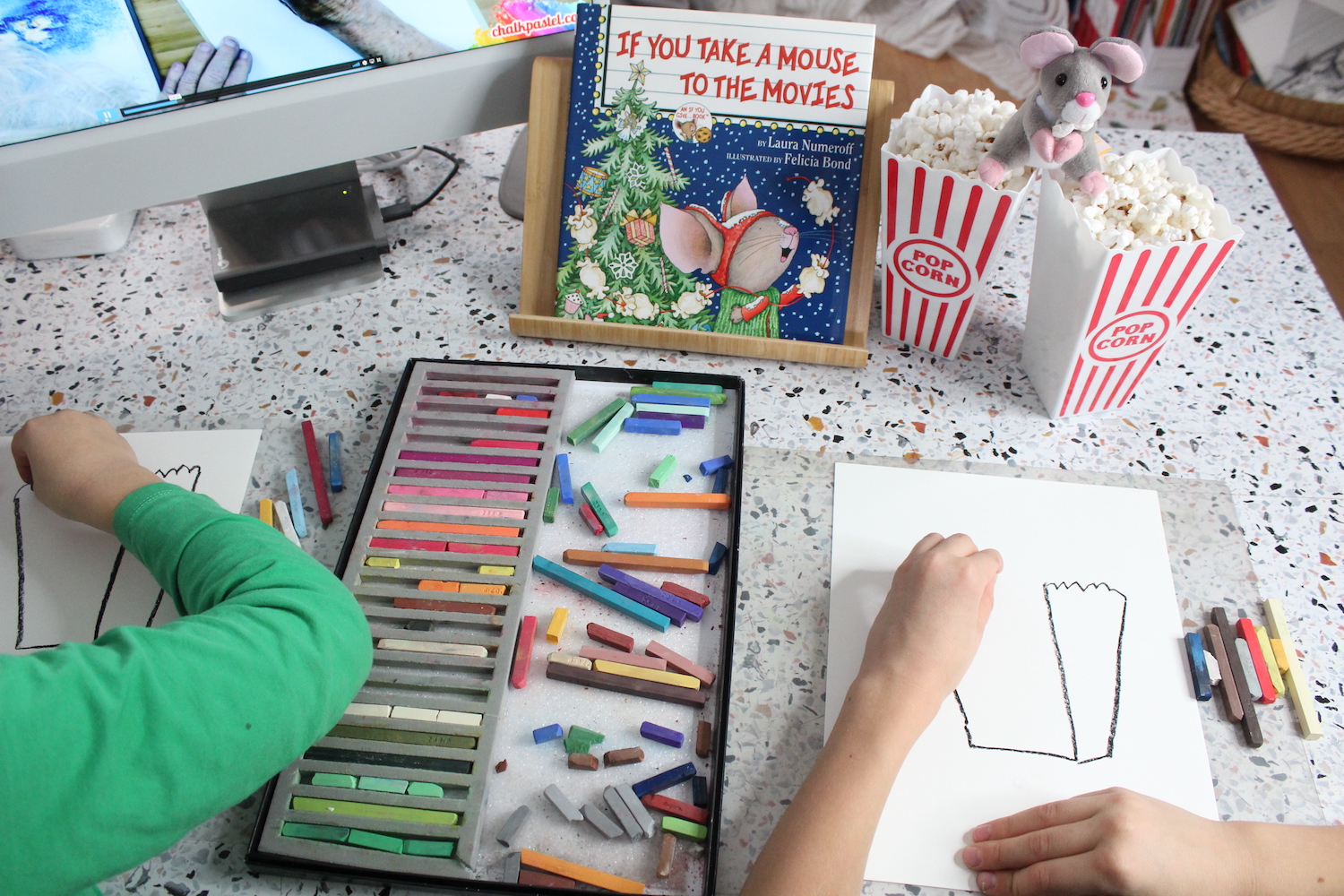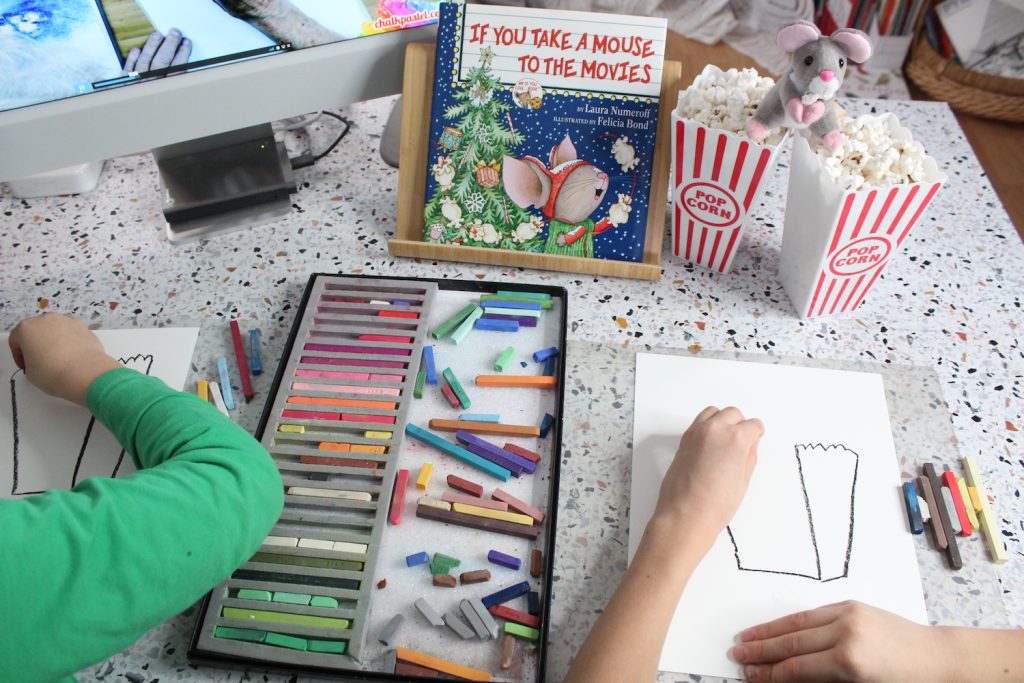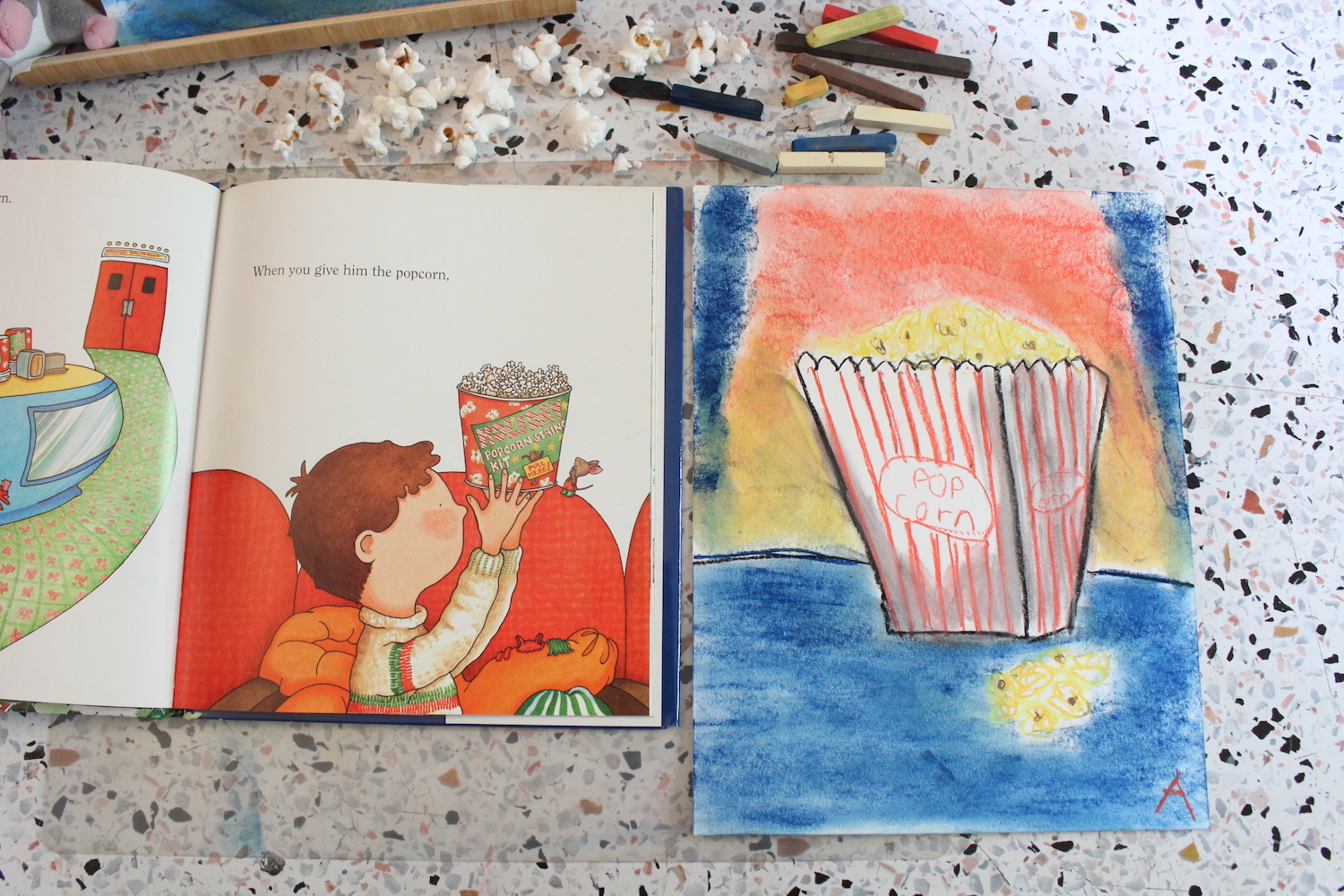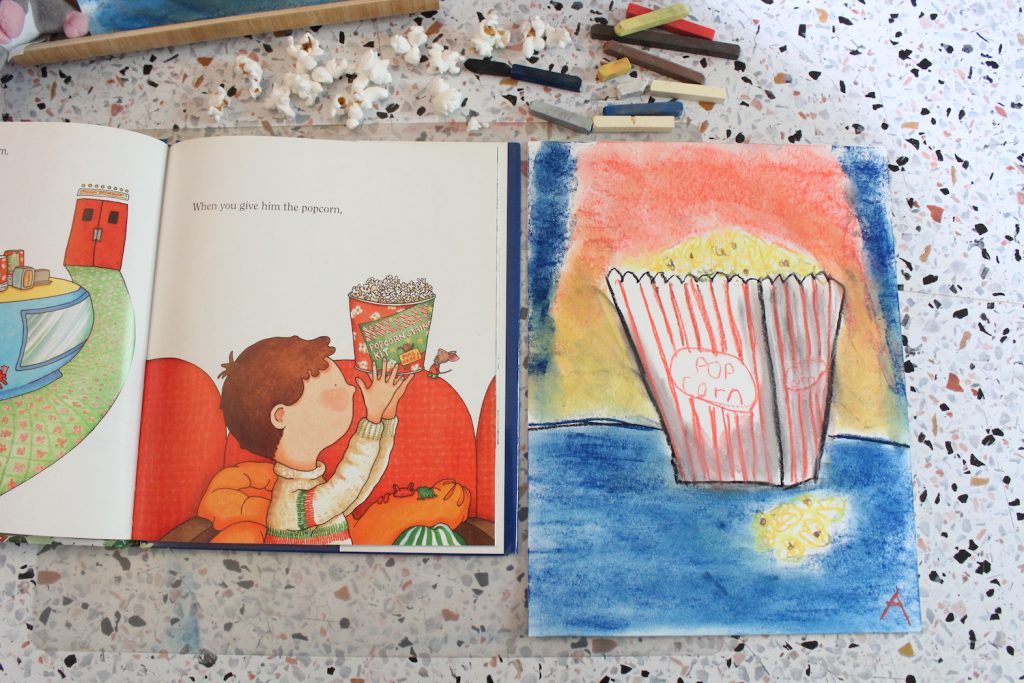 Plan a movie night with your kids and set up a popcorn bar. You'll need a great illustration to feature at your popcorn station so have your kids draw Movie Theater Popcorn from You ARE an ARTiST's Chalk Pastels at the Movies series.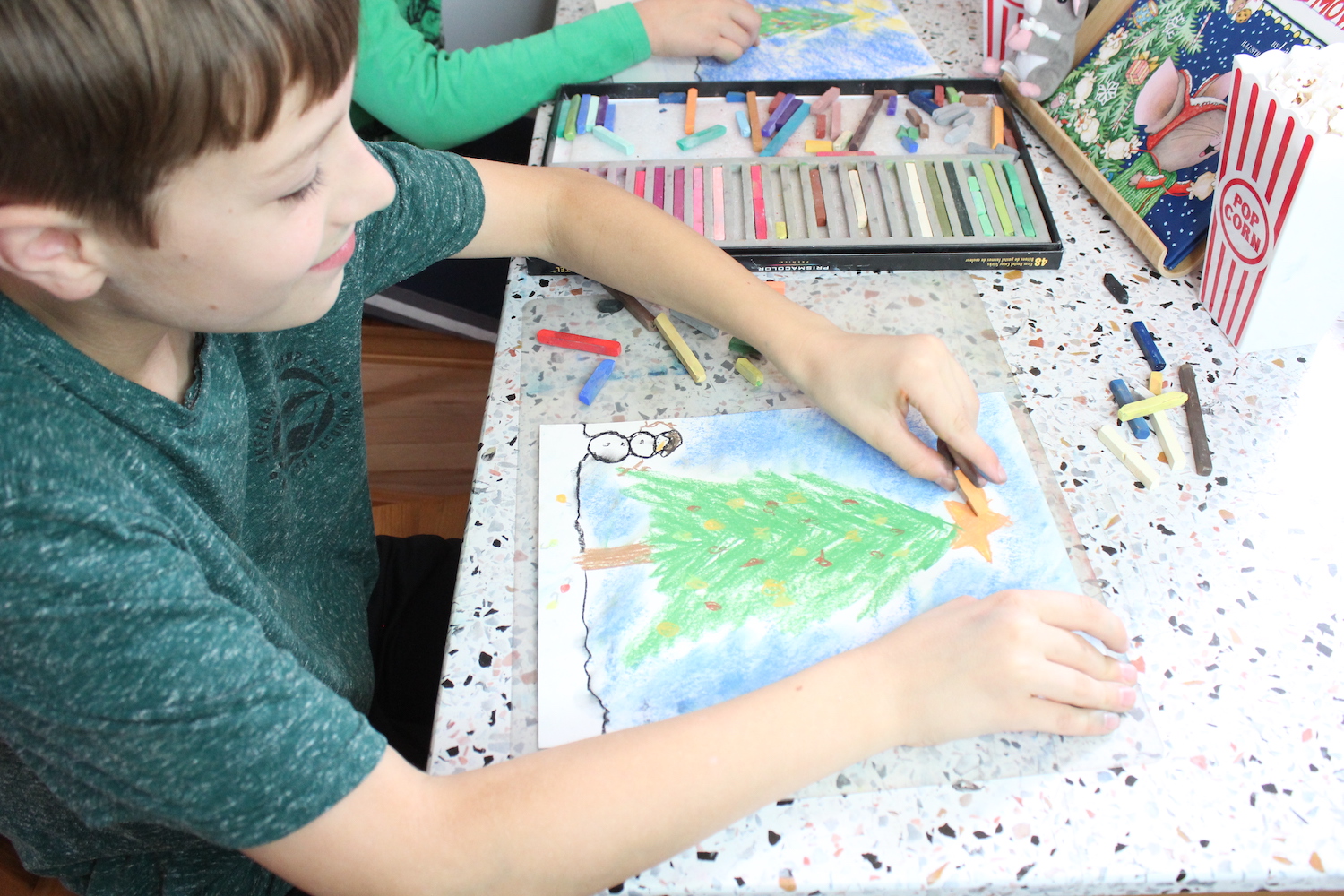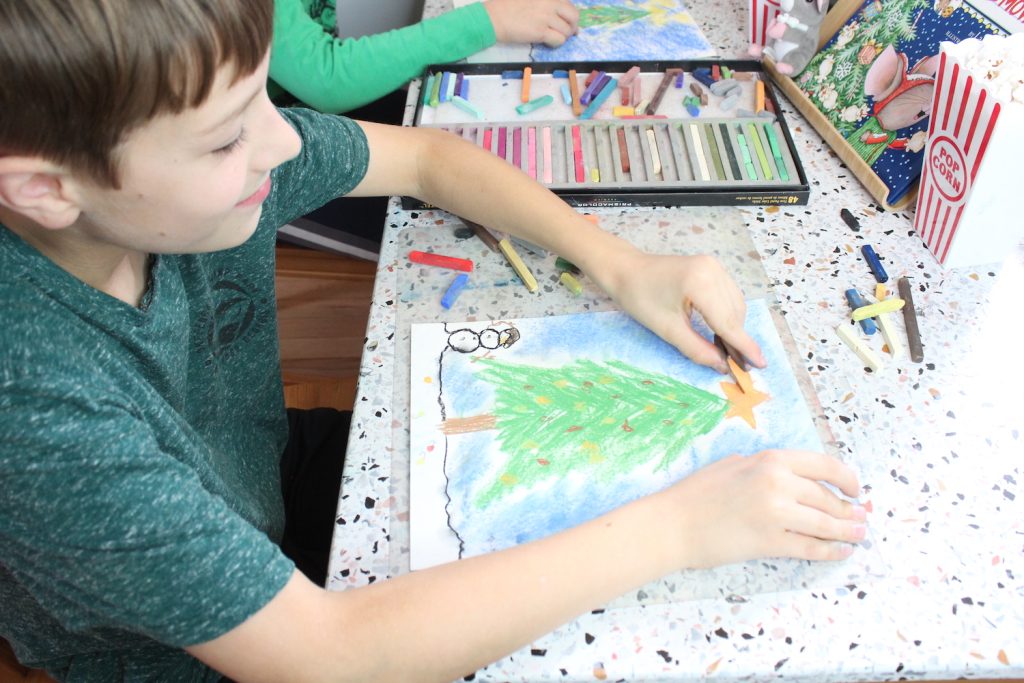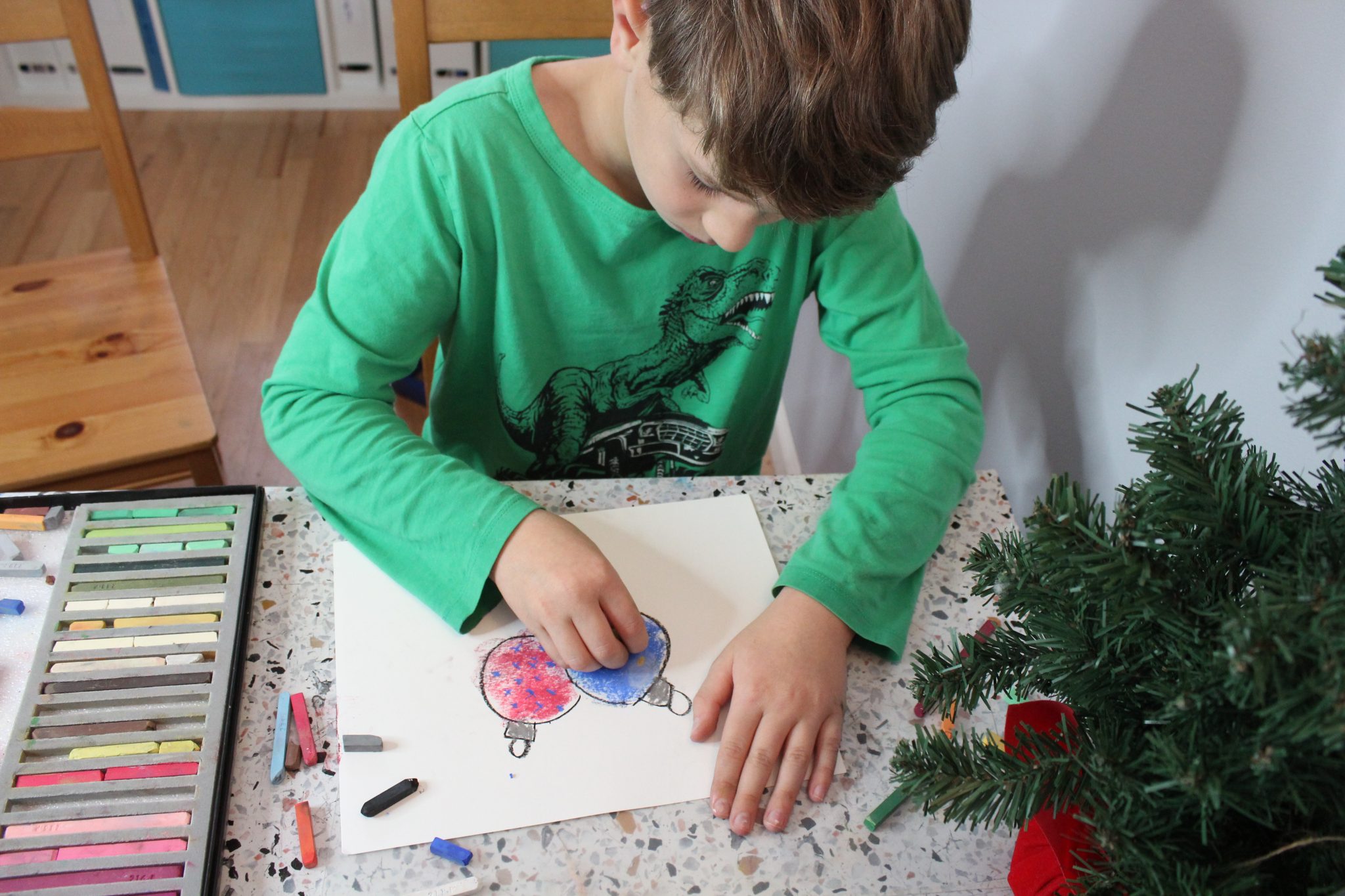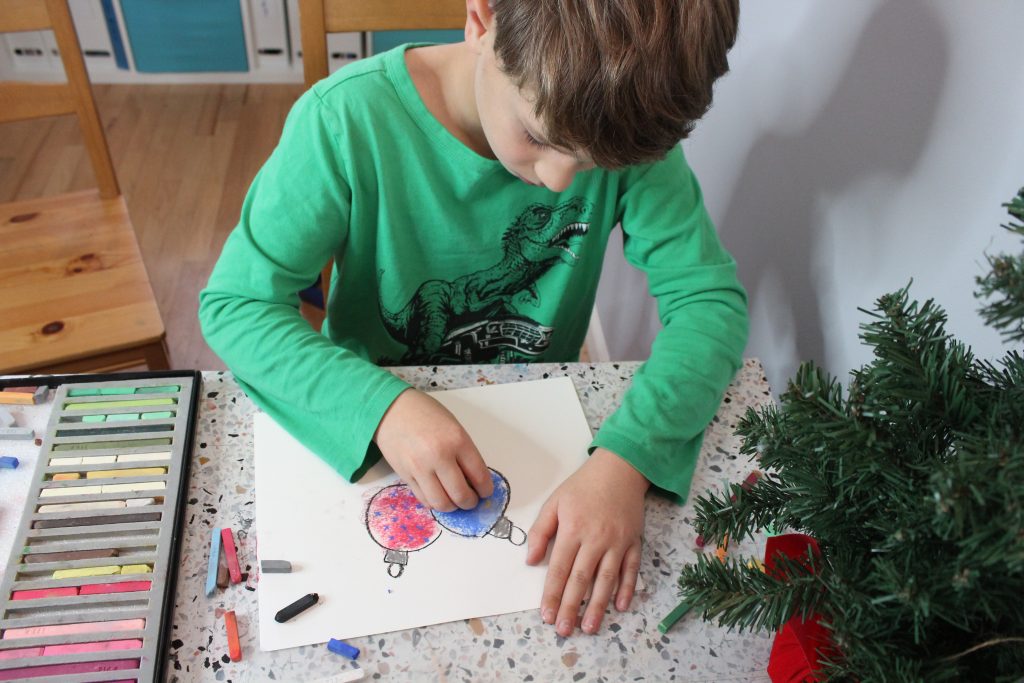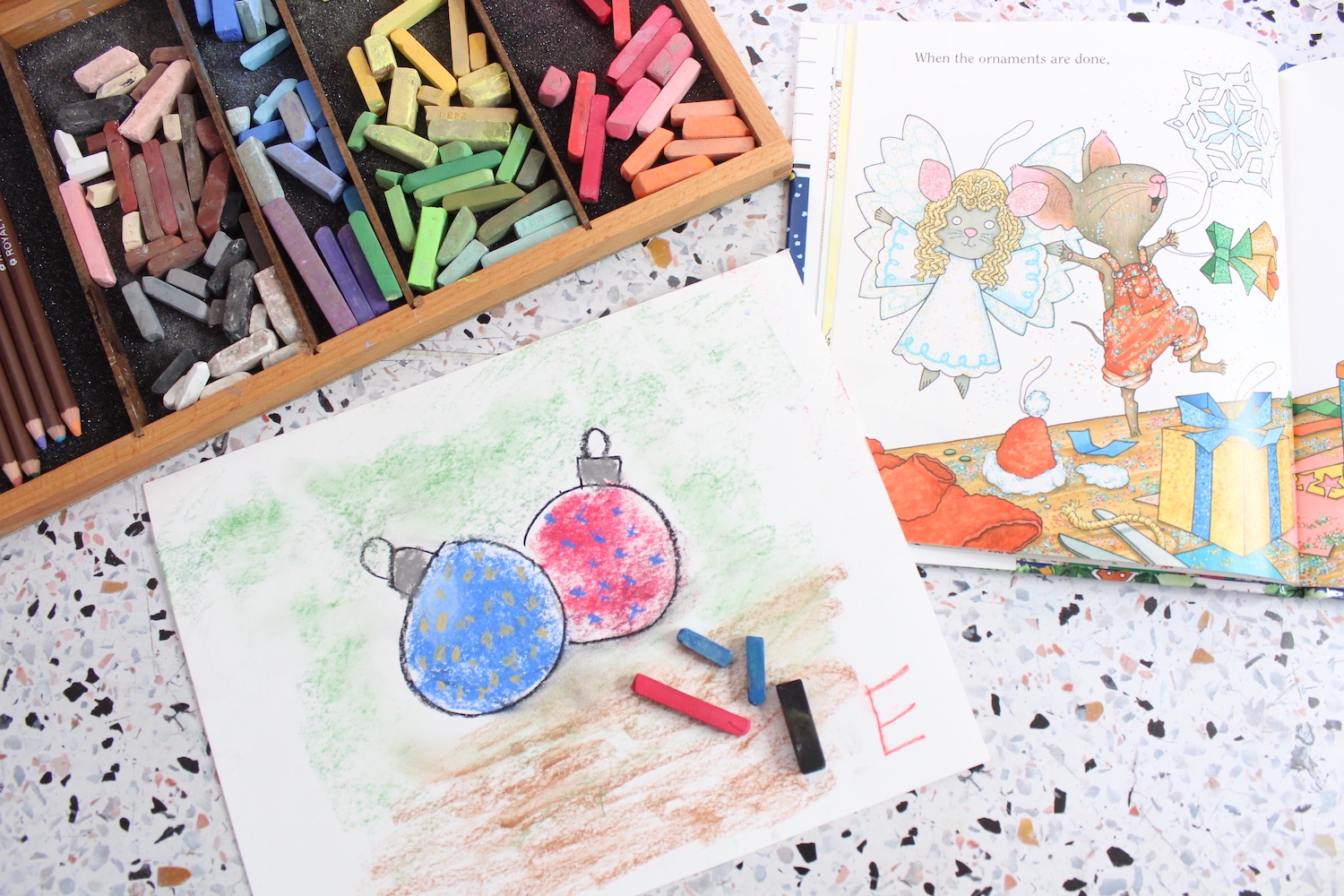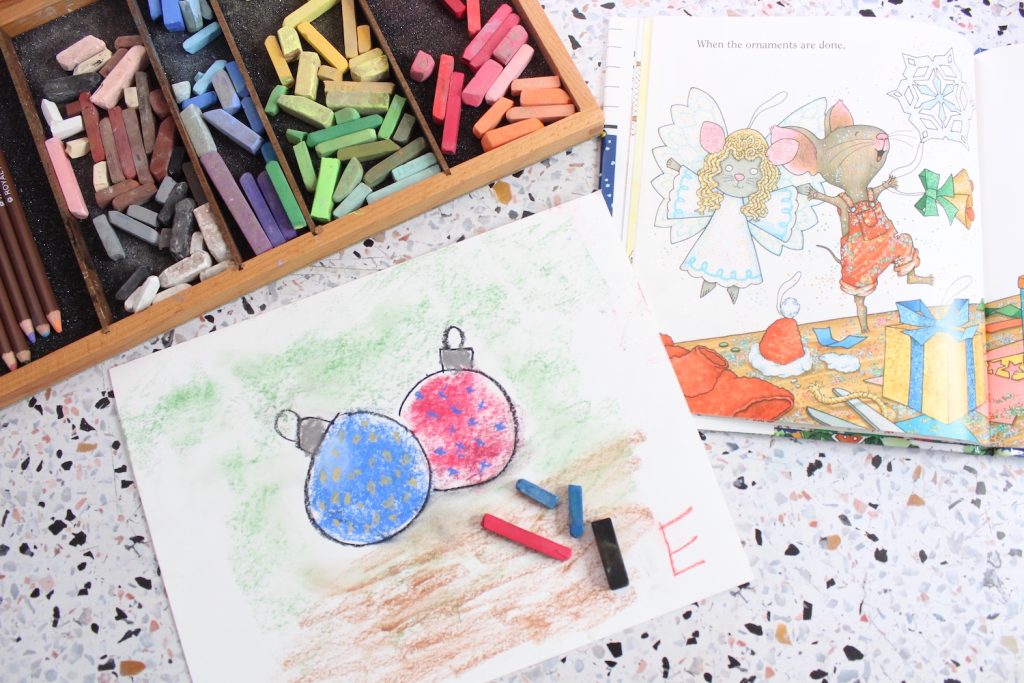 In the book, Mouse decorates a tree. Kids can decorate their own tree with Nana when they paint Christmas Tree in the Snow. Or paint some Christmas Ornaments. I love how Nana encourages kids to decorate the tree and their ornaments to their liking. She always demonstrates how to create the painting but leaves so much creative room for young artists to make it their own.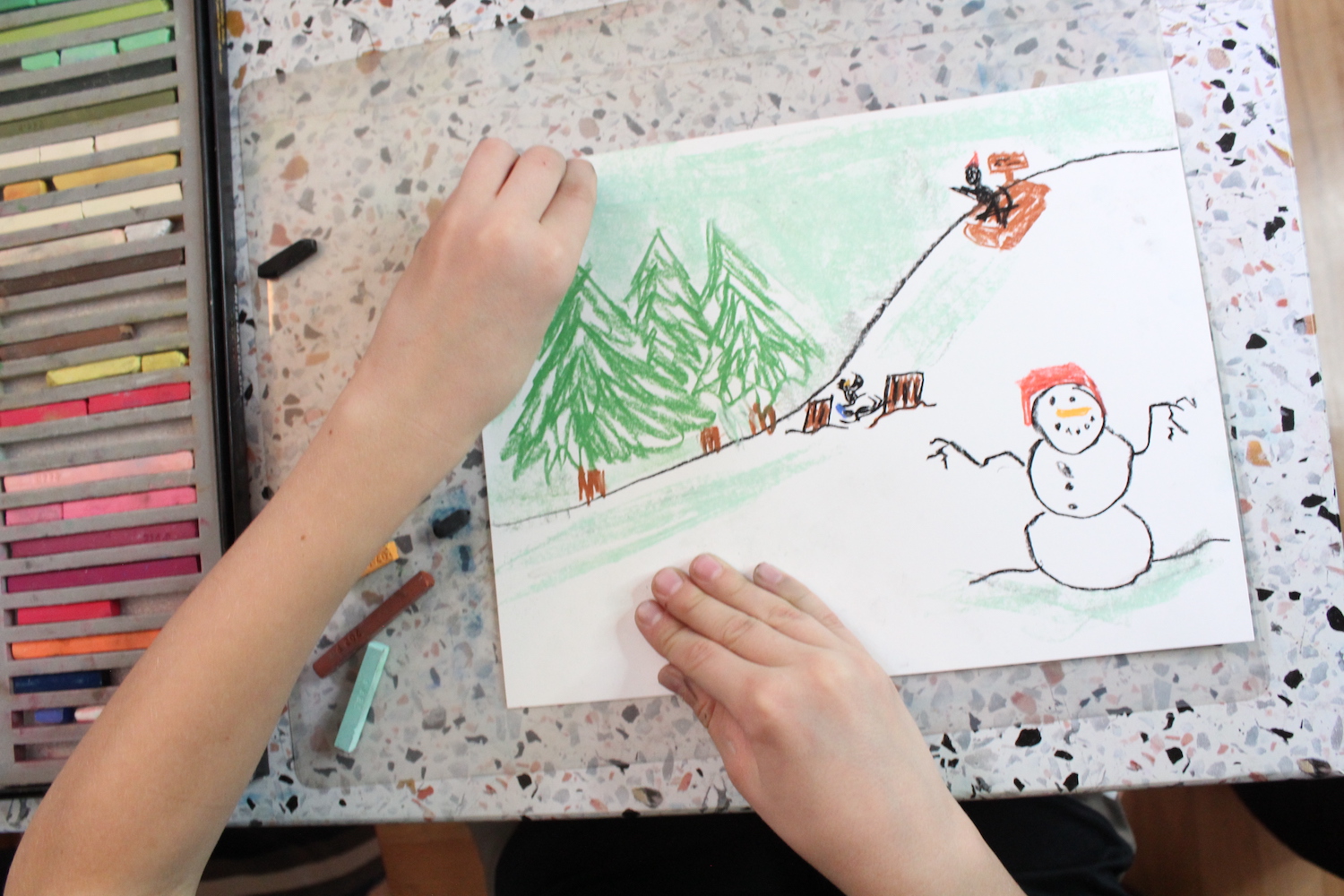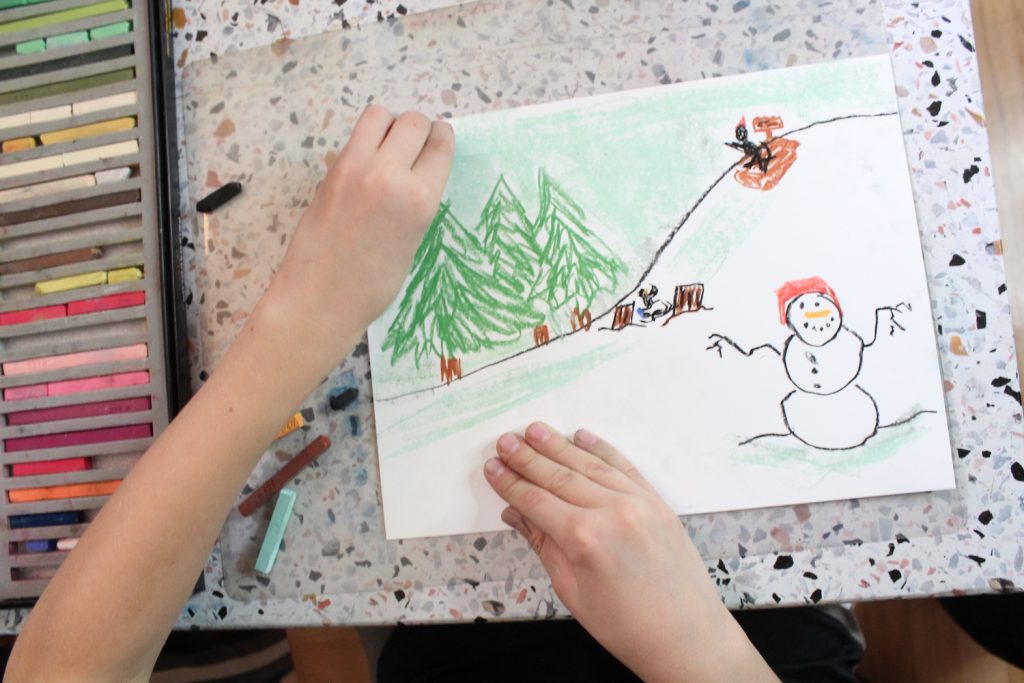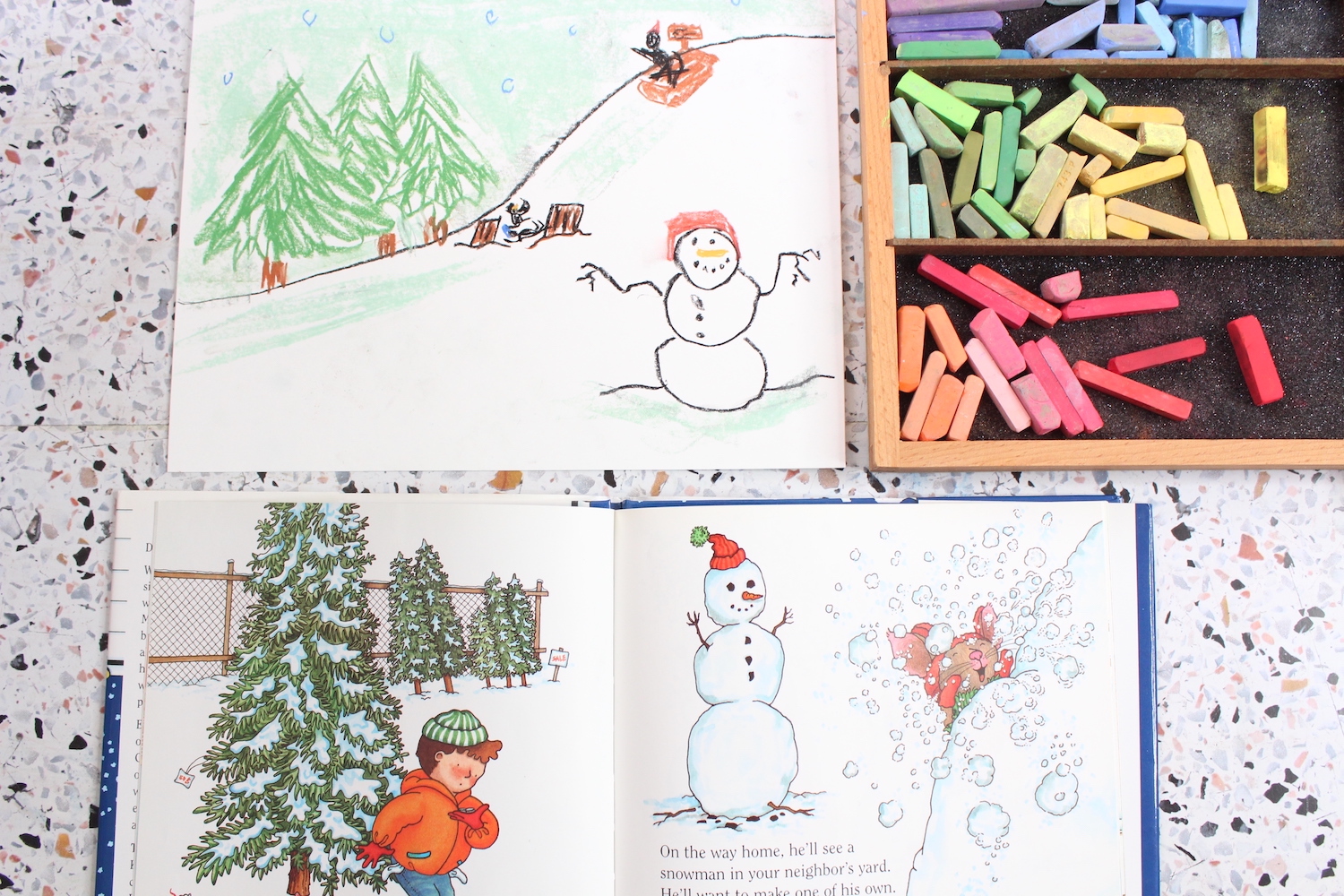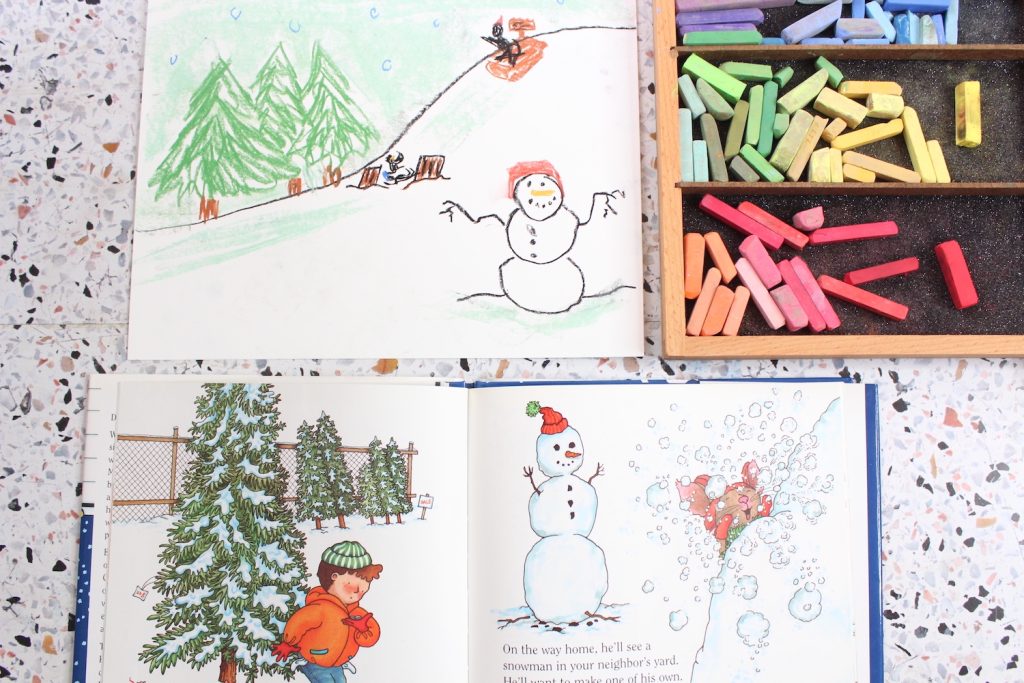 My oldest added the snowman to his Christmas Tree painting. We also completed the Winter Fun Snowman lesson and the boys enjoyed adding a few of their own sledding details to the scene.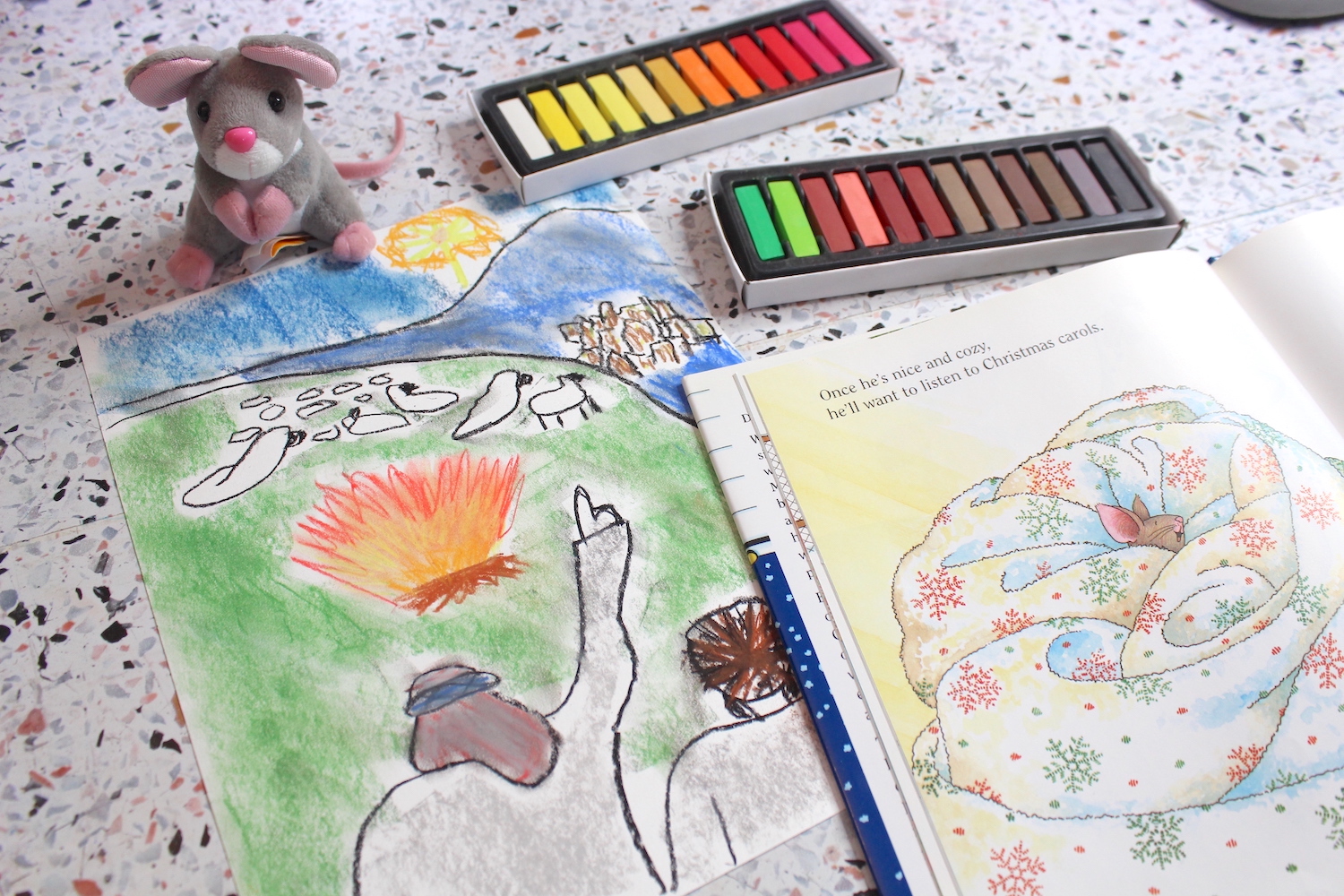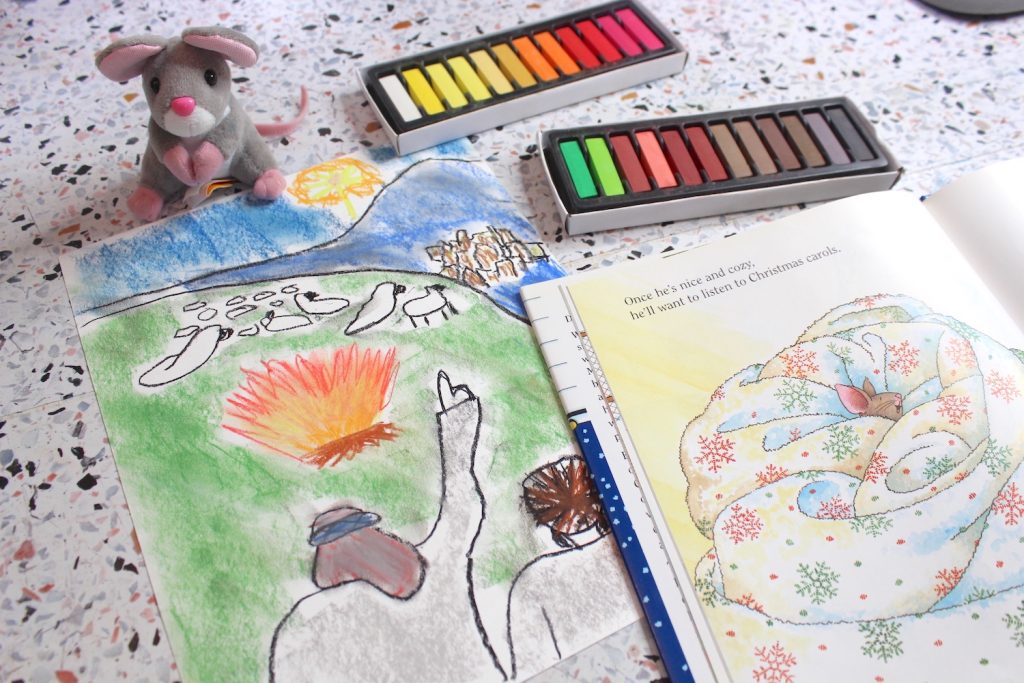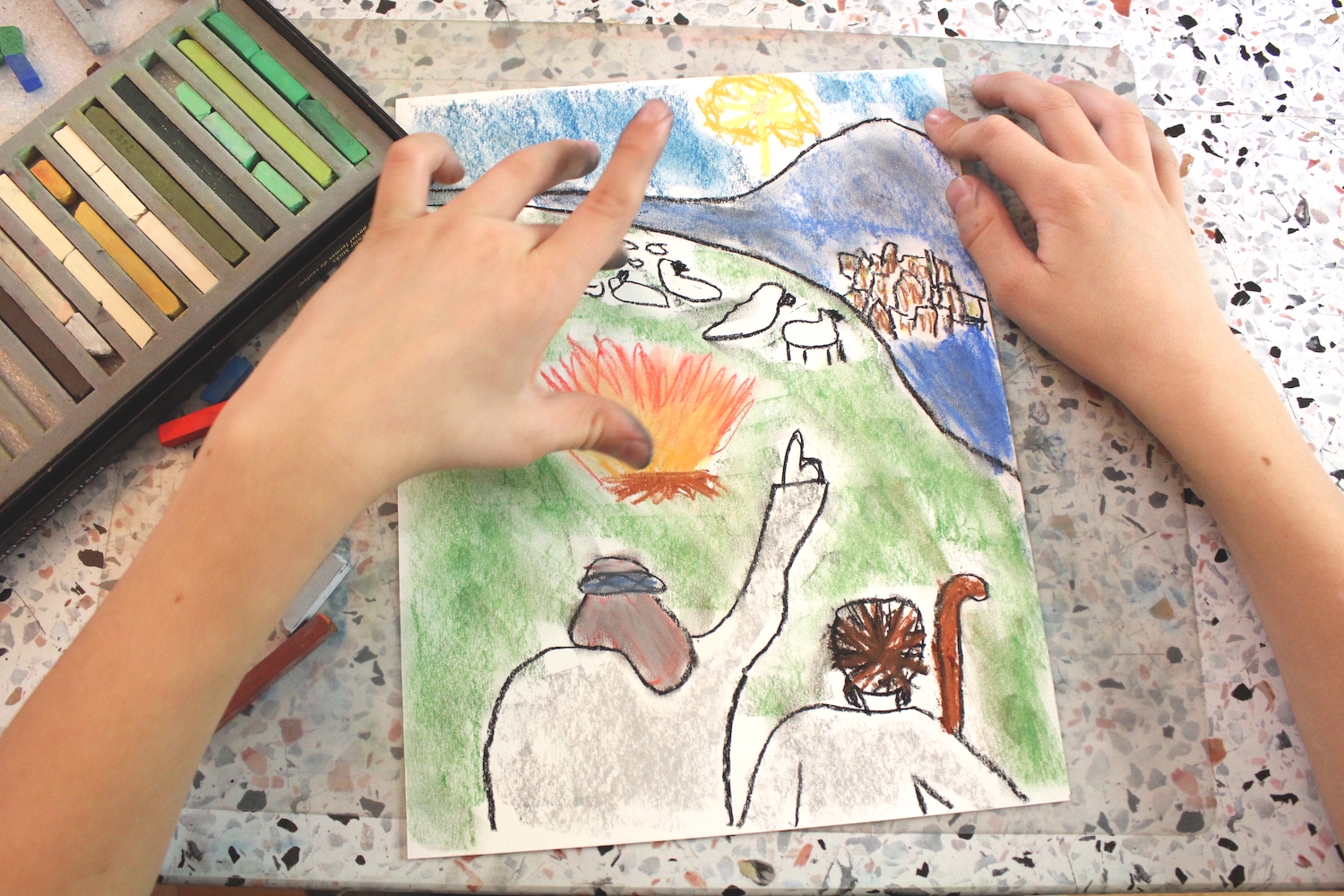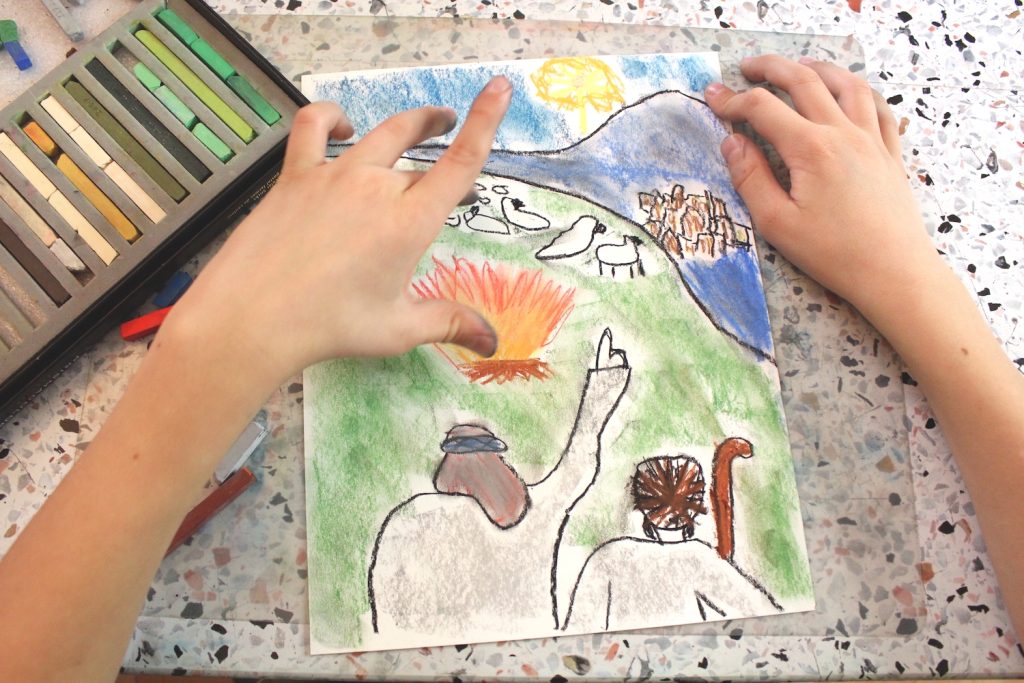 Need a warm up? Grab a blanket and listen to some Christmas carols. Then pick one of the Christmas carol chalk pastel lessons from the Hymns course to paint. While Shepherds Watched Their Flock by Night or We Three Kings are good choices. For older students, try I Heard the Bells on Christmas Day, which has delightful details.
The Christmas Angel or Gingerbread Man and Holly would also be great choices to go along with this book (and the original If You Give a Mouse a Cookie book!).
Don't forget to enjoy all that popcorn you popped! Just try not to get too distracted, like Mouse!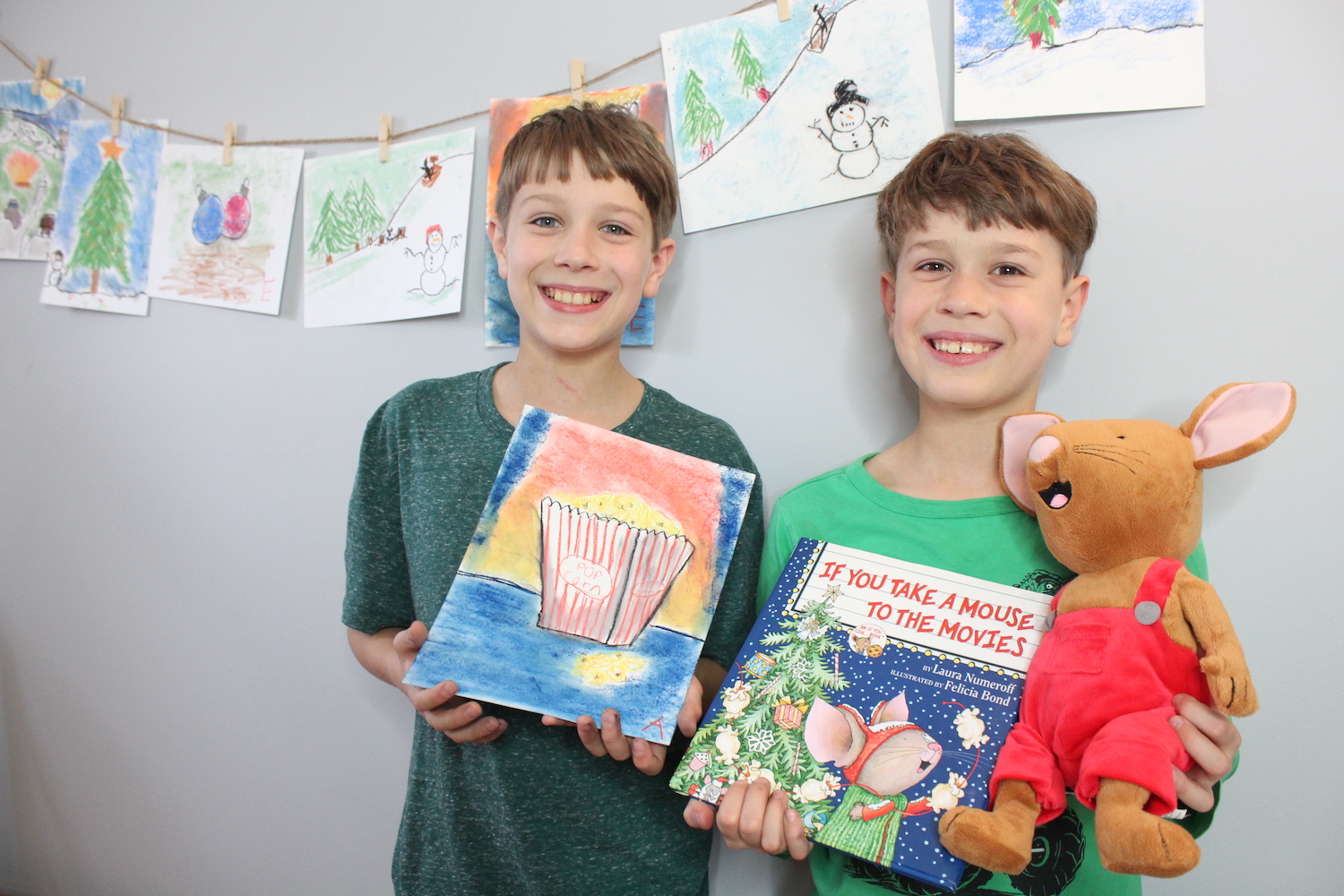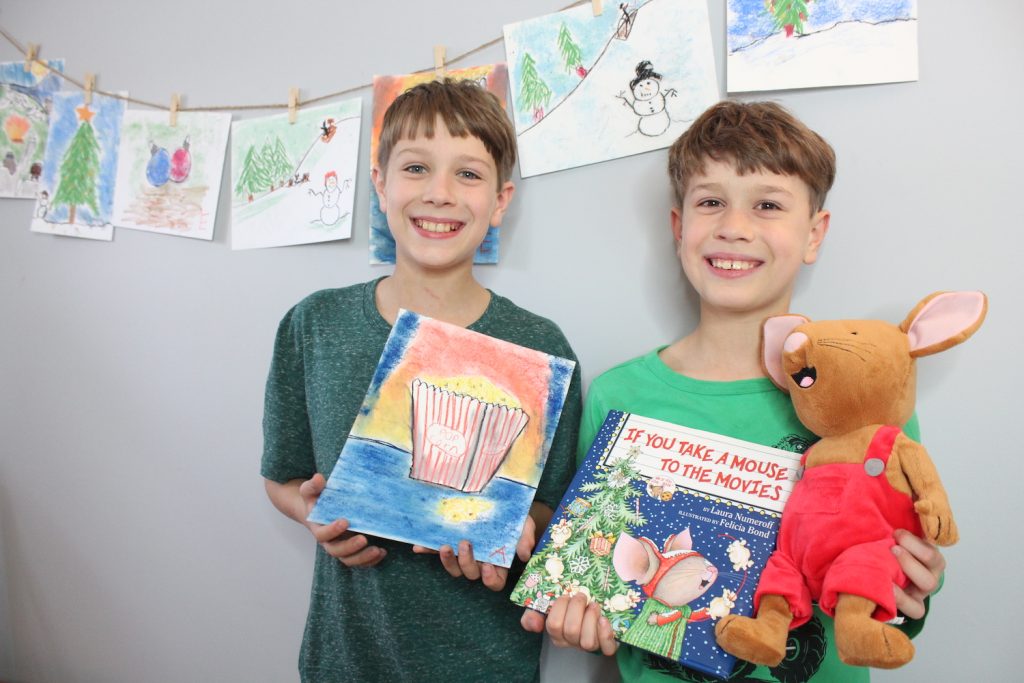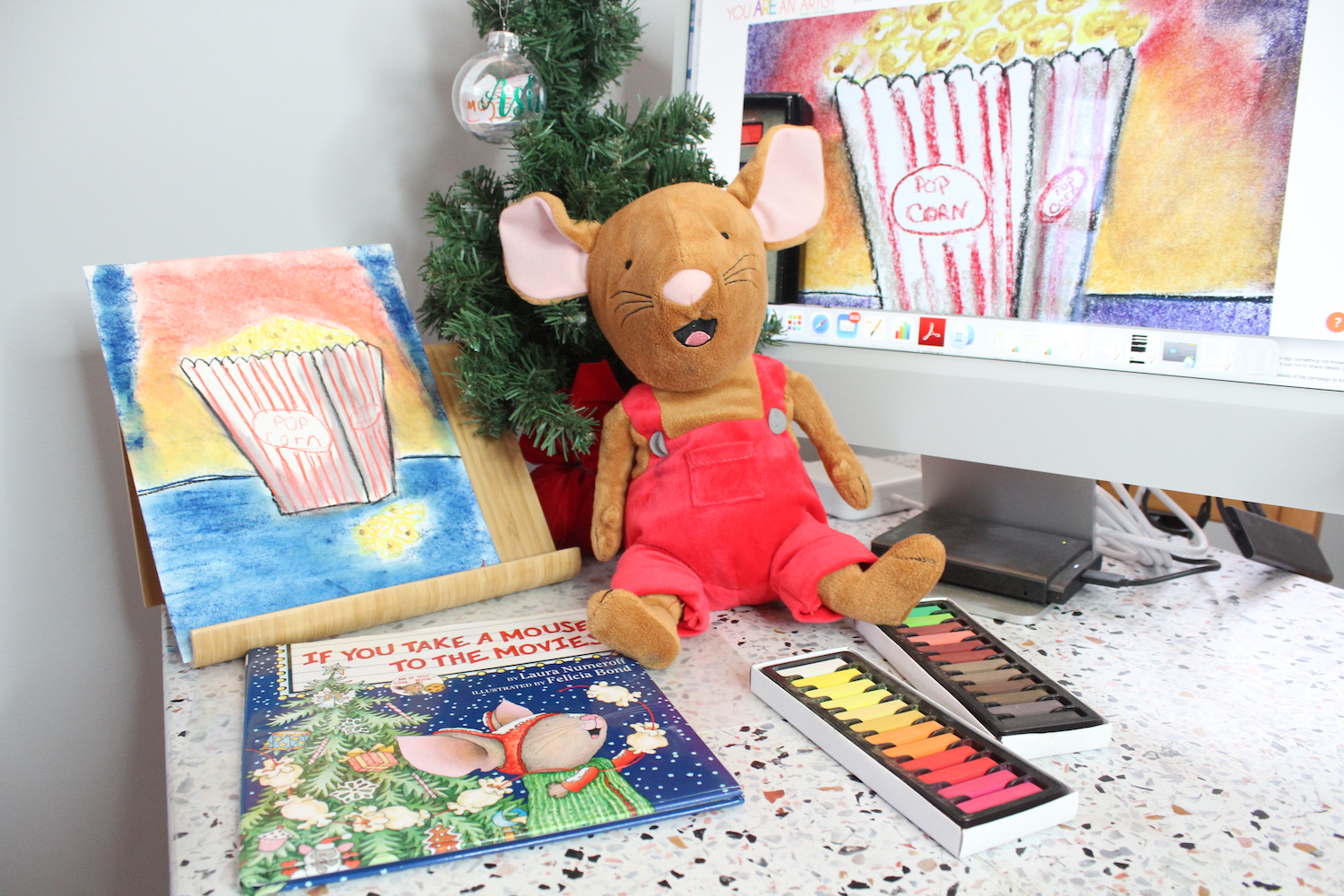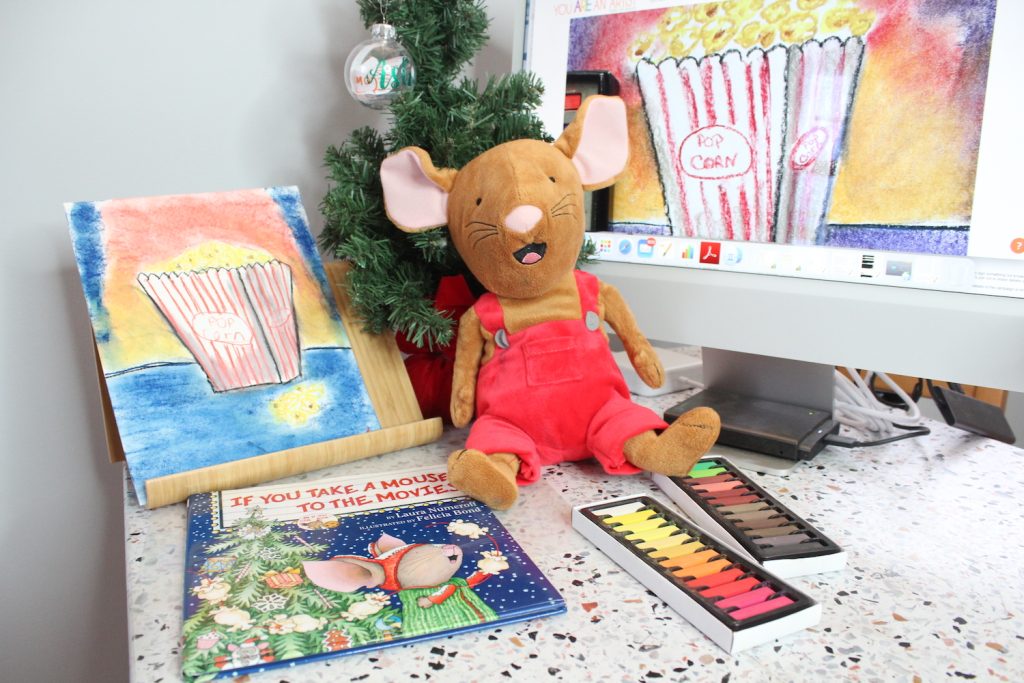 More Picture Book Hands-On Homeschool Activities
I can't ever get enough of pairing books with our other lessons. If you're like me, you'll want to follow this Mouse mini-lesson up with some of these hands-on homeschool activities:
Little House on the Prairie Christmas – Several of the Little House books include Christmas scenes give a delightful peek into the world of pioneers and homesteaders from decades ago. Choose one of the books, or simply read a few of the Christmas chapters before painting this chalk pastel lesson.
Stopping By Woods on a Snowy Evening – While this is actually a poem, not a story, several picture book versions have been made that help kids enjoy the visuals behind Robert Frost's quintessential winter poem.
Favorite Movies Homeschool Art Lessons – There are so many Chalk Pastels at the Movies options including this one with How to Train Your Dragon.
The Chronicles of Narnia – The first book people usually read from this series is The Lion, The Witch, and The Wardrobe, which is set during an eternal winter. Kids will enjoy painting the Lamp Post lesson from Nana to ago along with this classic novel.
Heidi – Set in the Alps, Heidi feels like a cozy winter or Christmas read, don't you agree? Paint those majestically rising mountains as you tend the goats with little Heidi in the pages of her story.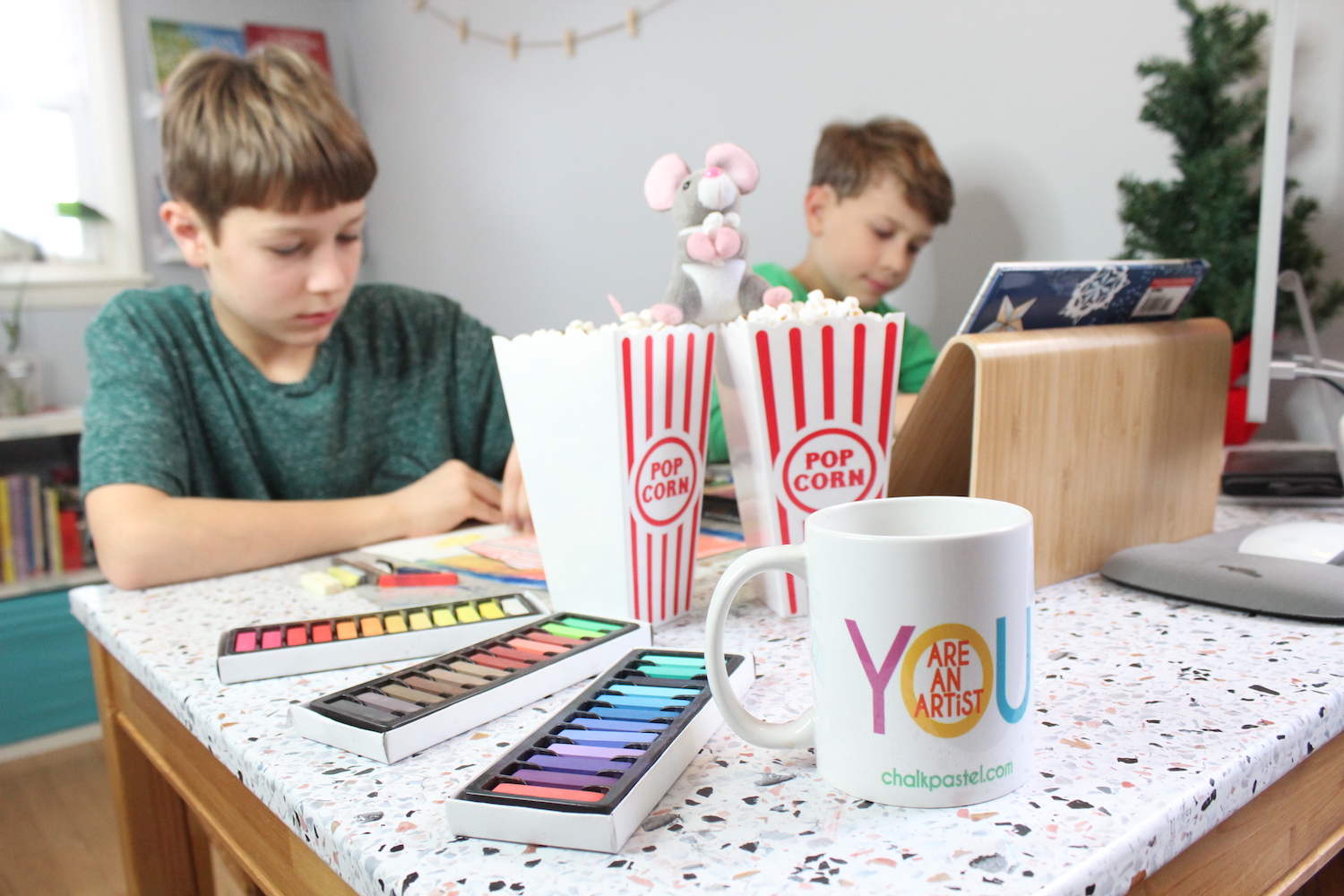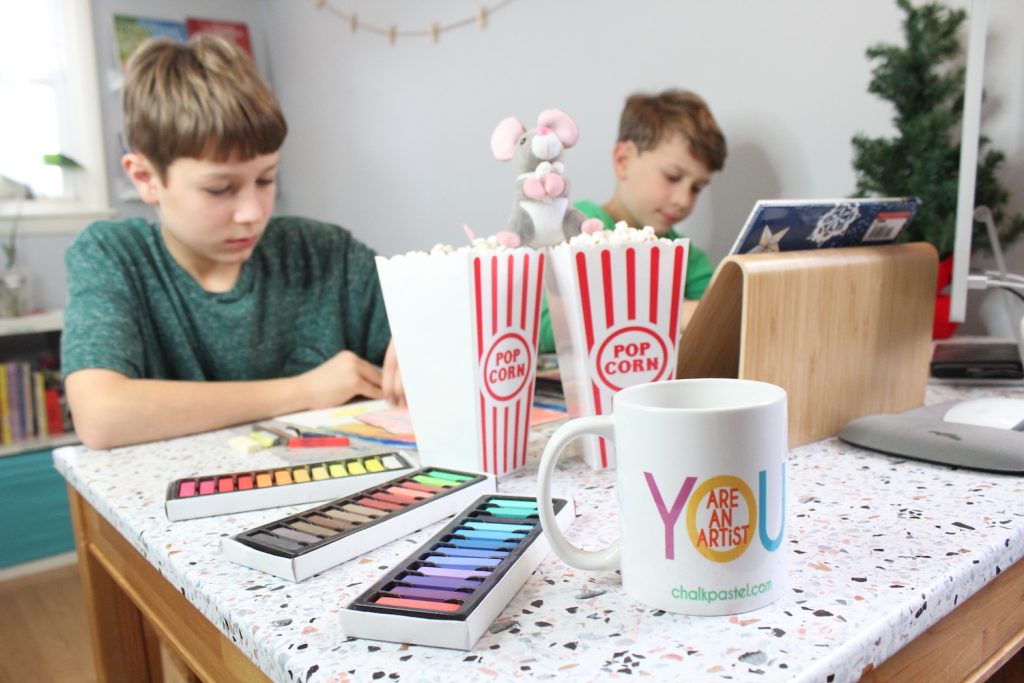 Nana has created a whole course to celebrate art and literature with hands-on homeschool activities! If you're a Clubhouse Member at You ARE an ARTiST, check out the I Drew It Then I Knew It Literature series includes nearly twenty literature-themed art lessons. Plus, you can download the companion workbook which includes a planner, writing or discussion prompts, and fast facts for each book or poem! What a gem to add to your literature lesson planning!
If you have a favorite literature book, maybe you could share it with Nana. You never know when you'll see your favorite title pop up as a new chalk pastel lesson!
So… if I give my kids some chalk, they'll draw some pictures… and if they draw some pictures…there's no telling where their imagination will lead them. Truly, one thing does lead to another when it comes to exploring with art and picture books!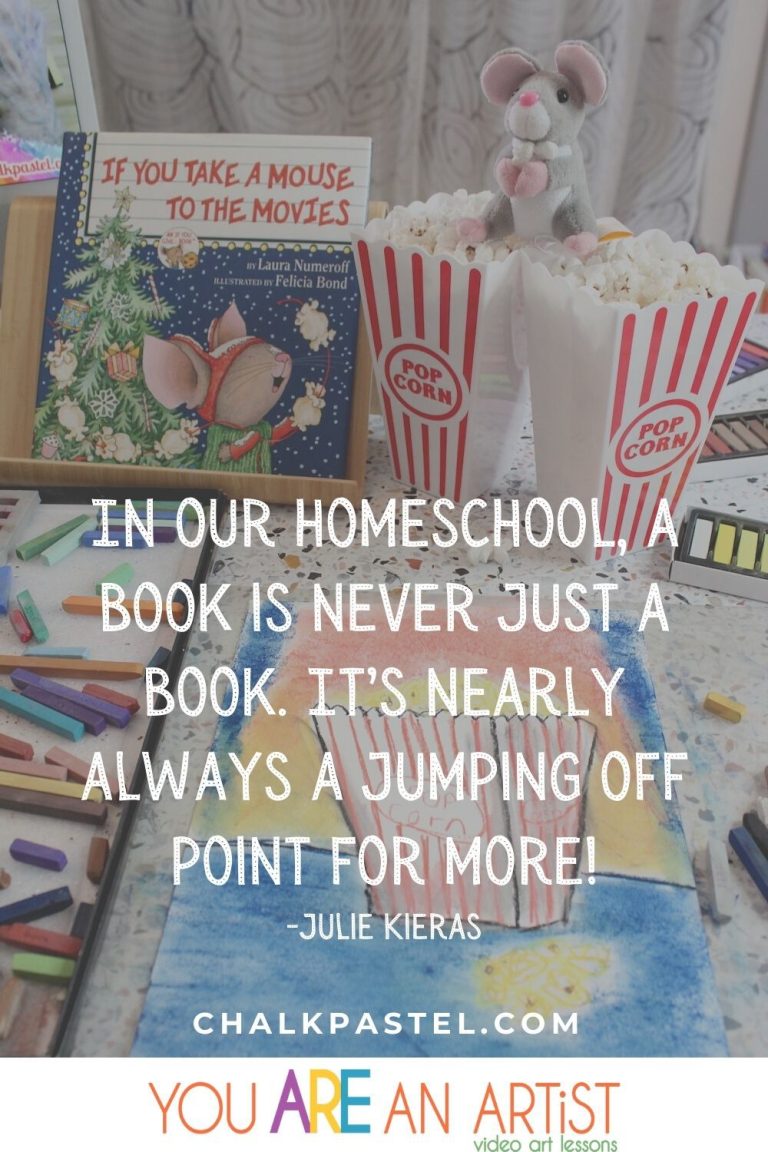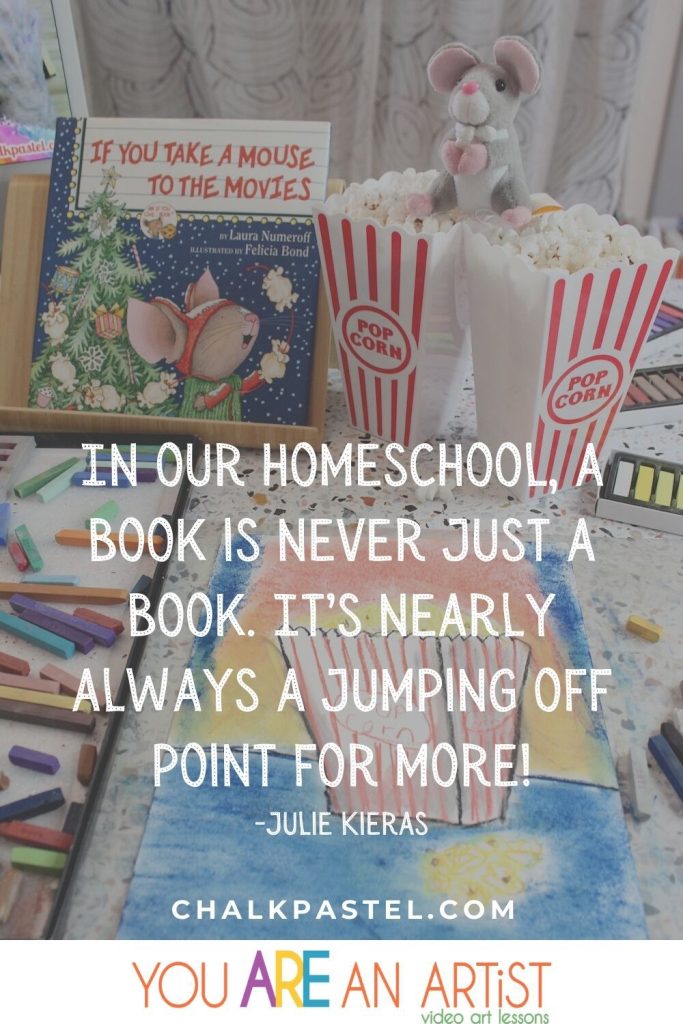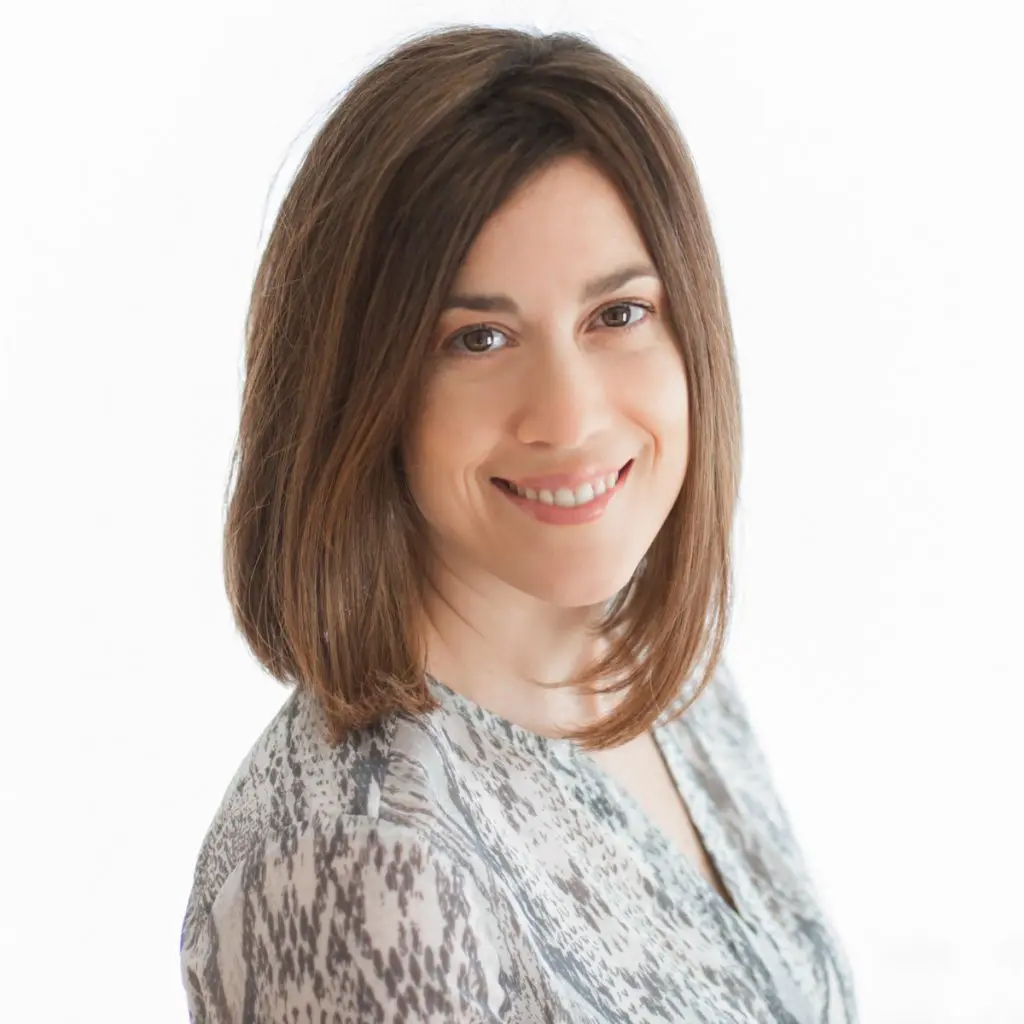 Julie is a teacher, writer and homeschool mom. Her blog Happy Strong Home shares encouragement for cherishing children, enjoying motherhood, and growing strong families. Discover homeschool resources, natural living tips, and family activity ideas. Julie has been featured on Million Praying Moms, The Old Schoolhouse Magazine, and the Melissa and Doug blog. She offers writing workshops and a "homeschool neighborhood" community to support parents in their homeschool adventures. Find Julie on Instagram to be the first to know when new workshops and community events are available.