These Unit Studies for Ancient Art and The Orchestra are a wonderful way to learn together as a family. Includes activities for all ages.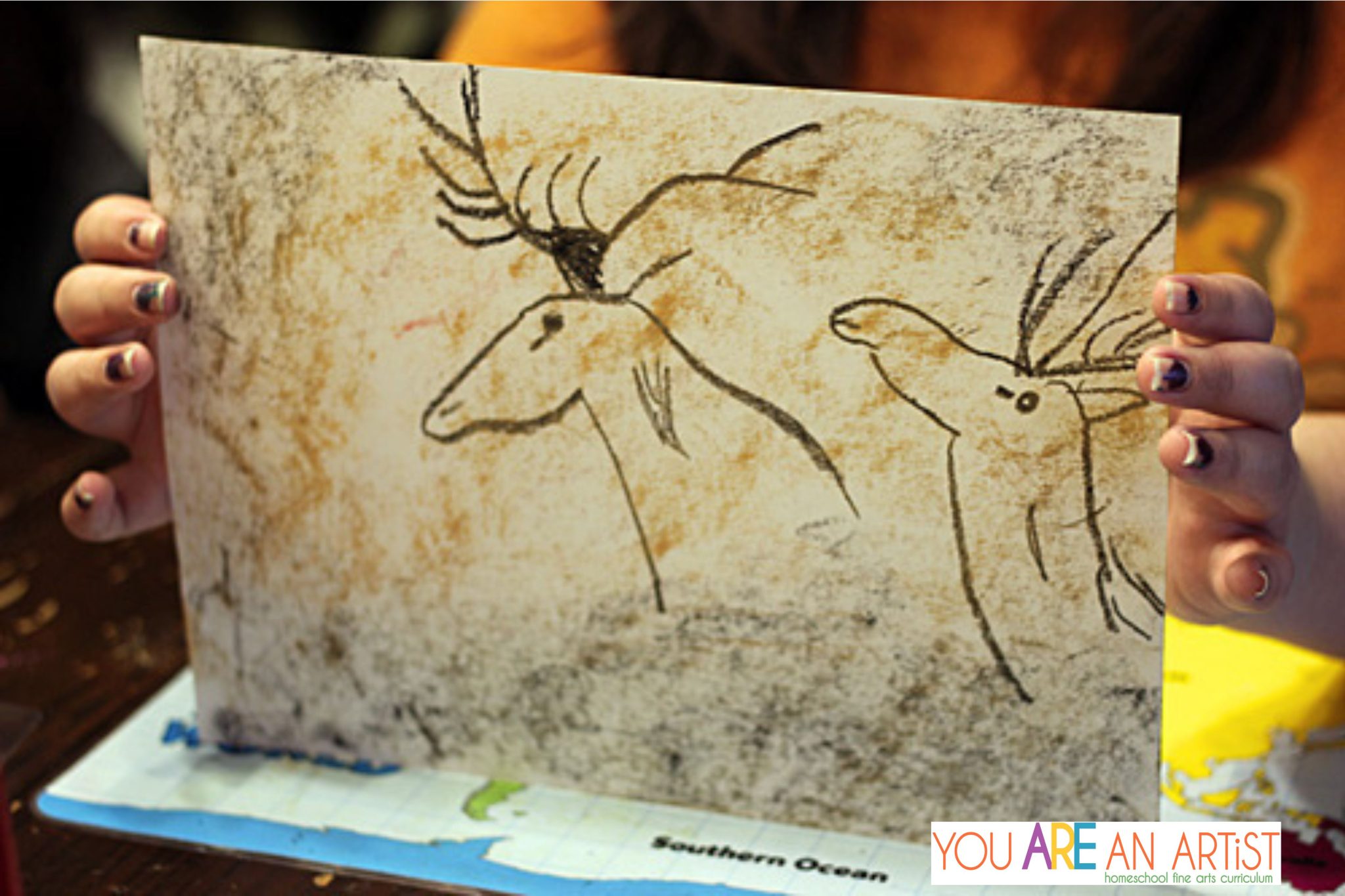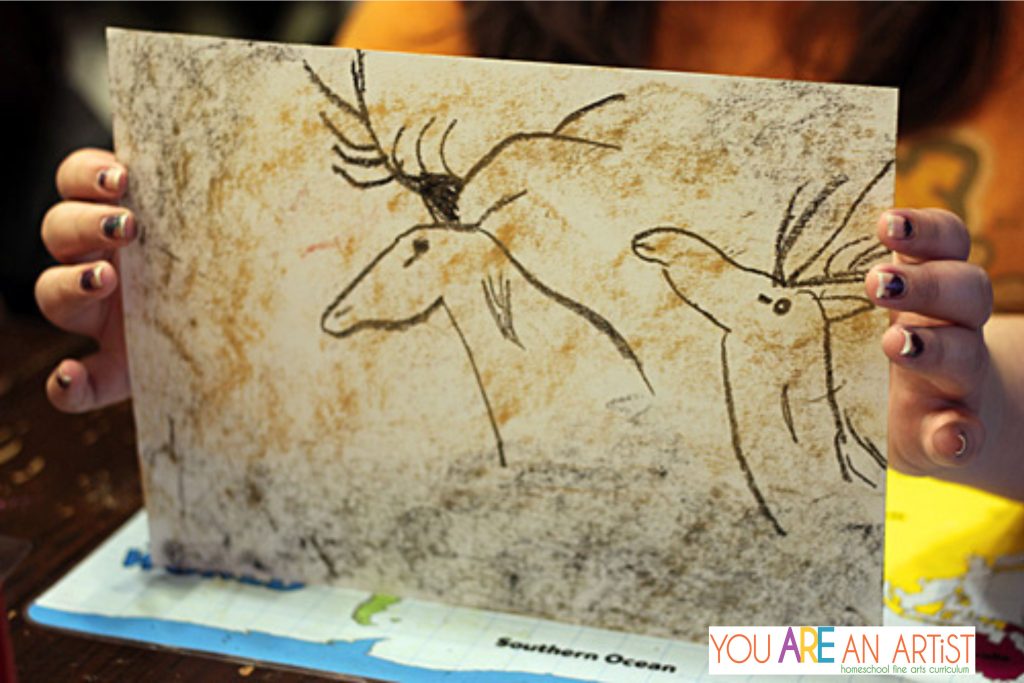 In the past I have shared my strategies for homeschooling with a newborn. One of the strategies was to use unit studies. For the next month or two, all my kids will be participating in an Ancient Art and the Orchestra unit study.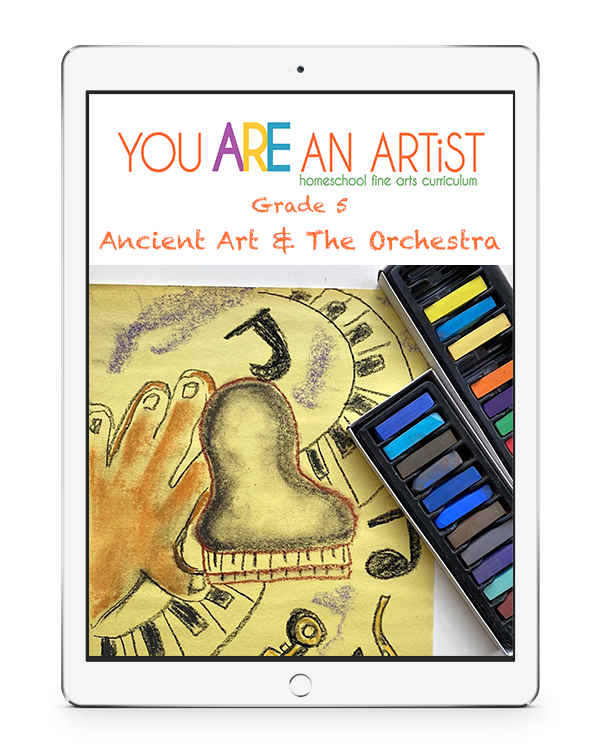 Elementary Through High School Unit Studies
In order to make planning easy for me, I am using Homeschool Fine Arts Ancient Art and the Orchestra Unit Study plans. These plans are targeted for middle school (though there are four fine arts plans for all ages. You can use a single title family-style.) I also added Homeschool Fine Arts 9th grade art appreciation plans in order to make this unit count for my high schooler. For my kindergartner on down, each participates on his or her own level. They usually listen to the music we are studying and also create art projects with us.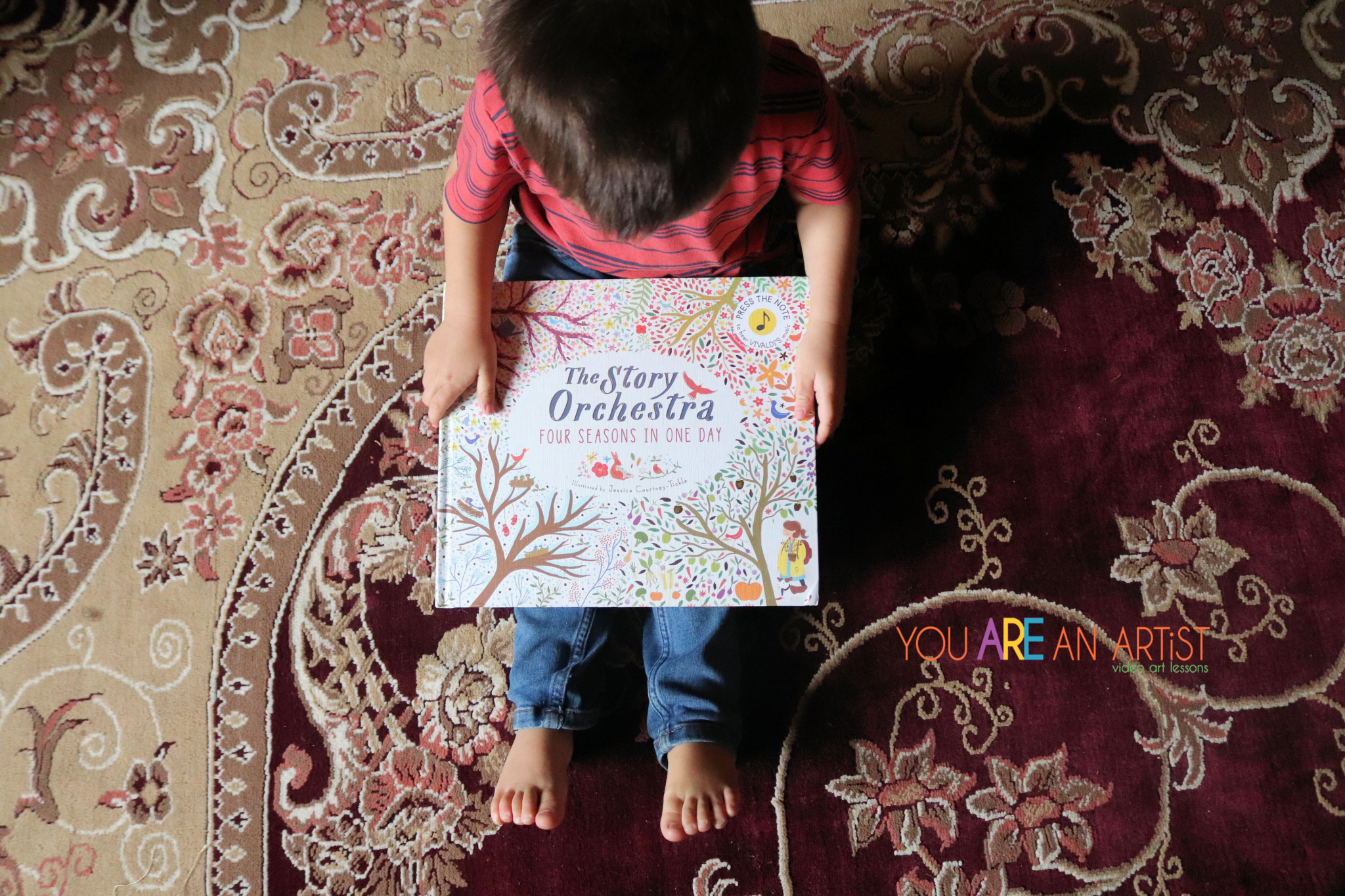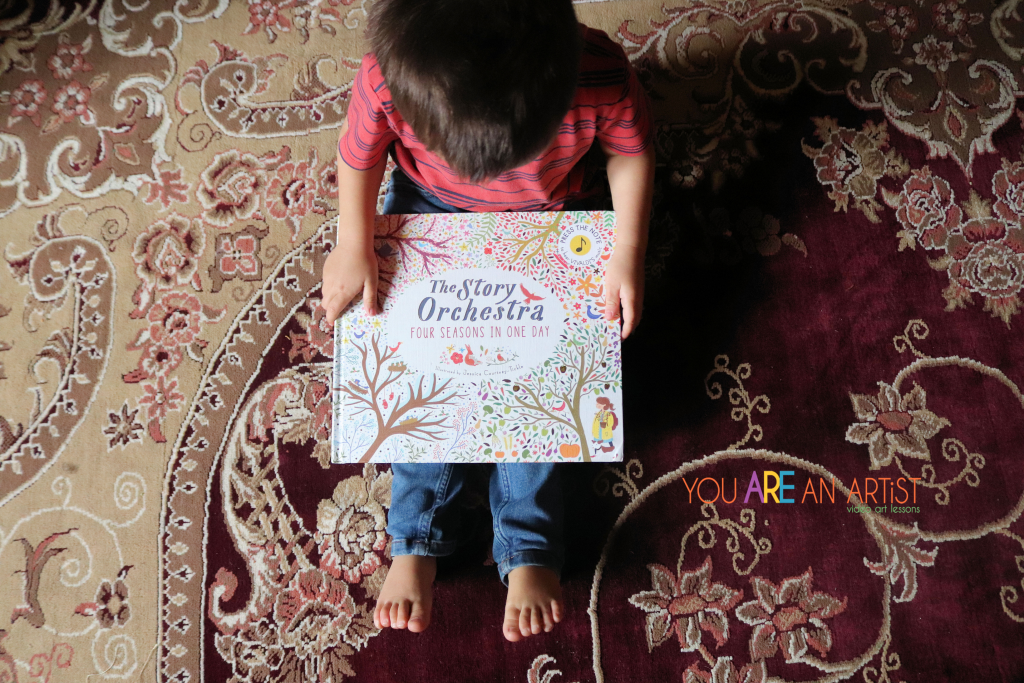 The music portion of the unit uses The Story of the Orchestra as the main book plus a list of other supplemental books dealing with specific instruments in the orchestra. The art portion uses Prehistoric Art by Susie Hodge and Ancient Greek Art by Susie Hodge plus a couple DK Eyewitness books. There is also an option of including Artistic Pursuits Grade 4-6 curriculum in this unit study. This unit is designed to be a year-long unit, but we will be completing it in a couple of months since it will be one of our main subjects every day during our "getting used to a newborn" phase of schooling.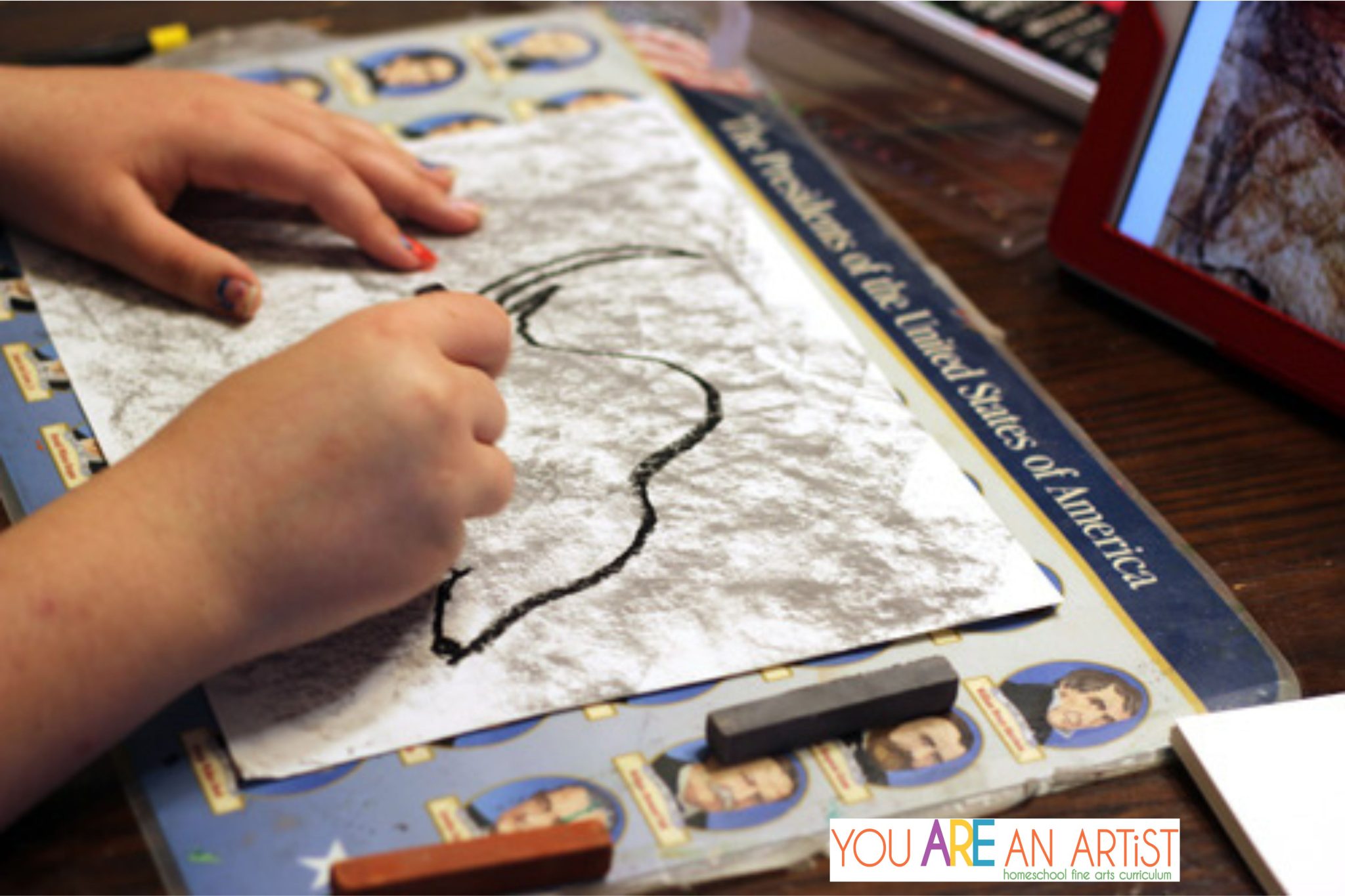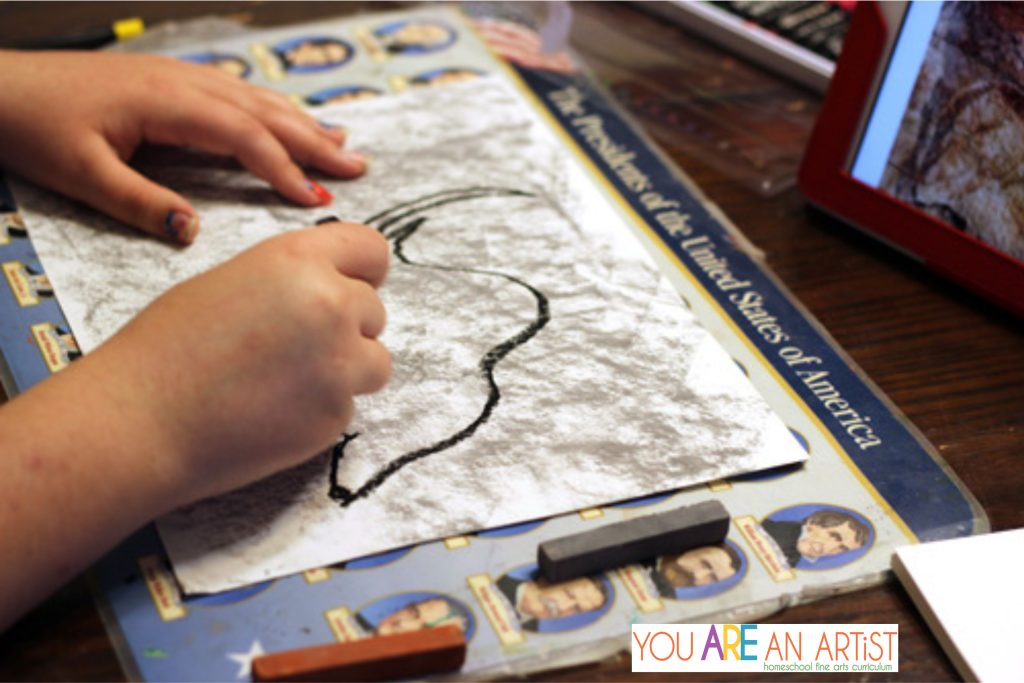 Ancient Art For Your Homeschool Unit Study
Each week we study a featured work in art. We read about it, look at various examples on the internet and then try to complete a project or sketch of the type of work. Then the older children also complete a notebooking page about the piece and include it in their unit notebook.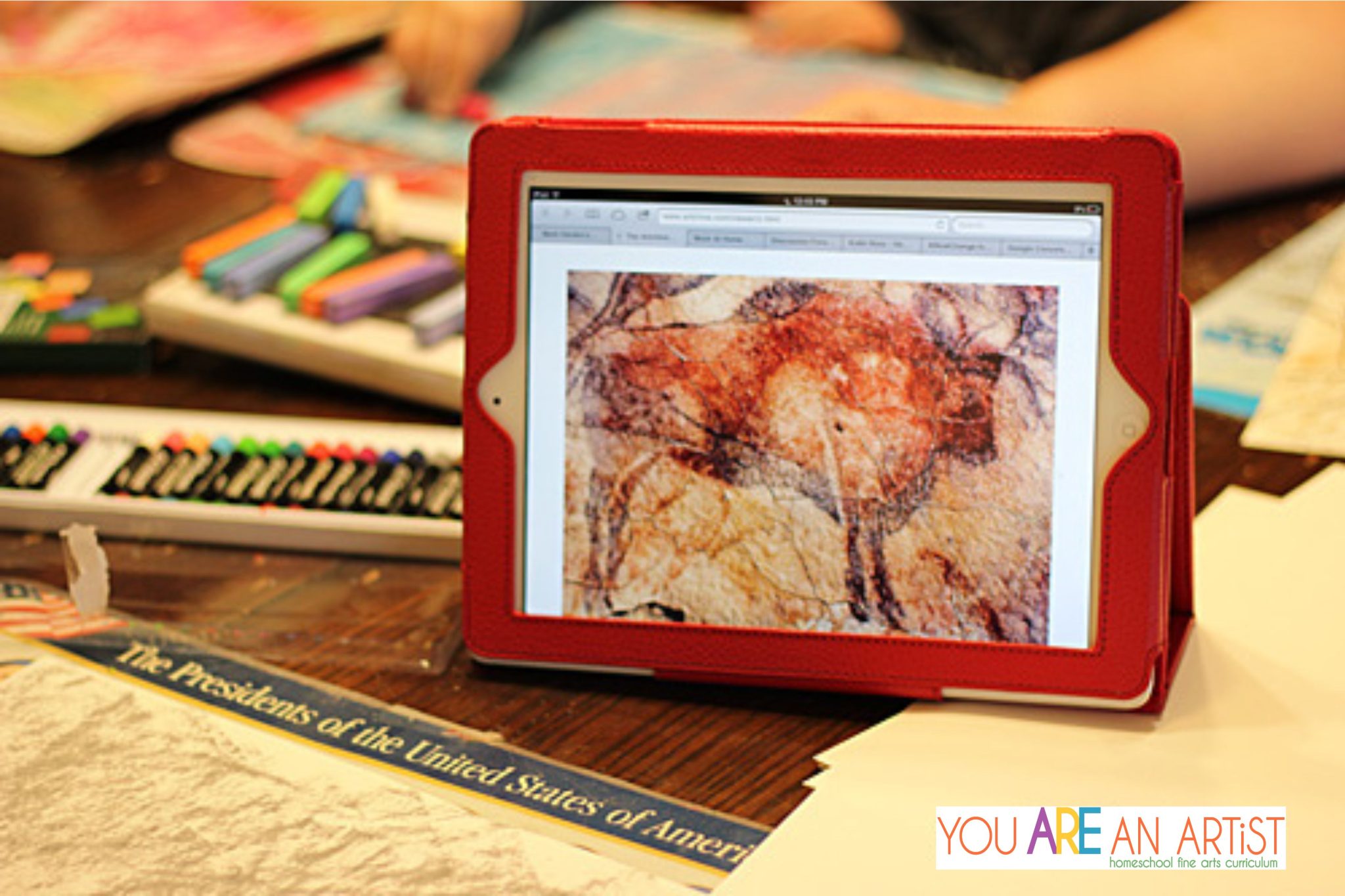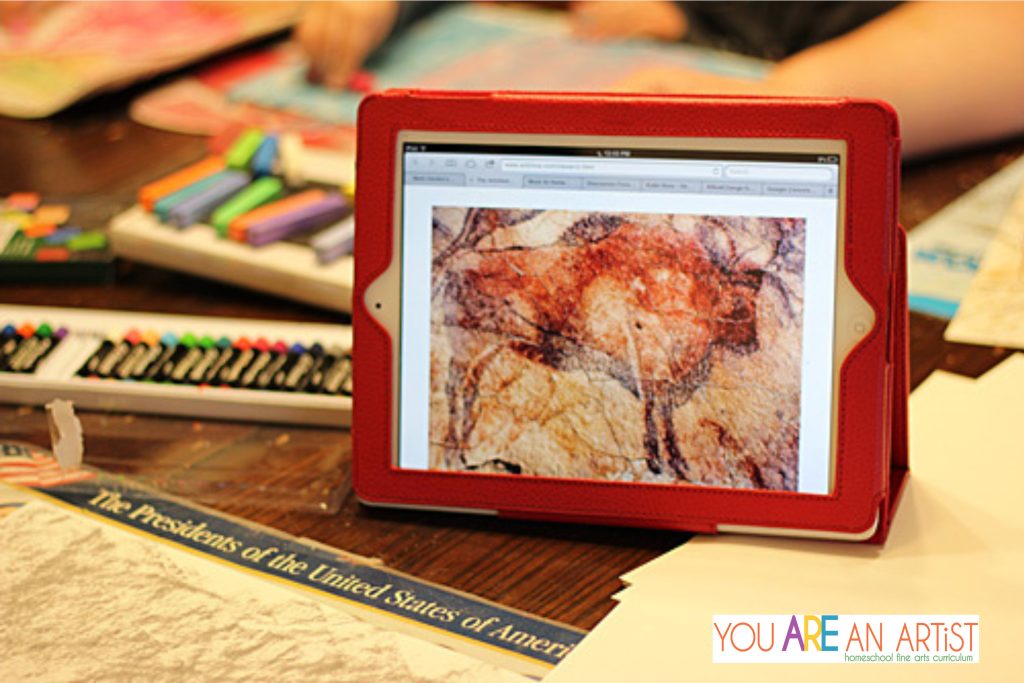 The art topics covered in this unit are:
Prehistoric Art
Ancient Egyptian Art
Ancient Greek Art
Ancient Roman Art
North American Art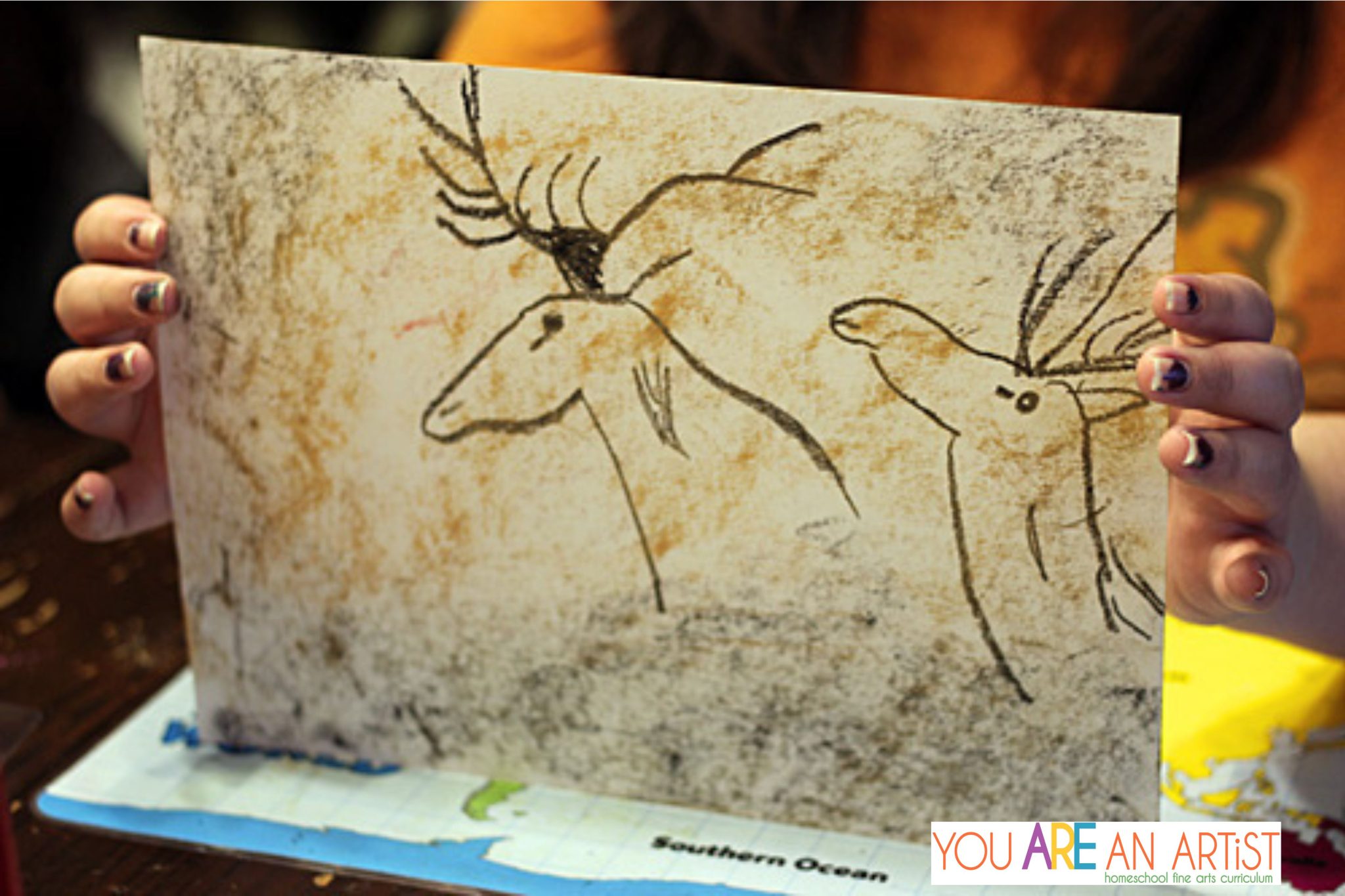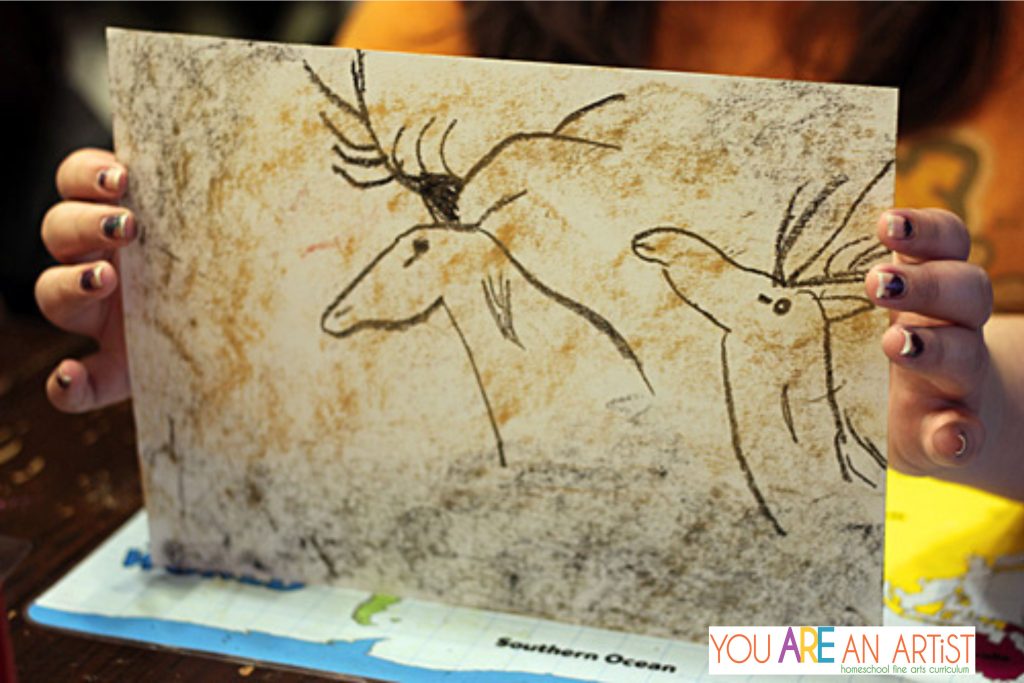 Here is our prehistoric art project. We studied cave paintings and then each child drew their own version of a cave painting. We improvised a little because it was suggested to draw them on a crinkled up brown paper bag. I didn't have any on hand so we just used art paper. These projects will be included in their notebooks.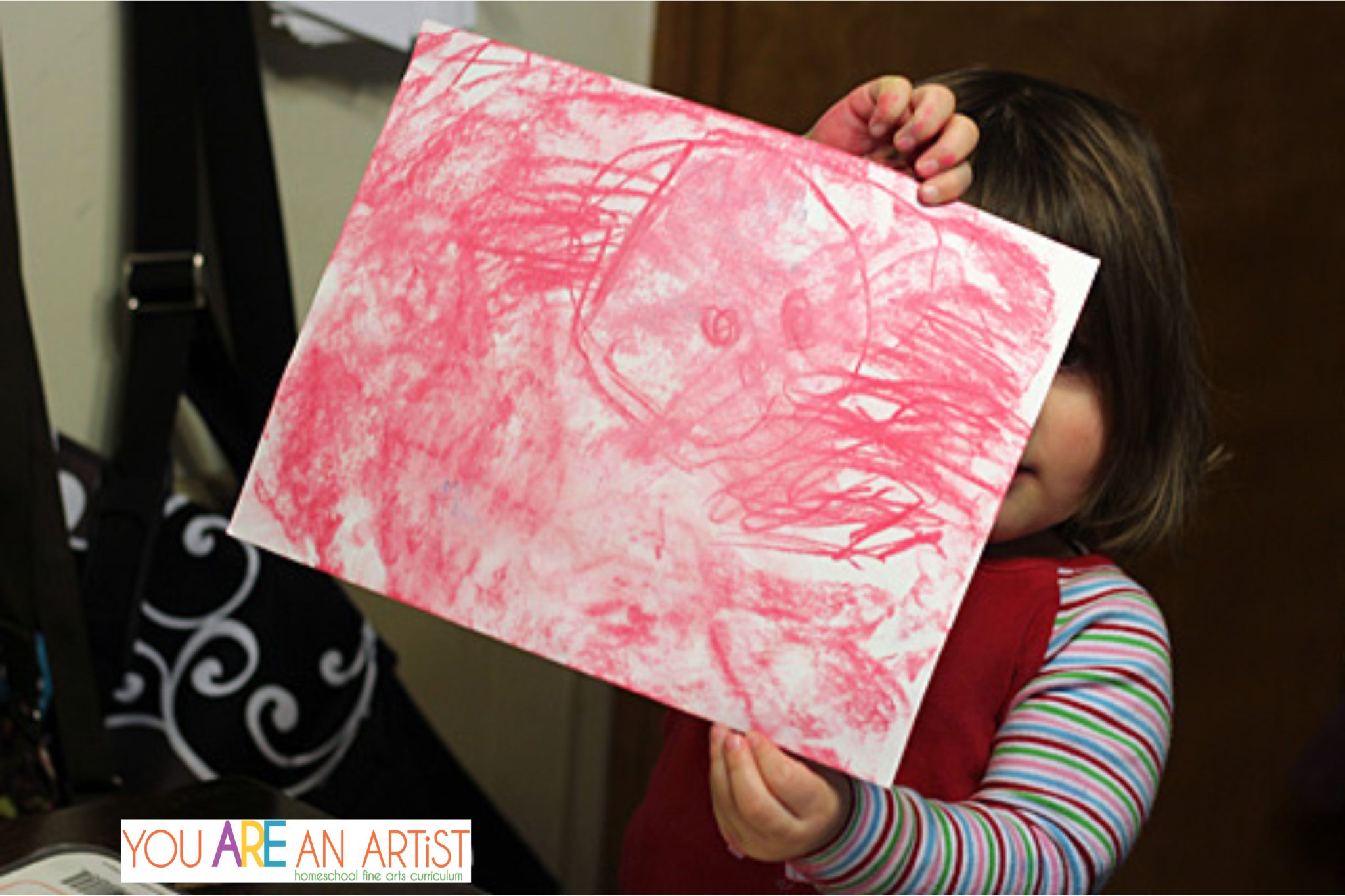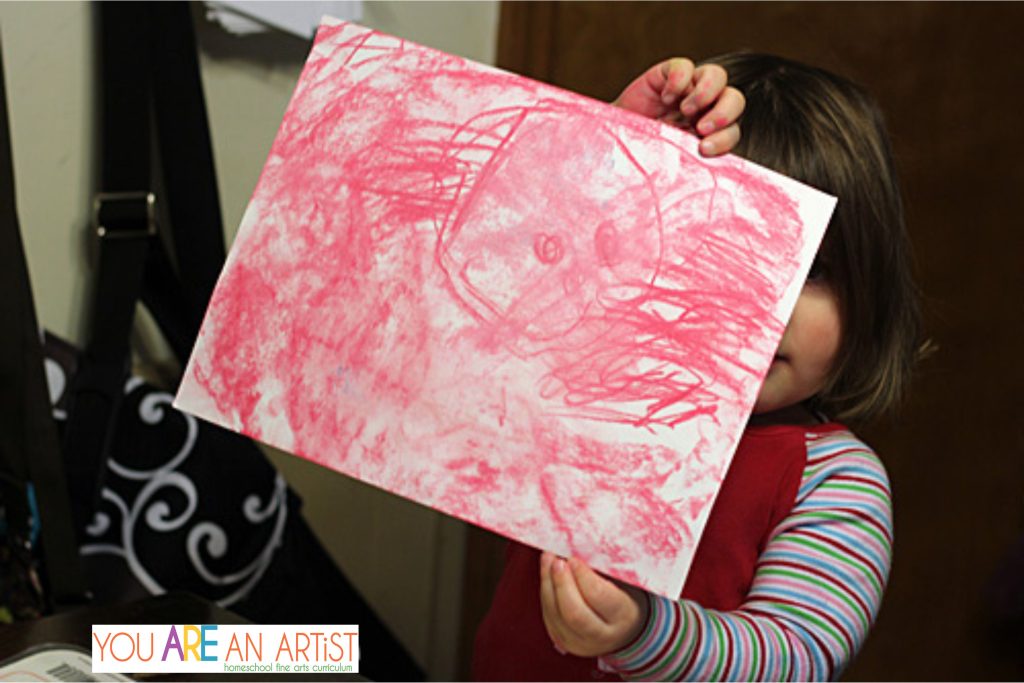 This is a two-year-old version of a cave painting. If you can't tell – it is a spider.
Yes, this is how we incorporate the little ones. They might not understand the assignment, but they love to experiment with art supplies along with us! I love how all ages were working at the table on this project together.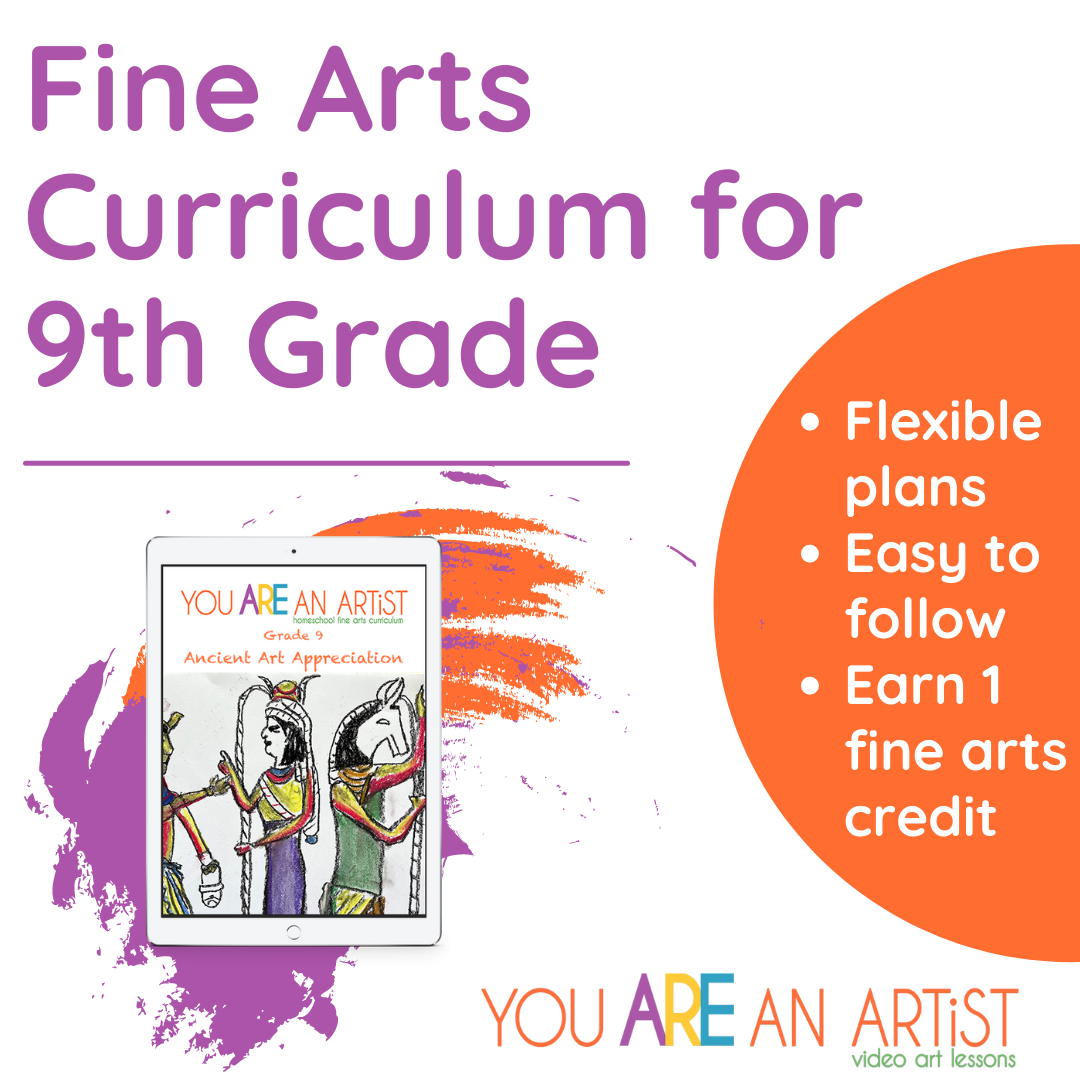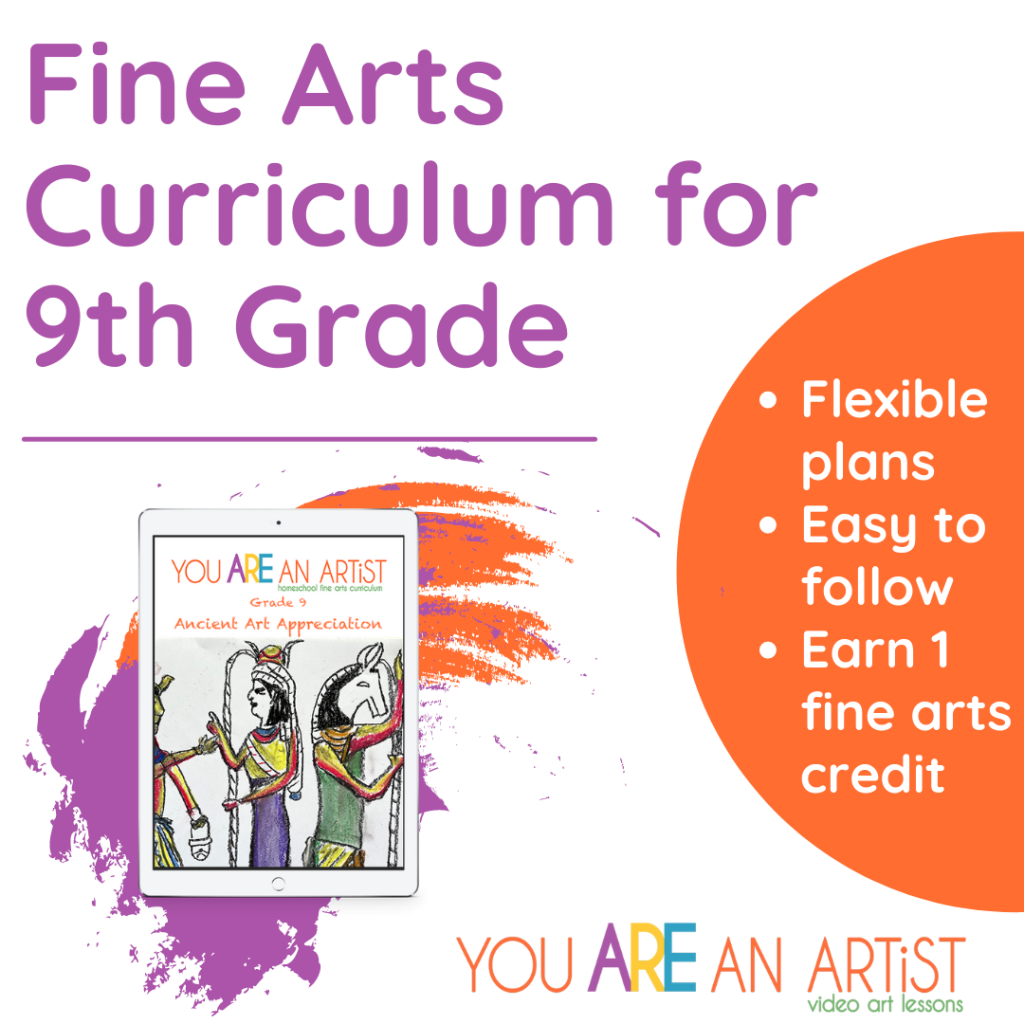 Since my 9th grader is also doing this unit study with us, I added the 9th grade art appreciation plans so that we can count this course as a fine arts credit for her. My 9th grader will be using Sister Wendy's The Story of Painting book, Sister Wendy: The Complete Collection DVD's, and The Annotated Mona Lisa as spines for her art study.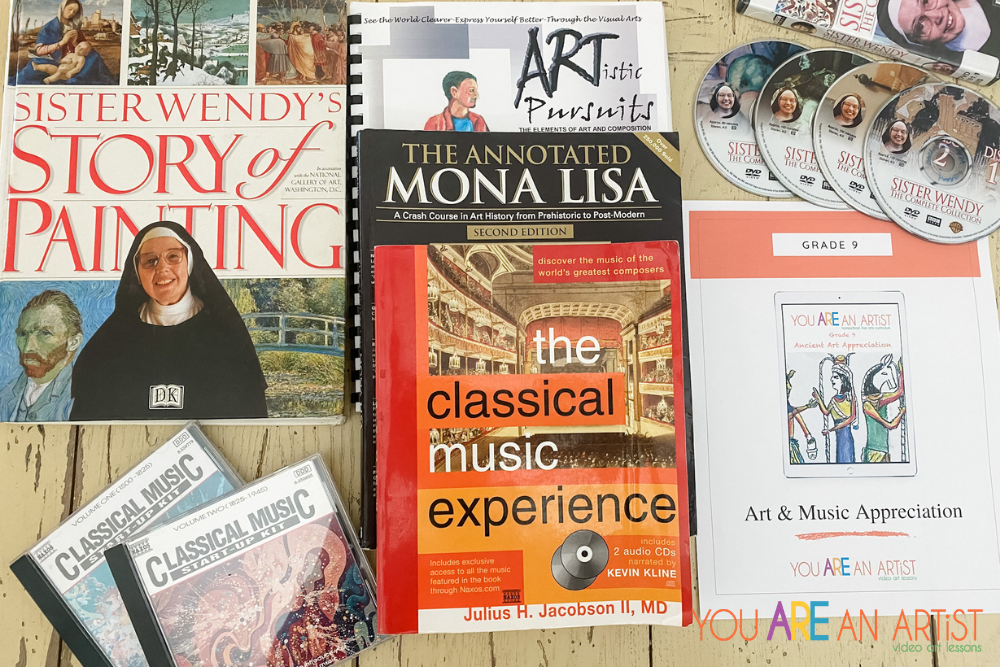 She will study:
Prehistory-3rd Century
Prehistoric
Egyptian
Greek
Roman
Pre-Columbian
African
Byzantine
Romanesque
Gothic
The Orchestra Music Study For Kids
It's a little harder to photograph what we are doing for the music study portion. We are listening to a lot of classical music! The Story of the Orchestra comes with a CD that we have been using along with music online. Each of my kids have a music section in their notebook where they write about what we are studying. The notebooking pages are included in the Homeschool Fine Arts lessons. You can also download a composer notebook page in You ARE an ARTiST membership.
Here's what the music portion covers:
Instruments
Stringed Instruments
Keyboard Instruments
Woodwind Instruments
Brass Instruments
Percussion Instruments
Composer List
Antonio Vivaldi
Johann Sebastian Bach
George F. Handel (Hen-del)
Joseph Haydn (Hide-in)
Peter Tchaikovsky (chi-Cough-ski)
Richard Wagner (Vahg-ner)
Johannes Brahms
Nikolai Rimsky-Korsakov
Modest Mussorgsky
Claude Debussy (de-bu-See)
Claude Ravel
Antonin Dvorak (D-Vor-zhack)
Igor Stravinsky
George Gershwin
Aaron Copland
Sergei Prokofiev
Homeschool Fine Arts Plans Make It Easy on the Homeschool Mom
I am so thankful that these homeschool fine arts plans have done all the planning for me! These lesson plans are complete and easy to implement. This unit requires minimal planning and preparation on my part– which is just what I need at this point in my life. You can view a sample of the 11th grade lesson plans here. If you need to add a fine arts component to your homeschool, be sure to check out all that the Homeschool Fine Arts series has to offer!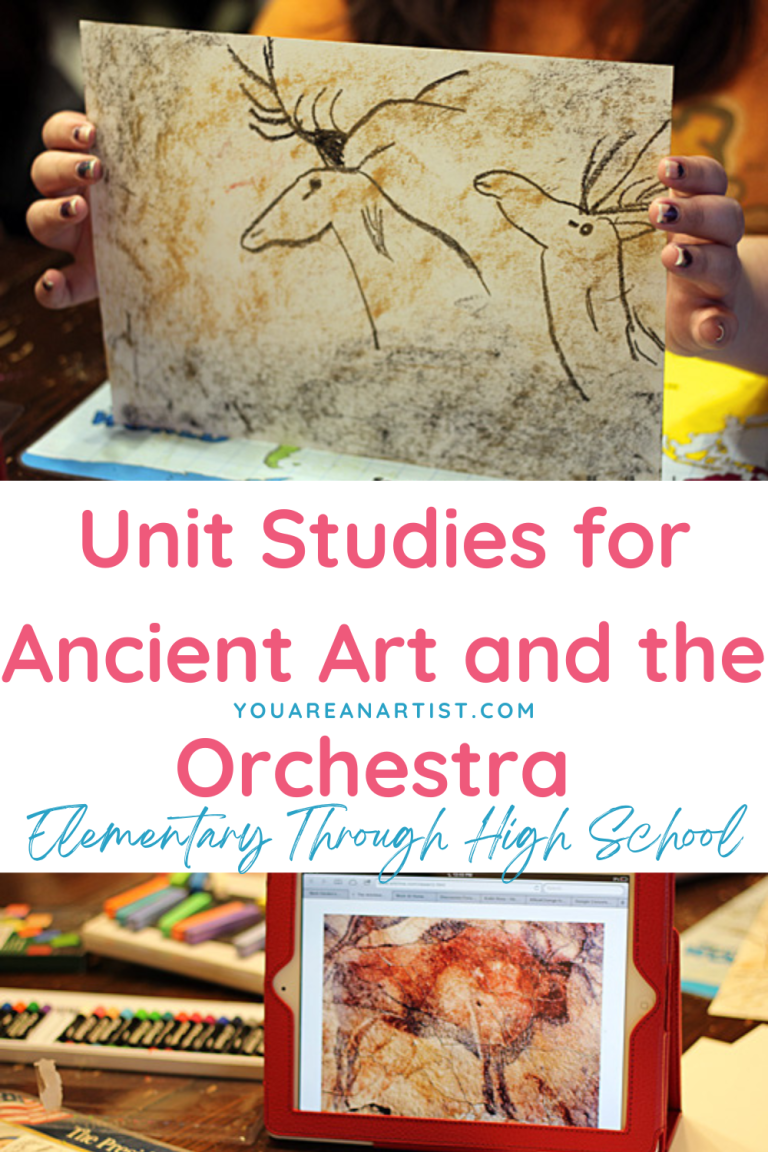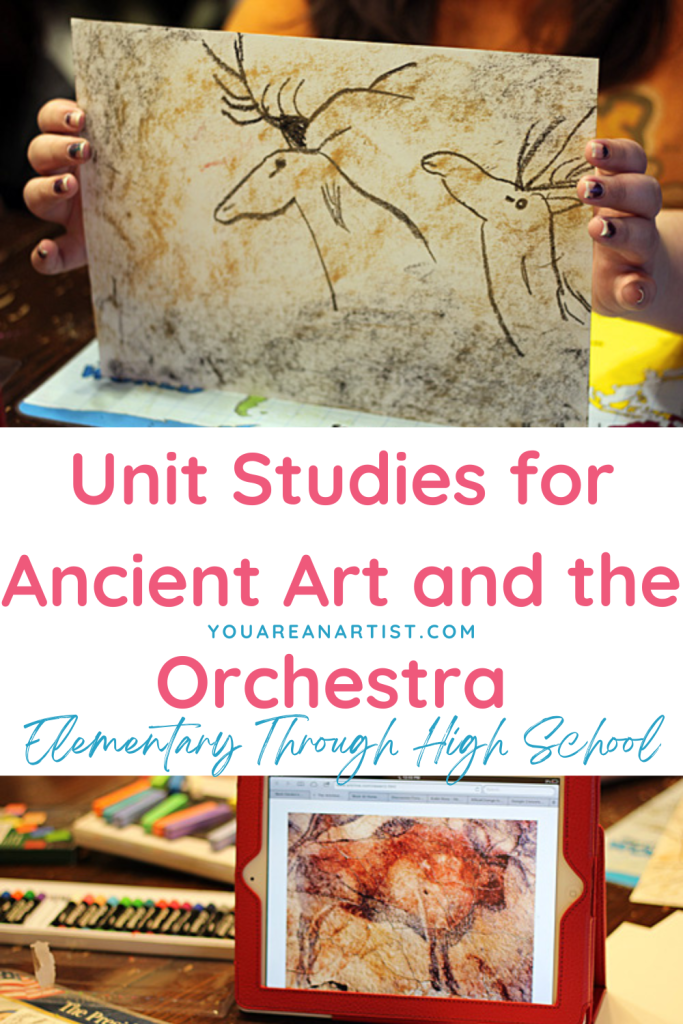 More Homeschool Fine Arts
Did you know? You ARE an ARTiST Clubhouse members enjoy 50% off all Homeschool Fine Arts titles!
Your family can participate in Fine Arts Friday with other homeschool families! Check out what others are sharing on Instagram. And here are 5 Tips to Start Fine Arts Fridays by Stef.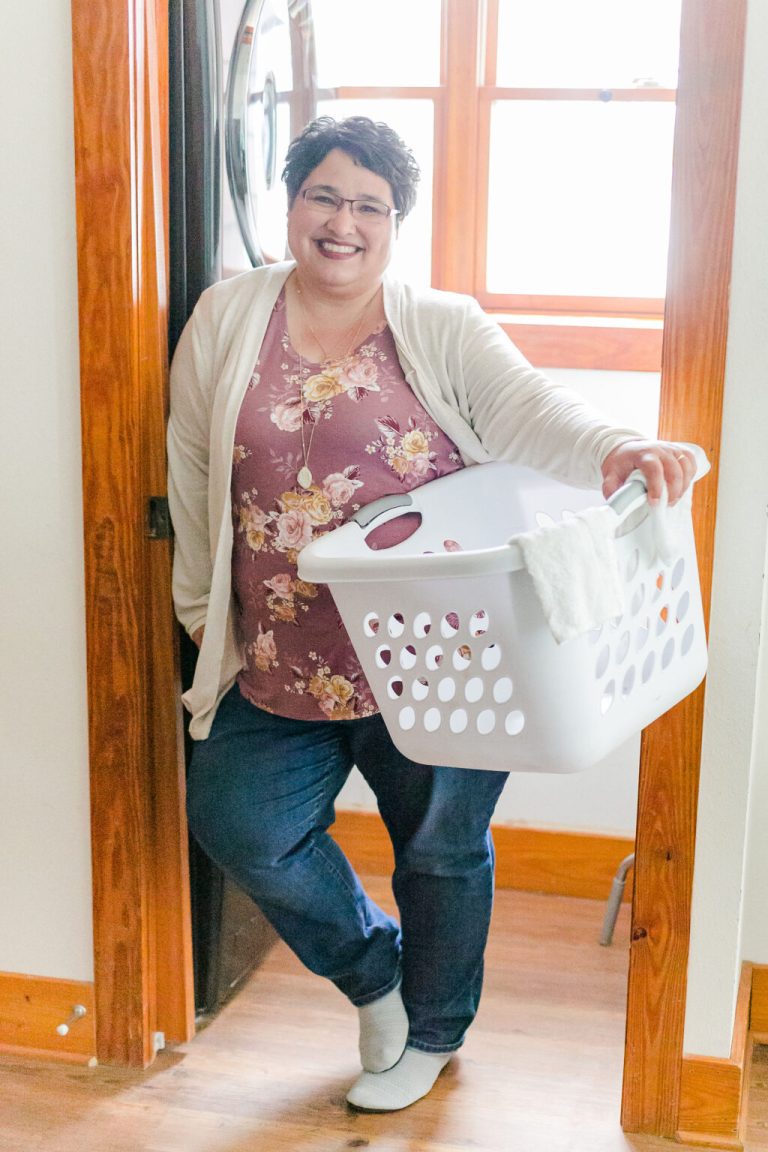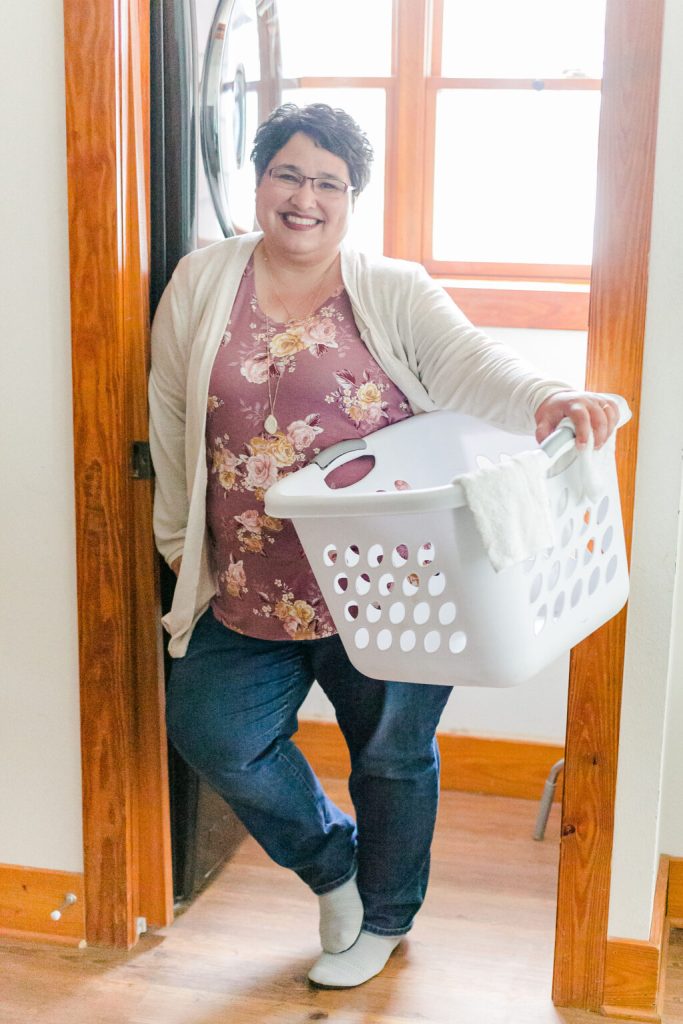 Maureen helps Christian mompreneurs operate their business from a place of joy, purpose, and excellence because they are clear on how their business is serving their family and others. As a homeschool mom, she believes success at home AND business without the mom-guilt, stress and burn-out is possible! Outside of work, she loves having good conversations over a hot chai or GT Gingerberry kombucha and spending time with her husband and seven children. Visit her at MaureenSpell.com