Enjoy this ultimate list of Christmas Homeschool Art Lessons! Christmas homeschooling allows us to focus on the real reason for the season. And you can do that in so many ways. We will give many resources to choose from and help you customize your perfect Christmas school day, week, or month.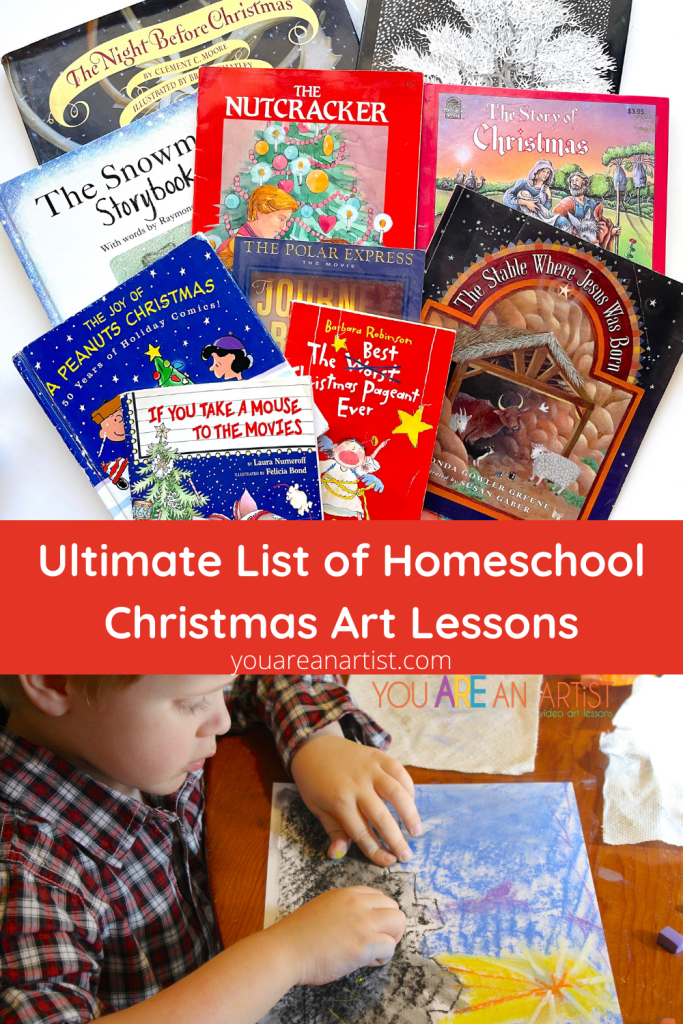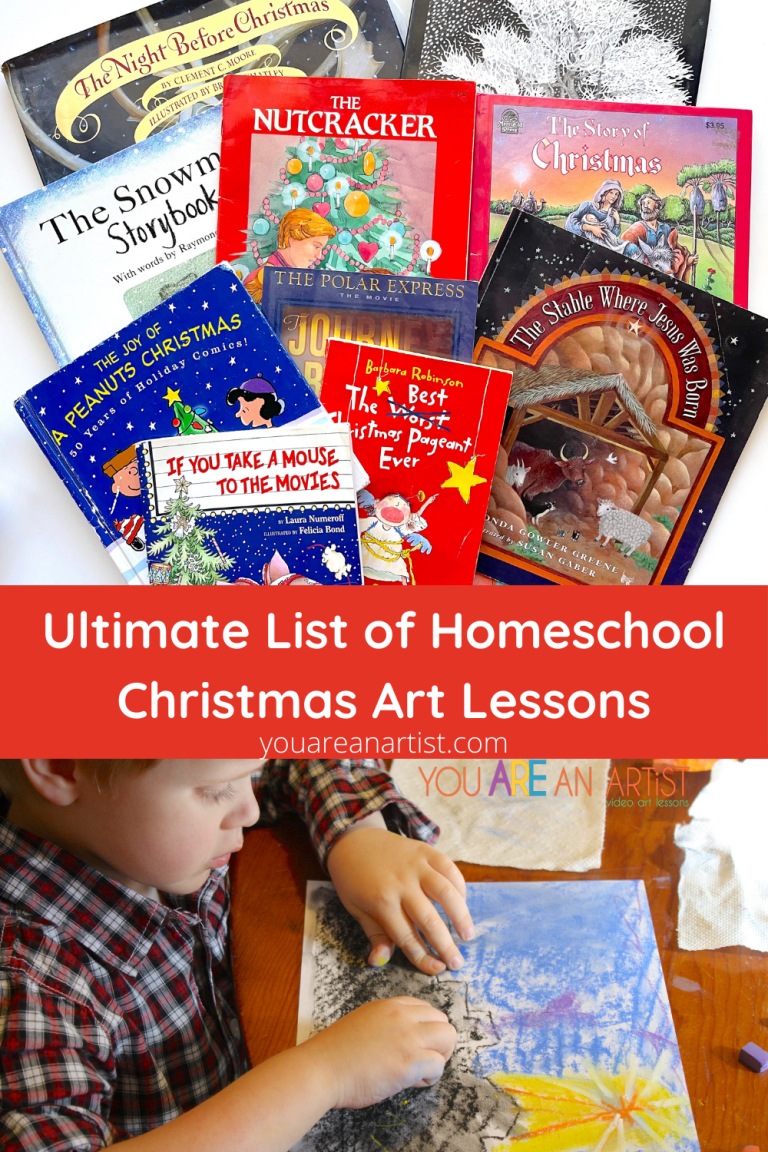 This post includes all the Christmas joy for your homeschool! From classic Christmas homeschool art lessons, Biblical lessons that lead you to the nativity, Christmas hymns and literature to Christmas books and movie favorites like The Grinch and Charlie Brown – Nana has it all!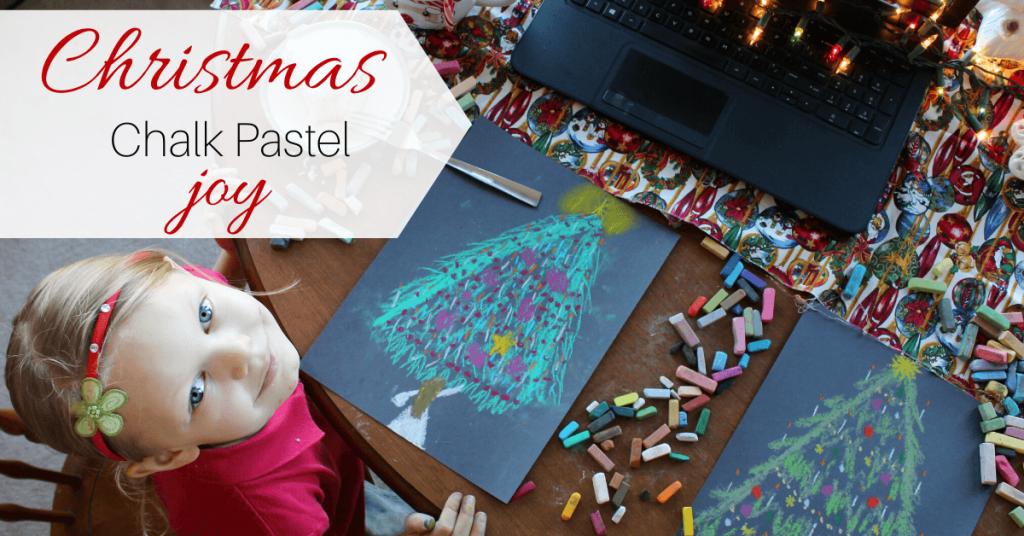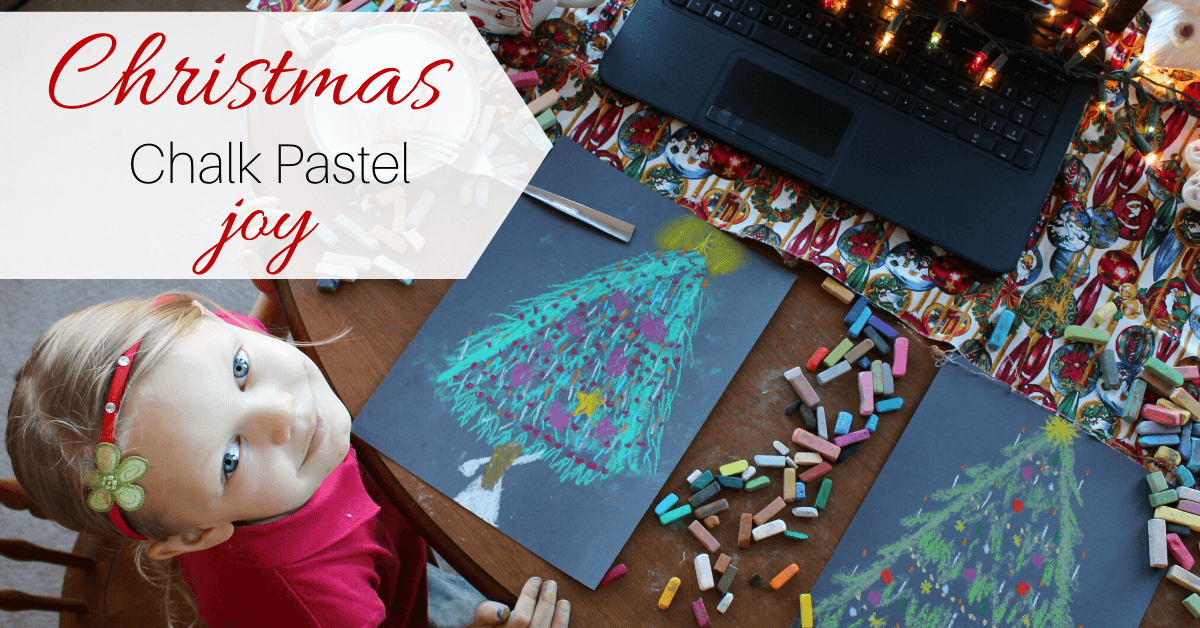 Classic Cozy Christmas Homeschool Art Lessons
Christmas Chalk Pastel Joy – Erin shares, "The beauty and magic of the holidays are upon us and your kids are going to love making Christmas chalk pastels. These fun and easy chalk pastel tutorials help bring joy and celebration to the holidays. Especially when you add in a mug of hot cocoa, some twinkly lights, and a little Christmas music for an extra bit of enchantment. Enjoy these Christmas activities for your homeschool."
How to Draw a Christmas Wreath – (give this free sample a try) Welcome the Christmas season with a beautiful Christmas wreath! You can learn from Nana how to draw a Christmas Wreath with Chalk Pastels then you can hang it up as a decoration. Or you might decide it needs to be a gift for someone you love. Either way, you will have fun with this quick and easy lesson Nana shared with her grandchildren. And you will learn that you ARE an ARTiST!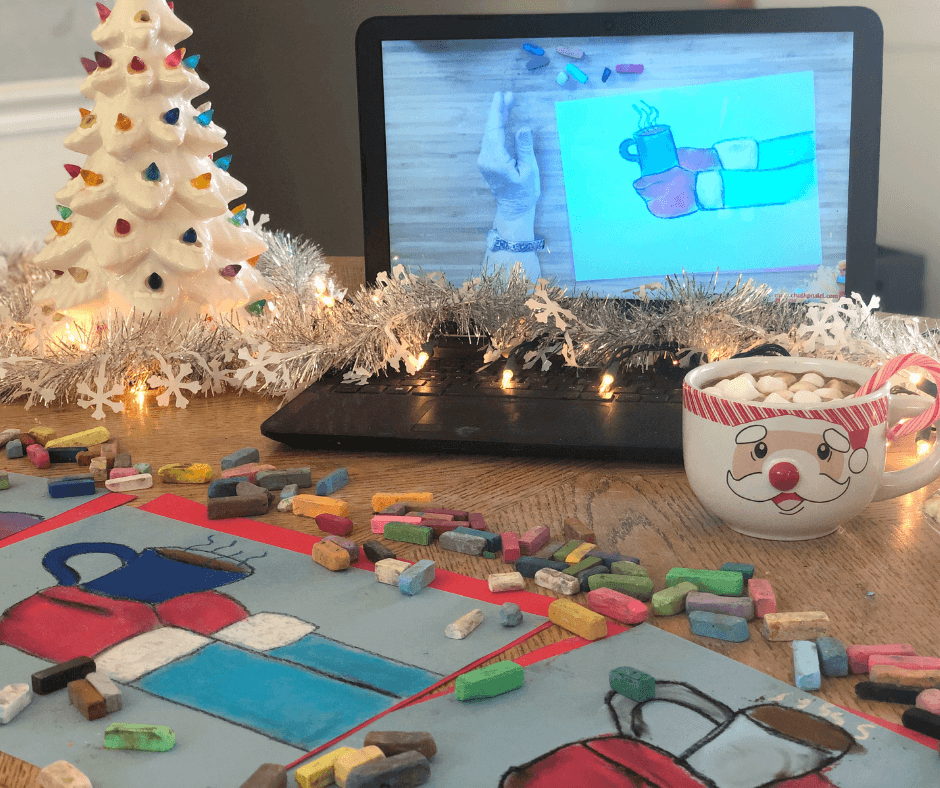 Mug of Hot Chocolate – How to Draw a Mug Hot Chocolate with Chalk Pastels was one of the very first lessons Nana taught my children. Each made their own mug in the brilliant color they chose. And they filled up the inside with chocolate, topped it with marshmallows and steam. They also learned about painterly effect, which is a really fun thing to create.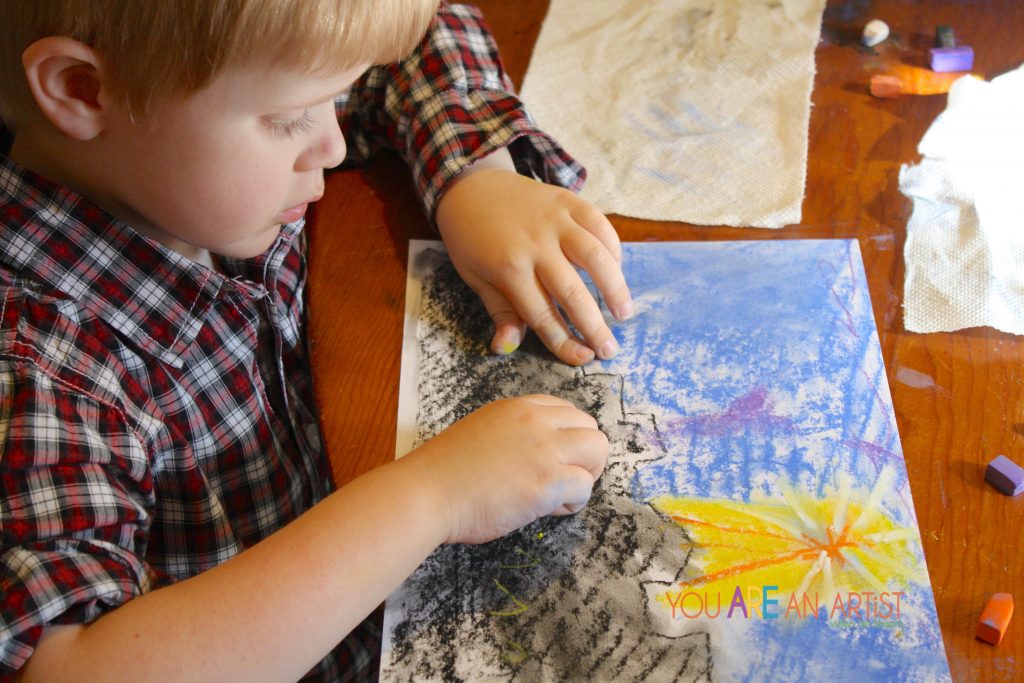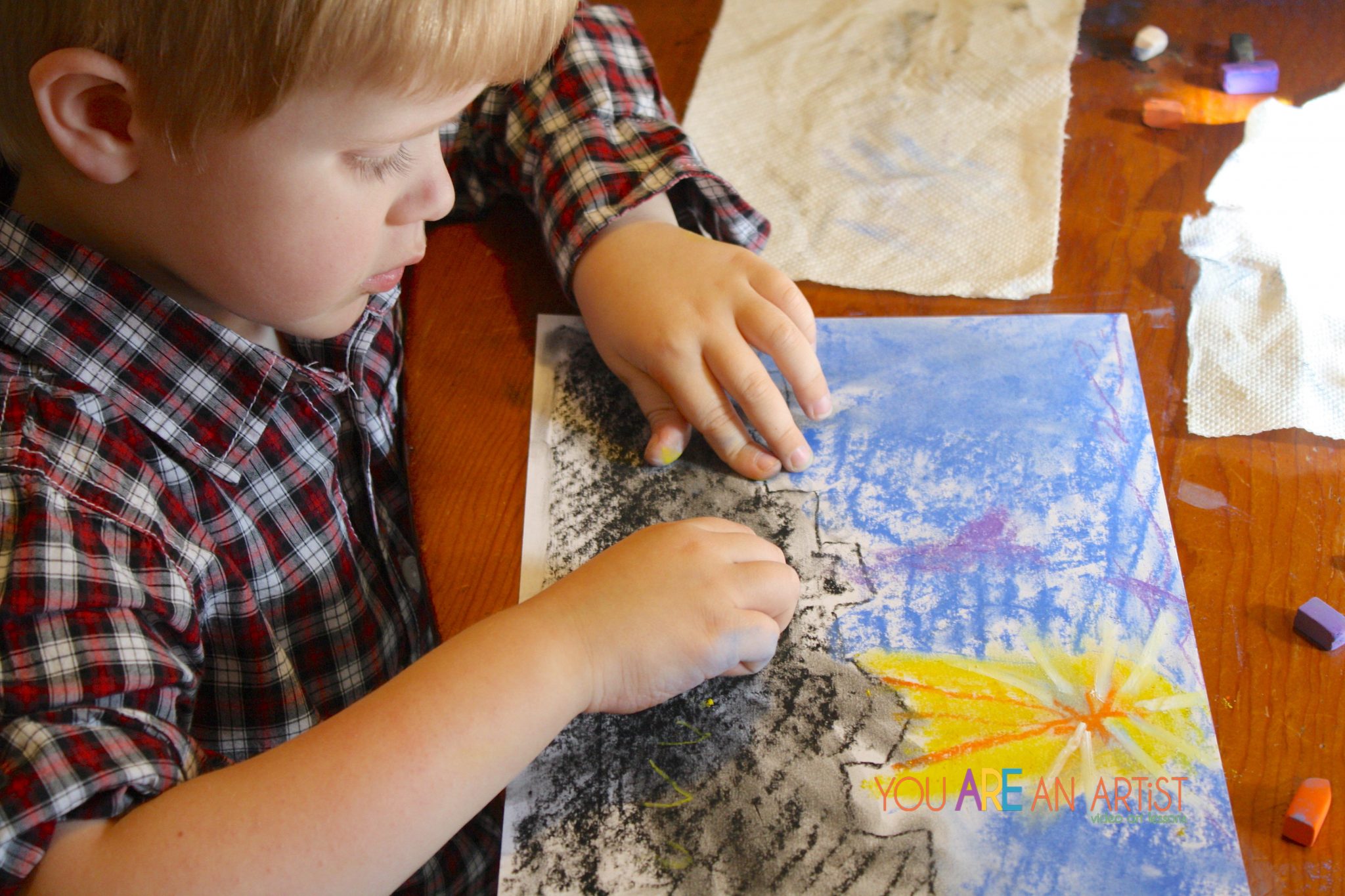 Biblical Christmas Homeschool Art Lessons
Draw Your Way Through the Story of Christmas by Courtney – My absolute favorite Christmas activity to do is Draw Your Way Through The Christmas Story together. I want to share it with you because I know so many families will love doing this too! With YOU ARE AN ARTiST, you can draw your way through the entire Christmas Story. From the Angels announcing Christ's Birth all the way to the Nativity. With so many incredible Christmas homeschool art lessons in between.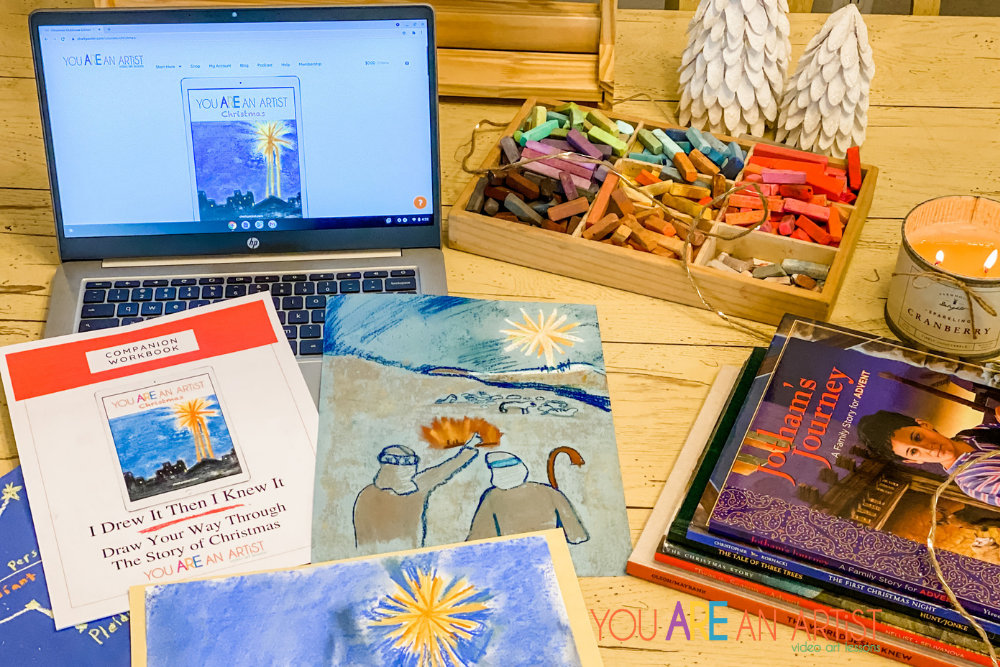 The best resource to help walk you through the Christmas art lessons and help you plan with little prep time involved is the I Drew It Then I Knew It Companion Workbook! You will find all the resources that you need to Draw Your Way Through The Birth of Christ
A Biblical Christmas Homeschool Lesson in 4 Simple Steps by Courtney – If you haven't heard of Christmas school yet, let me fill you in, dear friend! Christmas homeschooling can happen anywhere between now and the new year. You can get festive with your homeschool plans, get educational, lean into Advent, or create a lovely combination of things.
Courtney shares, "My absolute favorite part of Christmas schooling is the time spent preparing our hearts for Christ with our families. This Christmas, we are drawing our way to Bethlehem – following the star, the angels announcing Messiah's birth, the shepherds, the nativity and more!"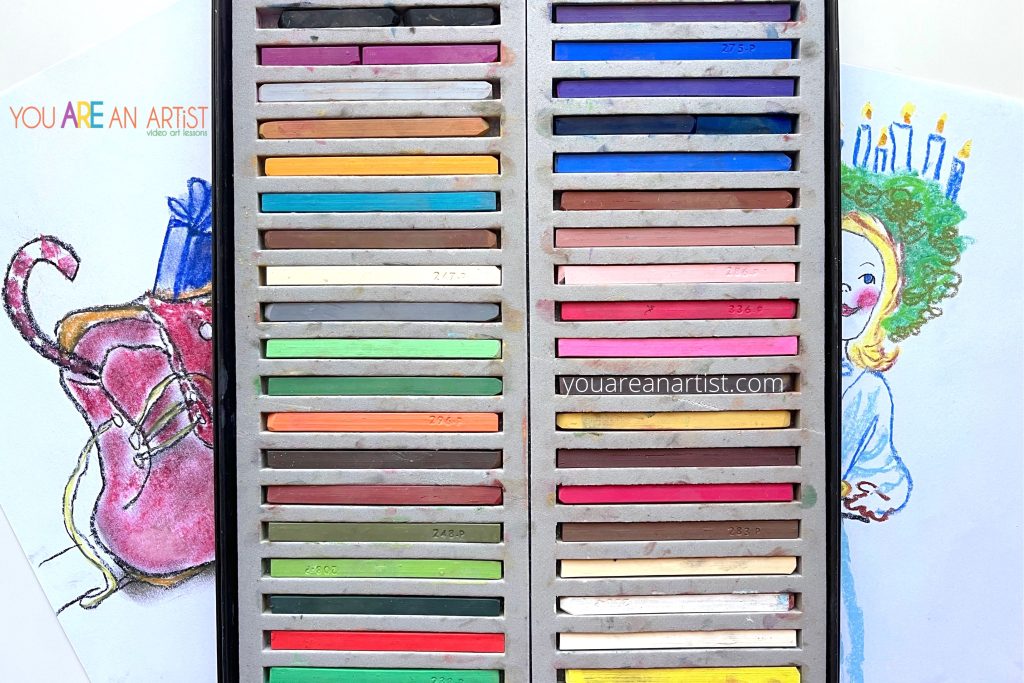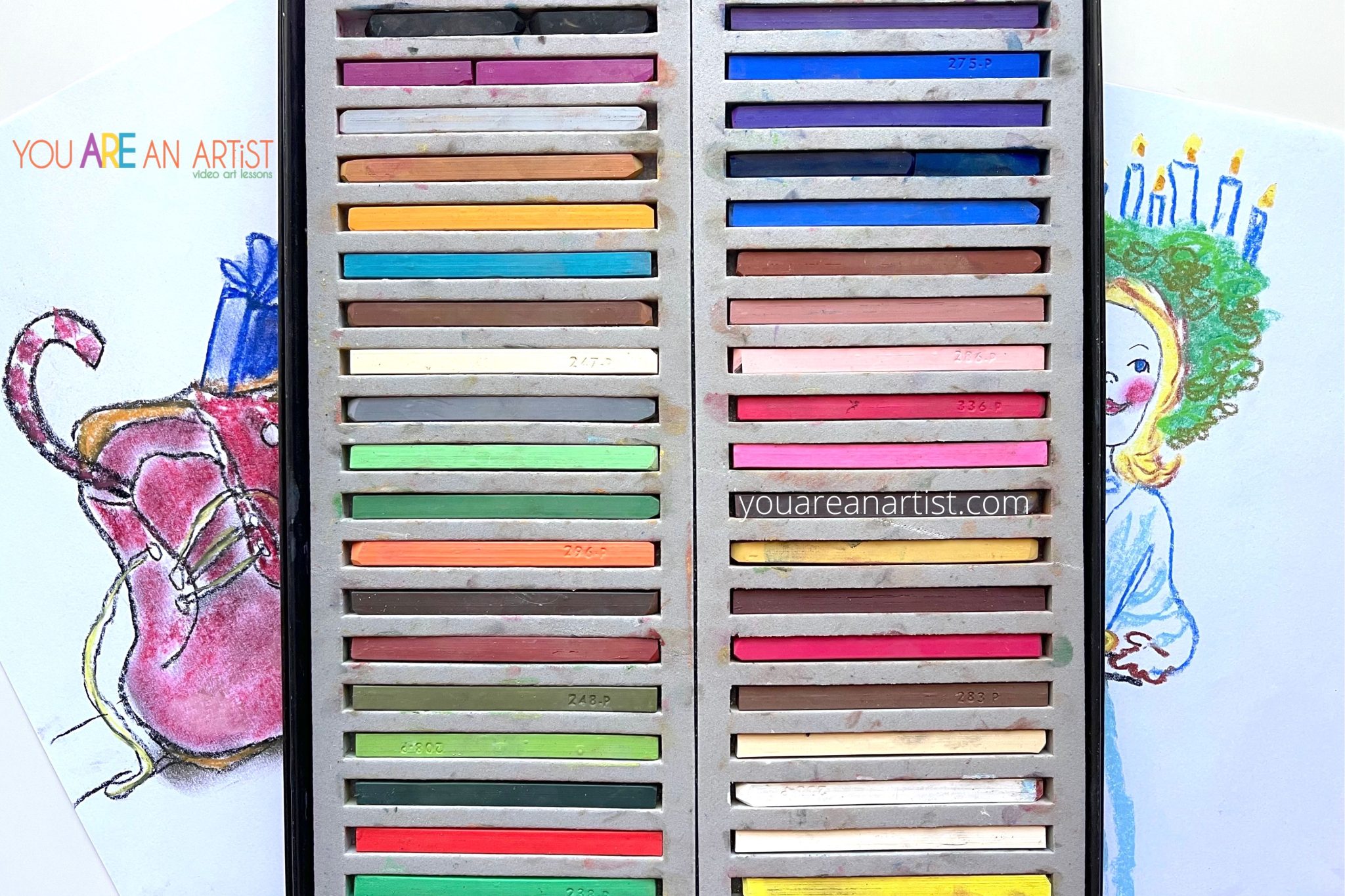 Advent Saints – St. Nicholas and St. Lucia
For St. Nicholas Day and St. Lucia Day, enjoy art with Nana! You ARE an ARTiST Clubhouse members enjoy these new lessons in their Christmas Clubhouse! Holiday Homeschooling: A St. Nicholas Day Study (with a printable 'Twas the Night Before Christmas' poem for members. Plus St. Lucia Day Holiday Homeschool Study.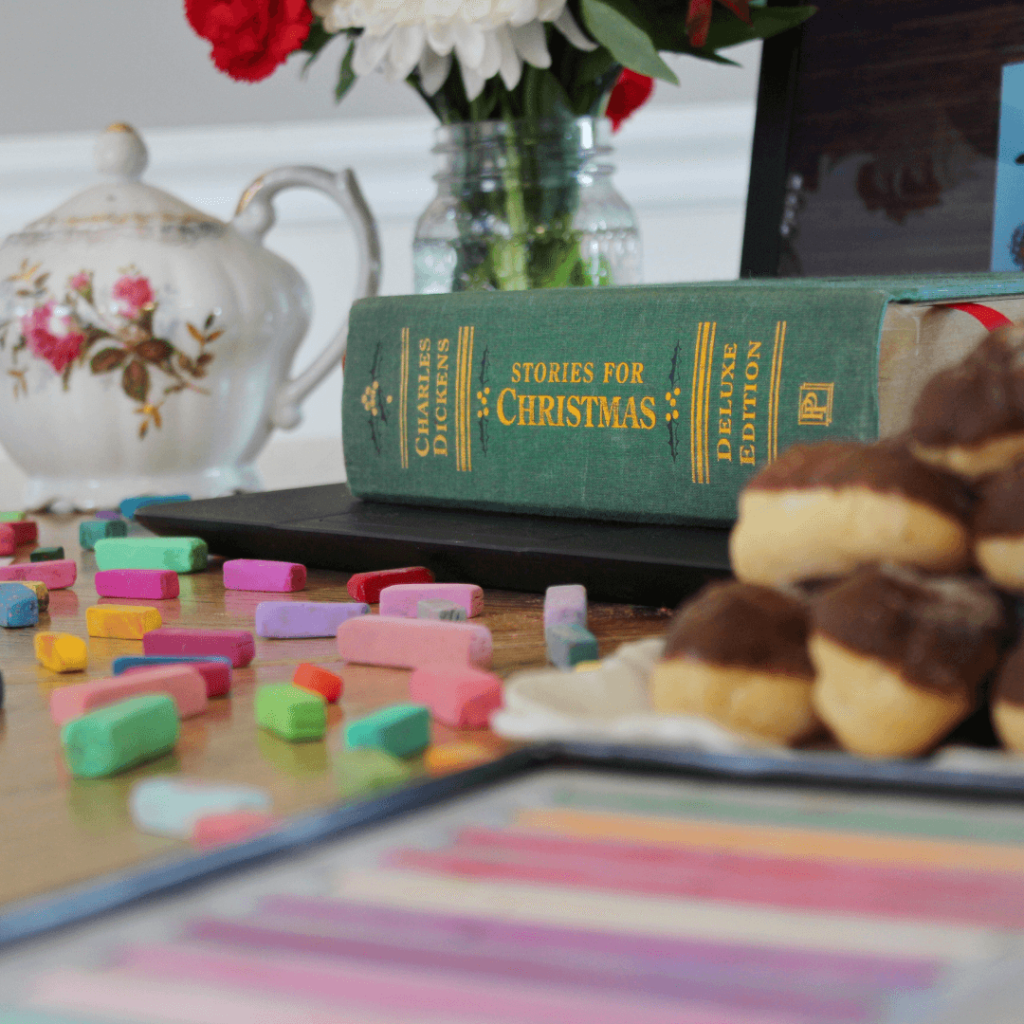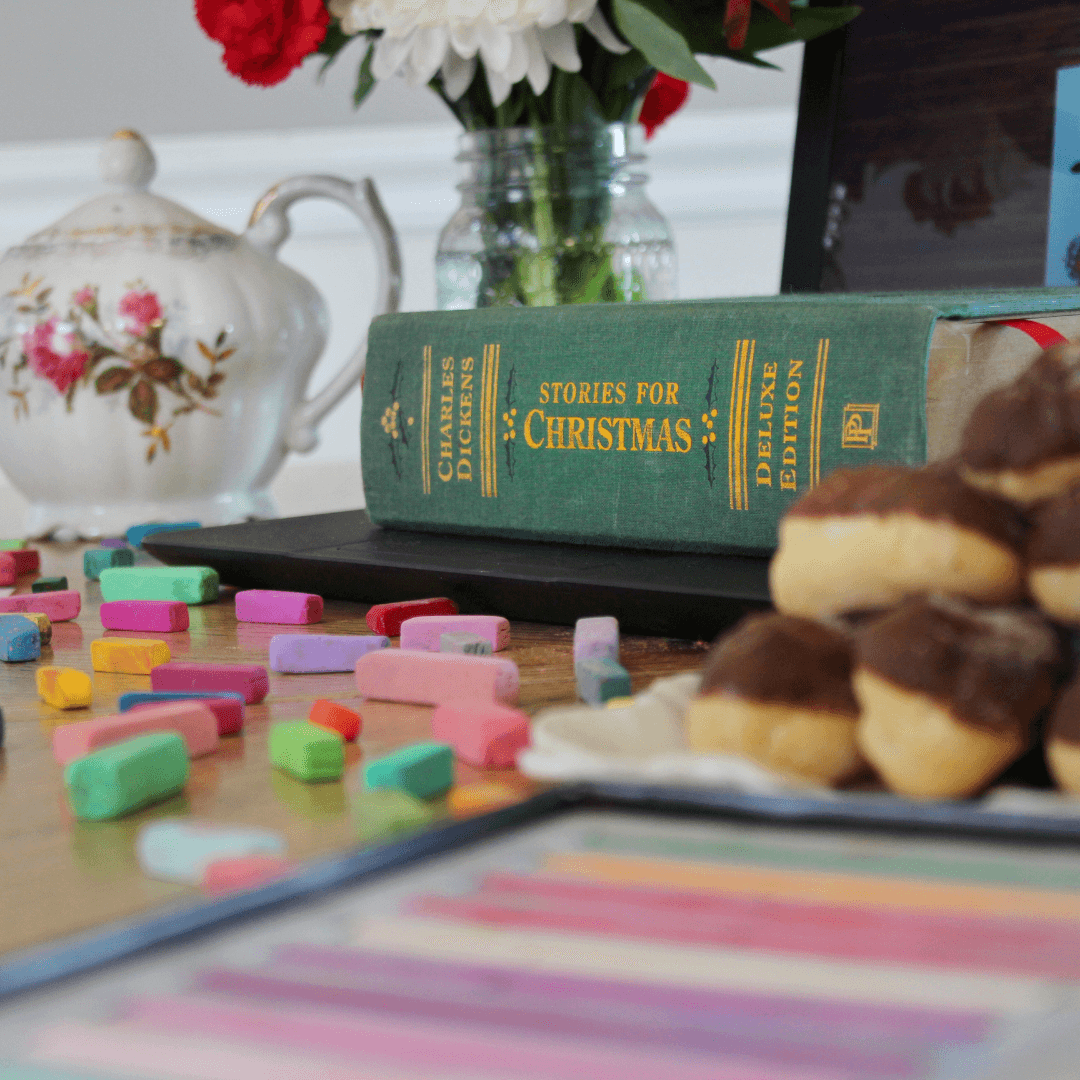 Celebrate Christmas Literature with Homeschool Art
A Christmas Carol Homeschool Activities with Chalk Pastel by Erin – Do you and your kids read "A Christmas Carol" each year? What about watching one of the many movie adaptations? Exploring A Christmas Carol in your homeschool is an easy and fun way to combine the rich literature of Charles Dickens, the excitement of cinema, and the glory of art this Christmas season!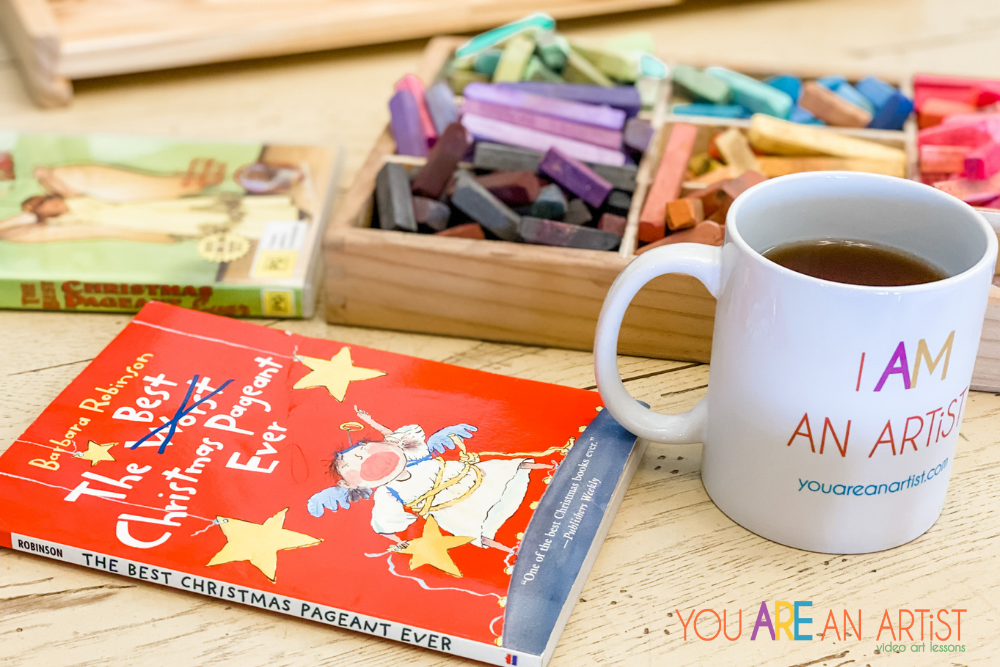 The Best Christmas Pageant Ever Unit Study by Courtney – The story is a sweet reminder that not everyone knows about Jesus, and it is also a tender reminder that God loves everyone. I enjoy reading it to my kids and discussing it with them after each chapter. The Best Christmas Pageant Ever is a great book to share with your children because even though it has us all laughing, it touches on some fundamental ideas worth thinking about each holiday season. And it's a classic! There is also a hilarious movie adaptation that you can watch with your children too.
Stopping By The Woods on a Snowy Evening Tea Time by Courtney – One of the best poems to enjoy during winter is the renowned Robert Frost's, Stopping By Woods On A Snowy Evening. It is one of those poems that instantly comes to life with all of the delights of winter.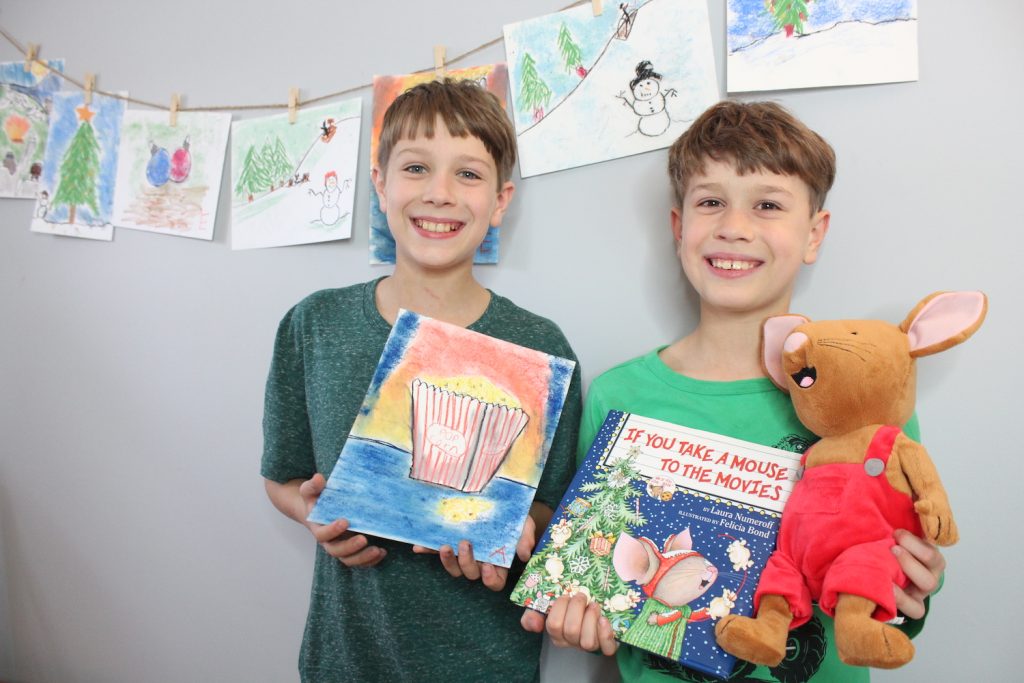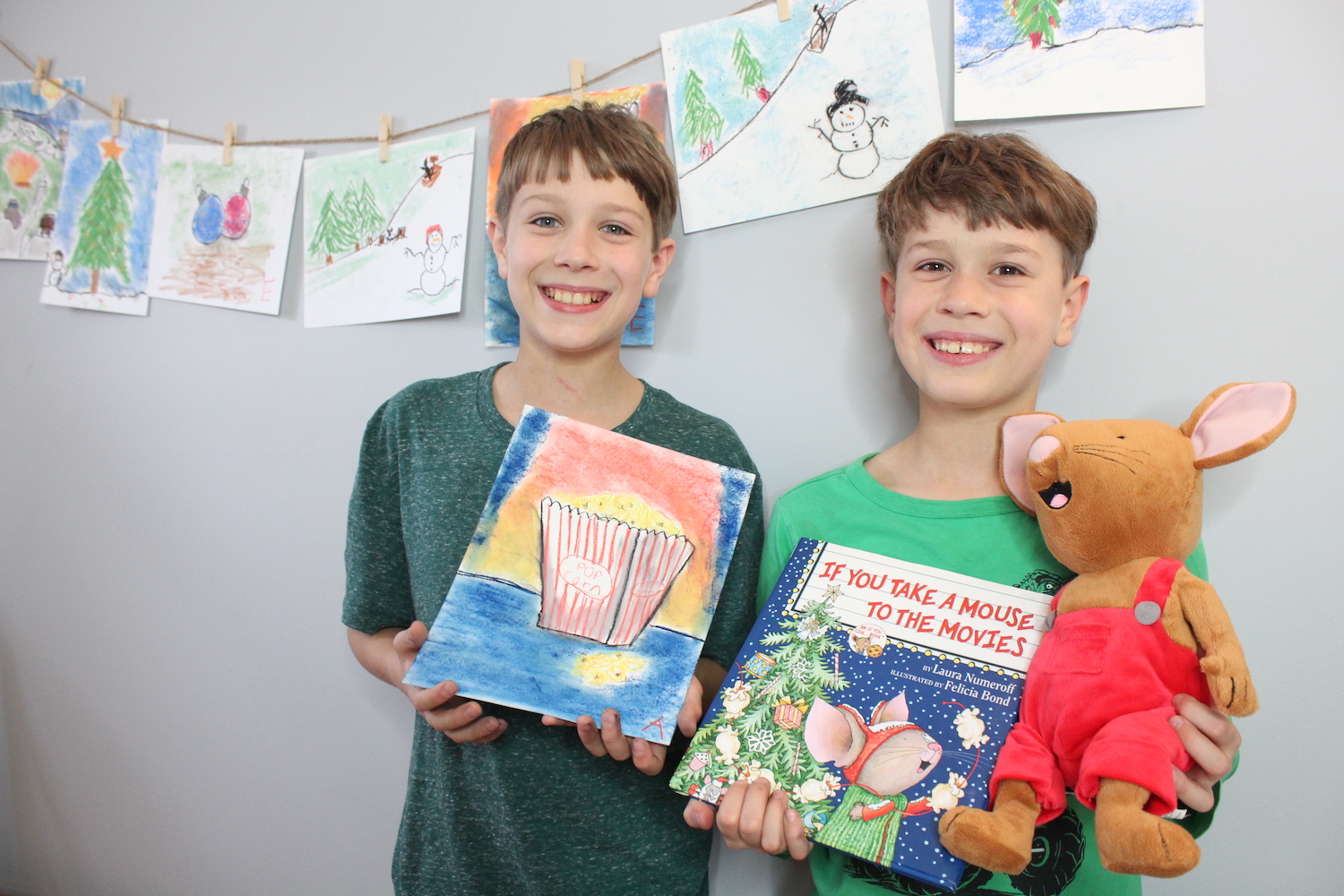 If You Take a Mouse to the Movies Hands On Homeschool Activities by Julie – In our homeschool, a book is never just a book. It's nearly always a jumping off point for more! This book is no different. You can have SO much fun with the themes of If You Take a Mouse to the Movies! Start with a collection of Nana's chalk pastel lessons to explore the fun activities the Mouse enjoyed in the book.
Christmas Book to Movie Homeschool Activities Your Kids Will Love! by Erin – Check out this festive list of Christmas books made into movies – with homeschool activities your kids will love! Now your kids can re-create their favorite book characters and movie scenes with chalk pastels! Like Kevin from Home Alone, the Grinch and more!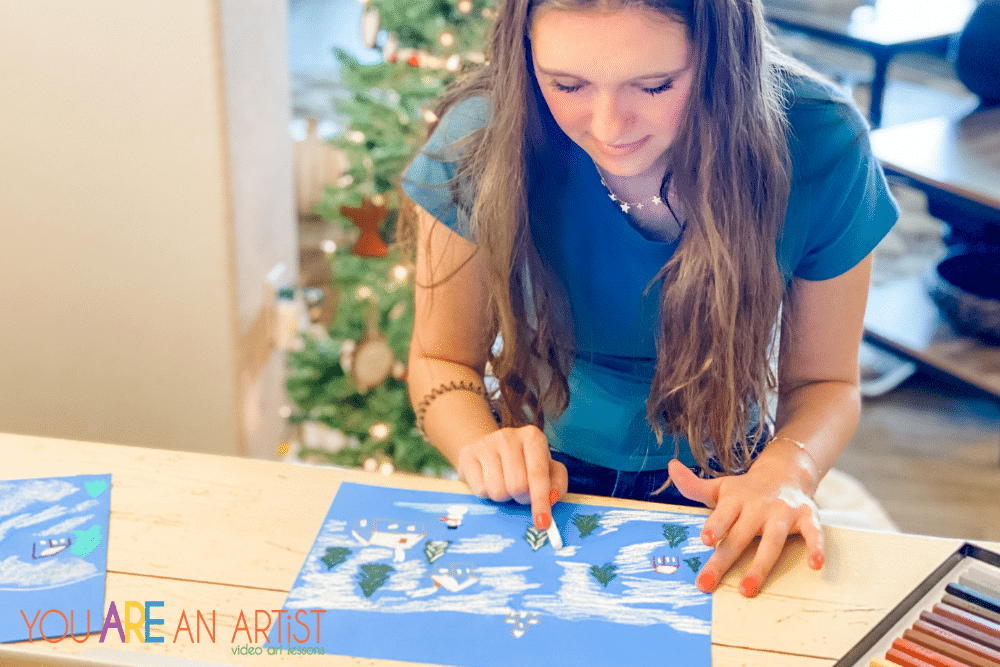 Learn Favorite Christmas Hymns with Art and Hymn Studies
Christmas Tea Time is the Perfect Way to Enjoy Your Homeschool Holidays by Courtney – We have all spent a holiday season, or two, caught up in the hustle and bustle. It happens to the best of us, doesn't it? But this year, don't forget to slow down and savor the season! One of the absolute best ways to do that is with a Christmas tea time. But wait, there's more! As much of a delight as Christmas tea time sounds, you can add art, poetry, some holiday hymns and make an afternoon of it. It's like adding a cherry on top with sprinkles to your Christmas tea time!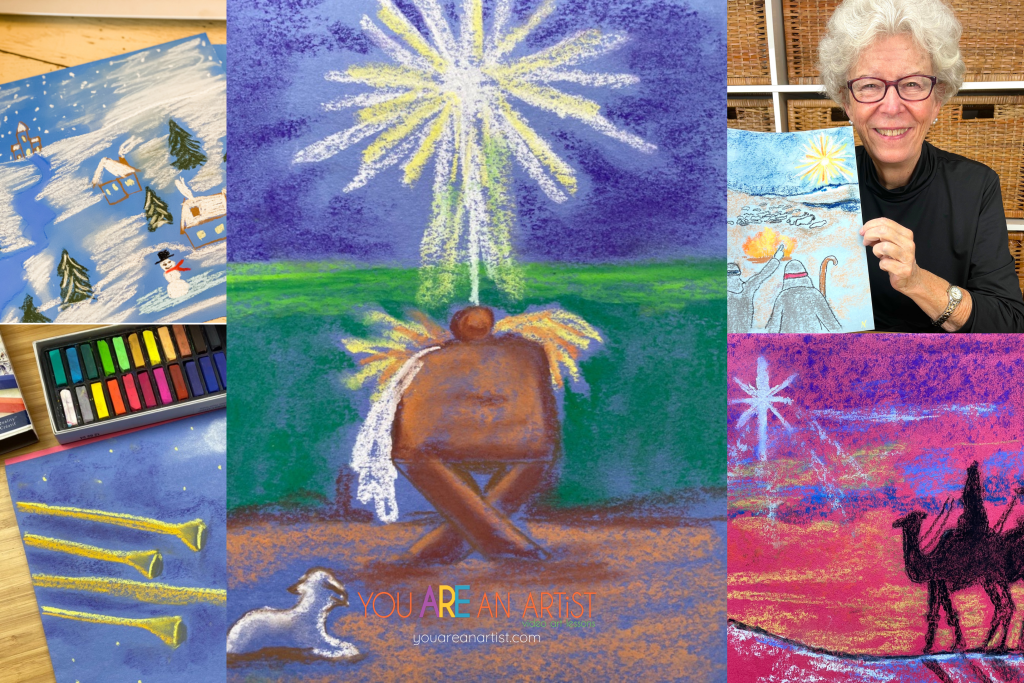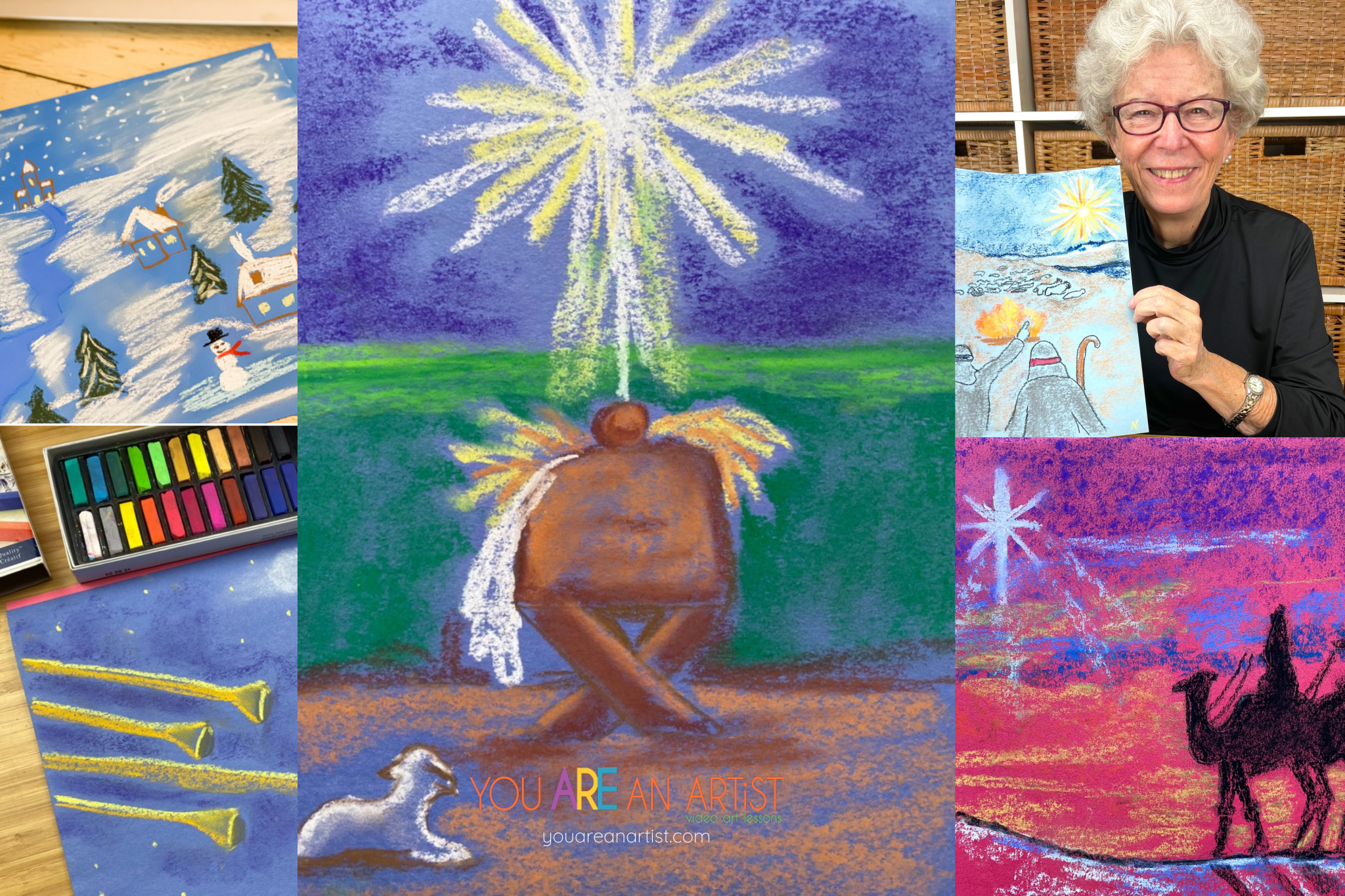 A Merry Christmas Hymns Study for Your Homeschool by Dawn – Whether you homeschool as normal through December, add in Christmas activities, or trade all your homeschool curriculum for 'Christmas School,' a Christmas hymns study can be an enjoyable part of your school day. It is a beautiful opportunity for the family to learn and worship together.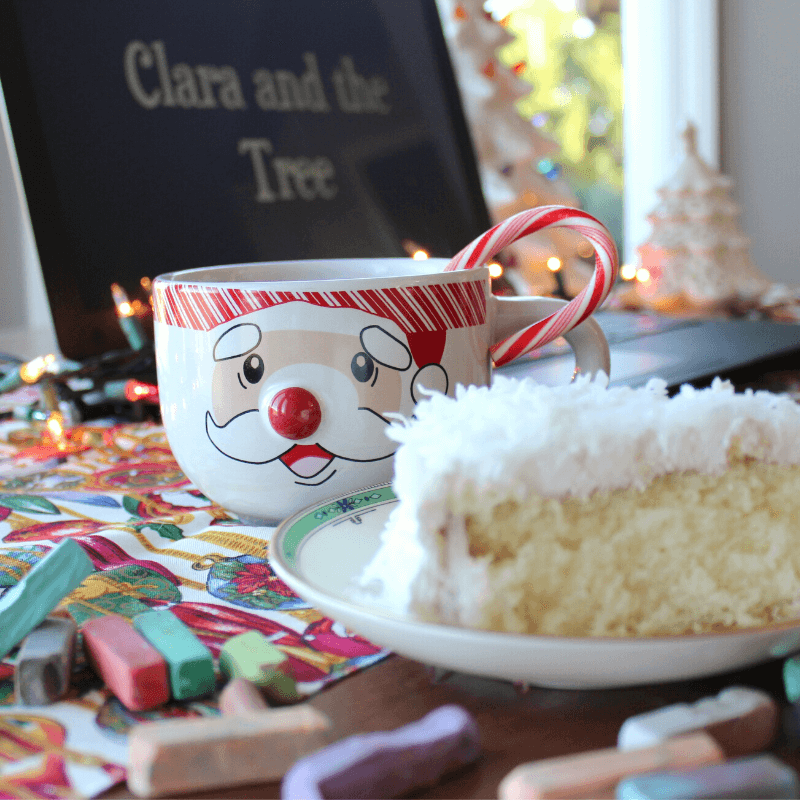 Homeschool Nutcracker Art Activities
The Nutcracker: A Holiday Homeschool Unit Study – Celebrate the Christmas season and enjoy the famous ballet with Nana's Nutcracker video art lessons. Nana has a new Nutcracker ballet lesson added to the collection just for members. Plus Clubhouse members get to enjoy a Nutcracker-themed special event with Nana and SQUILT Live and a companion Nutcracker curriculum!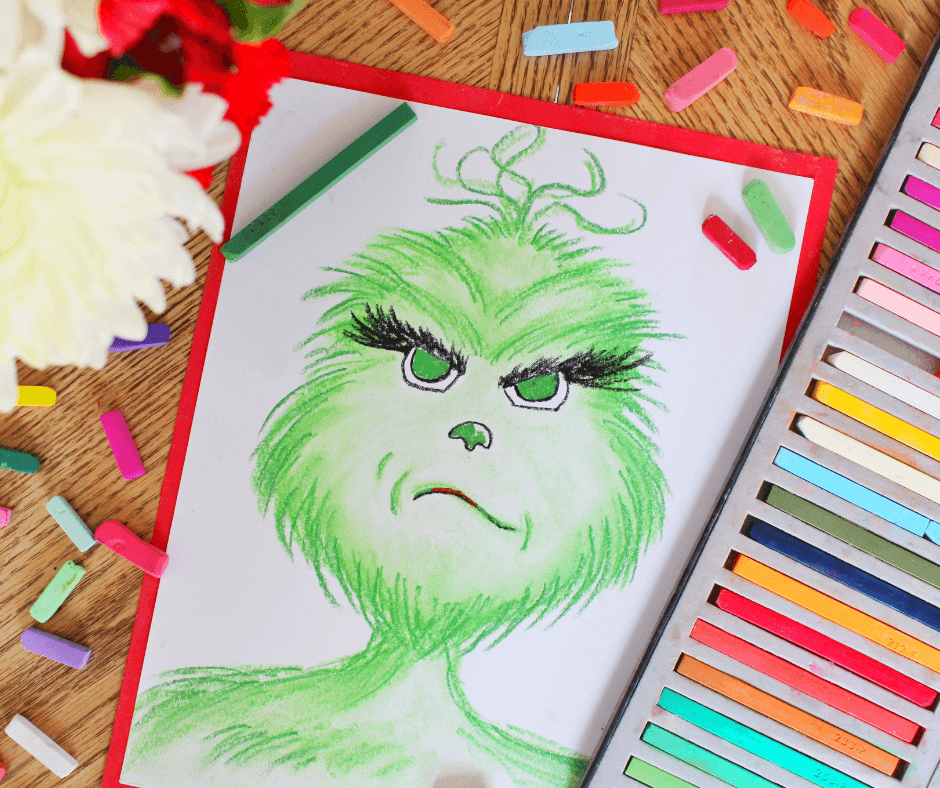 Christmas Book to Movies Homeschool Activities Your Kids Will Love
Charlie Brown Christmas Art and Music – The music of Vince Guaraldi and art in the style of Peanuts. Charlie Brown Christmas Art and Music!
How to Draw The Grinch – Is watching The Grinch one of your favorite Christmas traditions? If you have been following art lessons with us, you will know that we love to share video lessons for favorite books and movies. In fact, one of the bonuses with You ARE an Artist Clubhouse membership is an index of lessons for movies with Chalk Pastels at the Movies. Another bonus is the Tea Time Art Lessons for favorite books like Green Ember, Winnie-the-Pooh and more! Enjoy a sample of Chalk Pastels at the Movies with Nana's How to Draw The Grinch in Chalk Pastels Video Art Lesson!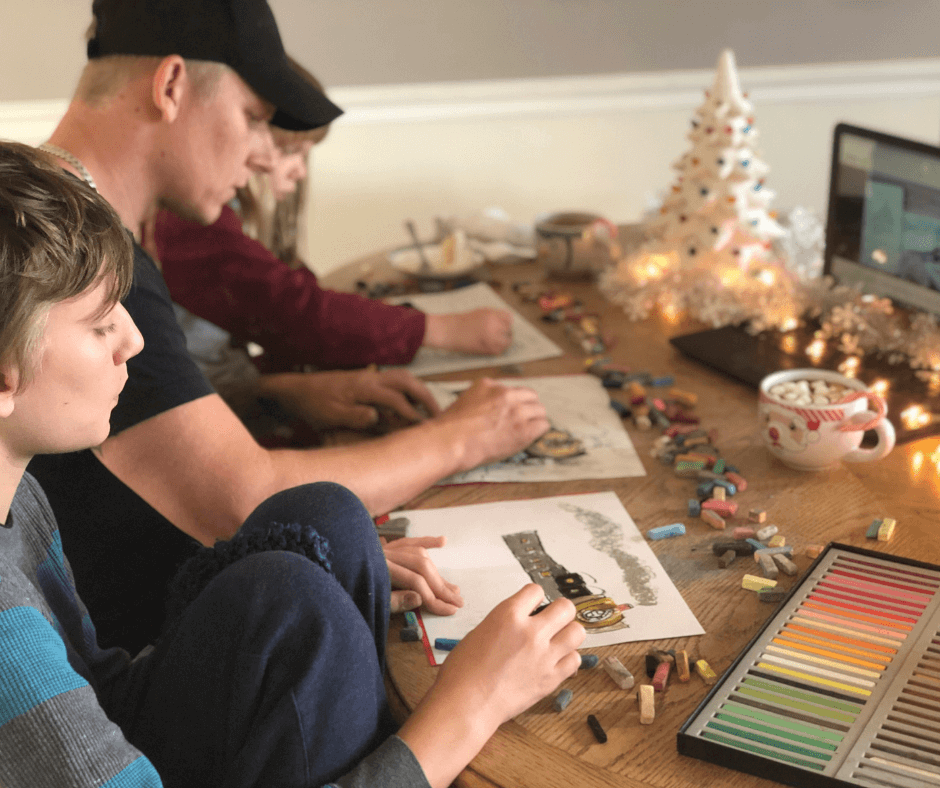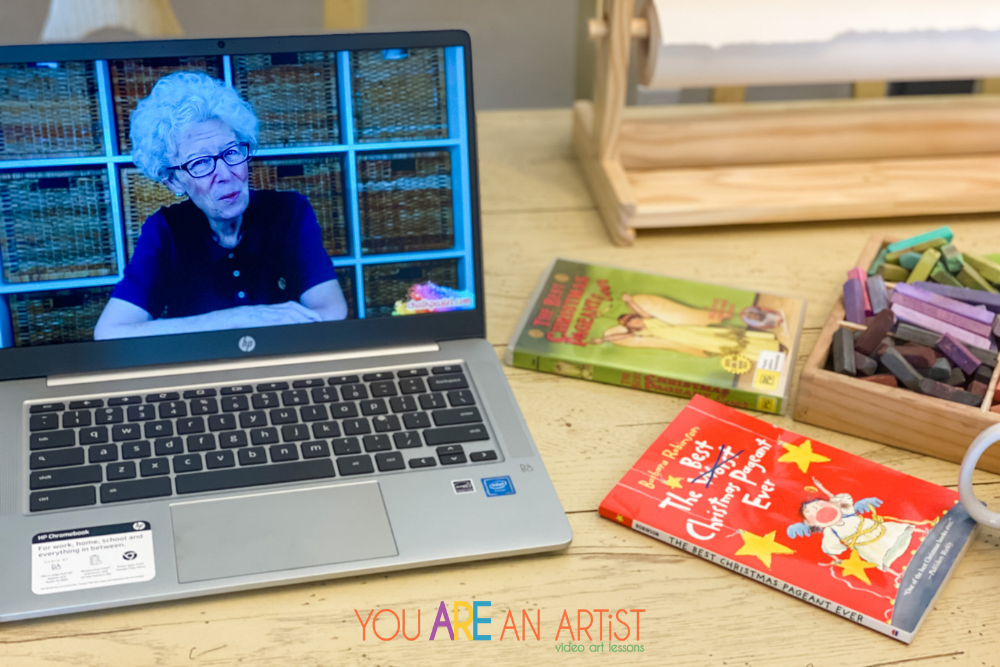 A Holiday Unit Study: The Best Christmas Pageant Ever by Courtney – If you haven't had the pleasure of reading The Best Christmas Pageant Ever before, I should warn you; you are likely to experience belly laughs! Along with learning some things you wouldn't likely expect.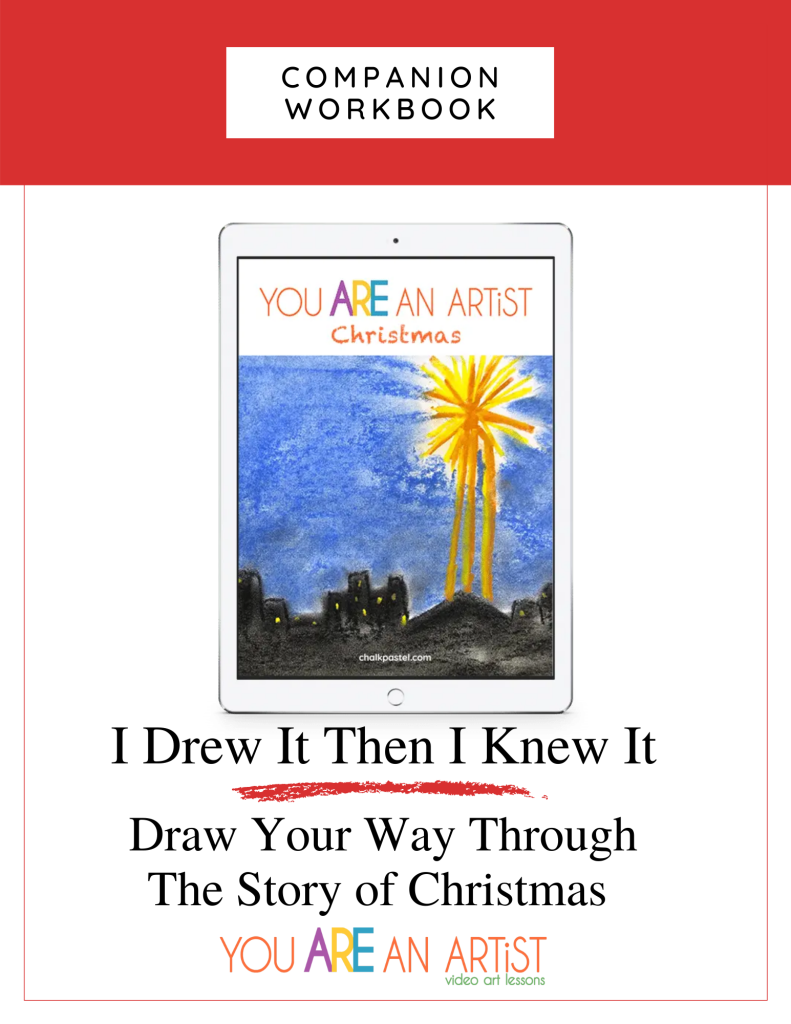 Gift An Annual Homeschool Art Membership
I have been homeschooling for almost thirteen years as I write this, and I am often asked about gift ideas for homeschoolers. There is one gift that I always recommend. Hands-down, an annual membership to YOU ARE AN ARTiST. It is a gift that keeps on giving all year long.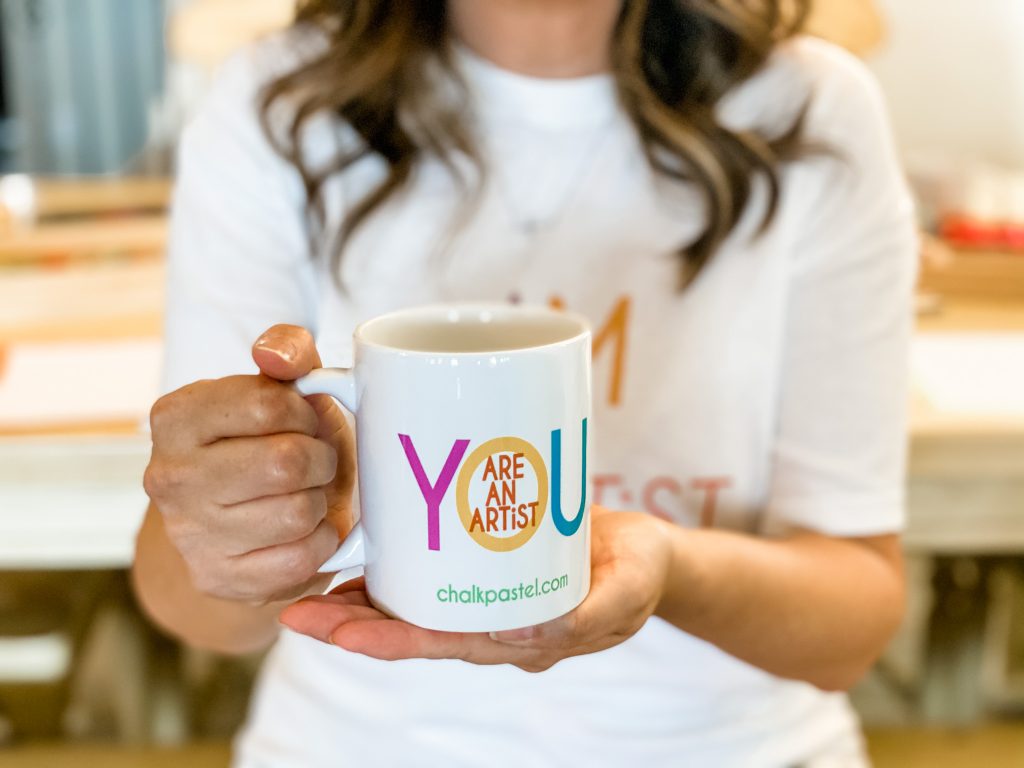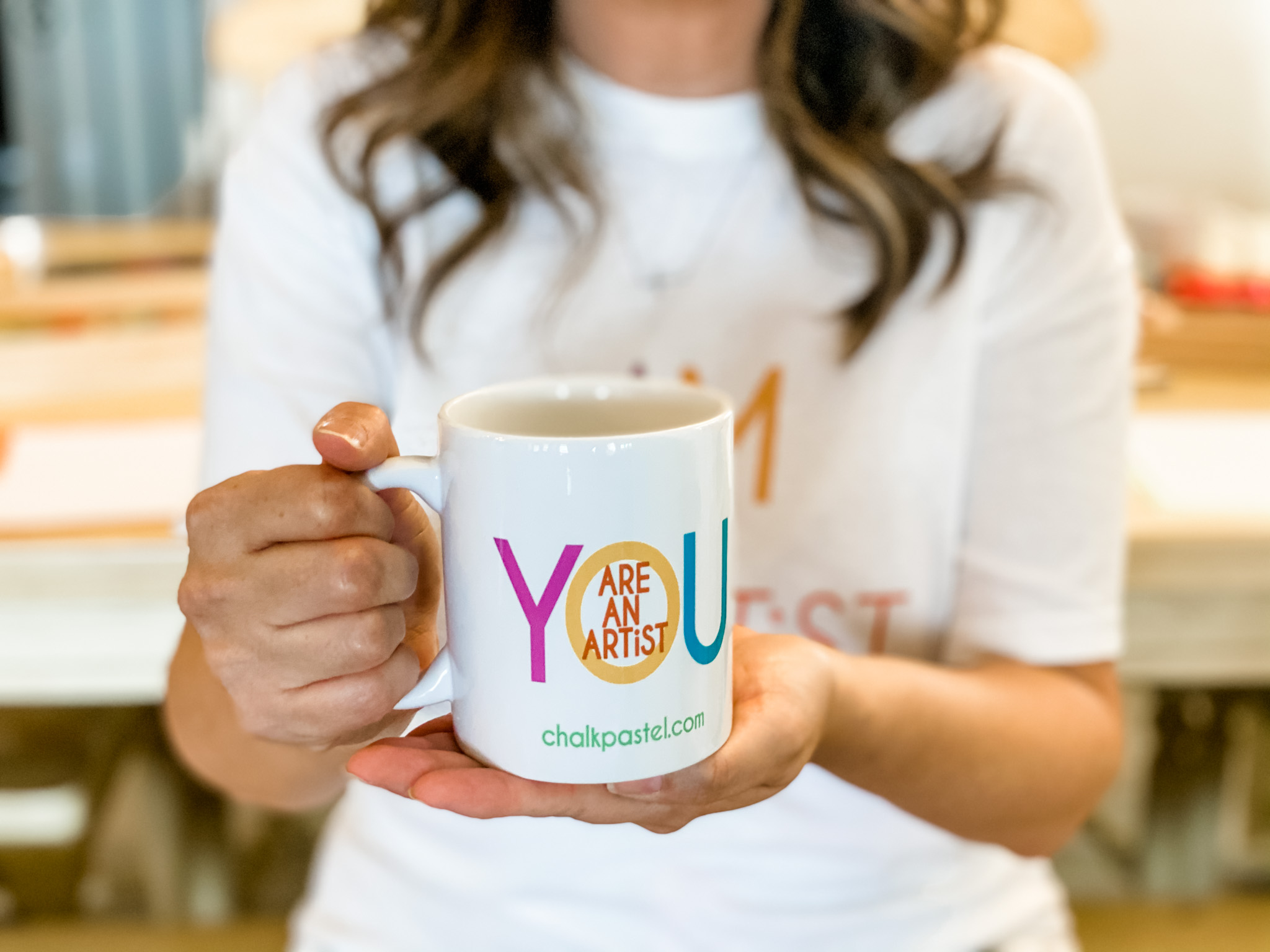 Whether you gift it for a birthday or a Christmas gift, your family can use it every day for the entire year with an annual membership. That, my friends, is valuable! Give the gift of homeschool art lessons!
Christmas Homeschool with You ARE an ARTiST Complete Clubhouse
As Courtney shared in her Biblical homeschool post, "we hope that this gives you lots of inspiration for your Christmas school plans this year! Remember, you don't have to do it all this year. Advent is all about preparing our hearts and dwelling in his perfect peace. Christmas school is an opportunity not only for creativity and education but for making lasting memories together."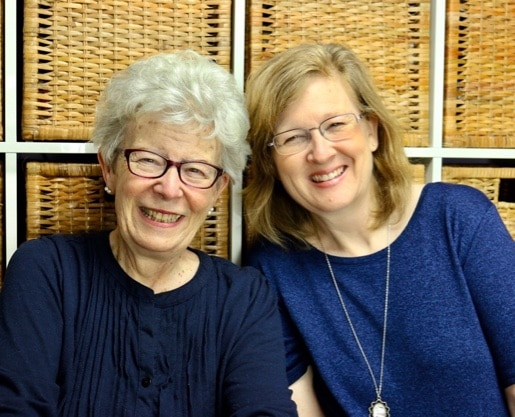 Growing a love of art at You ARE an ARTiST is a multi-generational passion! Tricia is Nana's daughter and a mama of five children. Nana shared her first chalk pastel art lessons with her grandchildren around Tricia's kitchen table. Homeschooling since 2000, Tricia has seen the fruits of home education with three homeschool grads so far! She shares the art and heart of homeschooling at Hodgepodge and is author of the book, Help! I'm Homeschooling! She and her husband, Steve, are also owners of The Curriculum Choice.